Soup is not just for winter, this herby and light new potato soup features a wonderfully flavoured herby broth, garden peas and a perfectly poached egg. It is light, filling and all sort of summer in a bowl.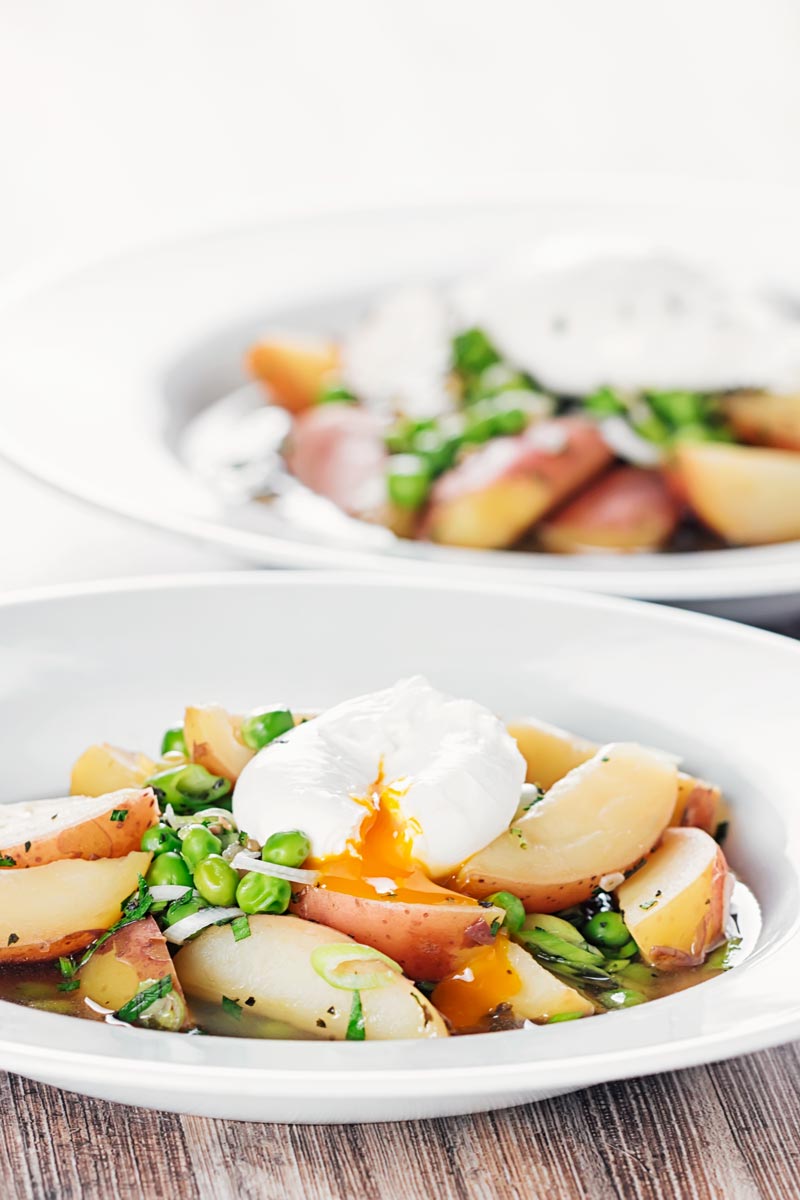 Herby New Potato Soup with Peas.
I love this recipe it is one of the simplest that I cook. It relies on a few great early summer ingredients, lots of herbs and a great stock.
To be honest that is all it is, great ingredients in a bowl.
The secret to this recipe is taking care with the ingredients. I'll talk about the stock and the perfect poached egg later.
But when it comes to peas do not worry about using frozen peas. They are probably the best of the frozen vegetables.
In fact, unless you are picking peas from your garden (as I do), frozen peas are likely better than those that are a few days old from the store.
Then we have new potatoes, they are unsurprisingly young potatoes. They come in many varieties but they are usually waxy and thin-skinned.
They are a little sweeter than fully mature spuds because the sugars have not been converted to starches yet. Which makes them sit perfectly alongside the peas.
In fact, sweet peas and new potatoes both feature in this vegetable terrine which you simply must try!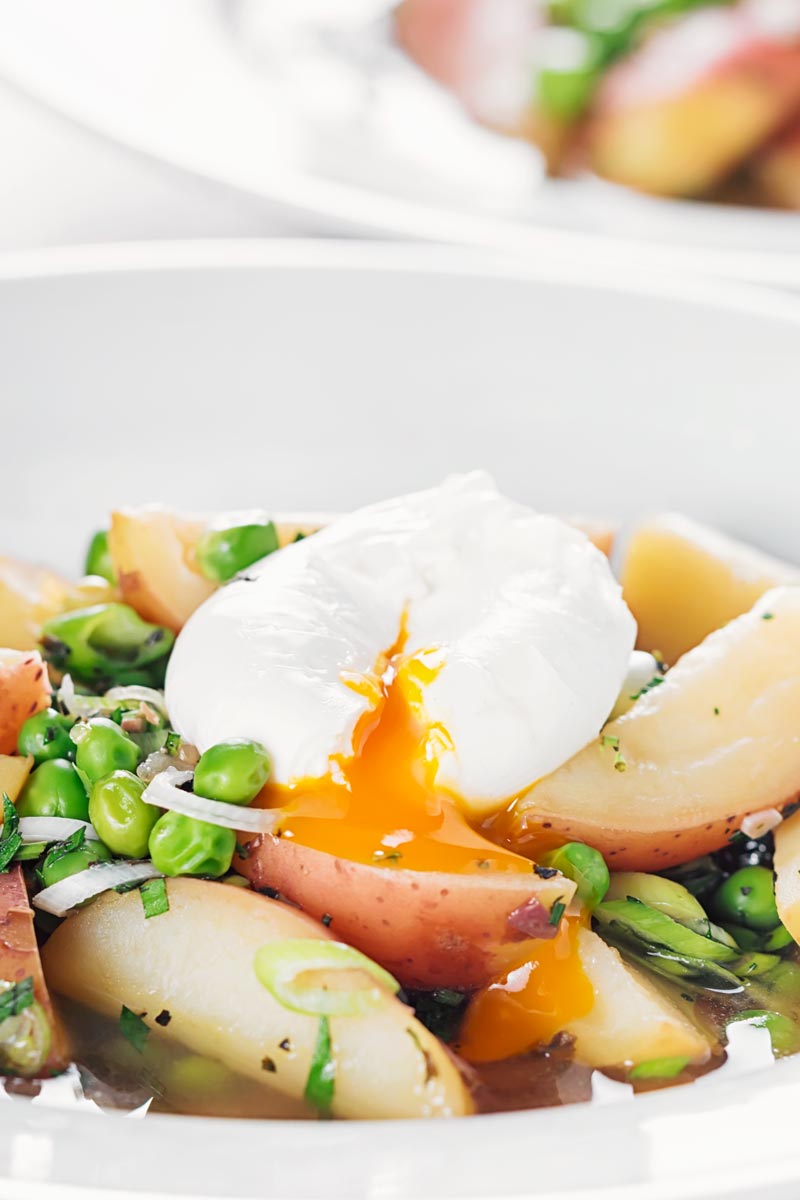 How to Make Vegetable Stock.
At the heart of this new potato soup is a glorious vegetable stock. I always make my own it is simple and consists mainly of stuff that would get put in the composter.
Now that does not mean you should use crappy vegetables, they still need to be fresh.
However, I collect and freeze the ends of my celery, my carrot off cuts and peelings, likewise with onions, leeks and celeriac.
The base of my vegetable stock is always carrots, onions and celery. They make up at least 75% of the vegetable content by weight. Then anything else goes, however, there are a few things to avoid.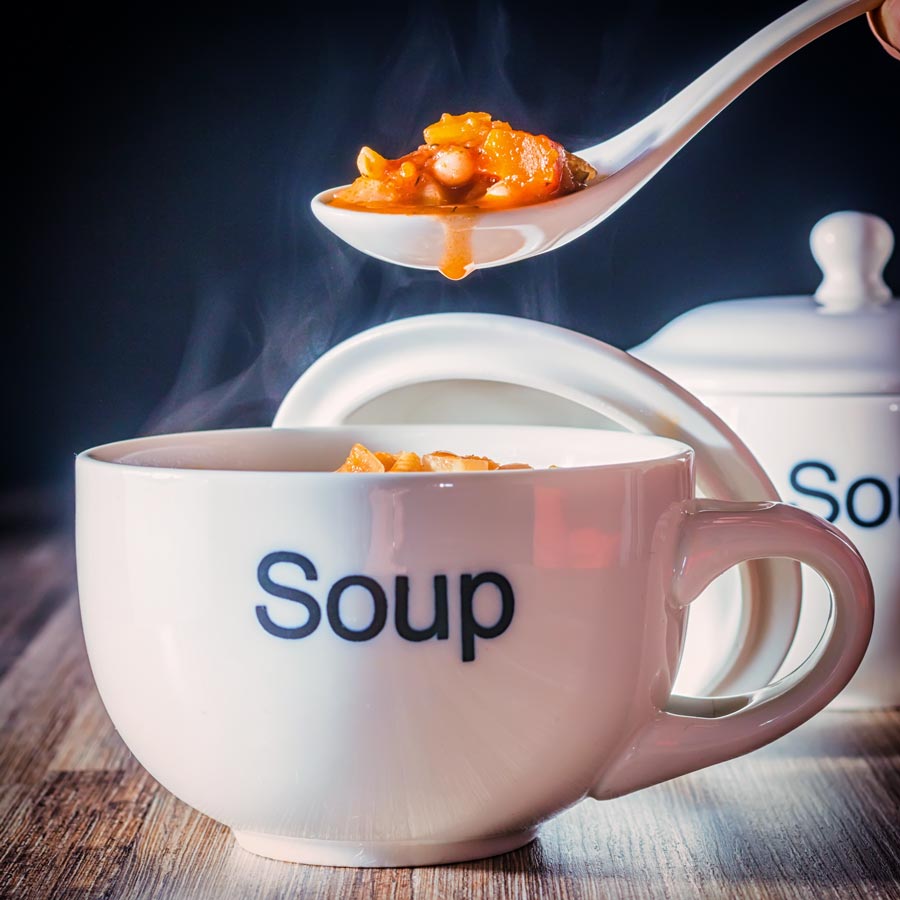 Potatoes: They break down and thicken a stock and do not add a great deal of flavour.
Pumpkin and Squash: This adds good flavour but like potatoes can break down and muddy your stock which is not good.
Brassicas: Things like cabbage, broccoli and sprouts will make your stock nasty… You remember that nasty well-boiled cabbage smell, yeah, you don't want your stock like that.
Tomatoes: Thus may sound odd, but leave them well alone. They have a tendency to both add cloudiness and bitterness to a stock.
After that, it is a simple case of browning your vegetables in butter or oil. Then simmering them in water with aromats like garlic, thyme, taragon, parsley stems, bay leaves etc.
A simple rule of thumb is the same weight of water to that of vegetables.
I simmer gently for an hour, this will give you a basic brown vegetable stock. If you want a white stock then skip the browning part.
I keep seasoning with salt to very light and then reseason based on the final use.
Seriously make your own stock it is fantastic! It sits at the heart of recipes as diverse as my roasted vegetable couscous through to my summery fennel soup.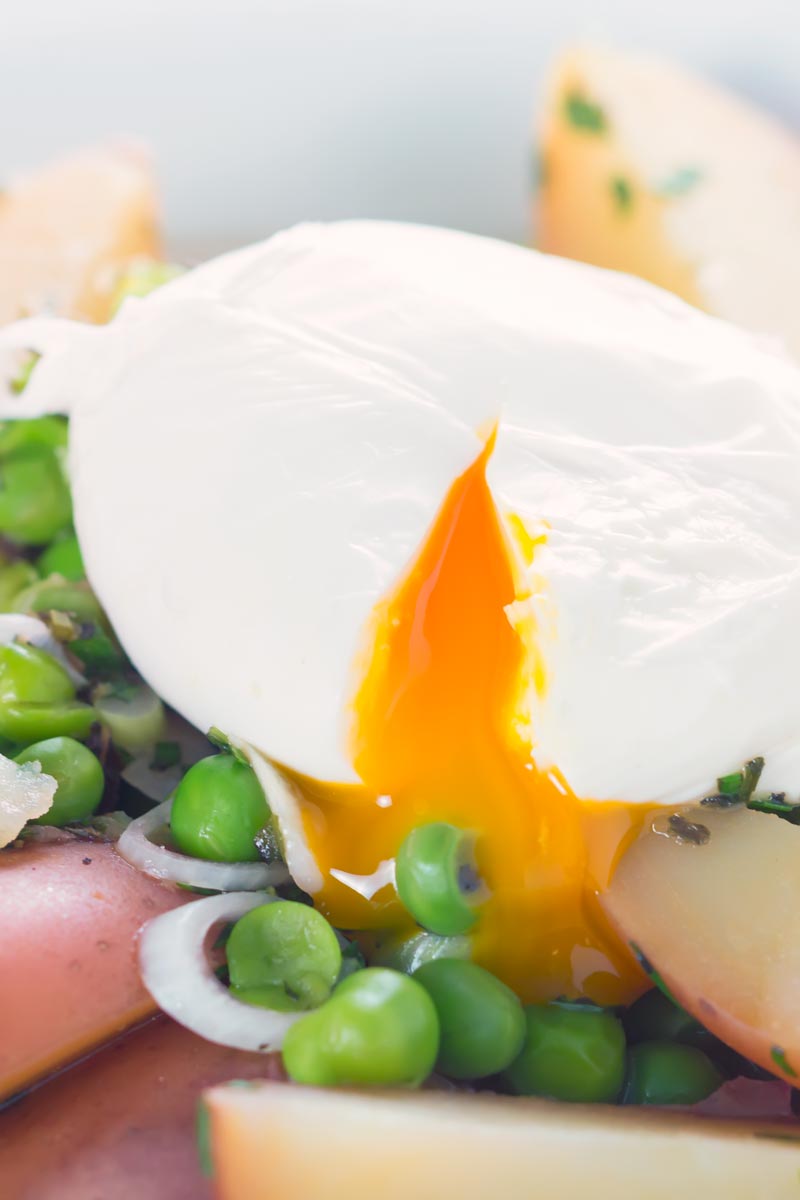 How To Poach an Egg.
I love to top this potato soup with a poached egg, the yolk is the perfect addition to the broth.
Now there are thousands of pages on the web offering advice on poaching the perfect egg.
I have read lots of them and am usually disappointed that many of them ignore the most important aspect of making a perfect poached egg.
That is the freshness of an egg! Hands down this is the biggest influence.
If you crack an egg onto a plate you will note that the egg white has two parts. A watery part and a thicker part.
As an egg ages more of the egg white becomes thinner. That is the part of an egg that breaks apart when you poach an egg. All of the hints about adding vinegar and swirling are desperate attempts to keep this held together.
I ignore this and use fresher eggs, if I don't have fresh eggs I don't try and poach them.
The easiest way to test this is to drop them in water, if they sink and lie flat on the bottom then go ahead. The closer they get to upright the older they are, if they float at the top then chuck em away!
Oddly eggs that lay flat are pretty terrible for making boiled eggs, the shell is more difficult to peel.
Once you have the perfect egg simply drop it in lightly simmering seasoned water. No other tips are needed.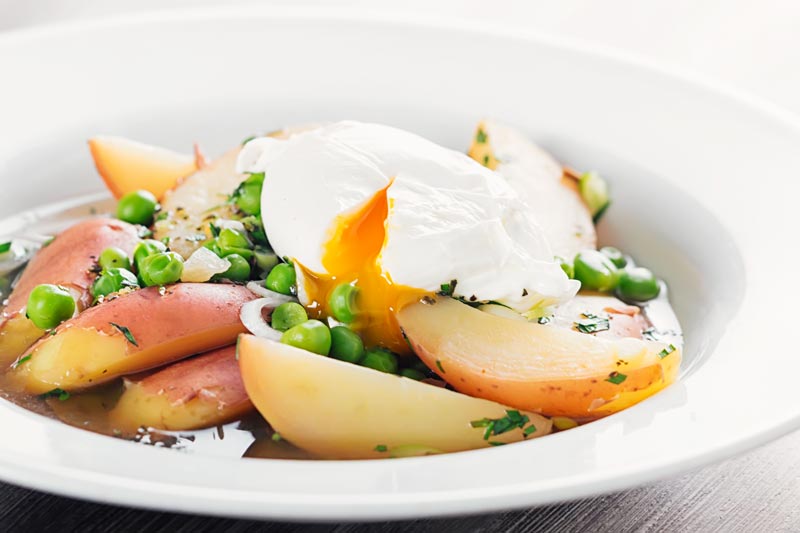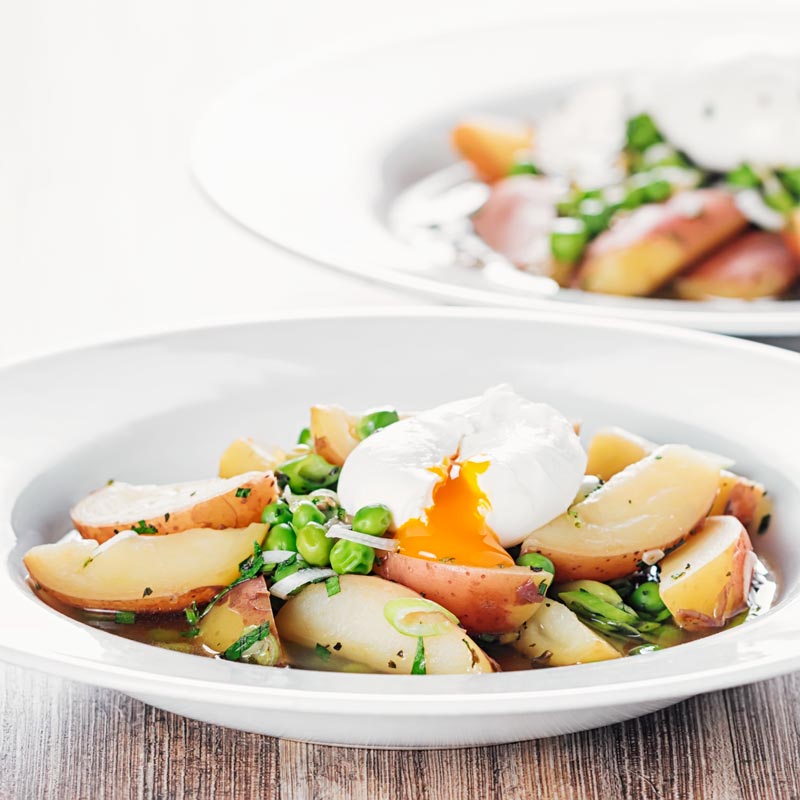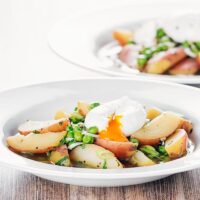 Herby New Potato and Pea Summer Soup
A potato soup is typically a hearty winter warmer, this on is full on summer, featuring new potatoes, peas and lots of herbs. It is served in a well flavoured vegetable broth then it is topped with a perfectly poached egg!
Ingredients
500 ml Vegetable Stock
300 g New Potatoes
1 Tbsp Tarragon
1 Tbsp Chervil
1 Tbsp Basil
125 g Garden Peas
2 Spring Onions
2 Eggs
Salt and Pepper to taste
Instructions
Cut the potatoes into bite sized pieces.
Bring the vegetable stock to a simmer and add the potatoes and simmer for 12-15 mins until the potatoes are just tender.
Whilst the potatoes are boiling finely slice the spring onions and chop the herbs.
Add the peas, salad onions,herbs, retaining some for sprinkling when finished) and simmer for a further 2 minutes.
If you are using frozen peas add them in for an additional 3 minutes before you add the spring onions and herbs.
Meanwhile bring a large pan of water to the boil to poach your eggs.
When boiling reduce the water to a simmer.
Crack 2 eggs into separate bowls and drop carefully into the water.
Cook for 3 minutes and serve on top of the soup and sprinkle with more herbs.
Notes
For hints and tips on the perfect poached egg scroll up the page a little bit!
Nutrition Information:
Yield:

2
Serving Size:

1
Amount Per Serving:
Calories:

290
Total Fat:

5g
Saturated Fat:

2g
Trans Fat:

0g
Unsaturated Fat:

3g
Cholesterol:

186mg
Sodium:

944mg
Carbohydrates:

47g
Fiber:

7g
Sugar:

7g
Protein:

15g
Calorific details are provided by a third-party application and are to be used as indicative figures only.