A sweet chili sauce is my favourite condiment, I use it on everything from bacon sandwiches through to glazes for bbq ribs.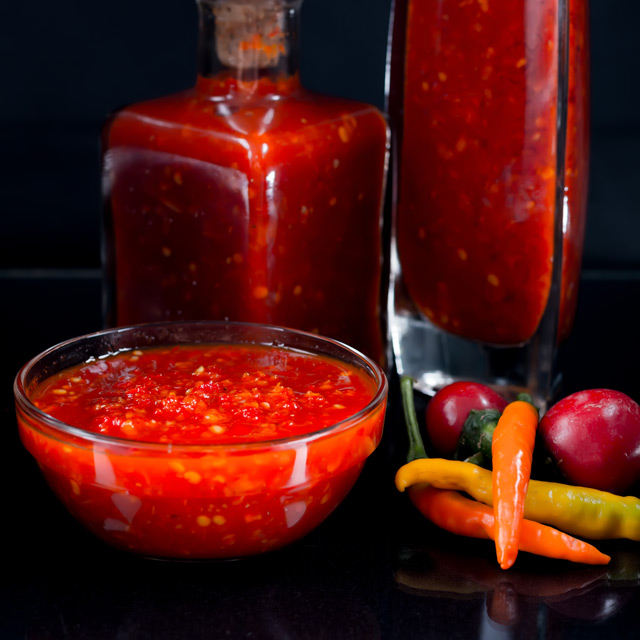 When people come visit our wee plot of of land here in Rural Hungary when we are in the growing season one of the first questions we are asked is why on earth do we have so many chili plants. Our answer is usually sweet chili sauce, admittedly we actually do a lot more with them everything from pickled chili through to dried chilis and even homemade cayenne pepper, but our go to is sweet chili sauce.
I have scaled back this recipe to make a 'normal' sized amount of chili sauce but usually I make it in huge batches and we use it in everything from soups and stews to glazes for chicken and that is before we have even considered using it as a dipping sauce.
In fact in many ways chili sauce has replaced ketchup and as far as I am concerned I will not consume a bacon sandwich with anything else other than sweet chili sauce.
The shop bought variety is seems unusually orange and has a very odd texture and very little of the character of the chili used to make the sauce. It is kinda generically spicy and exceptionally sweet.
This is very different, sure it is spicy, it is made of chili after all but you can almost taste the different characteristics of the chilis used in the sauce and whilst it has a sweetness it does not have that clawing texture that hangs around forever.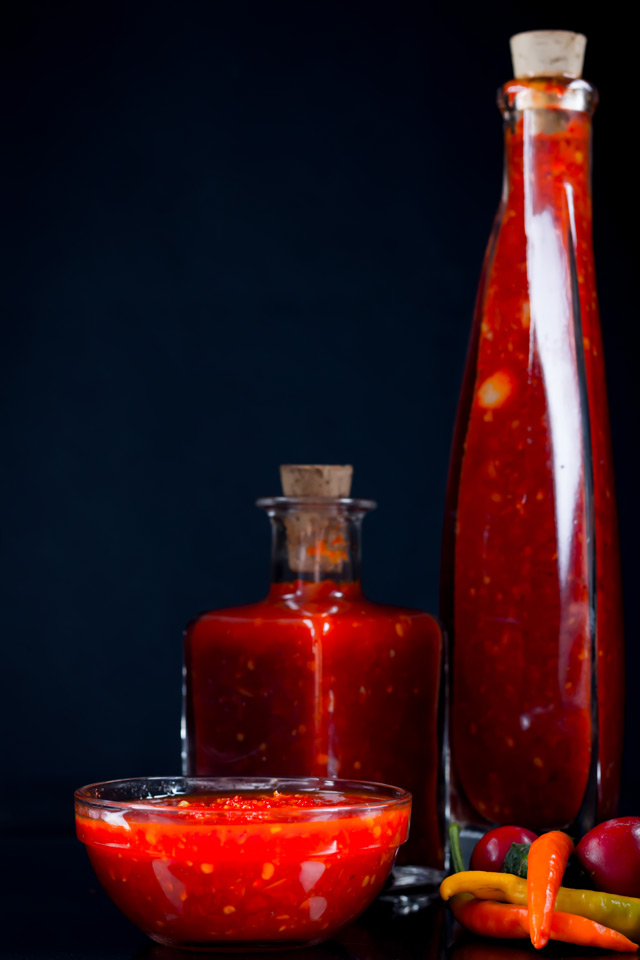 I would not necessarily call myself a chili connoisseur but I do know that all chilies have different flavours as well as heat levels so I typically mix the chili varieties in my sweet chili sauce. The main component is made from cherry bomb chilies, these are roughly the same sort of heat as a jalapeno pepper but are very heavy on the seed front so I remove the seeds from these.
They also have a bitter sweet flavour that works really well in a chili sauce. I then use some golden cayenne which carry a much heavier kick of heat but also an almost citrus back note and the some Thai Birds Eye chili peppers. I use these with the seeds in but they form no more than 10% of the over all weight of the amount of chili I use.
However make it work for yourself, this recipe scales beautifully, I took my usual recipe for making 5 litres of sweet chili sauce and tested it for this recipe that make just 1 litre and you could not tell the difference between them. Use the chilies you can get your hands on or the chilies you like the flavour of and just go wild and crazy, nothing spices up a meal than a little splash of this mighty treat.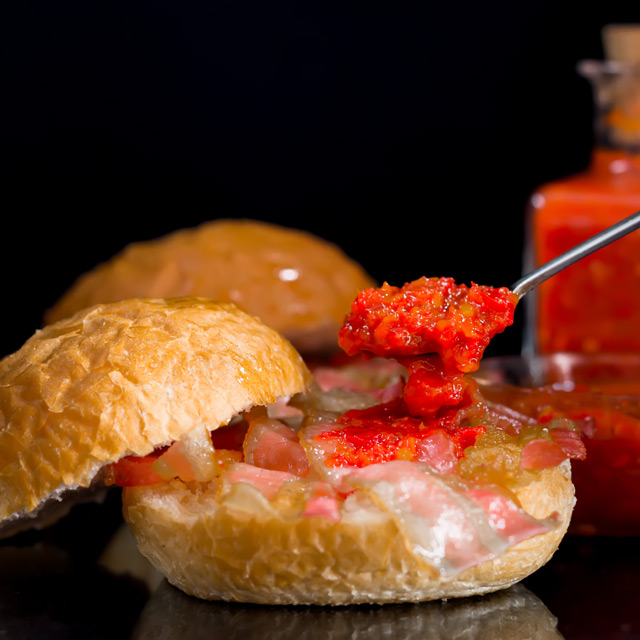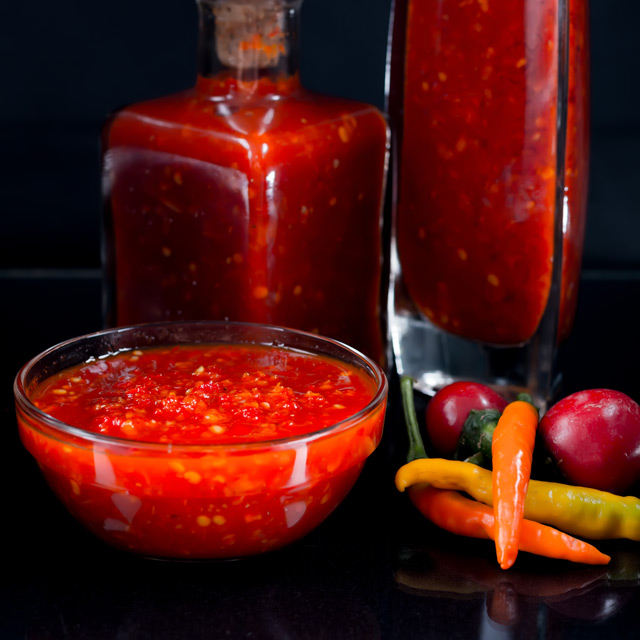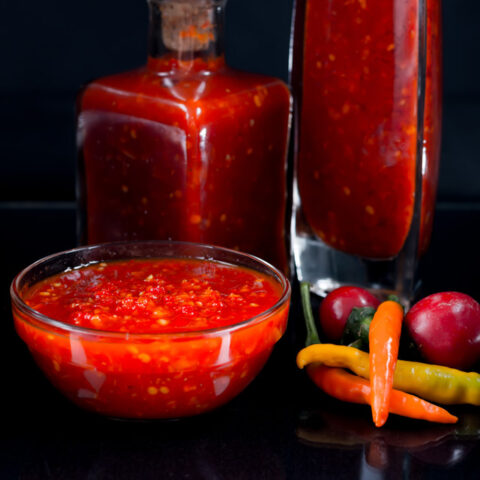 Forget Ketchup Break Out The Sweet Chili Sauce
A sweet chili sauce is my favourite condiment, I use it on everything from bacon sandwiches through to glazes for bbq ribs.
Ingredients
600 g Chilies, I like to use multiple varieties, I favour chili bomb peppers for body and then a couple of really spicy varieties to add a different flavour and a decent kick. But use your favourite chilies
8 Cloves Garlic, Roughly chopped and bruised
250 g Light Brown Sugar
200 ml Water
50 ml Mirin
50 ml Light Soy Sauce
2 Tbsp White Wine Vinegar
Instructions
Begin by preparing your chilies, leaving the seeds in or not is a choice for you but I remove the seeds from Chili Bomb Chili as there are so many of them, however ensure you remove the stalks
Place all of the ingredients with the prepared chilies into a pan and bring to the boil stirring to ensure that the sugar is all dissolved
Reduce the heat to low and simmer for 15 minutes making sure that the sauce does not catch on the bottom of the pan
Finally place in a blender or use a stick blender to reduce the sauce to a pleasing consistency, I like to not take mine to far and leave it with a little texture
Notes
We always batch make this recipe from our home grown chilies and it will last for at least a year, we usually run out just as our next harvest comes to fruition and this recipe will yield around 1 litre of sauce.
The calorific value of this recipe refers to the full amount.
Nutrition Information:
Yield:

1
Serving Size:

1
Amount Per Serving:
Calories:

1420
Calorific details are provided by a third-party application and are to be used as indicative figures only.