Smoked Mackerel is one of my favourite products, cheap, full of great flavour and a long shelf life. This smoked mackerel salad features smoked mackerel fillets coated with a teriyaki sauce and then broiled and is served with a simple quick salad!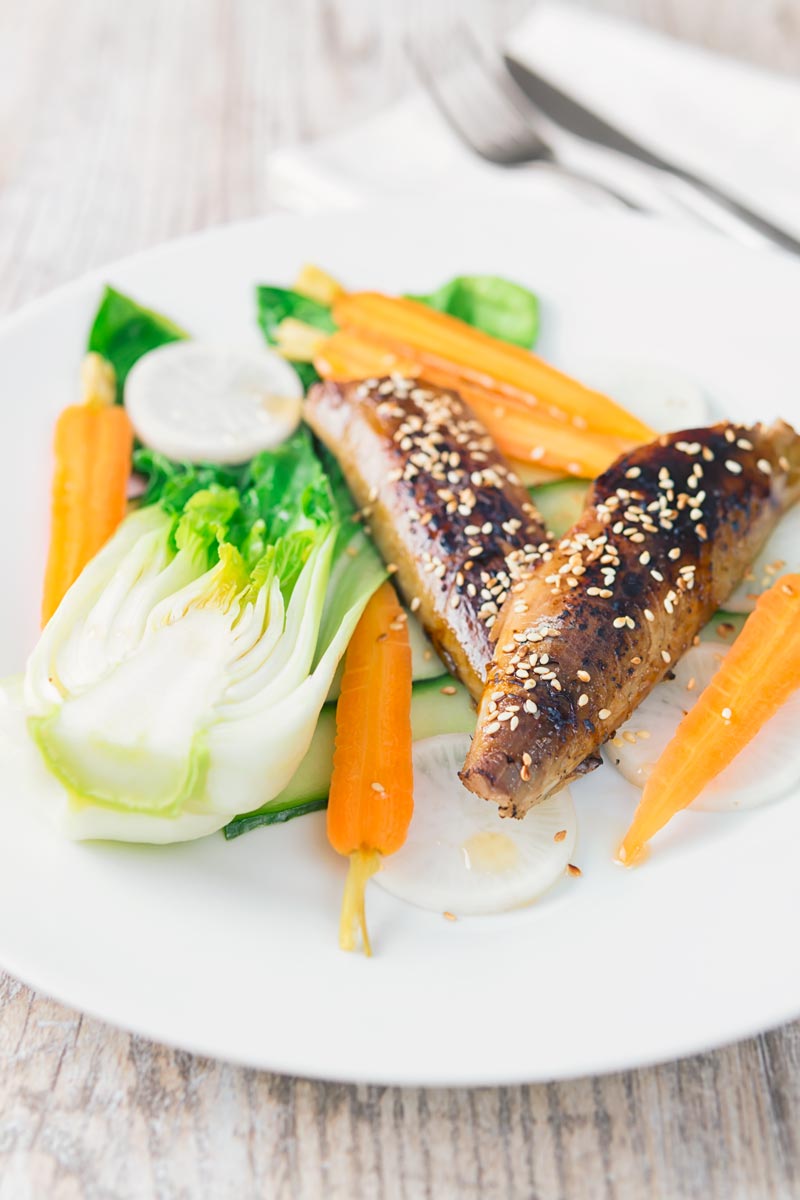 Teriyaki Smoked Mackerel Salad.
I have not hidden my love of mackerel here on my website and this mackerel salad is the latest profession of that love.
Because fresh mackerel is difficult to find here in the Hungarian countryside most of my mackerel recipes feature smoked mackerel.
It is such a fantastic product. It is cheap as chips, it has a long shelf life and tastes wonderful.
In this recipe, we reduce down a teriyaki sauce and then brush it over smoked mackerel fillets.
Then we simply broil or blow torch these fillets to caramelise the teriyaki sauce. Of course, I use a blow torch as I do in this cured mackerel recipe.
This is served with some simply blanched bok choi, some pickled baby carrots, some cucumber and radish.
Super simple, really nutritious and light, yes, spring is right around the corner!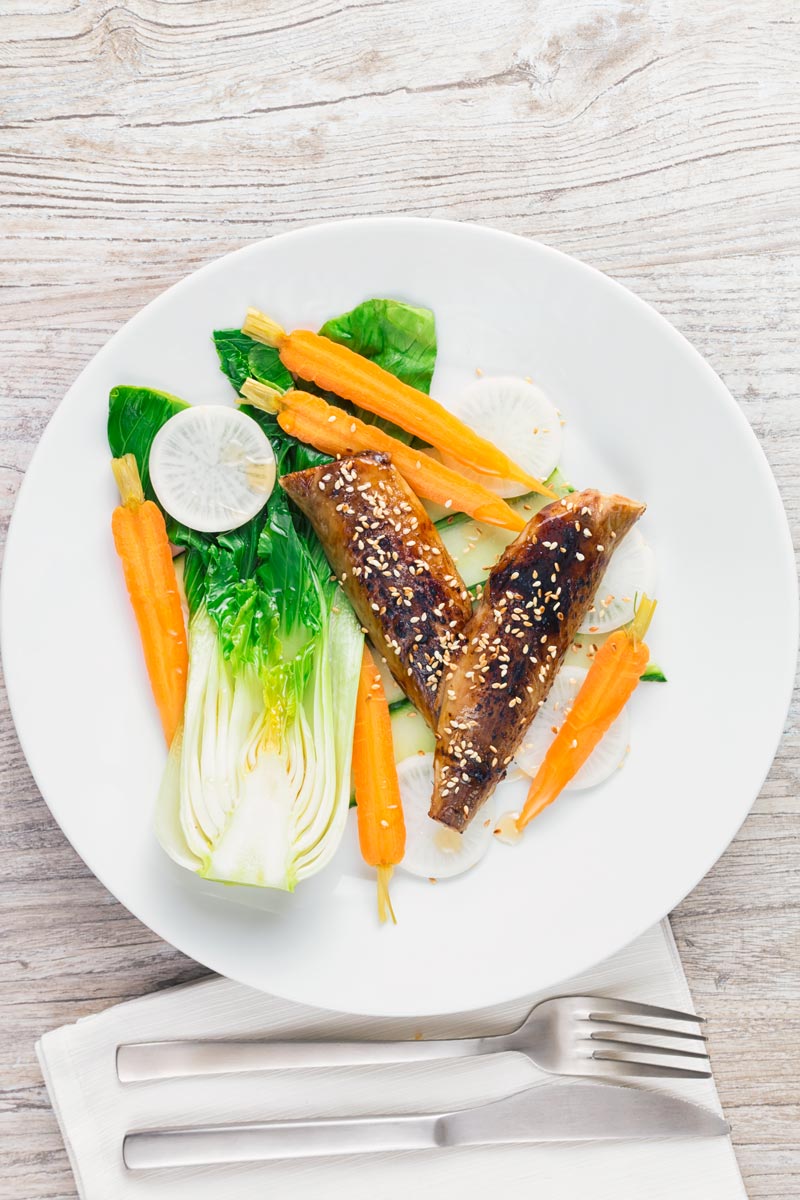 The Versatility of Smoked Mackerel.
The first thing many think of when it comes to smoked mackerel is smoked mackerel pate.
That is of course perfectly lovely but that is not all this wee little fishy has to offer!
I personally love using it as the protein element of a salad. It is boldly flavoured, wonderfully salty and savoury.
This salad is very much influenced by Asian flavours.
But it also works really well with fruit. As a result, this smoked mackerel and mango salad and this mackerel salad with apple and bacon work really well.
But it is just at home in a kedgeree as a replacement for smoked haddock and it makes the most incredible topping for pasta, you must check out this smoked mackerel with fusilli and chilli recipe.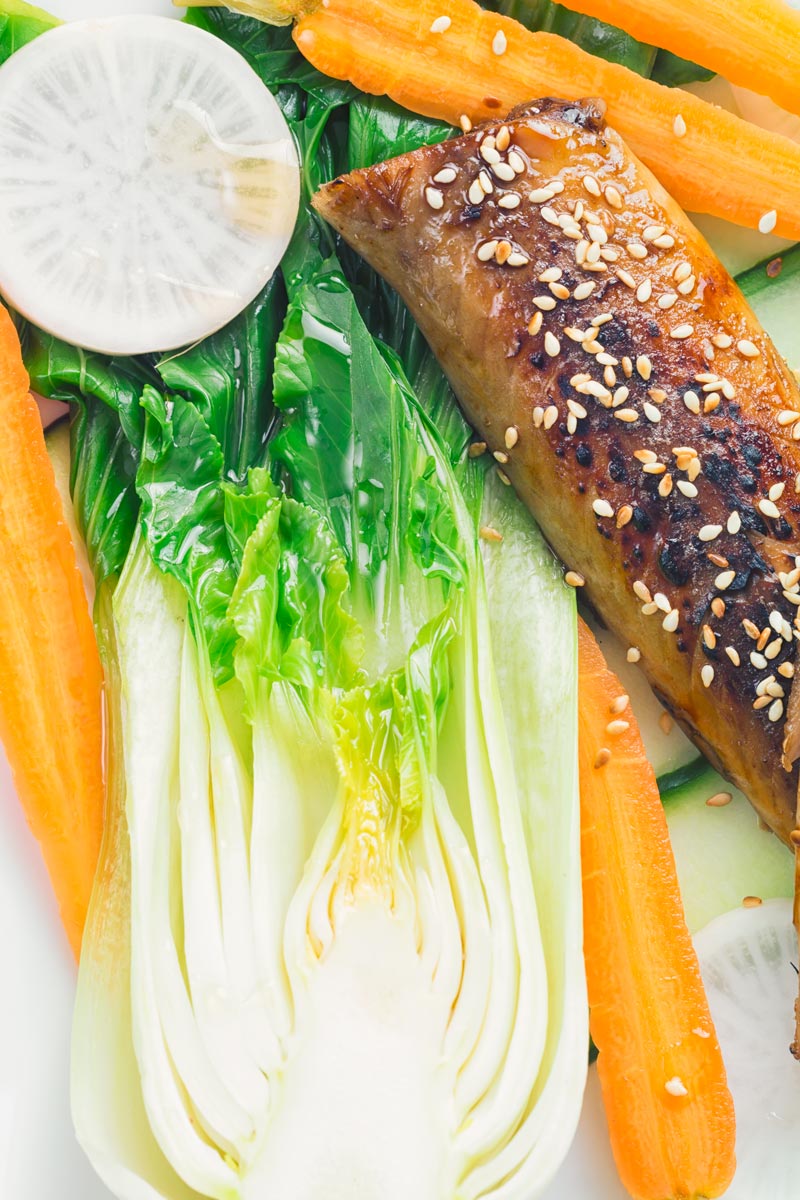 Can You Substitute Smoked Mackerel?
Given my love of mackerel, it is tempting to say no… However, I would be lying!
Kippers, which are cured and smoked herring are a perfect substitute for smoked mackerel.
The fillets are a little more difficult to separate in a pretty manner, but that only impacts presentation.
Flavour wise they would work wonderfully in this recipe.
Finding smoked sardines is a little difficult but they will also form a perfectly good sub.
If you are happy with a slightly less punchy flavour form the fish then you could also get some smoked trout.
The flavour of the fish is definitely less pronounced but it would work really well!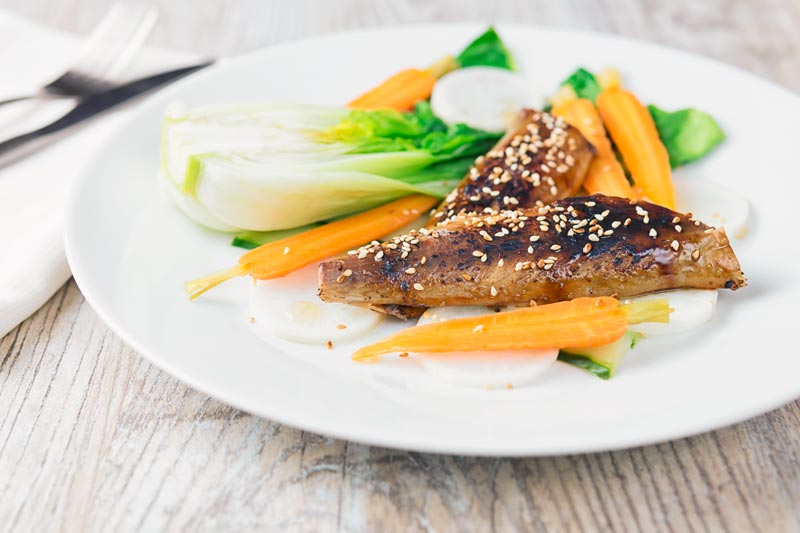 Cooking With A Blow Torch!
The fillets in this mackerel salad do not need cooking.
All we are doing is searing the teriyaki sauce and warming them a little.
Consequently, a blow torch is a perfect tool to use.
You can, of course, slip these under the grill and broil them, this works great if you have a gas broiler. If your grill is electric it is a terribly inefficient way of working.
All you need is 20-30 seconds of heat.
So fire up the blow torch, don't bother with those ridiculous things that you get in gifts for foodies guides.
Nip to the local DIY store and get a butane blow torch for plumbers!
Seriously, it is what I use, it provides a broader heat that is actually useful and costs a lot less!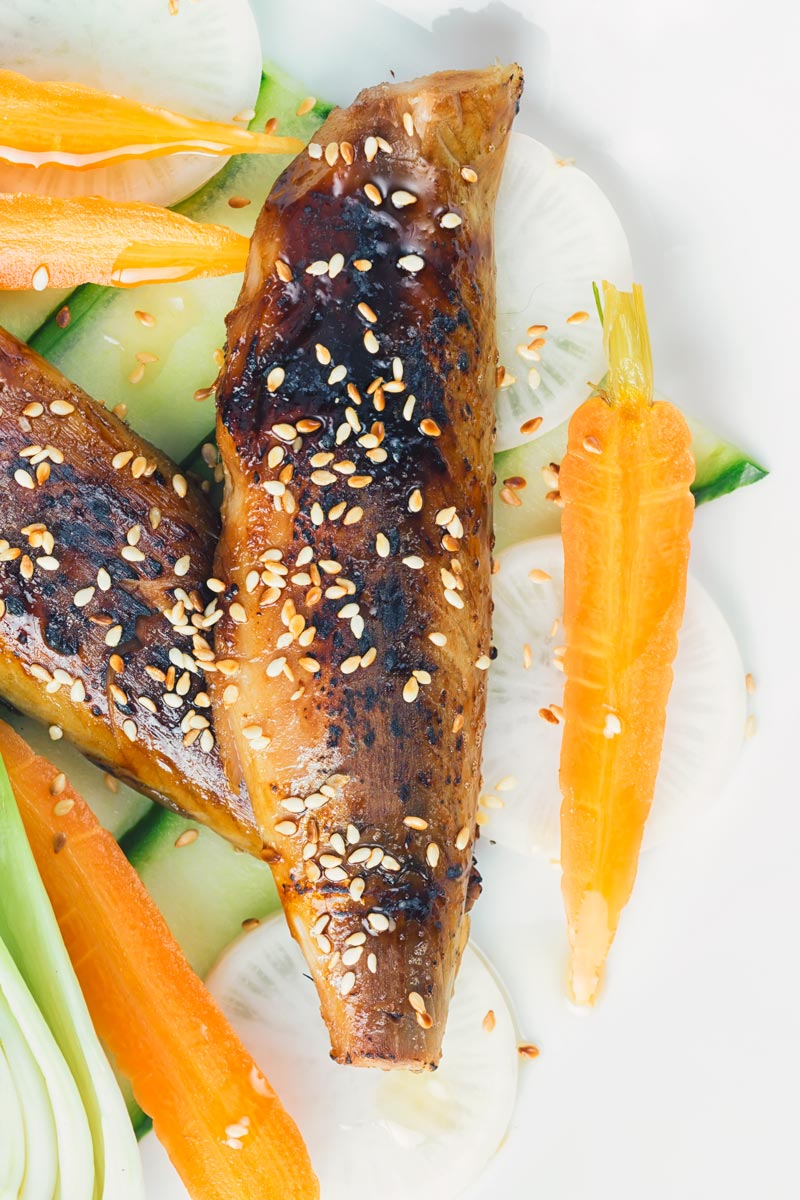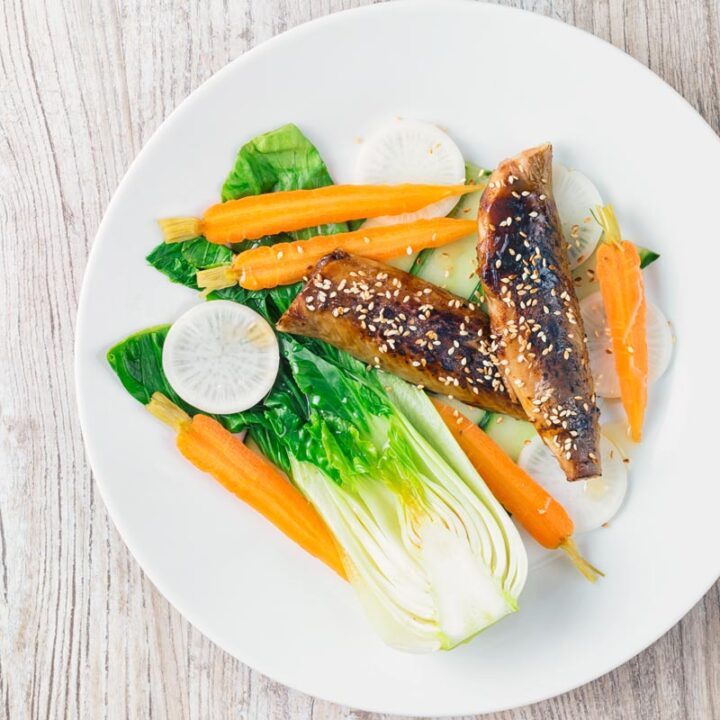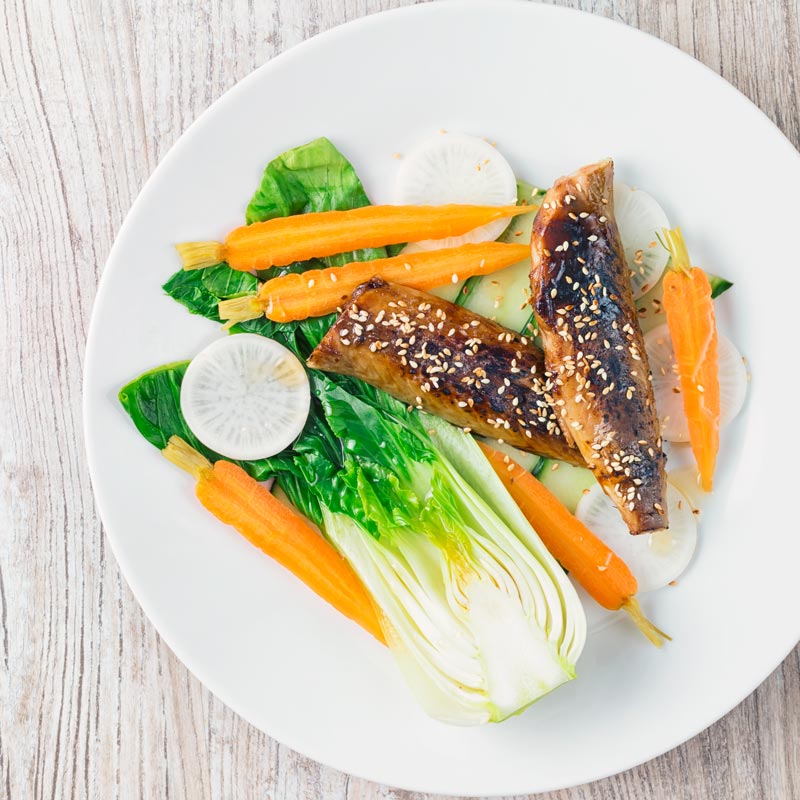 Yield:

2 Servings
Teriyaki Smoked Mackerel Salad
A perfect light meal for spring and summer, this smoked mackerel salad features glazed smoked mackerel fillets and pickled carrots.
Ingredients
4 Smoked Mackerel Fillets
For the Pickled Carrots
75 g Baby Carrots
150 ml Chinese Red VInegar
150 ml Water
4 Tbsp Sugar
1 Tbsp Coarse Sea Salt
For the Teriyaki Sauce
2 Tbsp Light Soy Sauce
2 Tbsp Shaoxing Wine
2 Tbsp Mirin
2 Tbsp Honey
For the Salad
50 g Cucumber
50 g Daikon
150 g Bok Choi
1 Tsp Sesame Seeds
1 Tbsp Toasted Sesame Oil
Instructions
Begin by pickling the carrots, take the carrots and cut them in half length ways.
Bring the rest of the ingredients for the pickled cabbages to the boil and pour over the carrots and allow to sit for 25 minutes.
Combine the ingredients for the teriyaki sauce and reduce it over a medium heat until it creates a 'sticky sauce'.
Bring a pan of water to the boil and season generously with salt.
Add the bok choi and cook for 4-5 minutes.
Remove the bok choi and place straight into iced water to stop the cooking.
Toast off the sesame seeds.
If your mackerel is on the bone peel off the skin and then gently tease off the bone, take your time with this.
Cut the cucumber into ribbons using a vegetable peeler.
Slice the daikon into rounds 2mm thick.
Remove the bok choi from the ice water, cut in half length way and dry on kitchen paper.
Using a pastry brush paint the skin side of the mackerel fillet with the reduced teriyaki sauce.
Begin by presenting the salad.
I start with the cucumber n the base, then the bok choi, followed up with the daikon and pickled carrot.
Now place the mackerel under a fierce broiler or caramelise the teriyaki sauce with a blow torch, this should take no longer than 30 seconds.
Drizzle the salad with the toasted sesame oil.
Finally add the mackerel fillets and sprinkle with the sesame seeds.
Nutrition Information:
Yield:
2
Serving Size:
1
Amount Per Serving:
Calories:

790
Total Fat:

39g
Saturated Fat:

8g
Trans Fat:

0g
Unsaturated Fat:

26g
Cholesterol:

132mg
Sodium:

4787mg
Carbohydrates:

57g
Fiber:

3g
Sugar:

52g
Protein:

45g
Calorific details are provided by a third-party application and are to be used as indicative figures only.