This tomato and Chili Jam is so versatile, every thing from a topping to Crostini through to a glaze for pork or chicken.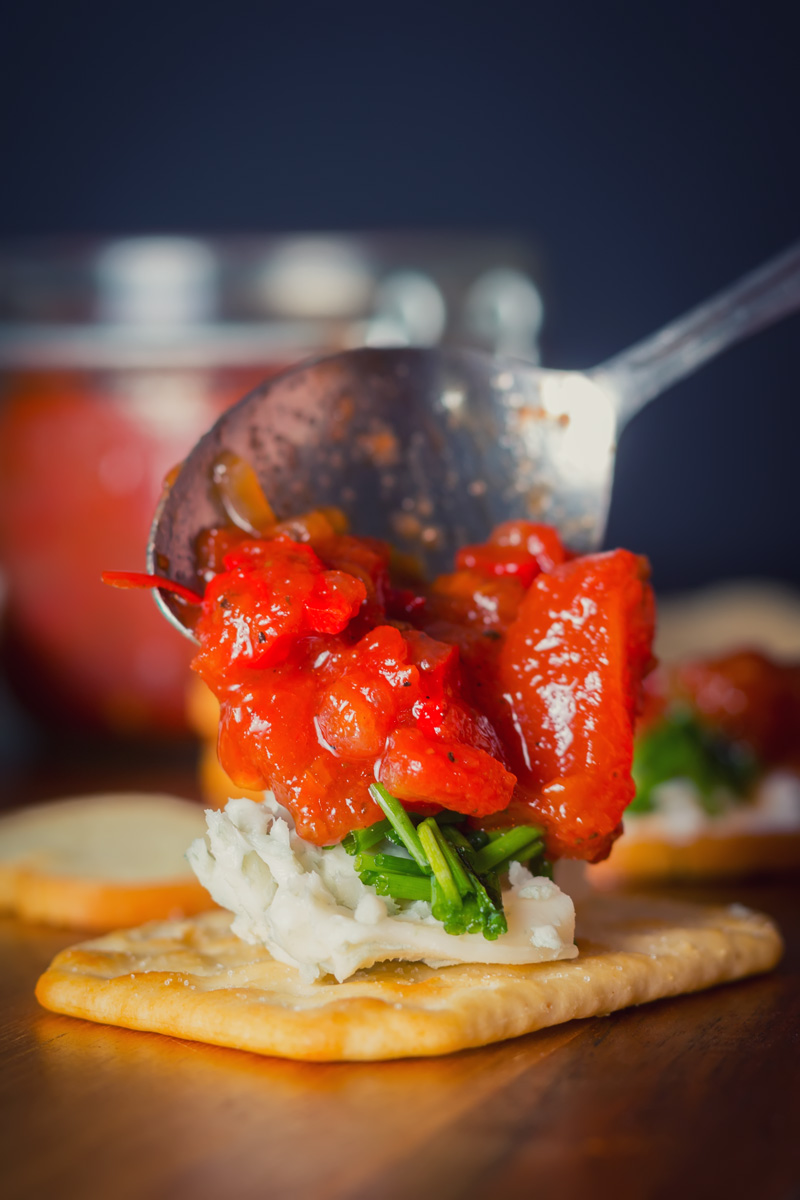 This time of the year is all about the frantic preservation of our crops to make sure we maximise our harvest and have loads of treats over winter and through spring. This tomato and chili jam is a favourite of ours and we increase the amount we make every year and somehow always run out far too quickly.
Not only is it great as an accompaniment on a cheese board but this is so good in so many other ways to! If you want a life saving tip, make sure you wear some latex gloves when preparing this dish. Rubbing oil into your hands works for preparing a few chilis but when it comes to 150g you need a little more protection.
Yes I have learned this the hard way, all of the sensitive areas of my body have suffered capsaicin burn over the years from tardiness. Please don't be that person, it hurts!
I am trying not to do too many preservation posts here as I don't really want to be labelled. So am drip feeding a few in each year so there will be just one or two more this year to go along side this and my tomato passata recipe.
So how else do I use this chili and tomato jam then I hear you say. Well I mention in my notes that it makes the most incredible glaze for grilled meats offering a sweet and spicy coating to chicken or pork.
I have even brushed it over a meatloaf after 20-30 minutes before it has finish cooking and it works a treat.
It also perks up a whole host of tomato based sauces for pasta, stirred into a chili it is amazing and it makes the most incredible base for a chunky pepper sauce. Simply chop up some peppers and onions and saute in little oil and then add some of the chili jam and allow it to slowly cook down. The liquid in the peppers will form a fantastic sauce.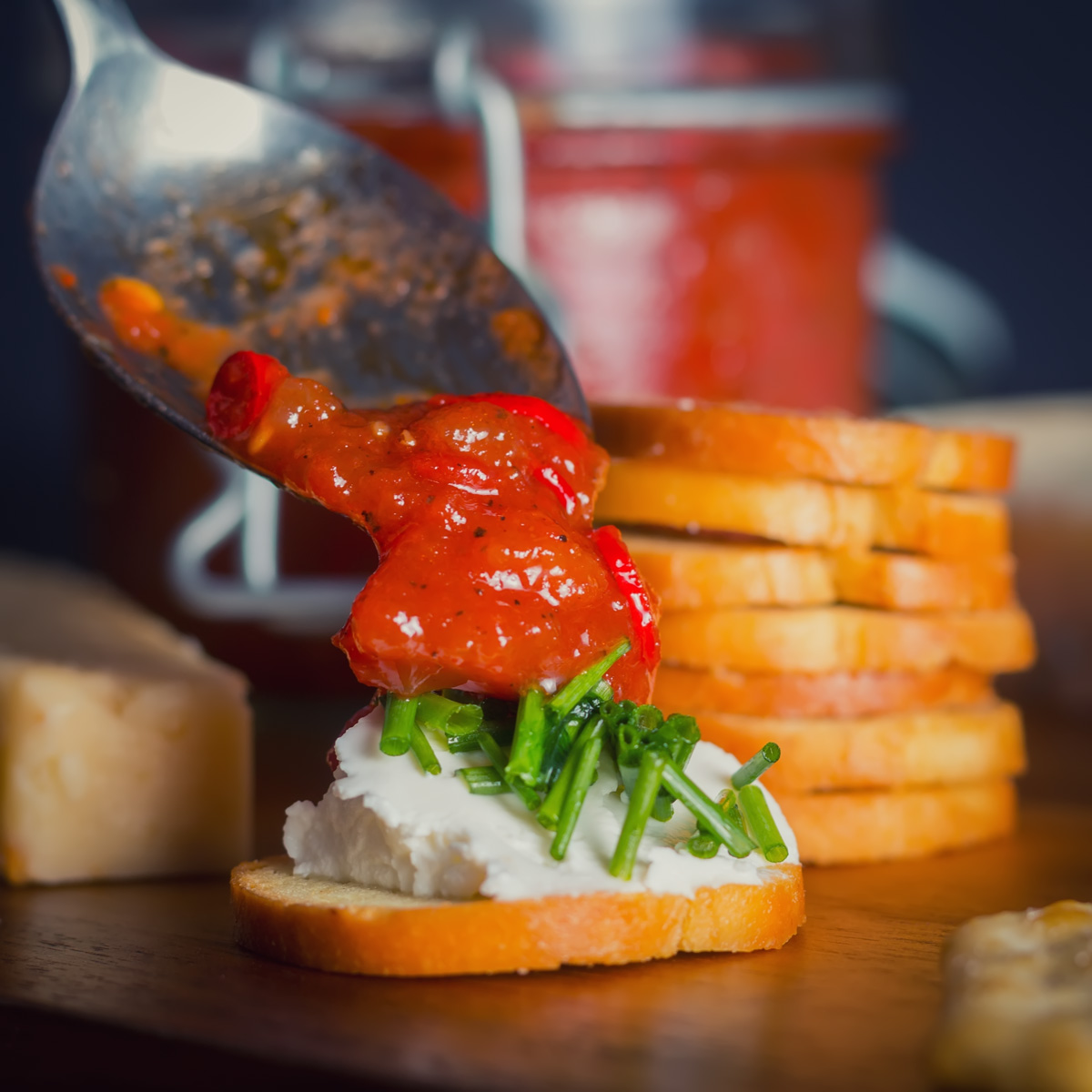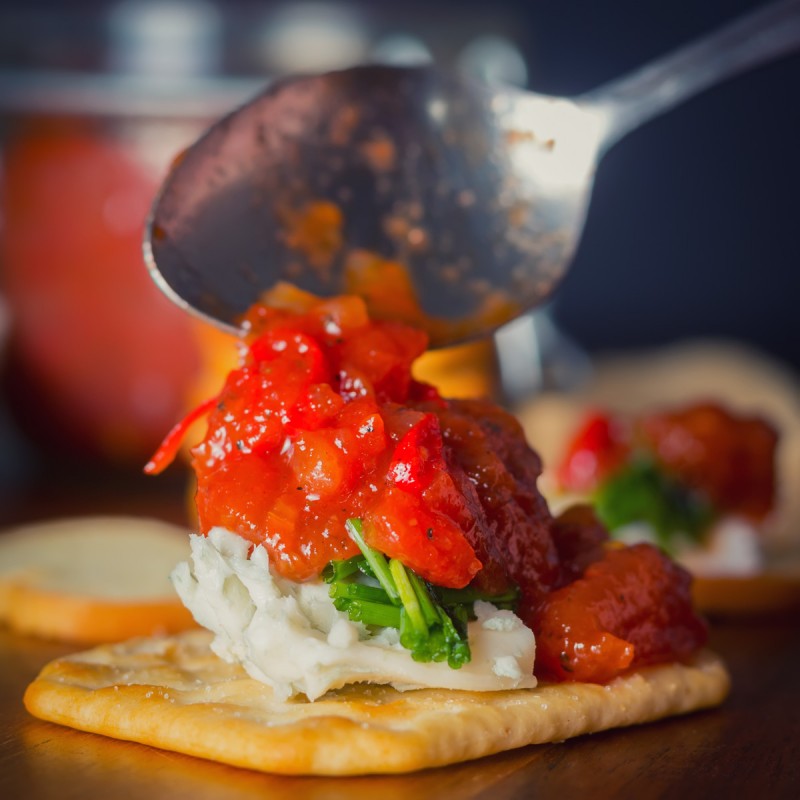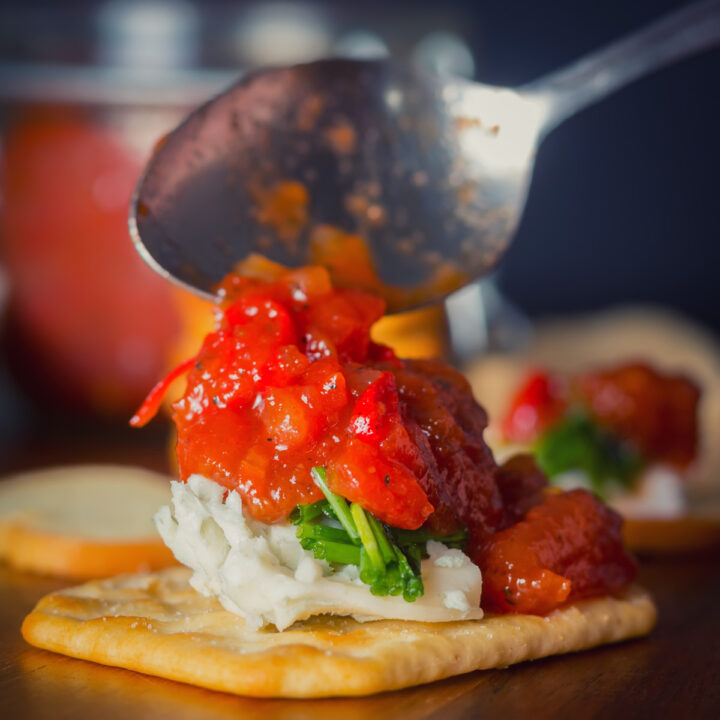 Tomato and Chili Jam
Total Time:
1 hour
15 minutes
This tomato and Chili Jam is so versatile, every thing from a topping to Crostini through to a glaze for pork or chicken.
Ingredients
2 kg Plum Tomatoes
150 g Chili Peppers, Cut into fairly small rounds. I used fresh cayenne peppers but choose something that you like with a heat level you can cope with
50 g Olive Oil
200 g Onions, Thinly sliced into 2mm half moons
10 g Coarse Sea Salt
1 Tsp Freshly Ground Black Pepper
225 g Brown Sugar
250 ml Red Wine
Instructions
Bring large pan of water to the boil and then place a small cross on the base of the tomatoes and scald in the water for around 60 seconds.
When cooled you should be able to peel the tomatoes easily.
Now you want to remove the seeds of the tomatoes over a fine mesh sieve and then push through as much juice as possible, discard the seeds and keep the juice.
Cut the tomato flesh into a fairly fine dice (5mm or so).
Now heat the oil in a large pan over a medium high heat and add in the onions, salt and pepper and allow to cook until the onions begin to brown.
Now add the sugar and when it has dissolved, the red wine and cook until it has reduced to a syrup which should take about 15 minutes.
Finally add in the tomato flesh, chili and tomato juice and cook over a medium heat until a temperature of 105°C is reached (220°F), at this point the jam should coat the back of a wodden spoon which should take around 50-60 minutes although this will depend on the liquid content of your tomatoes.
Notes
To use this as a glaze, simply put a couple of table spoons in a small pan and slowly bring to a warm temperature and brush over your meat before cooking.
The calorific value of this recipe refers to the full recipe.
Nutrition Information:
Yield:

1
Serving Size:

1
Amount Per Serving:
Calories:

2060
Total Fat:

56g
Saturated Fat:

8g
Trans Fat:

0g
Unsaturated Fat:

45g
Cholesterol:

0mg
Sodium:

4073mg
Carbohydrates:

349g
Fiber:

32g
Sugar:

294g
Protein:

25g
Calorific details are provided by a third-party application and are to be used as indicative figures only.