The classic(ish) flavours of Nicoise feature in this tuna pasta salad. It is perfect for packing up in a picnic basket and eating in the sun!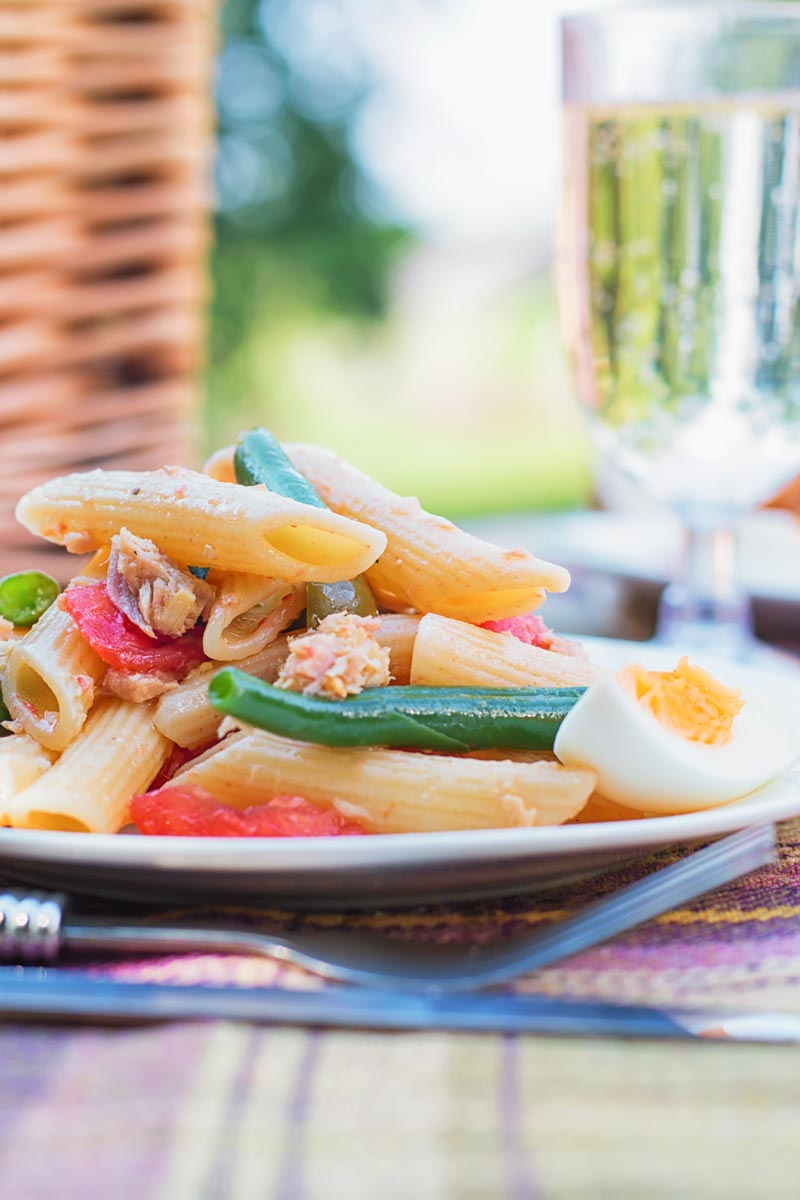 Almost Nicoise Tuna Pasta Salad.
I'm sure there will be some itching to point out that the presence of pasta makes this almost Nicoise pasta salad a fraud, well so be it.
It kinda has the flavours of a Nicoise salad, sans olives of course… I hate olives!
But it points you in the right direction as to what to expect on the flavour front.
Eggs, Tomatoes, Anchovies and Tuna in a classic vinaigrette.
I add capers, green beans and of course pasta and I think this recipe is a corker.
It is rich but sharp and a huge step away from the sort of pasta salad you find in the chiller cabinet at the local store!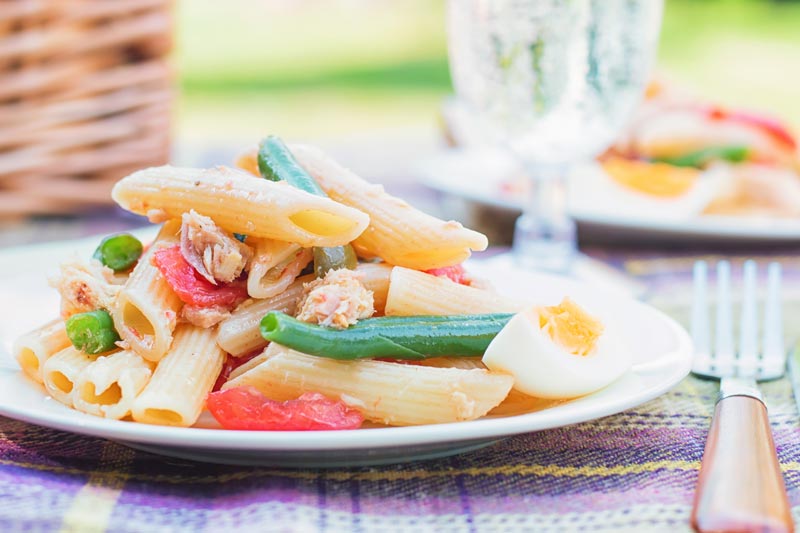 How to Cook the Perfect Boiled Egg.
In my Irish Boxty recipe I spoke about cooking the perfect poached egg…
For this tuna pasta salad recipe, we need boiled eggs. Something I cook with quite often and for some strange reason people find them challenging.
For this recipe, we want the perfect boiled egg with a jammy yolk. Just the same as in my egg curry recipe.
This all comes down to timing, for me that is 5:30 to 6:00 minutes depending on the size of the egg.
Although it would be remiss of me not to note that here in Europe we do not store our eggs in the fridge.
Naturally cold eggs take longer to come to cook than room temperature eggs. As a result, if you are in the US add an extra 30 seconds or so to that.
Finally, I always prick the air sack at the base of the egg with a needle. I have no idea why I do this, it is something I always do and and likely always will do!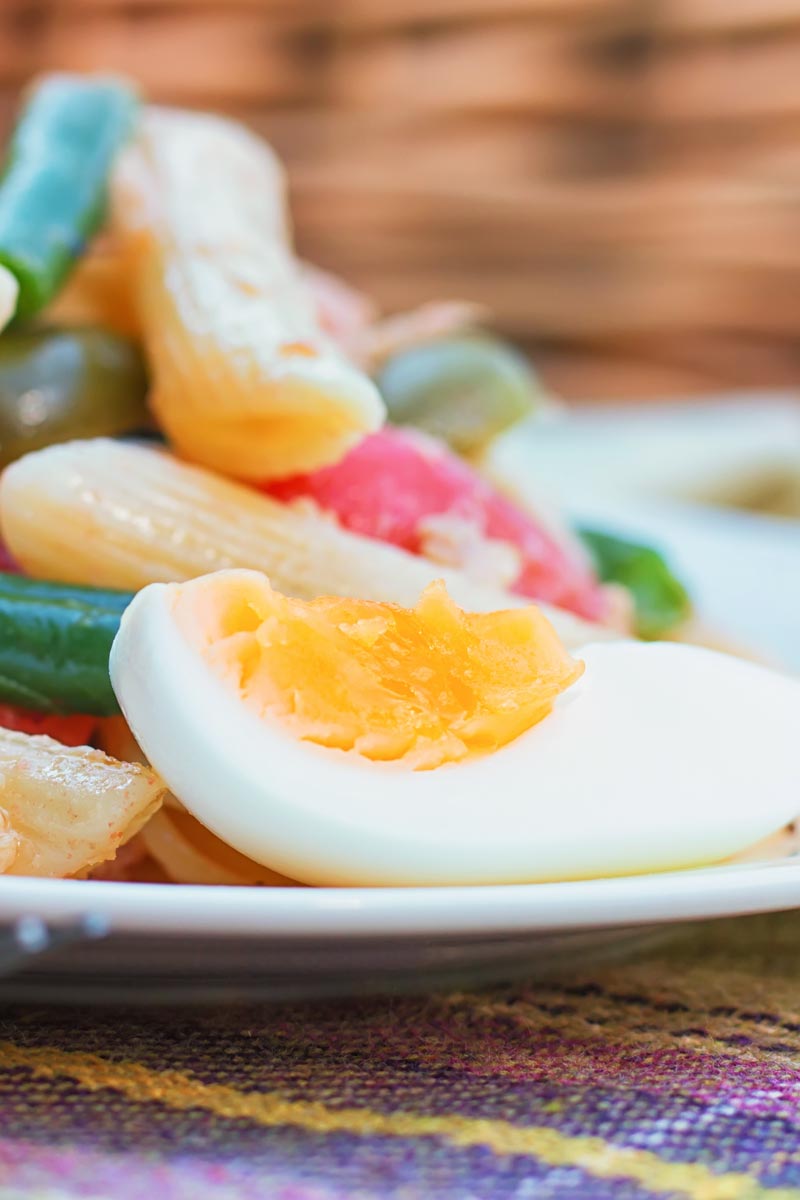 What Pasta to Use in a Pasta Salad?
For me, a pasta salad needs a short and robust pasta shape.
One that will cope with being bundled into a lunch box or Tupperware tub.
Both Penne pasta and Rigatoni pasta are perfect for this purpose. And as you can see it is what I chose for this tuna pasta salad recipe.
However there are other options, Conchiglie or pasta shells are also great.
In fact, if you have a saucy covering for your pasta salad like this BLT pasta salad then they are often even better.
If you are not packing your pasta salad up for a picnic BBQ or lunch then you can work with other shapes. Fusili or farfalle are perfect if you are serving at home and not storing.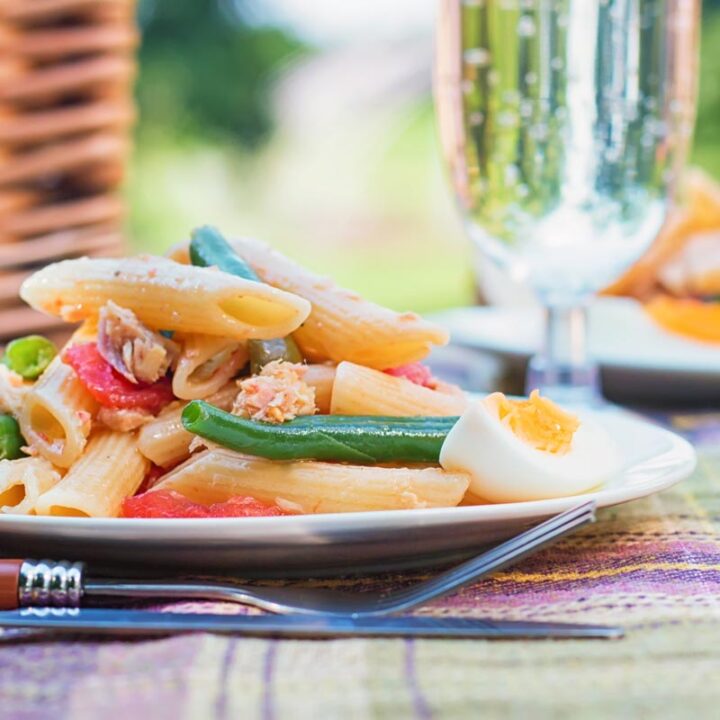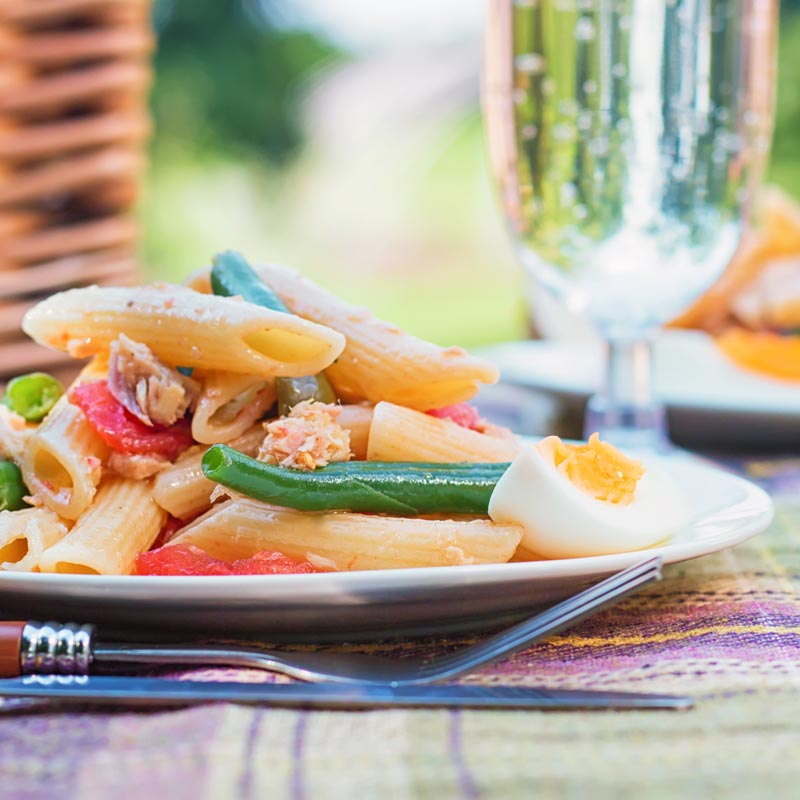 Yield:

2 Servings
Tuna Nicoise Pasta Salad
Pasta salad is the perfect picnic or lunchbox recipe and this tuna pasta salad works with the flavours of a classic Nicoise salad and repurposes them.
Ingredients
For the Pasta Salad
150 g Cherry tomatoes
2 Eggs
50 g Capers
150 g Penne Pasta
75 g Green Beans
125 g Canned Tuna
For the Dressing.
50 ml Olive Oil
1 Clove
2 Anchovy fillets
1 Tbsp Red Wine Vinegar
1/2 Tsp Dijon Mustard
Salt, To Taste
Pepper, To taste
Instructions
Bring a large pan of water to the boil.
Drop the eggs in the boiling water and cook for 6 minutes before removing and plunging in cold water to cool immediately.
Cut the green beans in to 2cm lengths.
Cut a small cross in the base of the tomatoes just through the skin and then plunge into the boiling water for 45 seconds.
Finely slice the anchovies and mash the garlic clove.
Mix together all of the ingredients for the dressing.
Cut the tomatoes in half and remove the seeds (optional).
Heavily salt the water and bring to a hard boil.
When boiling add your pasta and cook as per your instructions, cooking a 30-60 seconds more than you would if you were serving the pasta hot.
2 minutes before the pasta is ready toss in the green beans.
Once drained add the dressing to the still hot pasta and green beans, stir to coat and allow to cool.
When cooled add in the tomatoes, capers and tuna and put in your box for your picnic.
Keep the eggs in their shells and peel and slice them when you are ready to eat.
Nutrition Information:
Yield:
2
Serving Size:
1
Amount Per Serving:
Calories:

521
Total Fat:

31g
Saturated Fat:

6g
Trans Fat:

0g
Unsaturated Fat:

24g
Cholesterol:

216mg
Sodium:

1374mg
Carbohydrates:

32g
Fiber:

5g
Sugar:

4g
Protein:

29g
Calorific details are provided by a third-party application and are to be used as indicative figures only.