If you have not roasted radishes you definitely should start and they are perfect in this refreshing warm duck salad with orange.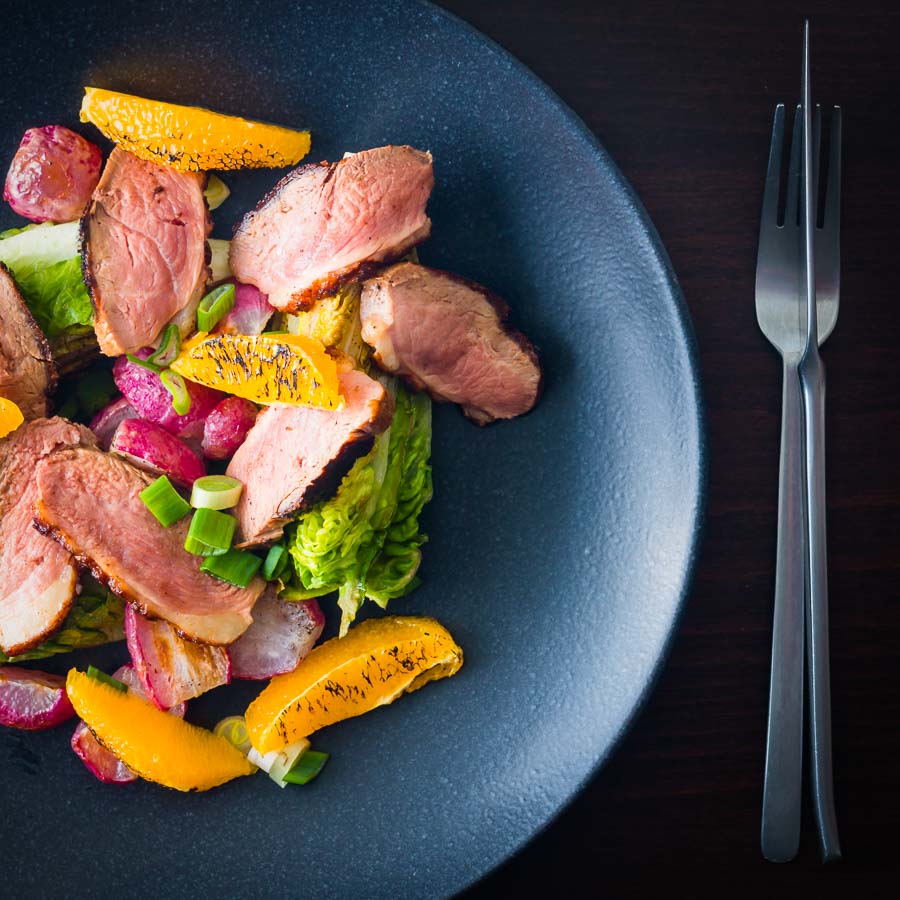 Warm Roasted Radish and Duck Salad.
I like 'anti salads' and my super quick roasted radish and duck salad is exactly just that. It shares much in common with my smoked mackerel salad and Thai beef salad.
Main course salad recipes with a coherent set of ingredients that all sing together.
So in this salad recipe, forget limp and nasty lettuce. Think super crisp baby gem lettuce hearts seared in duck fat!
Forget sharp and harsh radishes. Roast them off and get the most wonderfully mellow peppery nibbles.
As for the duck in this duck salad, perfectly cooked on a stove top and really quick.
I know duck can be expensive in some parts of the world but this is just one single duck breast between two so it becomes frugal… Right?
This dish is a real show stopper, perfect for a date night, but also a great dinner party dish. Everything can be prepped in advance it scales beautifully.
I also personally think this is the one dish that I cook that I am proud of in terms of its visual appearance.
Most of what I serve on a plate I think looks like I have tossed it at the plate from the other side of the room. Although that is something I am very much working on!
This on the other hand I think looks real purdy. Your wife, husband, BF, GF or guests will have no idea that you can knock it up in 20 minutes if you don't tell them!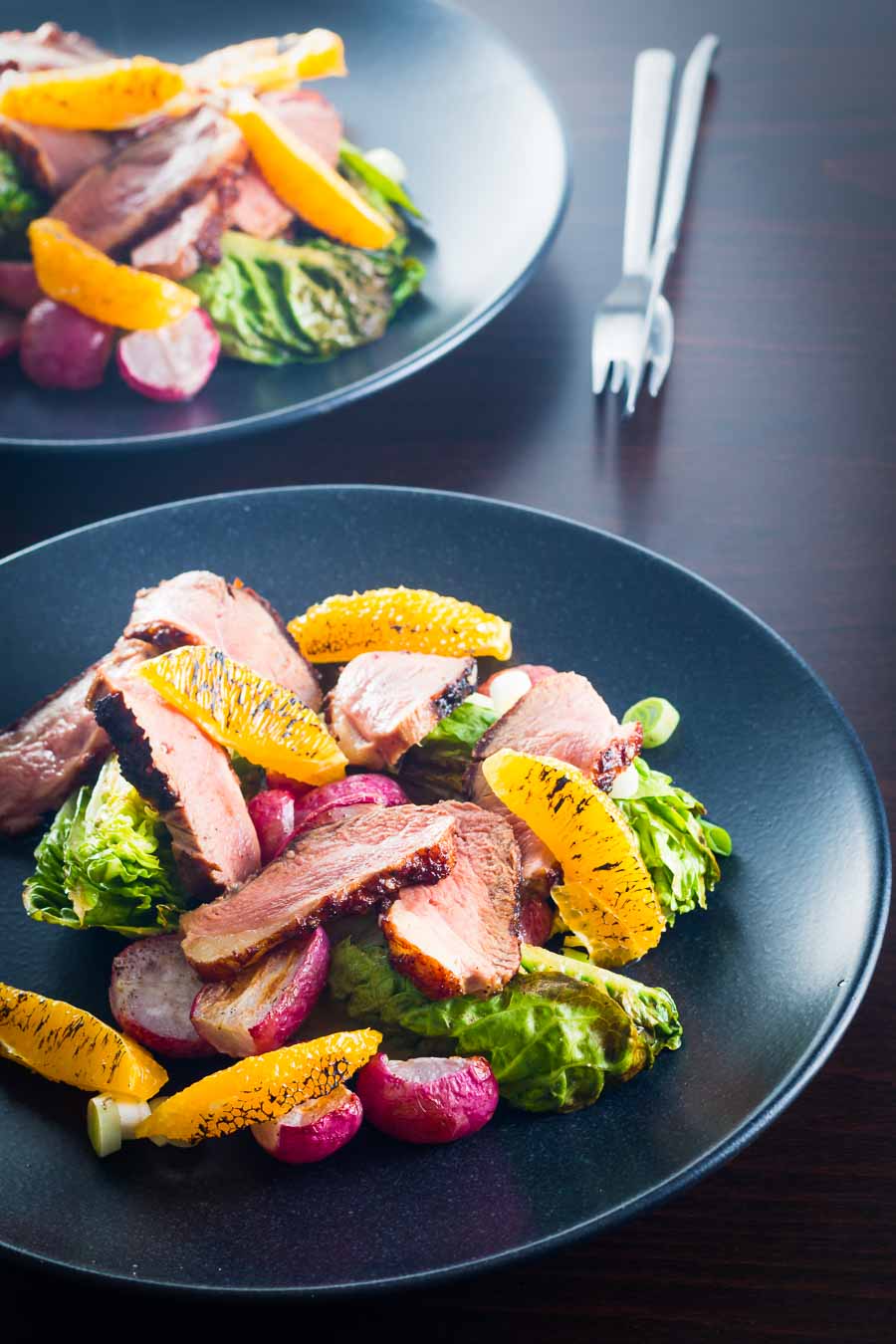 Cooking With Duck.
I do love cooking with duck, it is such a fabulous meat, much more interesting than chicken.
It is equally as adept at being bold enough to stand up to really strong flavours and not get lost as in my Thai red duck curry as it is being the focus of a recipe as in my duck burger. Yes, you read that correctly, a duck burger!
I have received a few comments both here on social media about cooking with duck. Many people say they are very intimidated.
But it really is very simple, just buy a meat thermometer and off you go. The joy of it is you can cook it on a stove top so you are not cooking blind.
I'm certainly not one of those people that says meat should be cooked in a certain way.
I like my meat cooked in a way that compliments a dish to my tastes and if anyone told me it was wrong I would tell them to sod off.
It is my dinner and I will cook it to my taste, I encourage you to do exactly the same.
Here are some rough guideline figures, these temperatures represent the internal temperature after resting. Please note in my recipe I refer to a figure straight out of the pan:
Medium Rare: 57°C
Medium: 62°C
Well Done: 67°C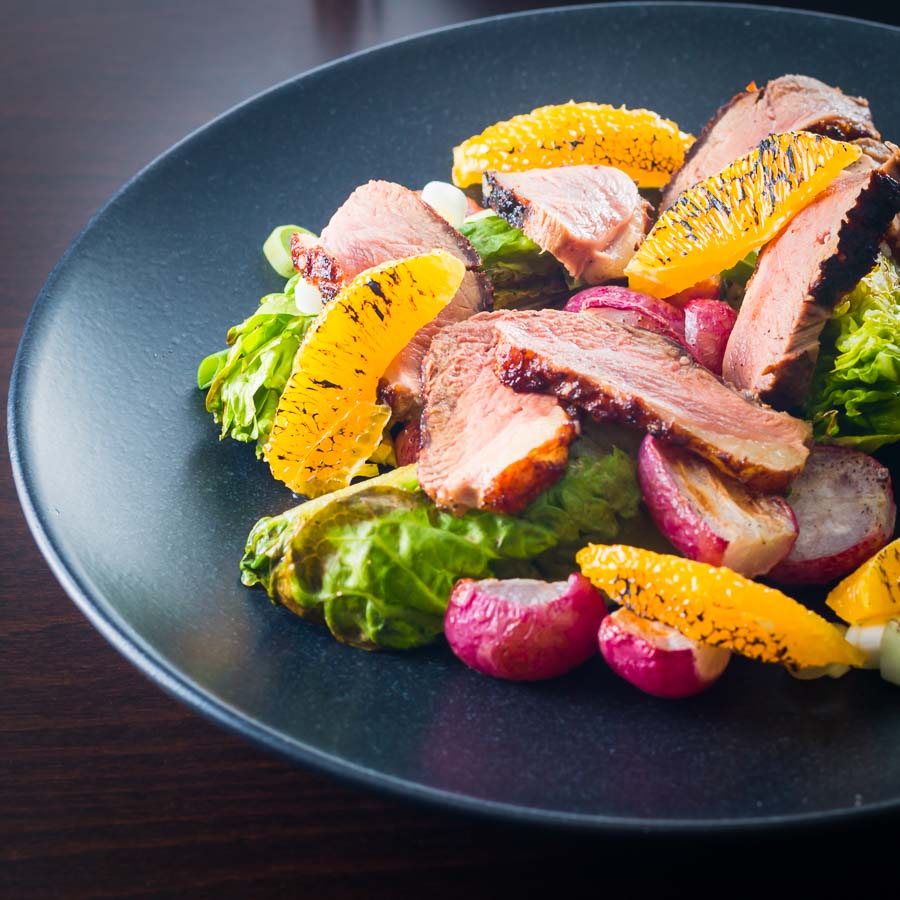 Main Course Salad Recipes.
This duck breast salad represents just one of many main course salad recipes here on krumpli. For me, they are the ideal way to eat from late spring to early autumn.
Regular readers will know I am a huge advocate and lover of comfort food. But when the weather breaks I like to eat lighter and fresher.
I do not see any reason why that means less flavour and less fun with food though.
My salad recipes are also not pious affairs about weight loss either. They are made to fulfill my love of food, nothing more and nothing less. So if you like me are a self-confessed salad dodger check out some of these main course salads with attitude!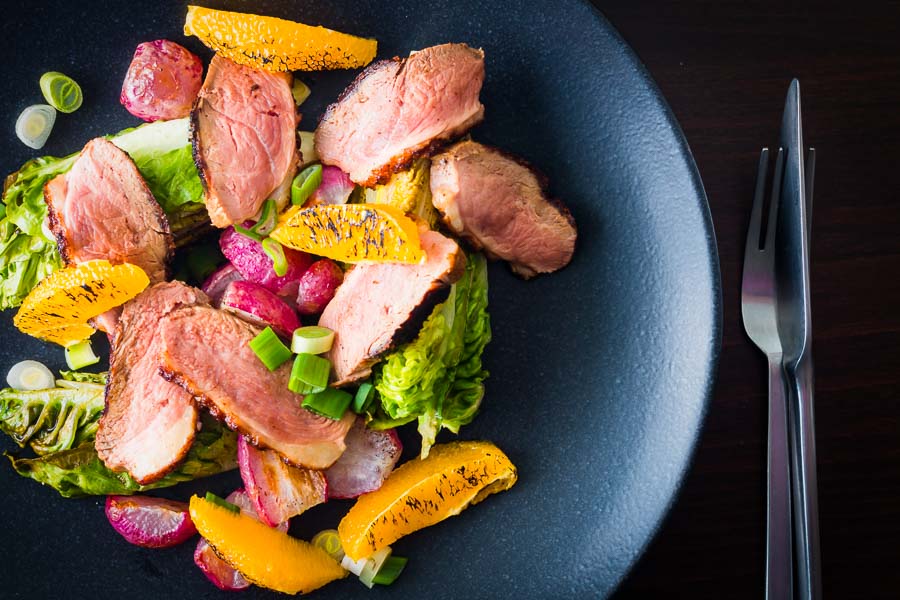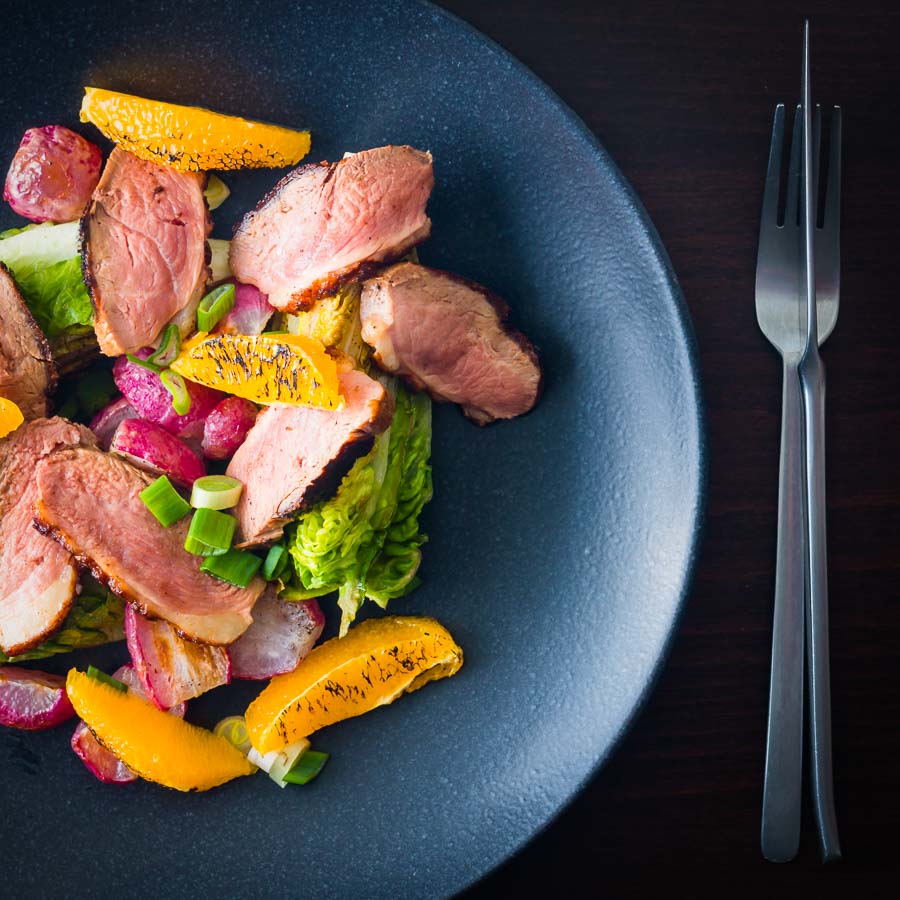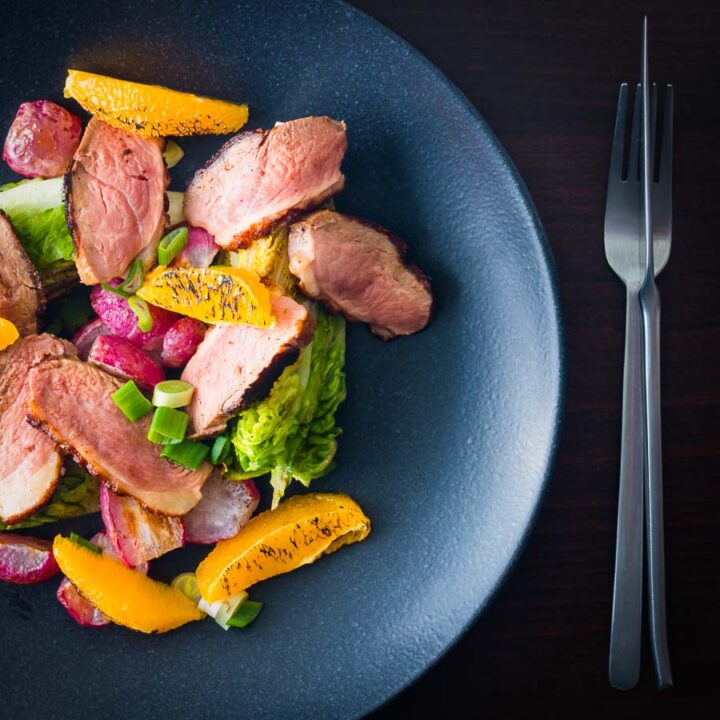 Warm Roasted Radish and Duck Salad
If you have not roasted radishes you definitely should start and they are perfect in this refreshing warm duck salad with orange.
Ingredients
200 g Radish
2 Baby Gem Lettuce
2 Spring Onions
1 Orange
350g Duck Breast
Salt & Pepper
1 Tsp Cooking Oil
Instructions
This recipe comes together quickly so prepare all of the ingredients before you begin.
Top and tail the radish and cut in half.
Cut the baby gem lettuce into quarters.
Finely slice the spring onions.
Peel and cut your orange into segments.
preheat your oven to 230°C.
Place the radishes in a roasting tray with a good grind of pepper and a pinch of salt and 1 tablespoon of flavourless cooking oil, mix to coat and place in the preheated oven for 20 minutes.
Meanwhile heat a dry frying pan over a medium high heat.
Season the duck breast with salt and pepper and place in the frying pan skin side down until the skin is crispy, this should take 3-4 minutes.
Then flip and cook to your liking, I like medium for this dish so cook until the internal temperature reaches 56°C before removing from the pan. This should take around 15 minutes.
When cooked take out the duck and allow to rest for 5 minutes.
Keep the pan with the duck fat on the heat and sear off the lettuce hearts in the duck fat.
If you are a bit 'poncy' like me you may have a blow torch at home, I like to sear the edges of the orange wedges just before serving but this is optional.
To bring the dish together slice the duck as thin as possible and arrange on the plate with the remaining ingredients and get stuck in.
Notes
The timings on this dish are a real 'at most' figure, realistically with a little planning you can have this on the table in 20 minutes from start to finish.
Nutrition Information:
Yield:

2
Serving Size:

1
Amount Per Serving:
Calories:

387
Total Fat:

19g
Saturated Fat:

5g
Trans Fat:

0g
Unsaturated Fat:

13g
Cholesterol:

204mg
Sodium:

320mg
Carbohydrates:

15g
Fiber:

5g
Sugar:

9g
Protein:

39g
Calorific details are provided by a third-party application and are to be used as indicative figures only.