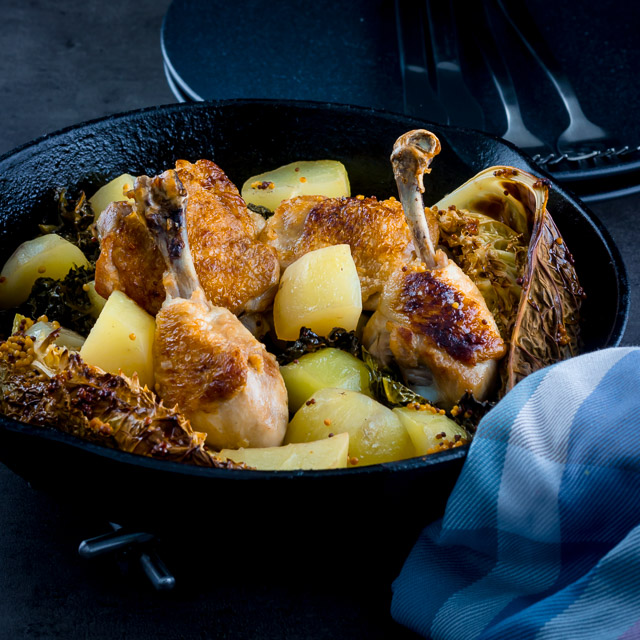 So I am rounding out 2017 with a super simple Skillet Chicken Dinner, sear off some chicken legs, add some veggies a nice honey and mustard sauce and then chuck it in the oven and let it do its thing. 2017 has been a ball for me here on Krumpli and I am grateful for each and everyone of you who have taken the time to come check out my tasty morsels.
Rather than wax lyrical and pretend I written this between Christmas and New Year I will fess up… I cooked this chicken skillet dinner a couple of weeks ago and right about now I am either lying on the sofa in front of a crap movie feeling fat, or my wife has bribed me into doing some DIY that I may or may not have promised to do over the Christmas period. I can tell the suspense is killing you, hit me up on FB if you really need to know 😉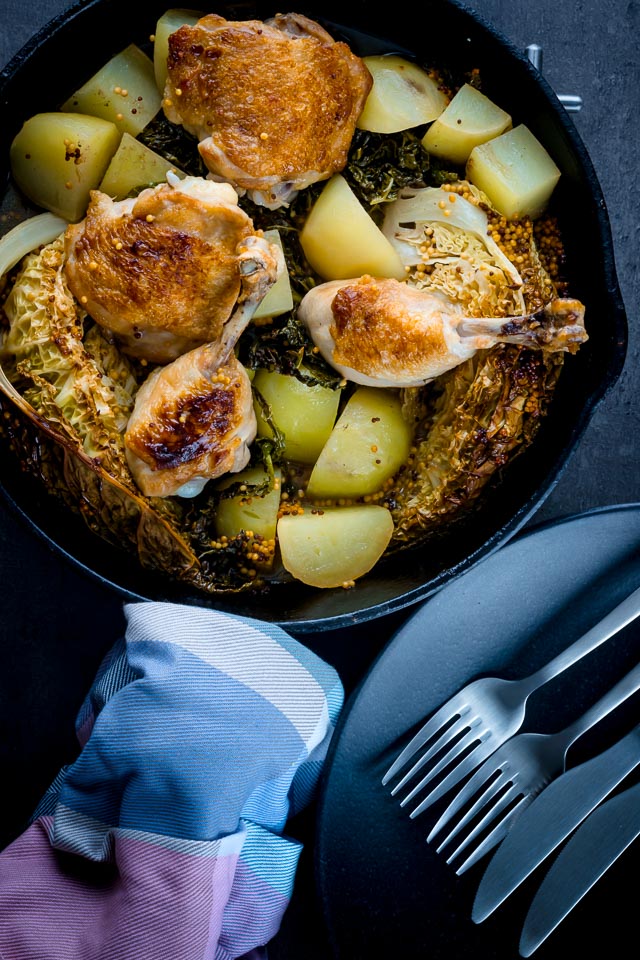 No end of year post is complete without a list, in particular a list of your favourite recipes this year, no surprise to see a profusion of curries in the top 10 but there are some real surprises for me, so here you go your favourite recipes of 2017!
And I guess that's about it, thank you so much for all of your support this year and I will lean on you for even more next year 😉 Cuz that's the kinda guy I am, have a great New Years celebration and I hope the hangover fairy leaves you well alone!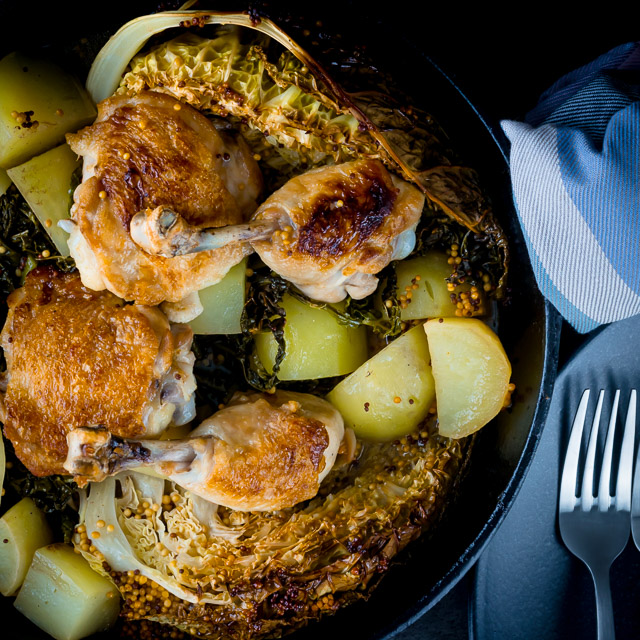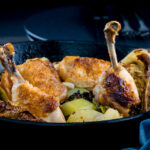 Winner Winner Skillet Chicken Dinner
This skillet chicken dinner remind me of my childhood so much, chicken, potatoes and cabbage were always omnipresent whilst I was growing up!
Ingredients
2

Chicken Legs:

Separated into drumsticks and thighs.

1/4

Savoy Cabbage:

Cut into 2 large wedges with a couple of the outer leaves shredded.

300

g

Potatoes:

Peeled and cut into equal even sized pieces a little smaller then a golf ball.

3

Tbsp

Whole Grain Mustard.

2

Tbsp

Honey.

1

Tsp

Cooking Oil:

Neutral.

35

g

Butter.

1

Tbsp

Coarse Sea Salt.
Instructions
Preheat your oven to 180°C with a heavy cast iron skillet in there.

Season the chicken legs pieces and sear in a pan with the cooking oil to get a nice colour.

When seared drop the butter into the skillet which should by now be hot and then add the cabbage wedges.

Then add the potatoes and shredded cabbage to the gap in between them.

Mix together the honey and the mustard and then drizzle over the ingredients in the pan.

Season with the remaining salt and then nestle in the chicken.