Zander or pike-perch is this star of this fancy looking but deceptively simple dish served with a confit egg yolk it is ready in 30 minutes that rocks the start of spring.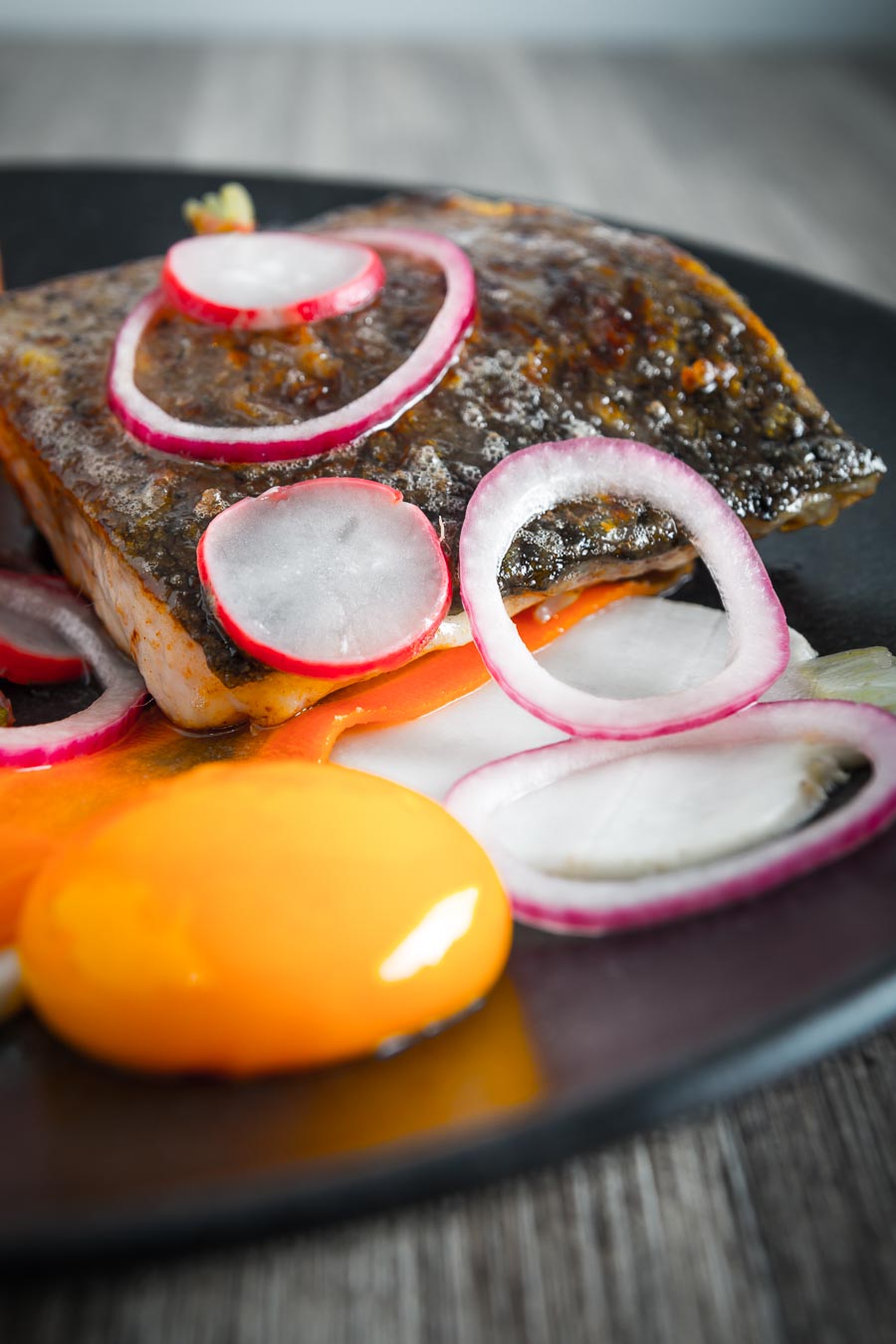 Zander Fillet With Confit Egg Yolk and Quick Pickles.
You know what? I have had the enough of winter now!
I live in a place where food is very seasonal and typically nothing is available locally unless it is in season. In many ways it is wonderful and fits in very much with the way I cook and grow food.
However the end of every season is often torture! So I went hunting last weekend for something from the forthcoming season and something a wee bit new. Usually, my 'fish hunt' results in salmon which is awesome, check out this harissa salmon recipe. On rare occasions even tuna, which is usually seared as in this seared tuna with a lemon caper sauce.
My results were some Zander or pike perch, in my view the king of our local fish. Here in Europe it is a much prized fish, with a light but firm texture it is most unusual for a freshwater fish it has few bones. It is also incredibly sustainable, in fact in many places in Europe the release of young zander fish is strictly restricted.
If you are in the US, then you are looking for Walleye fish. It is not the same but very closely related and will work a treat. You could also cook this with trout or bass and it would still rock the joint!
In many ways this Zander fillet with confit egg yolk and quick pickles recipe is a kind of nod to Hungarian food only much lighter. I swear I have not eaten a whole meal served to me in a local restaurant in the 8 years I have lived here.
Even the fish dishes are designed for people of far greater capacity than me.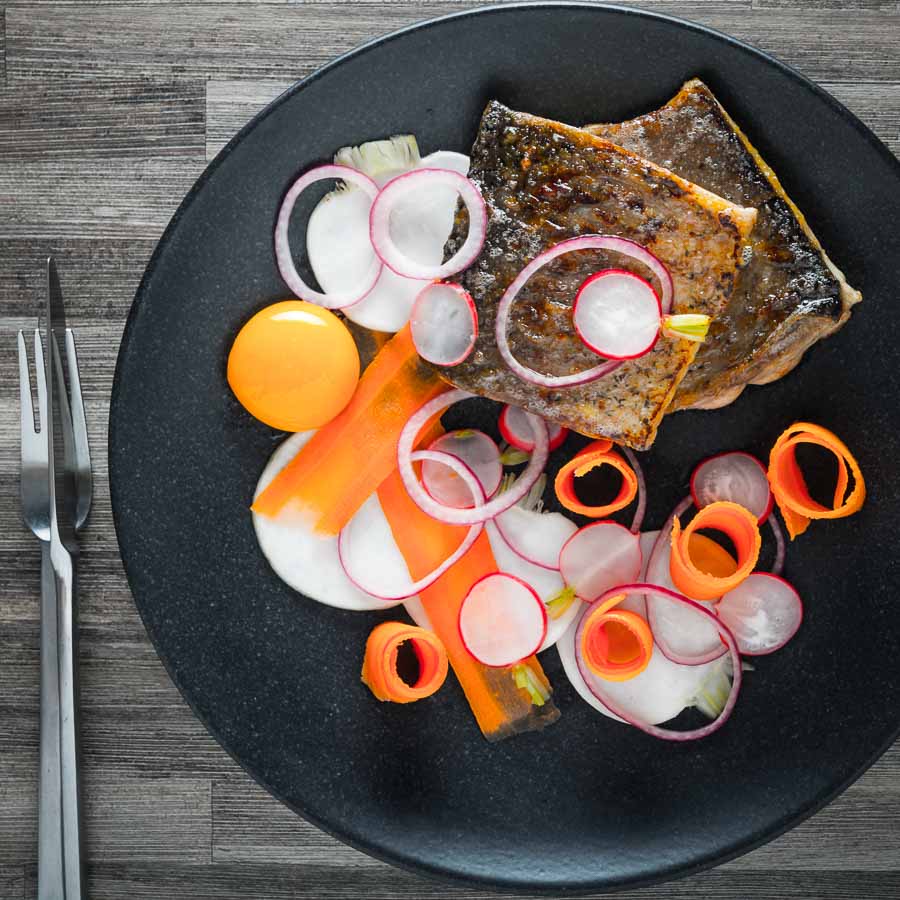 The Joy Of Quick Pickles!
So I have taken the idea of using local river fish with some quick pickles. The Hungarians love pickles, I mean seriously every single meal comes with them.
Not only are they obsessed with pickles but the excel in the making of them too.
Whether it is pizza or a fancy sit down meal, your side salad will be pickled. In this recipe these quick pickles offer the bright almost sweet sharp notes. They are if you like almost sweet and sour!
Quick pickles are not new here on krumpli, they are a fantastic addition to a plate of food. Adding high notes to recipes cutting through rich food like a hot knife through butter.
But it is not just vegetables that make a quick pickle recipe like the fennel in this pork tenderloin salad. You can even use the technique with fruit, the peaches in this ham and cheese salad are insanely good!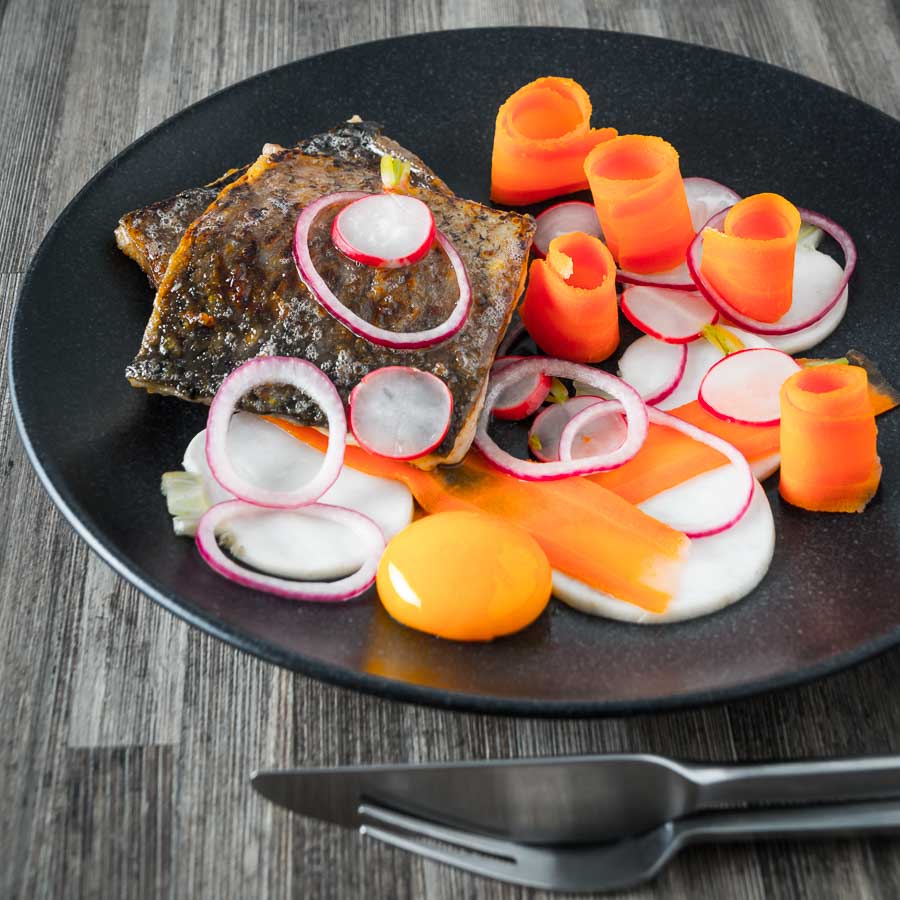 What is a Confit Egg Yolk?
It may sound fancy but it is no more difficult than controlling the temperature of oil and separating an egg. Then letting it sit for 30 minutes for the most wonderful and glorious sauce.
In this recipe, it performs the job of being the bridge between the butter fried zander fillet and the sharp and sweet pickles.
A confit egg yolk has the most incredible texture jammy but runny all at the same time. It is also a great way of adding a new flavour to a dish. In this confit egg yolk recipe I use a peppery olive oil as the flavour is great alongside the quick pickles.
You can also add herbs, but go for something woody like rosemary or oregano. Of course you can also change up the oil, butter, bacon fat and duck/goose fat all work wonderfully. Keep the temperature and the method the same and have a play!
Now I have had my taste of spring I demand more! So if Mother Nature is reading this or if any of you know her can you get her to get a wriggle on.
I'm fed up of winter staples and want my asparagus to grow oh and peas, and radish and and and…
What Spring produce are you looking forward too?
Of course if you are from the southern hemisphere you can tell me know what Autumn produce you are missing although I may yawn as I have been consuming that stuff for months!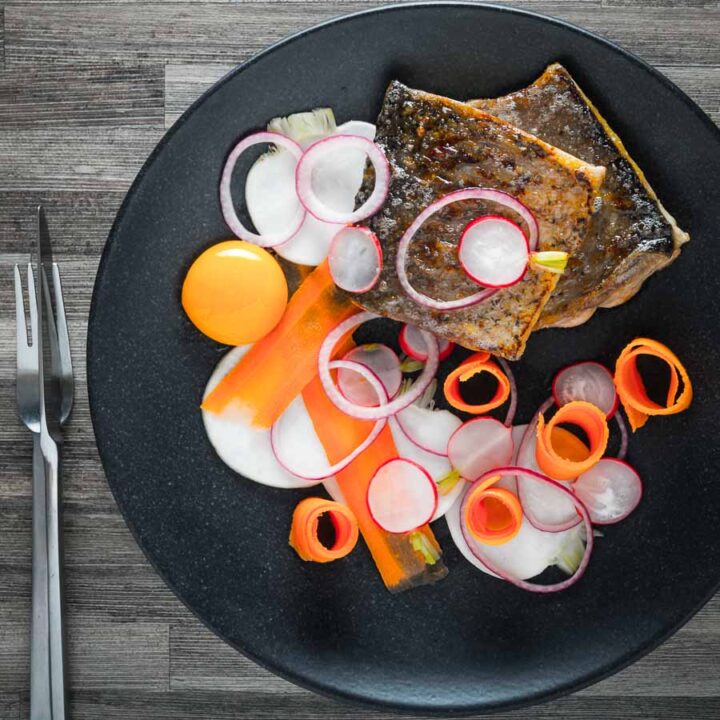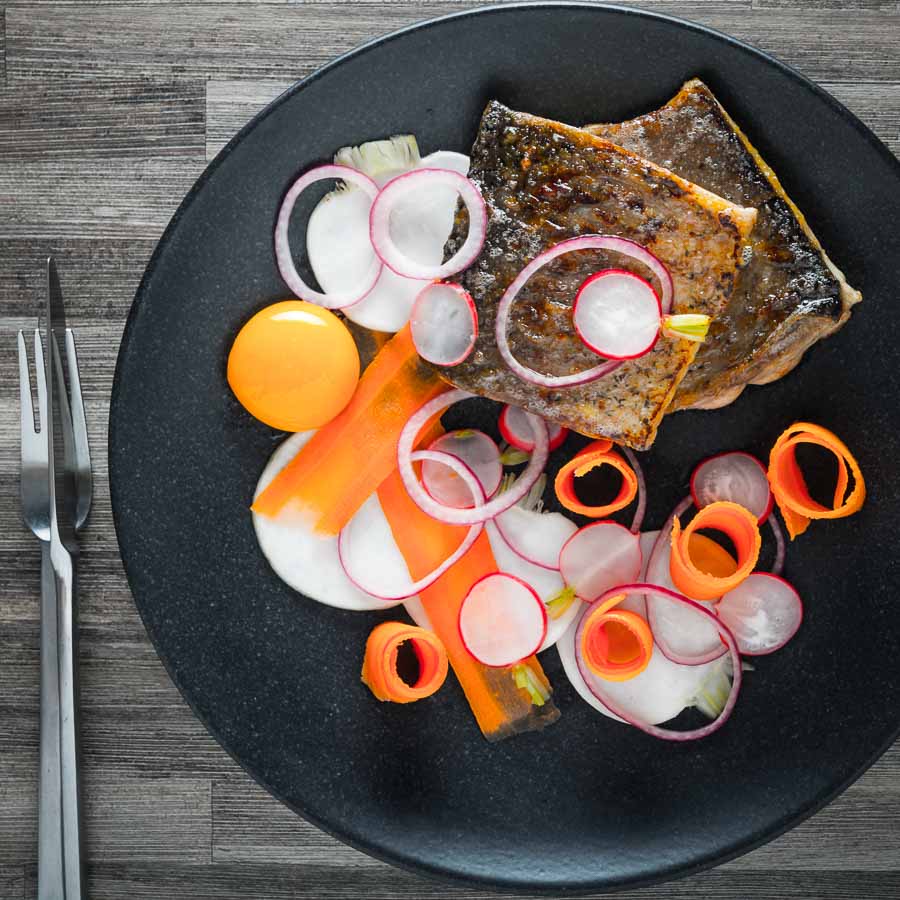 Yield:

2 Servings
Zander Fillet With Confit Egg Yolk and Quick Pickles
Zander or pike perch is this star of this fancy looking but deceptively simple dish served with a confit egg yolk and is ready in 30 minutes that rocks the start of spring.
Ingredients
2 Zander Fillet, Cut in half
50 g Butter
For the Pickles
150 ml Water
225 ml White Wine Vinegar
1.5 Tsp Whole Black Pepper Corns
75 g Sugar
50 g Carrot, Sliced in to ribbons
3 Red Radish, Thinly sliced
1 White Radish, Thinly sliced
6 Slices Red Onion, Broken into rings
For the Confit Egg Yolk
Instructions
Heat the oil for the confit egg yolks in a pan, you will need a temperature probe for this, you want to heat the oil to stable 59-62°C, you can also do this in an oven.
When at a stable temperature add the egg yolks and cook for 30 minutes.
When you are about 10 minutes out from serving bring the ingredients for the pickles to the boil with the exception of the vegetables themselves to the boil and melt the sugar, then cool for a minute before pouring over the carrot ribbons and allowing to pickle for 8 minutes.
And finally for the fish.
Rub the skin side of the fish with a little flavourless cooking oil and sprinkle with salt and place in a hot frying pan over a medium heat.
Cook the fish until the skin is crisp which should take 2-3 minutes, then flip the fish and add the butter and continue cooking for another 2-3 minutes constantly basting with the brown foaming butter.
Notes
I use Zander as it is about the best river fish I can get but this would be delicious with sea bass fillets too, oh how I miss sea fish!
Nutrition Information:
Yield:
2
Serving Size:
1
Amount Per Serving:
Calories:

547
Total Fat:

33g
Saturated Fat:

16g
Trans Fat:

1g
Unsaturated Fat:

15g
Cholesterol:

238mg
Sodium:

195mg
Carbohydrates:

58g
Fiber:

3g
Sugar:

43g
Protein:

6g