Ramen is basically a noodle soup, it has a bit of a bad rep and associations with throwaway food. It does not deserve either! If executed well, like this spicy BBQ pork ramen, it is a quick, tasty and simple meal.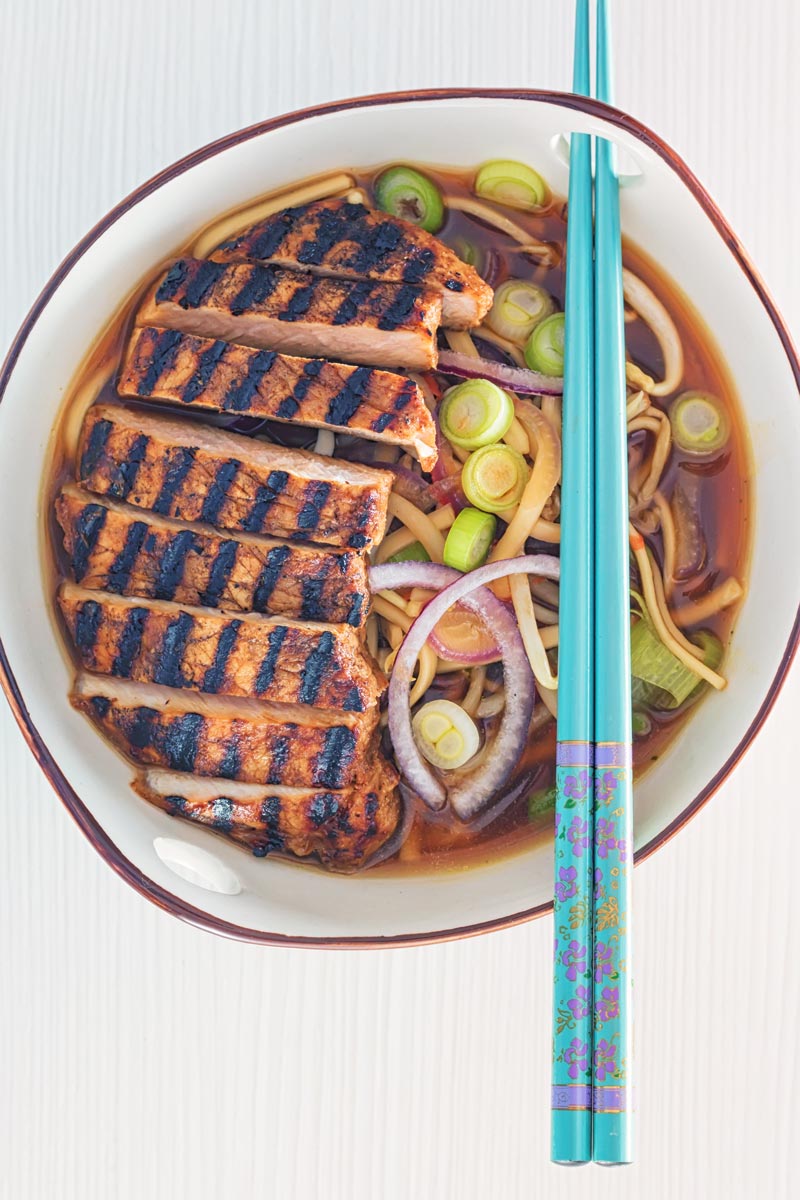 Spicy BBQ Pork Ramen.
As a British chap growing up we had these things called "Pot Noodle".
We had no idea what ramen was but essentially they were pots of noodles and freeze-dried crap… I can't imagine where the name came from!
But you boiled the kettle poured in the water stirred and then squeezed in whatever sauce packet came in your pot.
Yes, they were pretty awful, but I reckon they kept generations of students away from home for the first time in their lives alive. As a result, they served a purpose and in all but name they were ramen.
Effectively it is a noodle soup and Asian noodle soups are glorious.
I have several on my site but to mention a couple, my beef noodle soup and hoisin chicken noodle soup are memorable.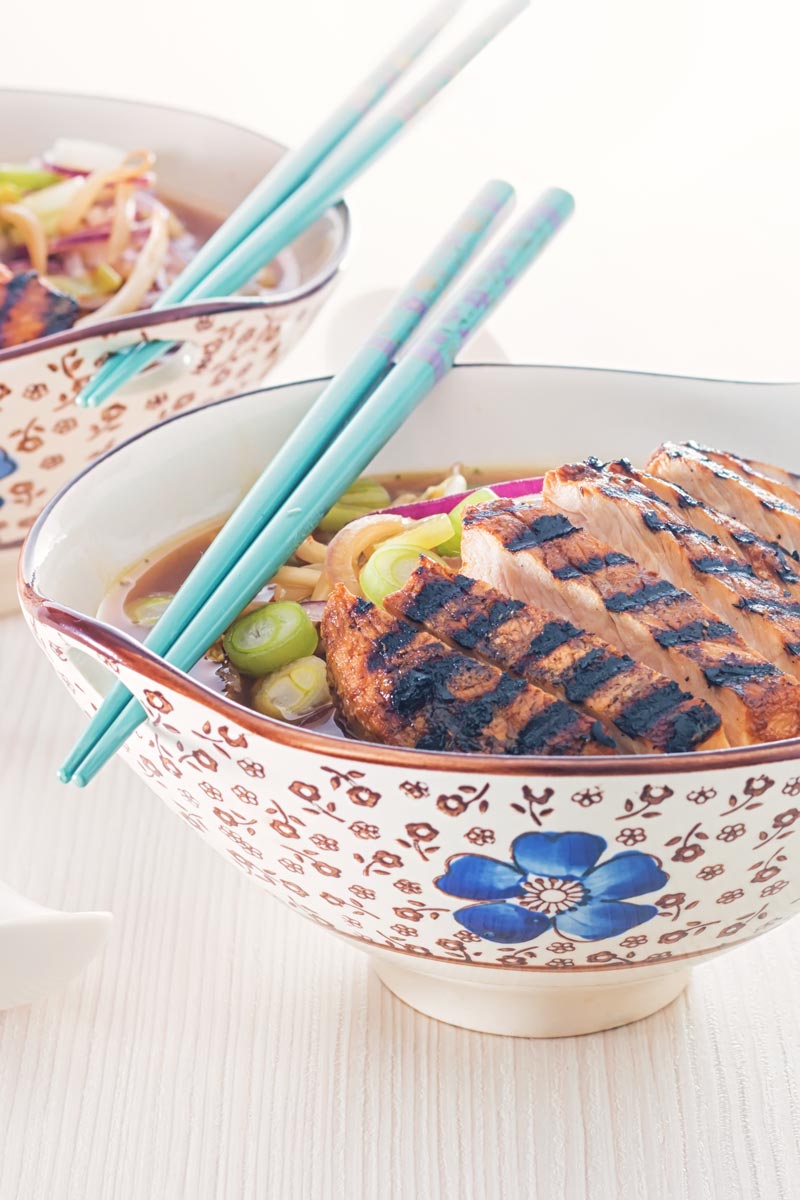 Where is Ramen From?
There is much debate as to where ramen originated and whether it was China or Japan.
It is probably a fusion dish that evolved from Chinese wheat noodles… Fusion food is not new, this dates from the 17th century!
It is largely irrelevant they are now a globally known product with ramen bars even popping up in Budapest. Which is definitely one of the slowest moving food cultures in Europe!
Hints for Making Ramen at Home.
Like all broth-based soup recipes make sure your stock is of top quality.
They all really do live and die on the base ingredient so set aside that stock cube that has been lurking in the back of the cupboard for months.
Get something better, or even better make something yourself, you deserve it!
Finally, choose your noodles. I personally prefer Udon noodles, however, egg noodles are great too. I'm not keen on rice noodles but if they are your thing you could use them also.
So if you are British like me and have pot noodle nightmares featuring androgynous freeze dried crap you once poured boiled water on.
Then set them aside and have a go at the spicy BBQ pork ramen, quick simple and really tasty.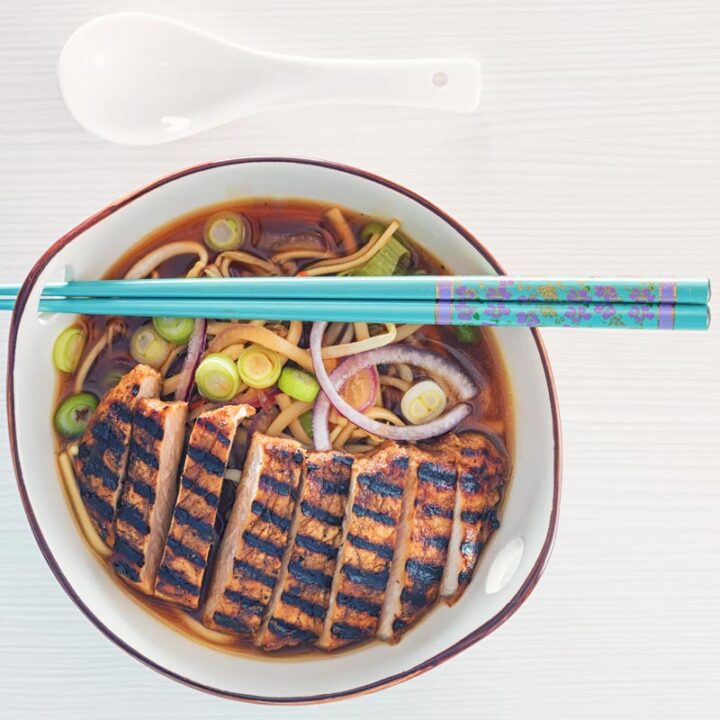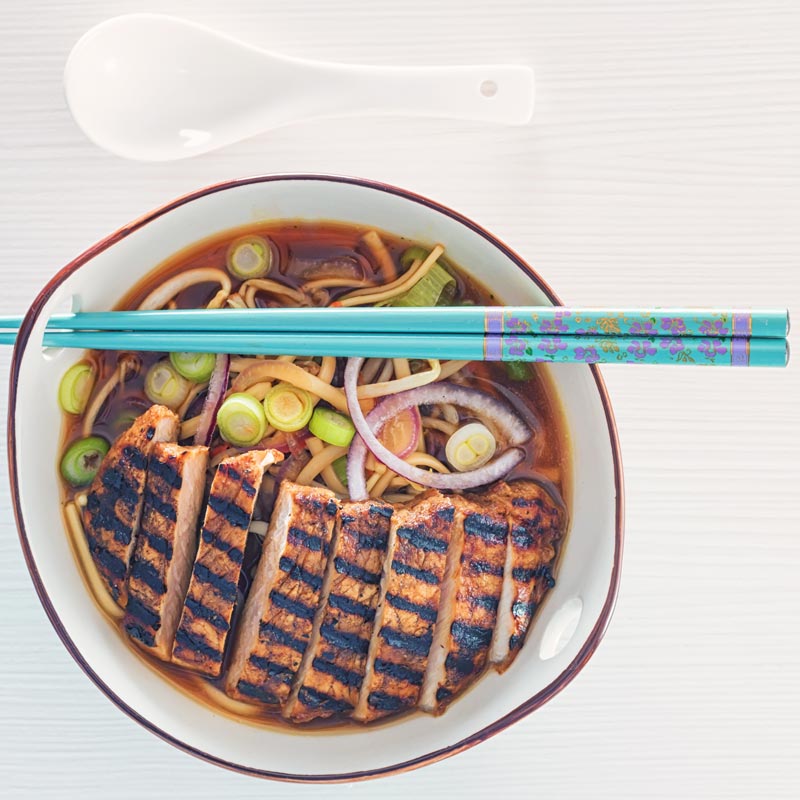 Yield:

2 Servings
Spicy BBQ Pork Ramen
Ramen may have a bit of a bad rep but it need not be a throwaway meal! This Spicy BBQ Pork Ramen is packed full of great fresh flavours and textures and is fit to grace any table.
Ingredients
For the Marinade:
1 Tbsp Hoisin Sauce
1 Tbsp Oyster Sauce
1 Tsp Light Soy Sauce
1/2 Tsp Dark Soy Sauce
1 Tsp Sesame Oil
1/2 Tsp Garlic Powder
For the Soupy Bit:
2 Tsp Chinkiang Vinegar
4 Tsp Fish Sauce
4 Tsp Sweet Chili Sauce
1 Tsp Sugar
125 g Noodles
500 ml Chicken Stock
75 g Red Onion
100 g Bean Sprouts
2 Tbsp Mirin
2 Spring Onions
Instructions
Mix together the ingredients for the pork marinade and place in a bag with the pork and allow to sit whilst you prepare the rest of the ingredients.
Mix together the vinegar, fish sauce, sweet chili sauce and sugar and set aside.
Cook the noodles as per the instructions on the pack and then refresh in ice cold water and set aside.
Finely slice the red onions into 2-3mm half moon shapes.
Thinly slice the spring onions.
Heat a griddle pan over a high heat and cook the pork for 4 minutes per side and then allow to rest for 2 minutes before slicing on the diagonal.
Whilst the pork is cooking mix the sliced red onions with the Mirin and allow to pickle for 5 minutes.
Now bring your chicken stock to the boil and whilst the meat is resting add all of the ingredients and allow to warm for one minute.
Finally add in the sliced pork to the top of the served noodle soup and serve.
Notes
If you are planning ahead, marinade this over night it really will ramp up the flavour!
Nutrition Information:
Yield:
2
Serving Size:
1
Amount Per Serving:
Calories:

533
Total Fat:

15g
Saturated Fat:

4g
Trans Fat:

0g
Unsaturated Fat:

9g
Cholesterol:

88mg
Sodium:

1993mg
Carbohydrates:

56g
Fiber:

3g
Sugar:

25g
Protein:

40g
Calorific details are provided by a third-party application and are to be used as indicative figures only.