Over 500 dinner or side course recipes that are specifically developed for two people.
Everything from quick & easy meals to fancy fodder built to impress.
Latest Recipes: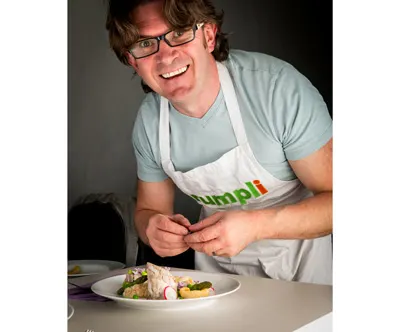 Hi, my name is Brian and I'm here to show you that ALL cooking is simple!
All you need are the right ingredients, a bit of time and good instruction. I help out with everything but the time.
You will get no gimmicks, no trends, no dietary advice and no life advice here. Just great food designed for two, the occasional story and maybe a spattering of sarcasm!
My recipes are a combination of the food I loved growing up and the food I have discovered as I continue to try and be as good a cook as I can be.
British Recipes.
Growing up in the centre of one of the most multicultural cities in the UK influenced my food greatly.
Our love of big and "exotic" flavours is epitomised by the fact that the first Indian Restaurant in the UK predates the first fish and chip shop.
British food is often maligned or thought of as bland! But the nation responsible for Worcestershire Sauce, Cheddar & Stilton Cheese and Chicken Tikka Masala has far more to offer than roast beef.
Indian Fakeaway Recipes.
I adore Indian flavours but for years my nearest Indian takeaway was over 100 miles away. So when I got a hankering for a curry I had to make it myself.
You will be surprised how quick, easy, cheap, and tasty you can fake up your takeaway favourites!
Hungarian Recipes
I spent 13 years living in the Hungarian countryside and was blown away by the simple and hearty comfort food dishes that are way more than just goulash!
My Favourite Recipes.
Quite often my favourite recipes are not necessarily the most popular recipes on my site.
The obscure little recipes are the ones that I am most proud of much of the time, here are just a few!
Did you know that you can curate your own favourite recipes on my site?
Click the little sharing option in the bottom right hand corner, sign up and save away!
Your favourites will be just a couple of clicks away.