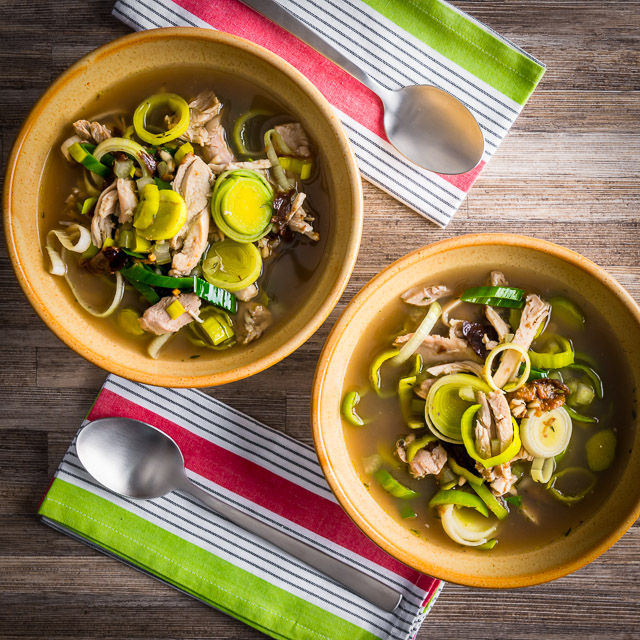 Regular readers will probably have formed the opinion that I am largely still a child and the smile that the name of this recipe causes to spread across my face will only underline that, cockaleekie soup is a gloriously old fashioned recipe and not just for its really rather wonderful name! In fact the name really is not that imaginative and could very well be something a 'cutsey' parent comes up with to encourage a small child to eat their dinner.
However the name and the recipe dates back to the 1500's in the UK and when I say not very imaginative, it would have at one time contained an old cock (rooster you filthy animals) and leeks! As we are no longer fresh out of the middle ages things have moved on and now cockaleekie soup contains chicken and leeks, although I have often made this with cock when our sitter hatched to many of the buggers and it is fantastic. But I guess not many of you are able to get your hands on a tough old rooster!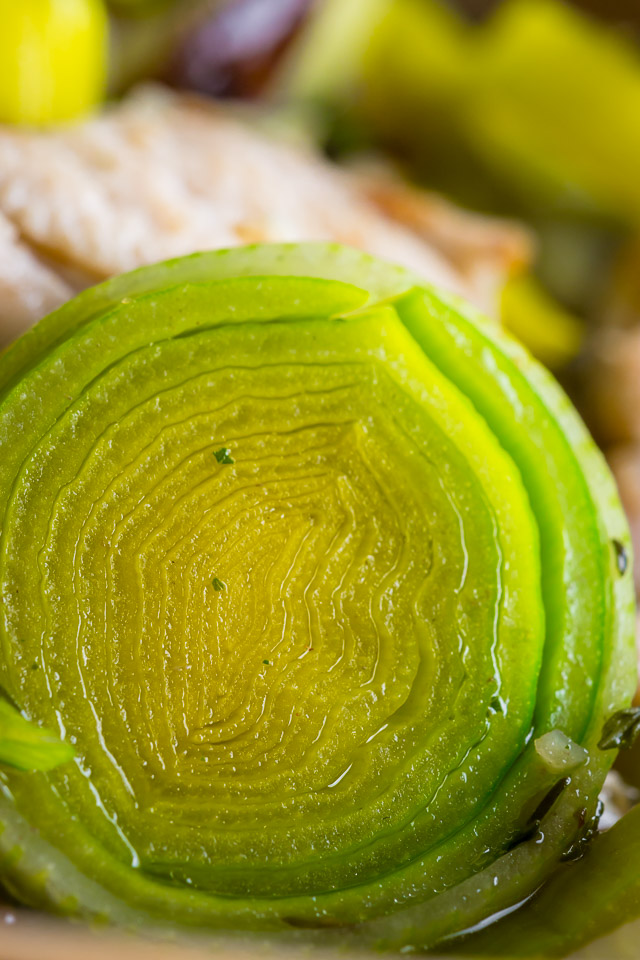 Cockaleekie soup joins a pretty long list of recipe names that just make me smile and I will continue to bring you all of my favourites as time passes by here on krumplie. We already have crumpets, bubble and squeak, toad in the hole and of course rarebit, I may even hove to break out another dessert and go full on childish with my rendition of 'spotted dick' 😉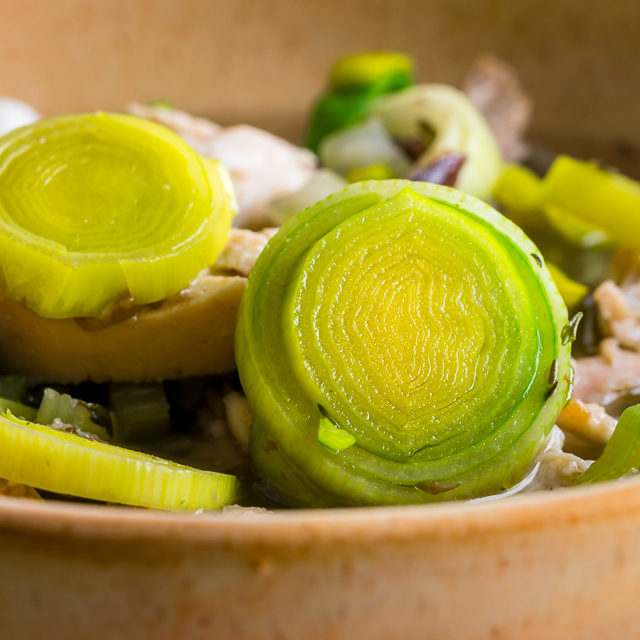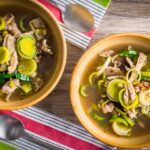 CockaLeekie Soup
Recipes for CockaLeekie soup or Cock a Leekie soup date back to the 1500's and my version embraces the traditional use of prunes and pearl barley and is a real winter warmer!
Ingredients
2

Chicken Legs

Approx 300g each

1

L

Chicken Stock

50

g

Celery

Finely sliced

300

g

Leeks

Sliced into 5mm rings

50

g

Prunes

1

Bayleaf

1/2

Dried Thyme

75

g

Pearl Barley
Instructions
Take your chicken stock and add in the diced celery, thyme, bay leaf and chicken legs and simmer for 40 minutes.

After 40 minutes throw in the white part of the leaks, pearl barley and the prunes and cook for a further 20 minutes.

Now add in the green part of the leaks and cook for a further 10-15 minutes.

Finally remove the chicken legs and discard the bones and skin and cut up the meat and return to the pan.