Rabbit stew is as old school as it gets this one is delightfully frugal, packed with flavour and features the much-underused pearl barley.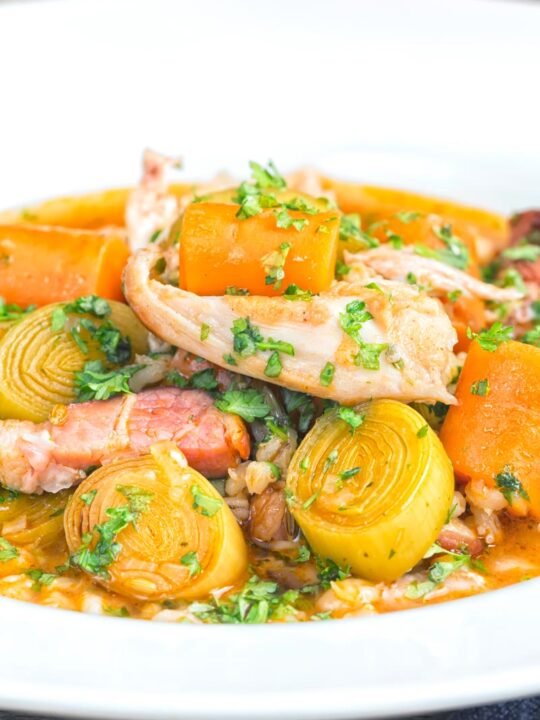 An Old Fashioned British Stew
I'm kicking off my slow transition to autumnal food with a delicious and simple stew recipe. Yes, I'm being all populist again with my fancy old-fashioned ingredients and traditional cooking methods.
This recipe is not my first rabbit recipe here on Krumpli. It joins a rabbit tagine, rabbit cacciatore, and a rabbit ragu.
This recipe, however, is a little closer to home and is very British indeed.
It is the sort of thing that would make my gran smile a great deal!
Rabbit was one of the sources of protein that was not rationed during WWII in the UK and during the rationing period after. As a result, it became understandably a popular ingredient.
I genuinely love the stuff, it has a wonderfully subtle flavour that is nothing at all like chicken! So forget everything that you have ever read.
It is exceptionally lean and has a tendency to dry out when cooked quickly.
Consequently, this slow simmer approach of the bony leg cut is the perfect foolproof introduction to cooking rabbit.
You could swap this out for other rabbit pieces, but be careful of the loin which is notorious for drying out.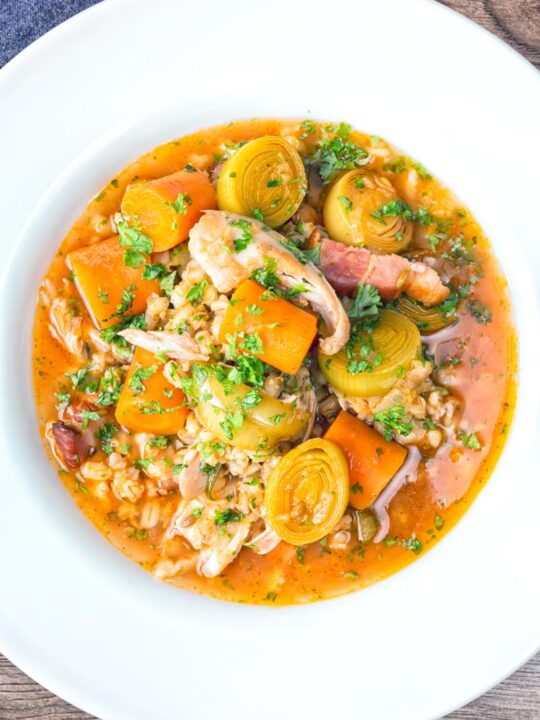 What is Pearl Barley?
Wait for it folks, pearl barley is… Wait for it… Barley! Ok, it is barley that has the inedible husk removed and then polished to remove the bran.
It is a pretty ancient ingredient often associated with 'padding' out frugal dishes. I personally love the flavour, it is kinda nutty and has the most wonderful chewy texture.
I use it in this rabbit stew in a similar way to the way I use it in my cockaleekie soup. Yes, you read that name right, and yes you have to click the linky thing to find out more!
In some ways it is there to provide bulk, but in the main, it is there for texture and flavour.
This recipe is a slowly simmered stew, which means the vegetables in it go pretty soft… You could add in the vegetables later but then you would lose the wonderful depth of flavour you get from them.
They enhance the stock and that flavour gets all sucked up by the barley. The pearl barley then takes centre stage for texture in this dish preventing everything being a little 'soft'.
Pearl Barley is also the base ingredient of Orzotto, a north Italian sibling dish of risotto. Most importantly a dish I really must share with you this winter!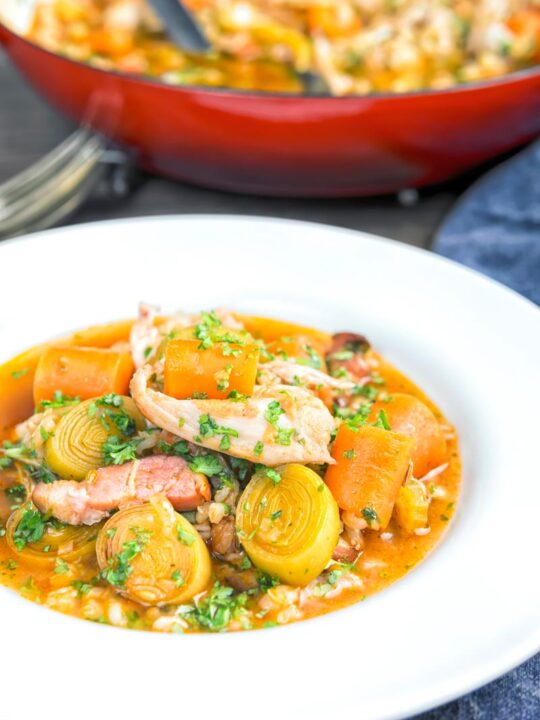 Serving Suggestions and Storage.
This recipe really is a hearty one pot meal with nothing else needed.
That does not stop me from pairing it with a nice crunchy bread though.
My personal favourite is a nice simple soda bread, it is tasty, quick to make and does not need any prooving.
This recipe is a rarity here and serves 4-6 rather than my normal 2.
I will store in the fridge for up to 3 days in an airtight container. It should be reheated over a medium heat with a lid on until piping hot.
Alternatively it will freeze for up to 3 months.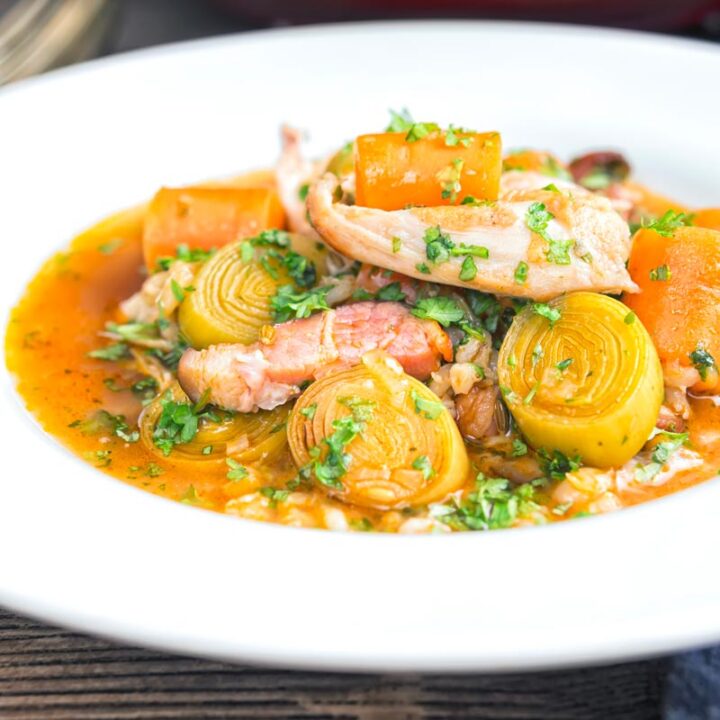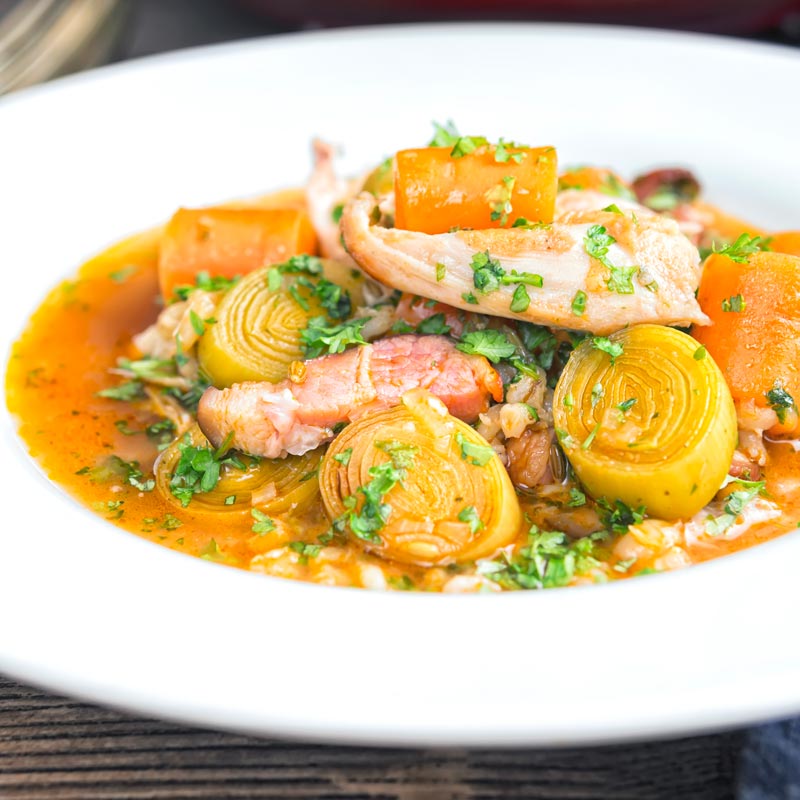 Yield:

4 Servings
Rabbit Stew Recipe with Pearl Barley
Cook Time:
1 hour
30 minutes
Total Time:
1 hour
35 minutes
Rabbit stew may seem old fashioned and a little staid, but it is the most wonderful hearty meal. This one is bulked out with pearl barley and despite being filling remains wonderfully light.
Ingredients
2 Rabbit Legs
3 Tbsp Flour
2 Tbsp Neutral Cooking Oil
150 g (2/3 Cup) Bacon
150 g (1 1/3 Cup) Carrots
75 g (3/4 Cup) Shallot
1 Celery Stalk
125 g (1/2 Cup) Leek
1 Tbsp Fennel Seeds
1 Litre (1 Quart) Chicken Stock
1 Tbsp Tomato Puree
100 g (1/2 Cup) Pearl Barley
1 Sprig Fresh Rosemary
Fresh Parsley
Salt and Pepper, To Taste
Instructions
Finely dice the shallot and finely slice the celery.
Cut the carrot into 2.5 cm lengths and the leek into 1cm thick coins.
Remove the rind from the bacon and cut into thick batons.
Season your rabbit legs with salt and pepper and then dredge with flour.
Heat a pan over a medium high heat and when hot add the oil.
Fry the rabbit legs until golden on all sides, remove and set aside.
Cook the bacon in the oil for a couple of minutes.
Add the celery and shallot to the bacon, reduce the heat to medium and fry for 5 minutes.
Throw the leeks and carrots into the pan along with the fennel seeds.
Add the tomato puree and pearl barley and stir.
Pour in the stock
Taste and add salt and pepper as required.
Drop in the rabbit legs, bruise the rosemary and add that too.
Cover with a lid and reduce to a gentle simmer for 75 minutes.
Remove the rabbit legs and shred off the meat, returning to the pan to reheat before serving with lots of fresh parsley.
Nutrition Information:
Yield:
4
Serving Size:
1
Amount Per Serving:
Calories:

530
Total Fat:

27g
Saturated Fat:

7g
Trans Fat:

0g
Unsaturated Fat:

18g
Cholesterol:

81mg
Sodium:

1118mg
Carbohydrates:

36g
Fiber:

4g
Sugar:

11g
Protein:

35g