Chinese spare ribs are based on an all-time takeaway favourite & come with a delicious sticky finger-licking glaze & plenty of sauce dipping!
This recipe cooks in two phases the first can be done on the stovetop or in the Instant Pot, and the second phase is in the oven, air fryer or under the grill. The choice is yours!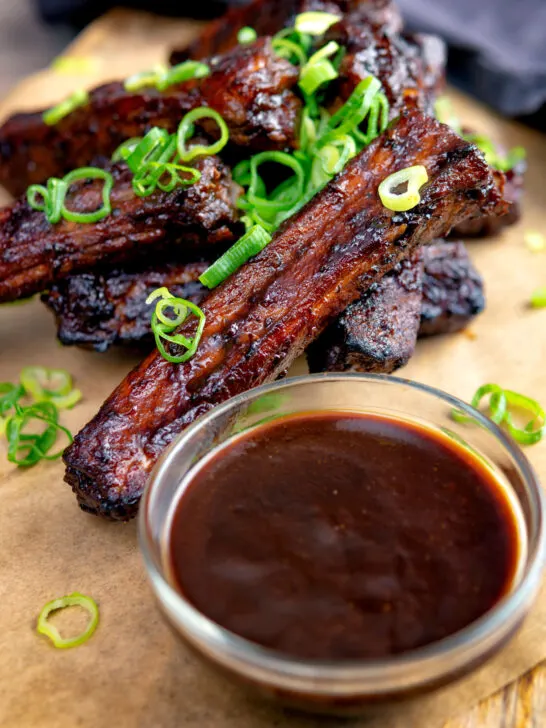 Sticky Chinese Pork Ribs
For many years pork spare ribs, Chinese chicken curry, pork yuk sung or Chinese chicken and mushrooms were my go-to choice from our local takeaway.
As I grew older I became more adventurous but they still hold a special place in my nostalgic food memories!
Just like my Slow Cooker Char Siu Ribs, these play homage to those memories.
These sticky pork spare ribs are loaded with the sweetness of hoisin sauce helped along with a little ketchup.
Then there is the addition of a little soy sauce and some Chinkiang vinegar to amp up the salty, sweet and sour vibe.
I always strain the sauce that coats the ribs and serve it as a dipping sauce on the side.
I have tested this recipe endlessly because I'm a good guy like that… and I love these ribs. As a result, I have multiple cooking options for this recipe.
The initial cooking phase can be done in an Instant Pot or on the stovetop and the glazing can be done in an air fryer, oven or under the grill.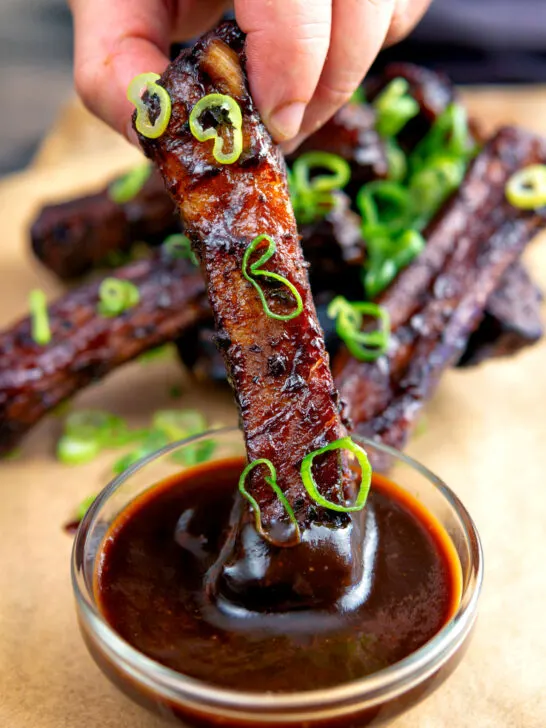 Frequently Asked Questions
What type of pork ribs should I use?
When choosing your ribs for this recipe go for something tightly cut to the bone. You do not want too much meat or fat. This is because you want to optimise the glaze-to-meat ratio and get your ribs proper sticky!
Growing up in the UK the ribs were always on the longer side from the centre of the rib. Now try and buy them from as far up towards the neck as possible.
You give lots of cooking options which way is the best?
Best is a fuzzy concept, but in my kitchen, I usually cook these ribs in the Instant Pot and then glaze them in the air fryer. As far as I am concerned it gives the best results.

But if you have a small air fryer you may be better off glazing them under a grill or in the oven so you are not doing 2-3 or more batches of them.
Why are your ribs not red?
My ribs are not a lurid red colour because they contain no food colouring, much like Tandoori chicken in India, it is common to load some dishes with colouring.
I don't do that, feel free to do so if you want that full Chinese Takeaway experience.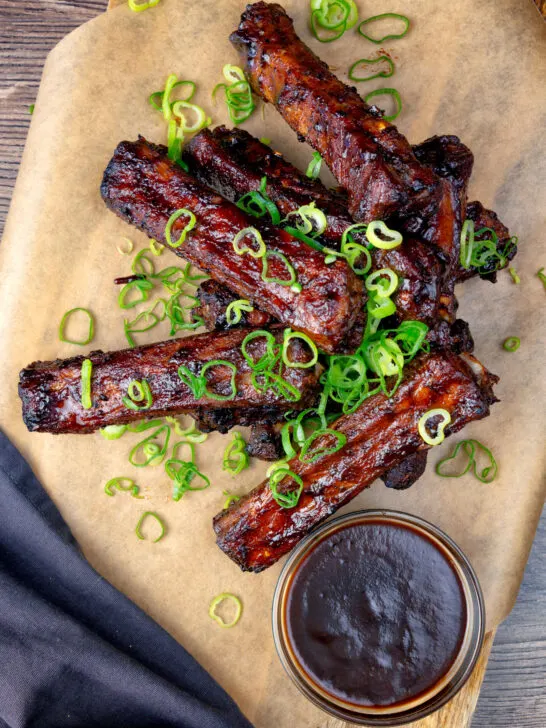 Serving Suggestions.
Now I like to go full-on retro takeaway with these Chinese pork spare ribs.
If I am feeling indulgent I serve them with a bowl of special fried rice or egg fried rice if I am feeling less greedy.
Growing up I would always order them from the takeaway with chips.
Our Chinese takeaways in the UK used to cook great chips that were like chip shop chips but without salt and vinegar.
Sometimes I opt to serve these ribs with a salad option and something like this egg noodle salad or my soba noodle salad would be wonderful!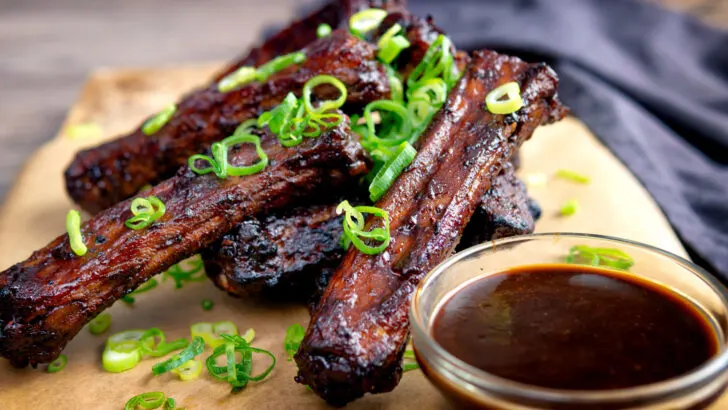 Equipment Used
I only recommend specific brands of equipment if I think they make a material difference to a recipe. If you have any questions feel free to ask them in the comments section.
Stovetop.
Small saucepan (15-18cm 6-7″).
Pestle and mortar or spice grinder.
Sieve.
Chopping board.
Sharp kitchen knife.
Pressure cooker, I use an Instant Pot or 24cm (10″) saucepan.
Oven, grill (broiler) or air fryer, I use a Phillips XXL air fryer.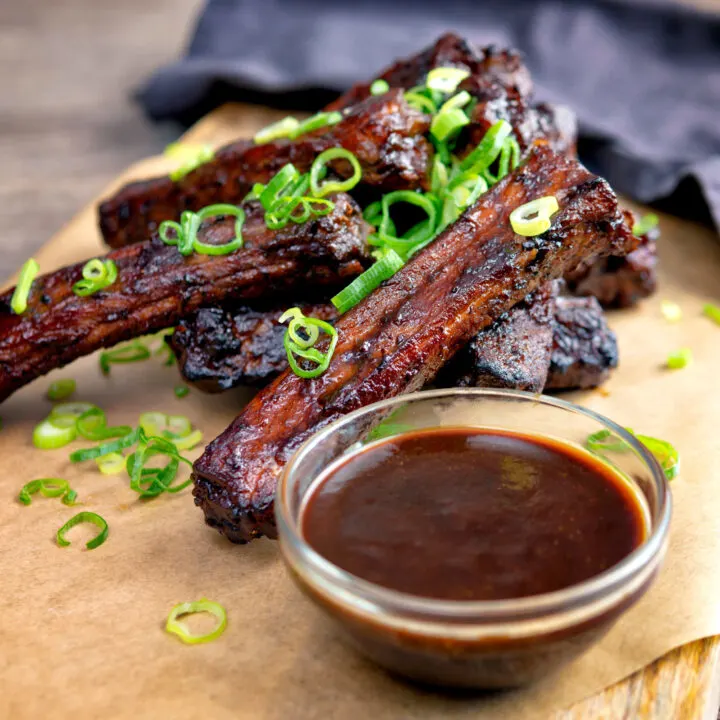 Yield:

2 Servings
Chinese Takeaway Style Pork Spare Ribs
Cook Time:
1 hour
15 minutes
Total Time:
1 hour
25 minutes
This delicious finger-licking Chinese takeaway spare rib recipe comes with a host of cooking options to ensure that you are good to go no matter what kit you have at home!
Ingredients
For the Spare Ribs:
750g (26oz) Pork Ribs
1 Tsp Chinese Five Spice
1 Tsp Szechuan Peppercorns
½ Tsp Salt
1 Onion
10 Cloves Garlic
Water
For the Glaze:
125ml (½ Cup) Hoisin Sauce
75ml (⅓ Cup) Tomato Ketchup
2 Tbsp Honey
2 Tbsp Chinkiang Vinegar
1 Tbsp Light Soy Sauce
1 Tbsp Dark Soy Sauce
Instructions
If your ribs are not separated begin by removing the membrane on the bottom* and then cut into individual ribs.
Heat a small pan over a medium heat and toast the Szechuan peppercorns and crush them in a pestle and mortar or spice grinder.
Season the ribs with the salt, Szechuan pepper, and the five spice.
Peel and roughly chop the onion.
Peel the garlic.
Instant Pot Cooking Instructions:
Place the chopped onion and garlic into the base of the Instant Pot or pressure cooker and pour over 250ml (1 Cup) of water, add a trivet followed by the ribs and then seal the lid and cook on high pressure for 20 minutes.
Let the pressure release for 10 minutes then open the vent.
Remove the ribs and allow them to steam dry for 10 minutes on a wire rack.
Drain off the cooking liquid and discard leaving behind the onions and garlic.
Stovetop Cooking Instructions:
Place a medium (24cm or 10") pan on the stove top and add the onions and garlic followed by the pork ribs, then pour over enough water to just cover.
Bring to a boil over a medium heat and skim off any "foam" that floats to the surface, then cover with a lid and cook for 40 minutes on low.
Remove the ribs and allow them to steam dry for 10 minutes on a wire rack.
Drain and discard the cooking water and leave behind the garlic and onions.
Make the Sauce:
Mix together all of the ingredients for the sauce along with the retained garlic and onions in a small pan and simmer for 8-10 minutes on a medium-high heat whilst the ribs steam dry.
Transfer to a blender, blitz until smooth then pass through a fine mesh sieve (optional).
Glaze the Ribs (3 Options):
Option 1 The Oven: Heat your oven as hot as it will go on fan mode if you have one (how long this will take will really depend on your oven), then generously brush the ribs with the sauce and place them on a baking tray. Cook for 12-15 minutes or 20 minutes if you do not have a fan oven.
Option 2 The Grill or Broiler: Heat your grill as hot as it will go (how long this will take will really depend on your grill), then generously brush the ribs with the sauce and Cook for 12-15 minutes (turning occasionally) until sticky and charred in places.
Option 3 The Air Fryer: Spray the basket of your air fryer with release spray or oil, then coat the ribs with the sauce and place them in the basket of an air fryer (do not overcrowd, you may need to do this in batches). Then cook at 200°C or 400°F for 8-10 minutes.
Notes
*Remove the membrane by picking at a corner with a knife and then pull. If you are lucky it will come off in one piece.
Nutrition Information:
Yield:
2
Serving Size:
1
Amount Per Serving:
Calories:

1668
Total Fat:

118g
Saturated Fat:

35g
Trans Fat:

1g
Unsaturated Fat:

53g
Cholesterol:

396mg
Sodium:

3373mg
Carbohydrates:

70g
Fiber:

4g
Sugar:

47g
Protein:

84g
Calorific details are provided by a third-party application and are to be used as indicative figures only.