Chinese spare ribs are a perennial takeaway favourite, my version is cooked in the Instant Pot my current favourite kitchen gadget for cooking ribs.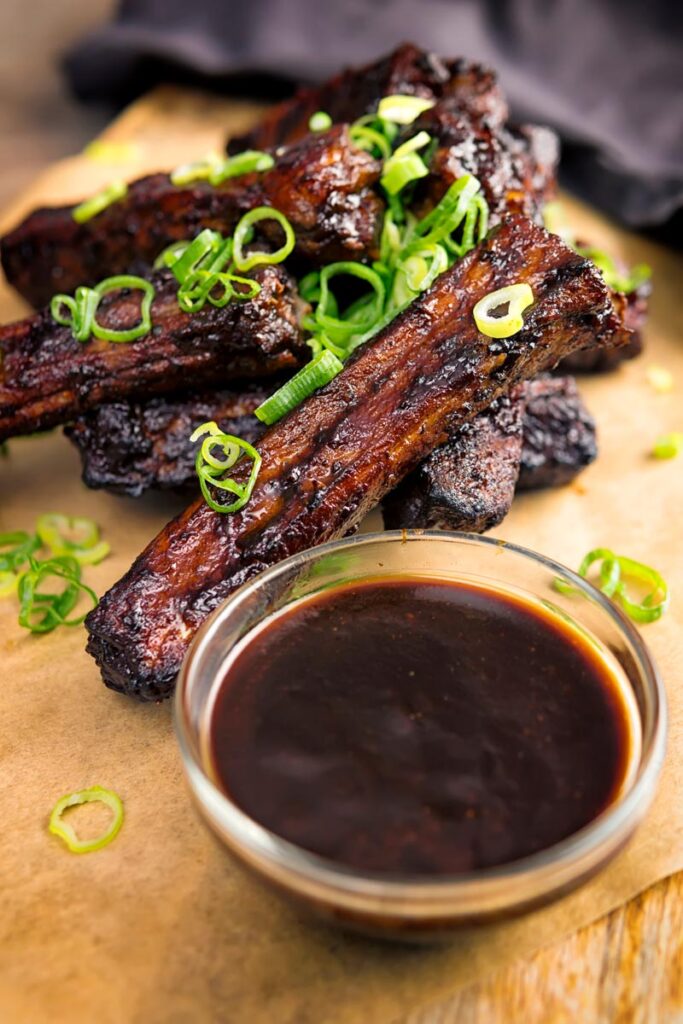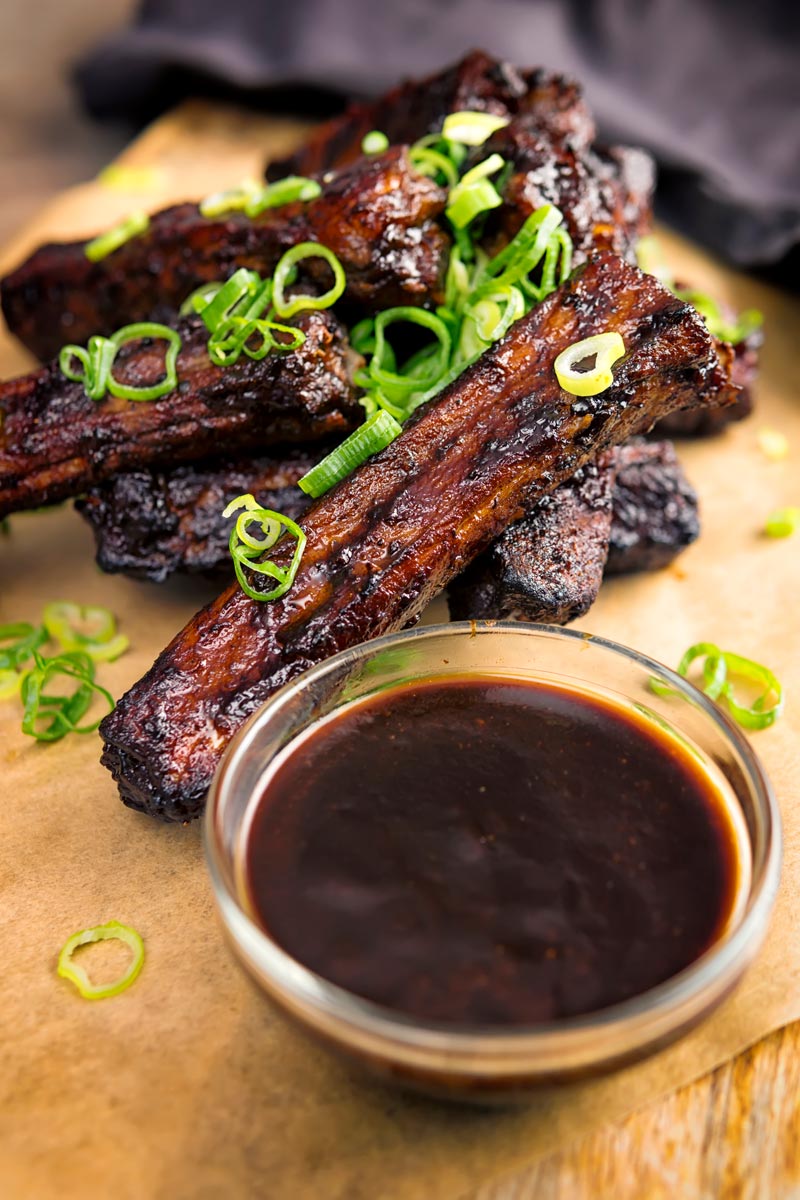 Take Out Chinese Spare Ribs At Home.
For many years Spare Ribs or Chinese chicken and mushrooms were my go-to choice from our local takeaway.
As I grew older I became more adventurous but they still hold a special place in my nostalgic food memories!
Just like my Slow Cooker Char Siu Ribs, these play homage to those memories.
These sticky Chinese ribs are loaded with the sweetness of hoisin sauce helped along with a little ketchup.
Then there is the addition of a little soy sauce and some Chinkiang vinegar. All in all really very simple.
When choosing your ribs for this recipe go for something tightly cut to the bone. You do not want too much meat or fat.
This is because you want to optimise the glaze to meat ratio and get your ribs proper sticky!
Growing up in the UK the ribs were always on the longer side from the centre of the rib.
You can use baby back ribs if you wish, the flavour will be the same although they may have more meat and will need cooking for 3-5 minutes longer.
I like to go full on retro takeaway with these and always serve a bowl of special fried rice with them!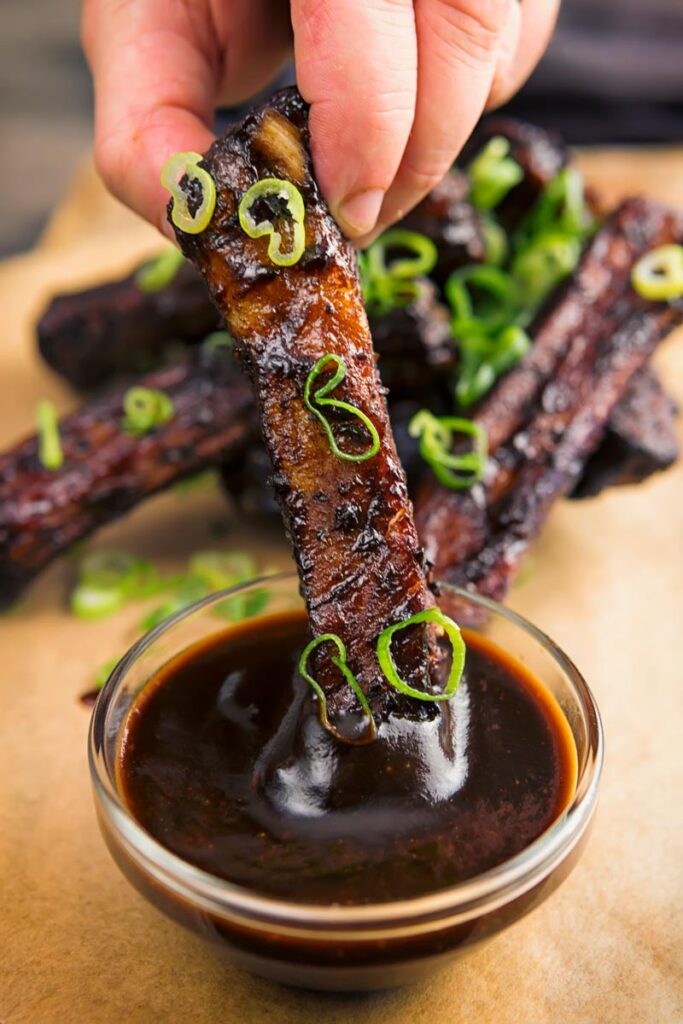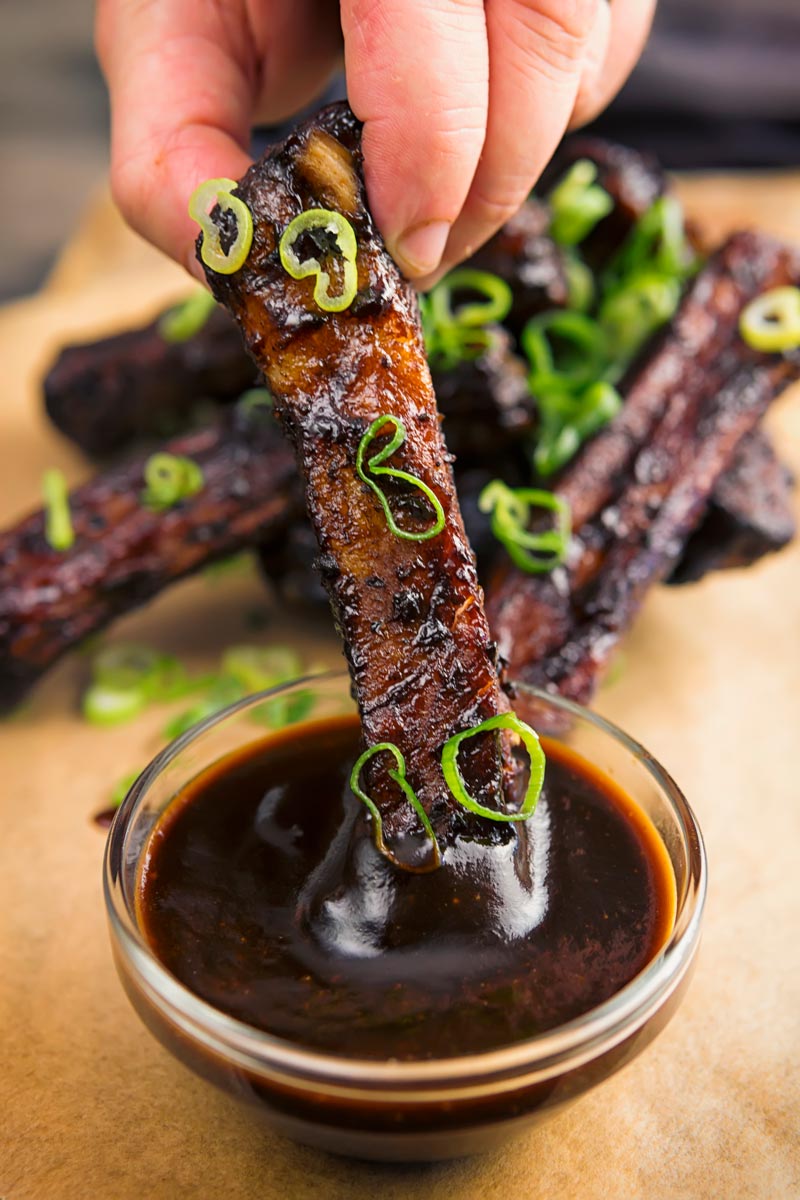 Why Cook Ribs in a Pressure Cooker or Instant Pot?
I eulogised a while back in my first instant pot rib recipe about the great job a pressure cooker does with ribs.
It breaks down the sinew and fat leaving the most wonderfully juicy meat.
Last time around I said I had no idea why or how this happened but I loved it. Well, I'm a curious type so had to dig around.
I kinda knew that water boils higher at pressure, but didn't really tie that with the liquid being a better conductor of heat than air.
So not only are your ribs being 'steamed' in superheated water.
The juices within the meat are also super-heated, this allows the tougher parts of the meat to break down and become succulent rather than chewy.
Or just fairies, either way, this recipe is magic.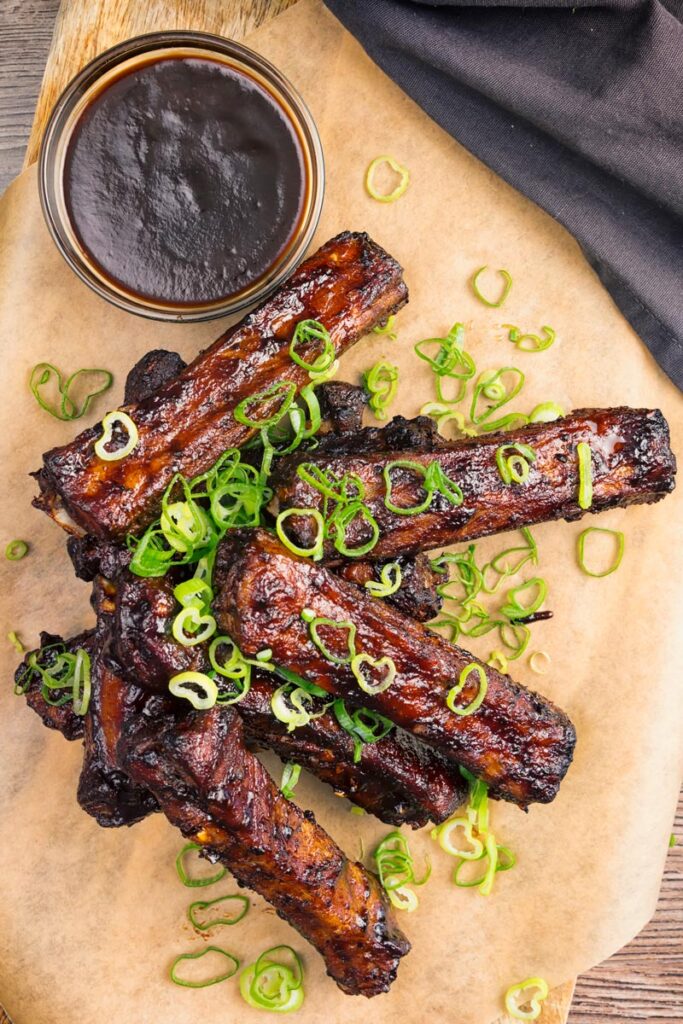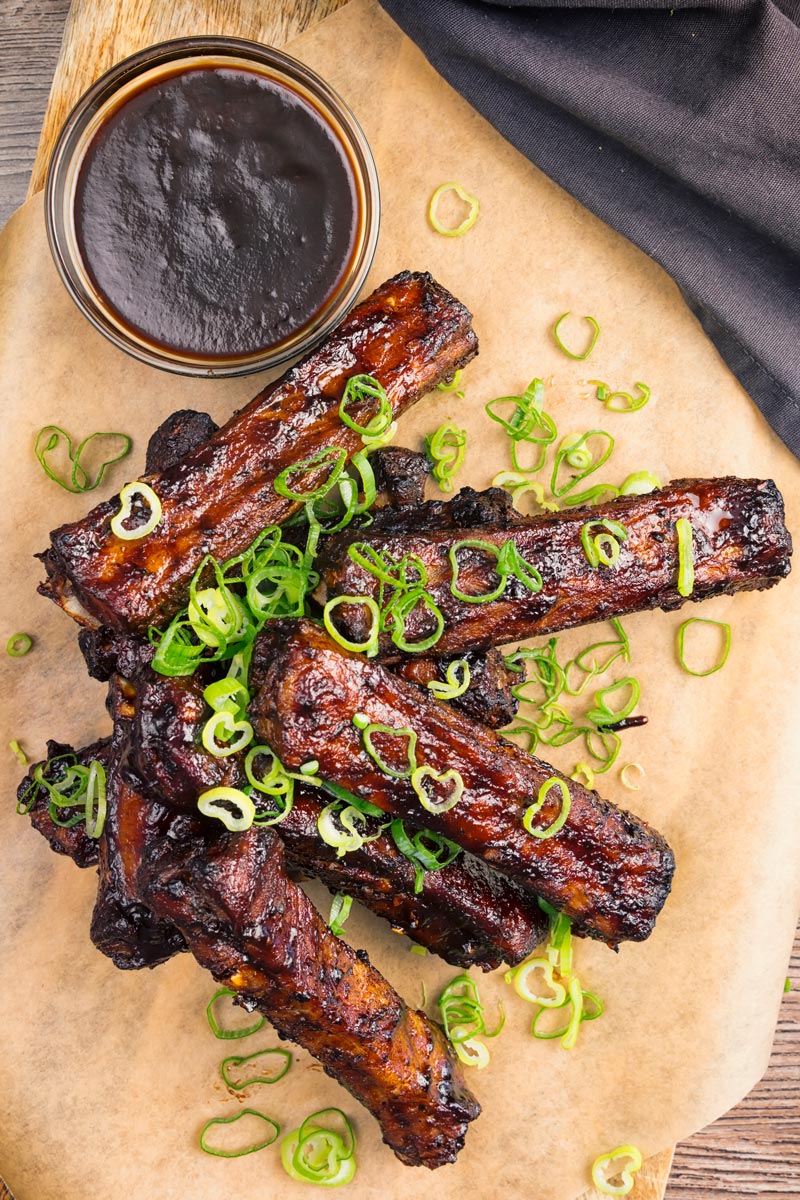 Why are Chinese Ribs Red?
The simple answer to this is food colouring!
I have no idea when or why this ridiculous superstitious practice started, as far as I am concerned it is utterly pointless.
It is not only used in some Chinese dishes, but it is also common in Indian food too. Your bright red chicken tikka or tandoori chicken is red because someone decided they wanted red.
It has nothing to do with flavour and it is because someone somewhere decided that brown food is unattractive. Those people are wrong, there is nothing more warming and comforting than beautiful brown food!
Can you guess that I think it is a terrible practice, teeheee.
Anyway, these ribs, just like my tandoori chicken recipe contain no red food colouring.
They are a glorious representation of the ingredients that went into making them.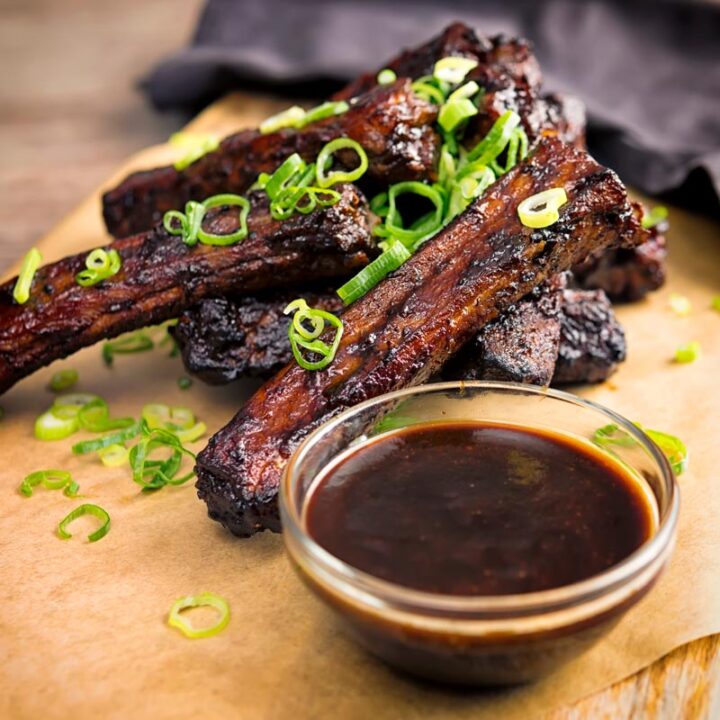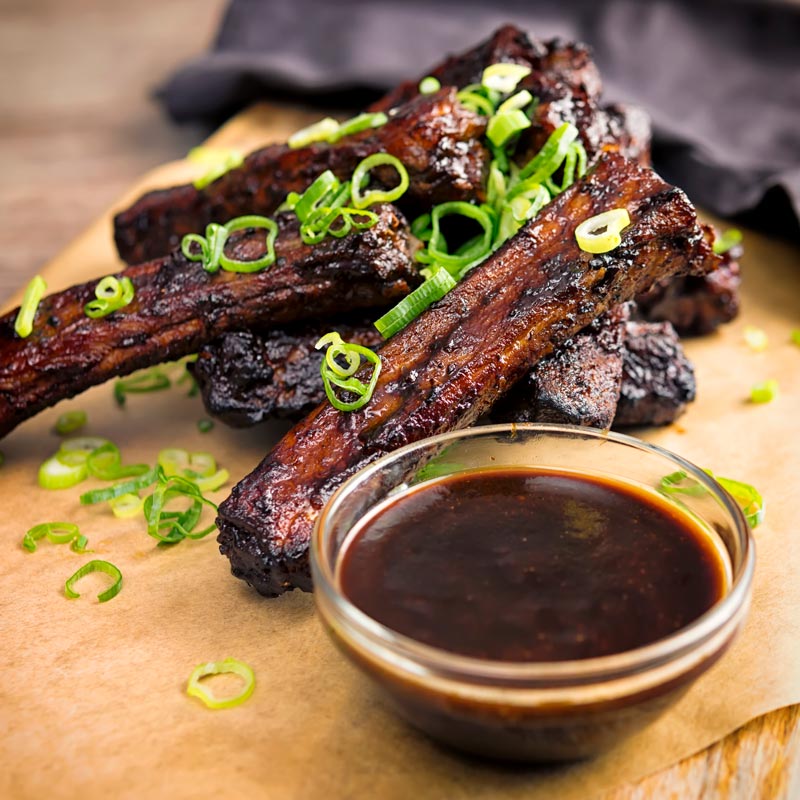 Yield:

4 Servings
Instant Pot Chinese Spare Ribs Recipe
Total Time:
1 hour
5 minutes
Cooking ribs in a pressure cooker helps break down the connective tissue and leads to the most succulent Chinese spare ribs.
Ingredients
For the Spare Ribs:
1.2 Kg Spare Ribs
1 Tbsp Chinese Five Spive
1 Tsp Szechuan Pepper Corns, Crushed
1 Tsp Salt
1 Onion
10 Cloves Garlic
250 ml Water
For the Glaze:
100 ml Hoisin Sauce
50 ml Tomato Ketchup
2 Tbsp Honey
2 Tbsp Chinkiang Vinegar
1 Tbsp Light Soy Sauce
1 Tbsp Dark Soy Sauce
Instructions
If your ribs are not separated begin by removing the membrane on the bottom* and then cut into individual ribs.
Season the ribs with the salt, Szechuan pepper, and the five spice.
Roughly chop the onion and remove the skins from the garlic and place in the base of the instant pot followed by the water.
Add a trivet followed by the ribs and then seal the lid and cook on manual high pressure for 20 minutes.
Whilst the pressure cooker is cooking, heat your oven as high as you can get it.
Add all of the ingredients for the glaze into a pan and bring to a simmer.
Allow the pressure to release naturally for 10 minutes and then carefully remove the ribs.
Drain off the cooking liquid and discard leaving behind the onions and garlic.
Add this to a blender along with the glaze and blend to a smooth paste.
Pass through a fine mesh sieve and then coat your ribs.
Drop them in the oven as hot as you can get it and allow them to crisp up and colour, this will take around 10-12 minutes.
Notes
*Remove the membrane by picking at a corner with a knife and then pull. If you are lucky it will come off in one piece.
Nutrition Information:
Yield:
4
Serving Size:
1
Amount Per Serving:
Calories:

1111
Total Fat:

73g
Saturated Fat:

22g
Trans Fat:

1g
Unsaturated Fat:

33g
Cholesterol:

243mg
Sodium:

2559mg
Carbohydrates:

64g
Fiber:

3g
Sugar:

44g
Protein:

52g