A simple Chinese Chicken and Mushroom dish is ever present on takeaway menus, this homemade stir fry is quick, simple and exceptionally good!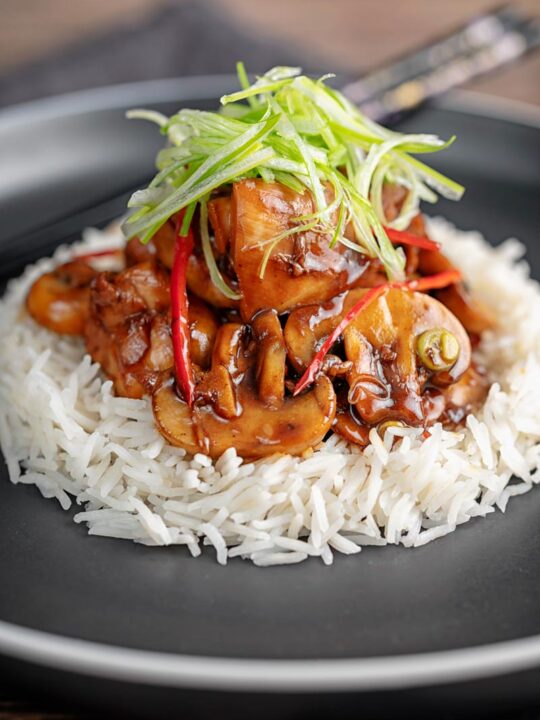 Quick Stir Fry Recipes.
I would not be able to hazard a guess as to how many quick Chinese style stir fry recipes I have on my website.
I love them because you can create an almost infinite set of distinct meals from a relatively "small" pantry of ingredients.
I've been throwing them together for over 25 years and my only regret is that I did not start writing them down until the last 5!
This recipe is loosely similar to my beef with shiitake mushroom stir fry. That one runs with hoisin sauce, whereas this uses oyster sauce as its base.
Some form of chicken and mushroom stir fry appears on most Chinese takeaway menus, it's probably as ubiquitous as chicken with black bean sauce.
My version takes 15 minutes to prep, most of which you can do in advance. Then you are in for 10 minutes if frantic cooking.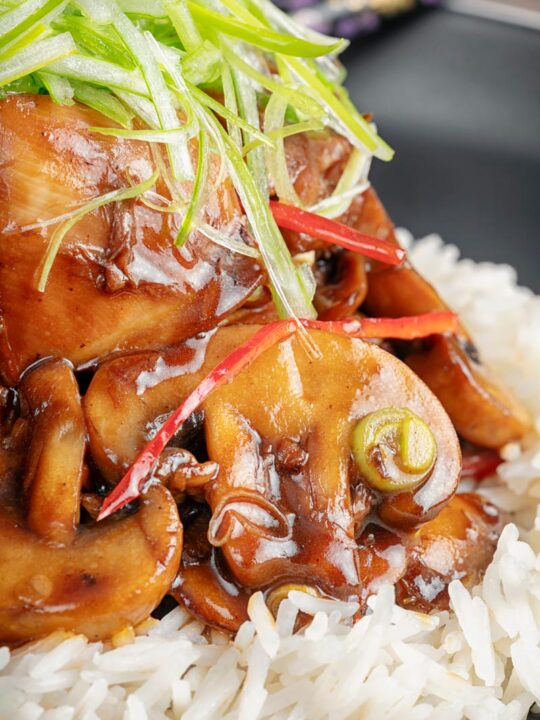 The Preparation.
There is a saying that failing to prepare is preparing to fail. Now I'm the sort of belligerent chap that scoffs at such generalisations!
But when you are cooking a stir fry never a truer word has been written.
I have said it before and I will say it on every stir fry recipe I create.
PREPARE EVERYTHING! Get it all poured out into bowls, mixed, weighed, chopped and whatever else needs doing.
Once you put your first ingredient in the wok you have no time to prepare anything else. Pausing to do so is the ruin of many a tasty dinner!
I even go to the extent of arranging the bowls in the order that they get added to the wok before I even turn the heat on.
Then it is all about technique and lots of heat!
One of the biggest mistakes people make when stir-frying is not enough heat. If there is not lots of noise and steam your pan ain't hot enough.
If you want to see the technique and hear the sounds you should check out the video in my kung pao chicken recipe.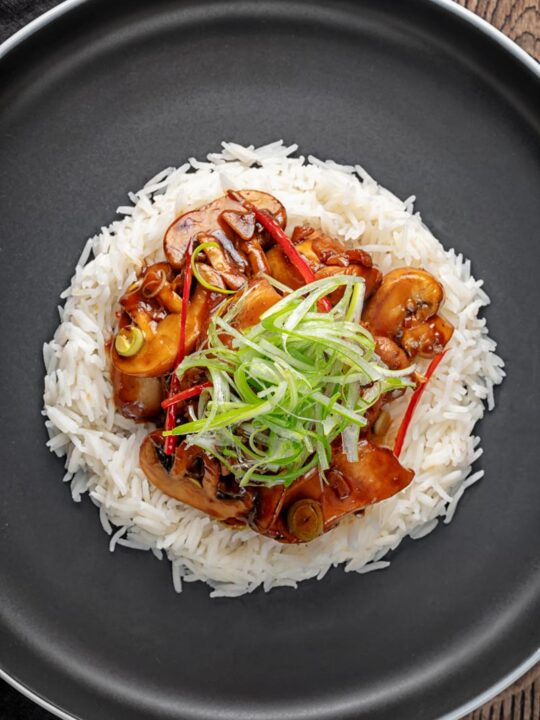 Serving Suggestions.
I serve this with some shredded green onion and simply boiled or steamed rice.
It would also be great with some noodles, these peanut and sesame noodles would be great!
It is a dish that is light on the vegetable front so if you want some greens, something like this stir fried broccoli would be perfect.
You could even stir fry asparagus, green beans or cauliflower.
Returning to the "rice thing" then something like this vegetable fried rice would be spot on.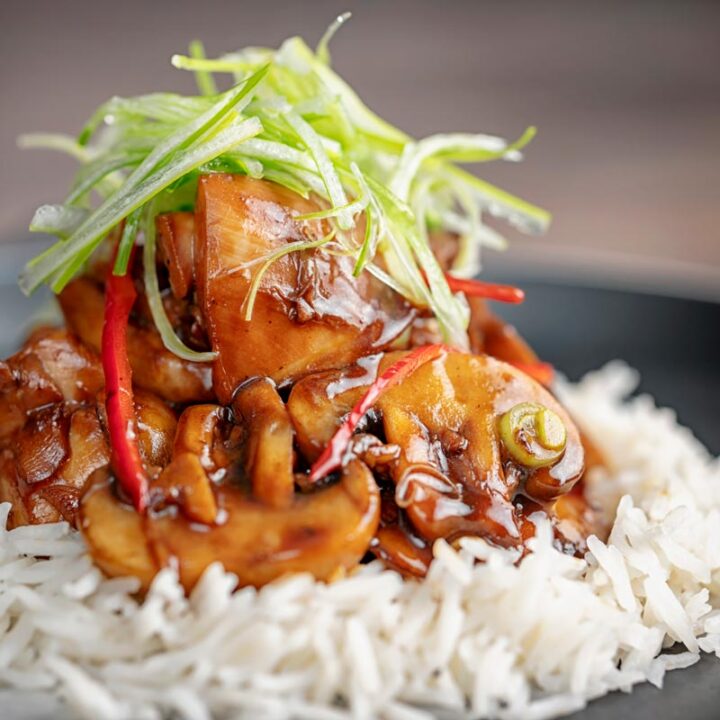 Yield:

2 Servings
Chinese Chicken and Mushroom Recipe
You can't beat a quick Chinese style stir fry and this simple and quick chicken and mushroom recipe is a real showstopper!
Ingredients
225g (8oz) Chicken Thighs
200g (~1½ Cups) Mushrooms
25g (Thumb Sized Piece) Ginger
3 Cloves Garlic
1 Medium Hot Red Chilli Pepper
2 Spring Onions
2 Tbsp Cooking Oil
For the Marinade
1 Tbsp Light Soy Sauce
1 Tbsp Dark Soy Sauce
1 Tsp Cornflour
For the Sauce
1 Tbsp Oyster Sauce
1 Tbsp Light Soy Sauce
1 Tsp Chinkiang Vinegar
2 Tsp Sugar
1 Tsp Cornflour
1 Tsp Toasted Sesame OIl
Instructions
Combine the ingredients for the marinade and place them in a bowl.
Cut the chicken into a 2cm dice and add to the marinade.
Slice the mushrooms into 4-5mm slices.
Peel and cut the ginger into batons as fine as you can manage.
Slice the garlic.
Shred the green parts of the spring onion and finely slice the white parts.
Submerge the shredded spring onion in cold water.
Remove the seeds from the chilli pepper and cut into ribbons as thinly as you can.
Combine all of the ingredients for the sauce in a bowl and mix well.
Heat a wok over a high heat.
When shimmering add the oil followed by the garlic and ginger.
Stir fry for 30 seconds and add the mushrooms.
Stir fry for 2-3 minutes.
Then throw in the chicken and stir fry for another 3-4 minutes.
Pour in the sauce and cook until silky.
Finally, add the sliced spring onion and chilli pepper.
Top the final dish with the shredded spring onion.
Nutrition Information:
Yield:
2
Serving Size:
1
Amount Per Serving:
Calories:

477
Total Fat:

33g
Saturated Fat:

6g
Trans Fat:

0g
Unsaturated Fat:

26g
Cholesterol:

144mg
Sodium:

1979mg
Carbohydrates:

19g
Fiber:

3g
Sugar:

8g
Protein:

32g
Calorific details are provided by a third-party application and are to be used as indicative figures only.