This Beef Stir Fry with Shiitake Mushrooms recipe is quick and simple to make. Who needs to wait for the delivery guy when this is quicker, cheaper and tastes glorious!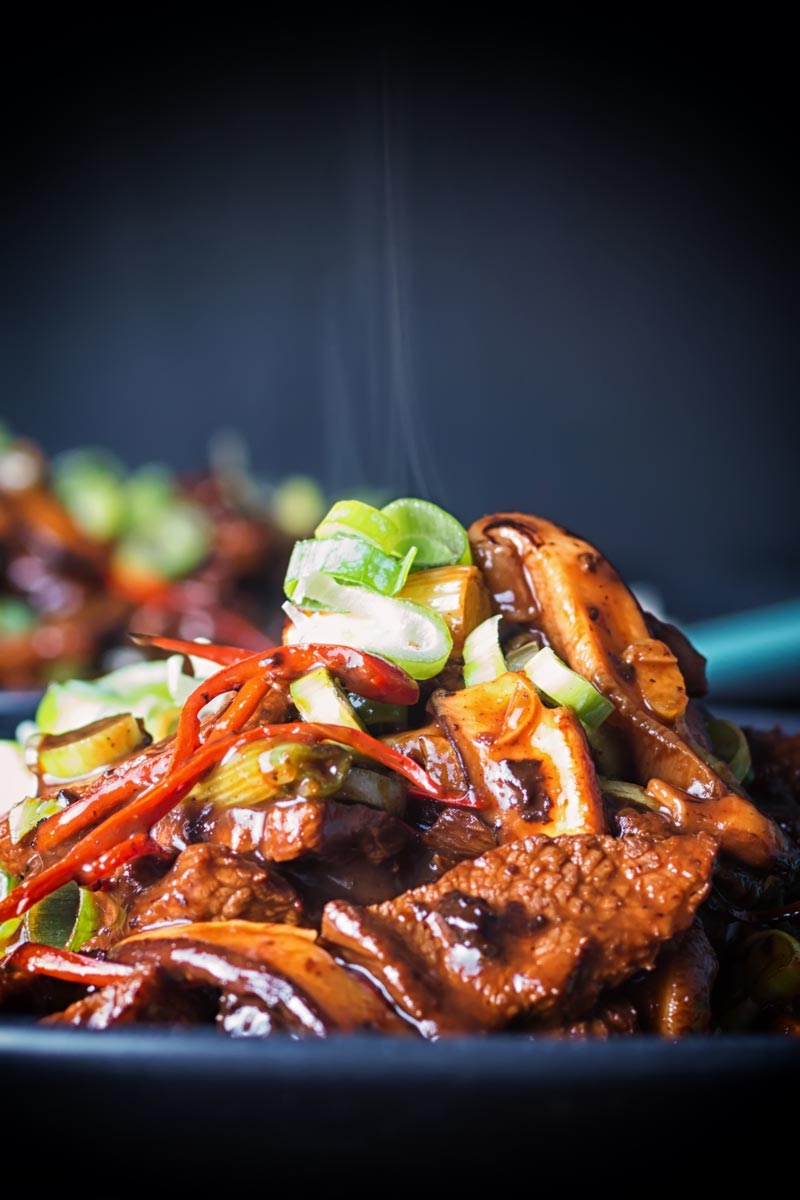 Beef Stir Fry with Shiitake Mushrooms.
It would seem that one of our local stores has come across a supply of Shiitake Mushrooms and I am not one to look a gift horse in the mouth. So here I am with another Chinese inspired fakeaway recipe!
It is fabulous to have these mushrooms available at the moment and I am cooking with them a lot.
Although my hot and sour soup is the only one that has appeared here, so far.
This recipe is incredibly quick, sure I have 20 minutes on the recipe but I reckon I could have this down in 15 if I was pushed!
Sweet, sour, salty and spicy it features all the flavours you expect from a good fakeaway dinner. It is also quicker, cheaper and tastes every bit as good as your local takeaway.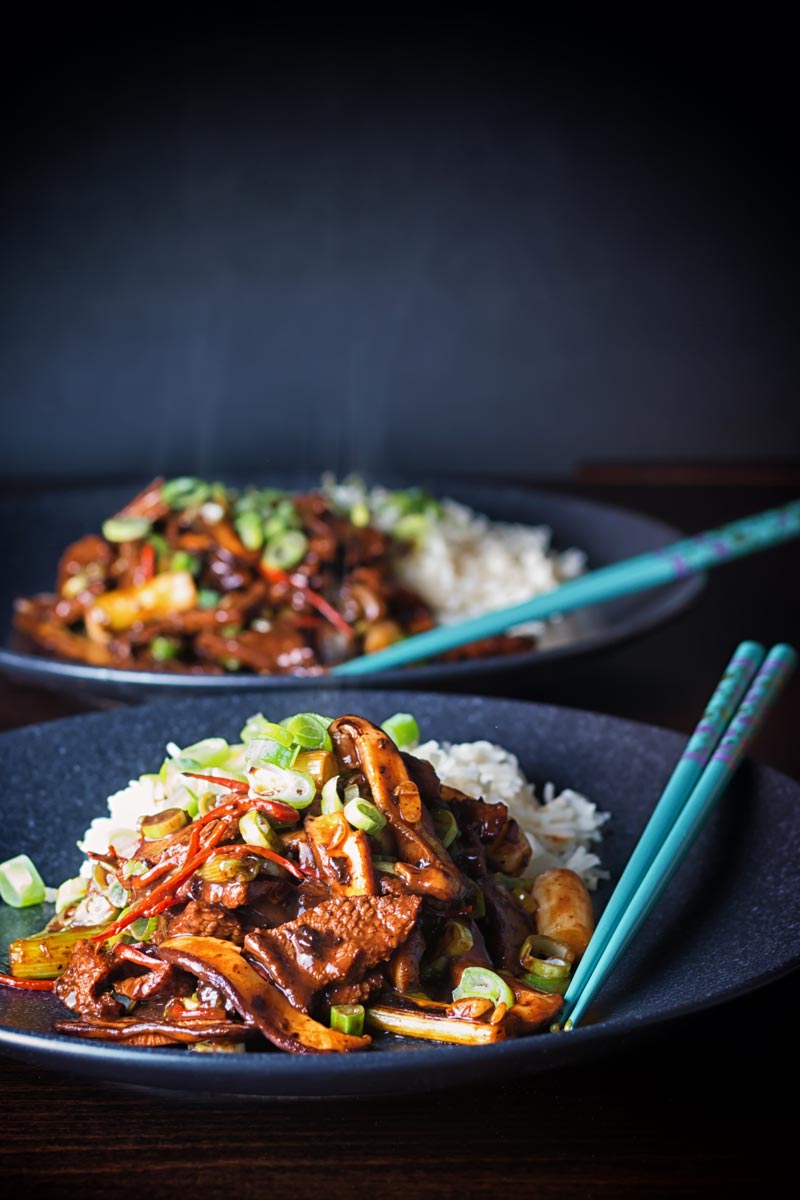 What Cut of Beef To Use?
When it comes to beef you want something that is already pretty tender.
We do marinade the beef with cornflour and soy which helps a little. But that is not enough to break down a tough cut of meat.
I use Sirloin Steak it is something that can cook quickly and remain tender! It is the same cut I use in my popular Beef and Broccoli stir fry.
You could also use something like flank, skirt or hangar steak.
A great tip for getting super tender beef is hidden in the preparation of the beef as well as the cooking.
You want to cut your beef against the grain. Essentially you cut perpendicular to the way that the muscle fibres run.
By doing this you are shortening those fibres, this means you do not need to do that with chewing. Ergo, beef that feels more tender!
You could flip this around and make it with chicken but you would need to cook it a little longer.
Not much though, just a couple of extra minutes with the chicken in the pan over the beef so still super quick.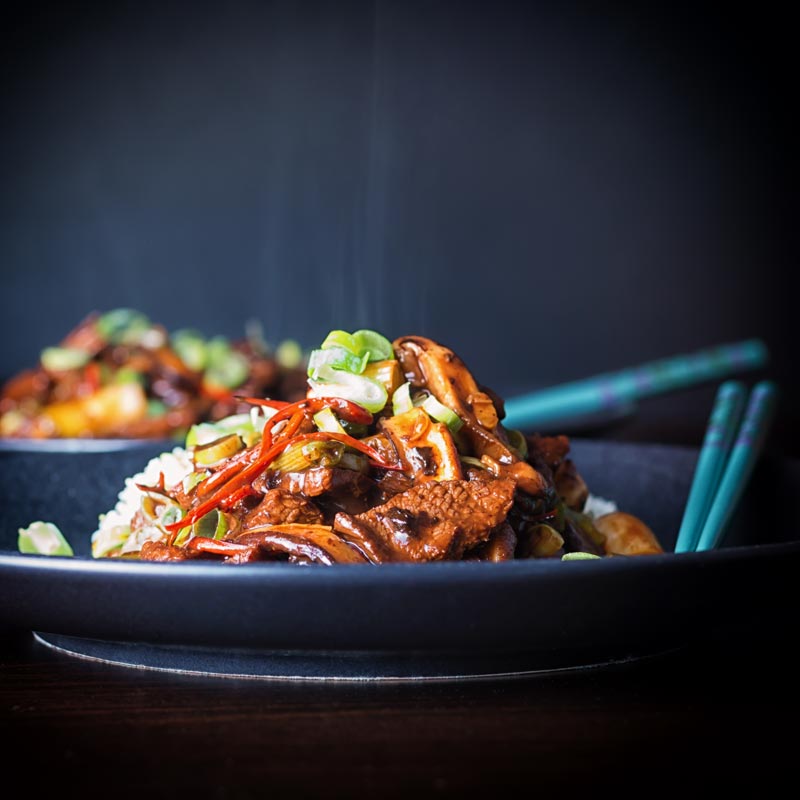 Shiitake Mushrooms.
Shiitake mushrooms have been around since the 13th Century in Chinese food and I love them.
Whilst their flavour is relatively mild they do act as a flavour sponge for other flavours. You can even get them dried which is what I use in this beef noodle soup!
They also have the most incredible texture, they are particularly firm and almost meaty in texture.
All of this means they sit perfectly alongside the beef in this recipe.
You could also increase the mushroom levels in this recipe and reduce the beef without impacting the flavour too much.
You can also play with different mushrooms. I have made this with oyster mushrooms, chestnut, regular mushrooms and portobello mushrooms. It just works!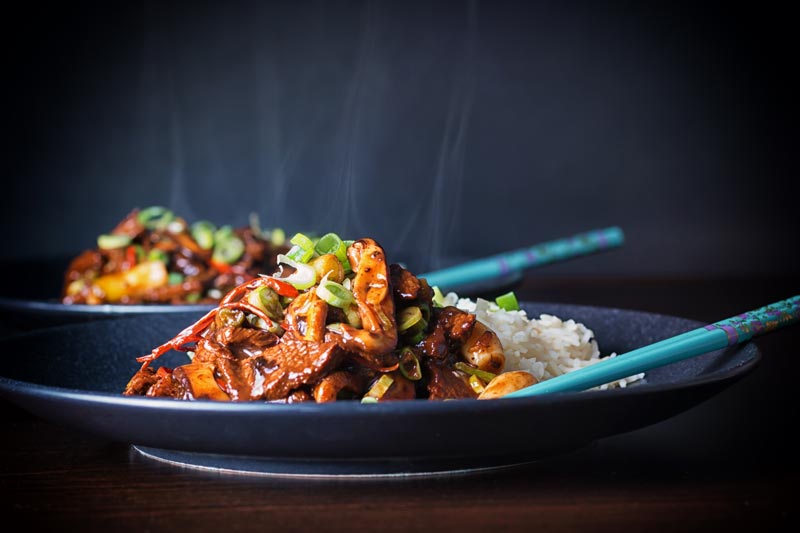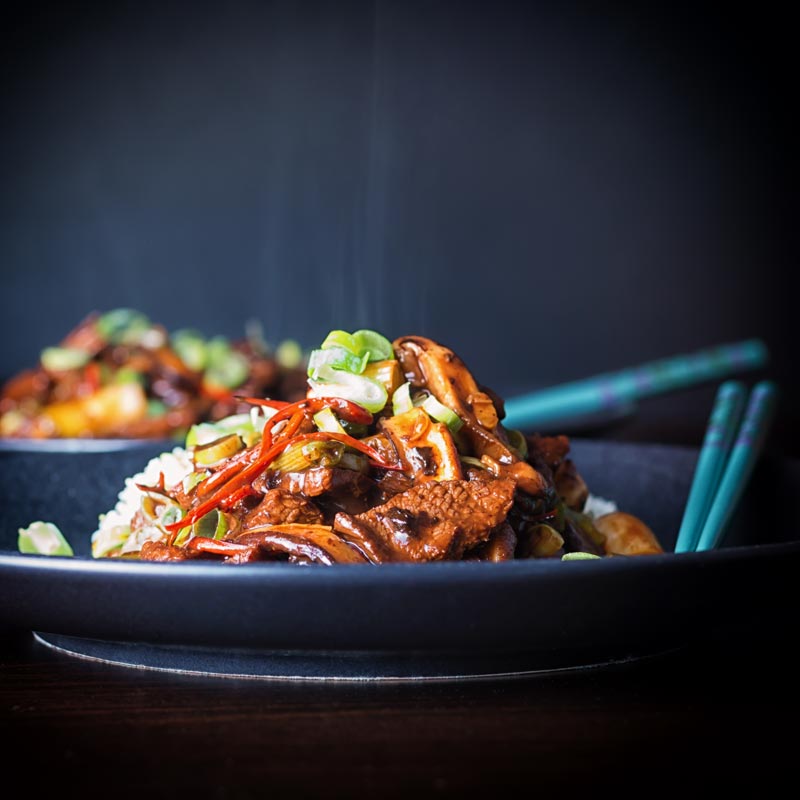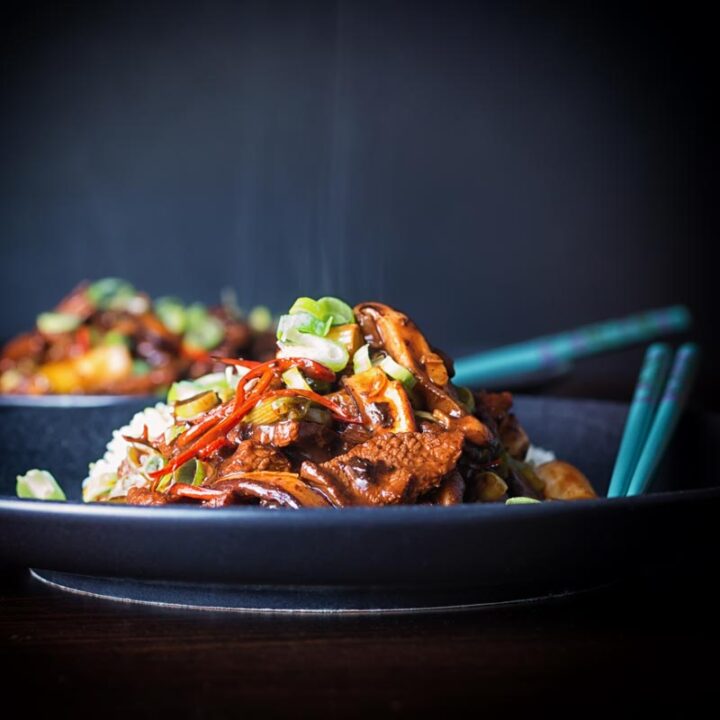 Super Quick Beef Stir Fry with Shiitake Mushrooms
This simple and frighteningly quick stir fried beef recipe proves that "better than takeaway" food can be made in your own kitchen!
Ingredients
300 g Sirloin Steak
100 g Shiitake Mushrooms
100 g Spring Onions
65 g Red Chilies
1 Tbsp Dark Soy Sauce
1 Tbsp Light Soy Sauce
2 Tsp Corn Flour
4 Garlic Cloves
2 Tbsp Hoisin Sauce
1 Tsp Sesame Oil
1 Tbsp Shaoxing Wine
1 Tbsp Flavourless Cooking Oil
Instructions
Slice the steak into thin strips maybe 3-4mm wide across the grain of the beef.
Cut the white part of the spring onions into 1cm lengths and finely slice the green parts, then finely slice the garlic.
Deseed and finely slice the chilies length ways, don't go too hot with these, the heat should be subtle in this dish.
Remove the stalks from the mushrooms and finely slice the caps, we are only using the caps here, freeze the stalks for another use.
Finely slice the garlic.
Combine the soy sauces with the cornflour (cornstarch in the US) and add the thinly sliced beef and allow to marinade for 10 mins.
Combine the Hoisin sauce, Shaoxing wine and sesame oil in a bowl and set aside.
Heat half of the cooking oil in a wok over a high heat and just as it begins to smoke.
Fry the shiitake mushrooms and white parts of the spring onions for 2 mins and then remove and set aside.
Now add in the remaining oil and add in the chili strands and garlic and fry for 30 seconds.
Throw in the beef with marinade and cook for a couple of minutes.
Now return the spring onion and mushroom mix to the wok and add the Hoisin mix and cook for 30 seconds or until the sauce bubbles.
Finally, garnish with the green parts of the spring onions.
Notes
Serve with some simply boiled jasmine rice, again with all stir fried dishes get all of your ingredients ready before you begin.
Nutrition Information:
Yield:

2
Serving Size:

1
Amount Per Serving:
Calories:

560
Total Fat:

32g
Saturated Fat:

9g
Trans Fat:

0g
Unsaturated Fat:

18g
Cholesterol:

138mg
Sodium:

1342mg
Carbohydrates:

22g
Fiber:

4g
Sugar:

9g
Protein:

46g
Calorific details are provided by a third-party application and are to be used as indicative figures only.