Szechuan beef stir fry with noodles a quick 20-minute recipe that sings with zingy Szechuan pepper, pepper flakes & a rich, delicious sauce.

It is the perfect quick-cook fakeaway dinner that will have you dumping those delivery menus, or even that pesky app!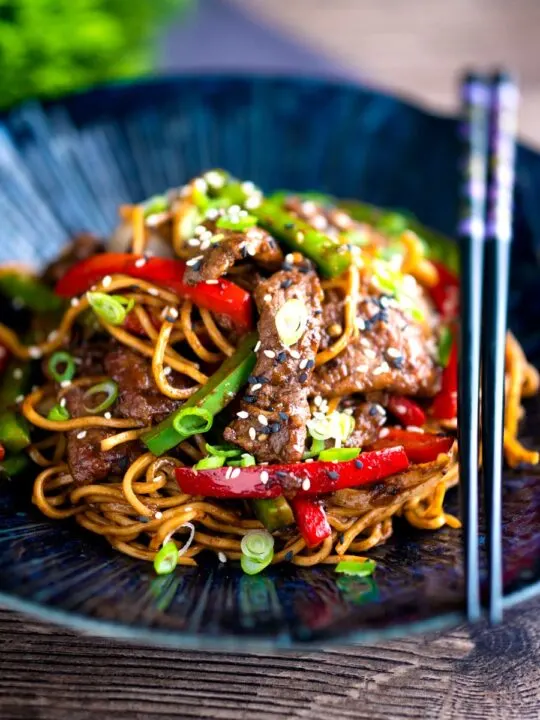 Spicy Sichuan Beef Stir fry
Whether you call it Szechuan, Sichuan or Szechwan beef will really depend on where you are from.
My version, like many of my recipes, flirts with authentic ideas and foundations and then expresses my cooking sensibilites and flavours.
It also features one of my favourite ingredients.
Szechuan pepper, an ingredient of note in Dan Dan Noodles and Szechuan Chicken, I also make wonderful Szechuan prawn and closely related kung po prawn recipes.
It has an almost citrus edge and it fizzes and has a mild numbing effect in the mouth.
As far as I am concerned it is grown-up popping candy and it makes me clap my hands like a fool!
The beef is "velveted" in beaten egg before being coated in cornflour (corn starch for my US readers). This creates a beautifully tender beef but also helps thicken our sauce.
It is then combined with peppers, onion and dried chilli, and I use dried chipotle chilli flakes. I love the smoky flavour that it adds to my version of Szechuan beef!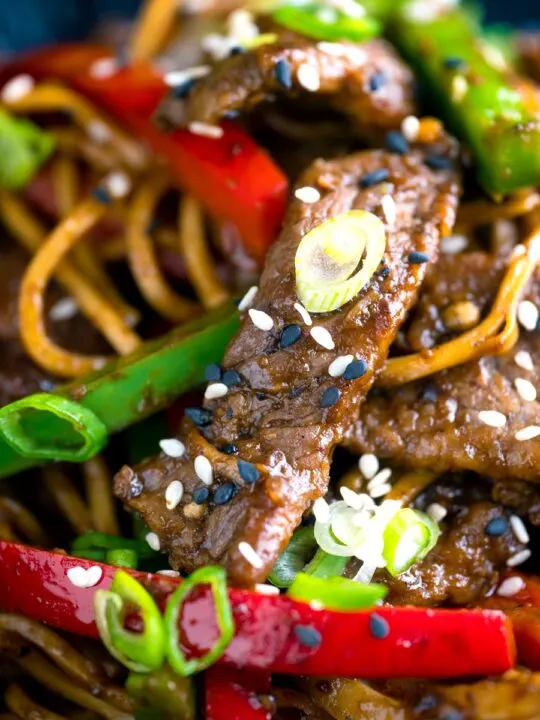 Frequently Asked Questions
Can I substitute normal pepper for Szechuan pepper?
No. It is not actually pepper at all but it is a seed and it is not spicy pungent like pepper or hot like chilli.
What does cutting the meat across the grain mean?
If you place the meat on your cutting board and look at it from on top you will notice a series of lines.
These are the meat fibres, you want to slice your beef perpendicular to these fibres.
As a result of doing this, the fibres of beef that you eat are short, this leads to a gloriously soft and tender Szechuan beef.
Do I have to add shrimp paste?
No, but please give it a try! It adds a rich and deep umami flavour to the sauce that is not at all fishy.
Don't be put off by the smell though! It is quite pungent, but that tempers very quickly with cooking.
It is not at all an unusual ingredient, many cultures use fish as a seasoning agent.
Whether it be Oysters in a hyper-trad beef pie, anchovies in Caesar salad dressing or fish sauce in my Thai duck curry it is a well-trodden path.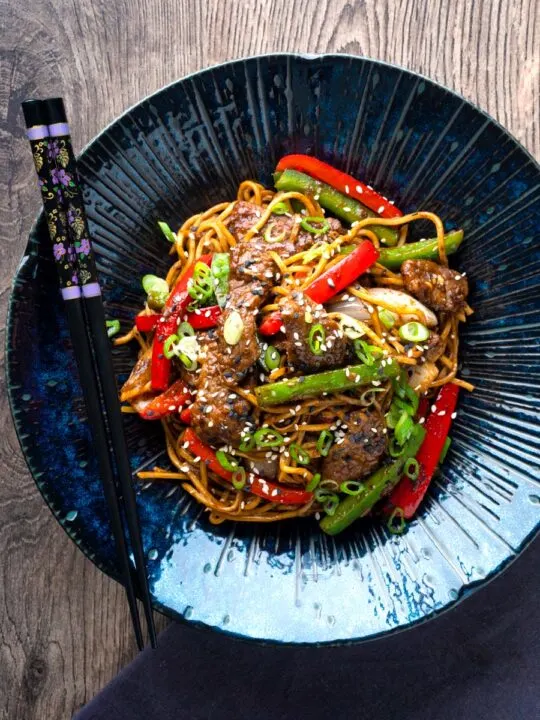 Serving Suggestions
Ordinarily, I serve this Szechuan beef stir fry as a one pot meal, it is plenty big enough for a meal for me.
I usually garnish with sliced spring onions and sesame seeds. But because beef and onion works so well serving this with crispy fried onions would be superb.
As part of a multi course meal it would serve wonderfully well with my hot and sour soup.
There are some that would also serve this with rice, a good egg fried rice would work well.
However, if I wanted to serve this with rice I would likely omit the noodles and make it a pretty neat Szechuan beef stir fry.
In order to do that I would reduce the amount of sauce by around a third.
Without the noodles, this would be awesome served with either my stir fried asparagus or broccoli stir fry.
If you want a real left-field idea stuff this into a hotdog bun and play with the Szechuan yakisoba pan vibe!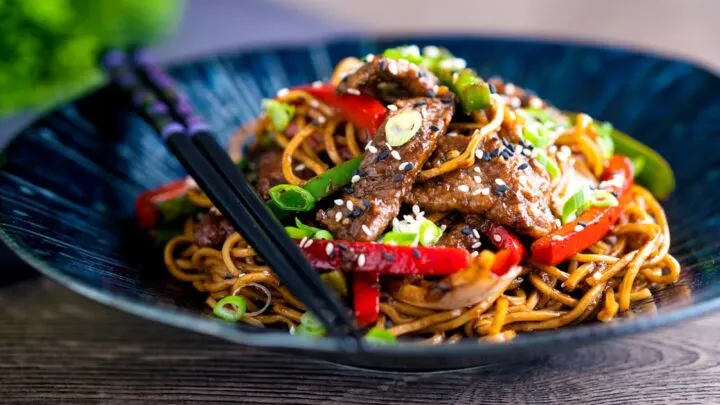 Equipment Used
I only name-check brands of equipment if I think that they make a material difference to a recipe. But if you have any questions feel free to ask them in the comments section below the recipe.
Stovetop.
Wok.
Pestle and mortar or spice grinder.
Chopping board.
Kitchen knife.
Grater.
Prep and marinating bowls.
Stirring and serving spoons.
Kettle to boil water for the noodles.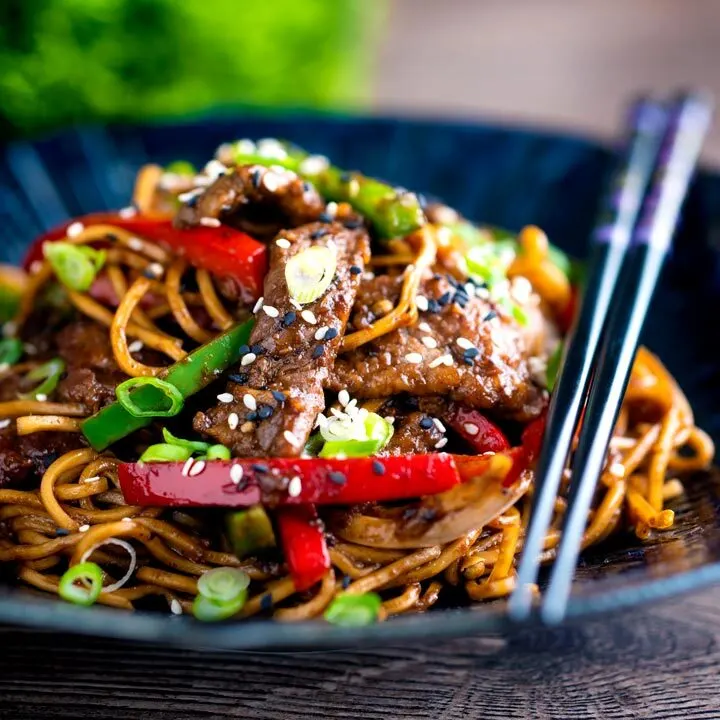 Yield:

2 Servings
Szechuan Beef Recipe with Noodles
You can't beat a good Szechuan beef fakeaway, this glorious noodle recipe takes just 20 minutes to cook and will see you dumping those takeaway menus.
Ingredients
300g (10oz) Flank Steak
125g (4oz) Dried Egg Noodles
1 Egg
1 Tbsp Cornflour (Corn starch in the US)
½ Tsp Salt
Ginger Thumb Sized Piece
2 Cloves Garlic
1 Tsp Dried Chilli Flakes
1 Tsp Szechuan Pepper
1 Bell Pepper
1 Small (75-100g) onion
2 Tbsp Light Soy Sauce
1 Tbsp Dark Soy Sauce
1 Tbsp Chinkiang Vinegar
1 Tbsp Shaoxing Wine
1 Tsp Shrimp Paste
1 Tbsp Sesame Seeds for Garnish
2 Tbsp Cooking Oil
Instructions
Cook your noodles as per the instructions on the packet and then refresh in cold water. I usually soak mine in boiling water and then refresh in cold water, but you can also use fresh noodles.
Lightly beat the egg in a bowl big enough to hold the beef.
Cut the flank steak (across the grain) into thin strips around 3mm (⅛") thick and 1-2cm (½-¾") wide by 4-5cm (2") long and add it to the egg.
Sprinkle over the salt, mix well and set aside whilst we prepare the remaining ingredients.
Peel and grate the ginger.
Peel and mash the garlic.
Toast the Szechuan pepper in a dry wok then crush it in a pestle and mortar or spice grinder.
Deseed the bell pepper and slice it into strips 4-5mm (¼") in profile, I used half of a red and green pepper for colour.
Top and tail the onion, peel it and then cut it into 8 wedges.
Mix the light soy sauce, dark soy sauce, Chinkiang vinegar, Shaoxing wine, and shrimp paste together in a bowl and set aside.
Drain any liquid egg from the bowl with the beef just before you heat the wok.
Heat a wok over a high heat and when it shimmers add the oil.
Sprinkle the cornflour over the beef and roughly mix to combine, leaving a little loose cornflour on the beef.
Add the beef to the wok and stir fry for two minutes before removing and setting aside.
Return the wok to the heat and when it is hot add the Szechuan pepper, dried chilli flakes, garlic, ginger and onion then stir fry for 60 seconds.
Add the bell peppers, and fry for another 2 minutes.
Return the beef, add the noodles and toss to combine for 30 seconds.
Finally, add the sauce mix you created and cook until slightly thickened, this should take no more than 60 seconds.
Notes
Toasting the Szechuan pepper first can help with the grinding process because it makes the husks more brittle. This can help reduce the grittiness sometimes associated with Szechuan pepper.
Nutrition Information:
Yield:
2
Serving Size:
1
Amount Per Serving:
Calories:

637
Total Fat:

41g
Saturated Fat:

10g
Trans Fat:

0g
Unsaturated Fat:

26g
Cholesterol:

224mg
Sodium:

2471mg
Carbohydrates:

27g
Fiber:

3g
Sugar:

2g
Protein:

39g
Calorific details are provided by a third-party application and are to be used as indicative figures only.