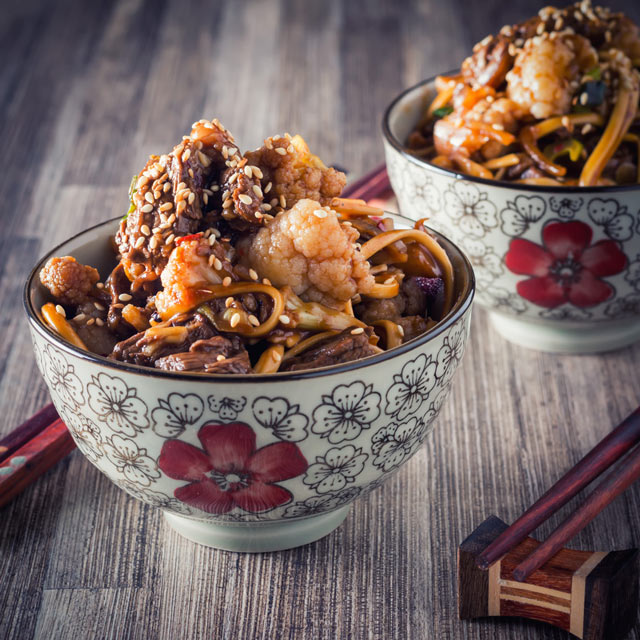 It may sound odd but a beef stir fry is something of a special dish around these parts, it is fairly difficult to find a cut of beef that is suitable for quick cooking, whilst Hungary produces lots of really great quality beef I believe economic pressures mean that most of the prime cuts are sent for export. As a result many of the beef dishes I cook are slow cooked meals just like my beef stew, unless I head to Budapest and buy something a little special. For me that isn't too much of a problem, I was bought up eating some of the more frugal cuts of meat and maintain to this day that they have so much more flavour than the more expensive cuts. Unfortunately that means though that the joys of a simple steak and chips or a beef stir fry are a rare event, however finding a nice, if small piece of sirloin in a 'local' supermarket this week meant only one thing… Had there have been two you may be reading a cook a perfect steak post 😉
It is now getting to that time of year where I long for some green vegetables and I would usually make this dish with broccoli but our harvest was pretty poor this year, but as is usually the case a secondary crop steps right up. Cauliflower is definitely one of my favourite vegetables and it works really well in this dish, the trick is to not over cook it, which lets face it is the same for all vegetables… But chopping this in to 1cm florets means that it will cook to a nice al dente texture in just a few minutes in a fiercely hot wok for this beef stir fry.
There is some consolation though, the days are getting appreciably longer, granted it is still dark by the time we eat dinner and it is either frozen solid or like a lake outside depending on the temperature, but in just 10-12 weeks we should be harvesting asparagus! Where time goes I really have no idea, we usually have our crop rotation plan in place by this time of year but our jollies have left us a little way behind, but there aint no rush, which is pretty much my motto in life, things always get done but when they get done is never important!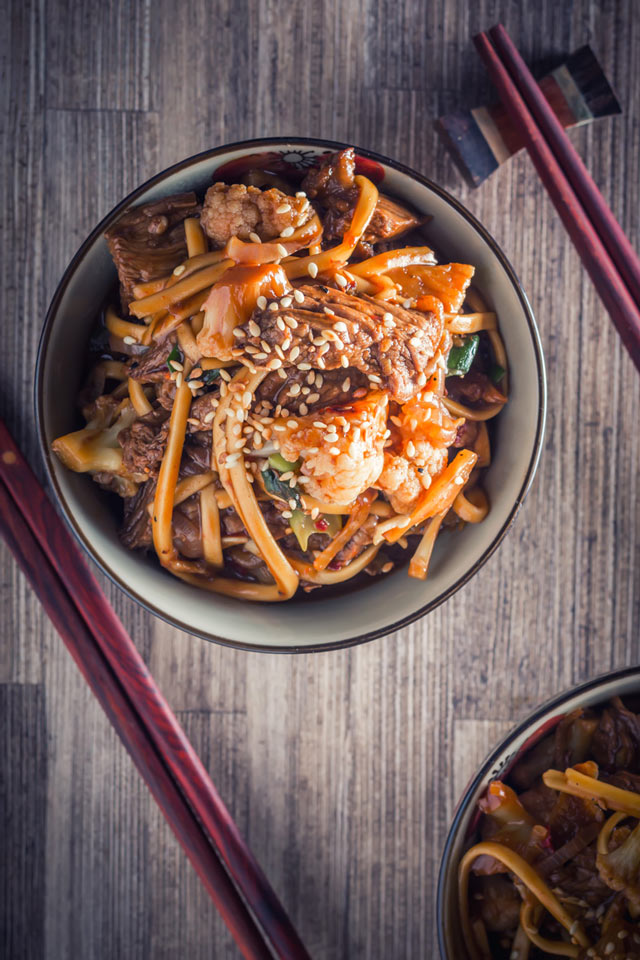 Print
Spicy Szechuan Beef Stir Fry
A wonderfully simple noodle based beef stir fry dish with hints of Szechuan pepper and chili and all ready in less than 20 minutes.
Ingredients
For the Marinade
30

g

Fresh Ginger.

Peeled and grated.

2

Cloves

Garlic.

Bruised and finely sliced.

1

Tbsp

Cooking Oil.

Neutral.

2

Tsp

Cornflour.

1

Tsp

Chili Flakes.

1

Tsp

Szechuan Pepper.

Ground in a pestle and mortar or spice grinder.

1

Lemon.

Juice and zest.

1

Tsp

Light Soy Sauce.

1/2

Tsp

Sugar.
For the Stir Fry
200

g

Beef.

Something like sirloin is perfect for this slice thinly.

1

Tsp

Sesame Seeds.

1

Tbsp

Cooking Oil.

Neutral.

1

Banana Shallot.

Peeled chopped in half length ways and thinly sliced.

200

g

Cauliflower.

Cut into small 1cm florets.

75

g

Soba Noodle.

Substitute for noodles of your choice.

1

Tbsp

Mirin.

1

Tbsp

Dark Soy Sauce.

1

Tsp

Fish Sauce.

This is the principle salt seasoning in the dish so add more to taste if you wish.

1

Tbsp

Sesame Oil.
Instructions
Mix together all of the ingredients for the marinade and add in the beef and allow to marinate for at least 1 hour.

Cook your noodles as per the instructions on the packet and the refresh in cold water to prevent further cooking.

Meanwhile heat a dry wok over a high heat and toast off the sesame seeds, keep moving them around this should only take 30-60 seconds, when toasted set aside.

Add the oil to the wok and when almost smoking hot add in the banana shallot and stir fry for 30 seconds.

Add in the beef with the marinade and stir fry for 2-3 minutes.

Then throw in the drained noodles, cauliflower, mirin, dark soy and fish sauce, and cook for 2-3 minutes adding water if the dish gets too dry. You should end up with a thick and rich spicy sauce that coats all of the stir fry.

Remove from the heat, stir through the sesame oil and serve with a coating of sesame seeds.
Recipe Notes
This dish comes together ridiculously quickly so ensure you have all of your ingredients prepared before starting.