Dan Dan noodles are a delicious, quick & simple, spicy minced pork stir fry featuring peanuts, chilli oil, Szechuan pepper & Chinese greens.
Cooking this gloriously punchy noodle fakeaway recipe takes just 10 minutes and the prep takes a leisurely 15 minutes, meaning this is way quicker and cheaper than delivery!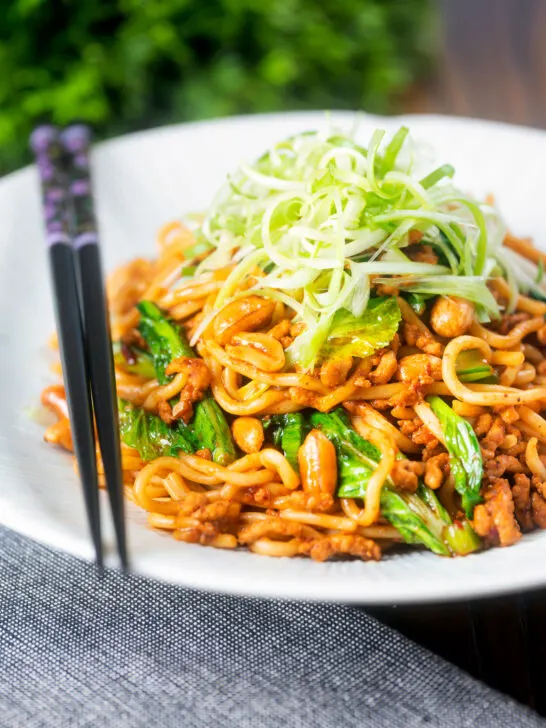 Pork Mince Noodle Stir Fry
Quick stir fry dishes are a constant on my menu at home, they are gloriously quick and really satisfying.
My take on dan dan noodles became a firm favourite during my days of living in rural central Europe and it remains a firm favourite still.
Showcasing minced pork, chilli oil, Szechuan (Sichuan) pepper to coat the noodles it is no wallflower in the flavour department.
Just like my Szechuan chicken and Szechuan prawns recipe, it heavily features the zing of Szechuan peppercorns. It is also the dish that most influenced my ginger pork stir fry, which uses pork tenderloin rather than ground pork.
Traditionally this dish contains a sesame paste that is similar to tahini. I use unsweetened peanut butter because I rarely order ingredients online.
I return a little of the sesame flavour with some toasted sesame oil right at the end of the cooking process.
And just like many of my takeaway recipes, this cooks in under 30 minutes. This means that it is not only cheaper than a takeaway but quicker too!
If you are feeding someone who is vegan and you love this dish you must check out my crumbled tofu noodle stir fry!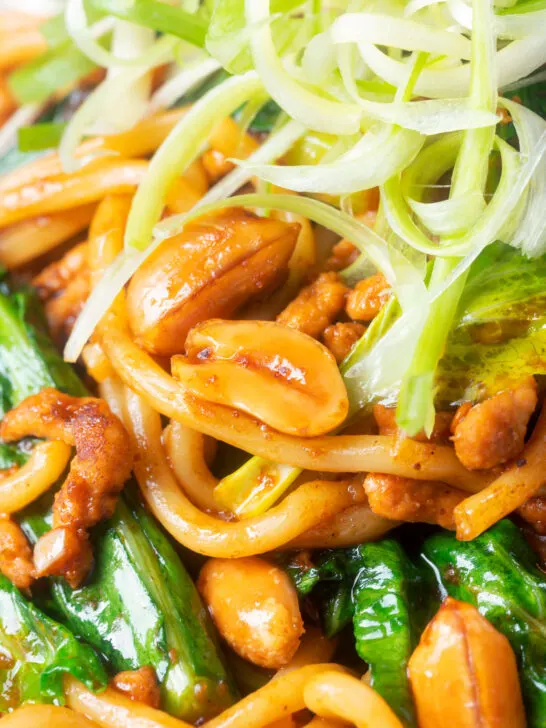 Frequently Asked Questions
Can I use a different type of noodles?
Absolutely! I have a version of this made with crumbled tofu that I make with udon noodles.

Traditionally it is made with wheat noodles, I tend to use some form of egg noodle.
Why do you pre-soak straight-to-wok noodles?
I always think that straight-to-wok noodles benefit from breaking up in boiling water. This is because I want them in the wok for the shortest time possible, and I also don't want to break them up in the wok.
What do you mean by natural peanut butter?
It's the peanut butter that many people complain about, you know the stuff where the oil separates from the solids.
Can I use regular pepper instead of Szechuan pepper?
No, they are very different products and Szechuan pepper is irreplaceable in this dan dan noodles recipe.

It is glorious stuff, I think of it as grown-up popping candy, it is vibrant and almost fizzy. Tread carefully though, using too much will result in it numbing your mouth!
What is Chinese crispy chilli oil?
It is crispy chilli in oil with some MSG, Szechuan pepper and preservatives and it has a unique smokey spicy flavour to recipes and I love the stuff.

I use the Lao Gan Ma brand, which can on occasion be difficult to find.

Lee Kum Ke makes a chiu chow chilli oil, which is different but a worthy substitute and in the UK is much more available as most of the large supermarkets stock it.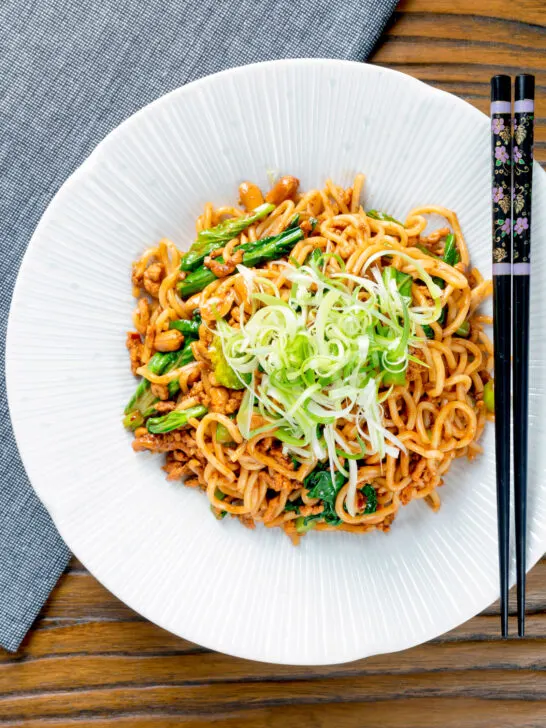 Serving Suggestions
Like so many of my Chinese fakeaway recipes I don't serve my dan dan noodles with a side dish. I'm much more likely to rock some starters and make a spread out of the meal.
If I am behaving myself I will start off with some prawn and sesame toast or prawn crackers. I might even stretch to some crispy spring rolls.
Soup is also a nice light option, this spicy noodle stir fry follows something like hot and sour prawn soup wonderfully.
If I am really gonna go for it then I would open up with some Chinese takeaway style spare ribs.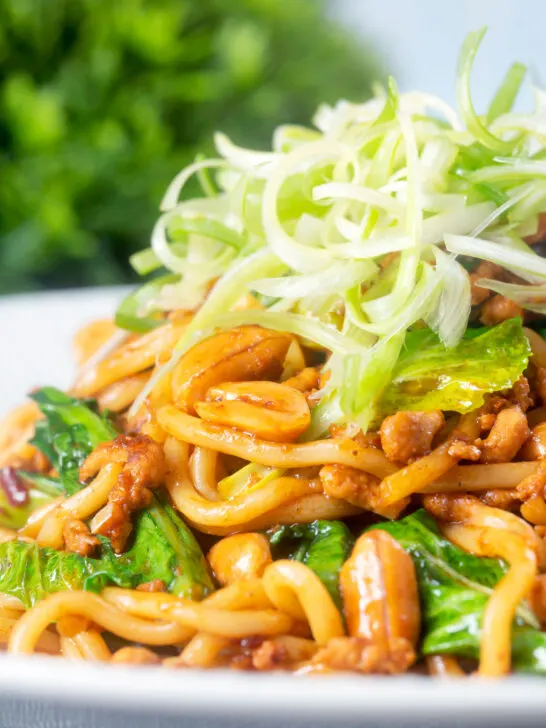 Equipment Used
I only name-check brands of equipment if I think they make a material difference to a recipe. If you have any questions feel free to ask them in the comments section below the recipe.
Stovetop.
Wok, I use a large flat-bottomed carbon steel wok because I find it best on an electric hob.
Kettle for boiling water if needed for the noodles.
Mixing bowls.
Chopping board.
Kitchen knife.
Weighing scales and or measuring cups and spoons.
Stirring and serving spoons or tongs.
Pestle and mortar or spice grinder.
Sive or colander.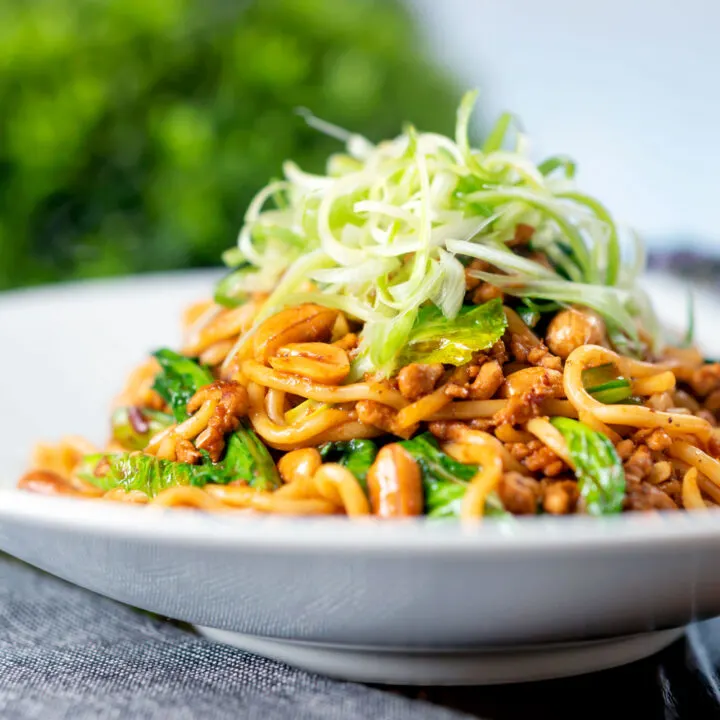 Yield:

2 Servings
Dan Dan Noodles Recipe
Dan Dan noodles is a spicy noodle stir fry dish showcasing ground pork, chilli oil and Szechuan pepper, it is a perfect midweek fakeaway.
Ingredients
300g (10 oz) Minced Pork
400g (14 oz) Prepared Noodles
175g (2-2½ Cups) Choi Sum or Bok Choi
50g (⅓ Cup) Toasted Peanuts
35g (3-4 in Total) Spring Onions
1 Tbsp Vegetable Oil
1 Tbsp Sesame Oil
For the Sauce
2 Garlic Cloves
½ Tbsp Szechuan Pepper
2 Tbsp Chinese Crispy Chilli Oil (I use Lao Gan Ma)
1 Tbsp Hoisin Sauce
1 Tbsp Natural Peanut Butter
2 Tbsp Dark Soy Sauce
1 Tbsp Light Soy Sauce
½ Tsp Chinkiang Vinegar
1 Tsp Sugar
¼ Tsp Chinese Five Spice
⅛ Tsp MSG
2 Tbsp Water
Instructions
Roughly chop the greens for the choi sum and then cut the stalks into 5-6mm (¼") lengths.
Peel and mash the garlic cloves into a paste.
Heat a wok over a high heat and toast the Szechuan pepper for 1-2 minutes, then crush in a pestle and mortar.
Mix together all of the ingredients for the sauce along with the toasted and crushed Szechuan pepper and set aside.
Cut the white part of the spring onions into lengths about 5cm (2") long and then shred them lengthways as finely as you can. Drop the shredded spring onions in cold water.
Prepare the noodles as per the instructions on the packet and then refresh them in cold water prior to starting to stir fry.
Heat a wok over a very high heat and when it begins to shimmer add the vegetable oil followed by the pork and stir fry for 2 minutes.
Throw in the choi sum stems and cook for a further 2 minutes.
Push the pork to the side of the pan and add the sauce and quickly combine everything.
Add the choi sum greens, peanuts, sesame oil and drained noodles and stir fry until everything is hot.
Drain the spring onions on kitchen paper and serve them as a garnish to the noodles.
Nutrition Information:
Yield:
2
Serving Size:
1
Amount Per Serving:
Calories:

1086
Total Fat:

58g
Saturated Fat:

12g
Trans Fat:

0g
Unsaturated Fat:

41g
Cholesterol:

113mg
Sodium:

1891mg
Carbohydrates:

84g
Fiber:

10g
Sugar:

9g
Protein:

59g
Calorific details are provided by a third-party application and are to be used as indicative figures only.