Dan Dan noodles are a spicy noodle dish traditionally featuring ground pork, chili oil and Szechuan pepper, a perfect midweek fakeaway.
What Are Dan Dan Noodles?
For my US readers, Dan Dan Noodles probably need little or no introduction. However, for many of my European readers it is very much a lesser known recipe.
Dandan noodles or dandanmian is a Chinese dish from the Szechuan province.
It typically contains chili oil, ground pork, Szechuan pepper and some form of preserved vegetable, ordinarily mustard stems.
I find the dish very similar in many ways to kung pao chicken, which is definitely a favourite of mine. It is also a sibling dish to my ginger pork stir fry, which uses pork tenderloin rather than ground pork.
It is another of those recipes that has been very much Westernised and there are thousands of versions hanging around.
This one is mine, it is a conglomeration of some recipes that claim to be authentic. Some recipes that do not claim to be authentic and most importantly, my tastebuds.
It is super quick to make, weighing in at just 25 minutes and packs some big old flavors!
What is Sichuan or Szechuan Pepper?
Well, here you go… Szechuan pepper isn't pepper! It comes from a completely different genus of plant than pepper.
It is the outer husk of a seed and when ground to a powder is one of the flavourings in 5 spice.
Unlike what are traditionally known as peppercorns in western cooking, Szechuan pepper is not spicy hot.
It has a floral almost citrus flavour and a very characteristic 'fizz'. Sorry I have no idea what else to call it!
If it is overused it can also cause a sense of numbness in much the same way as cloves. It also has a wonderful affinity with chili!
I love Szechuan pepper. If you want to explore its uses beyond dan dan noodles you should check out my Szechuan shrimp or Szechuan beef recipes.
The Peanut Butter.
Take care when cooking this dan dan noodles recipe to use unsweetened peanut butter.
There are hundreds of companies selling it out there so I am sure you can find it.
Sweetened peanut butter will really mess with the balance of this recipe. To my mind not in an acceptable way, I did try it.
However, if you cannot buy it, fear not! You are buying raw peanuts anyway, so you can make your own.
Guess what? It is stupidly easy, toast your nuts (hehehehee) and then blend them.
Seriously that is it, check out my homemade peanut butter recipe for more details.
What Pork Should I Use In Dan Dan Noodles?
Let's talk briefly about ground meat.
Not all ground meat is equal, by its very nature it is an ideal opportunity for stores to get rid of crap that they can not sell.
Typically ground meat is labelled by its fat content alone. As a consumer, I would not accept that with any other meat. I also do not accept it for ground or minced meat.
I personally have a meat grinder at home. It is a cheap off brand machine that cost the equivalent of maybe 35 US Dollars. It is a tank and just keeps going.
But even if you do not have one find a butcher, they should be happy to grind your meat for you.
For this dan dan noodle recipe, I use blade or Boston butt for my US readers. I personally think that this recipe needs the fat content.
If you want something a little less fatty go for shoulder, avoid loin. It is too lean and will add no flavour to the dish, it will also cost you significantly more to taste of less!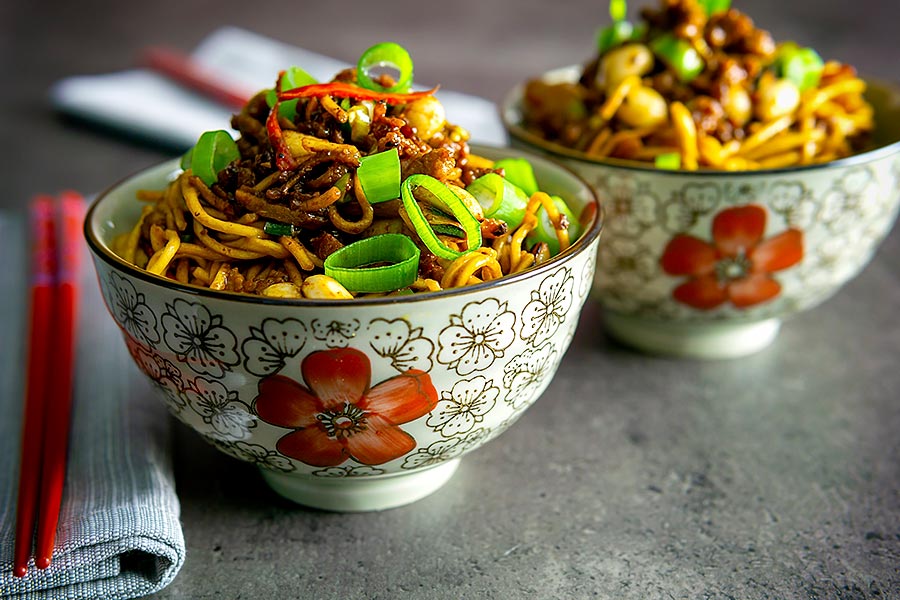 Dan Dan Noodles
Dan Dan noodles are a spicy noodle dish traditionally featuring ground pork, chili oil and Szechuan pepper, a perfect midweek fakeaway.
Ingredients
250 g Ground Pork
100 g Dried Egg Noodles
25 g Ginger
1 Clove Garlic
1 Red Chili
50 g Bamboo Shoots
75 g Spring Onions
1 Tbsp Szechuan Pepper Corns
50 g Raw Peanuts
1 Tbsp Hoisin Sauce
1 Tbsp Crunchy Peanut Butter, Unsweetened
1 Tbsp Chili Bean Sauce
2 Tbsp Shaoxing Wine
1 Tbsp Light Soy Sauce
1 Tbsp Dark Soy Sauce
2 Tbsp Chili Oil
1 Tbsp Cooking Oil
Instructions
Begin by cooking your noodles as per the instructions on the packet and then drain and refresh in cold water.
Whilst your noodles are cooking cut your ginger and chili (without seeds) into matchsticks.
Mash your garlic clove and grind your Szechuan pepper corns.
Slice your spring onions into rounds 2-3mm thick.
Mix together the soy sauces, chili bean sauce, Shaoxing wine and chili oil.
Heat your wok over a high heat and whilst it is heating toast off your peanuts.
When your peanuts are toasted remove them from the wok and return it to the heat.
Add the oil and when hot add the ginger, garlic and chili and stir-fry for 1 minute.
Then throw in the pork and cook for 7-8 minutes over a high heat until crispy.
Add in the Szechuan peppercorns and hoisin sauce and cook for a further minute.
Now add the bamboo shoots, most of the spring onions (retain some for garnish) and the sauce.
Finally add the noodles and the peanuts and cook until hot.
Serve sprinkled with some reserved spring onion
Nutrition Information:
Yield:

2
Serving Size:

1
Amount Per Serving:
Calories:

1261
Total Fat:

84g
Saturated Fat:

20g
Trans Fat:

0g
Unsaturated Fat:

54g
Cholesterol:

184mg
Sodium:

2584mg
Carbohydrates:

63g
Fiber:

10g
Sugar:

14g
Protein:

67g
Calorific details are provided by a third-party application and are to be used as indicative figures only.