Crumbled tofu noodle stir fry with peanuts in a spicy dan dan style sauce is a stupidly quick, easy and delicious vegan fakeaway dinner.
The prep for this easy noodle recipe takes a leisurely 10 minutes and the cooking takes less than 10 minutes making this an ideal midweek meal.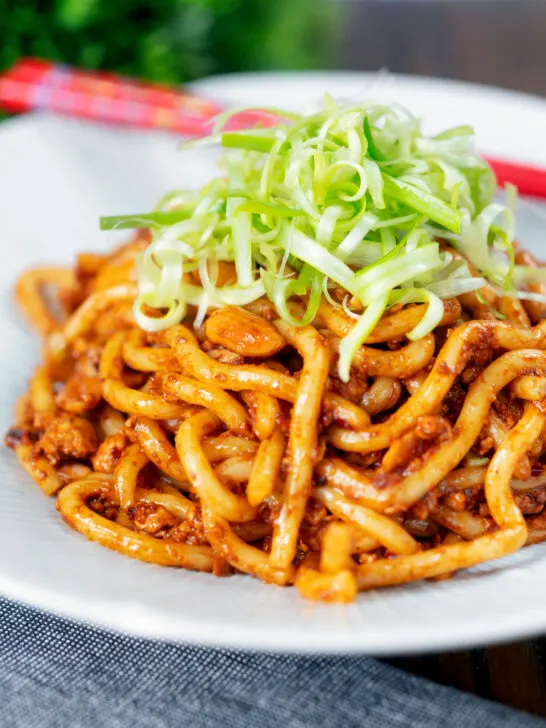 Spicy Dan Dan Tofu Stir Fry
This simple crumbled tofu noodle stir fry started out as an experiment using the sauce from my dan dan noodles recipe.
Scrambled tofu is an idea that has intrigued me for a while and in playing around I thought that it would be awesome with a big and bold spicy sauce stirred through some noodles… and here we are.
I've even taken this idea on and created a very European crumbled tofu pasta recipe that I love.
Dan dan noodles are from Hong Kong and "modern" versions are built on American Chinese sensibilities. My version moves towards British Chinese takeaway influences, and I love this dish.
As I have mentioned before I used to be really rather rude about tofu, but I am a definite convert!
I have dishes as diverse as Japanese-influenced tofu katsu curry, a Korean-influenced gochujang tofu stew, a spicy vegan tofu noodle salad and Vietnamese-influenced fried tofu in a tomato sauce.
Its neutral flaovur lends it to hot, sweet and even sour flavours and I have grown to adore the texture.
This recipe uses pantry ingredients that you likely already have if you cook lots of far east Asian food and will go from your cupboard to your table in around 20 minutes!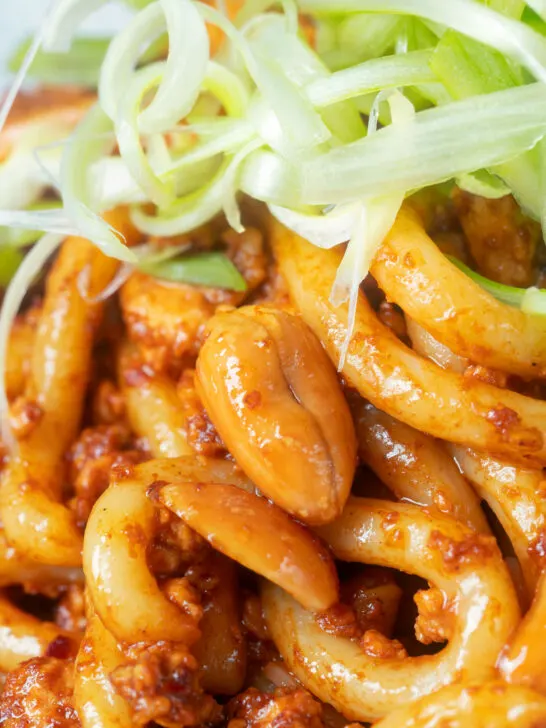 Frequently Asked Questions
Can I use a different type of noodle?
Yes absolutely, knock yourself out, use whatever you like. I have a huge food crush on udon noodles, which is why they appear in this recipe.

I would personally avoid glass or rice noodles, not just because I'm not that keen on them but because they also won't hold on to the sauce too well.
What is Chinese crispy chilli oil?
It's kinda what it says on the tin! It is crispy chilli in oil with some MSG, Szechuan pepper and preservatives.

It adds a unique smokey spicy flavour to recipes and I love the stuff. I use the Lao Gan Ma brand, which can on occasion be difficult to find.

Lee Kum Ke make a chiu chow chilli oil, which is different but a worthy substitute and in the UK is much more available as most of the large supermarkets stock it.
What is Chinkiang Vinegar?
Chinkiang is a black rice vinegar and it has a much more complex and rounder flavour than regular rice vinegar which flows into the dish. I use it all of the time in my Chinese takeaway influenced dishes so don't worry about leftovers.

It can be substituted for regular rice vinegar.
How do you toast peanuts?
I typically buy toasted peanuts, but for years I would toast them in a dry pan over a medium heat. In recent years I have started toasting them in the air fryer at 180°C or 350°F.

Do it in bursts of 2-3 minutes giving them a shake after every burst, it will take around 8-10 minutes.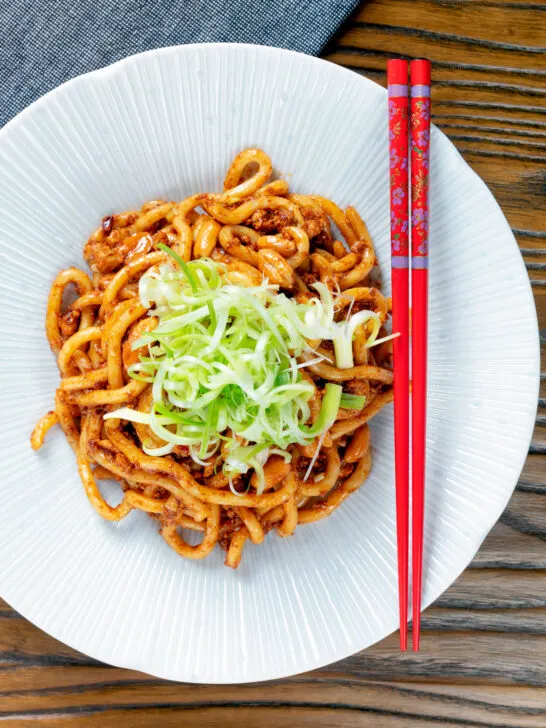 Serving Suggestions
Like so many of my Chinese takeaway inspired dishes I rarely serve this spicy tofu noodle stir fry with a side dish.
If I want something a little larger then I serve this with a starter!
My usual choice is a soup, if you are sticking to vegetarian then something like this tofu hot and sour soup is ideal, if not then you can't beat a classic chicken and sweetcorn soup.
If you wanted something that is a little more "finger food" then these tofu spring rolls would be perfect.
Prawn toast and prawn crackers are both great options too and if you like you can fake up some vegan "prawn" toast.
Pickles are also pretty awesome with these noodles and aid in cooling that chilli burn. My quick pickled cucumber or pickled daikon are spot on served with this dish.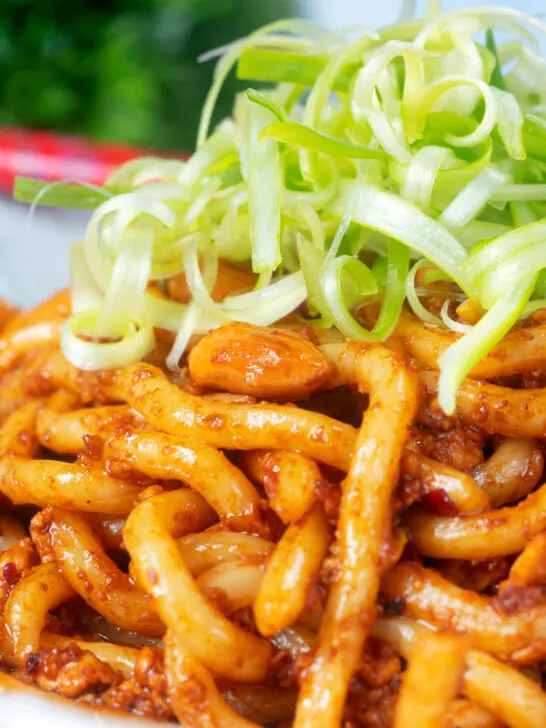 Equipment Used
I only mention specific brands of equipment if I think they make a material difference to a recipe. If you have any questions feel free to ask them in the comments section below the recipe.
Stovetop.
Wok, I use a large flat-bottomed carbon steel wok. I find this best for cooking on an electric stovetop.
Mixing bowls.
Stirring and serving spoons.
Kettle for boiling water for the noodles.
Weighing scales and or measuring cups and spoons.
Chopping board.
Kitchen knife.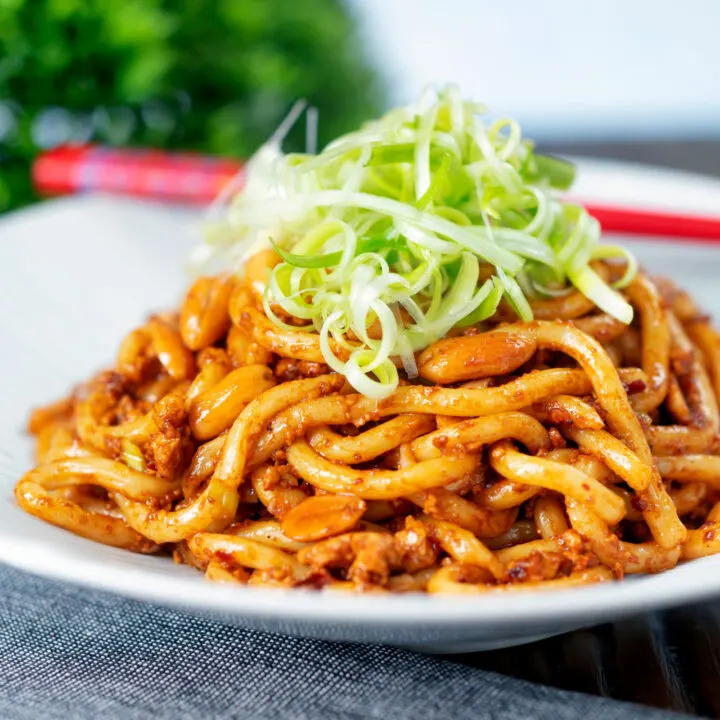 Yield:

2 Servings
Spicy Tofu Noodle Stir Fry Recipe
This wonderfully spicy crumbled tofu noodle stir fry comes coated in a wonderfully smoky dan dan influenced sauce and the whole thing will go from your store cupboard to your table in 20 minutes
Ingredients
250g (9 oz) Extra Firm Tofu
400g (14oz) Prepared Udon Noodles
50g (⅓ Cup) Toasted Peanuts
75g (6-8 in Total) Spring Onions
1 Tbsp Cooking Oil
1 Tbsp Sesame Oil
For the Sauce:
2 Garlic Cloves
½ Tbsp Szechuan Pepper
2 Tbsp Chinese Crispy Chilli Oil (I use Lao Gan Ma)
1 Tbsp Hoisin Sauce
1 Tbsp Peanut Butter
2 Tbsp Dark Soy Sauce
1 Tbsp Light Soy Sauce
½ Tbsp Chinkiang Vinegar
1 Tsp Sugar
¼ Tsp Chinese Five Spice
⅛ Tsp MSG
2 Tbsp Water
Instructions
Crumble the tofu into a bowl and set aside.
Cook the udon noodles as per the instructions on the packet. I usually use straight-to-wok noodles and soak them in water in order to soften them a little, then I refresh them in cold water.
Peel and mash the garlic cloves into a paste.
Heat a wok over a high heat and toast the Szechuan pepper for 1-2 minutes, then crush in a pestle and mortar.
Mix together all of the ingredients for the sauce along with the toasted and crushed Szechuan pepper and set aside.
Cut the white part of the spring onions into rounds 2-3mm (⅛") thick, then cut the green parts into lengths about 5cm (2") long and then shred them lengthways as finely as you can.
Place the shredded green parts of the spring onion in cold water and allow the to cook whilst you cook.
Return the wok to a very high heat and add the cooking oil followed by the tofu and stir fry for 60-90 seconds.
Add the sauce and stir fry for another minute.
Toss in the white parts of the spring onions and toasted peanuts and toss to coat.
Add in the noodles and sesame oil, then cook until they have warmed through, this will only take a minute it two.
Finally, dry the spring onions on kitchen paper and use them to garnish the dish.
Nutrition Information:
Yield:
2
Serving Size:
1
Amount Per Serving:
Calories:

714
Total Fat:

46g
Saturated Fat:

6g
Trans Fat:

0g
Unsaturated Fat:

36g
Cholesterol:

3mg
Sodium:

1776mg
Carbohydrates:

53g
Fiber:

8g
Sugar:

9g
Protein:

30g
Calorific details are provided by a third-party application and are to be used as indicative figures only.