This fried tofu recipe comes from the Northern mountainous regions of Vietnam and it features a delicious simple spicy tomato sauce.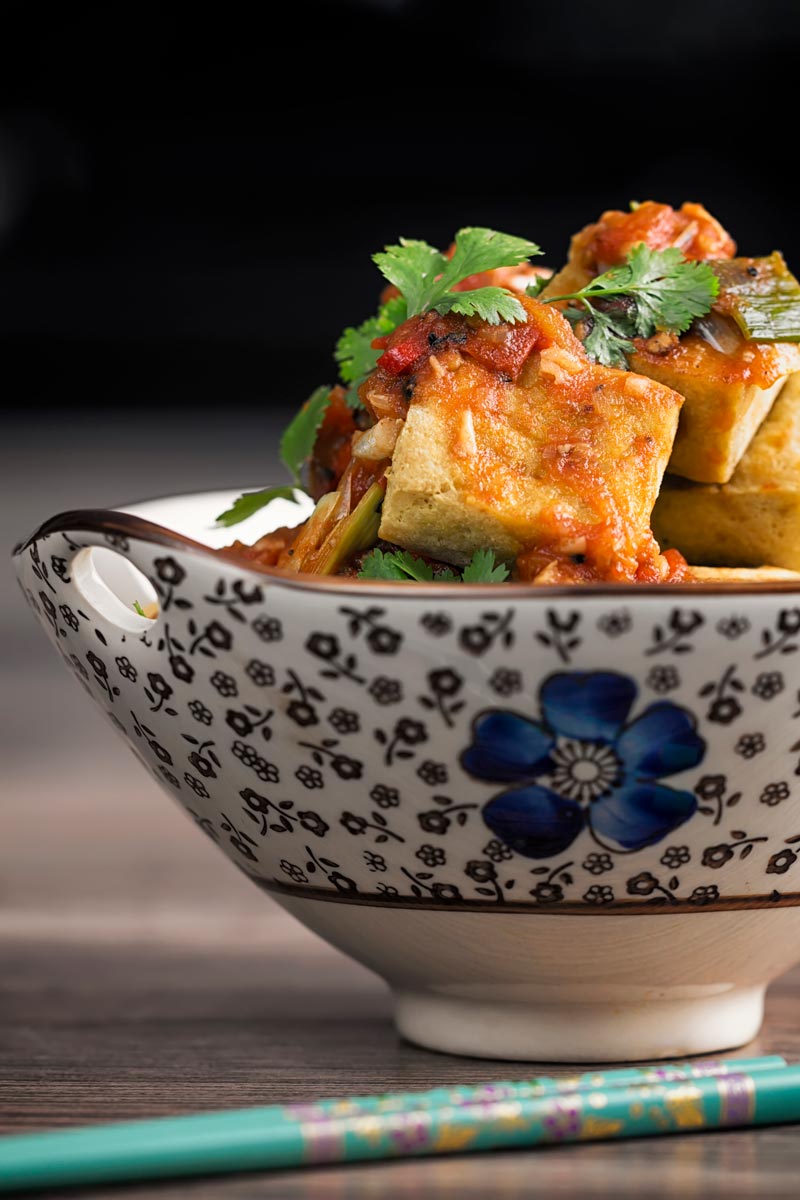 Crispy Fried Tofu With Tomato Sauce
This recipe sees two rarities combined here on my site… The first is a recipe that uses tofu and the second sees me cook a recipe from a book.
I have been fairly rude about tofu here, it is an ingredient I find difficult, principally because it has no flavour.
It is odd really because that is similar to the main ingredient in this matar paneer recipe, which I love!
Yes, I know it takes flavour well as this delicious tomato sauce demonstrates, but I usually like the main part of a meal to have its own character.
The second rarity is me cooking from a cookbook. This recipe comes from a book called the food of Vietnam by Luke Nguyen.
I do cook from my large collection of cookbooks occasionally. But those recipes usually used as an influence for new ideas.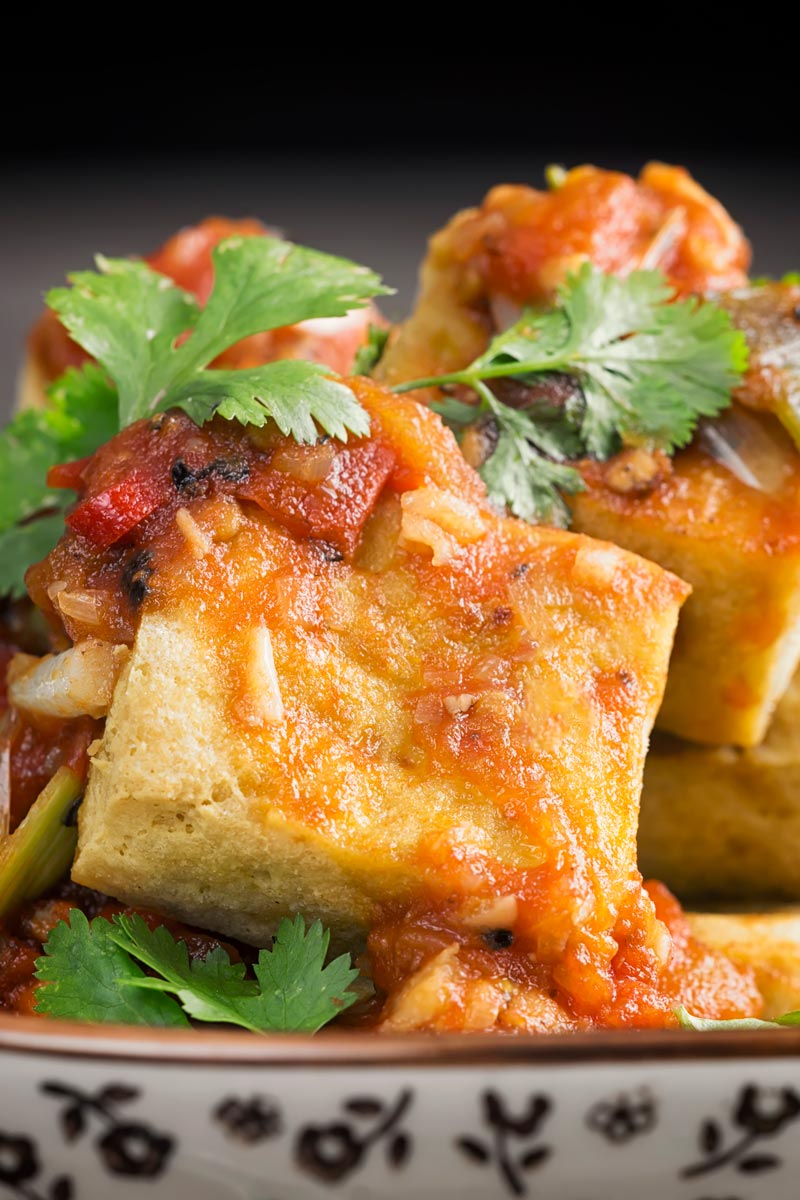 Cooking With Tofu
For me at least cooking with tofu is alien and it was certainly not something I was bought up eating or seeing anyone cooking with.
Tofu has a neutral flavour and is made from Soya beans, soya milk to be precise.
In fact, it has only made its way into one other of my dishes so far here on krumpli… Just 1 in almost 450!
That recipe was my Chinese hot and sour soup, a recipe that I cook all of the time in winter.
I have tried other tofu recipes in the past but have never got on with them. Tofu is often used as a sub for meat and speaking as a meat eater it is a bloody awful substitution.
This fried tofu actually uncovers a flavour that I have not experienced when eating tofu before. It has an earthy flavour and unusual texture, one that I enjoyed greatly.
This recipe however just accepts tofu as being what it is, a simple ingredient.
Most recipes call for you to press tofu, it was not mentioned in the recipe I used as a source for this. Whilst playing around with this I did play with it but it made no difference to the texture of the tofu.
I do however ensure that the tofu is dried to prevent spitting when placing in the hot oil.
One that is fried in oil until golden brown and then topped with a sauce… And what a sauce this is!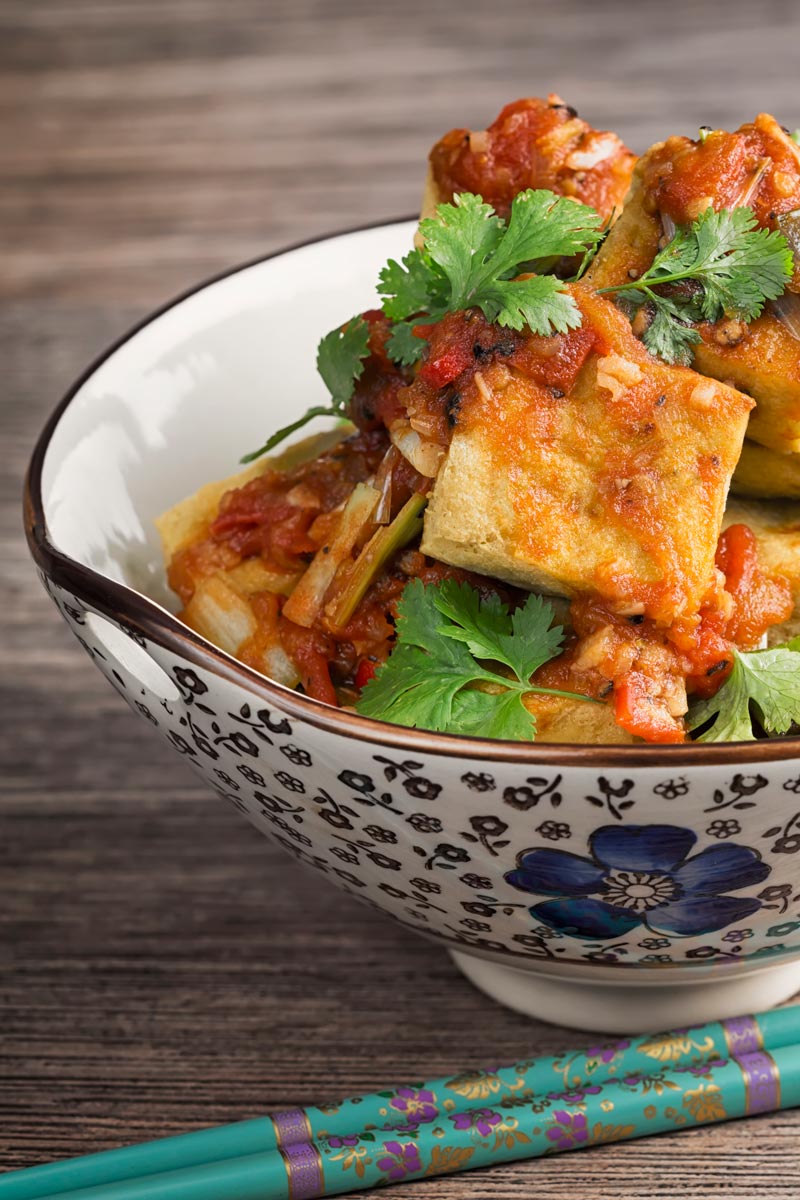 The Spicy Tomato Sauce
This sauce is the thing that piqued my interest in this recipe.
I typically associate tomato sauces with Italian food, classics like Arrabiata or Puttanesca.
I certainly do not associate them with South East Asia. Well, consider me told because this tomato sauce is insanely good and really simple.
It features heat from Thai birds eye chillies and a considerable amount of black pepper.
There is also a good slug of fish sauce, way more than I would usually use. Do not be tempted to scale this back, the balance is exceptional.
I did try and make this recipe with Soy Sauce as a substitute, don't do it, it is nowhere near as good!

Of course, the fish sauce makes this dish neither Vegan or Vegetarian, which is the sort of food often associated with tofu.
Finally a bit of sugar and lots of spring onions and just like all of the best food these simple ingredients create something way more than the sum of its parts.
Most importantly, one where I actually really! like tofu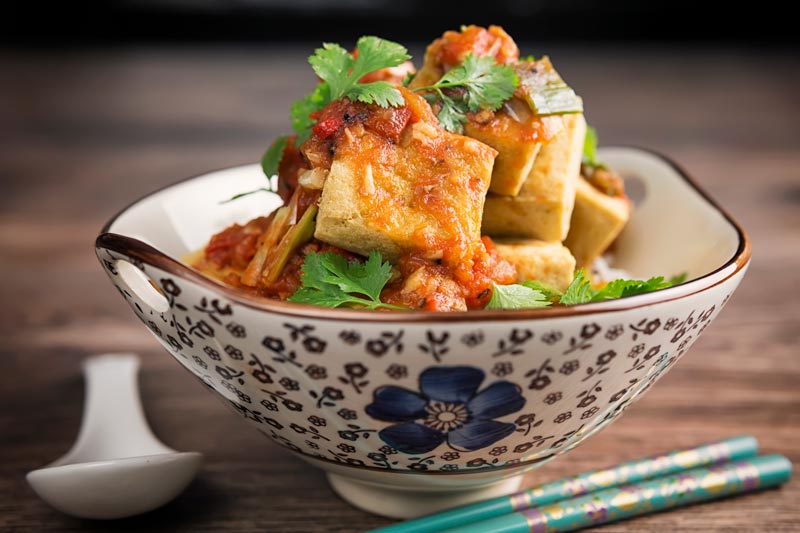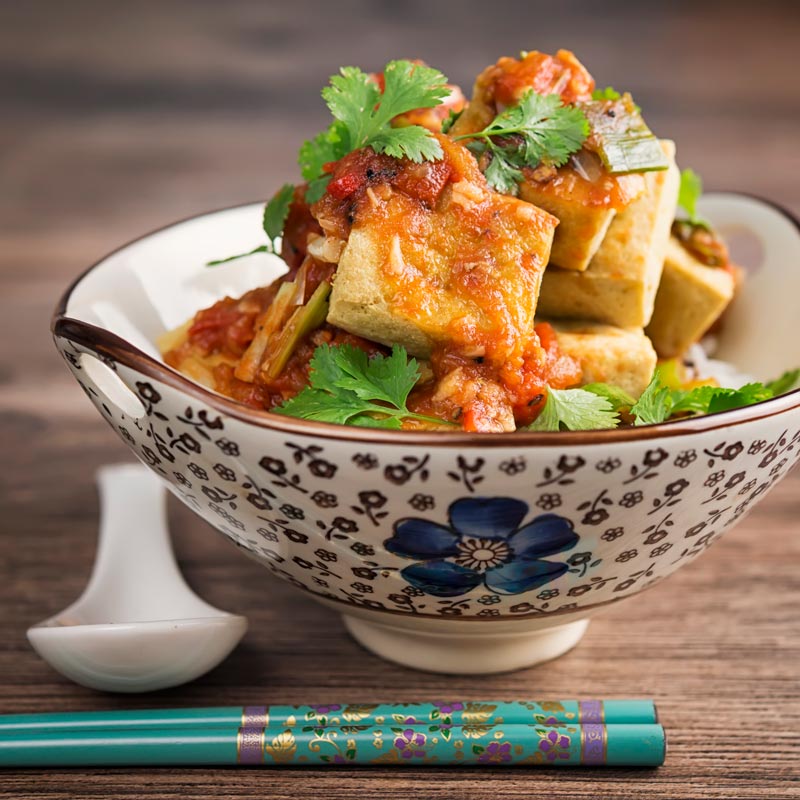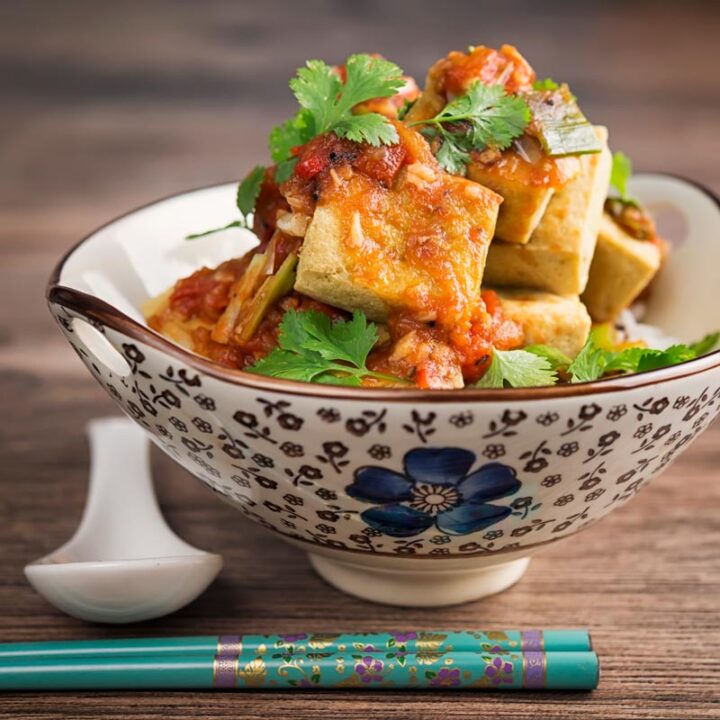 Golden Brown Fried Crispy Tofu With Tomato Sauce
This fried tofu recipe is the perfect recipe for those that don't like tofu... I know, because I do not like tofu, but I love this recipe!
Ingredients
350 g Firm Tofu
3 Garlic Cloves
50 g Shallots
1 Thai Birds Eye Chilli Pepper
250 g Tomatoes
3 Spring Onions
2 Tsp Sugar
2 Tbsp Fish Sauce
1 Tsp Black Pepper
100ml Water
Fresh Coriander
Oil for frying
Instructions
Cut the tofu into bite-sized pieces and dry on kitchen towel.
Finely dice the shallot and chilli and mash the garlic.
Cut the tomatoes into a 1 cm dice.
Cut the spring onions into 1cm lengths.
Heat the oil in a wok to 180°C or 350°F.
Batch fry the tofu until golden, this should take 10 minutes in total.
When cooked drain on kitchen towel and transfer to a warm oven to keep warm.
Drain off all but about a tablespoon of the oil and turn the heat down to medium-high.
Add the garlic, shallots and ginger, then stir fry for a minute.
Add in the tomatoes, fish sauce, black pepper and sugar.
When the tomatoes begin to break down add the water and cook for 7 or 8 minutes to reduce to a sauce.
Throw in the spring onions and cook for a further minute.
Sprinkle over fresh coriander leaves when ready to serve.
Notes
I serve this recipe with some simply steamed jasmine rice.
Nutrition Information:
Yield:

2
Serving Size:

1
Amount Per Serving:
Calories:

535
Total Fat:

31g
Saturated Fat:

7g
Trans Fat:

0g
Unsaturated Fat:

19g
Cholesterol:

50mg
Sodium:

2431mg
Carbohydrates:

35g
Fiber:

5g
Sugar:

15g
Protein:

34g
Calorific details are provided by a third-party application and are to be used as indicative figures only.