Vietnamese fried tofu is a gloriously simple and tasty dish that combines a hot, salty, sweet and sour tomato sauce with crispy tofu!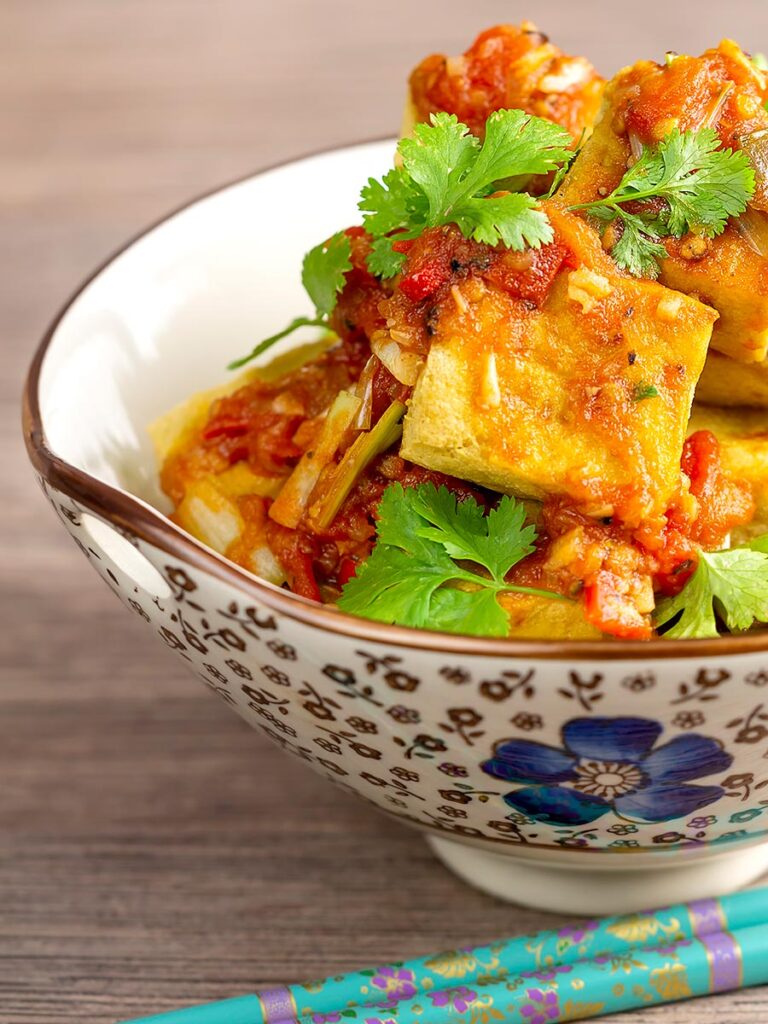 Vietnamese Crispy Tofu.
This recipe sees two rarities combined here on my site… The first is a recipe that uses tofu and the second sees me cook a recipe from a book.
I have been fairly rude about tofu here, it is an ingredient I find difficult, principally because it has little flavour. It has only appeared here one other time in over 500 recipes, my Chinese hot and sour soup uses it in a very different way.
It is odd really because that is similar to the paneer cheese. I love paneer and use it in both my matar paneer and palak paneer recipes!
However, I love trying new things and this fried tofu recipe blew my socks off.
The earthiness of the tofu is amplified by frying. Couple that with the umami rich flaovur from the fish sauce in the spicy tomato sauce and you have a real winner.
The second rarity is me cooking from a cookbook. This recipe comes from a book called the food of Vietnam by Luke Nguyen.
I do cook from my large collection of cookbooks occasionally. But those recipes usually used as an influence for new ideas.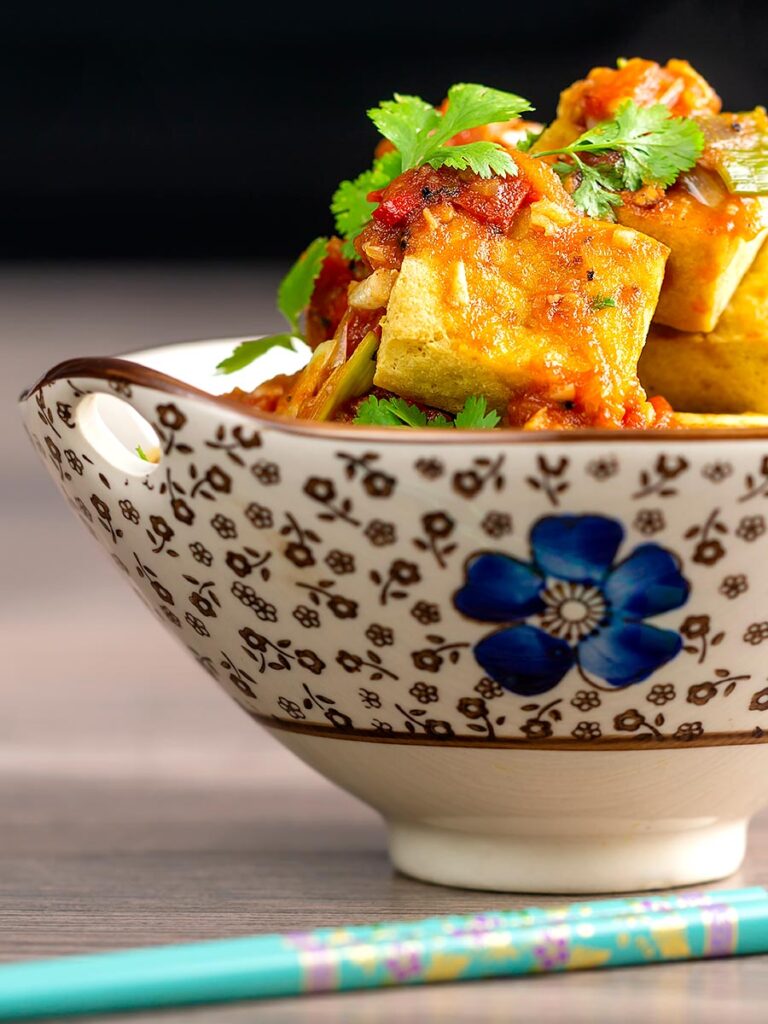 What Tofu To Use.
Let's talk tofu. I'm not here to turn you into a convert, I have very few ideological ideas about food!
In fact, my main only ideology is it should make you excited, make you giggle when you eat it, make you go phwaor!
I digress, tofu can be a difficult ingredient to buy if you are uninitiated.
This recipe does not aim to initiate you but allow you to make this recipe. So go to the store and buy firm silken tofu.
No flavours, not smoked, not marinated! Just plain old tofu, it will likely be in the refrigerator section.
If you have never cooked with it before, do not worry my instructions below are foolproof.
Just cut it into cubes then place it on to kitchen towel to dry thoroughly, this prevents it from spitting when it is cooked.
Most recipes call for you to press tofu, it was not mentioned in the recipe I used as a source for this. Being the curious soul that I am I did test pressing and it made no discernable difference.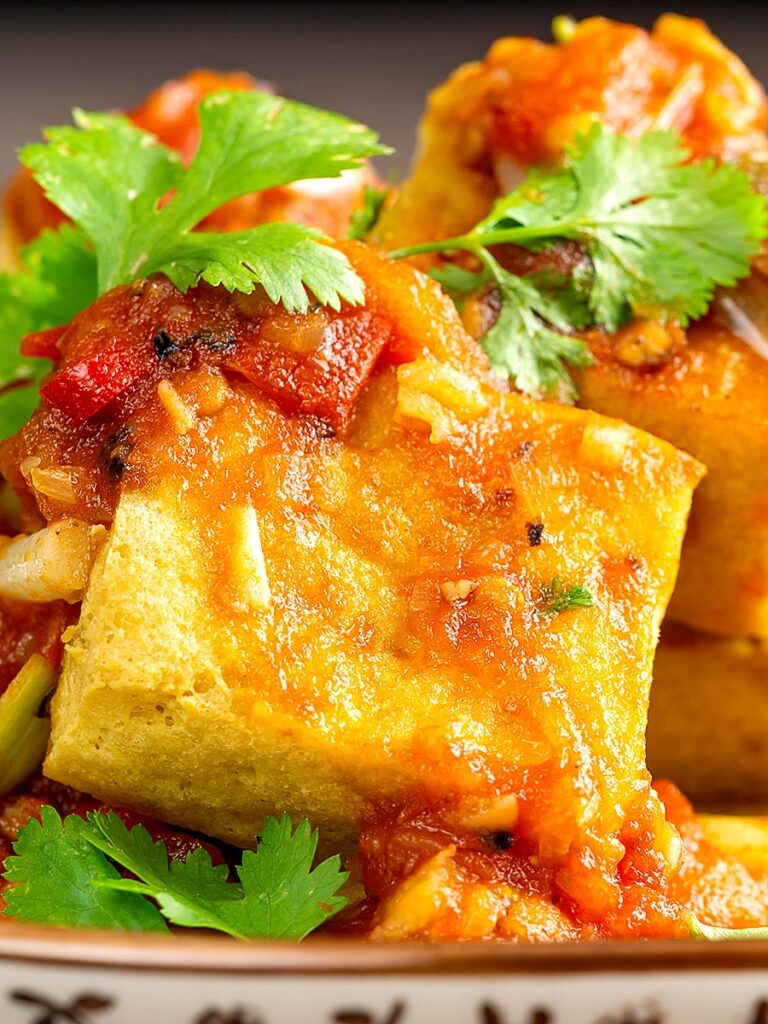 Serving Suggestions and a Vegan Variation.
Like many recipes form South East Asia this dish is "vegetarian" with the exception of the fish sauce.
I'm not a vegetarian or vegan so that does not bother me. I have tested vegan substitutes for fish sauce in the past and have been disappointed.
The best alternative option that I have tried in this recipe is 1.5 tablespoons of light soy sauce then the addition of Korean Doenjang. It is a fermented soy paste and it adds that rich umami flavour that you get from fish sauce.
It is not the same but it works well!
As for serving suggestions then my stallwart side of boiled rice works a treat with this.
But it would also be great with either my stir fried broccoli or asparagus stir fry.
If you wanted a salad then something like this carrot and courgette salad would be perfect! It features crispy peanuts and a fantastic Vietnamese influenced dressing.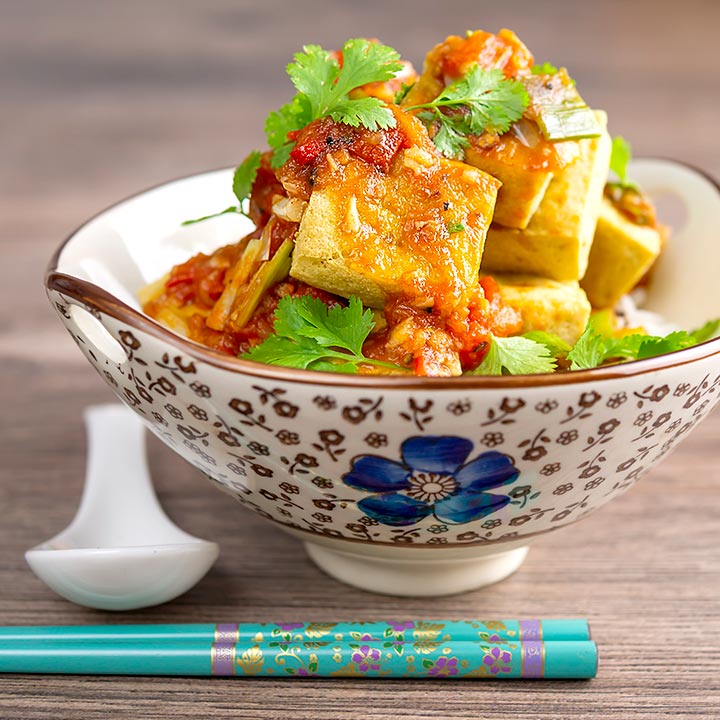 Yield:

2 Servings
VIetnamese Fried Tofu with Tomato Sauce Recipe
This Vietnamese fried tofu recipe with a spicy tomato sauce converted this tofu sceptic into an enthusiast, even if it just for this recipe!
Ingredients
350 g (12 oz) Firm Silken Tofu
3 Garlic Cloves
50 g (1/3 Cup) Shallots
1 Thai Birds Eye Chilli Pepper
250 g (2 Small-Medium) Tomatoes
3 Spring Onions
2 Tsp Sugar
2 Tbsp Fish Sauce
1 Tsp Black Pepper
125ml (1/2 Cup) Water
Fresh Coriander
Oil for frying
Instructions
Cut the tofu into bite-sized 2.5 cm pieces and dry on kitchen towel.
Dice the shallot and chilli as finely as you can.
Mash the garlic.
Cut the tomatoes into a 1 cm dice.
Cut the spring onions into 1cm lengths.
Heat the oil in a wok to 180°C or 350°F.
Batch fry the tofu until golden, this should take 10 minutes in total.
When cooked drain on kitchen towel and transfer to a warm oven to keep warm.
Drain off all but about a tablespoon of the oil and turn the heat down to medium-high.
Add the garlic, shallots and ginger, then stir fry for a minute.
Add in the tomatoes, fish sauce, black pepper and sugar.
When the tomatoes begin to break down add the water and cook for 7 or 8 minutes to reduce to a sauce.
Throw in the spring onions and cook for a further minute.
Sprinkle over fresh coriander leaves when ready to serve.
Nutrition Information:
Yield:
2
Serving Size:
1
Amount Per Serving:
Calories:

535
Total Fat:

31g
Saturated Fat:

7g
Trans Fat:

0g
Unsaturated Fat:

19g
Cholesterol:

50mg
Sodium:

2431mg
Carbohydrates:

35g
Fiber:

5g
Sugar:

15g
Protein:

34g
Calorific details are provided by a third-party application and are to be used as indicative figures only.