Vietnamese fried tofu is a gloriously simple and tasty dish that combines a hot, salty, sweet and sour tomato sauce with crispy tofu!
I have also added air fryer cooking instructions for those that want to avoid frying and it tastes amazing!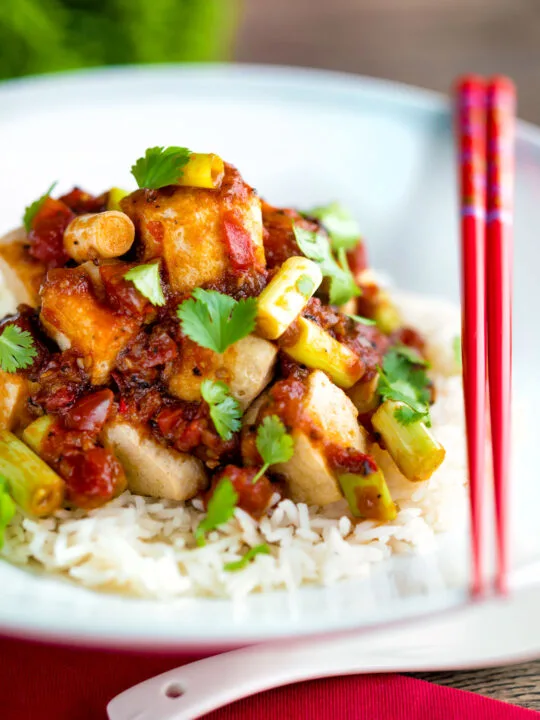 Vietnamese Crispy Tofu
This recipe sees two rarities combined here on my site… The first is a recipe that uses tofu and the second sees me cook a recipe from a book.
A book that so enamoured me, it has me working away on my own Vietnamese variations. My Vietnamese chicken curry, is very much a follow-on from this recipe.
I have been fairly rude about tofu here, it is an ingredient I find difficult, principally because it has little flavour.
It has only started to appear here fairly recently and I am a definite convert! My Chinese hot and sour soup uses it in a very different way. But my sweet and sour tofu, salt and pepper tofu and teriyaki tofu recipe embrace the fried or seared tofu idea.
My gochujang tofu takes another different approach and simmers it in a sauce. This is a similar approach to the one that I use in both my matar paneer and palak paneer recipes!
I even have a breadcrumbed tofu katsu curry, a grilled tofu satay and I crumble it in my tofu noodle stir fry and tofu pasta recipes!
The earthiness of the tofu is amplified by frying it in this recipe. It is the perfect complement to the delicious spicy tomato sauce.
The second rarity is me cooking from a cookbook. This recipe comes from a book called the food of Vietnam by Luke Nguyen.
I do cook from my large collection of cookbooks occasionally, but usually, those recipes go through many manifestations before they end up here.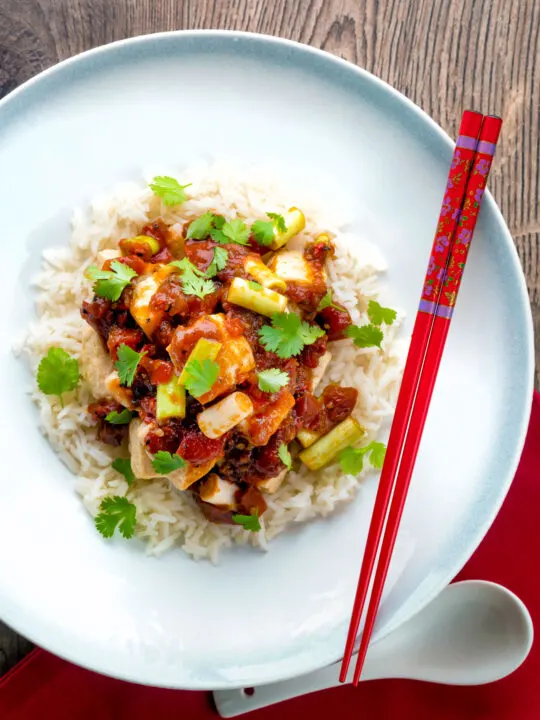 Frequently Asked Questions
What sort of tofu should I use?
Tofu can be a difficult ingredient to buy if you are uninitiated. This recipe does not aim to initiate you but allows you to make this recipe.

So go to the store and buy extra firm tofu. No flavours, not smoked, not marinated! Just plain old tofu, it will likely be in the refrigerator section.
Should I press the tofu?
Many recipes call for you to press tofu, it was not mentioned in the recipe I used as a source for this. Being the curious soul that I am I did test pressing and it made no discernable difference. It is however important to dry the tofu well!
Can I use fish sauce rather than soy sauce?
The source for this recipe recommends using fish sauce rather than soy sauce. I wanted to keep this recipe vegan and vegetarian so opted for soy sauce and it works wonderfully.

However, the fish sauce variant is exceptionally good and if meat-free is less important to you then you absolutely should give it a try.
Is it better cooked in the fryer or air fryer?
I think that this recipe is better cooked in an air fryer, the tofu is more crispy and feels lighter. But it is also spectacularly good fried in oil too!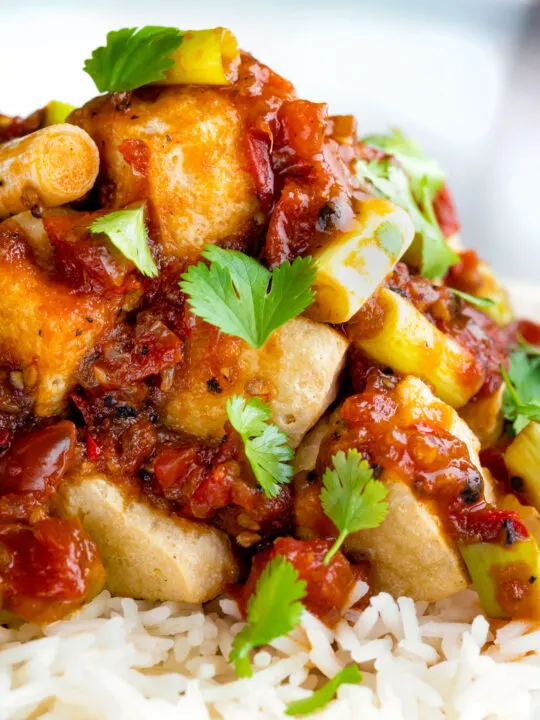 Serving Suggestions
I typically serve the deep-fried tofu recipe with plain white rice, it is the perfect vehicle to carry the spicy tomato sauce and not fight with it.
But it would also be great with either my stir fried broccoli or asparagus stir fry.
It is also particularly good with pickles on the side, adding some pickled daikon or pickled cucumber makes a glorious addition.
If you wanted a salad then something like this carrot and courgette salad would be perfect! It features crispy peanuts and a fantastic Vietnamese-influenced dressing.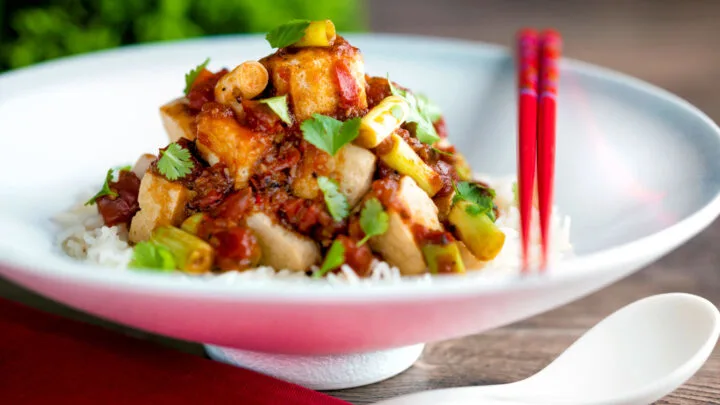 Equipment Used
I only name-check brands of equipment if I think that they make a material difference to a recipe. But if you have any questions feel free to ask them in the comments section below the recipe.
Stovetop. This can be made using an air fryer which negates a few items in this list, I have added an asterisk to the equipment not required if you are cooking in an air fryer.
Wok.
Thermometer for checking the oil temperature, I use a sugar thermometer. *
Kitchen paper. *
Slotted spoon. *
Kitchen knife.
Chopping board.
Weighing scales and or measuring jug cups and spoons.
Stirring and serving spoons.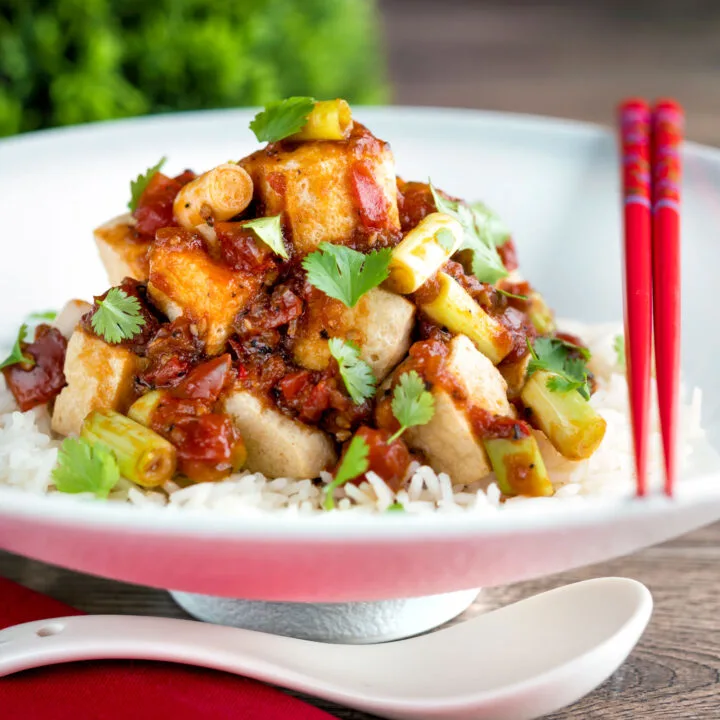 Yield:

2 Servings
Vietnamese Crispy Fried Tofu Recipe
This Vietnamese fried tofu recipe with a spicy tomato sauce converted this tofu sceptic into an enthusiast, even if it just for this recipe!
Ingredients
350g (12 oz) Extra Firm Tofu
3 Garlic Cloves
15g (½ Thumb Sized Piece) Ginger
50g (⅓ Cup) Shallots
2 Thai Birds Eye Chilli Peppers
250g (2-3 Small-Medium) Tomatoes
3 Spring Onions
2 Tsp Sugar
2 Tbsp Light Soy Sauce (Use fish sauce if you are not vegan)
1 Tsp Black Pepper
125ml (½ Cup) Water
Fresh Coriander
Oil for frying
Instructions
Cut the tofu into bite-sized 2.5cm (1") pieces and dry on kitchen towel.
Cut the shallot in half, peel it and then dice the shallot.
Chop chilli as finely as you can.
Peel and mash the garlic.
Peel and grate the ginger.
Cut the tomatoes into a 1cm (½") dice.
Cut the spring onions into 1cm (½") lengths.
Heat 2-3cm (1-1¼") of oil in a wok to 180°C or 350°F and batch fry the tofu until golden, each batch should take 3-4 minutes. When cooked drain on kitchen towel and transfer to a warm oven to keep warm.
Drain off all but about a tablespoon of the oil and turn the heat down to medium-high.
Add the garlic, shallots, chilli and ginger, then stir fry for a minute.
Add in the tomatoes, soy sauce, black pepper and sugar.
When the tomatoes begin to break down add the water and cook for 7 or 8 minutes to reduce to a sauce.
Throw in the spring onions and cook for a further minute.
Sprinkle over fresh coriander leaves when ready to serve.
Air Fryer Cooking Instructions:
Preheat the air fryer to 200°C or 400°F.
Spray the diced tofu and the base of the air fryer basket with oil.
Add the tofu and cook for 15-17 minutes until nicely crisp making sure that you give the basket a shake every 5 minutes
Nutrition Information:
Yield:
2
Serving Size:
1
Amount Per Serving:
Calories:

425
Total Fat:

31g
Saturated Fat:

3g
Trans Fat:

1g
Unsaturated Fat:

25g
Cholesterol:

0mg
Sodium:

1115mg
Carbohydrates:

23g
Fiber:

6g
Sugar:

13g
Protein:

22g
Calorific details are provided by a third-party application and are to be used as indicative figures only.