This matar paneer or mutter paneer is an ode to the fantastic vegetarian cooking of India and is loaded with bold flavours and plenty of heat.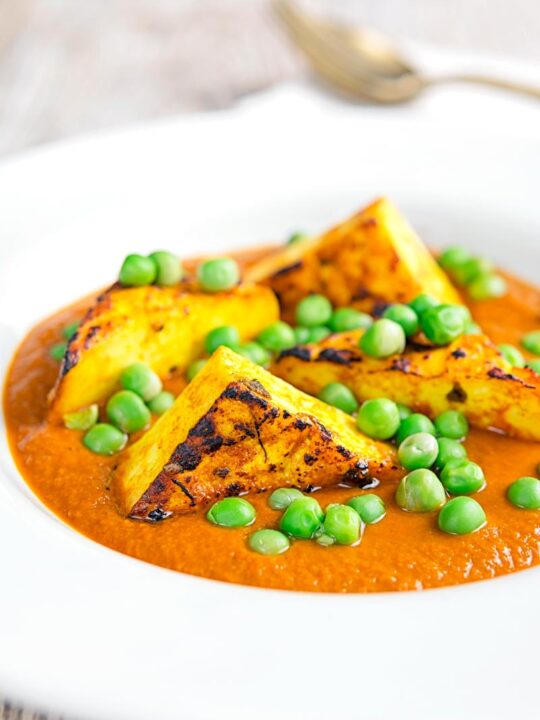 What is a Matar Paneer Curry?
At its heart, matar paneer is a cheese and pea curry, now admittedly that sounds "dodgy"… But it really is a gem!
I love the sweetness of peas in a curry, I use them in my simple beef curry also in my classic keema matar!
They offer little bursts of fresh sweet pea flavour that is simply delicious.
This recipe is originally from the north of India and also goes by the name as mutter paneer.
My version is coloured by the British Indian food that I adore. In fact, it shares a great deal in common with a chicken tikka masala.
The paneer is grilled separately after a quick marinade.
Then I create a tomato-based masala gravy.
I have always taken my paneer for this recipe and cooked it 'tikka' style, you should definitely check out my paneer tikka recipe as well as my paneer tikka masala recipe.
It is a habit I picked up from a friends wife who did it because "paneer has no flavour".
This is true, but it does carry flavour beautifully!
In that sense, it is similar to the tofu that I use in this fried Tofu recipe. If fried paneer is your thing you must check out my aloo paneer or chanar dalna recipe, a real treat!
You could just heat the paneer in the sauce as I do with my palak paneer! This is a much more common way to cook this recipe.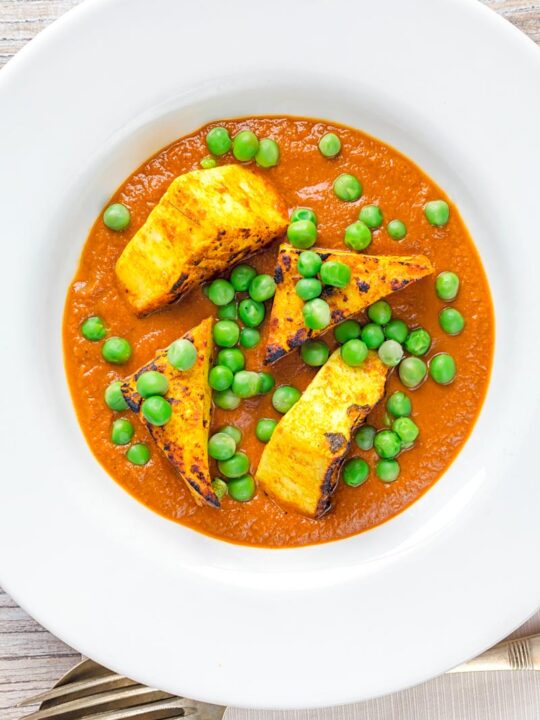 What is Paneer?
Paneer is an unaged cheese made from milk or cream.
I have only started to cook with it again after a long break after finding a way to make it at home.
Yes, you can make this simple cheese at home. I stumbled upon this Instant Pot Paneer recipe and it has blown my wee mind.
It is insanely simple, 2 ingredients, 20 odd minutes 'cooking' with no faff, then 30 odd minutes to press.
I'll not say how many times I have made this paneer recipe recently but let's just call it a 'few'!
The paneer will keep for a few days in the fridge after you have made it.
Which makes making this matar paneer recipe a little easier!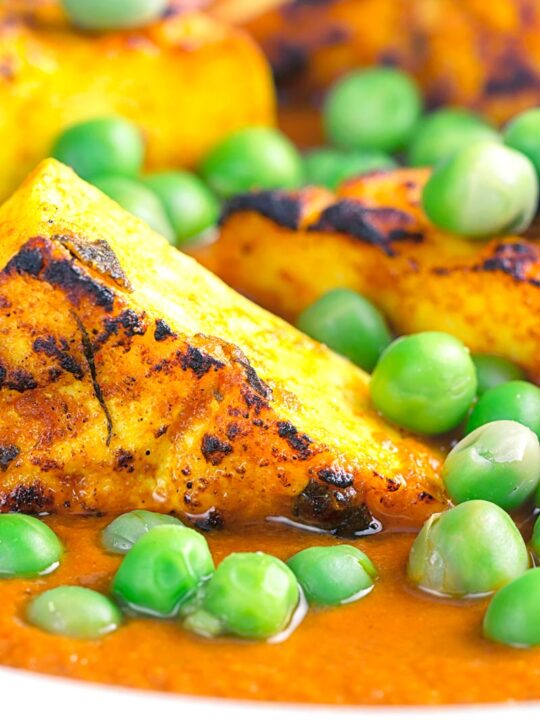 Serving Suggestions.
As far as I am concerned a curry without bread is like Sunday lunch without gravy! Sure you can do it, but why?
For me, that means a naan bread with this curry, although being a Brummie it is pretty much naan bread with everything!
Being objective, the bulk of a naan is a little better with this very saucy matar panner than a roti.
I usually keep my chapati recipe for dry curries like my aloo gobi.
If you are serving this as part of a multi course meal then it goes wonderfully with Bombay potatoes or aloo methi (fenugreek potatoes).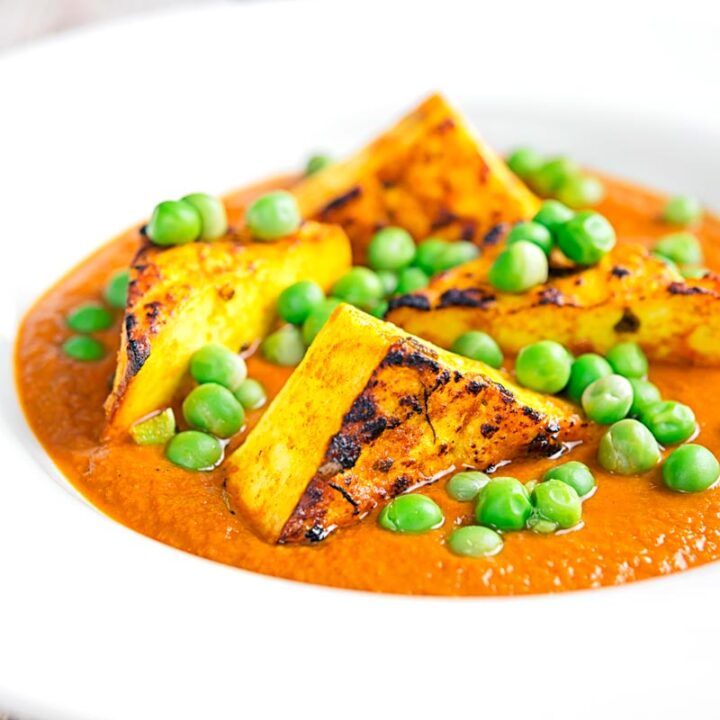 Yield:

2 Servings
Matar Paneer Recipe
When it comes to meat free food India is a hotbed of options, this matar paneer is my take on a real classic. Featuring an Indian unmatured cheese and sweet peas it is a stunning simple curry that tastes superb.
Ingredients
250 g (9 oz) Paneer
75 g (2.5 oz) Peas
For the Paneer Marinade:
1 Tbsp Cooking Oil
1 Tbsp Lemon Juice
1 Tsp Coriander Powder
1 Tsp Dried Fenugreek
1/2 Tsp Turmeric Powder
1/2 Tsp Kashmiri Chilli Powder
1/2 Tsp Salt
For the Sauce:
1 Tbsp Oil
5 Black Pepper Corns
2 Cloves
8 Cardamom Pods
1/2 Tsp Fennel Seeds
200 g (7 oz) Onions
30 g (1 oz) Ginger
30 g (1 oz) Garlic
1 Tbsp Ground Coriander
1 Tbsp Ground Cumin
1 Tbsp Ground Turmeric
1 Tbsp Garam Masala
1 Tsp Kashmiri Chili Powder
175 ml (6 fl oz)Tomato Passata
100 ml (3.5 fl oz) Water
1/4 Tsp Sugar
Salt to taste
Instructions
Cut the Paneer into even-sized pieces, I like triangles but paneer cubes are more typical.
Mix together the ingredients for the paneer marinade.
Add the paneer and coat whilst we prepare our sauce.
Blend the garlic and ginger to a paste with as much water as needed.
Slice the onion into thin half-moon shapes.
Heat the oil for the sauce over a medium-high heat.
When the oil is hot add the whole spices for the sauce and cook until they start to spit.
Add in the sliced onion and cook stirring occasionally.
Cook until the onion starts to colour this should take around 10 minutes.
Whilst this is happening heat your grill or broiler as hot as it will go!
When cooked add the garlic and ginger paste and the powdered spices for the sauce.
Cook for 30 seconds stirring constantly.
Add the tomato passata and water with the sugar and season to taste with salt.
Reduce to low-medium and simmer for 10 minutes.
I like to blend my sauce and pass it through a fine mesh sieve, this step is optional.
When blended return to the pan and keep warm on a low heat.
Place the paneer under the grill and cook until nicely coloured.
Cook the peas in boiling salted water for one-two minutes.
We are now ready to serve, start with the sauce in the bottom of a warmed bowl.
Add the grilled paneer and the peas!
Notes
You can cook the peas for this matar paneer recipe in the sauce if you wish, I like to cook them separately for aesthetic purposes.
Nutrition Information:
Yield:
2
Serving Size:
1
Amount Per Serving:
Calories:

754
Total Fat:

48g
Saturated Fat:

18g
Trans Fat:

1g
Unsaturated Fat:

24g
Cholesterol:

86mg
Sodium:

1904mg
Carbohydrates:

58g
Fiber:

14g
Sugar:

16g
Protein:

33g
Calorific details are provided by a third-party application and are to be used as indicative figures only.