Tandoori naan bread without a tandoor oven can be tricky, but my recipe and techniques aim to recreate that British Indian curry house style.
This recipe will make 8 "appropriately" sized naan, but feel free to go bigger and they freeze wonderfully!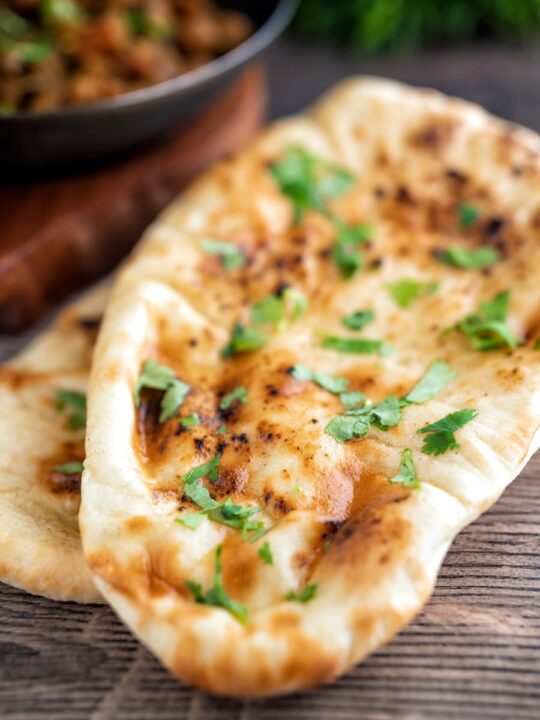 The King Of Indian Flatbread!
I am from Birmingham and if Brum was a country Chicken Balti & fresh naan bread would likely have been the national dish during my yoof.
Every single visit to a curry house consisted of poppadom's, kachumber salad, raita & followed by onion bhaji then a curry and the majestic tandoori naan bread.
If you are here you don't need me to explain how good a fresh plain naan is! Slathered in ghee and ready to perform all the heavy lifting for your curry sauce.
Any curry house worth its weight in salt cooks these delicious flatbreads in a tandoor oven. A clay pot with a fire at the base.
They reach a beastly temperature of 500°C or around 950°F. The breads are slapped on the side the base cooking on the wall and the presentation side blisters in the fierce dry heat.
Achieving this at home is no mean feat!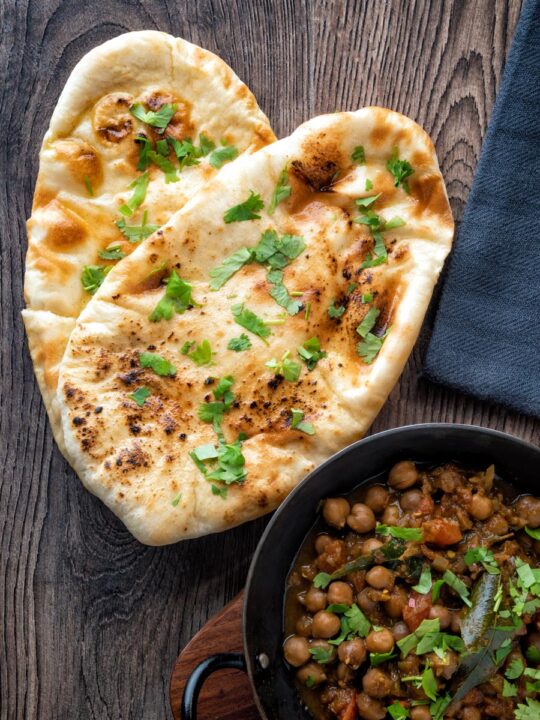 The Technique.
The making of the dough really is very simple and requires no special skills. If you have made any bread in the past then you are already overqualified!
I typically use a stand mixer with a dough hook to make this because it contains the mess. However it is easy to make by hand, you just have more cleaning to do.
The true secret is in the cooking and faking up a tandoor oven as closely as you can.
Your oven needs to be as hot as it can be, but you also need something in there to simulate the walls of a tandoor.
I use a pizza steel, a pizza stone will also work, as will a heavy baking tray or even a heavy-based frying pan.
If you have a fan mode on your oven then use it.
Then we break out some real fun toys, this bit is optional but it adds that wonderful dark "dry cooked" char and flavour.
I use a big old plumbers blow torch. Slap the tandoori naan onto your hot surface and then apply the heat of the torch to random areas of the bread. I cook two at a time in a conventionally sized European oven.
It will take 15-20 seconds to apply 3 or 4 hot spots, then close the oven.
That's it 90 seconds later you are done.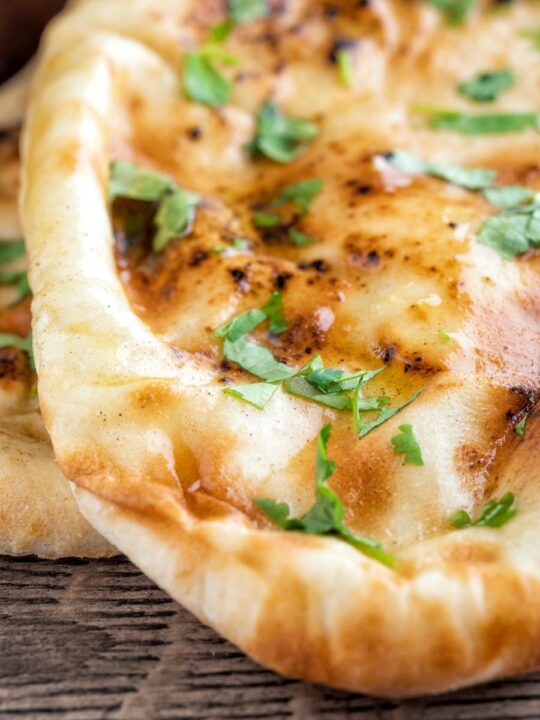 Serving and Storage Suggestions.
I must reiterate that I do not make these every time I make a curry. But I ALWAYS have a stash in my freezer because they freeze and reheat wonderfully.
When the homemade naan comes out of the oven wrap them in a clean tea towel until cooked. The place in a bag in your serving size and freeze.
I have no idea how long they will last when frozen as they never last long enough. 3 months appears to be conventional wisdom according to the internet.
To reheat you can either defrost for best results or cook from frozen. Wrap them in foil leaving some air in the foil tent and drop in a moderate oven at 150-160°C or 300-320°F and cook for either 10-12 minutes or 20-25 minutes.
As for serving suggestions, well curry of course! In case you had not noticed I have a few.
I have everything from chicken tikka masala to achar gosht. Simply click on "curry corner" in my menu and you have well over 50 to choose from.
You can even make homemade naan bread pizza, but only when you have finished my curry list 😉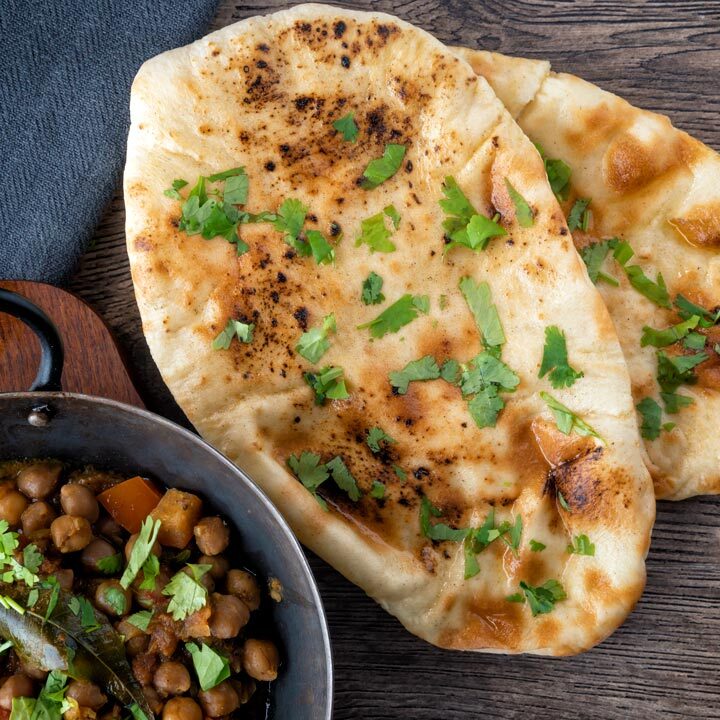 Yield:

8 Naan
Homemade Naan Bread Recipe
Total Time:
1 hour
30 minutes
An Indian curry ain't complete without a Tandoori style naan bread and my version is as close as I can get to those in the Great British Curry House.
Ingredients
400g (~3 Cups) Plain Flour
1 Tbsp Sugar
7g (1 Packet) Instant Dried Yeast
1 Tsp Salt
4 Tbsp Natural Yoghurt
2 Tbsp Melted Ghee
85ml (1/3 Cup + 1 Tsp) Full Fat milk
85ml (1/3 Cup + 1 Tsp) Warm Water
Instructions
Sift the flour, sugar and yeast into a bowl and add the salt.
Yoghurt, ghee, water, and milk to the bowl.
Bring it together to make a rough dough ball.
Knead on a lightly floured surface for 5-10 minutes until smooth. You can do this with a dough hook in a stand mixer and it will take 4-5 minutes.
Place in a clean covered bowl and allow to sit for an hour or until the dough has doubled in size.
Heat your oven as hot as it will go and place a heavy baking tray or even better a pizza stone or steel in there to heat up.
Turn the dough out on to a lightly floured surface and knockback again.
Cut the dough into 8 even balls and roll into a naan bread shapes around 5-7mm thick.
Throw the naan into the oven onto the heated baking tray or pizza steel and cook for 3-4 minutes.
If you have a blow torch, use it to blister the top of the flatbreads and then close the oven and cook for 90 seconds.
Serve hot brushed with lots of ghee and coriander!
Nutrition Information:
Yield:
8
Serving Size:
1
Amount Per Serving:
Calories:

226
Total Fat:

4g
Saturated Fat:

2g
Trans Fat:

0g
Unsaturated Fat:

1g
Cholesterol:

10mg
Sodium:

304mg
Carbohydrates:

40g
Fiber:

2g
Sugar:

1g
Protein:

6g
Calorific details are provided by a third-party application and are to be used as indicative figures only.