Chicken Tikka Masala, arguably the worlds most "famous" curry has British Indian origins and is famed for its rich & boldly flavoured sauce.
It is a simple dish to cook, it is essentially two dishes that are combined. chicken tikka and then a masala sauce.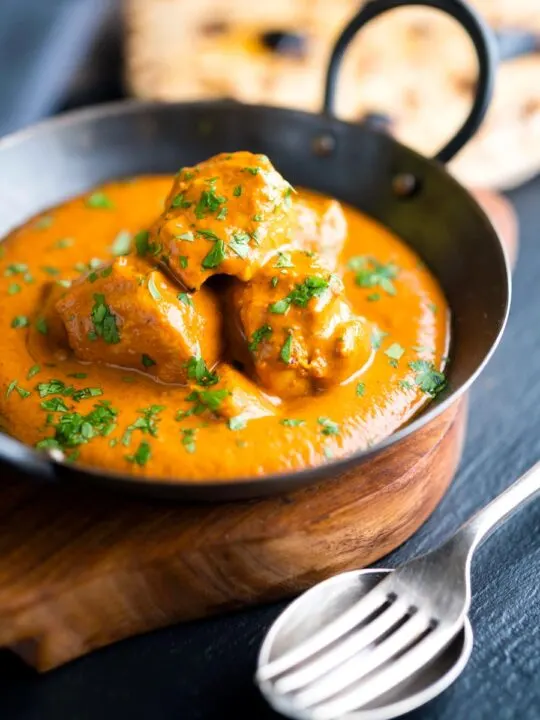 British Indian Tikka Masala
Chicken tikka masala is an Indian curry supposedly from the famous Indian province of Glasgow!
Yup, that's right, just like my chicken balti and chicken chasni recipes this curry recipe hails from the United Kingdom.
My favourite story about the origin of this chicken curry recipe involves beer… It would, wouldn't it!?
Rumour has it back in the 1960's a drunken punter strolled into a curry house in Glasgow and ordered a chicken tikka.
When his dish was presented he complained mercilessly that it was dry and where was his sauce.
The waiter took away his dish and returned it to the kitchen where the enterprising chef fashioned a gravy from a tin of tomato soup.
Just like that, a legend was born. I am sure there this is somewhere between utter nonsense and greatly embellished, but I love it as a story.
Also if you want a traditional and authentic chicken tikka masala sauce you had better break out a tin of Campbell's lol!
In case you are wondering, no I do not, I use tomato passata instead!
In reality, this dish is really very closely related to Murgh Makhani (butter chicken).
Another dish that was "born" around the same time, and despite the names being relatively new the techniques are ancient.
I also make a lamb tikka masala from similar lamb tikka kebabs, as well as paneer tikka masala, don't be afraid of moving on from chicken!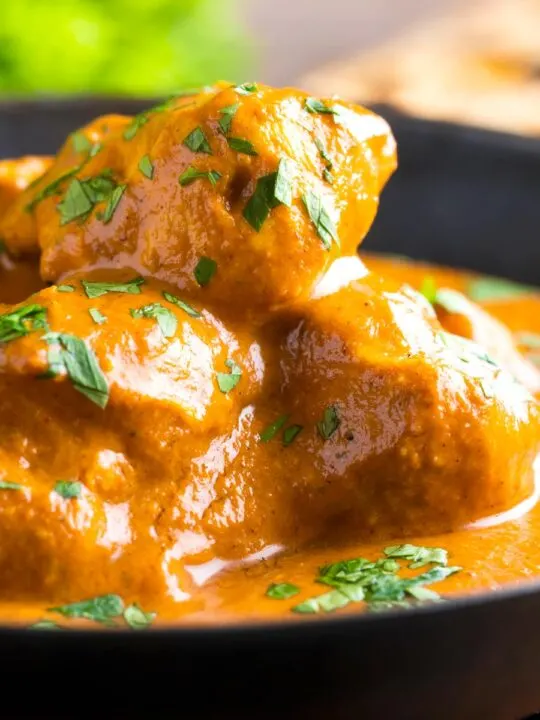 Frequently Asked Questions
What's the difference between chicken tikka masala and butter chicken?
You would not be mistaken in thinking that this recipe and butter chicken are similar dishes.
They are indeed very similar, in fact, the only difference between the two is the sauce.
The sauce in a chicken tikka masala recipe is not butter heavy, whereas the sauce or gravy for butter chicken is.
Seriously that is the only real difference between the two.
Do I really need to marinate the chicken?
Yes! This dish combines two elements and if you skip chicken tikka your dish will be lacking.
Can I make it in advance?
Yes, this is the perfect curry to make up in advance!
In fact, butter chicken, a dish this is very closely related to was created to use up leftover tandoori chicken.
You can marinate the chicken up to 24 hours in advance. Once cooked the chicken will last in the fridge for 3-4 days and will get better all of the time.
The sauce will also keep for 3-4 days in the fridge.
Is this a spicy curry?
My version of this curry is spicier than many!
If you want to pull that back the best way to do it is to reduce the chilli or change the type of chilli in the sauce.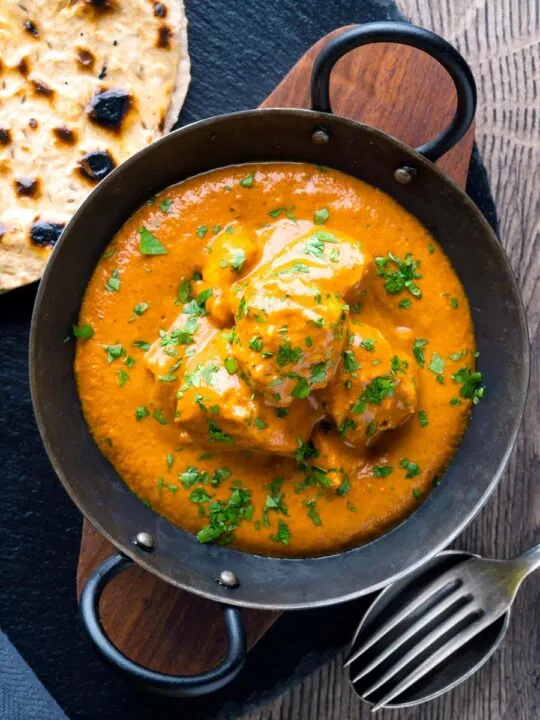 Serving Suggestions
I like to keep my sides to a curry simple and fairly neutral.
There are so many flavours in a good curry that adding a second curry or strongly flavoured dish seems odd to me.
I usually favour a simply cooked basmati rice and then a flatbread.
As a Brummie then that flatbread should be a naan bread to me. But you could add a roti or chapati and be as good as gold.
Most importantly do not forget the beer, a curry and a beer is at the heart of where this recipe came from! Oh yeah, and poppadoms, no British Indian curry house experience is complete without them!
If you wanted to go left field, then my roast Bombay potatoes would be perfect for mopping up the sweet, hot & creamy gravy.
If you want to stretch your arm on Indian bread then try serving this with Bhatura. They are usually served with chole, but I think that they are stunning with tikka masala.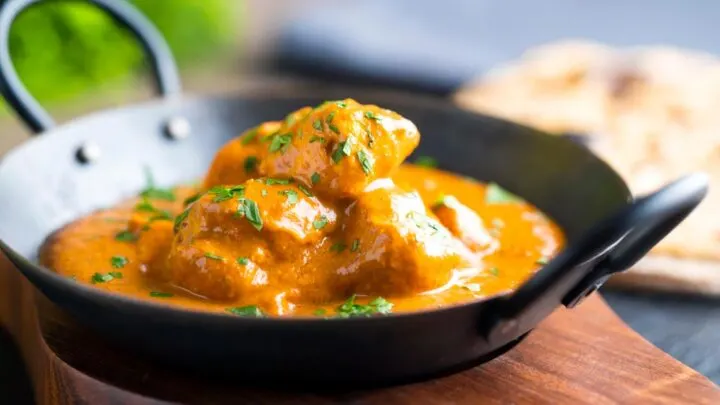 Equipment Used
I only mention brands of equipment if I think that they make a material difference to a recipe. But if you have any questions feel free to ask them in the comments section below the recipe.
For the Curry:
Stovetop.
28cm or 11″ frying pan or skillet.
Kitchen knife.
Chopping board.
Weighing scales and or measuring cups and spoons.
Stirring and serving spoons.
Fine mesh sieve.
For the Chicken Tikka Skewers (I have only listed equipment not already mentioned above):
Grill (broiler), oven, air fryer or BBQ. I have cooking instructions for each of these options.
Skewers, I personally prefer bamboo skewers with a square profile.
Bag, bowl or box to marinate the chicken.
A quick read meat thermometer, optional but recommended.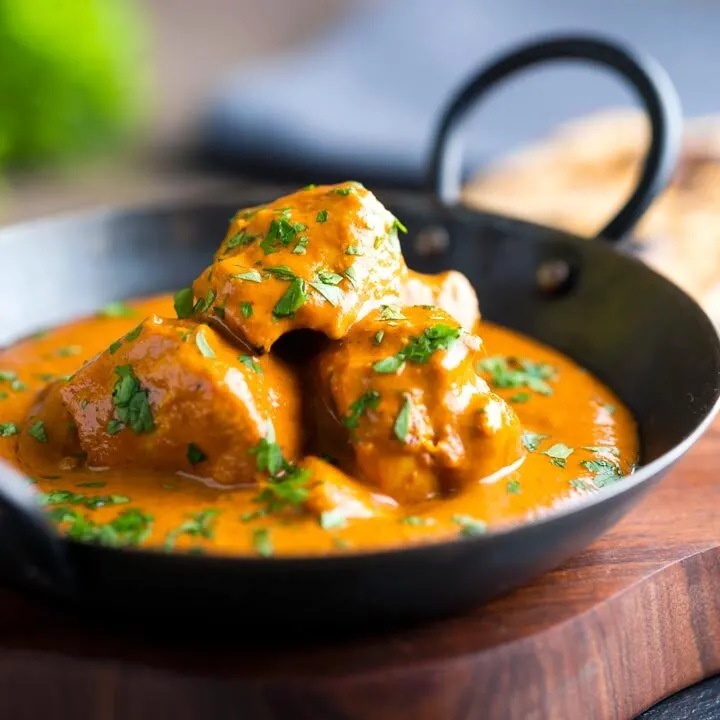 Yield:

2 Servings
Chicken Tikka Masala Recipe
Total Time:
4 hours
50 minutes
A chicken tikka masala is often the recipe first thought of when curry is mentioned, a true British Indian classic recipe!
Ingredients
For the Chicken Tikka:
400g (14 oz) Chicken Breast
125g (1 Cup) Natural Yoghurt
6 Garlic Cloves
1 Tbsp Grated Ginger
1 Tbsp Kashmiri Chili Powder
1 Tsp Ground Turmeric
1 Tsp Ground Coriander
1 Tsp Ground Cumin
½ Tsp Amchur
½ Tsp Ground Fenugreek
½ Tsp Coarse Sea Salt
For the Masala Sauce:
1 Tbsp Ghee
100g (⅔ Cup) Onion
2 Red Chillies
12 Curry Leaves
¼ Tsp Ground Cinnamon
¼ Tsp Ground Cloves
1 Tsp Garam Masala
1 Tbsp Dried Fenugreek Leaves
250ml (1 Cup) Tomato Passata
75ml (⅓ Cup) Water
1 Tbsp Tomato Puree
1 Tbsp Sugar
¼ Tsp Salt
50ml (3 Tbsp + 1 Tsp) Double or Heavy Cream
Instructions
Cut the chicken into 2-3cm (~1") cubes.
Take the garlic and ginger and mash to form a paste, adding a little water if required.
Mix this garlic and ginger paste with the remaining ingredients for the chicken tikka.
Massage to coat well and then allow to marinate for at least 4 hours and up to 24 hours.
Chop the onion for the masala sauce into a 1cm (~½") dice.
Cut the red chillies in half lengthways.
Heat the ghee in a 28cm or 11" frying pan over a medium-high heat.
Add the slit red chilli peppers and curry leaves and cook for a minute.
Add the onion and fry until golden stirring occasionally, this should take around 10 minutes.
Add the tomato puree and pour in the tomato passata and water, followed by the sugar, salt, ground cinnamon, ground cloves, garam masala and fenugreek leaves.
Reduce the heat to low and simmer while preparing the chicken tikka (around 20 minutes).
Meanwhile, heat your broiler to high and thread your chicken onto high and thread the chicken on to skewers.
Scrape any remaining marinade into the sauce stir it in and allow it to continue gently simmering.
When the broiler is hot place the chicken tikka skewers under and cook for 15 minutes turning when each side is nicely coloured.
Whilst the tikka is cooking blend the sauce thoroughly and then pass it through a fine-mesh sieve.
Return the sauce to the pan and stir through the cream.
Add the chicken, simmer in the sauce for 3-4 minutes, and serve.
Nutrition Information:
Yield:
2
Serving Size:
1
Amount Per Serving:
Calories:

664
Total Fat:

26g
Saturated Fat:

13g
Trans Fat:

0g
Unsaturated Fat:

10g
Cholesterol:

219mg
Sodium:

1209mg
Carbohydrates:

38g
Fiber:

7g
Sugar:

20g
Protein:

72g
Calorific details are provided by a third-party application and are to be used as indicative figures only.