Chicken Tikka Masala really is the Grand Daddy of Anglo Indian Curries, grilled marinated chicken in a spicy fragrant tomato-based sauce.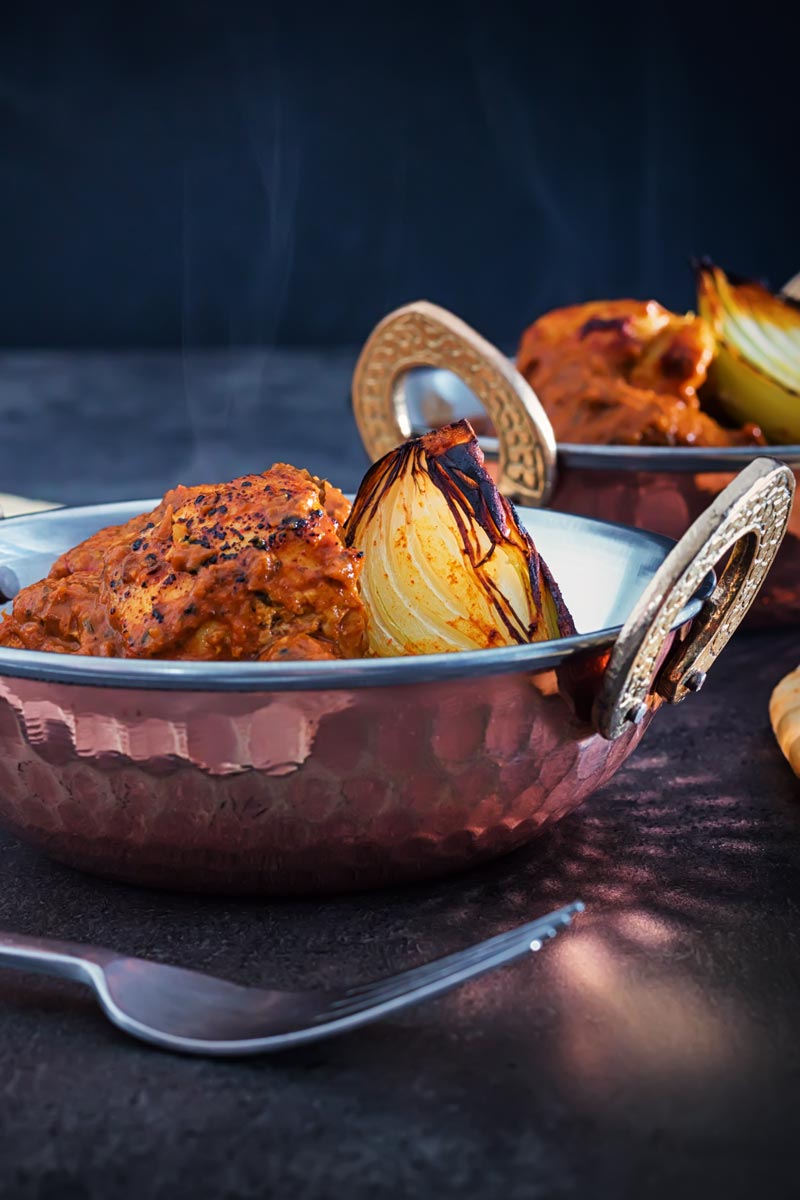 Chicken Tikka Masala.
The Indian curry from the famous Indian province of Glasgow!
Yup, that's right, just like my chicken balti recipe this curry recipe hails from the United Kingdom.
It features yoghurt marinaded boneless chicken then grilled under a fierce heat. This would originally have been done in a tandoor oven. But a grill or broiler is a great substitute.
It is then finished off in a heavily spiced and slightly sweet tomato sauce.
It is utterly delicious and a great place to start for any novice curry cook.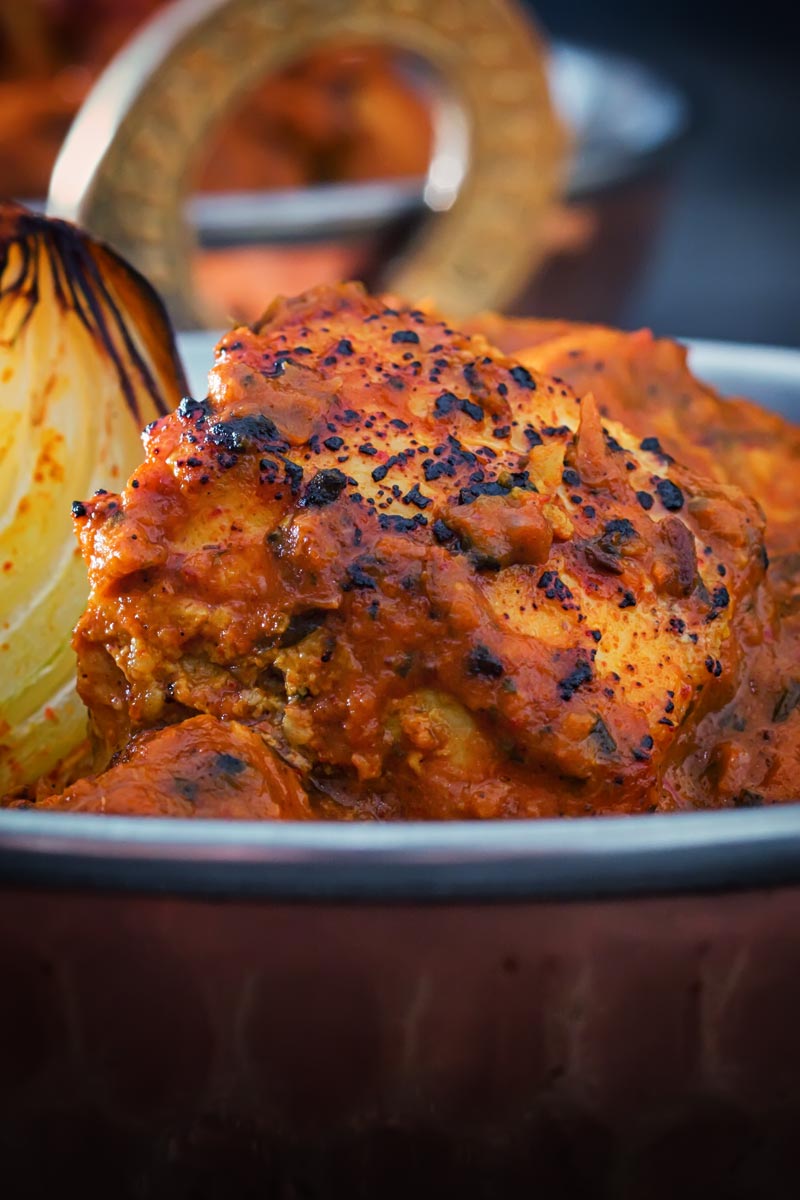 Are Chicken Tikka Masala and Butter Chicken The Same?
You would not be mistaken in thinking that this recipe and butter chicken are similar dishes.
They are indeed very similar, in fact, the only difference between the two is the sauce.
The sauce in a chicken tikka masala recipe is not butter heavy, whereas the sauce or gravy for butter chicken is.
Seriously that is the only real difference between the two.
Both are effectively ways of adding gravy to chicken tikka. Chicken tikka is effectively nothing more than boneless tandoori chicken.
Obviously, in a restaurant environment, this broadens your menu with little effort!
The grilled or broiled chicken tikka is an essential part of the recipe, do not trust any tikka masala recipe that omits this process.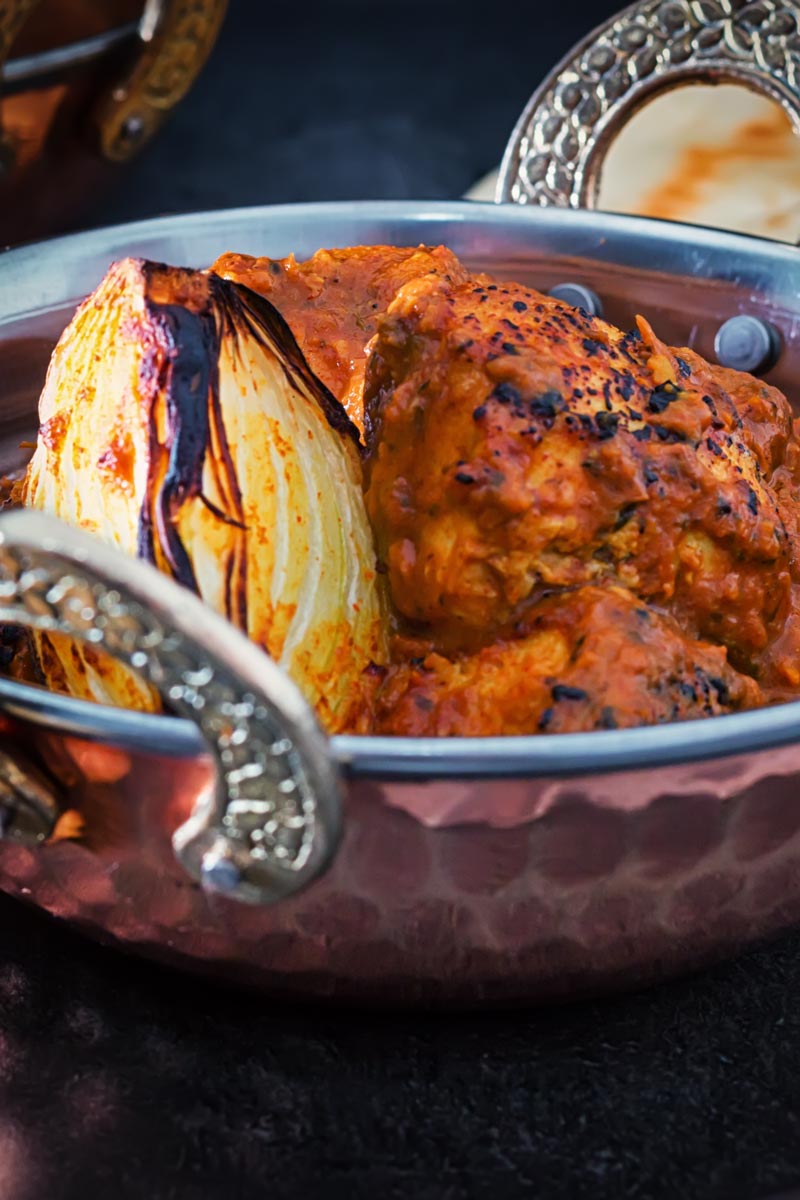 The Origins Of The Chicken Tikka Masala.
My favourite story about the origin of this chicken curry recipe involves beer… It would, wouldn't it?
Rumour has it back in the 1960's a drunken punter strolled into a curry house in Glasgow and order a chicken tikka.
When his dish was presented he complained mercilessly that it was dry and where was his sauce.
The waiter took away his dish and returned it to the kitchen where the enterprising chef fashioned a gravy from a tin of tomato soup.
Just like that, the chicken tikka masala was born.
In reality that may or may not be true.
However, the dish is born of the Bengali leanings of migrants to the UK from what was then East Pakistan. It is food that I love, as you can tell from the vast number of curry recipes I cook!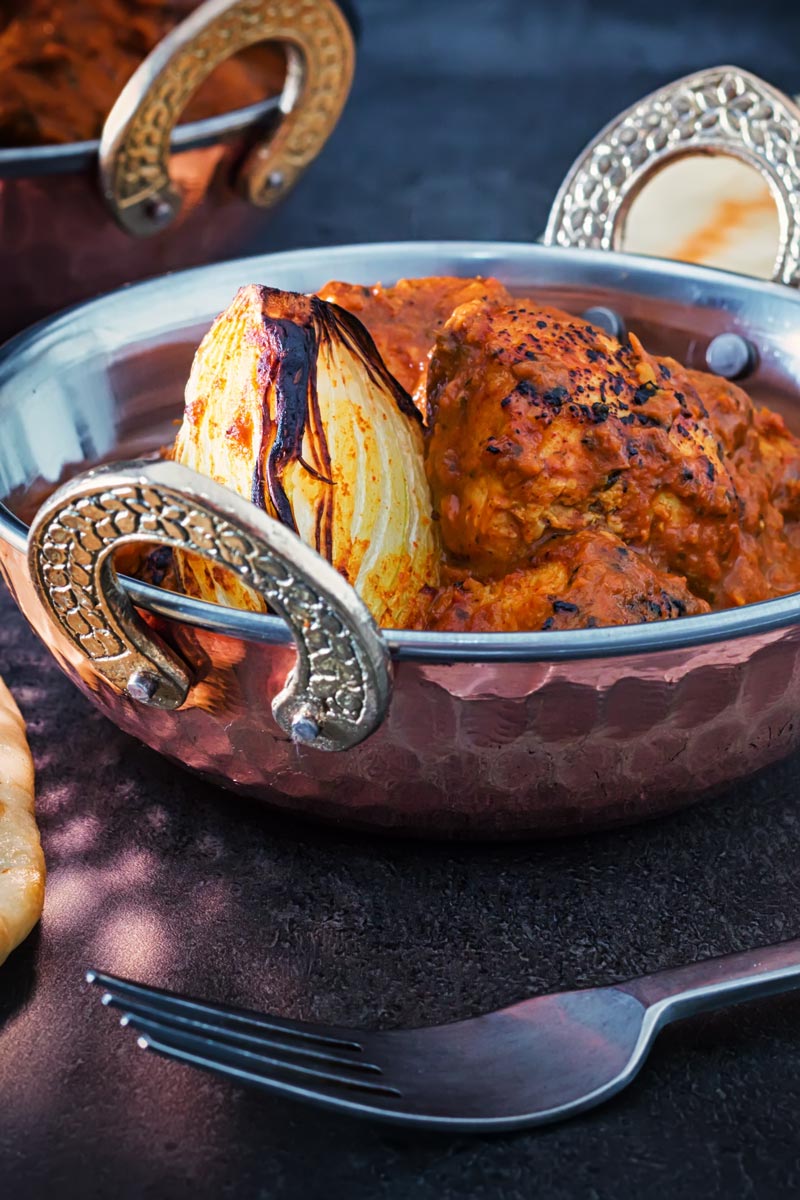 Sides and Accompaniments.
I like to keep my sides to a curry simple and fairly neutral.
There are so many flavours in a good curry that adding a second curry or strongly flavoured dish seems odd to me.
I usually favour a simply cooked basmati rice and then a flatbread.
As a Brummie then that flatbread should be a naan bread to me. But you could add a roti or chapati and be as good as gold.
Most importantly do not forget the beer, a curry and a beer is at the heart of where this recipe came from!
And if you are on the hunt for more curry then check out all of my chicken curry recipes.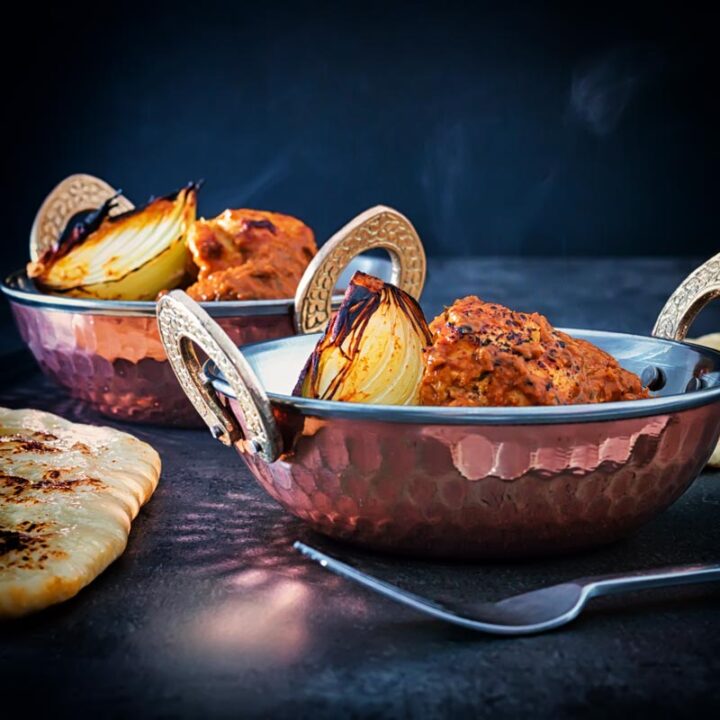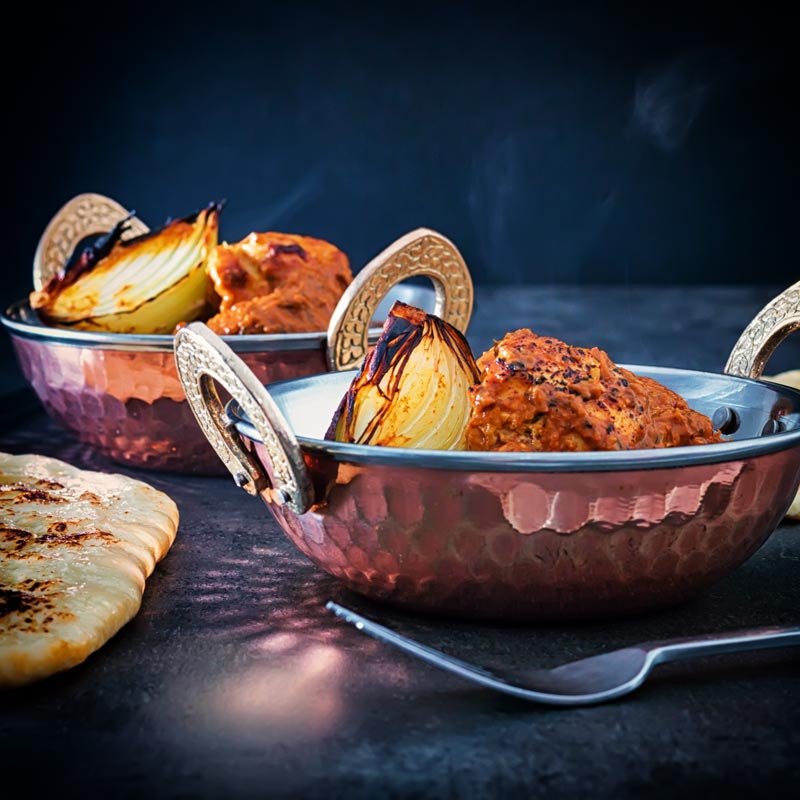 Yield:

2 Servings
Chicken Tikka Masala
Total Time:
4 hours
50 minutes
A chicken tikka masala is often the recipe first thought of when curry is mentioned, my version cuts back on the richness but leaves all of the flavour. A true British Indian classic recipe!
Ingredients
For the Chicken Tikka:
400 g (14 oz) Chicken Breast
75 g (1/2 Cup) Onion
125 g (1 Cup) Natural Yoghurt
6 Garlic Cloves
2 Tbsp Grated Ginger
1 Tbsp Kashmiri Chili Powder
1/2 Tbsp Ground Turmeric
1 Tsp Ground Coriander
1 Tsp Ground Cumin
1/8 Tbsp Coarse Sea Salt
For the Masala Sauce:
1 Tbsp Ghee
100 g (2/3 Cup) Onion
3 Garlic Cloves
1 Tbsp Grated Ginger
1 Tsp Kashmiri Chili Powder
1/4 Tsp Ground Cinnamon
1/2 Tsp Ground Cumin
1/8 Tsp Ground Cloves
1/4 Tbsp Garam Masala
1/2 Tbsp Dried Fenugreek Leaves
1/2 Tbsp Ground Coriander
175 ml (3/4 Cup) Tomato Passata
1 Tbsp Tomato Puree
1/8 Tbsp Coarse Sea Salt
1/2 Tsp Sugar
Instructions
Cut the chicken in to 3cm cubes.
Take the garlic and ginger and blend to form a paste, adding a little water if required.
Mix this garlic and ginger paste with the remaining ingredients for the chicken tikka, with the exception of the chicken and the onion.
Now add in the chicken and massage in the marinade, now set aside and allow to marinate for up to 24 hours but a minimum of 4 hours.
Chop the onion for the masala sauce into a 5mm dice.
Finely chop the ginger and garlic for the masala sauce.
Heat the ghee in a large frying pan over a medium high heat and add the onion and fry until golden for 10 minutes.
Take the onion for the tikka and peel it and then cut it into quarters..
Meanwhile, heat your broiler to high and thread your chicken on to high and thread your chicken on to metal skewers along with the onion quarters.
When the broiler is hot place the chicken tikka skewers under and cook for 8-10 minutes a side making sure you get them nice and caramalised.
Add the ginger and garlic to the onions and cook for a further 60 seconds.
Add all of the dried spices and herbs to the garlic ginger and onion mix and cook for 60 seconds once again stirring continuously.
Now add the salt, sugar, tomato pasata and tomato paste and cook for 5 minutes.
I now like to blend the sauce at this stage rather than blending the onion, garlic and ginger earlier you can, of course, leave your sauce chunky. If blending return to the pan and reheat.
Finally, add in the chicken and saute in the sauce for 4-5 minutes and serve, ensuring the chicken reaches an internal temperature reaches 73°C.
Nutrition Information:
Yield:
2
Serving Size:
1
Amount Per Serving:
Calories:

603
Total Fat:

18g
Saturated Fat:

7g
Trans Fat:

0g
Unsaturated Fat:

8g
Cholesterol:

211mg
Sodium:

1213mg
Carbohydrates:

34g
Fiber:

7g
Sugar:

12g
Protein:

78g
Calorific details are provided by a third-party application and are to be used as indicative figures only.