BBQ tandoori chicken is as close as you will get to real Indian chicken cooked in a tandoor, the fiercely hot temperatures are the secret!
Combined with my simple tandoori marinade this dish is the perfect way to turn up your summer BBQ game!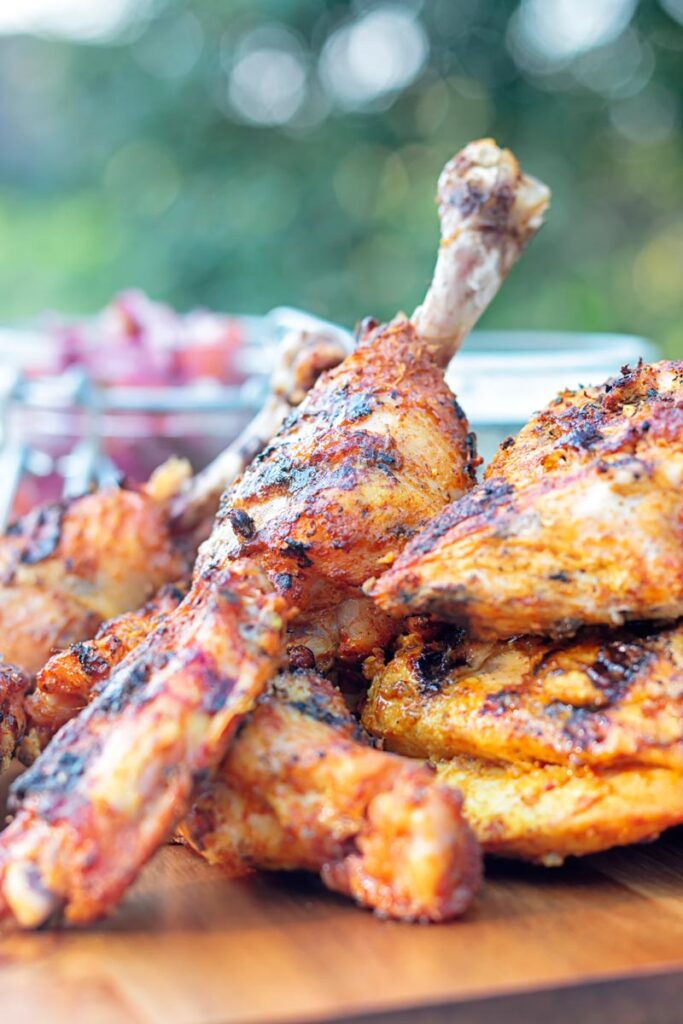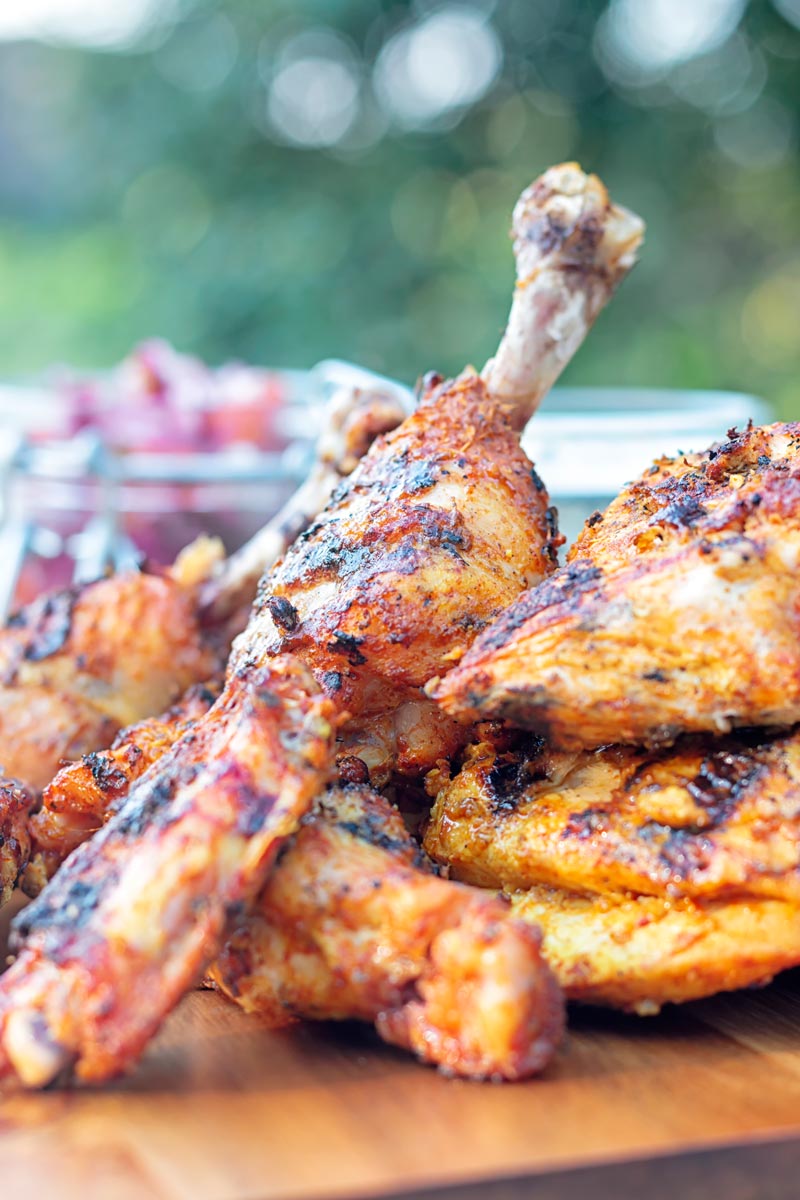 Grilled Tandoori Chicken, the Very Best Way to Cook it!
Traditionally tandoori chicken is cooked in a wood-fired clay "oven" called a tandoor.
They reach insane temperatures approaching 480°C or 900°F.
It is that insane dry heat that gives a good tandoori chicken its distinct flavour and characteristics.
You can get part of the way with boneless chicken but using a grill or broiler. I use this approach in my murgh makhani recipe.
But that really does not cut it with larger pieces of bone-in chicken.
But many of you have some kit that can get closer than your oven… A BBQ!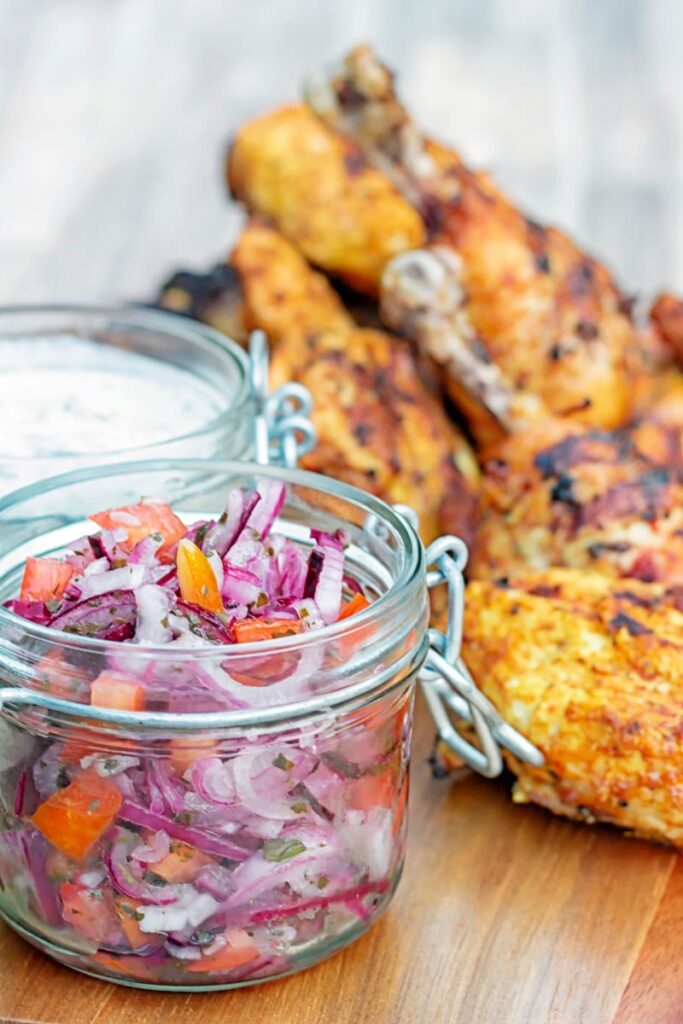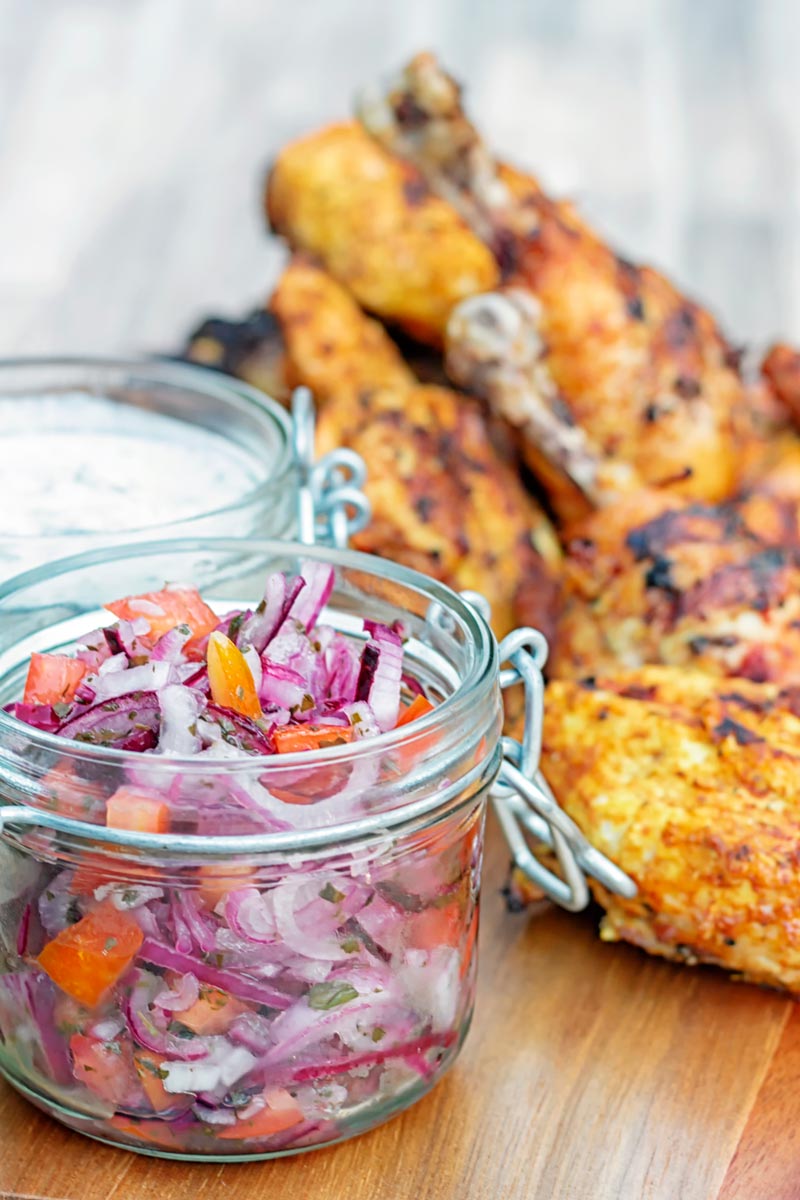 Cooking Tandoor Recipes On The Barbecue.
The secret to perfect grilled tandoori chicken is to get that barbecue as hot as you can.
It is the same idea behind the way that I cook pizza on the BBQ.
I get the temperature of my BBQ up towards 350-400°C or 650-750°F.
To do this you need to keep all of the BBQ vents open at all times. This sucks through lots of air.
You do however need to create two cooking zones, if you put your chicken over the direct coals you will get charcoal.
This is exactly the same process that I use to cook my tandoori fish.
You can also cook chicken tikka and naan bread in this fierce heat.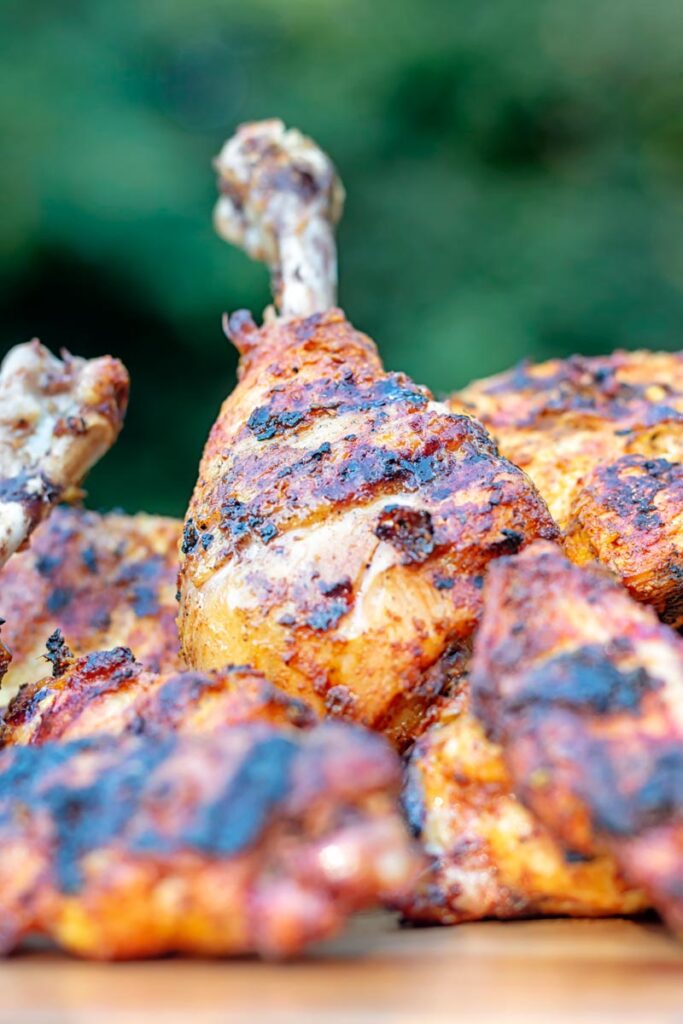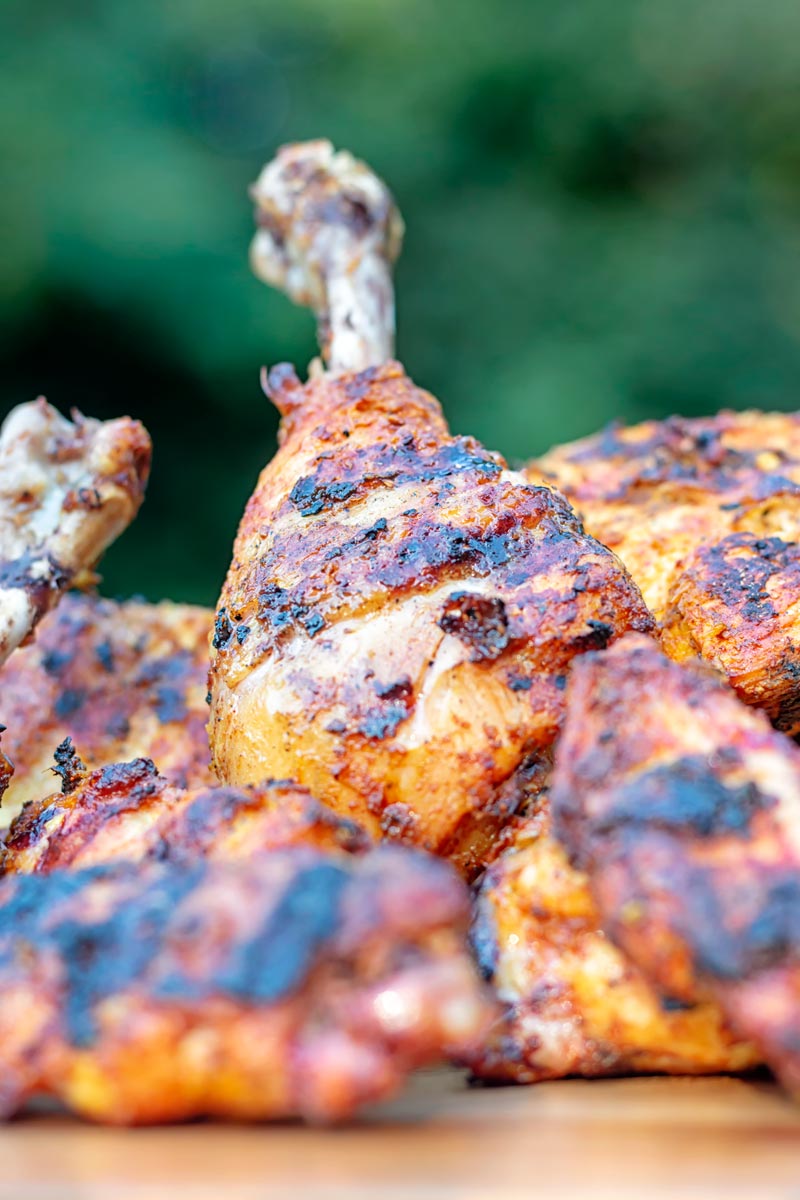 Serving Suggestions and Leftovers.
This recipe is a rare offering from me that serves 4 people rather than two.
Although it is a challenge not to eat the whole chicken as it tastes so damn good.
I tend to try and save the boneless breast pieces and use them in my chicken tikka masala recipe on day 2.
They also make a fantastic sandwich!
When it comes to side dishes I tend to stick with a kachumber salad and possibly a mint raita.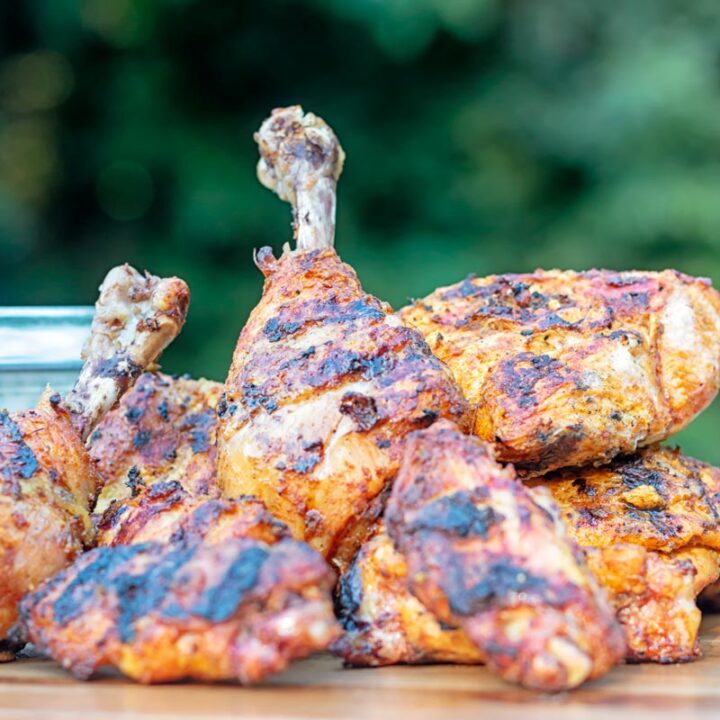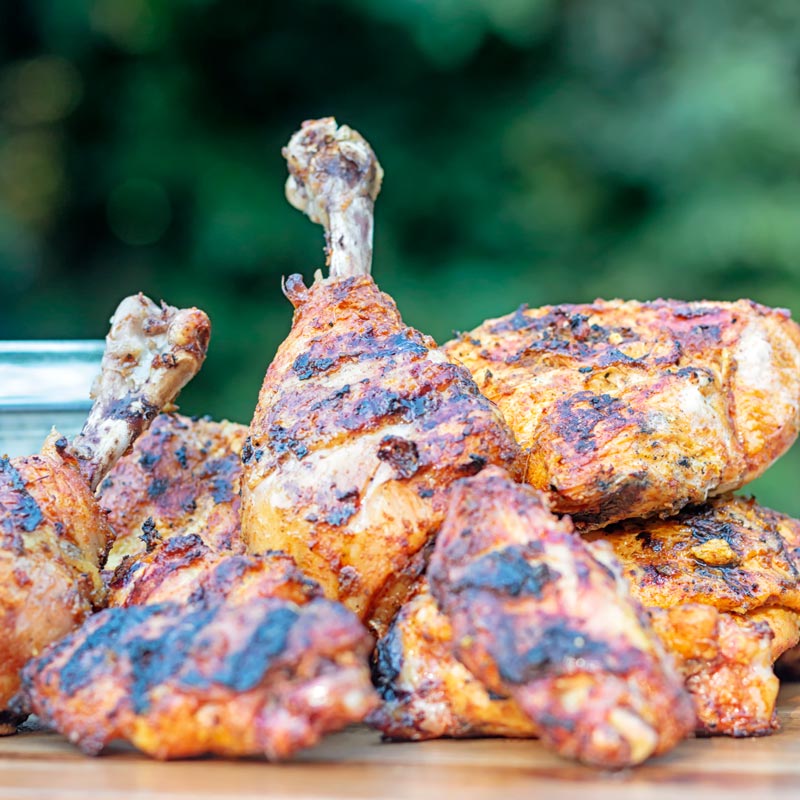 Yield:

4 Servings
BBQ Tandoori Chicken Recipe
Total Time:
5 hours
25 minutes
This recipe takes a whole chicken and breaks it down to form the most incredibly glorious meal, nothing short of a Tandoor oven cooks tandoori chicken quite like a BBQ!
Ingredients
1.2kg (2.5 lb) Whole Chicken
Pinch of Chat Masala
For the Marinade:
2 Tbsp Lemon Juice
2-3 Tsp Kashmiri Chili Powder
1 Tsp Salt
100 g (3.5 oz) Plain Yoghurt
4 Garlic Cloves
30 g (1 oz) Ginger
1 Tsp Garam Masala
1 Tsp Turmeric
1 Tsp Ground Cumin
Instructions
Break down the chicken into drumsticks, thighs, wings, breasts and chicken tenders.
Cut the chicken breasts into 3 pieces.
Peel the garlic and ginger and place in a blender with the salt.
Blend to a smooth paste and then transfer to a large bowl.
Add the remaining ingredients for the marinade and mix well.
Throw in the chicken and massage the mix marinade into the meat.
Cover the bowl with film and then place in the fridge for at least 4 hours, you can leave it for up to 24.
Get your BBQ as hot as you can, making sure you have both a direct and indirect heat zone.
Place the chicken thighs and drumsticks in the indirect heat zone and cook for 10 minutes.
After 10 minutes add the wings and cook for 20 minutes.
Finally, add the chicken breast pieces and the chicken tenders and cook for 25 minutes.
Check that the internal temperature of the chicken has reached 74°C or 165°F.
Set aside to rest for 5 minutes and sprinkle with a pinch of chat masala before serving.
Notes
Tandoori chicken usually gets its distinct red colour from either flavourless colouring beetroot powder. I do not do add colouring to my recipes unless it adds flavour!
Nutrition Information:
Yield:
4
Serving Size:
1
Amount Per Serving:
Calories:

700
Total Fat:

40g
Saturated Fat:

11g
Trans Fat:

0g
Unsaturated Fat:

25g
Cholesterol:

284mg
Sodium:

875mg
Carbohydrates:

7g
Fiber:

1g
Sugar:

2g
Protein:

74g
Calorific details are provided by a third-party application and are to be used as indicative figures only.