The BBQ is the perfect place to cook a Tandoori Chicken unless you count a Tandoor, of course, take your fakeaway to the next level!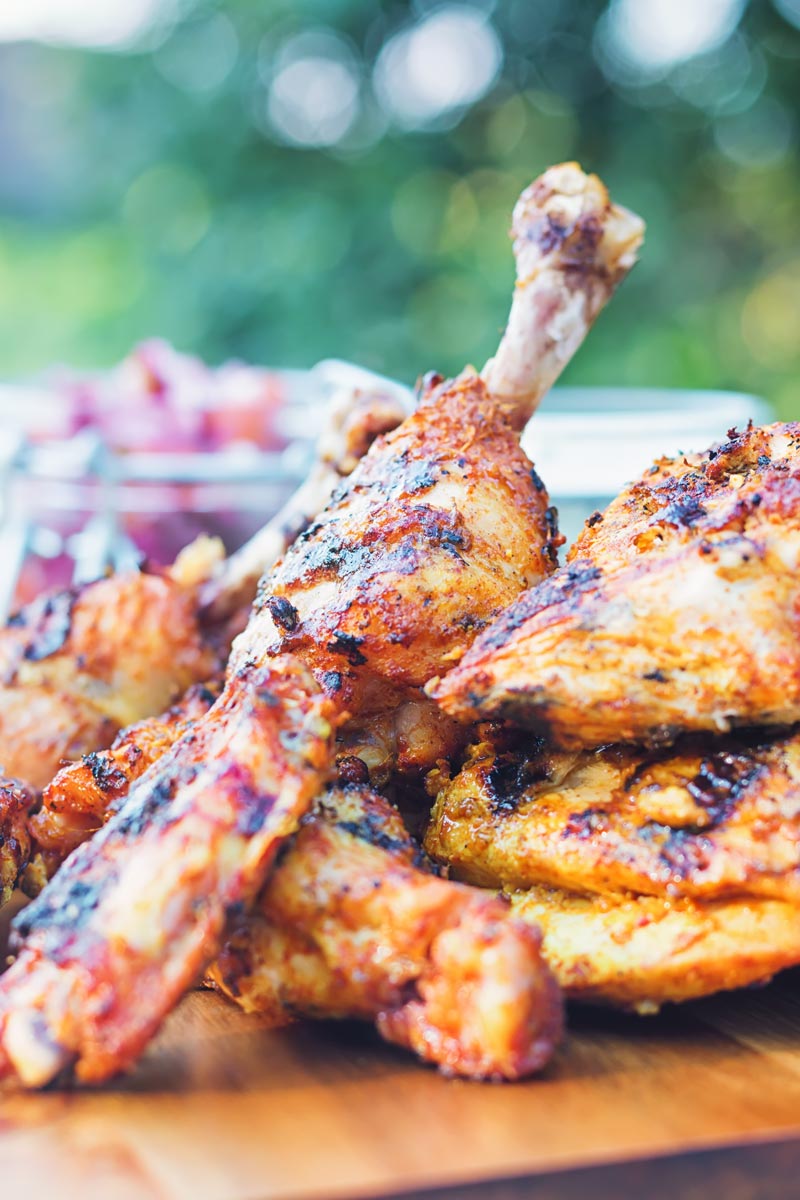 Spicy BBQ Tandoori Chicken.
The first thing you may notice about this tandoori recipe is that it is not bright red.
The simple truth is that the colour of tandoori recipes comes from colouring either food die or occasionally beetroot powder.
It adds no flavour or texture to the chicken whatsoever.
Regular readers will know that I rarely… Ok never add anything to my dishes unless it adds flavour or texture.
As a result, the food die and beetroot powder are out. But despite the colour difference, this dish tastes perfect!
I just don't get why anyone would taste a dish and think, wow that tastes great but what it needs is to be red.
Hmmm, let me think, go fetch me the food die?
In fact, a huge amount of Indian food makes, what I consider to be, dubious use of colour.
For instance, a chicken pathia in the UK would often be the most vibrant red colour and obviously tandoori would be bright orange or red.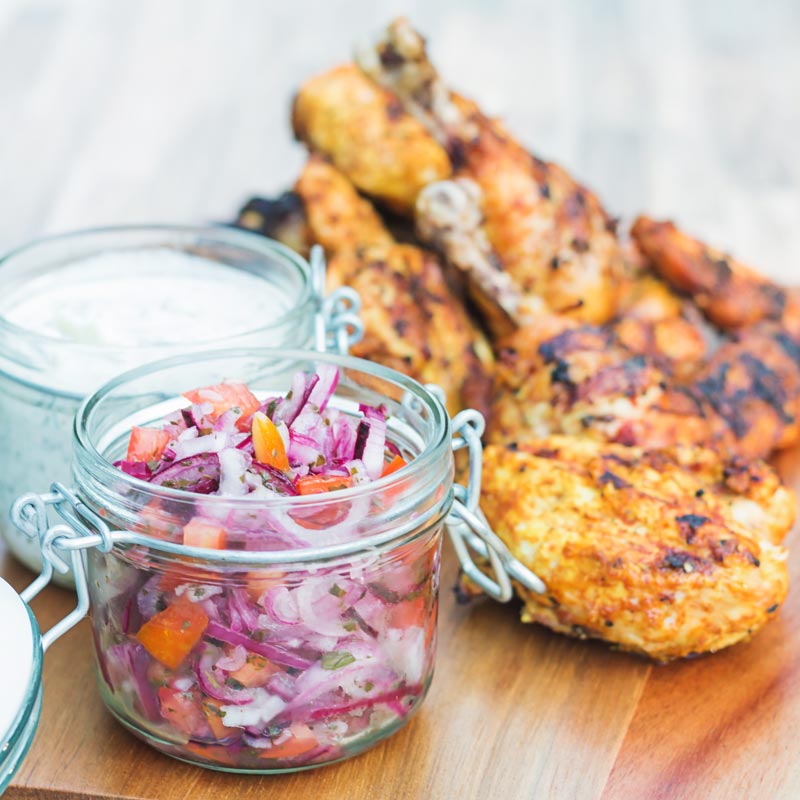 Cooking Tandoori Recipes On The Barbecue.
Traditionally Tandoori dishes are cooked in a clay tandoor oven fired by wood or charcoal and can reach temperatures approaching 500°C.
Something I have been threatening to make at home for a long time but never quite got around to.
Now the BBQ can't quite reach those temperatures but they are capable of reaching temperatures higher than most domestic ovens. I get mine up towards 340-350°C.
You also get that telltale char as well as a light smokey flavour that is so associated with this dish.
I even cook a tandoori fish on my BBQ.
If you are a fan of tikka that you should consider using your grill in summer for that too. Chicken Tikka is essentially boneless tandoori chicken.
I will make both my duck tikka masala and chicken tikka masala recipes largely on the grill over summer!
If you want to cook this in an oven, crank that thing up as high as you can get it. If you have a fan assisted oven put that on too!
Then cook until the internal temperature of the chicken reaches 73°C or 165°F.
How to Butcher A Chicken.
This Chicken recipe uses the whole bird. But, when it comes to chicken, it is cheaper and better to grab yourself a whole bird and cut it up yourself.
It really is not that difficult as you can see from the video above.
It also means you get a nice variation of cuts of meat and typically a better quality bird.
Chicken really is the most versatile meat. Whether it be chicken kofta meatballs, my zaatar chicken legs or even my petits pois a la Francaise, you can trust the humble chook to keep you going.
You also get a big bonus in the bits and pieces that are leftover.
I use them to make chicken stock.
Just roast it off the carcass with onion, carrot, celery and chuck it in the slow cooker with a bay leaf, a little salt and some peppercorns.
Then let that bad boy sit there for 4-8 hours and bish bash bosh you have some glorious chicken stock.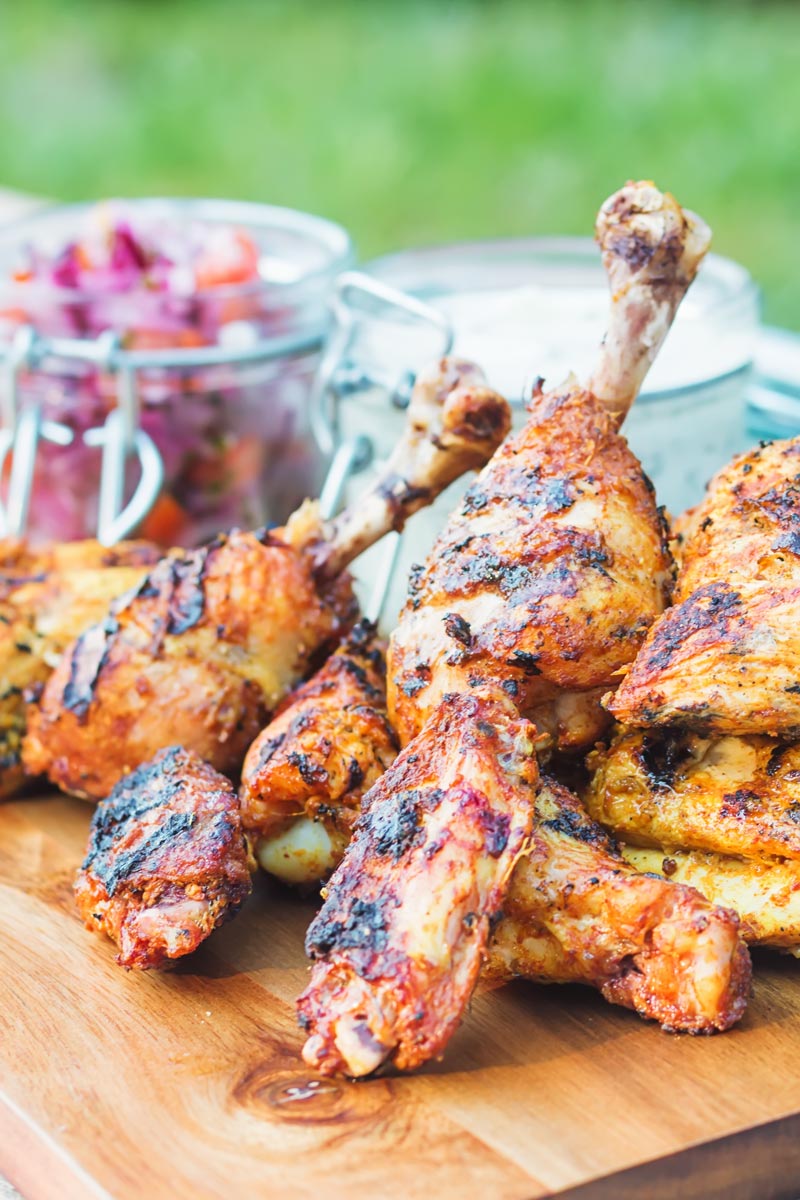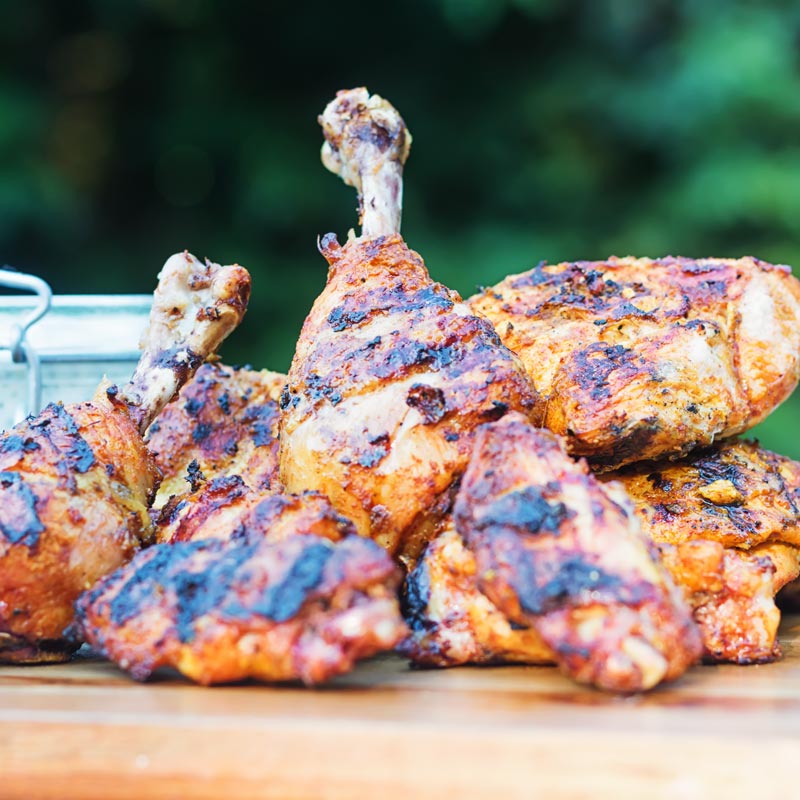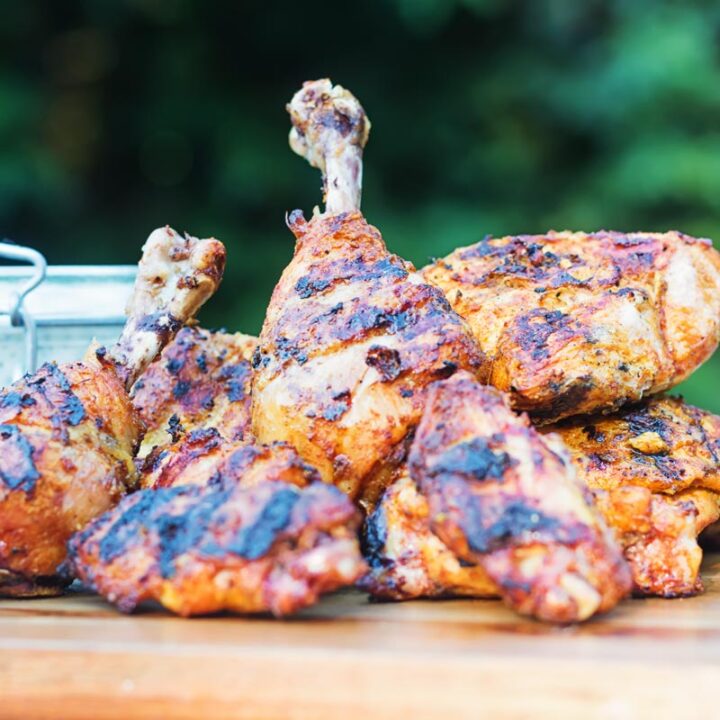 How to Cook Tandoori Chicken on the BBQ
Total Time:
5 hours
45 minutes
This recipe takes a whole chicken and breaks it down to form the most incredibly glorious meal, nothing short of a Tandoor oven cooks tandoori chicken like the BBQ!
Ingredients
1 Whole Chicken
Pinch of Chat Masala
For Marinade 1:
2 Tbsp Lemon Juice
2 Tsp Kashmiri Chili Powder
1/2 Tsp Salt
For Marinade 2:
100 g Plain Yoghurt
1 Tsp Kashmiri Chili Powder
4 Garlic Cloves, Roughly chopped
30 g Ginger, Peeled and roughly chopped
1 Tsp Garam Masala
1 Tsp Turmeric
1 Tsp Ground Cumin
For the Onion Salad:
75 g Red Onion, Cut into quarters and finely sliced
3 Plum Tomatoes, Deseeded and finely diced
1 Tsp Lemon Juice
1 Tsp Mint Sauce, I make my own mint sauce using sugar vinegar and lots of mint and a touch of salt but shop bought is fine
For the Raita
150 g Plain Yoghurt
2 Tbsp Mint Sauce
1 Tsp Honey
100 g Cucumber, About a 5mm dice
Salt to taste
Instructions
Mix together the ingredients for marinade 1 and place in the fridge for an hour.
Place all of the ingredients for marinade 2 in to a small blender and blitz to for a paste.
Add it to the chicken and first marinade and mix to cover and allow to sit for at least 4 hours, you can extend this 4 hour marinade to overnight if you wish.
Mix together all of the ingredients for the onion salad and set aside.
Mix together all of the ingredients for the raita and set aside.
Get your grill really hot making sure you have both a direct and indirect heat zone.
Begin with the cuts of chicken on the bone, so to begin with sear off the drumsticks and thighs so you have a good char on both sides and then transfer to the indirect heat zone and then close the lid and cook for 5 minutes.
Then add repeat the process the with chicken wing parts, when charred move to the indirect heat area close the lid again and cook for a further 5 minutes.
Now sear off the chicken breasts, moving to the indirect heat zone and close the lid and cook until the internal temperature reaches 73°C.
Set aside to rest for 5 minutes before serving and sprinkle with a pinch of chat masala before serving.
Notes
Serve with a minty yogurt raita and some tomato and onion salad on the side.
Nutrition Information:
Yield:

2
Serving Size:

1
Amount Per Serving:
Calories:

936
Total Fat:

44g
Saturated Fat:

13g
Trans Fat:

0g
Unsaturated Fat:

26g
Cholesterol:

271mg
Sodium:

1634mg
Carbohydrates:

40g
Fiber:

5g
Sugar:

26g
Protein:

92g
Calorific details are provided by a third-party application and are to be used as indicative figures only.