This whole BBQ Fish takes a whole trout and marinades it in Indian spices before cooking it Tandoori style over hot coals!

I like to use trout but this will work well with anything from sea bass to pike perch.

This dish will really elevate your BBQ game to the next level and add a splash of Indian exotic to your next grill party!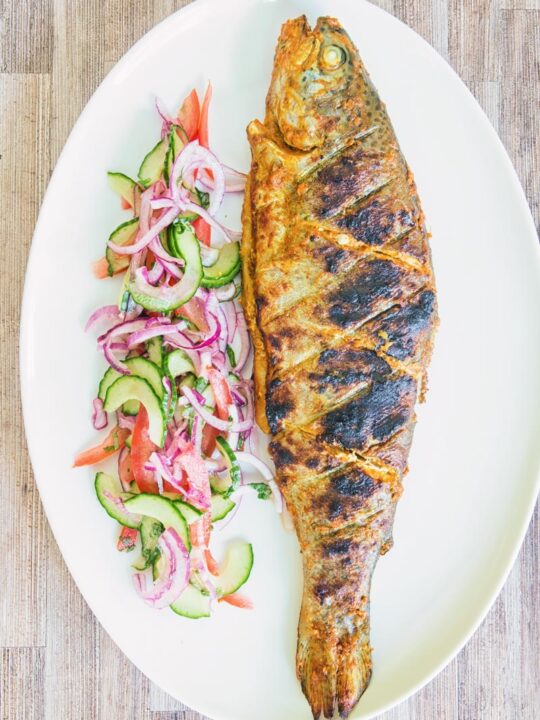 Whole Tandoori Fish.
Indian food is definitely one of my favourites and I love tandoori, so here is my whole Tandoori Fish.
Like my BBQ Tandoori Chicken recipe, this recipe uses a barbecue in lieu of a tandoor oven.
The great thing about cooking on a BBQ is the extreme temperatures you can reach. A tandoor oven can often reach 500°C, double most conventional ovens.
Whilst a barbecue cannot quite reach those temperatures they do bridge the gap.
This is the reason that my BBQ Chicken Pizza cooked on the BBQ works so well.
The fish in this recipe is not just a texture, as a result, the spices are scaled back, see what I did there, to allow the flavour of the fish to shine through.
If whole fish is a bit of a stretch for those that you are feeding, check out my Amritsari fish fry and salmon tikka recipes.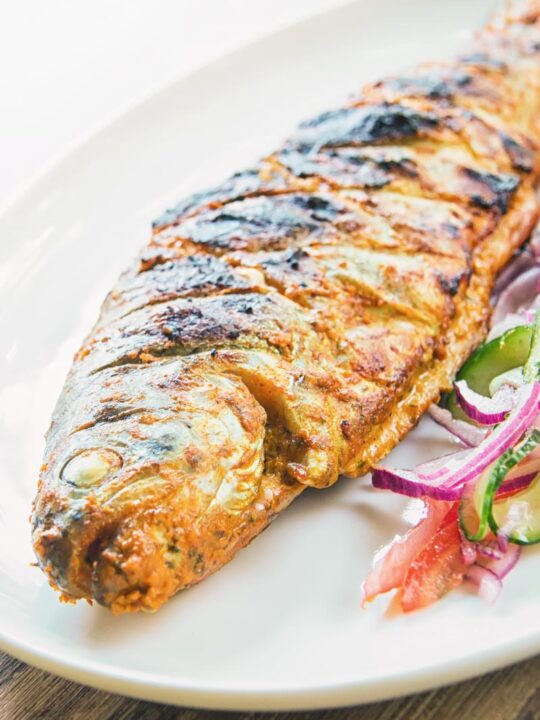 What Fish to Use.
This recipe is for Tandoori Trout but it works just as well with a host of fish.
It would be great with whole zander, sea bream or sea bass. I use bass fillets in my sea bass curry and sea bream in my fish escovitch both take spice beautifully!
If the thought of a whole fish fills you with horror then do not despair. If it is the head that bothers you then you can cook this with fish with the head and tail removed.
If it is the bones then you can use chunks of boneless fish instead.
The difference between tikka and tandoori is that the first is boneless and the second is cooked with the bone in.
As a result, you can turn this tandoori fish recipe into fish tikka by using boneless fillets. You could use salmon or even the pollock that I use in my Keralan fish curry.
In fact, you can then take this a step further in the genesis of Indian food.
A tikka masala like my chicken tikka masala by adding a masala style sauce.
I keep telling you that this cooking malarky is simple!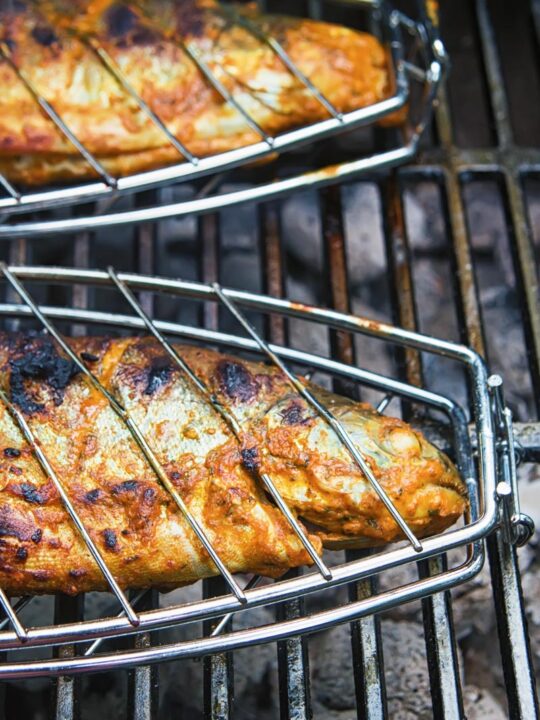 Serving Suggestions.
Like my previous grilled trout recipe I like to keep the sides for this dish super simple.
This is all about relaxed cooking in the sun so I usually stick to a more loosely cut version of my kachumber salad and maybe some raita.
However, if you wanted a larger meal then pairing this with Bombay potatoes or aloo methi would be genius!
We are talking about a British Indian fish and chips, which suits me right down to the ground.
It would also work really well with a chutney, this tomato and onion chutney would be perfect.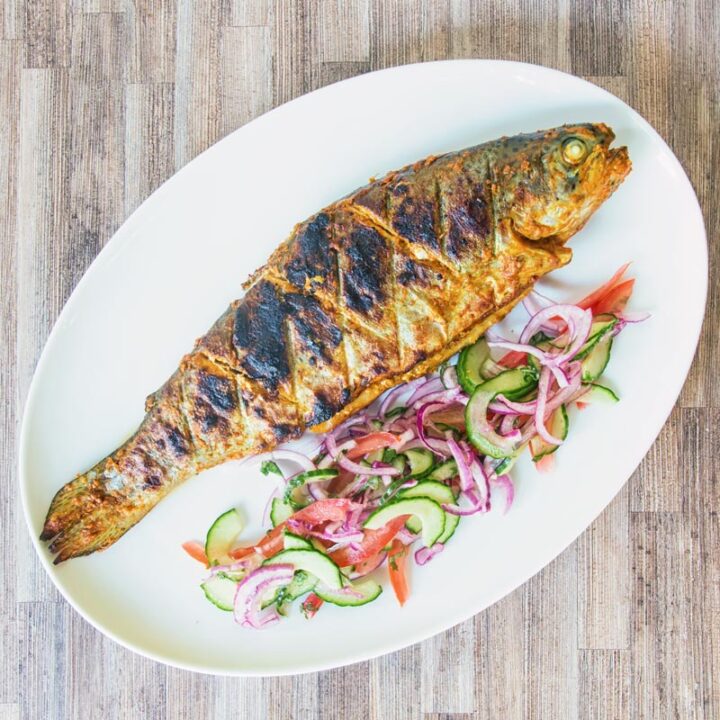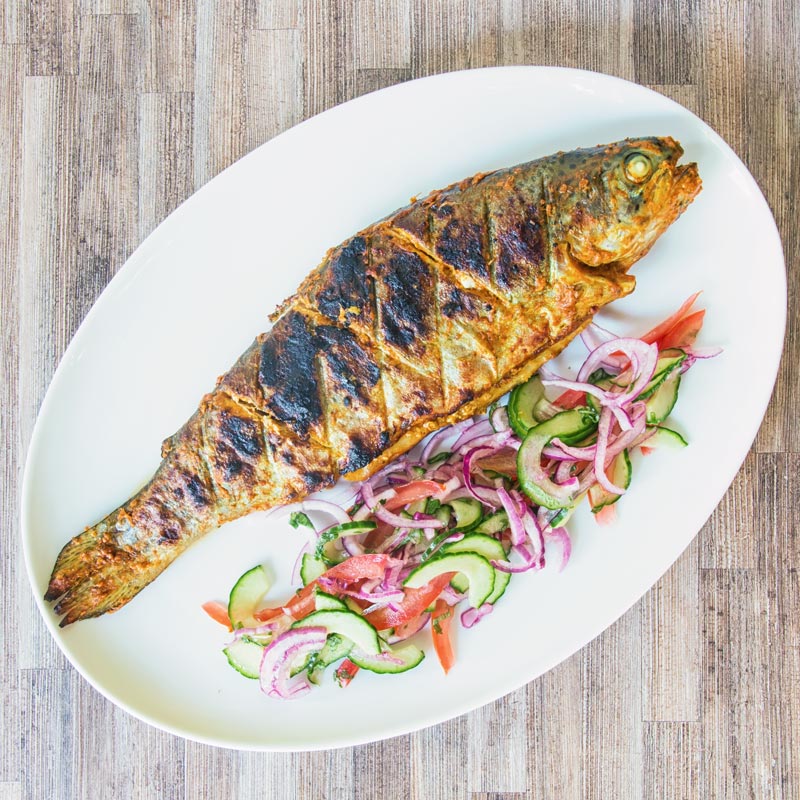 Yield:

2 Servings
BBQ Tandoori Fish
Prep Time:
1 hour
10 minutes
Total Time:
1 hour
22 minutes
Cooking tandoori fish on the BBQ is the perfect substitute for a tandoor oven. This recipe shoves dodgy sausages and burgers to one side and brings a touch of the exotic to your summer BBQ!
Ingredients
2 Trout, Cleaned but head and tail on
1 Lemon
For the Tandoori Marinade:
30 g(1oz) Ginger
3 Cloves Garlic
1 Tsp Coarse Sea Salt
1/4 Tsp Ground Cumin
1/2 Tbsp Kashmiri Chili Powder
1 Tsp Garam Masala
1/2 Tbsp Flour
15 g (0.5 oz) Fresh Coriander
25 ml (1 fl oz) Cooking Oil
1 Tsp Turmeric
50 g (1.75 oz) Yoghurt
Instructions
Add all of the ingredients for the tandoori marinade (except the yoghurt) to a blender and add the zest of a whole lemon and the juice of half a lemon.
Blitz to a fine paste.
Cook this paste over a medium heat for 3-4 minutes and transfer to a bowl.
When cooled add the yoghurt and place in a bowl large enough to hold the fish.
Make 3 or 4 deep slashes in the flash of the fish and rub in the marinade, including in the cavity and allow to sit for an hour.
When your coals are hot, brush the grill plates with oil and add the fish in a fish cage over the direct heat.
Cook for 5 minutes before flipping and cooking for another 5 minutes.
Notes
Cooking times will vary depending on the size of your fish.
Nutrition Information:
Yield:
2
Serving Size:
1
Amount Per Serving:
Calories:

440
Total Fat:

20g
Saturated Fat:

3g
Trans Fat:

0g
Unsaturated Fat:

16g
Cholesterol:

47mg
Sodium:

1938mg
Carbohydrates:

45g
Fiber:

19g
Sugar:

11g
Protein:

28g