This sea bass curry may not look like a classic curry, but it features all of the glorious flavours of a Goan Fish Curry & looks pretty too.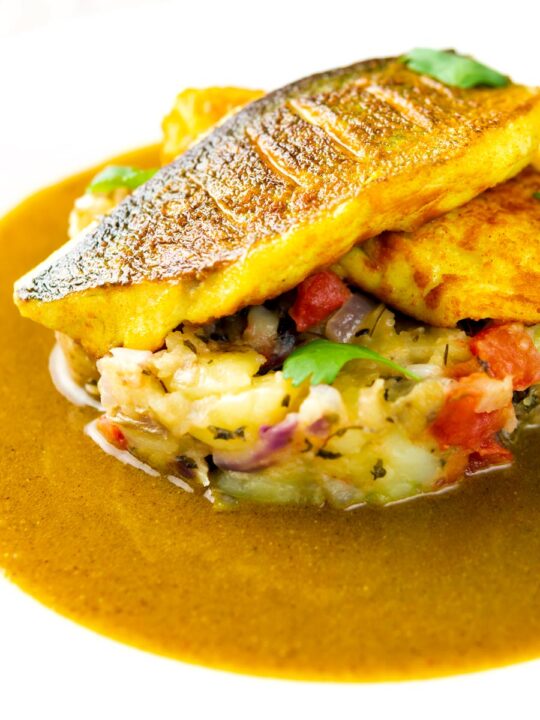 Fancy Fish Curry.
Curry is rarely considered to be "a bit of a looker" in the food world. It is usually associated with big hearty bowls of brown food with the occasional splash of green.
Curry is also not often thought of as dinner party fodder.
This Indian sea bass curry recipe demonstrates that it is perfectly possible to dress up the humble curry without losing flavour.
Now I have no issue with brown food!

I have well over 50 curry recipes on my site, my lamb madras is a glorious shade of chocolate brown, my chicken pasanda is a golden brown & I pretty much have every shade in between.
But this recipe is not at all superficial, it tastes fantastic too!
The sauce itself is hot and sour but tempered with coconut milk much like my pheasant curry and monkfish curry.
The mellow sourness is a perfect for the turmeric spiced sea bass and the rich fenugreek potatoes!
It joins other fish curry recipes like my Goan mackerel curry, Thai red salmon curry, Thai green cod curry and an Indian Prawn curry,

I also have an unusual but delicious curry mussels recipe as well as a superb salmon tikka recipe.
Of course, I also have my take on a classic keralan fish curry and an unusual but delicious macher jhol, a Bengali influenced cod curry.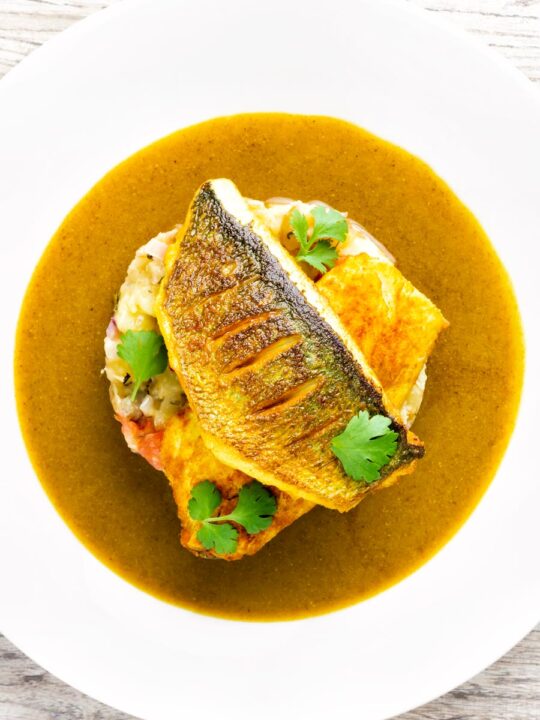 Frequently Asked Questions
Can I use different types of fish?
Yes, I cook this fish curry recipe with 4 different types of fish with the same sauce. Sea Bream, Sea Bass, Trout, Pike Perch (AKA Zander or Walleye)
I have no particular preference and just use what I can get my hands on.
Can I prepare this in advance?
Yes, if you are planning this for a date night or dinner party then you can get a big head start.
The curry sauce can be made 3-4 days in advance and stored in the fridge in an airtight container. Gently reheat before serving.
The potatoes can be made earlier on the day of the recipe and again gently reheated in a pan.
That leaves you nothing to do but season and fry the fish and be a vivacious host.
Can I swap out the potatoes?
Yes, a nice vegetable pilau rice would work really well.
Just drop it into an aluminium form and pour around the sauce if you want to keep the same styling.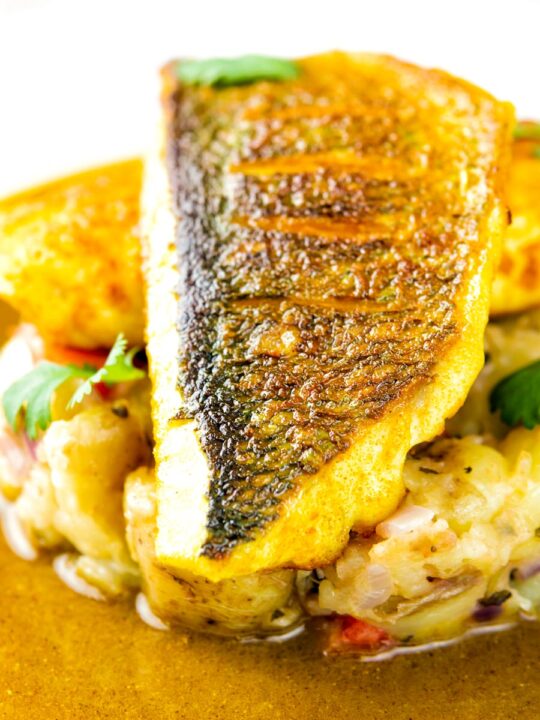 How to Fillet a Round Fish.
Absolutely 100%, the best way to fillet fish is to get your fishmonger to do it for you!
That option aside it is perfectly possible to fillet fish at home. This is a general guide for 'round fish' similar to the sea bass that I use in this curry.
You will need to descale the fish first. You can get all sorts of tools for this, but to be honest scraping with a knife works perfectly well.
Snip off all of the fins using some sharp kitchen scissors.
Then grab a sharp knife and cut the head off. You want to do this at an angle on the body side of the 'fin' on the side of the fish. The angle should lean towards the head of the fish making the 'belly end' shorter.
Take a sharp knife and cut along the backbone as close as you can.
Keep working staying as close to the core of the fish as possible.
Remove the fillet and flip over and using a pair of tweasers and remove the pin bones. Running your finger along the fish from the head end toward the tail will help identify the bones.
Finally, flip over the fish and repeat from part 4 with the second fillet.
There are some pictures in this "how to" from Leiths on how to fillet a round fish. It is a little different to my technique but it works!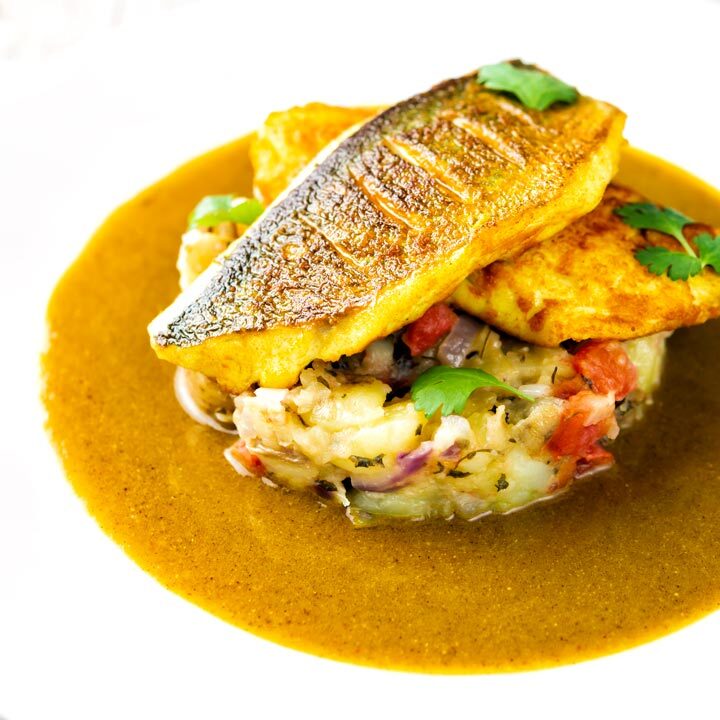 Yield:

2 Servings
Sea Bass Curry Recipe with Fenugreek Potatoes
Classic European styling meets classic Indian Flavours in this sea bass curry! Sure it looks fancy but it is all very simple and cooks in around 30 minutes!
Ingredients
For the Fish
4 Sea Bass Fillets
1 Tsp Turmeric
Salt to taste
For the Potatoes
350g (2 Cups) Waxy Potatoes
1 Large Tomato
50g (1/3 Cup) Red Onion
25g (2 Tbsp) Ghee
1 Tbsp Fenugreek
Salt to taste
For the Sauce
1 Dried Red Chili Pepper
1 Tsp Cumin Seeds
1 Tsp Coriander Seeds
1 Tsp Brown Mustard Seeds
50g (1/3 Cup) Onion
3 Garlic Cloves
2 Tbsp Cooking Oil
125ml (1/2 Cup) Coconut Milk
1 Tbsp Tamarind Pulp
1 Tsp Turmeric
Salt to taste
Instructions
Cut the potatoes into 1-1.5cm chunks and cook in boiling salted water until just cooked, around 15 minutes.
In a dry pan toast the cumin, coriander, mustard seeds and dried chili pepper for 60 seconds over a high heat.
Grind these spices to a fine powder, add half of the turmeric and set aside.
Peel the garlic and onion and roughly chop them, then place them in a mini blender with a tablespoon of water and blend to a smooth paste.
Remove the seeds from the tomato and cut it into a 1cm dice.
Finely dice the red onion.
By now the potatoes should be cooked drain them and lightly crush with the back of a fork.
Add the ghee to a pan and melt.
Then add the onion, tomato and fenugreek to the ghee and cook for a minute or two
Then add the crushed potatoes and cook for 4-5 minutes.
Heat the cooking oil over a medium high heat and add the spice blend and cook for 30 seconds.
Add the onion and garlic and cook for another minute.
Add in the coconut milk and tamarind.
Stir and simmer on low whilst we cook the fish.
Make diagonal slits just through the skin of the fillets.
Generously season the fish fillets with salt and then sprinkle with the remaining turmeric.
Add a little oil to a pan over a medium-high heat.
Add the fish skin side down and cook for 1-2 minutes,
Flip and cook for another minute.
Plate with the potatoes in the middle of a plate, add sauce around the sides and then place the fish fillets on top of the potatoes.
Notes
Try and get your fishmonger to fillet the fish, my timings for this recipe assume that is the case.
Nutrition Information:
Yield:
2
Serving Size:
1
Amount Per Serving:
Calories:

714
Total Fat:

44g
Saturated Fat:

23g
Trans Fat:

0g
Unsaturated Fat:

18g
Cholesterol:

96mg
Sodium:

1019mg
Carbohydrates:

58g
Fiber:

9g
Sugar:

9g
Protein:

28g
Calorific details are provided by a third-party application and are to be used as indicative figures only.