The flavours in this recipe inspired by a Goan fish curry are every bit as striking as its looks. Tamarind provides an earthy sour base to a sauce paired with, fenugreek potatoes and turmeric fried fillets of bream.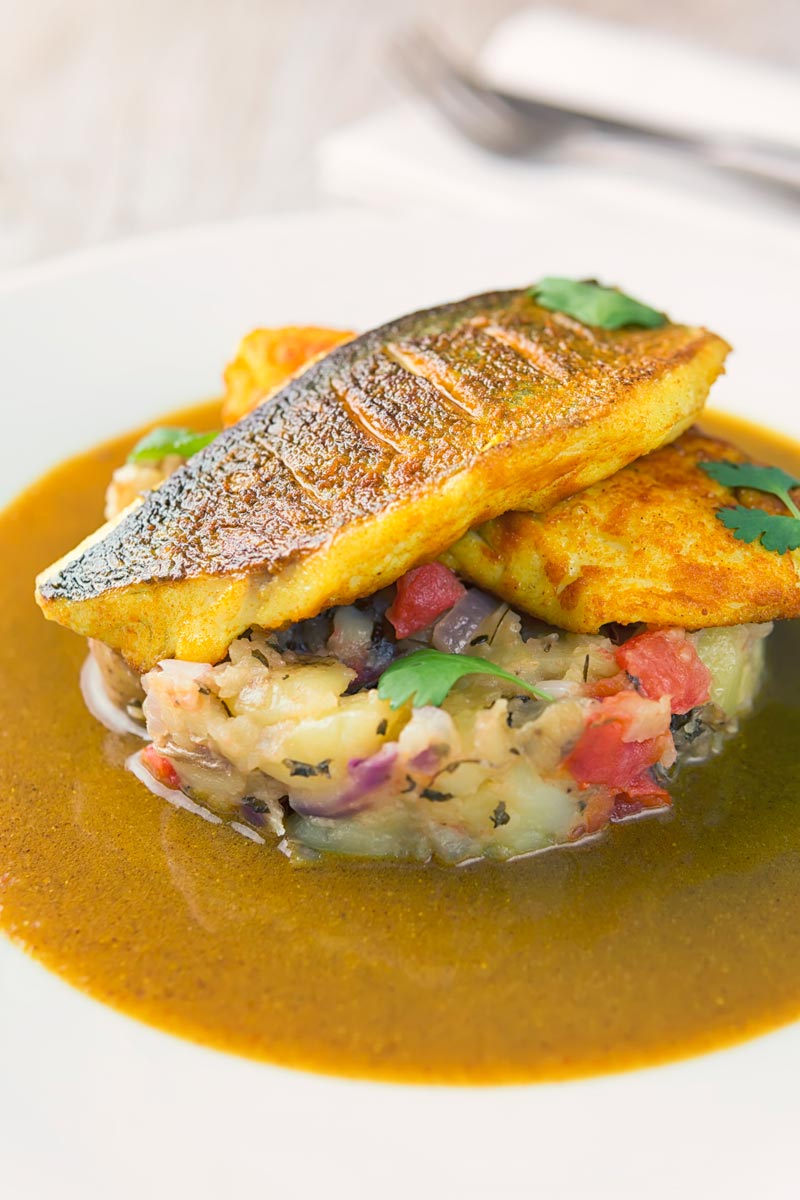 Fancy Fish Curry.
Curry is rarely seen as a bit of a looker in the food world. Usually associated with big hearty bowls of brown food with the occasional splash of green, curry is not often thought of as dinner party fodder.
This bream curry recipe demonstrates that it is perfectly possible to dress up the humble curry.
It is a stark contrast to the other pan fried bream recipe that I have on my site.
Now I have no issue with brown food! I have well over a dozen chicken curry recipes that come in all shade of brown on my site.
But just like me, the rather rough around the edges curry scrubs up really rather well. Ok, not like me at all, I do not scrub up well!
But this recipe is not all fur coat and no knickers, it tastes fantastic too!
The sauce itself is hot and sour with fairly delicate flavours. That sourness is the perfect foil for the turmeric fish fillet and the rich fenugreek potatoes!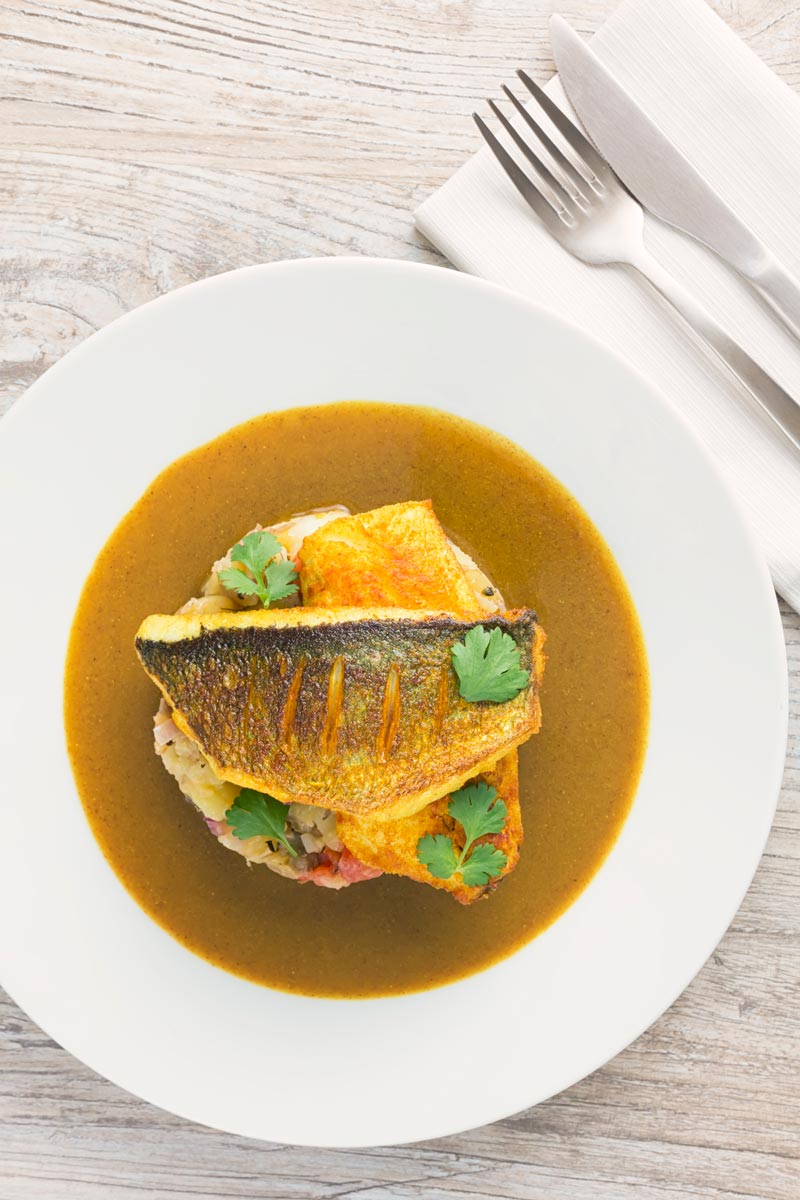 Seafood Curries.
This Indian fish curry is not rarity here on my site.
It joins joining my Thai salmon curry and an Indian Prawn curry, delicious curry mussels recipe as well as a superb salmon tikka recipe.
That does not mean that they are at all unusual in their natural environment.
Much of my Indian cooking is inspired by North Indian, Pakistani and Bangladeshi food.
This is because that was the Indian food I was most exposed to growing up in inner-city Britain. Just typing that makes me smile, it is amazing food can connect different cultures!
But seafood is actually very common in curries from both south-east Asia and the seafood curries of the Kerala region in Southern Indian are particularly legendary.
They are often hot and sour and many of them feature coconut in one way or another… Just like this curry!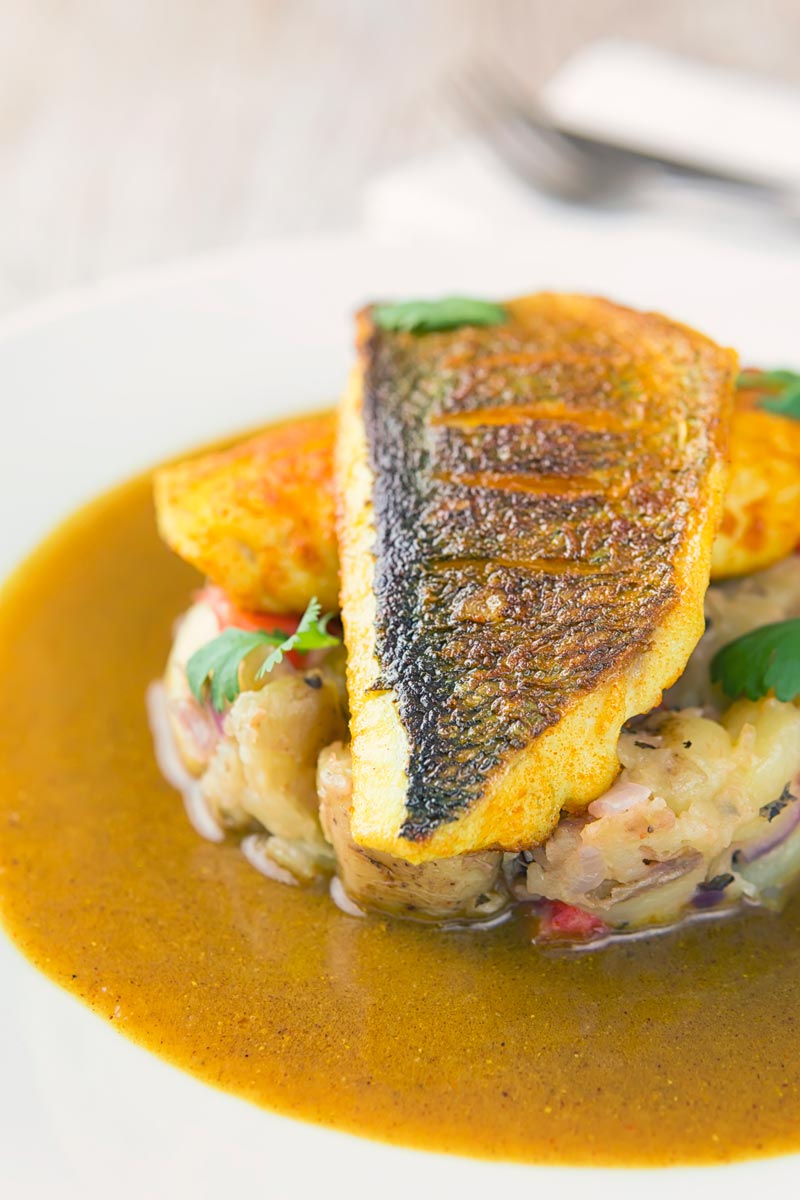 What Fish To Use?
I cook this fish curry recipe with 4 different types of fish with the same sauce. I have no particular preference and just use what I can get my hands on.
Those 4 types of fish are:
Sea Bream
Sea Bass
Trout
Pike Perch, Zander or Walleye (depending on where you are from)
You could use an oily fish like mackerel or salmon, but I would increase the amount of tamarind in the sauce.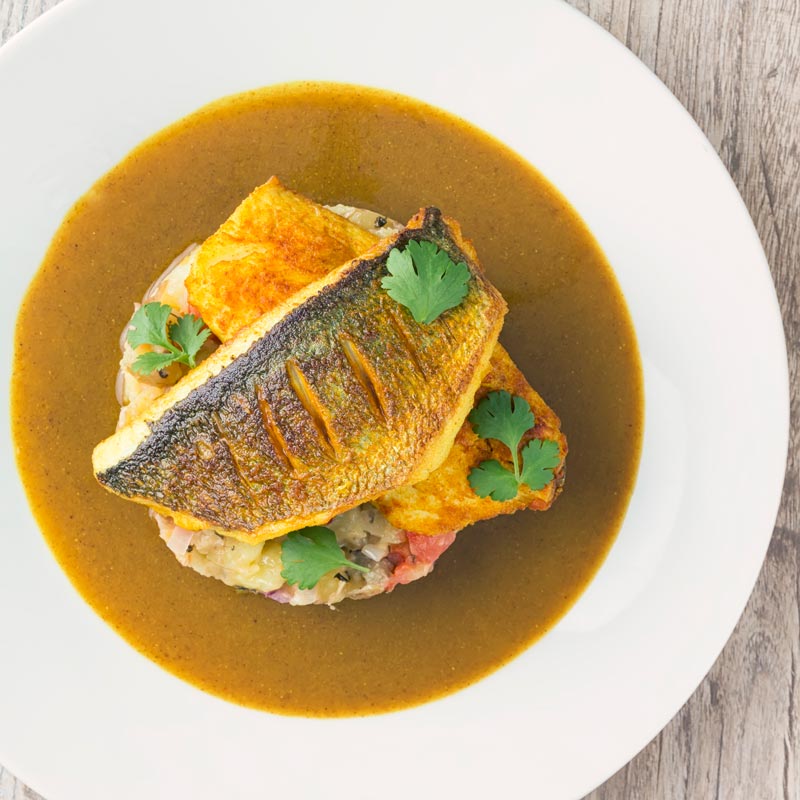 How to Fillet Fish.
Absolutely 100%, the best way to fillet fish is to get your fishmonger to do it for you… Hehehehehehe!
That option aside it is perfectly possible to fillet fish at home. This is a general guide for 'round fish' similar to the sea bream I use in this recipe.
If your fish is not descaled you will need to do this first. You can get all sorts of tools for this, but to be honest scraping with a knife works perfectly well.
Snip off all of the fins using some sharp kitchen scissors.
Then grab a sharp knife and cut the head off. You want to do this at an angle on the body side of the 'fin' on the side of the fish. The angle should lean towards the head of the fish making the 'belly end' shorter.
Take a sharp knife and cut along the backbone as close as you can.
When you get toward the centre of the fish you will come to some thicker bones at the belly end. On a fish like sea bream they are a little more difficult to cut through, but a sharp knife with get you through.
Remove the fillet and flip over and using a pair of tweasers, remove the pin bones. Running your finger along the fish from the head end toward the tail will help identify the bones.
Finally, flip over the fish and repeat from part 4 with the second fillet.
There are some pictures in this "how to" from Leiths on how to fillet a round fish. It is a little different to my technique but it works!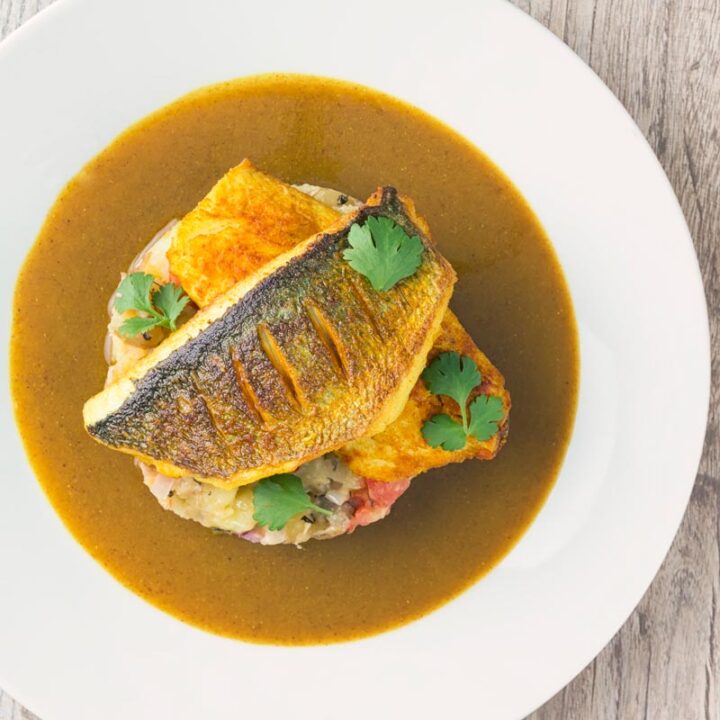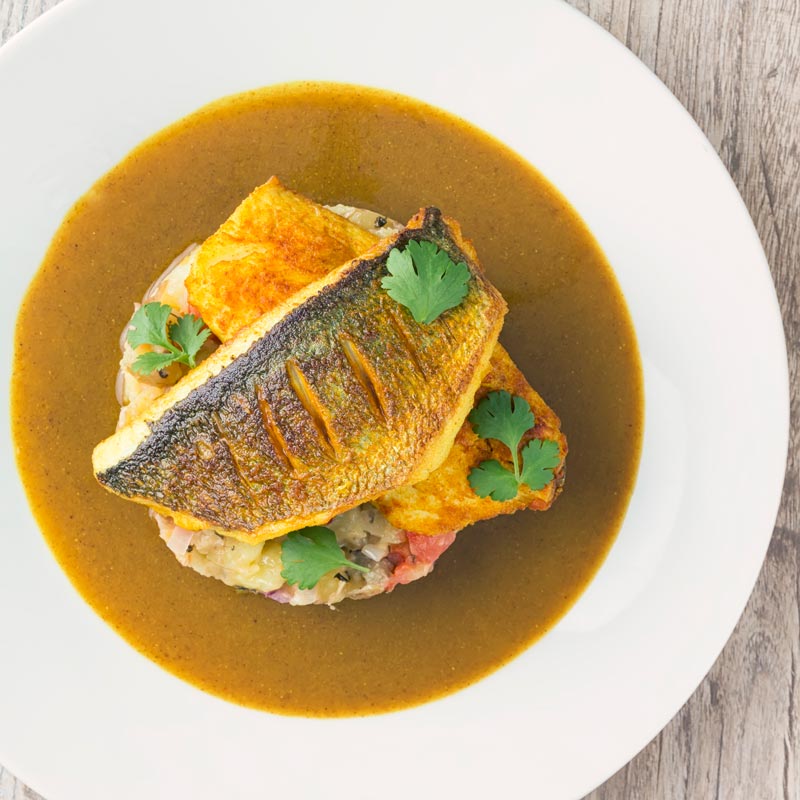 Yield:

2 Servings
Sea Bream Fish Curry With Fenugreek Potatoes
Classic European styling meets classic Indian Flavours in this fish curry! Sure it looks fancy but it is all very simple and cooks in less than 30 minutes!
Ingredients
For the Fish
4 Bream Fillets
1 Tsp Turmeric
Salt to taste
For the Potatoes
350 g Waxy Potatoes
1 Large Tomato
50 g Red Onion
25 g Ghee
1 Tbsp Fenugreek
Salt to taste
For the Sauce
Dried Red Chili Pepper
1 Tsp Cumin Seeds
1 Tsp Coriander Seeds
1 Tsp Brown Mustard Seeds
50 g Onion
3 Garlic Cloves
2 Tbsp Cooking Oil
150 ml Coconut Milk
1 Tbsp Tamarind Pulp
1 Tsp Turmeric
Salt to taste
Instructions
Cut the potatoes into 1-1.5cm chunks and cook in boiling salted water until just cooked, around 15 minutes.
In a dry pan toast the cumin, coriander,mustard seeds and dried chili pepper for 60 seconds over a high heat.
Grind these spices to a fine powder, add half of the turmeric and set aside.
Peel the garlic and onion and roughly chop them.
Place them in a mini blender with a tablespoon of water and blend to a smooth paste.
Remove the seeds from the tomato and cut into a 1cm dice.
Finely dice the red onion.
By now the potatoes should be cooked drain them and lightly cook with the back of a fork.
Add the ghee to a pan and melt
Then add the onion, tomato and fenugreek to the ghee and cook for a minute or two
Then add the crushed potatoes and cook for 4-5 minutes.
Heat the cooking oil over a medium high heat and add the spice blend and cook for 30 seconds.
Add the onion and garlic and cook for another minute.
Add in the coconut milk and tamarind.
Stir and simmer on low whilst whilst we cook the fish.
Make diagonal slits just through the skin of the fillets.
Generously season the fish fillets with salt and then sprinkle with the remaining turmeric.
Add a little oil to a pan over a medium-high heat.
Add the fish skin side down and cook for 1-2 minutes,
Flip and cook for another minute.
Plate with the potatoes in the middle of a plate, add sauce around the sides and then place the fish fillets on top of the potatoes.
Notes
Try and get your fishmonger to fillet the fish, my timings for this recipe assume that is the case.
Nutrition Information:
Yield:
2
Serving Size:
1
Amount Per Serving:
Calories:

714
Total Fat:

44g
Saturated Fat:

23g
Trans Fat:

0g
Unsaturated Fat:

18g
Cholesterol:

96mg
Sodium:

1019mg
Carbohydrates:

58g
Fiber:

9g
Sugar:

9g
Protein:

28g
Calorific details are provided by a third-party application and are to be used as indicative figures only.