Pheasant curry, a delicious hot and sour Indian-inspired recipe featuring the earthy sourness of tamarind tempered with silky coconut milk.
Both the leg and breast are showcased in this unusual curry recipe that, prep aside, takes just 35 minutes to cook.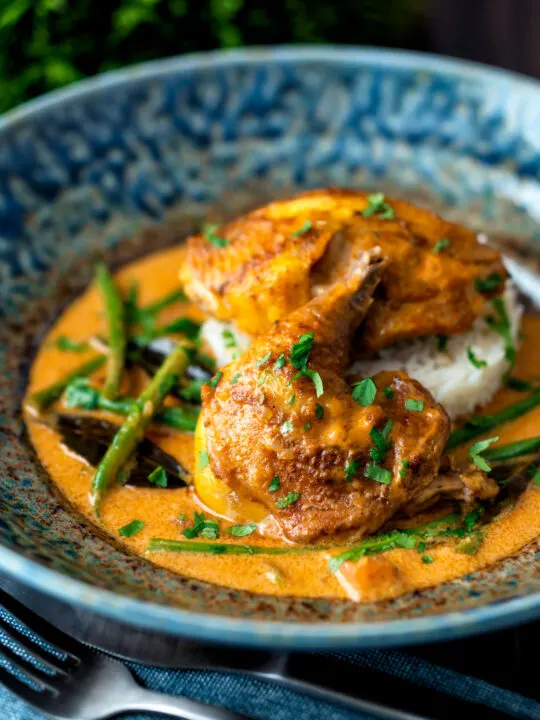 Game Bird Curry
You don't have to dig deep into my website to find a curry recipe that showcases an ingredient that is not usually associated with Indian curries.
Whether it be the atypical beef variants of popular British Indian curries like beef bhuna and chicken Ceylon or something using game, like my Indian inspired duck curry.
I even have a sea bass curry and Indian curried mussels too!
This pheasant curry joins that long list and I love this dish. It is hot and sour with fairly delicate spicing that allows the subtle flavour of pheasant to shine through.
The green beans add a wonderful flavour and texture to the silky smooth coconut milk gravy.
We get a wonderful earthy sourness from tamarind which is a perfect match for the delicious game bird.
If you are hunting for something with similar flavours but with an altogether more identifiable meat, then check out my South Indian coconut chicken curry.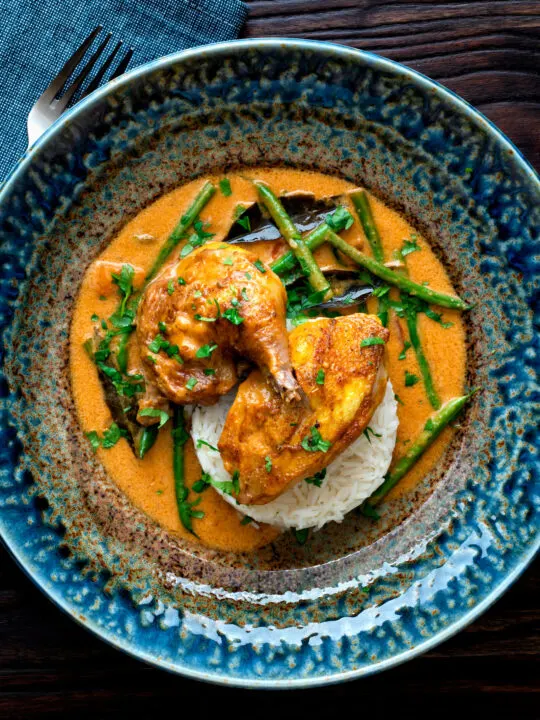 Frequently Asked Questions
Why do you add the leg and the breast separately?
Pheasant is a delicate meat and overcooking it can lead to stringy and tough meat and the leg takes a little longer to cook than the breast.

By adding the two pieces of meat separately you avoid this.
How do I joint a pheasant?
The pheasant is very similar to a chicken. Removing the breasts and the leg uses the same process as you would with a chicken. I have added a video below showing how I do this.

Do not separate the pheasant thigh and drumstick, they are too small.
Can I avoid the drumstick being fibrous?
Unfortunately, this is all defined by the age of the bird and with it being a pseudo wild product it is difficult to guarantee.

Grab some wipes and chow down on that bad boy! It is still delicious, even if it is less than easy to eat.
Can I use tamarind concentrate or paste?
Yes but tread lightly, tamarind concentrate comes in very different strengths and it can overpower a dish if overused.

If you want to use it, pick your brand and get to know it well and stick with it.
Can I use tamarind chutney or sauce?
I would not, tamarind sauces and chutneys often contain a large amount of sugar as well as other ingredients.

As a result, they will change this dish significantly, by all means, try but as with using concentrate, you should tread carefully.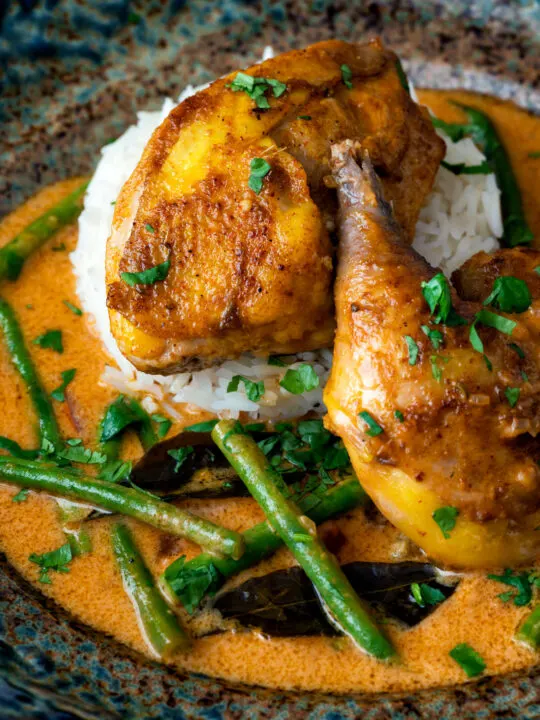 Serving Suggestions
I like to serve this game curry with some plainly boiled or steamed rice.
However, it is superb with pilau rice or even some turmeric rice too!
As with all curries I am fond of serving it with flatbread. We have a lovely fairly loose sauce here and my tandoori style naan bread is perfect. But chapatis would work really well too!
If you wanted to do something a little different you could serve this with my roast Bombay potatoes.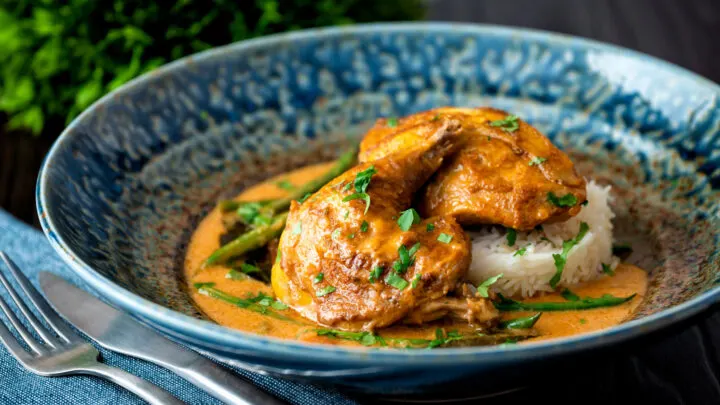 Equipment Used
I only mention specific brands of equipment if I think they make a material difference to a recipe. If you have any questions feel free to ask them in the comments section below the recipe.
Stovetop.
24cm or 10″ saucepan with a lid.
Frying pan, large enough for frying the pheasant. Anything larger than 24cm or 10″ should be fine.
Mixing and or prep bowls.
Fine mesh sieve.
Chopping board.
Kitchen knife.
Weighing scales and or measuring cups and spoons.
Kettle.
Grater.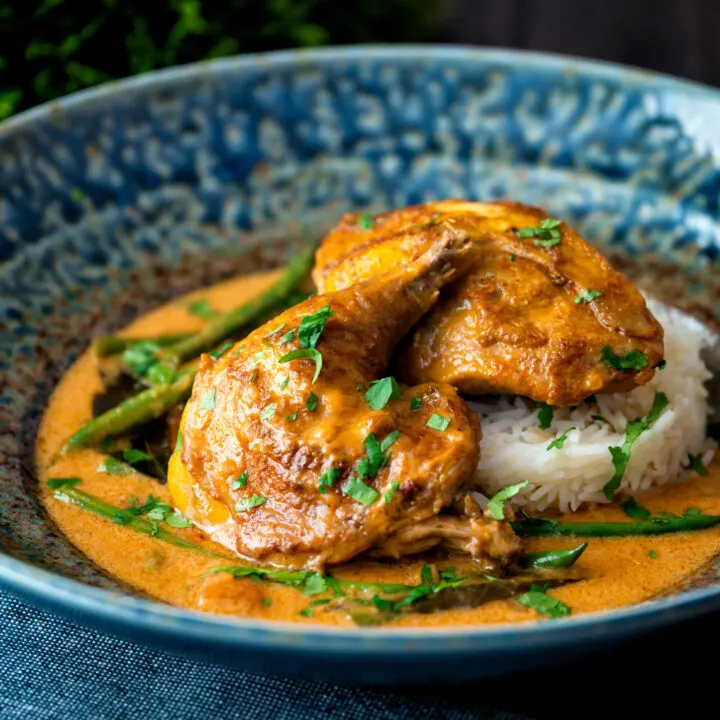 Yield:

2 Servings
Pheasant Curry Recipe
Game may not be the first meat that you think of at curry time, but this pheasant curry in a spicy, sour and creamy sauce is a great way to experiment with cooking this wonderful bird.
Ingredients
1 Medium (750g) Pheasant
¼ Tsp Cumin
¼ Tsp Coriander
¼ Tsp Kashmiri Chilli Powder
¼ Tsp Turmeric
½ Tsp Salt (plus salt to taste for the sauce)
35g (40mm or 1.5"Cube) Tamarind pulp
2 Garlic Cloves
20g (Half Thumb Sized Piece) Ginger
35g (1 medium) Shallot
1 Medium (100g) Tomato
6 cardamom pods
½ Tsp Fennel Seeds
12 Curry Leaves
1 Blade Mace
1 Cinnamon Stick
1 Tbsp Tomato Paste
200g (¾ Cup + 2 Tbps) Tin Coconut Milk
100ml (⅓ Cup + 1 Tbsp) Water
1/2 Tsp Amchoor
1 Tbsp Light Brown Sugar
2 Tbsp Ghee
2 Tbsp Cooking Oil
75g (½ Cup) Green Beans
Coriander to serve
Instructions
Remove the leg and breast from the pheasant.
Mix together the cumin, coriander, chilli powder, turmeric and salt in a bowl and then use it to season the pheasant pieces.
Pour 35ml (2 tablespoons) of boiling water over tamarind, mash it with a fork and allow it to sit for 5 minutes.
Cut the shallot in half lengthways and then dice it as finely as you can.
Mash the garlic cloves into a paste.
Grate the ginger.
Cut the green chilli in half lengthways.
Cut the tomato into a 5-7mm dice.
Heat the ghee in a medium (24cm) saucepan over a medium heat.
Add the curry leaves, green chilli, cinnamon stick, cardamom pods, fennel seeds, and mace, then cook for 1 minute.
Throw in the diced shallot, mashed garlic and grated ginger and cook for another minute.
Add the diced tomato and tomato paste and cook for 2 minutes stirring regularly.
Pour in the coconut milk, water and add the brown sugar and mix.
Push the tamarind through a fine-mesh sieve into the pan, stir well, have a taste and add salt as required.
Heat the cooking oil in a separate frying pan over a medium heat.
When it is hot add the pheasant legs and sear for 2 minutes on each side.
Transfer the legs to the sauce, reduce the heat to low, add a lid and cook for 9-10 minutes.
Sear the pheasant breast in the same pan you cooked the legs in for 1-2 minutes on each side and transfer it to the sauce and cook for 5 minutes.
Cut the green beans into 7.5cm lengths and add them to the curry for a final 2 minutes.
Serve ensuring that you remove the mace, cardamom pods and cinnamon stick.
Nutrition Information:
Yield:
2
Serving Size:
1
Amount Per Serving:
Calories:

872
Total Fat:

65g
Saturated Fat:

33g
Trans Fat:

0g
Unsaturated Fat:

27g
Cholesterol:

146mg
Sodium:

682mg
Carbohydrates:

35g
Fiber:

5g
Sugar:

18g
Protein:

47g
Calorific details are provided by a third-party application and are to be used as indicative figures only.