Jerk salmon fillets marinated in a wonderfully spicy Jamaican influenced paste before being quickly pan fried to get a perfectly crispy skin.
This easy and quick salmon recipe takes under 15 minutes to cook. Even when prep and marinade time is counted this dish can be on your table in under an hour.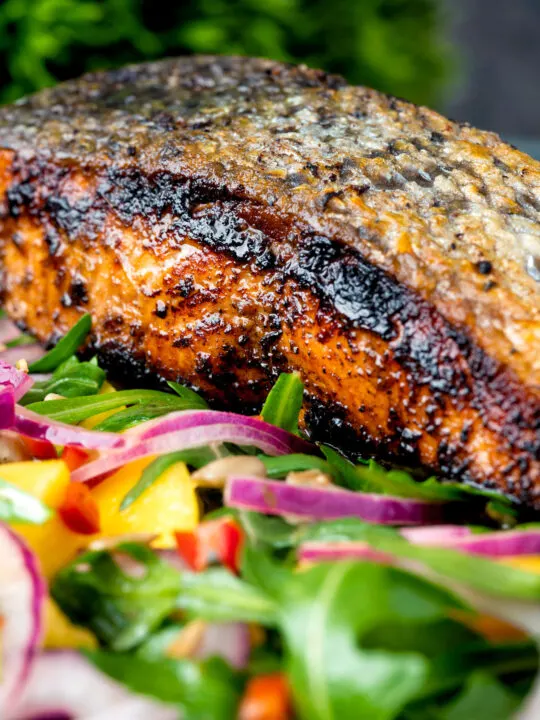 Jamaican-Influenced Jerk Fish
If you have spent any time floating around my website you will know that I am fond of a bit of spice.
Salmon is a fish that is great for pairing with bold flavours. I've used it in dishes as diverse as Thai salmon curry and salmon tikka.
This jerk salmon recipe is Jamaican in influence and shares flavours with my jerk chicken burger, jerk chicken drumsticks. And to some extent my escovitch fish and Jamaican curry goat too.
However the cooking technique is straight outta "Europe", the fillet is quickly pan-fried to give perfectly crispy skin. It is the same technique that I use in my pan-fried salmon, pan-fried grey mullet and pan-fried hake recipes.
The cooking time is stupidly quick at around 10 minutes and the flavours are superb.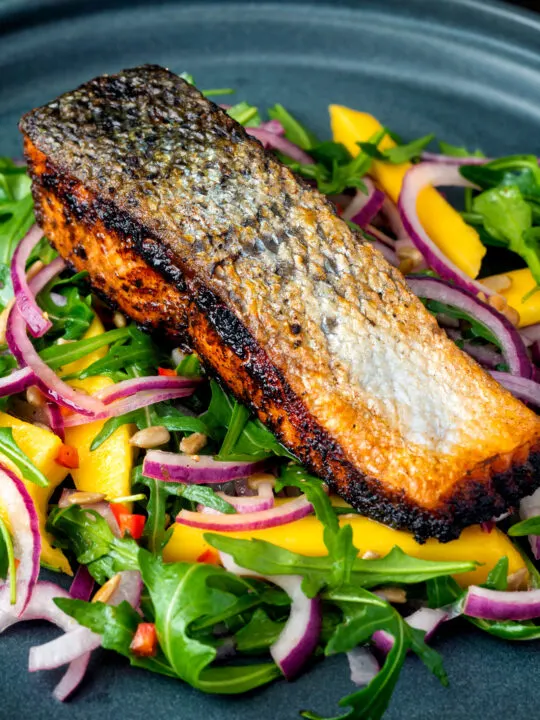 Frequently Asked Questions
Can I marinate the fish for longer?
You can however the flavours can begin to dominate if you do.

Also if you are planning on leaving the marinade on for more than a couple of hours you should omit the salt. If you do not do this the salt will begin to cure the fish and it could turn out a little dry.
Why should I not put the marinade on the skin?
This is for two reasons:
We want the skin to be crispy and adding the marinade to the skin prevents this form happening.
We cook the fish almost all of the way through with the skin side in contact with the pan. The sugar in the treacle and the spices would burn if we did this with marinated skin.
How cooked is the salmon using this method?
I personally like my salmon "just cooked" and aim for an internal temperature of 52°C or 145°F.

If you want it cooked all of the way through cook to a temperature of 63°C or 145°F, anywhere in between is fair game.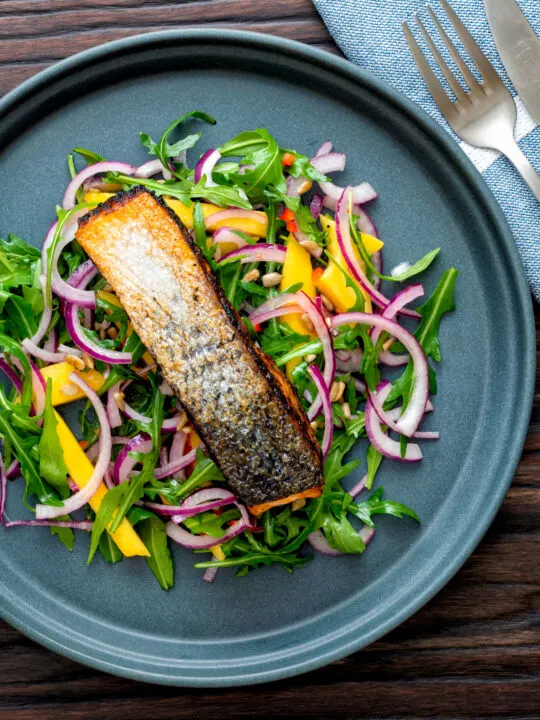 Serving Suggestions
This wonderfully spicy jerk salmon recipe is wonderfully versatile and works with a host of side dishes.
Here it is served with my spicy mango salad with rocket, the sweetness works perfectly with the spicy fish.
Stepping away from the salad thing, I find the flavour of celeriac mash also works really well!
Salty potato wedges also make a great accompaniment to this jerked fish recipe, particularly if you add a pineapple salsa too.
If you want some greens, consider something like garlic asparagus or roasted tenderstem broccoli.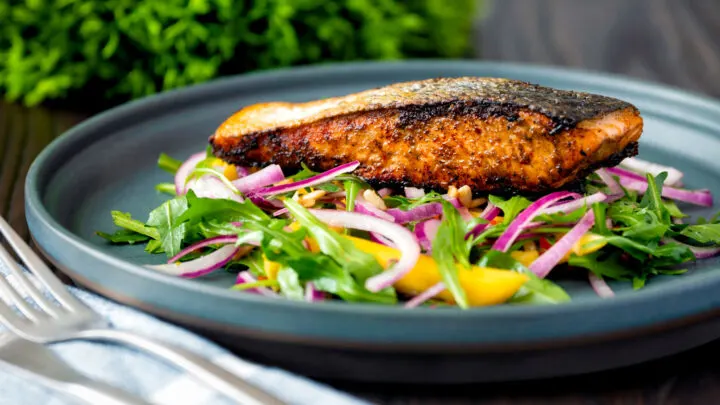 Equipment Used
I only mention specific brands of equipment if I think they make a material difference to a recipe. If you have any questions feel free to ask them in the comments section below the recipe.
Stovetop.
30cm or 12″ frying pan.
Mini blender.
Chopping board.
Kitchen knife.
Measuring spoons.
Plate to marinade salmon.
Fish slice or spatula.
Quick read meat thermometer. This is not essential but great for getting fish or meat cooked precisely.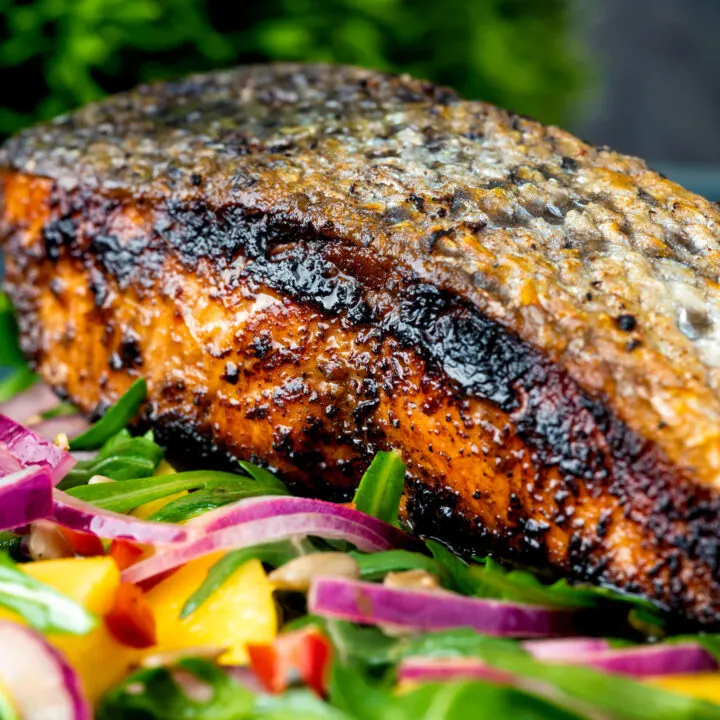 Yield:

2 Servings
Jerk Salmon Fillet Recipe
Additional Time:
30 minutes
Delicious and succulent jerk salmon fillets marinated in a bold and spicy homemade jerk paste pan-fried until the skin is wonderfully crisp.
Ingredients
2 (130g each) Salmon Fillets
1 Scotch Bonnet chilli pepper
2 Spring Onions
2 Cloves Garlic
15g (Half of a Thumb Sized Piece) Ginger
1 Lime
½ Tsp White Pepper
½ Tsp Salt (plus extra for seasoning the skin)
¼ Tsp Grated Nutmeg
¼ Tsp Ground Cloves
½ Tsp Ground Allspice
1 Tsp Fresh Thyme Leaves
1 Tbsp Black Treacle or Molasses
2 Tbsp Ground Nut Oil
Oil for frying
Instructions
Remove the stem and roughly chop the scotch bonnet chilli and place it in a mini blender.
Roughly chop the spring onions and add them to the blender.
Peel the garlic and ginger (a teaspoon is the best way to peel ginger) and add them to the blender.
Zest the lime and add it to the blender, then squeeze in the lime juice.
Finally add the white pepper, salt, nutmeg, cloves, allspice, thyme, treacle and ground nut oil and blend to form a smooth marinade.
Transfer the marinade to a large flat plate and add the salmon, flesh side down.
Use a spoon to spread the marinade up the side of the fish taking care not to spread it on the skin of the fish.
Place the salmon in the fridge and allow it to marinate for 30-60 minutes.
Heat a wide frying pan (28cm nonstick) over a high heat and when it is hot add enough oil to coat the base of the pan about 2-3mm deep.
Season the skin of the salmon fillets generously with salt.
Place the salmon fillets skin-side down in the pan and press down for 20-30 seconds on the flesh to ensure the skin does not contract.
Cook the fish for 4-5 minutes on the skin side and then flip.
Cook on until the fish is cooked for your liking, 60-90 seconds for me, but up to a maximum of 4-5 minutes.
Nutrition Information:
Yield:
2
Serving Size:
1
Amount Per Serving:
Calories:

736
Total Fat:

45g
Saturated Fat:

10g
Trans Fat:

0g
Unsaturated Fat:

29g
Cholesterol:

132mg
Sodium:

1682mg
Carbohydrates:

35g
Fiber:

4g
Sugar:

13g
Protein:

50g
Calorific details are provided by a third-party application and are to be used as indicative figures only.