Easier and "healthier" than chips or fries, potato wedges are a fantastic and simple side dish, this how to guide will help you cook them perfectly every time.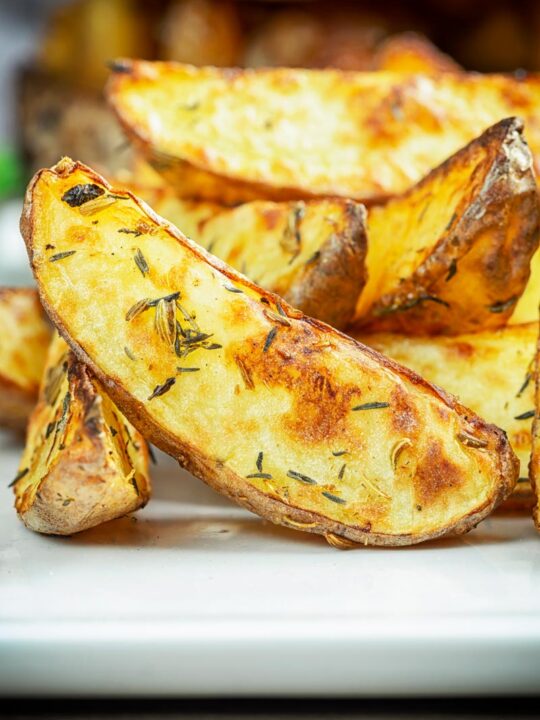 The Unsung Side.
Potatoes get a rough ride from so many people, but they are magic. Whether it be mashed potato, chips, roast potatoes or wedges they have been a favourite side dish ingredient forever!
Wedges are the "healthiest" and as we will find out the simplest of these dishes.
It is also really easy to pimp and change them up to compliment your main dish.
They appear in the background of loads of recipe photographs here and figured they deserve their own page!
The Potatoes Preparation.
It may not come as a surprise that your choice of potatoes is important.
Go for something floury, this will give you that light and fluffy texture which is perfect against that crispy exterior.
For my UK readers look for something like a Maris Piper or King Edwards, for those of you in the US an Idaho or Russet would work well.
I always leave the skins on and cut them so that the outside part of the wedge with the skin on is around 2-2.5 cm thick.
How to Cook Wedges.
Now the important part, cooking them!
I have two cooking methods that I use, the first being a conventional oven. Even better if it is fan assisted because the key is lots of dry heat.
Heat your oven to 250°C or 480°F or 220°C or 450°F if it is fan assisted. It is important that your oven is at temperature before adding the potatoes.
Then roast for 30 minutes giving them a toss every 10 minutes to ensure even cooking.
The second method and my new "goto" method is the air fryer.
The potatoes are cut identically but they go into the air fryer for 12 minutes at 180°C or 350°F and given a shake halfway through.
After the first cycle, they are given another shake and a final 5 minutes at 200°C or 400°F. Just keep an eye on them at the end of the cooking cycle as the catch really quickly.
A Guide to Seasoning.
It would be very easy to churn this recipe out over and over again with different flavour combinations but that would do no one any favours!
So here is my guide to seasoning wedges:
First of all, you need a little oil and a good whack of salt, the oil gets the potatoes crispy and golden and the salt gives us flavour.
Secondly and most importantly I never use powdered spices on my wedges at the start of the cooking process. They scorch and go bitter, particularly spices like paprika.
If I am using powdered spices they get sprinkled on and tossed about. Then they are cooked for a maximum of 2-3 minutes at the end of the cooking process.
Dried herbs like thyme, rosemary and oregano are fine at the start of the cooking process. As are seeds like fennel, cumin and coriander, they should be lightly crushed first.
There is a caveat though, you need to make sure that the herbs and seeds are well coated with the oil.
4 great flavour combinations to try include:
Fab with Chicken: Thyme and Garlic Salt from the start and hit up with lots of paprika at the end.
Perfect with Pork. Crushed fennel seeds, thyme and rosemary from the start with lots of black pepper.
Indian Vibe. Crushed cumin and coriander seeds and dried fenugreek from the start with powdered turmeric and Kashmiri chilli at the end.
Cheesy: Garlic salt and pepper to get started, parmesan cheese for the last 5 minutes.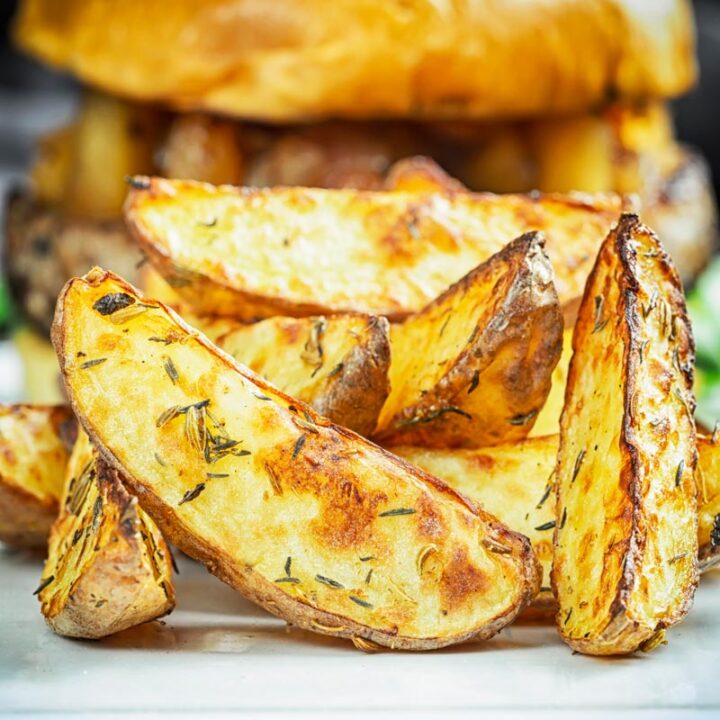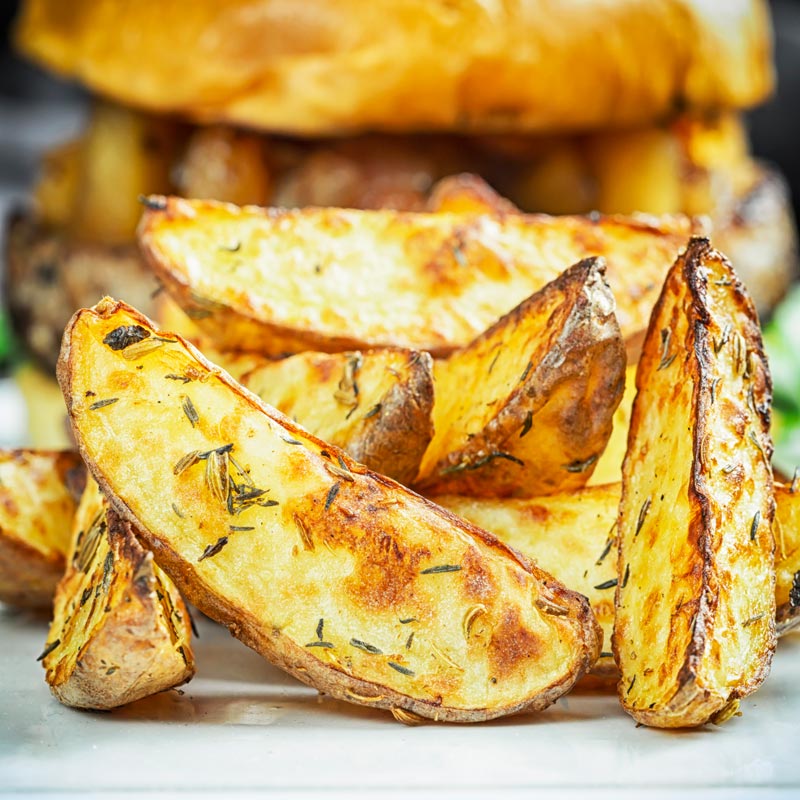 Yield:

2 Servings
How to Cook Crispy Potato Wedges
Crispy potato wedges are the perfect side dish for everything from Burgers to chicken wings and this is how to get the perfect everytime.
Ingredients
500 g Floury Potatoes
2 Tbsp Cooking Oil
1/2 Tsp Salt
Seasonings of your choice
Instructions
Cut your potatoes into wedges ensuring that the skin side of the wedge is 2-2.5 cm in size.
Place the potatoes in a bowl and add the salt, oil and any seed or dried herb-based seasoning.
Toss to coat well.

Oven Cooking Instructions:
Place the wedges on a baking tray in a single layer.
Bake in a preheated oven at 250°C, 480°F or 220°C, 450°F if fan assisted for 30 minutes.
Toss every 10 minutes.
Add any powdered spice coatings for the last 2-3 minutes.
Air Fryer Cooking Instructions:
Place the wedges in the air fryer basket.
Cook at 180°C, 350°F for 12 minutes shaking halfway through.
Turn the heat up to 200°C, 400°F and cook for a final 5 minutes.
Add any powdered spice seasoning for the last 60 seconds.
Nutrition Information:
Yield:
2
Serving Size:
1
Amount Per Serving:
Calories:

356
Total Fat:

14g
Saturated Fat:

1g
Trans Fat:

0g
Unsaturated Fat:

13g
Cholesterol:

0mg
Sodium:

606mg
Carbohydrates:

53g
Fiber:

6g
Sugar:

3g
Protein:

6g
Calorific details are provided by a third-party application and are to be used as indicative figures only.