Proper Chip Shop Fish and Chips are a thing of great beauty and possibly the most evocative memory of growing up in the UK.

Just cooking and eating something that makes you clap your hands like a child is always fun.

This recipe does that to me, I love it!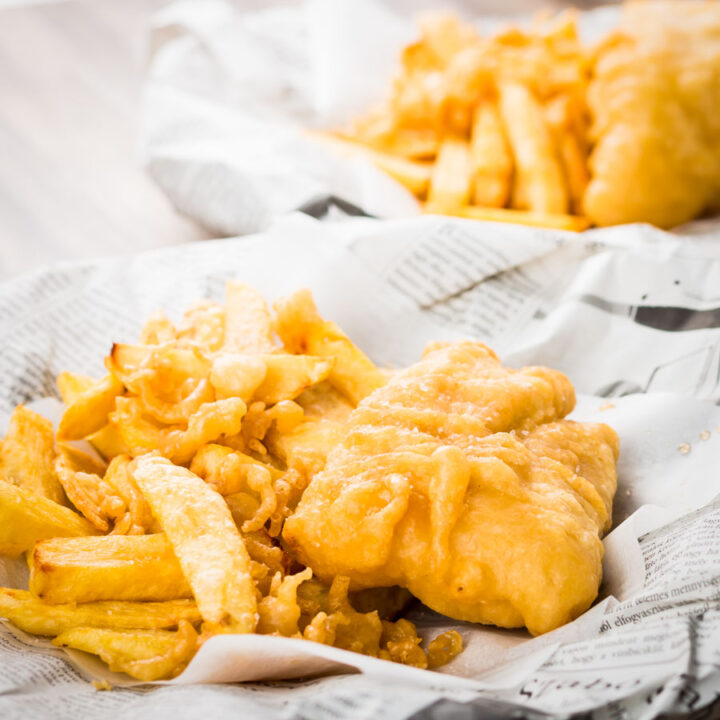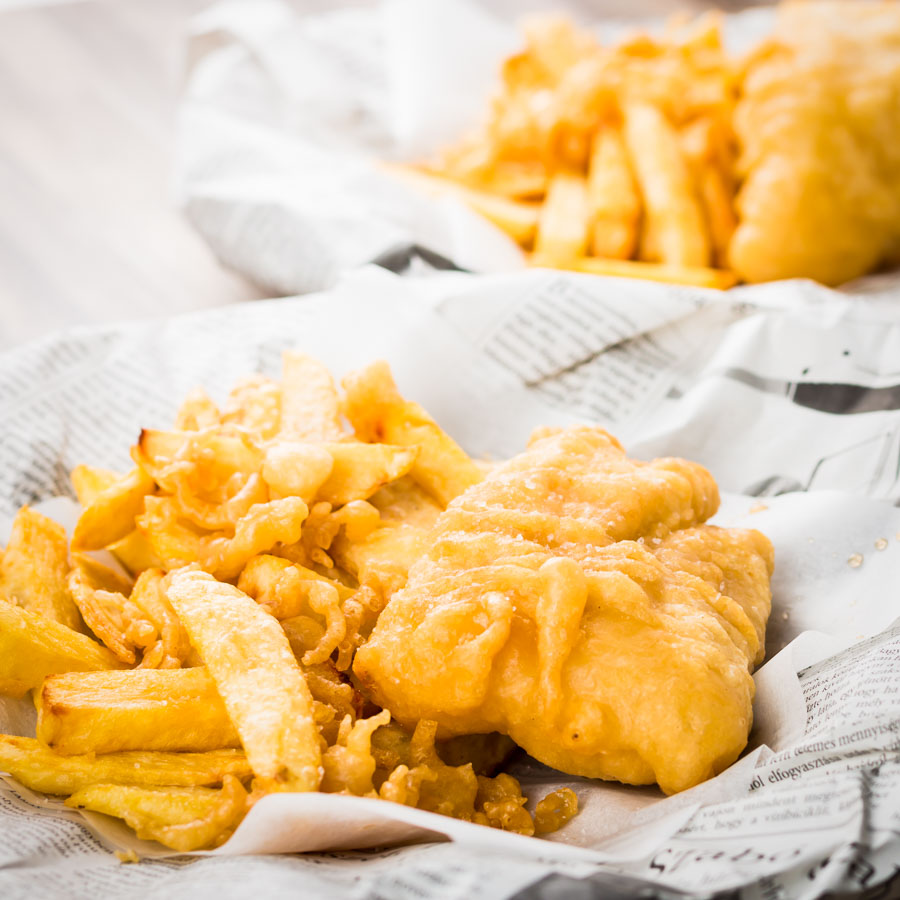 Cooking Chip Shop Fish and Chips at Home.
I had so much fun planning, shooting and cooking my chip shop Fish & Chips recipe.
It is not something we cook very often for a host of reasons but every now and then it is good to say 'take a stroll' to all the health nonsense.
The aroma of malt vinegar and properly cooked chippy chips in dripping and a crunchy battered fish.
In many ways it is as evocative of my childhood as Toad in the Hole.
Regular readers will know I am also not averse to deep frying on occasion. If you are that way inclined you really should check out my deep fried goats cheese or indeed my crispy salt and pepper squid.
I even have a chicken parmo, fried breaded chicken slathered in bechamel sauce and cheese!
Sure you could find ways to roast or bake things, but it just is not the same.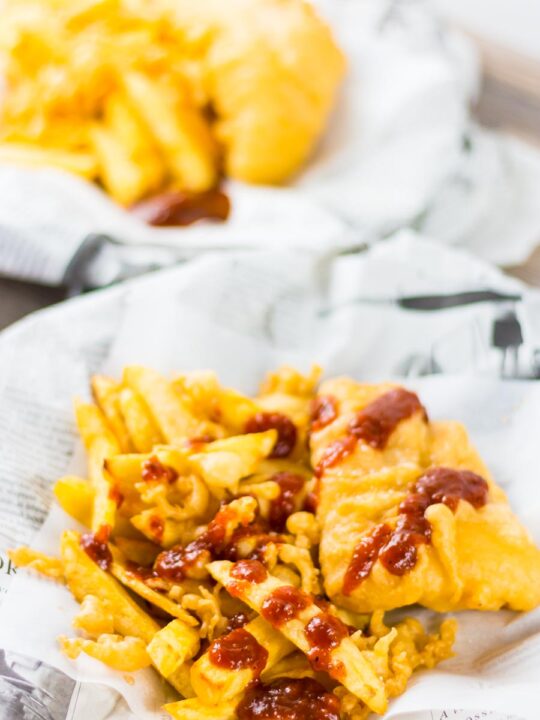 Fish and Chips in Newspaper!
I even purchased my first newspaper in probably the best part of 10 years to get the full effect for this fish and chips recipe.
When I was young when you went to the chip shop your Fish & Chips always came wrapped in newspaper.
I can't really remember when the practice died out. But to be honest I can understand why it did.
But the memory still lives on in my mind and probably in the minds of many British folk. Even those that are too young to remember it.
In fact, there was a really popular chip shop in Birmingham that bought specially printed paper with newsprint on it.
It had queues around the block for about half an hour before opening. It also only opened at lunchtime and it was in the middle of nowhere.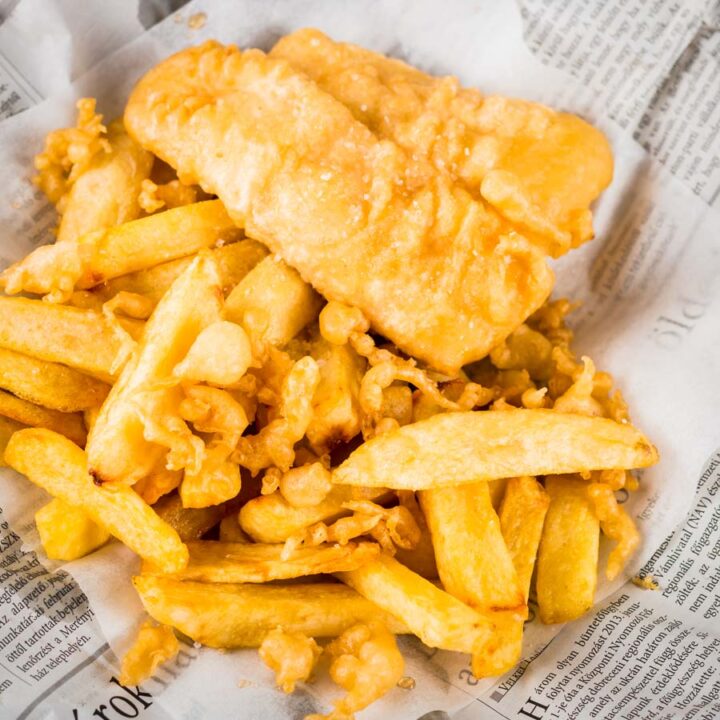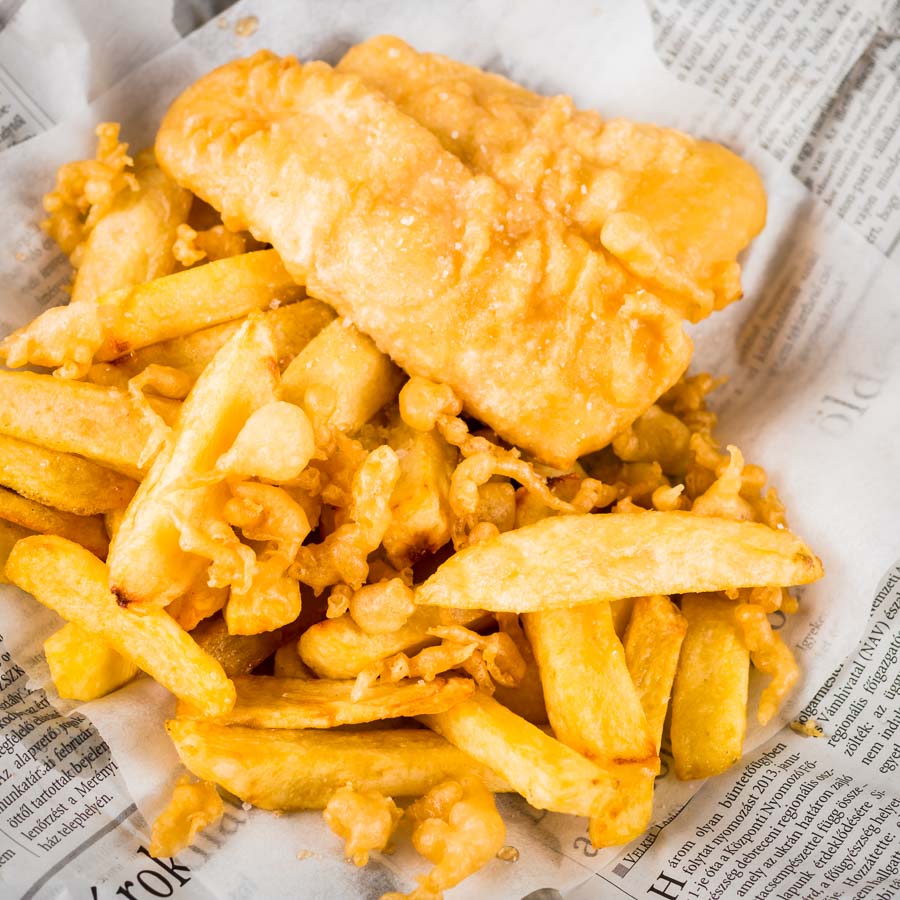 The Perfect Chips!
If my Chicken Balti recipe was a taste of me growing up then my Fish & Chips recipe is a taste of my childhood.
Getting perfectly golden chips that are fluffy inside but a little crispy on the outside.
Served with a crunchy battered piece of flaky white fish was the ultimate treat as a child and one I still love today.
The potatoes must be peeled and not uniform. The chips should be cut thick enough to not be french fries.
But you equally don't want doorstops, everything needs to be just right and don't forget the scraps!
The scraps are little crunchy bits that come from the batter for fish and chips. I always make extra right at the end of the cooking of this recipe.
As for condiments, I will let you argue that among yourselves.
I personally favour tomato ketchup and I am a squirt it all over kinda guy.
But my wife likes it in a neat pile and some tartar sauce on the other side for the fish.
Now far be it from me to say that is wrong, but it is wrong, just don't tell her I wrote that.
Just one more thing, ditch the knife and fork, eat with your fingers.
The batter is firm and crispy enough to hold up to tearing a piece off and anything eaten with your fingers tastes better.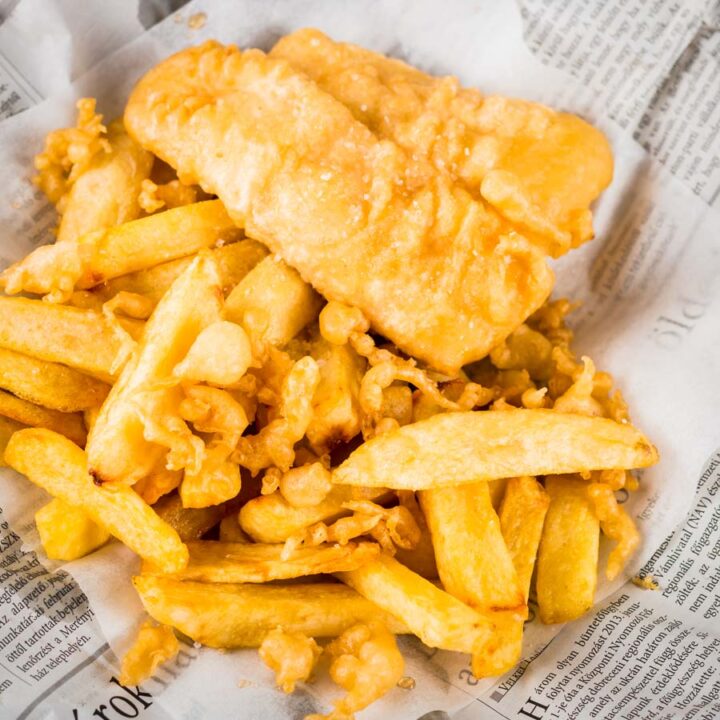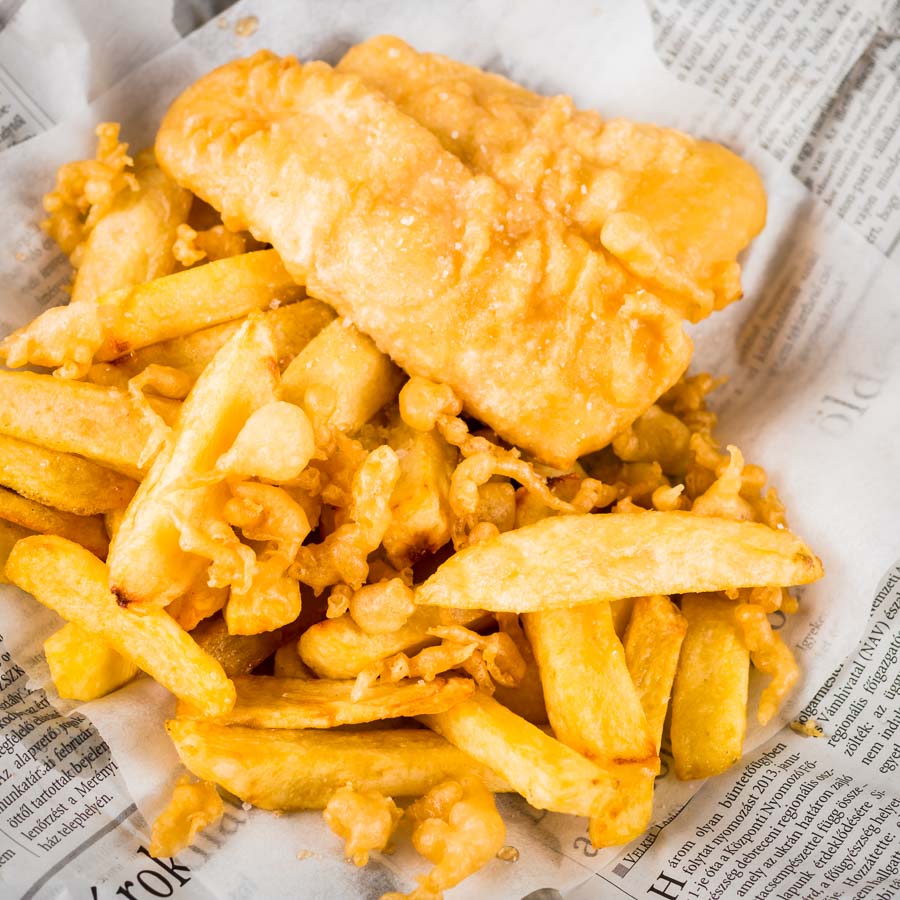 Yield:

2 Servings
Chip Shop Fish & Chips Recipe
Proper Chip Shop fish and chips are a thing of great beauty and possibly the most evocative memory of growing up in the UK.
Ingredients
600 g Potatoes
150 g Plain Flour
50 g Cornflour
1 Pinch Salt
150 ml Beer
300 g Pollock
Malt Vinegar, to taste
Salt, to taste
Oil for deep frying
Instructions
Preheat your deep fat fryer to 140°C or 285°F.
Diced your potatoes into chips roughly 1cm in profile. Don't worry about the roundness, keep aiming for 1cm the smaller chips go crispy giving the little crispier parts which are my favourite.
Add your chips to the oil, if possible use beef dripping or lard... But I will let the health conscious of you out there use what ever oil you like... Who said I am not generous?
Cook your chips until they are soft to the tip of the knife and remove from the oil and drain immediately on some kitchen towels.
You can freeze your chips at this stage if you like, but ensure first that they have been thoroughly drained of oil by laying out in a single layer with kitchen towels above and below.
Turn your deep fat fryer up as high as it will go 180-190°C or 350-375°F.
Sift together the Plain Flour and Cornflour add the salt.
Mix the beer with the flour and cornflour to form a thick batter, don't worry if it is a little lumpy, you will have more batter than you need but don't worry there is a plan for some of that.
Dredge your fish with a little flour and place in to the batter.
even coat the fish with batter.
Place in the oil and hold in the oil for a moment until the batter crisps to prevent the fish from sticking to the bottom of the deep fat fryer.
Cook for approximately 5-7 minutes until the batter has puffed up and gone golden, remove from the oil and drain.
Add the chips to the oil and cook for 2 minutes, remove and drain.
Finally pass some of the batter through a slotted spoon and cook for 2 minutes, fish & chips just aint right with out some batter scraps.
Nutrition Information:
Yield:
2
Serving Size:
1
Amount Per Serving:
Calories:

858
Total Fat:

10g
Saturated Fat:

1g
Trans Fat:

0g
Unsaturated Fat:

8g
Cholesterol:

137mg
Sodium:

560mg
Carbohydrates:

131g
Fiber:

9g
Sugar:

11g
Protein:

54g