Chip shop style fried fish is easy to make at home, the batter contains just 5 ingredients & it is gloriously crispy, just add salt & vinegar.
My version uses haddock fillet, but you could also use cod, pollock, coley or even plaice and get the proper chippy experience!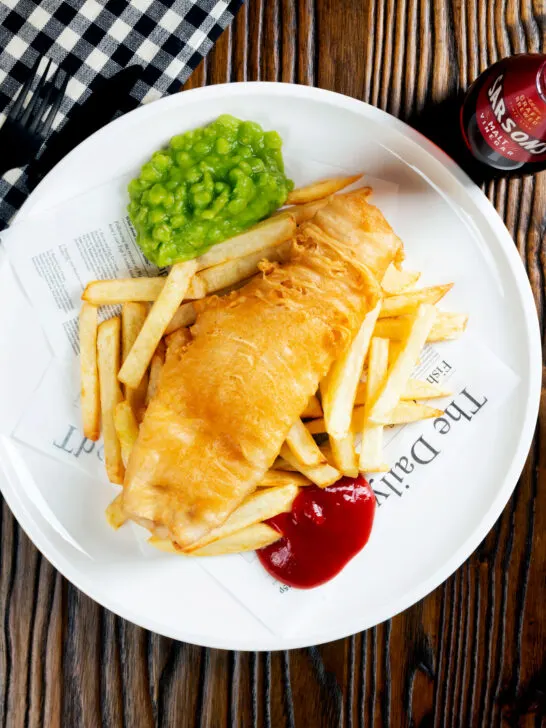 Chippy Fried Haddock in Crispy Batter
Growing up a trip to the chippy was a proper indulgence and always felt special.
My usual request was saveloy and chips, but proper crispy battered chip shop fish was a real indulgence. There is a lot of talk about the price of a trip to the chippy of late, but it was certainly a lot for us back then!
Fish on the menu tended to be some breaded cod, frozen of course, or some fish fingers.
If you still have childhood yearnings for fish fingers check out my fish finger curry and fish finger and baked bean pie.
This is my ode to my childhood memories of battered fish, I use haddock rather than cod. Probably because those frugal memories still chime hard when I see the price!
It is remarkably quick and easy to cook, taking 5 or 6 minutes to prepare and just 10-12 minutes to cook two portions.
Go ahead, break out the salt and vinegar and bring the chippy home!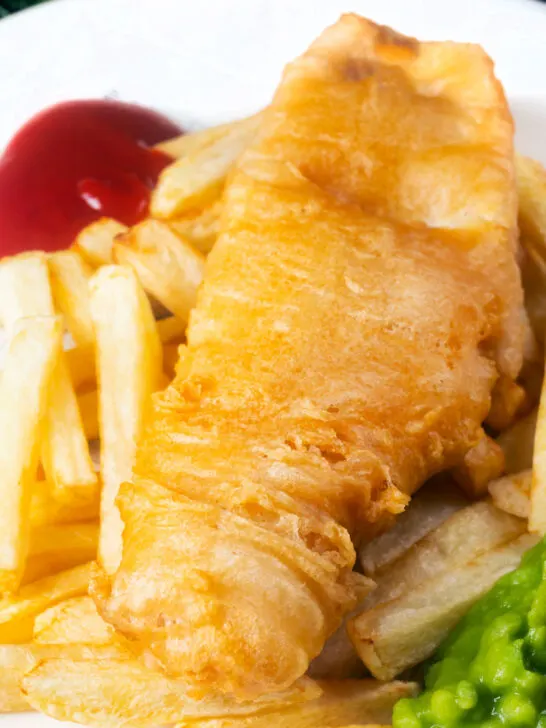 Frequently Asked Questions
What type of fish is best to use?
If you are heading to your fishmonger, then they are the best people to ask. They will know what is fresh and they are always really helpful, just tell them that you are after some fillet of fish for frying.

If you have a choice then you could use everything from cod to haddock and coley or pollock to plaice.

I usually choose haddock, but coley and pollock are wonderful budget options.
How long will the batter stay crispy?
You will get a good 10 minutes from this batter before it starts to flag. This gives you plenty of time to fry a second piece and finish off some chips too!
How do I plan my time if I am cooking fish and chips?
If you are cooking oven chips they take around 20 minutes in the oven, you should put your oil on to heat up 3-4 minutes into their cooking.

Then move onto the batter, dredge the fish and then fry, these are the timings for two portions.

If you are cooking my chip shop chips, put the chips on for the first fry, then remove and place on kitchen paper and turn up the heat.

Whilst the oil is heating make the batter, dredge the fish, coat it and then fry it. Keep the fish warm in an oven at 120°C or 250°F for a couple of minutes whilst you give the chips a final fry for 2 minutes.
Can I use beer in the batter?
Yes, feel free to replace the water with beer or cold sparkling water. It is certainly not traditional in chip shop batter but it works wonderfully.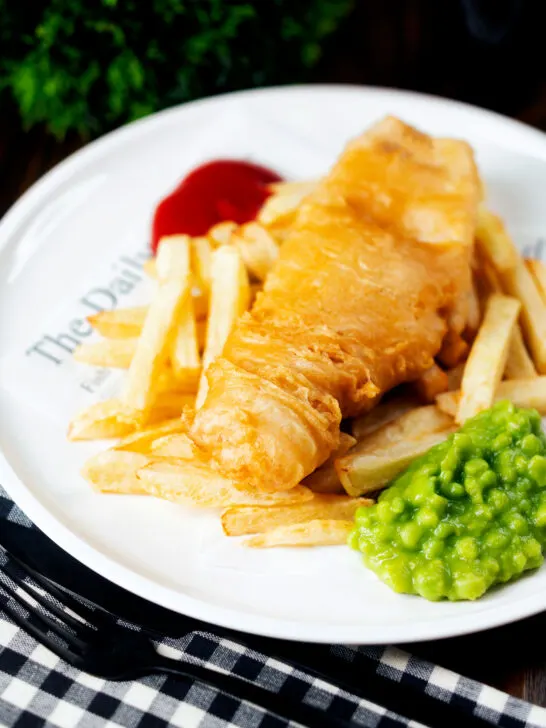 Serving Suggestions
Well, there is only one thing to serve with chip shop style fried fish and that is of course some old school chippy chips!
That is before you get to the obligatory salt and vinegar that is!
When it comes to fish and chips I am a mushy peas and tomato ketchup kinda chap.
My wife is a northern lass and has a fondness for chippy gravy. Whereas I'm a Brummie and it is chip shop curry sauce all the way for me.
Don't forget to add a pickled egg or wally on the side to go all the way back to my youth!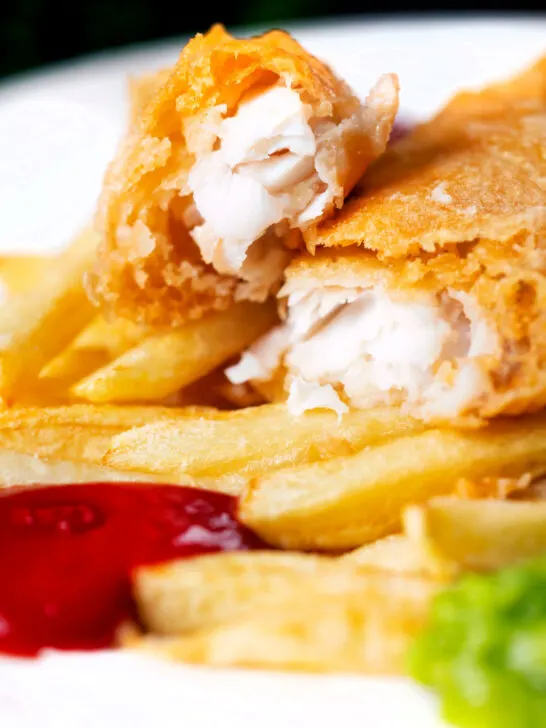 Equipment Used
I only mention specific brands of equipment if I think that they make a material difference to a recipe. But if you have any questions feel free to ask them in the comments below the recipe.
Deep fat fryer, or a large pan to fry the fish. I personally would not make this without a fryer!
Mixing bowl.
Whisk.
Slotted spoon.
Weighing scales and or measuring jug cups and spoons.
Kitchen paper.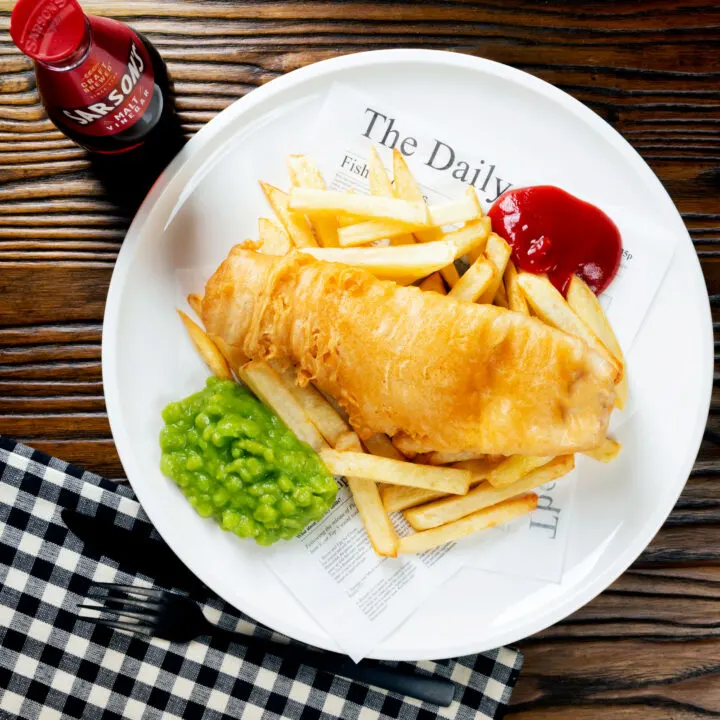 Yield:

2 Servings
Chip Shop Fish Recipe in Crispy Batter
When it comes to fish and chips, it's hard to beat the great British chip shop, this is my recipe for fried fish in crispy batter alla chippy!
Ingredients
375-400g Cod, Coley, Pollock, or Haddock
125g (1 Cup) Self Raising Flour (Plus extra to dust the fish)
3 Tbsp Cornflour
2 Tsp Baking Powder
1 Tsp Salt (Plus extra to season the fish)
175ml-200ml (¾ Cup - ¾ Cup + 2 Tbsp) Cold Water
Oil for Frying
Instructions
Dry the fish fillets well with kitchen paper.
Pre-heat the oil for frying to 170°C or 340°F.
Place the self-raising flour, cornflour, baking powder, and salt in a large mixing bowl and give it a whisk.
Whisk in the cold water, the colder the better, to form a batter.
Season the fish fillets with salt and dust them with flour, then dip them into the batter to get a nice even coating.
Add the fish to the hot oil, lowering it into the oil slowly to allow it to form a seal and prevent it from sticking to the basket.
Fry for 4-5 minutes or until golden and very crispy, then drain on kitchen paper to absorb any excess oil.
Sprinkle with salt and vinegar and get stuck in!
Nutrition Information:
Yield:
2
Serving Size:
1
Amount Per Serving:
Calories:

506
Total Fat:

19g
Saturated Fat:

1g
Trans Fat:

0g
Unsaturated Fat:

16g
Cholesterol:

124mg
Sodium:

2094mg
Carbohydrates:

40g
Fiber:

1g
Sugar:

0g
Protein:

42g
Calorific details are provided by a third-party application and are to be used as indicative figures only.