Smoked haddock rarebit on toast with beef tomatoes is a wonderfully indulgent & comforting dish based on a classic British Welsh rarebit.
Classic techniques are at the heart of this recipe, but it is an easy dish to cook and will go from your fridge to your table in a little over 30 minutes.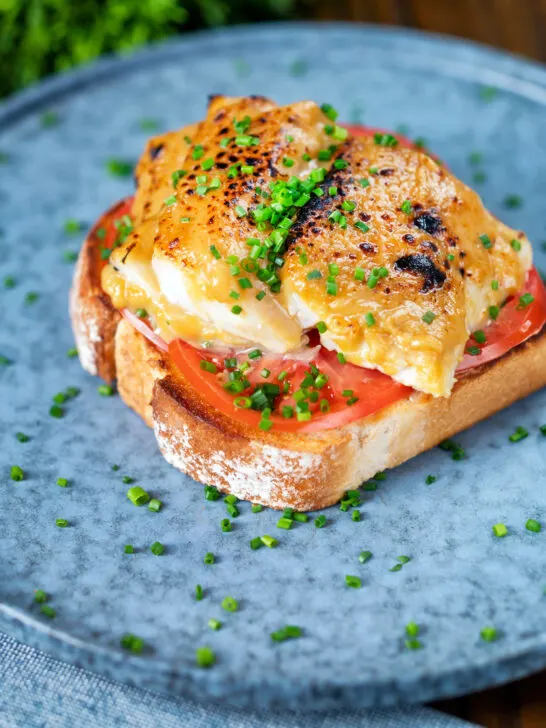 Smoked Fish Welsh Rarebit
I adore Welsh rarebit, as far as I am concerned it is my indulgent breakfast of choice. I request it, without fail, every birthday, forget a fry up it is the hangover cure to beat all others.
So any opportunity to add a bit more rarebit to my life is eagerly accepted!
This smoked haddock rarebit is a recipe inspired by a British chef called Gary Rhodes and it dates back to the mid 90's. Gary was probably one of the leading lights in changing the perception of British food and was one of the first cooks that really got me excited about cooking in my teens.
Now I'm not keen on the whole cheese and fish thing, but there are a few exceptions.
The classic French cod mornay and my cheesy smoked haddock gratin join this dish as exceptions that highlight my food rule inconsistencies 😉
It features smoked haddock steeped in milk… that milk is then used to make a classic bechamel sauce.
The bechamel sauce gets a handful of cheese, a splash of beer, Worcestershire sauce and a good dollop of mustard before being poured over the haddock.
It's all finished off under the grill until bubbly and golden and served on toast with thinly sliced beef tomato.
If "stuff" on toast is your thing, check out my other offerings, devilled kidneys on toast, devilled mushrooms on toast and garlic mushrooms on toast!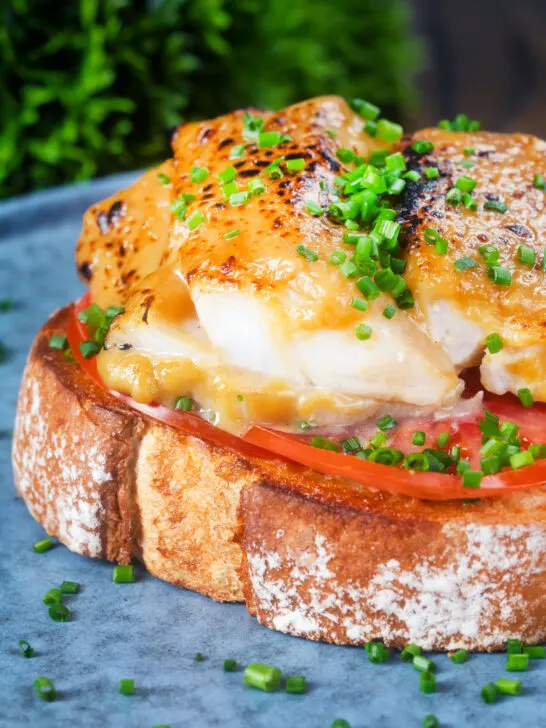 Frequently Asked Questions
Can I use any other smoked fish?
Yes, but it really does need to be a smoked white fish… I have also seen smoked cod in some places which would work equally well.

I personally would not use smoked trout, mackerel or salmon, I will caveat by saying that I have not tried it but it does not sound great!
Can I use a different type of cheese?
As far as I am concerned a good mature cheddar is the best cheese for a Welsh rarebit.

However, it also works quite well blended with something like Wensleydale, Cheshire or Lancashire cheese.

Avoid stringy mild cheeses like mozzarella or Swiss cheeses.
What beer should I use?
Honestly, use something that you want to drink because this recipe only uses a splash of beer.

I use porter or stout, but it works equally well with a golden ale, I am not keen on the flaovur that lagers, pilsners or even IPA's add to this recipe.
Do I have to add the egg yolk?
No, but it does add a beautiful sheen and silkiness to the rarebit topping.
Can I use a different type of mustard?
If you must, but from a flavour point of view English mustard (the pokiest of prepared mustards) is the best to use in this recipe.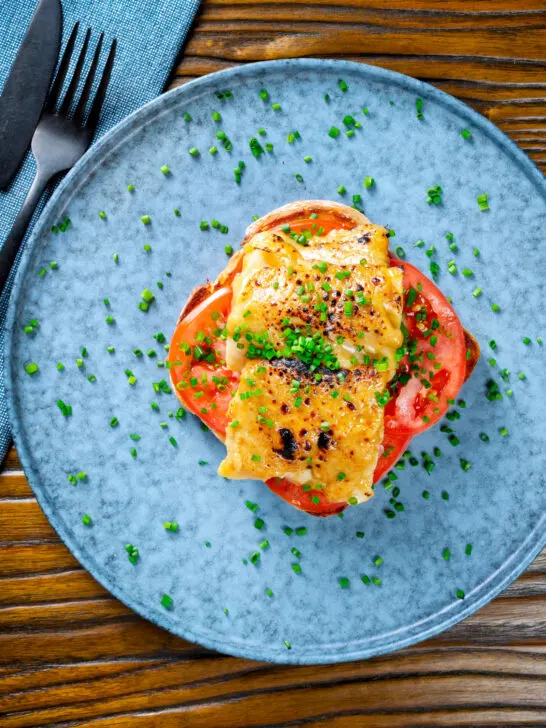 Serving Suggestions
Generally speaking, I will serve this haddock rarebit recipe on toast as a light (but calorific) stand-alone meal, but you could also take the dish and turn it into something a little more substantial.
If you want to bulk this out I would ditch the bread and look to potatoes for the side.
Everything from mashed potatoes to fried potatoes would work wonderfully as would some simple herby boiled potatoes.
In all of these instances, I would add a simple tomato salad with more chives which gives it a similar vibe to my original recipe.
A slightly lighter option on the side would be a salad, a simple green salad would work well, but my samphire salad would be awesome!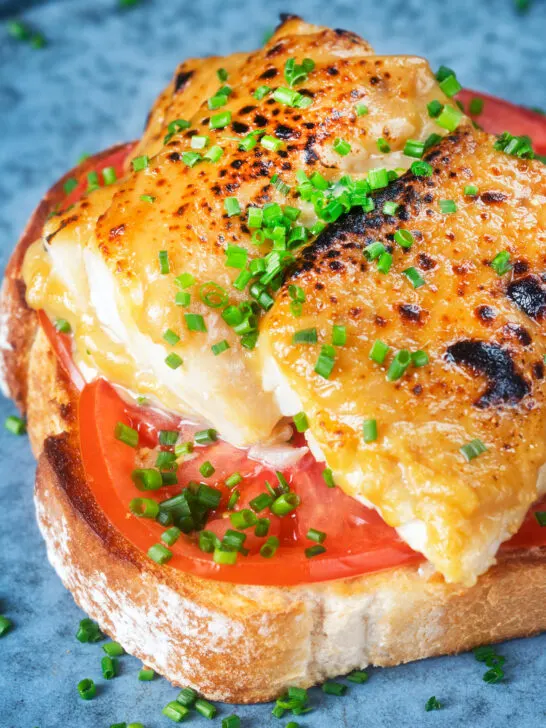 Equipment Used
I only mention brands of equipment if I think that they make a material difference to a recipe. But if you have any questions feel free to ask them in the comments section below the recipe.
Stovetop.
Grill (broiler).
18cm or 7″ saucepan.
Shallow bowl to steep the haddock. I use an oval bowl that's around 22.5cm or 9″.
Grater.
Chopping board.
Kitchen knife.
Stirring spoons.
Fish slice or spatula.
Weighing scales and or measuring jug, cups and spoons.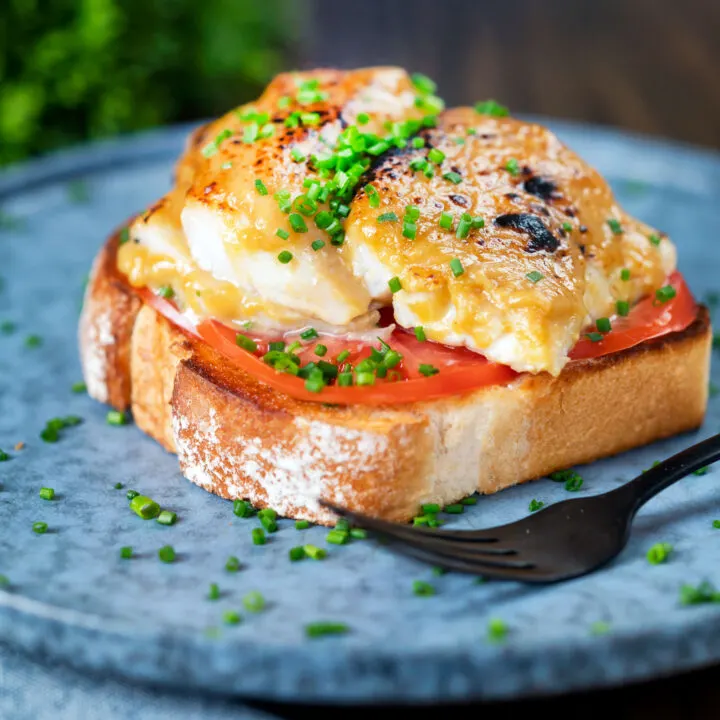 Yield:

2 Servings
Smoked Haddock Rarebit Recipe with Tomatoes
Smoked haddock rarebit is a modern British take on Welsh rarebit that tops steeped fish with a cheesy, beery topping and grills it to perfection and serves it with bread and tomatoes.
Ingredients
300g (11oz) Skinless Smoked Haddock Fillets
300ml (1¼ Cups) Milk
50g (½ Cup) Cheddar Cheese
15g (1 Tbsp) Butter plus extra for buttering toast
15g (2 Tbsp Cup) Plain Flour
1 Egg Yolk
2 Tbsp Dark Beer (I use a porter)
1 Tbsp Worcestershire Sauce
½ Tbsp English Mustard
1 Beef Tomato
Dash of White Pepper
2 Slices of Thick Cut Bread (160g Total)
Lots of Fresh Chives
Instructions
Heat the milk in a 18cm or 7" saucepan to a point just before it begins to boil, you can do this by eye, but you want to aim for about 90-95°C or 195-203°F.
Place the haddock in a shallow bowl and pour over the milk and let it sit for 10 minutes. I use an oval bowl about the same length as the haddock fillets, around 22.5cm or 9".
Grate the cheddar cheese.
Mix together the beer, Worcestershire sauce and mustard and set aside.
Thinly slice the beef tomato.
Finely chop the chives.
After the fish has been steeping for 10 minutes carefully remove it from the milk trying to keep it in one piece, keep the milk, and we will use it to make the rarebit sauce.
Clean out the saucepan that you used earlier to heat the milk place it on a medium heat and add the butter, when the butter has melted add the flour and cook it for 2-3 minutes stirring constantly.
Pour in the beer, mustard and Worcestershire sauce mix and stir until it forms a thick smooth paste.
Now add as much of the milk as is needed to form a nice white sauce, this will be between 75ml and 125ml (⅓-½ Cup).
Add the cheese and stir until it melts.
Remove the pan from the heat add the white pepper and egg yolk and stir to combine.
Cut the haddock fillets into 3 and stack them so that they will fit on top of the bread and place them on a grill tray covered with kitchen foil.
Pour the rarebit sauce over the fish and slide it under the grill for 3-4 minutes.
Whilst the rarebit is under the grill toast your bread and butter it, if you need to use the same grill, toast the bread first and keep it warm on the shelf below the grill.
Add the sliced tomatoes to the toast and sprinkle with a pinch of coarse sea salt and some of the chives, then top with the fish, finally sprinkle on loads more chives and serve immediately.
Nutrition Information:
Yield:
2
Serving Size:
1
Amount Per Serving:
Calories:

802
Total Fat:

33g
Saturated Fat:

17g
Trans Fat:

1g
Unsaturated Fat:

14g
Cholesterol:

302mg
Sodium:

1965mg
Carbohydrates:

54g
Fiber:

3g
Sugar:

11g
Protein:

67g
Calorific details are provided by a third-party application and are to be used as indicative figures only.