Welsh Rarebit is cheese on toast turned up to 11, forget grilled cheese, this classic British recipe really is the best!
A rarebit sauce is all about butter and cheese and milk, so maybe if you have a dairy thing you should look away now.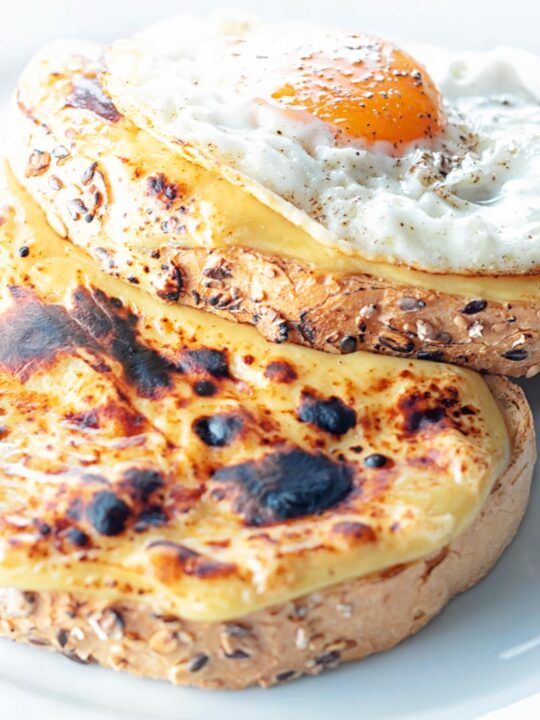 Cheese on Toast Turned up to 11!
This is a strange old beast but I love it. For years I thought it was cheese on toast with a bit of Worcestershire sauce.
Before that, as a child, I thought it was called welsh rabbit. I seriously grew up thinking this was a rabbit stew!
But oh no this is cheese on toast turned up to 11 and it is my favourite indulgent breakfast/supper dish.
Of course not one to have on a daily basis, to call it a naughty dish is being polite! Although it is not as indulgent as a chicken parmo, which swaps out the bread in this for a breaded fried chicken and then adds more cheese!
For us, it is a treat breakfast recipe. Usually, something that we will have on one of our birthdays or maybe over Christmas.
In that sense, it is very much like my Irish Boxty recipe!
I do not add beer to my rarebit, because despite having a bit of a rep as a beer monster, beer for breakfast is only allowed at an airport.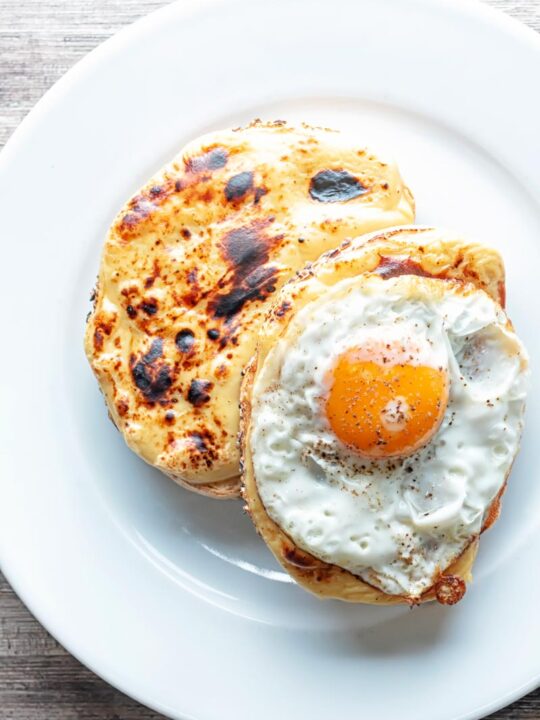 What is Buck Rarebit?
It is essentially Welsh rarebit with egg!
I was watching Masterchef last weekend it formed one of the skills challenges and they asked for a Buck Rarebit. Something I had never heard of.
So I figured I would give it a go, wow where has that fried egg been for all these years?
It adds so much to such a simple dish and is now a permanent fixture in an already favourite dish!
A real Rarebit recipe has no subtlety at all. It screams with huge great big flavours.
Sharp cheddar, mustard and Worcestershire sauce all in a bechamel sauce enriched with egg yolk. Then toasted until gooey and unctuous.
I've even heard of beer being added and have tried it but it is not for me.
I'm not much of a person for brand names, you will note there is no product placement here. However, when it comes to Worcestershire sauce there is only one to use.
Every single other version is a mistake and a poor imitation, so make sure you use Lea & Perrins in your rarebit recipe.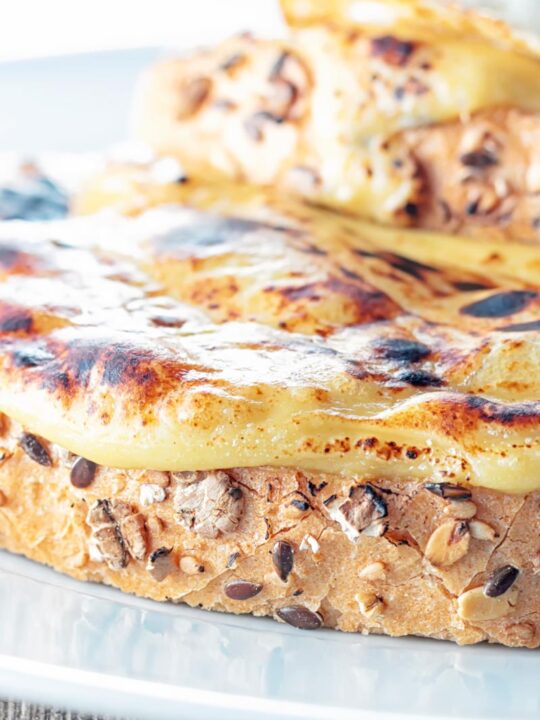 What Cheese Should You Use?
Cheese for me is my indulgent ingredient. A food that is loaded with fat and as far as I am concerned, you should go with that.
But in this Welsh Rarebit recipe, you need something good and sharp.
To my mind there is only one cheese to use here and it is a good crumbly mature cheddar cheese!
The notion of low-fat cheese is quite frankly absurd as far as I am concerned. I don't eat a lot of cheese despite loving it for that very reason.But when I do I always go proper full-on indulgent, as you will know if you have seen my deep fried Camembert!
So make sure you do not mess around with the cheese, no 'mild' cheddar, which is not really cheddar at all!
No low-fat cheese, which is not really cheese at all! Good quality properly aged mature cheddar cheese!
This recipe is "unhealthy" when taken in isolation, pure and simple. Lots of cheese, full-fat milk, butter, buttered toast, embrace it, but don't have it every day. Simple.
Diet 101 courtesy of Krumpi. Now go get stuck in and if you are feeling particularly indulgent add a big spoonful of my red cabbage chutney on the side!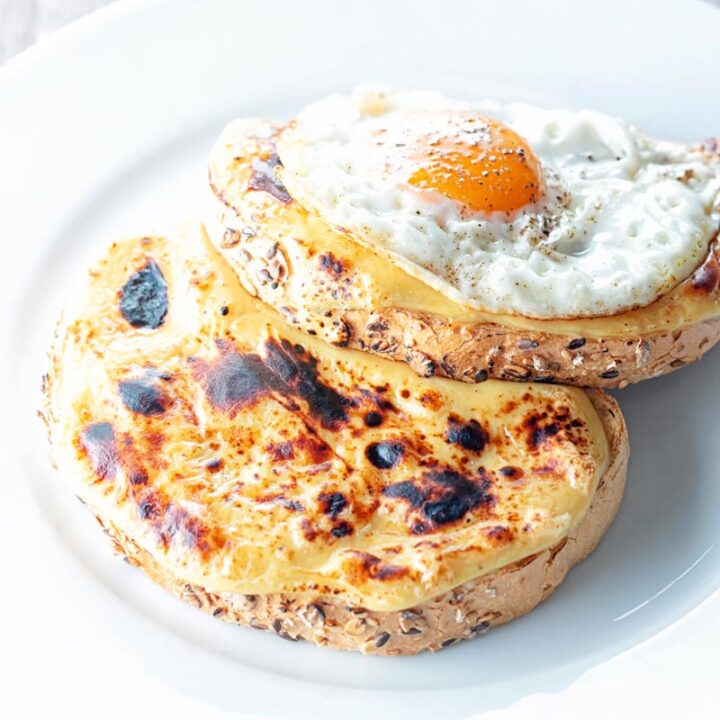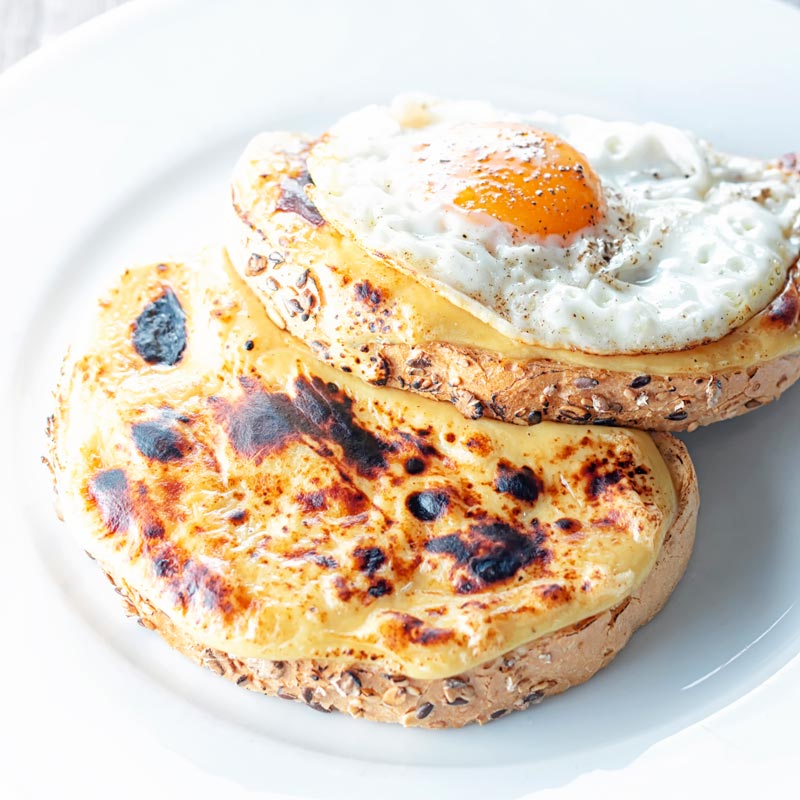 Yield:

2 Servings
Welsh Rarebit Recipe
Welsh Rarebit is gloriously indulgent and seriously sinful, if you believe food can be sinful of course, but for me it is pure magic!
Ingredients
300 (1 1/4 Cup) ml Milk
30 g (2 Tbsp) Butter
30 g (3 3/4 Tbsp) Plain Flour
2 Tsp English Mustard
2 Tsp Worcestershire Sauce
75 g (3/4 Cup) Cheddar Cheese
1 Egg Yolk
4 Slices Bread
Instructions
Heat the milk in a small pan until just before boiling point.
Melt the butter over a medium heat without foaming and then add the flour and cook for 2-3 minutes stirring constantly.
Add the milk a little at a time stirring constantly until a smooth white sauce is created.
Throw in the cheese, Worcestershire sauce, mustard and cheese and keep stirring until melted and smooth.
Remove from the heat and stir in the egg yolk.
Lightly toast both sides of the bread, I like to butter my toast, in for a penny in for a pound 😉
Then spread on the cheese sauce topping and return to the grill until nicely caramalised.
Notes
Serve with a fried egg if you like, apparently this is called a Buck Rarebit!
Nutrition Information:
Yield:
2
Serving Size:
1
Amount Per Serving:
Calories:

593
Total Fat:

32g
Saturated Fat:

18g
Trans Fat:

1g
Unsaturated Fat:

12g
Cholesterol:

174mg
Sodium:

842mg
Carbohydrates:

53g
Fiber:

2g
Sugar:

4g
Protein:

23g
Calorific details are provided by a third-party application and are to be used as indicative figures only.