Welsh Rarebit is the ultimate cheese on toast, a rich cheese sauce with English mustard & Worcestershire sauce grilled until golden & bubbly.
My rarebit sauce omits beer, mainly because this is my favourite indulgent breakfast, but the liberal sprinkling of Worcestershire sauce and mustard means it lacks for nothing in the flavour department!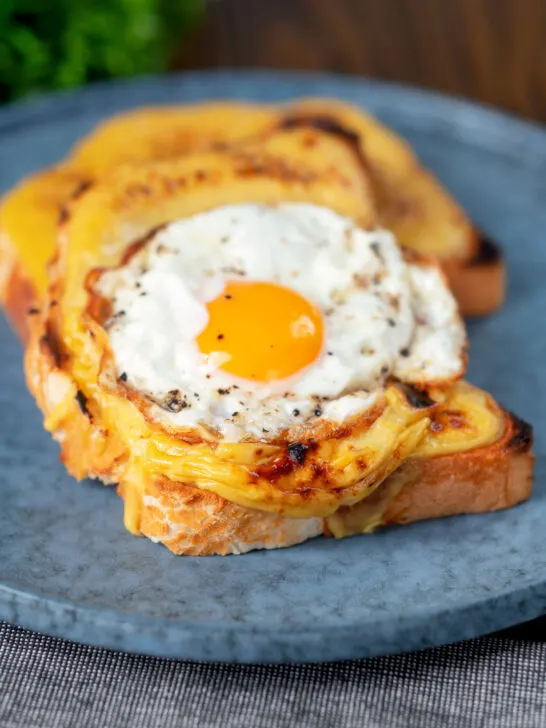 Welsh Rabbit
Welsh rarebit is a strange old beast of a recipe. For years I thought it was cheese on toast with a bit of Worcestershire sauce, which it was back in the 18th century.
It evolved over time to become a "spiced" cheese sauce that was slid under the grill.
As a dish it so often gets called Welsh rabbit, for good reason, that name predates the rarebit version by about half of a century.
It is thought that the "Welsh" part of the name was used in a pejorative sense, how true that is who knows. The implication was that only the Welsh would call cheese on toast "rabbit", odd really when you consider that we are a nation that loves toad in the hole and spotted dick!
But enough history, it is glorious! The cheese sauce is not dissimilar to the one used in the outrageously indulgent chicken parmo from Middlesborough.
The cheese sauce starts life as a classic bechamel, much like the French classic cod mornay, and my smoked haddock gratin.
But it gets a healthy dash of flavour thanks to English mustard and Worcestershire sauce.
Two ingredients that form the base of many British "devilled" recipes, I have both in my devilled mackerel fillets and devilled mushrooms on toast recipes.
I usually round mine out with a fried egg and turn it into buck or golden rarebit.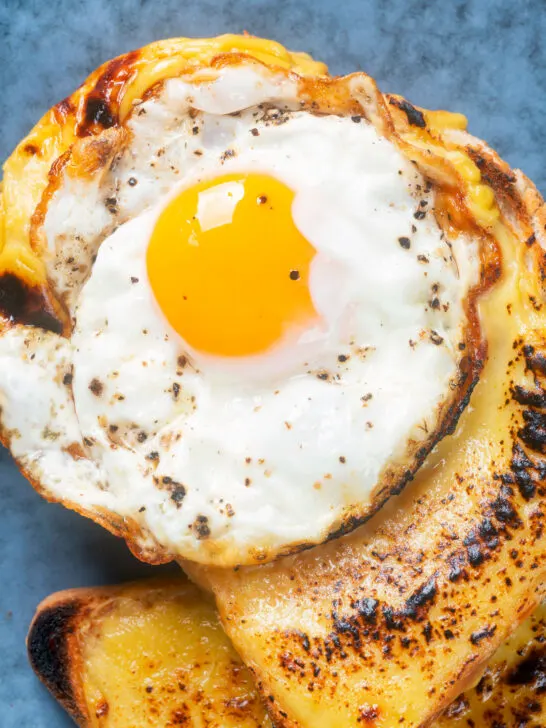 Frequently Asked Questions
What cheese should I use?
As far as I am concerned there is only one cheese for this recipe and that is a really good sharp properly matured British cheddar cheese.

Feel free to play around with additions and blend in cheese like Cheshire or Lancashire for acidity. Wensleydale mixes a little sweetness with the acidity, but stick with cheddar as the base flavour.
Is this vegetarian?
Worcestershire sauce is made in anchovies, so out of the box no it is not.

You could replace the Worcestershire sauce with Henderson's relish, which is a similar condiment with a vociferous following. I use it in place of Worcestershire sauce in my vegan and vegetarian dishes where I would typically use Worcestershire sauce.
Do I have to use English mustard?
We so often fall into absolutes, I prefer really pokey English Mustard in my rarebit. But you should absolutely use what you like!

Dijon is the least pokey of mustards, but you could use German mustard or even whole-grain mustard in this recipe.
Why is there no beer in this recipe?
Many traditional Welsh rarebit recipes call for beer and it is a lovely addition.

However, as I have alluded to above, this recipe for me is usually a late-morning indulgent breakfast/brunch… and my days of beer for breakfast are a long way behind me!

I do use beer in the topping for my smoked haddock rarebit recipe, so if you are curious you could take a look there!
What does the egg yolk do in the sauce?
The egg yolk adds a wonderful sweetness and glaze to the cheese sauce when you slide it under the grill.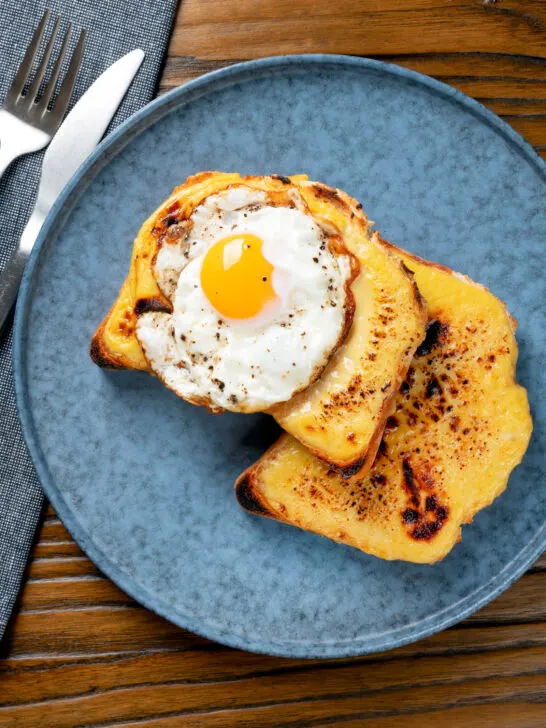 Serving Suggestions
As I have mentioned above I like to serve my Welsh rarebit with a fried egg, it turns it into a buck rarebit.
It is fantastic for a late breakfast and it is a cracking hangover remedy, but it works well as a light but calorific meal any time of the day.
It's not a dish that I serve with a side, you could of course add a side salad and it is great with some slices of good fresh tomato.
I am however rather fond of adding some chutney or pickle on the side.
I've used everything from my red cabbage chutney and apple chutney to piccalilli and even a big dollop of Branston pickle.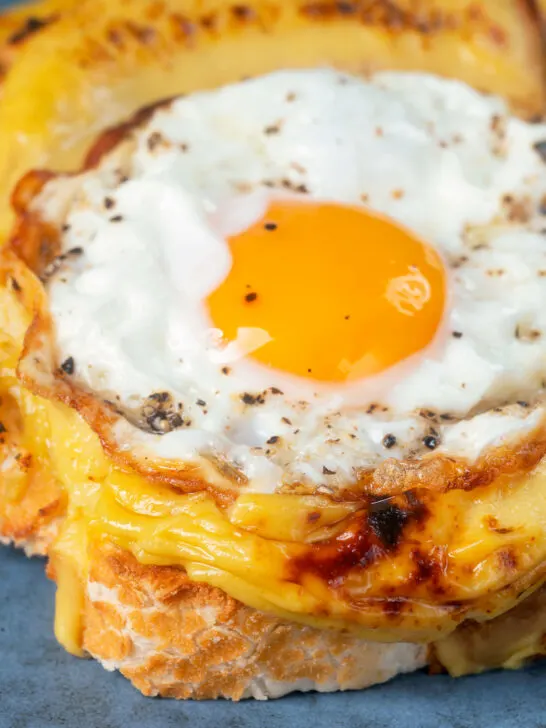 Equipment Used
I only mention specific brands of equipment if I think they make a material difference to a recipe. But if you have any questions feel free to ask them in the comments section below the recipe.
Stovetop.
Grill or broiler.
Small 12-15cm or 4-6″ milk pan.
18cm or 7″ saucepan.
Small frying pan large enough to fry 2 eggs if you are making buck rarebit.
Butter knife.
Grater.
Weighing scales and or measuring cups and spoons.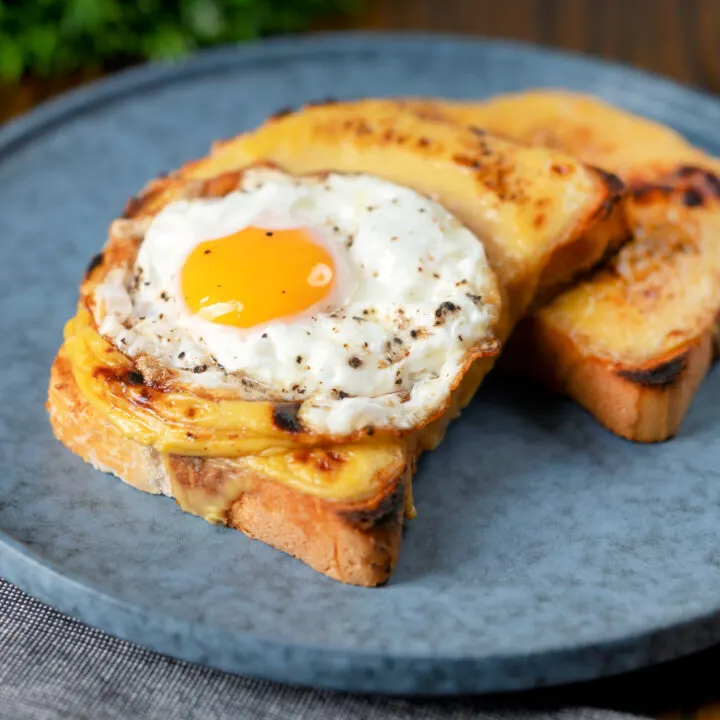 Yield:

2 Servings
Welsh Rarebit Recipe
Welsh Rarebit is gloriously rich and indulgent, it essentially consists of a cheese sauce that starts off life as a classic bechamel, then loads of sharp cheddar, Worcestershire sauce and mustard are added before it is grilled on top of some well-buttered toast!
Ingredients
300ml (1¼ Cup) Milk
30g (2 Tbsp) Butter plus extra for buttering toast
30g (¼ Cup) Plain Flour
½-1 Tbsp English Mustard
1-2 Tbsp Worcestershire Sauce or Henderson's Relish (The latter is vegetarian)
75g (¾ Cup) Cheddar Cheese
1 Egg Yolk
4 Slices Bread
Eggs for Frying if you are making Buck Rarebit
Oil for Frying Eggs if Needed
Instructions
Heat the milk in a small pan until just before boiling point.
Melt the butter over a medium heat without foaming and then add the flour and cook for 2-3 minutes stirring constantly.
Add the milk a little at a time stirring constantly until a smooth white sauce is created.
Throw in the cheese, Worcestershire sauce, mustard and cheese and keep stirring until melted and smooth.
Remove from the heat and stir in the egg yolk.
Lightly toast both sides of the bread, I like to butter my toast, in for a penny in for a pound 😉
Then spread on the cheese sauce topping and return to the grill until nicely caramalised.
Notes
Serve with a fried egg if you like, apparently this is called a Buck Rarebit!
Nutrition Information:
Yield:
2
Serving Size:
1
Amount Per Serving:
Calories:

950
Total Fat:

57g
Saturated Fat:

33g
Trans Fat:

2g
Unsaturated Fat:

19g
Cholesterol:

233mg
Sodium:

1392mg
Carbohydrates:

83g
Fiber:

4g
Sugar:

17g
Protein:

28g
Calorific details are provided by a third-party application and are to be used as indicative figures only.