Smoked haddock gratin in silky white sauce with potatoes, wilted spinach & a golden cheddar cheese & breadcrumb topping, proper comfort food.
The white sauce is a simple bechamel that is flavoured by the smoked haddock which is lightly poached in the milk, and it is all cooked until bubbling and unctuous.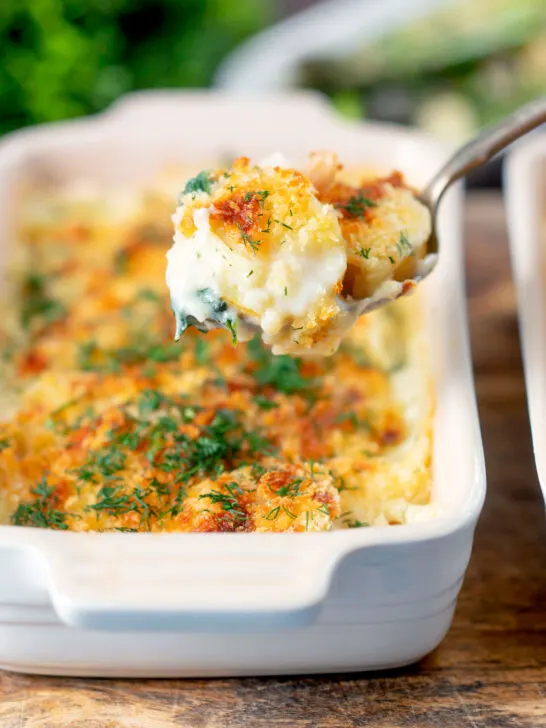 Smoked Haddock and Potato Bake
I adore smoked haddock, it has such a wonderful rich smoky flaovur and an incredible texture that works so well in this awesome gratin.
It appears here in dishes like my smoked haddock fishcakes, smoked haddock rarebit on toast and stirred through my creamy smoked haddock risotto.
Here it is gently steeped in hot milk which is then used to make a bechamel sauce. A process that sits at the heart of my simple parsley sauce.
After being flaked up and stripped of its skin it is mixed with parboiled potatoes.
The topping is some great cheddar cheese, and some crispy breadcrumbs and it is all baked until it is golden and bubbly.
If this recipe is your kinda thing then you must check out my cod mornay recipe!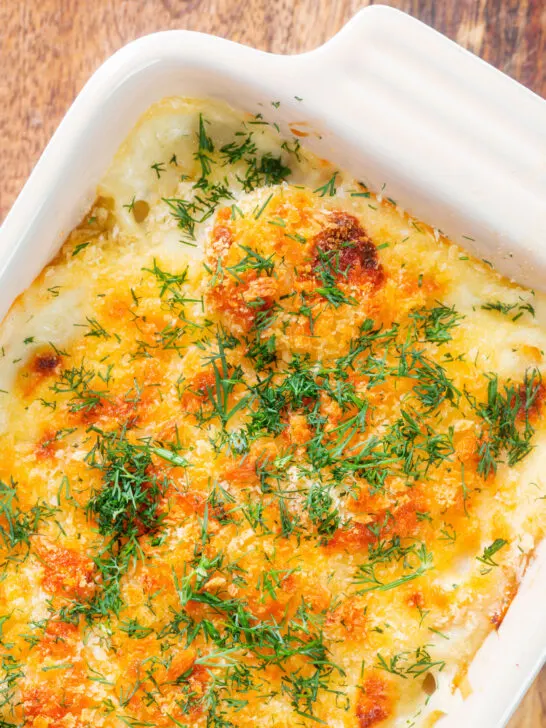 Frequently Asked Questions
Can I make this in a single baking dish?
Yes, you would want something that holds around 750-800ml ( just over 3 cups) of liquid.

They are sadly difficult to find, the best ones I have found are oval dishes that are around 25x15x7cm (10x6x3″), but they are still a little large.
Do the type of potatoes really matter?
As far as I am concerned yes.

If you use floury potatoes they add too much starch to the sauce and everything becomes a bit like wallpaper paste. Which ain't great for dinner!
Do I have to add the spinach?
I find that the spinach helps everything release from the bottom of the baking dish. So whilst it is tasty it is also functional.

You could omit it but you may need to scrub a little more when washing up.
Can I use a different cheese?
Yes, but you want something with enough flavour to stand up to the strong flavour of the haddock.

I've made this with both Lancashire and Cheshire cheese and it works well, but my favourite is a good mature cheddar.
Can I make this in advance?
Yes, but I think it is best made at most one day before cooking it in the oven. Everything stands to start separating after that.

But by all means, make it up in the morning or afternoon and then cook it for dinner and it works perfectly.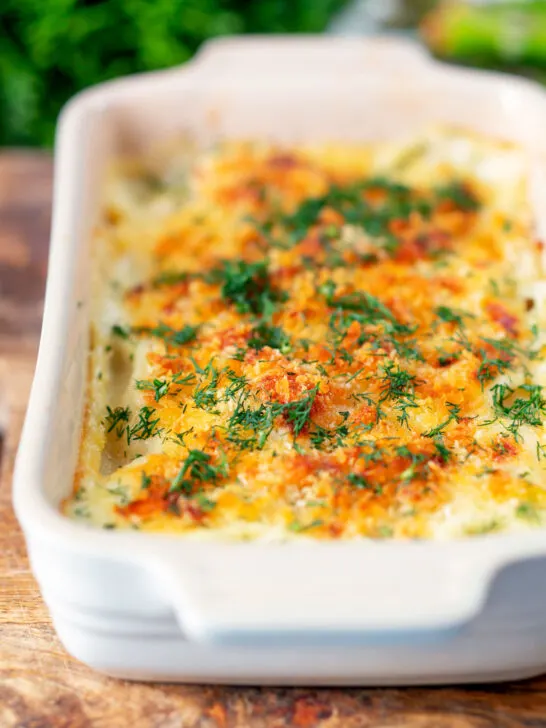 Serving Suggestions
I live to serve this delicious and creamy smoked haddock bake with some simple green vegetables.
It is pictured here served with my air fryer garlic asparagus, but it works equally well with garlic green beans amandine too.
If you are looking for something a little more left field you could throw some savoy cabbage steaks in the oven.
You could even double down on the creamy vibe and serve it with creamed leeks.
I would likely stick lighter though and this is delicious served with my samphire salad. This broccoli salad with cheese would work a treat too.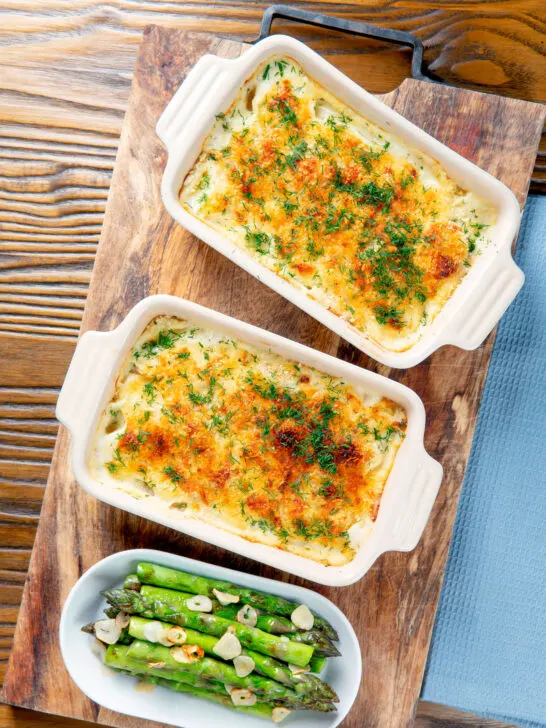 Equipment Used
I only mention specific brands of equipment if I think they make a material difference to a recipe. If you have any questions feel free to ask them in the comments section below the recipe.
Stovetop.
Oven.
Wide-bottomed casserole dish large enough to steep the smoked haddock.
15cm or 6″ saucepan.
20cm or 8″ saucepan.
30cm or 12″ frying pan with a lid.
2 of 18cm x 12cm (7″ x 4″) gratin dishes or baking dishes. I use ones made by Le Cruset and they hold 500ml of liquid.
Whisk.
Stirring spoons.
Mixing bowls.
Fine mesh sieve.
Grater.
Weighing scales and or measuring cups and spoons.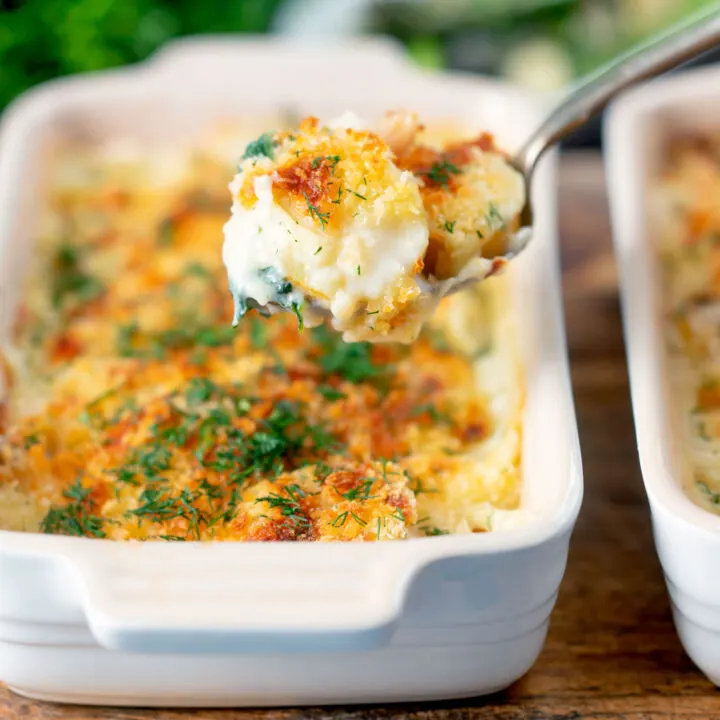 Yield:

2 Servings
Cheesy Smoked Haddock and Potato Gratin Recipe
Cook Time:
1 hour
10 minutes
Total Time:
1 hour
20 minutes
This smoked haddock gratin is a delicious and simple comfort food dish, the milk that is used to poach the fish is used to make a rich cheese sauce before everything is baked until golden and bubbly.
Ingredients
275-300g (10oz) Smoked Haddock
500ml (2 Cups) Full Fat Milk
1 Bay Leaf
12 Black Peppercorns
1 (100g) Small Onion
300g (1⅔ Cups) Salad Potatoes
175g (3-4 Cups) Spinach
30g (2 Tbsp) Butter
30g (¼ Cup) Flour
75g (¾ Cup) Grated Cheddar Cheese
15-20g (¼ Cup) Coarse Dried Breadcrumbs
Salt as mentioned in the instructions
Instructions
Pour the milk into a 15cm or 6" saucepan and add the peppercorns and bay leaf.
Cut the onion in half, then peel it and trim up the root, you do not want the onion to fall apart so do not take off too much, just enough to clean off any roots.
Place the milk pan on the stove and bring it to just below boiling point, then reduce the heat to low and allow it to simmer for 5 minutes.
Place the smoked haddock in a bowl large enough to hold it in a single layer, cut the fish if you need to, and when the milk has had its 5 minutes pour it over the fish and let it sit for 10-15 minutes.
Bring a 20cm or 8" saucepan of water to a boil with 1 teaspoon of salt.
Cut the potatoes into 5-7mm (¼") thick rings and throw them into the pan of boiling water and parboil them for 8 minutes, then drain and set aside.
Place the spinach in a 30cm or 12" frying pan or skillet (with a lid) with a splash (2-3 tablespoons) of water over a medium heat and add a lid, then cook until it wilts completely. Then remove and set aside.
When the fish has had 10 minutes, remove it from the milk, (do not throw the milk away we need it later), then flake the fish, discarding the skin and any bones. Place the fish in a bowl.
When the potatoes are cooked strain them and allow them to steam dry for a minute to two then add them to the flaked fish.
Strain the milk through a fine mesh sieve into a jug and discard the onion, pepper and bay leaf. You will only need 300ml of this (1¼ Cups).
Squeeze as much moisture as possible from the spinach and divide it between two gratin dishes. I use ones that hold around 500ml (2 cups) of liquid and measure 18cm x 12cm (7" x 4").
Divide the potato and haddock mixture between the two bowls.
Heat a 15cm or 6" saucepan over a medium heat and melt the butter, when the butter has melted add the flour and cook for 3-4 minutes stirring constantly.
Pour the milk into the flour and butter mix little by little stirring all of the time until it forms a smooth lump-free sauce. Have a taste and add salt if needed, remember we have slaty cheese to add, salty potatoes and smoked haddock in play.
Divide the sauce between the two gratin dishes, then sprinkle with the grated cheddar cheese and finally the breadcrumbs.
Cook in the oven at 200°C or 400°F for 25 minutes.
If you want a little more colour on the surface of the gratin, pop it under a hot grill for 2-3 minutes.
Nutrition Information:
Yield:
2
Serving Size:
1
Amount Per Serving:
Calories:

699
Total Fat:

26g
Saturated Fat:

15g
Trans Fat:

1g
Unsaturated Fat:

8g
Cholesterol:

175mg
Sodium:

1531mg
Carbohydrates:

62g
Fiber:

6g
Sugar:

11g
Protein:

55g
Calorific details are provided by a third-party application and are to be used as indicative figures only.