Smoked haddock fish cakes, fried until crispy featuring big flakes of fish, capers, spring onions & plenty of butter in a breadcrumb coating.
Shallow fried to perfection I have also added an easy parsley sauce recipe to round out the dish too!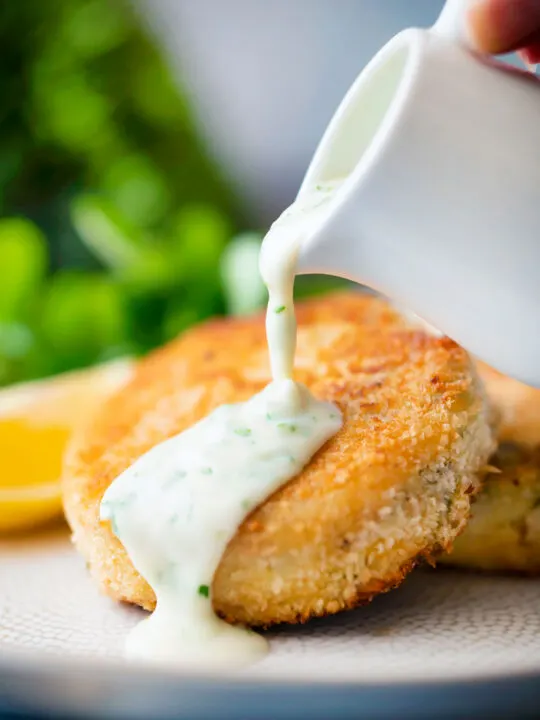 Perfect Fishcakes.
I adore fishcakes, they were a staple growing up and back then they were pretty sorry things.
But a good fishcake is a thing of great beauty and they are so versatile. I have recipes for tinned mackerel fish cakes end tinned tuna Thai fishcakes.
These smoked haddock fish cakes share more in common with my sardine and salmon fishcakes because they feature big flakes of fish.
The smoked haddock is steeped in milk to cook.
Then it is combined with crushed potatoes rather than mashed potato because this gives the fish cakes a much nicer texture.
We add a bit of butter, because, well, butter! Then cut through the richness of the smoked haddock with capers and spring onions.
Finally, the fishcakes are coated in breadcrumbs and shallow fried until crisp and golden.
If smoked haddock is your mojo then you should check out my smoked haddock risotto, smoked haddock rarebit and smoked haddock gratin recipes!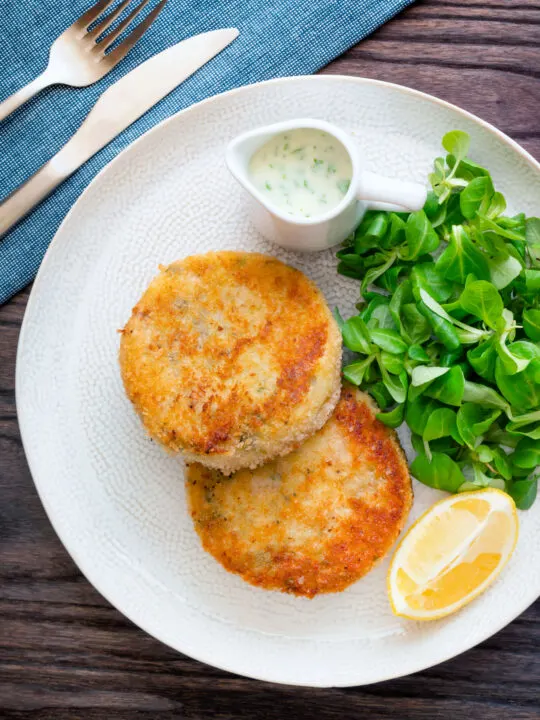 Frequently Asked Questions.
What is the difference between undyed and dyed haddock?
This is a super long discussion that is best held elsewhere. Generally speaking, undyed haddock has a better chance of being of better quality.

This is of course not always the case! Some dyed haddock is traditionally smoked and dyed after to appeal to a market that demands that lurid yellow colour.

Personally speaking, I am not a fan of adding colour to food for effect but I am also not here to preach to you.

You should find a supplier that you trust and go with whatever you prefer.
Does the type of potato really make a difference?
Yes, very much so! Using a waxy potato will lead to a fishcake being more prone to breaking up when it is cooked.

Maris piper potatoes are my favourite for this dish, if you are in the US then a russet potato is the best bet.
Do I have to use capers?
No, you can omit them, I do understand that they can be a bit costly. If you want a similar vibe but also save a few pennies, then chopped dill pickles make a good alternative.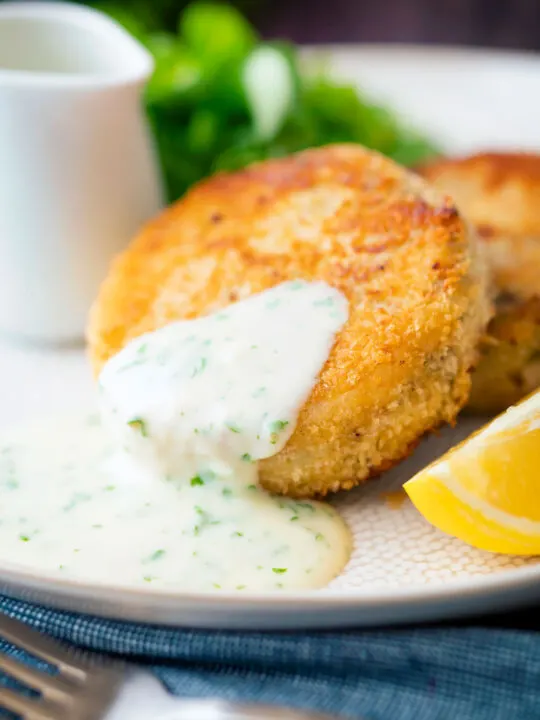 Serving Suggestions.
The pictures of these haddock fish cakes show it served with a white parsley sauce a classic accompaniment for smoked haddock.
I have added the recipe below the fishcake recipe but if you want to find out more you can click through to my parsley sauce recipe.
But there are of course many more options, I adore serving fish cakes with creamed leeks, the flavours are a perfect match. Of course, you can't for wrong with tartar sauce either!
If you want a vegetable side then my garlic green beans would work really well.
Salads make a great side too and something like this pickled fennel and puy lentil salad or my samphire salad would be superb.
Or you could just stick with a nice green salad and a big dollop of mayonnaise or tartar sauce.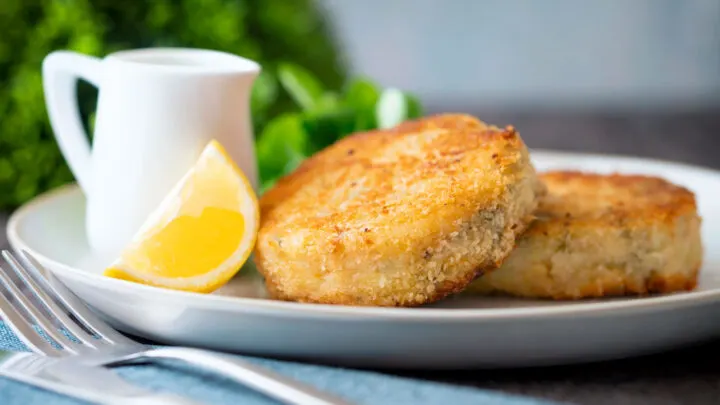 Equipment Used
I only mention brands of equipment if I think they make a material difference to a recipe. If you have any questions feel free to ask them in the comments section below the recipe.
Stovetop.
15cm or 6″ saucepan.
20m or 8″ saucepan.
28m or 11″ frying pan or skillet.
Plates for flour and breadcrumbs.
Flat-bottomed bowls.
Mixing bowls.
Vegetable peeler.
Fish slice.
Potato masher or fork.
Chopping board.
Kitchen knife.
Weighing scales and or measuring cups and spoons.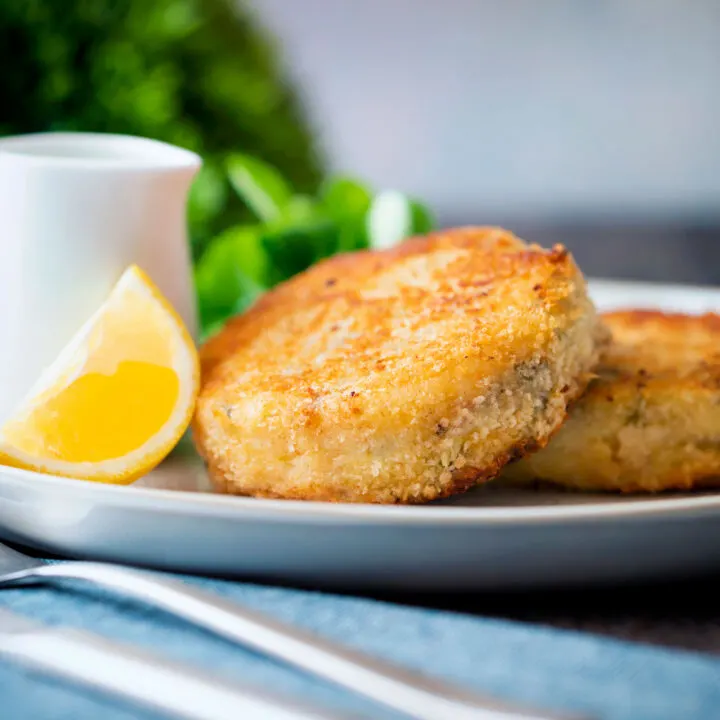 Yield:

2 Servings
Smoked Haddock Fish cakes Recipe
Total Time:
1 hour
10 minutes
Rich smoked haddock fish cakes are an easy meal that can be prepared in advance and cooked in under 15 minutes once prepared. These come stuffed with capers and spring onion to cut through the richness.
Ingredients
450g (1lb) Floury Potatoes
300g (10oz) Smoked Haddock Fillets Preferably Undied
500ml (2 Cups) Milk
4 Spring Onions
50g (⅓-½ Cup) Capers
50g (3 Tbsp + 1 Tsp) Butter
50g (⅓ Cup) Dried Breadcrumbs
25g (3-4 Tbsp) Flour
2 Eggs
Oil for Frying
Salt to Taste
Instructions
Peel the potatoes and cut them into ping-pong ball sized pieces.
Bring a 20cm or 8" saucepan of water to a boil and generously season with salt (1-1½ teaspoons), add the potatoes to the water and cook for 30-35 minutes or until cooked.
Bring the milk to a boil in a 15m or 6" saucepan.
Place the smoked haddock in the bottom of an oven dish that is just large enough for them to fit and pour over the boiling milk.
Allow the fish to sit and the milk to cool whilst the potatoes are cooking.
Place the potatoes in a bowl and mash with a fork, you are looking for a mix of textures, so some well-mashed but also some larger chunks.
Add the butter and two tablespoons of the milk from the smoked haddock and stir to melt the butter.
Remove the skin from the fish and break it into large flakes and add to the bowl with the potatoes.
Roughly chop the capers and add to the potatoes.
Slice the spring onions as finely as you can and again add this to the potatoes.
Mix everything well but do not turn into mush,
Form into 4 fishcakes that weigh around 160-175g (6oz) each, I use a 9cm (3½") cookie cutter to form a nice shape but you can use your hands.
Have a taste of the mix and add salt if needed.
Beat the egg in a flat-bottomed bowl.
Place the flour and breadcrumbs on separate plates.
Dip each fish cake into the flour, then the egg and finally into the breadcrumbs.
Heat some oil around 1cm or half an inch deep in a large frying pan (28cm+) over a medium high heat.
Add the fishcakes and fry until golden on the base, which will take around 5-7 minutes.
Carefully flip and fry the second side for another 5-7 minutes using a spatula to splash oil up the side of the fishcakes to get them nicely coloured.
Notes
I use 3 potatoes that weigh around 150g or 5 and a bit ounces each. It is important to use potatoes that are roughly the same size so that they cook evenly.
Nutrition Information:
Yield:
2
Serving Size:
1
Amount Per Serving:
Calories:

744
Total Fat:

39g
Saturated Fat:

19g
Trans Fat:

1g
Unsaturated Fat:

18g
Cholesterol:

310mg
Sodium:

1330mg
Carbohydrates:

61g
Fiber:

5g
Sugar:

16g
Protein:

38g
Calorific details are provided by a third-party application and are to be used as indicative figures only.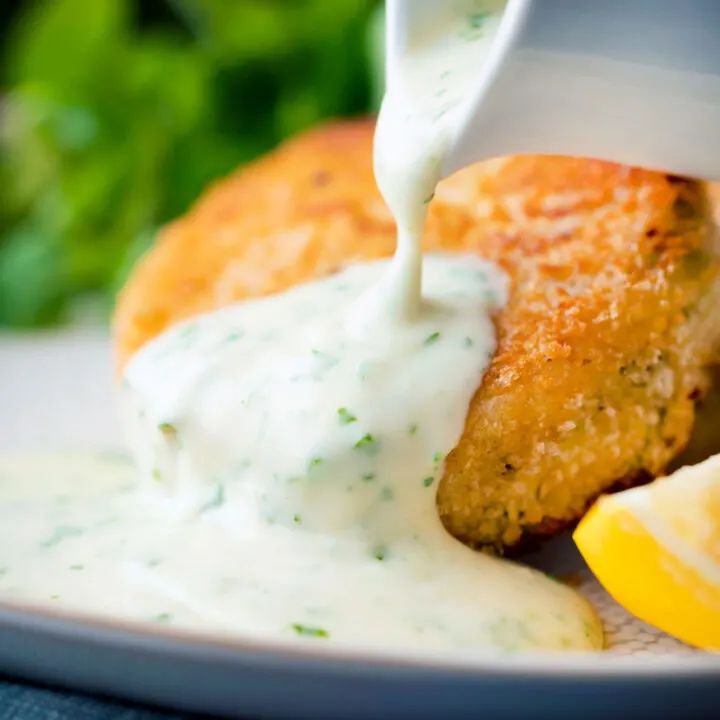 Yield:

2 Servings
Parsley Sauce Recipe
Parsley sauce is a traditional British accompaniment for fish, a classic white roux is prepared before flavoured milk is gradually added to form the silkiest of sauces before getting freshened up with lots of fresh parsley.
Ingredients
30g (2 Tbsp) Butter
30g (¼ Cup) Flour
300g (1¼ Cup) Full Fat Milk
10g (⅔ Cup) Fresh Parsley
¼ Tsp Salt
¼ Tsp White Pepper
For flavouring the milk (Optional):
1 Onion
4 Cloves
1 Garlic Clove
1 Bay Leaf
Instructions
Peel and the onion and then push the pointed end of the cloves into the onion before placing it in a small (15cm or 6") milk pan.
Bash the garlic with the flat side of a knife and add it to the pan and add the bay leaf.
Pour over the milk and bring to a boil, then turn off and allow to cool for 10 minutes.
Chop the parsley as finely as you can.
In a second 15cm or 6" saucepan melt the butter over a medium heat without colouring.
Add the flour to the melted butter and cook stirring constantly for 3-4 minutes, if the flour begins to go beyond light blond colour reduce the heat a little. Do not rush this step, you need to "cook out" the flour so that your sauce does not taste like raw flour.
Remove the flavourings from the milk, then add the salt and white pepper and stir to combine.
Add the milk little by little to the roux base starting with around 3 tablespoons, stir constantly as you add the milk and only add more once the previous addition is completely combined.
Initially, the mix will look like it has split, but it will come together and form a paste. As you add more milk to the paste, it will thin to a beautiful white sauce.
Be careful not to boil the sauce, if it is coming to a boil reduce the temperature a little.
This recipe makes a thick sauce, if you want to thin it out a little add more milk.
Stir through the chopped parsley and serve immediately.
Notes
If you want to use the milk to cook smoked fish pour over the fish immediately and do not allow to cool.
Nutrition Information:
Yield:
2
Serving Size:
1
Amount Per Serving:
Calories:

274
Total Fat:

16g
Saturated Fat:

10g
Trans Fat:

1g
Unsaturated Fat:

5g
Cholesterol:

44mg
Sodium:

474mg
Carbohydrates:

27g
Fiber:

3g
Sugar:

10g
Protein:

8g
Calorific details are provided by a third-party application and are to be used as indicative figures only.