Homemade Mayonnaise is better than the stuff in a jar in every single way, it needs 5 ingredients which you probably already have and NO tech!
Making this mayo without a blender takes 10-15 minutes and it is incredibly easy, all you need is a bit of elbow grease.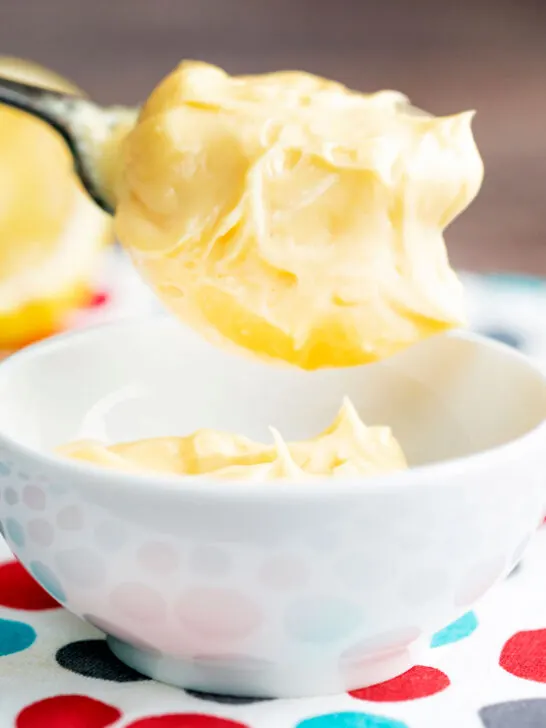 The Best Mayonnaise
The internet is alive with folk arguing about the best "brand" of mayonnaise… They are all wrong, sure a jar of mayo will do in a push but NOTHING beats homemade mayo!
But you need, 74 obscure ingredients right? Erm nope! You need 5 ingredients, all of which are probably in your cupboard.
And the tools you need expensive tools right? Erm… You need a heavy bowl, a cloth and a whisk.
And time, it takes forever right? 10 minutes, that is it, and that includes resting time when your arms are tired!
This recipe is pretty much the late great Michel Roux's classic mayo recipe.
Any dude that held Michelin stars for longer than I have been walking is alright by me!
Although he prefers vinegar in his mayo, I lean much towards lemon juice.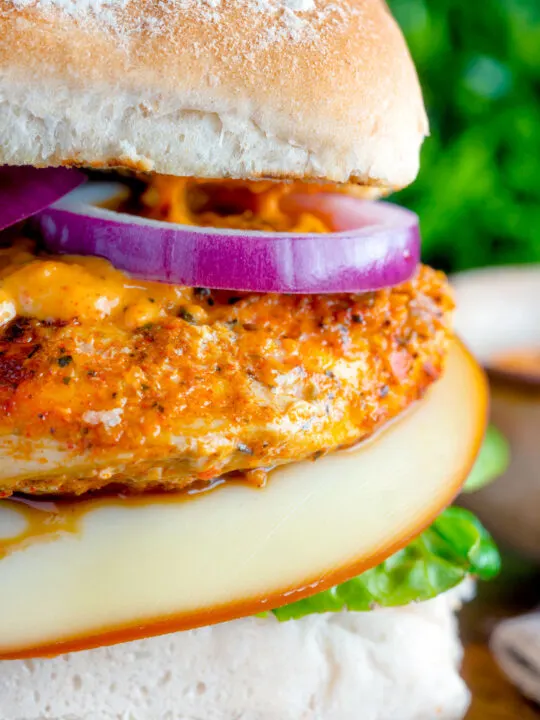 Frequently Asked Questions
What should I do if my mayonnaise splits?
If you do this often enough your mayo will split. It happens, it's usually as a result of adding the oil too quickly!

Do not panic. Stop… Hammertime! Sorry, not sorry. Weigh out the ingredients for a second batch and start again in a clean bowl.

When you have got half of the oil into your new batch start adding the split mayo a teaspoon at a time.
It will come back together. You will end up with a double batch of mayo, but on the plus side, extra mayonnaise!
Can I make this in a blender?
Yes, I have added instructions further down in the recipe. The reason that I usually make mayonnaise without a blender is because it produces a smaller batch.

If you are using a blender then you will almost certainly need to make a double or maybe even a triple batch.
How long will homemade mayo last in the fridge?
Homemade mayonnaise will last for up to 5 days in a jar in the fridge.
Why is your mayo yellow/golden?
I always make mayonnaise with the yolk only, as far as I am concerned it produces a richer-tasting and altogether better mayo.

Couple that with the use of rapeseed or canola oil, which are the same thing, and you end up with a beautifully coloured mayo.
A QUICK NOTE!
Mayonnaise works much better if your egg is at room temperature, which is not a problem for us Europeans, but if you are in the States you need to plan ahead.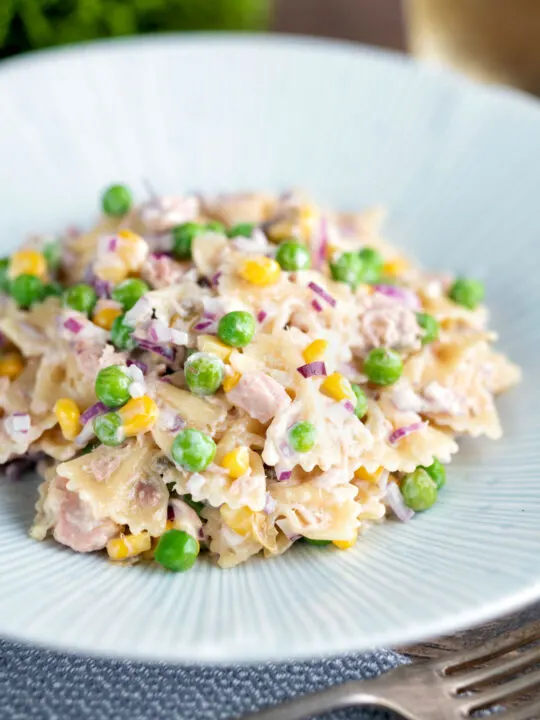 Serving Suggestions
What on earth can you do with some gloriously thick and delicious homemade mayo… I could make this section go on forever, but I will try and keep it short and sweet.
Flavouring mayo is where it is at, the most famous is aioli, which is essentially mayo with a boatload of garlic.
You can turn it up to 11 by making roasted garlic aioli, it's perfect for dipping your air fryer chips into!
A couple of honourable mentions go to this saffron garlic mayonnaise and this ketchup mayo sauce.
I've also got a peri peri chicken burger (pictured further up the page) with peri peri mayo, a Korean fried chicken burger with a gochujang mayonnaise (pictured below) and also a wonderful fish burger with sriracha mayonnaise.
Or you could make yourself the bestest egg, mayo and cress sandwich that you've ever eaten or a killer tuna pasta salad (pictured above)!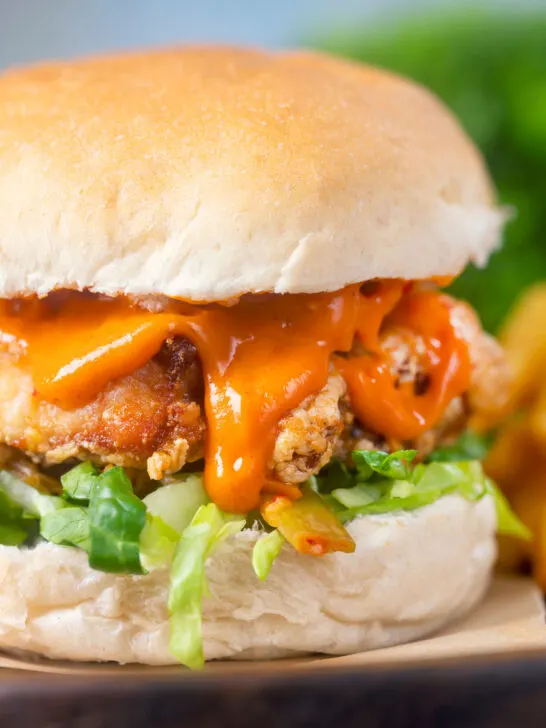 Equipment Used
I only name-check brands of equipment if I think that they make a material difference to a recipe. But if you have any questions feel free to ask them in the comments section below the recipe.
Mixing bowl, the heavier the better to prevent it from moving around on your work surface.
Whisk.
Measuring jug or cups and spoons.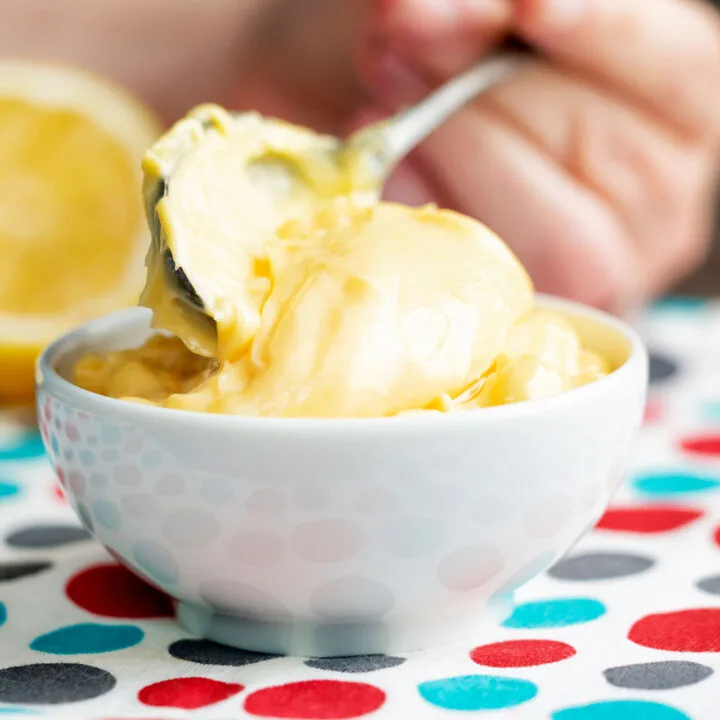 Yield:

200ml
Homemade Mayonnaise Recipe
When you absolutely positively must have the very best mayonnaise then you need homemade. It needs 5 ingredients and takes just 10 minutes and you need no toys!
Ingredients
1 Large Egg Yolk (at Room Temperature)
½ Tbsp Dijon Mustard
125ml (½ Cup) Rapeseed or Canola oil
Lemon Juice or Vinegar to taste
Salt to taste
Instructions
By Hand
Place the egg yolk and mustard into a heavy glass bowl and whisk until completely combined.
Add half a teaspoon of oil and whisk until completely emulsified.
Add a teaspoon of oil and whisk again until your mix is completely emulsified.
Repeat this process until all of the oil is added and you have a thick mayo.
After the for 5 or 6 teaspoons you can add more oil at a time.
When you have a rich creamy mayo, add in the lemon juice or vinegar and salt then whisk again to bring everything together.
In a Food Processor *YOU WILL NEED TO DOUBLE THE RECIPE*
Add the mustard and egg yolk into the bowl of your food processor and blend until it comes together.
Now slowly begin pouring in your oil with the food processor running, you can speed up the flow of oil as your mayonnaise begins to get some structure.
When you have a rich creamy mayo, add in the lemon juice or vinegar and salt then blend once more to bring together and job done.
Notes
Calorific value refers to the whole recipe
Nutrition Information:
Yield:
1
Serving Size:
1
Amount Per Serving:
Calories:

1156
Total Fat:

125g
Saturated Fat:

12g
Trans Fat:

0g
Unsaturated Fat:

112g
Cholesterol:

370mg
Sodium:

864mg
Carbohydrates:

2g
Fiber:

0g
Sugar:

0g
Protein:

9g
Calorific details are provided by a third-party application and are to be used as indicative figures only.