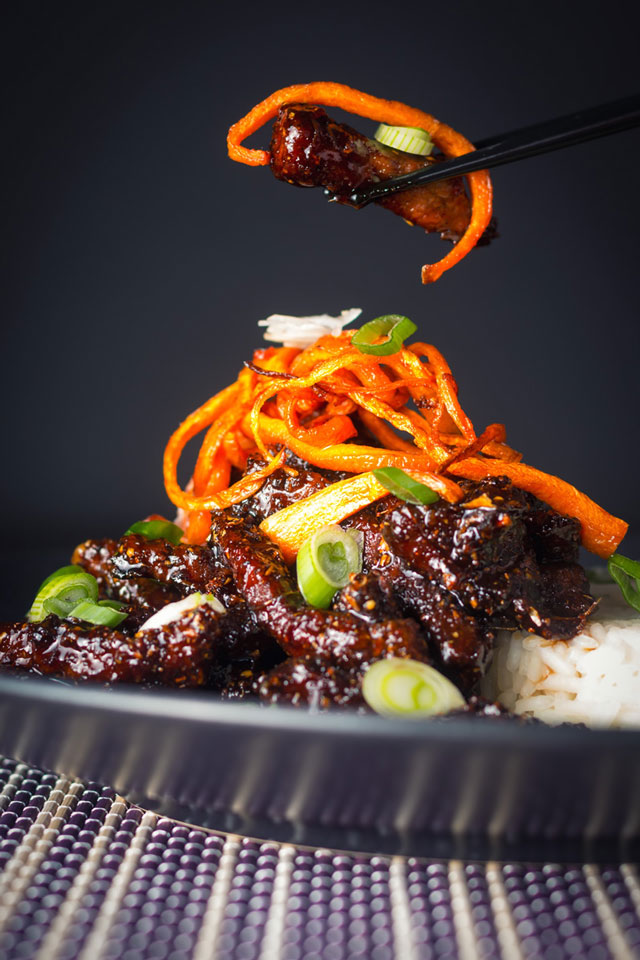 Sticky chili beef is a dish that just makes me feel warm and fuzzy inside, if you have a lower tolerance to a bit of spicy heat feel free to knock back the levels on this dish as it is definitely one that my wife puts on a coating of chapstick before eating. I have waxed lyrical about my love of 'fakeaways' it is odd as we would probably only order a takeaway once a month in the UK, but suddenly discovering that you can not have something make you want it even more and that is definitely where my sticky chili beef recips comes from. It is sweet, spicy, salty and the crispy Szechuan crumb on the beef makes this a dish I love to eat. Given that I have eaten out a lot this month due to a visit from my Mother in Law it is kind of odd that I am hankering after a particular type of food at the moment, both this and my previous Chicken Drummer dish seem to really epitomise exactly what I want to eat at the moment.
If you read my site regularly you will know I am not a health 'Nazi', food is about more than just nourishment, it is about smiles and laughs and making your belly feel loved. Now I certainly don't advocate eating fried food all of the time, but a little bit of indulgent food does the soul some good and so long as you have a balanced diet in really does not do the waistline any harm at all. I quite often read websites that are far too busy waxing lyrical about how great this food or that food is for you or even worst writers that go to great effort to tell you what is NOT in their dish and seem to forget to mention that the food tastes good… Or maybe it doesn't who knows 😉
Yes this dish has a fair bit of sugar in it and it is deep fried and it tastes wonderful for it… Given that I don't really eat dessert it is kinda odd that I have a fondness for savory dishes that have a definite sweet edge, I guess it is just my way of getting sugar, that's my excuse and I am sticking to it. Essentially I need sticky chili beef in my life in order to maintain a well balanced diet 😉
Print
Sticky Chili Beef
Sticky Chili Beef is my idea of an indulgent treat, sure it is not the most 'health conscious' meal but boy does it taste fantastic!
Ingredients
350

g

Beef.

Finely sliced sirloin or fillet is best as this is a really quick cooked dish.

3

Tbsp

Szechuan Pepper Corns.

2

Oranges.

Zest only.

3

Tbsp

Cornflour.

1/2

Tsp

Coarse Sea Salt.

2

Tbsp

Flavourless Cooking oil.

120

ml

Rice Wine.

120

g

Brown Sugar.

2

Tbsp

Light Soy Sauce.

2

Tbsp

Dark Soy sauce.

2

Tsp

Chili Flakes.

1

Tbsp

Sweet Chili Sauce.

35

g

Ginger.

Grated

75

g

Carrot.

Julienned.

1

Spring Onion.

Sliced.

Oil for Deep Frying.
Instructions
Toast the Szechuan peppercorns in a dry frying pan over a high heat for a couple of minutes, taking care not to burn and grind in a spice grinder or pestle and mortar.

Mix this Szechuan pepper with the cornflour, orange zest and salt.

Coat the beef with the 2 Tbsp cooking oil and then add the beef to the cornflour mix and coat.

Heat a small pan over a high heat and when fiercely hot add the rice wine.

Then immediately add the brown sugar, soy sauces, chili flakes, sweet chili sauce and ginger to a saucepan and bring to a boil, cook on at a furious boil for a further 3-4 minutes until it begins to thicken then set aside.

Heat the oil for frying the beef to 170°C and fry in small batches for 2-3 minutes maximum and set aside on some kitchen towel to drain.

When all of the beef is fried, then fry off the carrot strips and again set aside on kitchen towel.

Now return the sauce to the heat and add in the beef and ensure it is all coated.

Now build your dish, I like to add the fried carrots to the top of a pile of the beef and then sprinkle some spring onions.
Recipe Notes
I like to serve this with plain boiled rice.