Sweet and sour pork balls were probably my introduction to Chinese food growing up in the UK, here is a version that plays homage to my memories.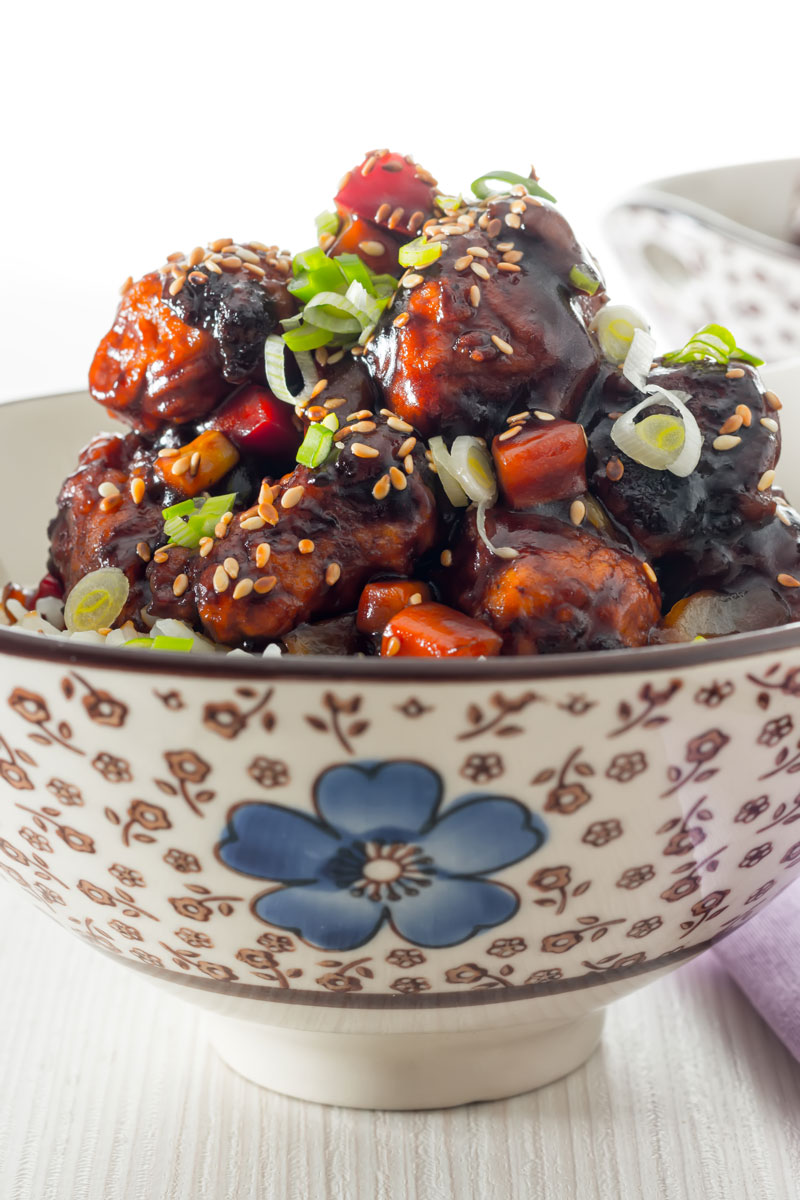 These Sweet and Sour Pork Balls are just about close enough to be recognisable to the ones I would order (or have ordered for me) from the Chinese Takeaway when I was growing up but they are far enough removed to definitely be a reflection on my tastebuds now.
Gone is the bright orange sweet sauce that realistically had no sour element to it at all and in comes a darker, more grown up and complicated thick sauce sporting the flavours of honey and Chiangking vinegar and even some vegetables. Because now, as a grow up I don't balk at the sight of veggies as I used to when I was a child!
As you can tell from my sniggering reference to 'my balls' and 'your balls' in my recipe that is about as close as I have come to growing up!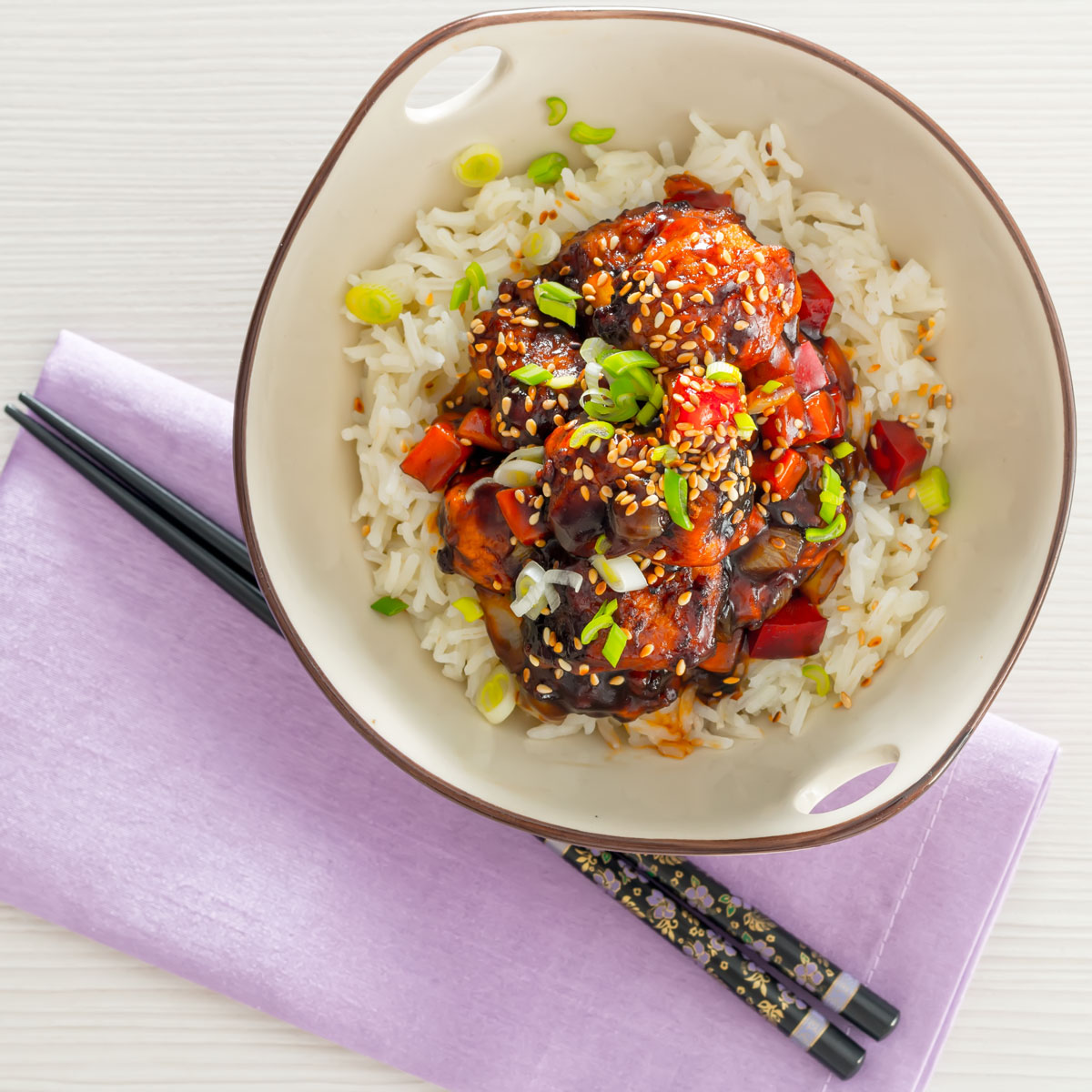 This sweet and sour pork dish or more pertinently the dish that inspired my latest 'fakeaway' dish was probably my introduction to flavours that were not traditionally 'British'. Bizarrely enough that probably even includes such exotics as pasta, which I don't really remember forming any part of my diet until I approached my teenage years. Apart from spaghetti hoops and ravioli from a tin of course.
However a rare treat from the Chinese takeaway is definitely an early memory and whilst I was never permitted my own meal dipping pork balls into a sweet and sour sauce form one of my earliest food memories.
I would guess it was so rare that it is inevitable that it stuck, it really was a once maybe twice a year thing and it is amazing how those sorts of things stay whilst common occurrences often wain in our memories.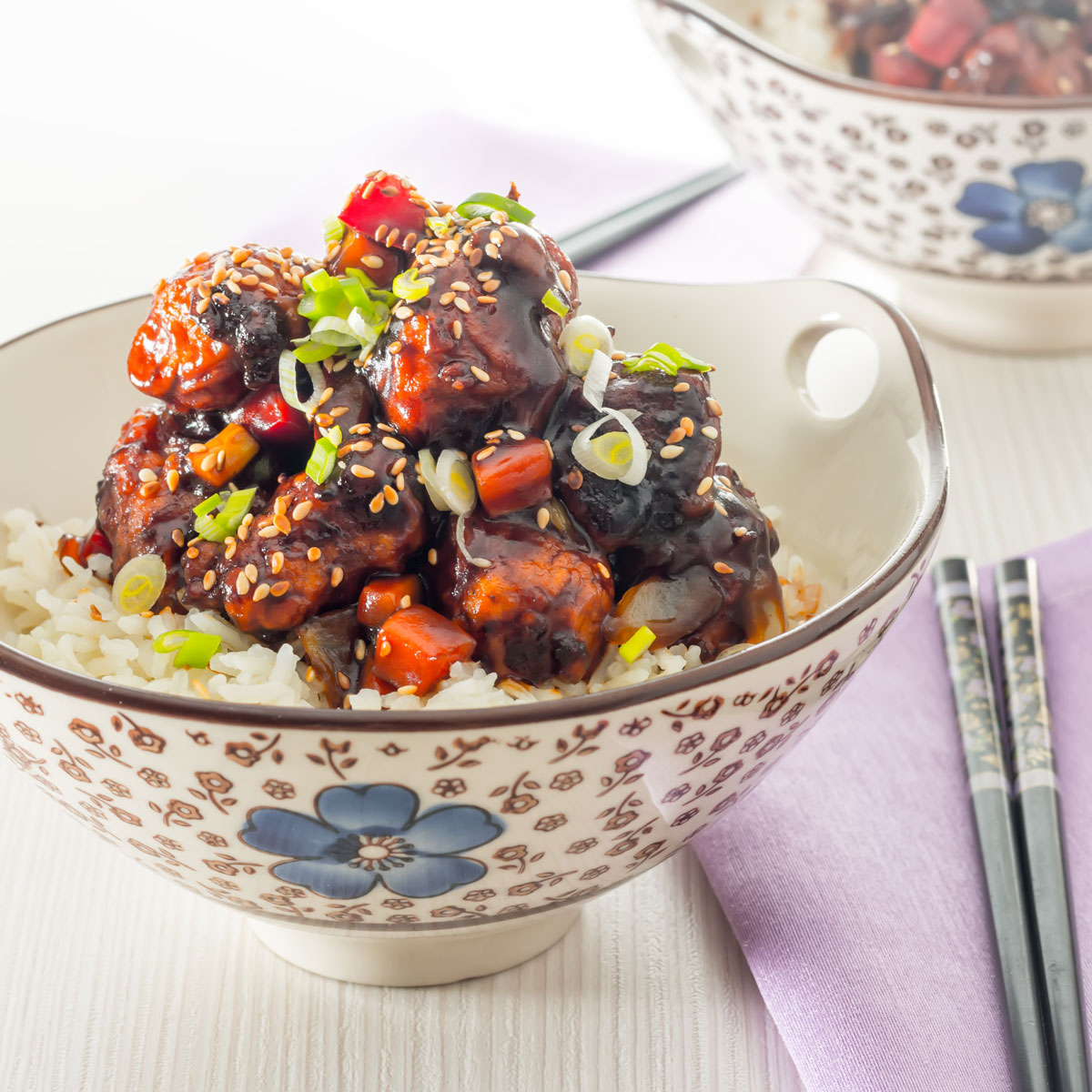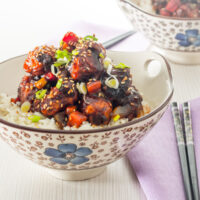 Sweet and Sour Pork Balls
Sweet and sour pork balls were probably my introduction to Chinese food growing up in the UK, here is a version that plays homage to my memories.
Ingredients
For the Sauce:
1 Tbsp Dark Soy Sauce
1 Tbsp Light Soy Sauce
1 Tbsp Mirin
2 Tbsp Chiangking Vinegar
1 Tbsp Honey
1 Tbsp Tomato Ketchup
3 Tbsp Water
1 Tbsp Cornflower
For the Pork:
75 g Plain Flour
25 g Cornflower
1/8 Tsp Salt
150 g Kefir, You can substitute for buttermilk if you like
350 g Pork Loin, Cut into 1.5cm dice
Cooking Oil, For deep frying
For the Vegetables.
1 Tbsp Cooking Oil, Neutral
50 g Red Pepper, Cut into a 5-7mm dice
50 g Carrot, Cut into 5-7mm dice
75 g Onion, Cut into 5-7mm dice
1 Spring Onion, Finely Sliced to garnish
1/2 Tbsp Sesame Seeds, To garnish
Instructions
Begin by making the sauce, combine all of the ingredients for the sauce with the exception of 1 tablespoon of water and the cornflower and bring to a rolling boil.
When boiling reduce the temperature to medium and mix together the cornflower and remaining 1 tablespoon of water and pour in to the simmering sauce stirring constantly.
Continue to cook until the sauce thickens, this should take no more than 60 seconds and set aside.
Heat your cooking oil to 170°C.
If you are garnishing with sesame seeds heat your wok whilst your oil is coming to temperature and toast them off.
Now add the tablespoon of oil in wok and add the diced carrot and onion and stir fry for 2 minutes.
Then add in the red pepper and stir fry for a further 2 minutes before adding the sauce and setting aside.
When the oil is hot dip the pork into the flour and cornflower mix and then into the kefir and then back into the flour mix then deep fry for 3-4 minutes until golden and crispy.
When fried I like to toss my balls in the sauce (what #innocentface), sure it removes crunch but it gives them a moorish chewiness that I love and then sprinkle with the toasted sesame seeds and spring onion.
Notes
You can of course serve this with the sauce drizzled over the top if you want to keep your balls crispy 😮
Nutrition Information:
Yield:

2
Serving Size:

1
Amount Per Serving:
Calories:

795
Total Fat:

33g
Saturated Fat:

7g
Trans Fat:

0g
Unsaturated Fat:

22g
Cholesterol:

148mg
Sodium:

1676mg
Carbohydrates:

62g
Fiber:

3g
Sugar:

27g
Protein:

60g