Sweet and sour pork balls, a Chinese takeaway classic, pork in a simple crispy batter & fried then served with a glorious sweet & tangy sauce.
An indulgent and nostalgic recipe that, despite the long list of ingredients, takes right around 30 minutes to cook.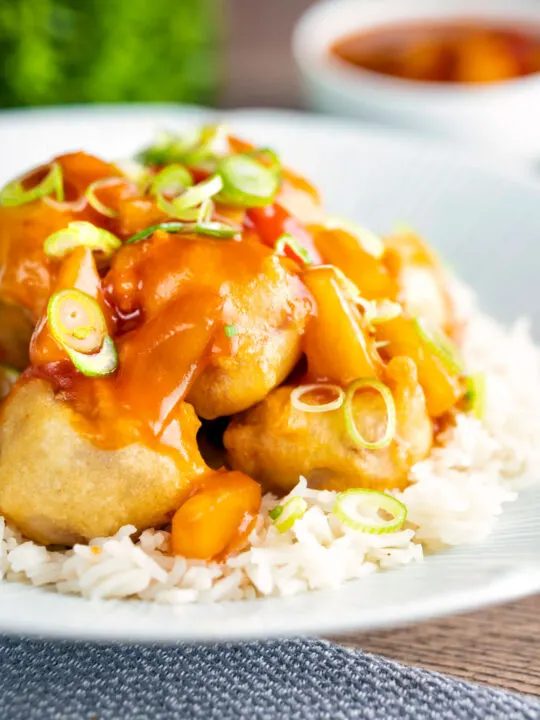 Takeout Chinese Sweet and Sour Pork
Chinese takeout crispy sweet and sour pork balls were probably my first introduction to flavours that were not traditionally 'British'.
For many years it was the only thing I would ask for on those rare treat takeaway nights.
To this day I am still a little bit obsessed with these flavours.
These crispy balls use the same sauce that I use in my sweet and sour prawns recipe and it unashamedly rocks both tomato ketchup and pineapple!
It is also a sister recipe to my crispy sweet and sour chicken balls recipe and is similar to my crispy lemon chicken in its concept.
I have a darker more complex flavoured sauce that I use in dishes like sweet and sour tofu, sweet and sour pork chops and sweet and sour pork tenderloin.
It contains chunks of pork shoulder or blade wrapped in a thick and crispy batter.
A batter simple to make and one that keeps its crispiness right until you slather on that delicious sauce.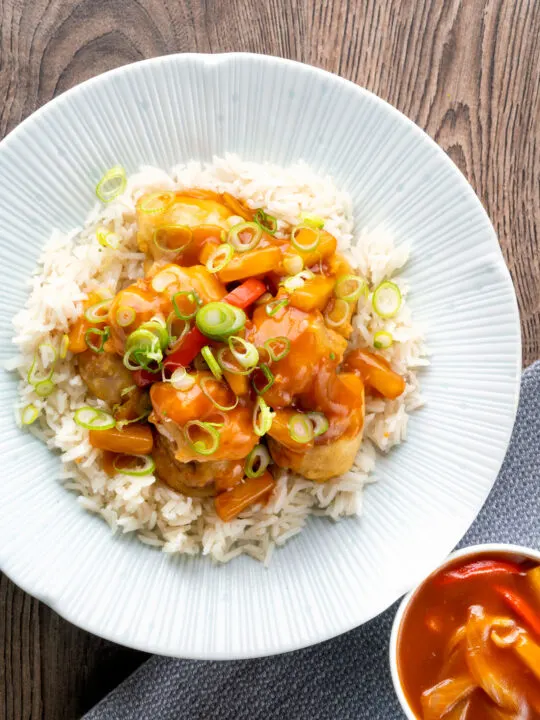 Frequently Asked Questions.
You have options for how much sugar and vinegar to use, why?
Growing up sweet and sour pork came with an incredibly sweet sauce. As I have grown up (don't laugh) my tastes have shifted and now I prefer a much sharper sauce.

I would advise you to make the sauce with the lowest amount of sugar and rice vinegar and have a taste and adjust to your palate. None of these ingredients need cooking so tuck right on in!

Remember the flavours will mellow a little as the sauce cooks, particularly the sour elements.
Can I bake the crispy pork balls?
I have experimented with cooking this batter in both a hot oven and an air fryer and it is really not a viable option.

This is an indulgent dish, go with frying to get the full effect!
How long will the batter stay crispy?
The corn flour used in this recipe will still be pretty crispy 20 minutes after cooking. So there is plenty of time to batch-cook the balls. This is because of the cornflour in the batter.
Sweet and sour sauce on the side or over the pork balls?
Now that's a question people will answer in different ways. I like to slather mine in the sauce, I love the contrast of the batter that has softened a little with the crispy bits that have not soaked in the sauce.

Others disagree, it really is a personal preference.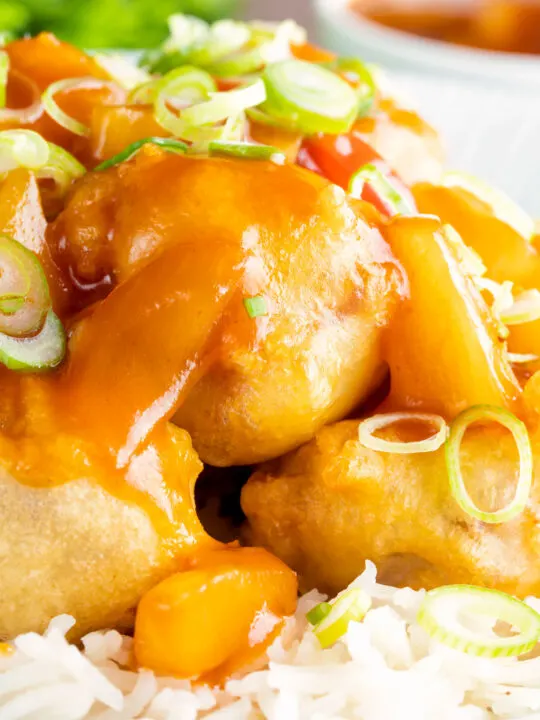 Serving Suggestions.
I almost always serve my battered sweet and sour pork balls with plain old rice, it's a perfect way to mop up leftover sauce.
If I am trying to impress then I would throw together a quick egg fried rice, although that does take some planning.
But for nostalgia, I serve sweet and sour pork with chips, and fries but not quite fries for my American readers. I cook my chip shop chips but do not add the vinegar, they are remarkably close to Chinese takeout chips.
An alternative to this would be to serve it with my crispy fried potatoes.
I also, on occasion, like to have a portion of soy sauce noodles or even some sweet chilli noodles on the side.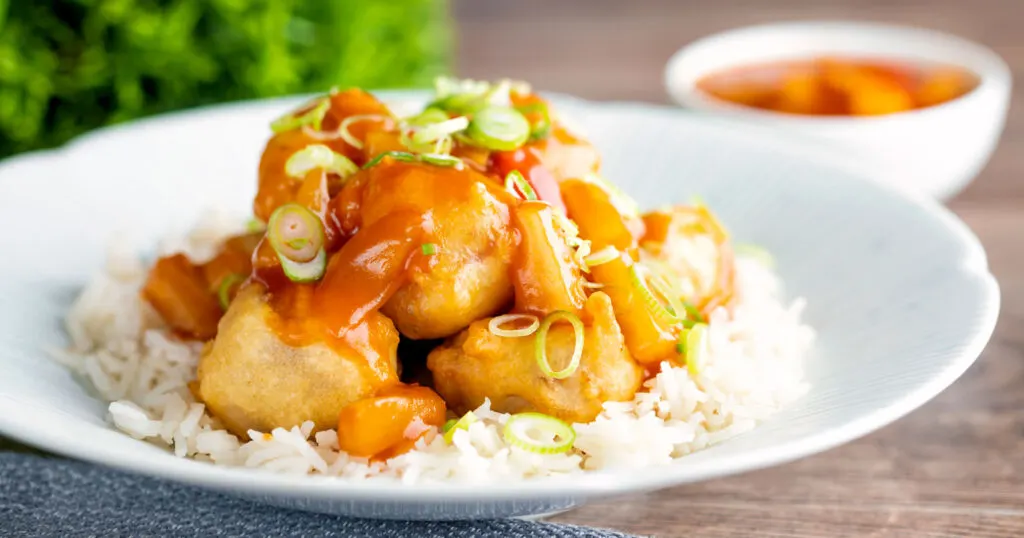 Equipment Used
I only name-check brands of equipment if I think that they make a material difference to a recipe. But if you have any questions feel free to ask them in the comments section below the recipe.
Stovetop.
Wok. You can use a deep-fat fryer instead of a wok if you want.
Thermometer for checking the temperature of the oil. I use a sugar thermometer in a wok.
18cm or 7″ saucepan.
Kitchen knife.
Weighing scales and or measuring jug, cups and spoons.
Mixing bowls.
Whisk.
Slotted, serving and stirring spoons.
Chopping board.
Kitchen paper.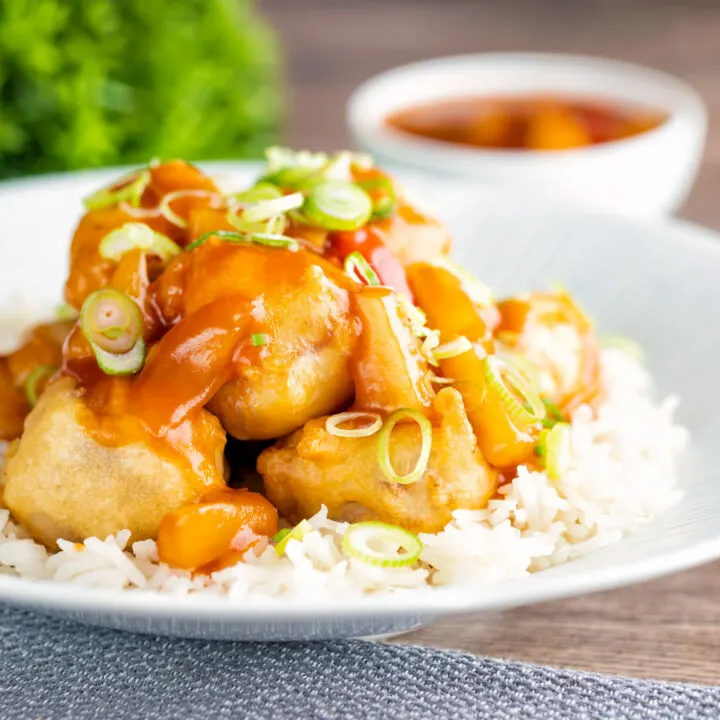 Yield:

2 Servings
Sweet and Sour Pork Balls Recipe
Crispy pork balls tossed in a wonderful sweet and sour sauce a great Friday night fakeaway that is far easier that you would imagine.
Ingredients
350g (12oz) Pork Shoulder or Blade
For the Sweet and Sour Sauce:
3 Tbsp Light Soy Sauce
1-2 Tbsp Rice Vinegar
1-2 Tbsp Light Brown Sugar
3 Tbsp Tomato Ketchup
4 Tbsp Pineapple Juice
1 Tbsp Toasted Sesame Oil
2 Tbsp Water
1 Tbsp Cornflour
1 (~75g) Small Onion
1 Red Pepper
100g (½ Cup) Pineapple Chunks
1 Tsp Oil
For the Batter:
35g (¼ Cup) Plain (All Purpose) Flour + 1 Tbsp
30g (¼ Cup) Cornflour
½ Tsp Salt
1 Tsp Baking Powder
100ml (⅓ Cup + 1 Tablespoon) Cold Sparkling Water
Plus Oil for Frying
Instructions
Cut the pork into 2.5cm (1") cubes and dry them well on kitchen paper.
Top and tail the onion, then cut it in half lengthways, then slice it into 5-6mm (¼") thick strips.
Remove the seeds from the red pepper and cut it into strips approximately 5-6mm (¼") thick.
Cut the pineapple into wedges around 1cm (½") wide.
Mix together the ingredients for the sauce apart from the water, cornflour and vegetables and pineapple.
Heat the oil for the sauce in a 18cm or 7" saucepan over a medium-high heat and when it is hot add the onion and red pepper and soften for 2 minutes.
Add the sauce mix and bring it all to a simmer then cook for 5 minutes.
Mix the water with the cornflour for the sauce and stir it into the simmering sauce until it begins to thicken.
Add the pineapple, reduce the heat to very low and keep warm whilst you cook the pork.
Add 4-5cm (1½-2") of oil to the base of a walk and heat it to 170°C or 340°F.
Throw the dry ingredients for the batter (less one tablespoon of flour) into a bowl and mix well.
Just before you are ready to cook, whisk in the cold water,
Dredge the pork cubes in flour.
Dip the pork into the batter and then drop it into the hot oil, do not overcrowd the pan, stick to 5 or 6 at a time.
Fry for 5-6 minutes before draining on kitchen paper.
Serve the balls with the sauce either on the side or drizzled over the top.
Nutrition Information:
Yield:
2
Serving Size:
1
Amount Per Serving:
Calories:

918
Total Fat:

61g
Saturated Fat:

16g
Trans Fat:

0g
Unsaturated Fat:

41g
Cholesterol:

158mg
Sodium:

2815mg
Carbohydrates:

46g
Fiber:

2g
Sugar:

25g
Protein:

46g
Calorific details are provided by a third-party application and are to be used as indicative figures only.