Sweet chilli noodles are a super quick and easy side dish featuring egg noodles, sweet peppers, garlic and red onion in a silky spicy sauce.
When I say quick, this recipe takes 10 leisurely minutes to prepare and cooks in right around 5 minutes!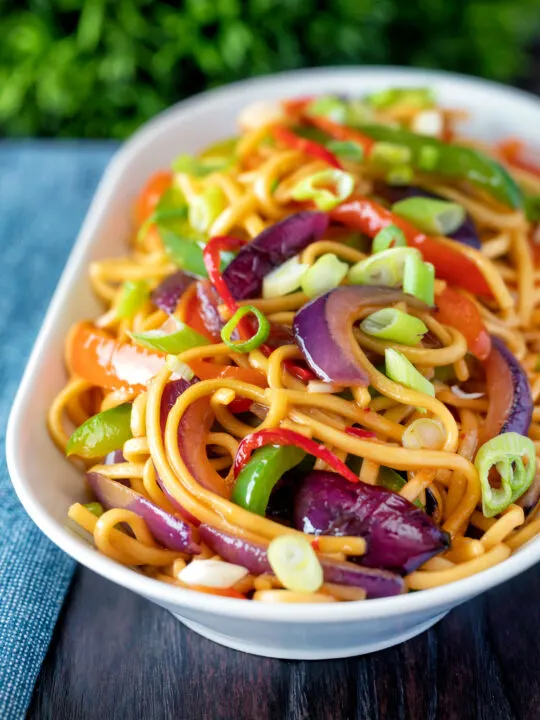 Stir Fried Egg Noodles
Ordinarily, noodles for me form an integral part of a stir fry dish, whether that be in dishes like dan dan noodles, the takeaway favourite, Singapore chow mein, Japanese-influenced yaki udon or something like my beef noodle soup.
I am definitely guilty of egg fried rice "tunnel vision" when it comes to sides for Chinese or South East Asian influenced dishes.
But noodles make a wonderful side dish or simple lunchtime munch!
These quick and easy stir-fried sweet chilli noodles join my sweet and sour noodles in that category.
They are insanely quick to cook, weighing in at around 15 minutes, and that is taking your time.
They are also vegetarian if that is important to you!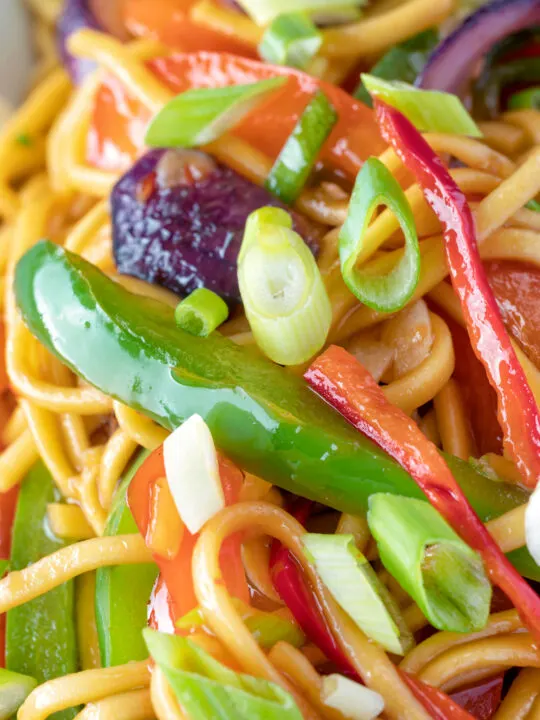 Frequently Asked Questions
What's the best way to cook egg noodles?
Now there is an open question.

Egg noodles vary massively from brand to brand, some are fine to pour boiling water over and let sit for 5 minutes, especially if you are frying them after. Others need boiling for 1-2 minutes.

Choose a brand you like and stick with it!
Can I use straight-to-wok noodles?
Yes, but again these vary massively from brand to brand. I tend to find that the ones packed in tightly vacuum-sealed packets are pretty rubbish because they break up too easily.

Loosely packed "fresh" egg noodles are great and make this recipe even easier… if that's possible. But you do pay a premium!
Can I use rice or glass noodles?
For me, they are not ideal for this recipe, coupled with the fact that I am not keen on them.

If you do try them please let me know how it works out!
Do I have to use Chinkiang vinegar?
No, I use it because I love it, it has an incredible flavour, but you can use any rice vinegar.
Do I have to use different colour peppers?
No, I mainly do it for a splash of colour, use whatever you have!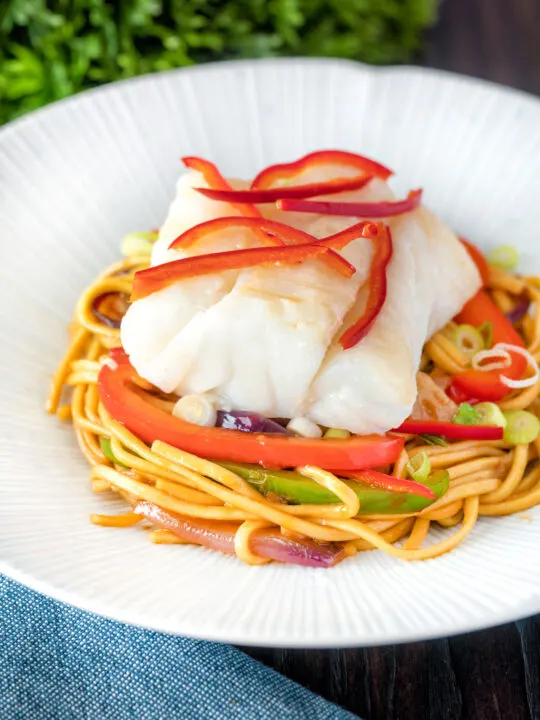 Serving Suggestions
These stir-fried sweet chilli egg noodles are the perfect side dish for a host of dishes.
It is served above with my cod en papillote and they are great with fish and seafood. Everything from my honey and soy salmon and baked tuna steak to sweet and sour prawns are a great match.
But it ain't just fish!
I love this recipe served alongside sweet and sour chicken balls, or sweet and sour pork balls!
Sticking with a theme, it is also wonderful with sweet and sour tofu.
A final few to pique your interest and inspire, try this with my Chinese braised ham hock, crispy Thai BBQ chicken thighs or even my crispy Chinese pork belly.
The Japanese make a strange but delicious dish called yakisoba pan, which consists of noodles stuffed in a hotdog bun. These noodles are delicious served like that!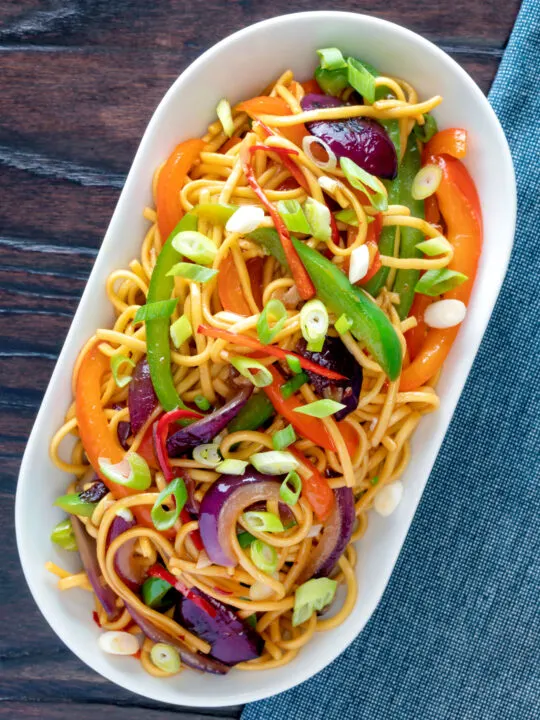 Equipment Used
I do not recommend specific equipment brands unless I believe it makes a material difference to a recipe. If you have any questions about what I use feel free to ask them in the comments section below the recipe.
Stovetop.
Wok, I use a large carbon steel wok.
Weighing scales and or measuring cups and spoons.
Sieve, to drain the noodles.
Small saucepan or large bowl for the noodles, depending on your cooking method.
Spoon for stir-frying, I use a large metal serving spoon.
Sharp kitchen knife.
Chopping board.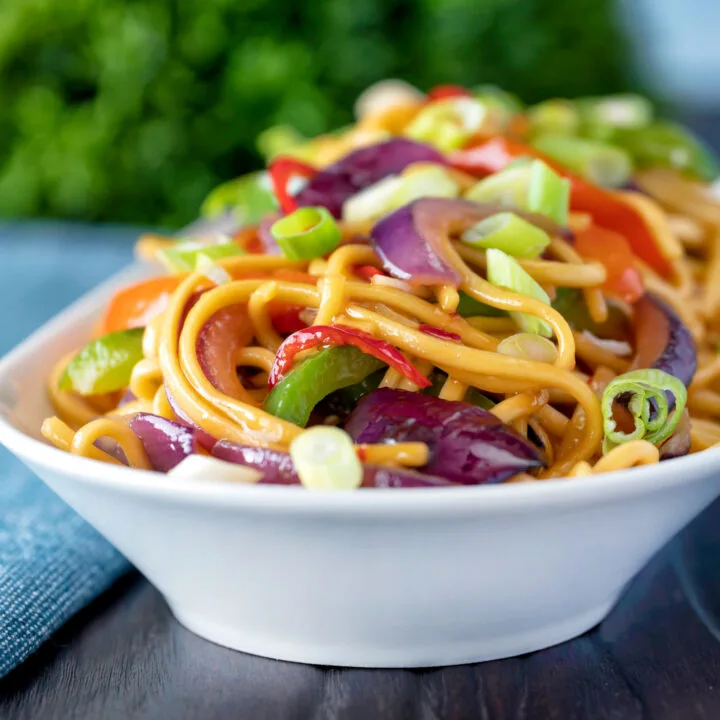 Yield:

2 Servings
Sweet Chilli Noodles Recipe
Stir-fried spicy sweet chilli noodles with peppers and onions, a delicious and easy side dish that will go from your cupboard to your table in around 15 minutes.
Ingredients
2 Bundles Egg Noodles
100g (⅔ Cup) Red Onion
½ Red Peper
½ Green Pepper
2 Spring Onions
2 Garlic Cloves
1 Mild Red Chilli Pepper
3 Tbsp Sweet Chilli Sauce
1 Tbsp Light Soy Sauce
1 Tbsp Chinkiang Vinegar
1 Tsp Sesame Oil
1 Tbsp Cooking Oil
Instructions
Cook the egg noodles as per the instructions on the packet less 30-60 seconds, then refresh them in cold water. You want them just to break up and be al dente as they will finish cooking in the wok.
Peel, top and tail the onion, and cut it in half lengthways. Then cut it into 5mm thick slices lengthways.
Deseed the peppers and cut them into 5mm thick ribbons.
Deseed the chilli pepper and cut it into strips as thinly as you can.
Peel the garlic cloves and slice them as finely as you can.
Slice the spring onions at a 45 degree angle to the stem into rounds about 2-3mm thick.
Mix together the sweet chilli sauce, soy sauce, chinkiang vinegar and sesame oil in a bowl.
Heat a wok over a fiercely high heat.
Add the cooking oil and when it is hot add the red onion and stir fry for 30 seconds.
Throw in the peppers and chilli pepper and stir fry for 90 seconds.
Add the garlic and cook for 30 seconds.
Add the cooled and drained noodles, stir fry for 60 seconds and pour in the sauce, then toss everything together.
Add the spring onions toss and serve immediately.
Nutrition Information:
Yield:
2
Serving Size:
1
Amount Per Serving:
Calories:

409
Total Fat:

13g
Saturated Fat:

2g
Trans Fat:

0g
Unsaturated Fat:

10g
Cholesterol:

46mg
Sodium:

566mg
Carbohydrates:

65g
Fiber:

4g
Sugar:

18g
Protein:

10g
Calorific details are provided by a third-party application and are to be used as indicative figures only.