Yaki udon noodles, a vegan take on a classic Japanese stir fry, my version uses shiitake mushrooms, pak choi & a delicious and easy sauce.
It's also insanely quick to cook, 10 or 15 minutes of leisurely chopping vegetables, and cooking takes under 10 minutes to make a quick, light meal.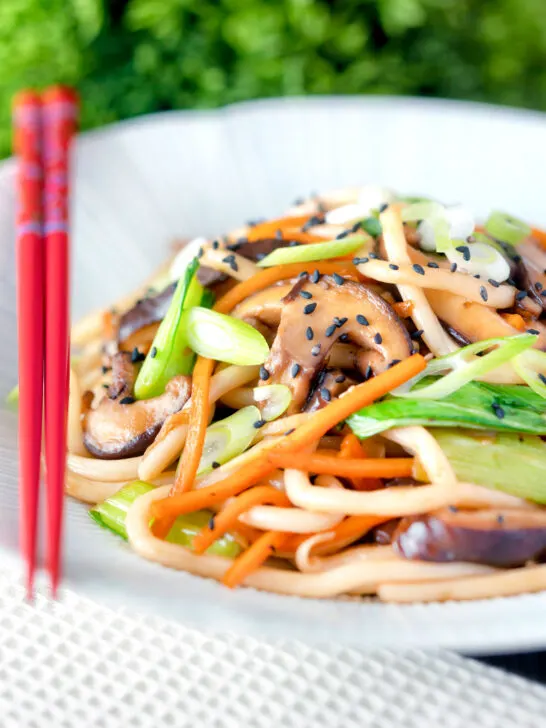 Vegan Udon Noodle Stir Fry
Yaki udon is a simple and quick Japanese noodle stir fry, unsurprisingly it uses udon noodles. It is quickly cooked with meat or veggies in a sauce.
That sauce varies massively and quite often consists of soy sauce, oyster sauce and brown sugar. However, I have taken my influences from versions that use a curious ingredient called "sauce".
The most popular brand in Japan is Bulldog brand and in many places, it is referred to as Japanese Worcestershire sauce. Whilst it is very different I can see the similarities.
It is also often called Tonkatsu sauce, and I make an "anglicised" version of the sauce to serve with my Tonkatsu recipe.
It comes in three thicknesses and the sauce for this recipe is modelled on the thinnest of the three called usta.
I use Sheffield's own Hendersons relish as a very British substitute and it tastes awesome.
You'll love this quick and simple veggie stir fry and if you do then you must check out my tofu and udon noodle stir fry, Singapore chow mein and ginger chicken udon recipes!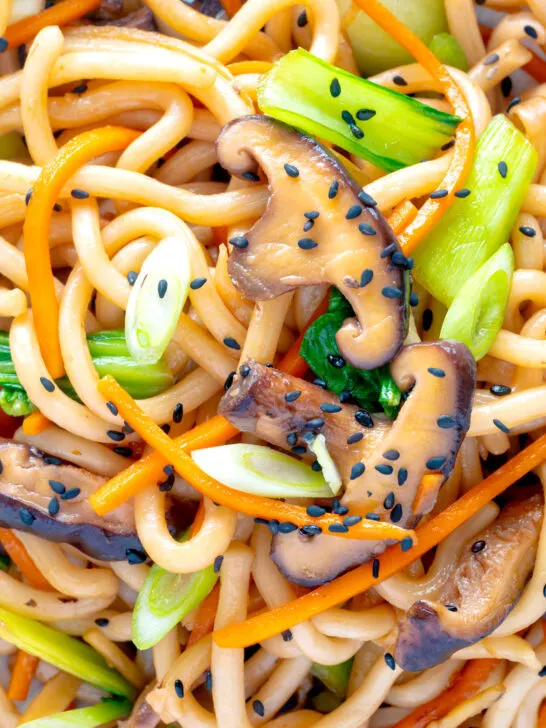 Frequently Asked Questions
Are all udon noodles vegan?
Generally speaking yes, however, I would urge you to check the packet because all sorts of strange things can get dropped in!
Why do you pour boiling water over straight-to-wok noodles?
I find straight-to-wok noodles need breaking up a great deal in the wok and that spoils the eating.

If you place them in a sieve or colander and pour over a kettle of water and toss them around a little they loosen up. Then refresh on cold water and you have perfect noodles to drop into a stir fry.
Can I use different noodles?
Well, you could make this with egg noodles but it wouldn't be "Yaki Udon", it would still be jolly tasty!
What is Henderson's Relish?
It's similar to Worcestershire sauce but very different! Worcestershire sauce contains anchovies whereas Henderson's relish is vegan.

I think it has reasonable similarities to Bulldog brand Japanese usta "sauce" and it works wonderfully in this dish.
Can I use different mushrooms?
Yes definitely, use what you can get your hands on. I'd give a special shout-out to large field mushrooms cut into 3-5mm strips!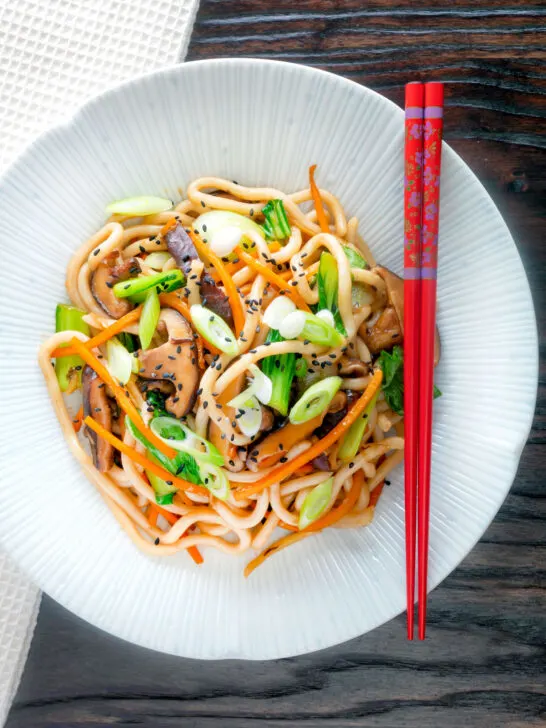 Serving Suggestions
I tend to keep this vegetable yaki udon recipe as a simple vegan light meal and serve it with starters and snacks.
My favourites include crispy spring rolls, prawn toast you can even make vegan "prawn" toast and prawn crackers.
But it also makes a wonderful veggie noodle side dish!
I often serve it wit with teriyaki flavours, like my salmon teriyaki, baked tuna steak or char siu flavours like my char siu pork tenderloin.
It is also a firm favourite side for me to serve with my Instant Pot Chinese spare ribs or my black bean braised ham hock.
This recipe also forms the inspiration for my yakisoba pan recipe.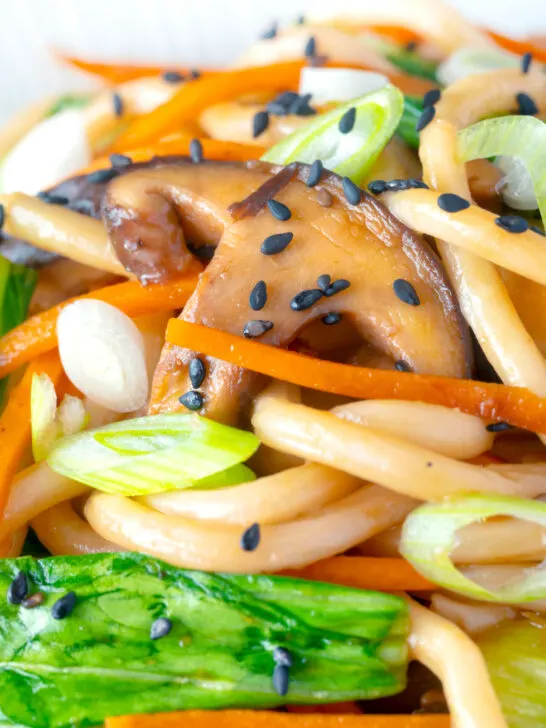 Equipment Used
I only recommend specific brands of equipment if I believe they make a material difference to a recipe. If you have any questions feel free to ask them in the comments section below the recipe.
Stovetop.
Sharp kitchen knife.
Chopping board.
Wok, I use a large carbon steel wok.
Mixing bowl.
Weighing scales and or measuring cups and spoons.
Sieve or colander.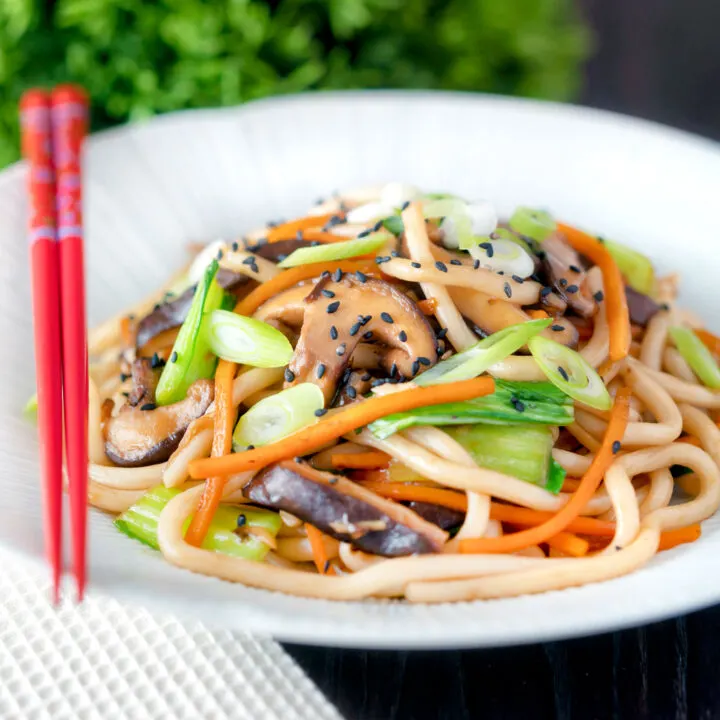 Yield:

2 Servings
Vegan Yaki Udon Recipe
My vegan take on a classic Japanese stir fry, yaki udon, my version uses lots of shiitake mushrooms and my "Western" take on Japanese "Worcestershire sauce"... a quick and easy dish that will go from your cupboard to your table in under 30 minutes!
Ingredients
250g (2½-3 Cups) Shiitake Mushrooms
100g (¾-1 Cup) Carrot
35g (Thumb Sized Piece) Ginger
2 Garlic Cloves
150g (1 Piece) Pak Choi
1 Small (100g) Onion
300g Straight to Wok Udon Noodles
2 Spring Onions
1 Tbsp Cooking Oil
For the Sauce:
3 Tbsp Light Soy Sauce
1½ Tbsp Hendersons Relish
1½ Tbsp Mirin
1 Tbsp Light Brown Sugar
Instructions
Cut the mushrooms into 5-7mm (¼") thick slices.
Julienne the carrot into strips around 2-3mm (⅛") in profile. A mandolin really helps with this.
Peel the ginger and cut it into batons as thinly as you can.
Peel the garlic cloves and slice them as thinly as you can.
Cut the root off the pak choi and then cut it across the vegetable into 2.5cm (1") thick pieces and separate into the leafy bits and the stalks.
Top and tail the onion then cut it in half and peel it. Cut the onion into 5mm thick slices.
Cut the spring onions into slices 2-3mm (⅛") thick at a 45° angle.
Mix the ingredients for the sauce together.
Place the udon noodles in a sieve or colander and some boiling water over them, this is just to free them up rather than cook them and then refresh them under cold water.
Heat a wok over a very high heat and when it shimmers add the oil followed by the onions and carrots and stir fry for 1 minute.
Add the mushrooms and stir fry for 90 seconds.
Throw in the garlic and ginger and stir fry for 30 seconds
Add the stalks of the pak choi and stir fry for another minute.
Pour in the sauce and cook until the vegetables are nicely coated and the sauce thickens a little.
Add the noodles and leaves of the pak choi and cook for 60-90 seconds tossing to coat as you go.
Add the spring onions, toss and serve immediately.
Nutrition Information:
Yield:
2
Serving Size:
1
Amount Per Serving:
Calories:

351
Total Fat:

9g
Saturated Fat:

1g
Trans Fat:

0g
Unsaturated Fat:

7g
Cholesterol:

0mg
Sodium:

1838mg
Carbohydrates:

59g
Fiber:

8g
Sugar:

20g
Protein:

12g
Calorific details are provided by a third-party application and are to be used as indicative figures only.