Singapore chow mein, a takeaway favourite rocking chicken & prawns with veggies, rice vermicelli noodles in a soy sauce & curry combination!
The success of this dish is all in the preparation, lots of chopping and mixing happens before you move to the stovetop, but then the dish cooks in just 15 minutes.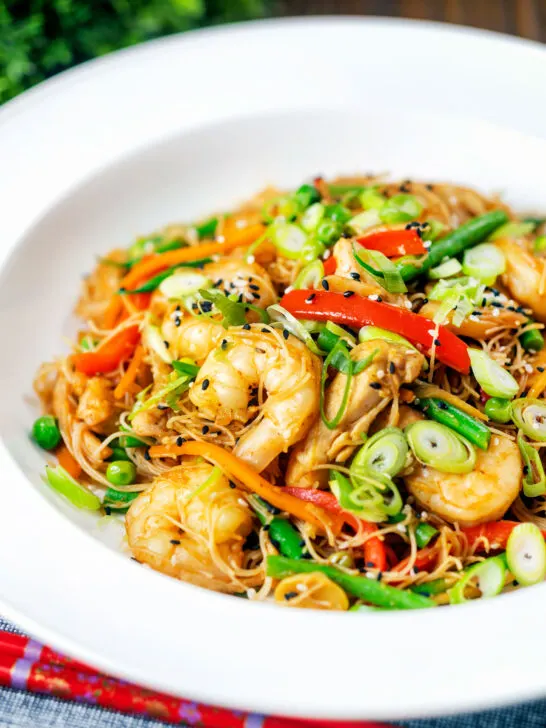 Fakeaway Curried Singapore Noodles
I have to confess that I'd never heard of Singapore chow mein noodles until relatively recently.
My years in the Hungarian wilderness buffeted me from the latest and greatest favourites from UK-based Chinese takeaway menus.
I first came across it when Jack Grealish (a footballer) mentioned it in an interview and curiously googled what it was.
Well, let's face it I am not a stranger to fakeaway dishes on my site, I have everything from sweet and sour pork balls to chicken balti and beef chow mein to lamb pasanda.
So of course a Chinese takeaway dish that fuses Indian curry flavours was gonna get a run out and this recipe has been a major crush of mine in recent weeks.
Every local takeaway that has it on the menu has been hit hard and I've been cooking at a storm playing with ideas.
Curiously it is not a dish from Singapore, but a popular Hong Kong creation apparently and it also goes by the name Singapore chow fun and Singapore mei fun.
It's a glorious mix of rice vermicelli noodles, veggies, eggs, and some protein (I use prawns and chicken) in a simple chow mein sauce and then curry powder.
It sounds odd, but it tastes heavenly and this recipe is already a firm favourite in our house!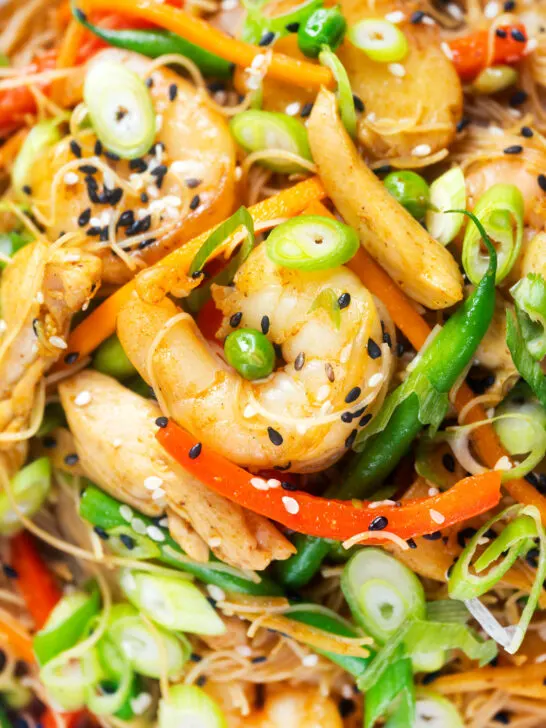 Frequently Asked Questions
Can I use egg noodles?
Yes, of course, it is your dinner! However, do give rice vermicelli noodles a try at least once, I am not a huge fan of them, but I definitely prefer them in this recipe.
What curry powder should I use?
Despite cooking a boatload of Indian-inspired food I don't use a lot of curry powder in my cooking. As a result, I tend to look for curry powder in the smallest packet possible.

I tend to opt for a fairly hot madras style curry powder and it works wonderfully in this dish. But if you are sensitive to chilli then go for something milder, but do not omit the curry powder because I think it is essential in this recipe.
Can I use different vegetables?
Yes, use whatever you have at home or want to add. I've used everything from cauliflower to pak choi and leftover cabbage to bean sprouts.
Can I use different types of protein?
Yes, you can even use store-bought pre-cooked Chinese-style pork, chicken or even tofu.
Do I have to use MSG?
No, but please do, it really does add an extra dimension to this recipe.
What is Chinkiang vinegar?
Chinkiang is a "black" rice Chinese vinegar and I love the stuff. It appears in a significant majority of my Chinese takeaway-style dishes, it has a mellower but more complex flavour profile than regular rice vinegar.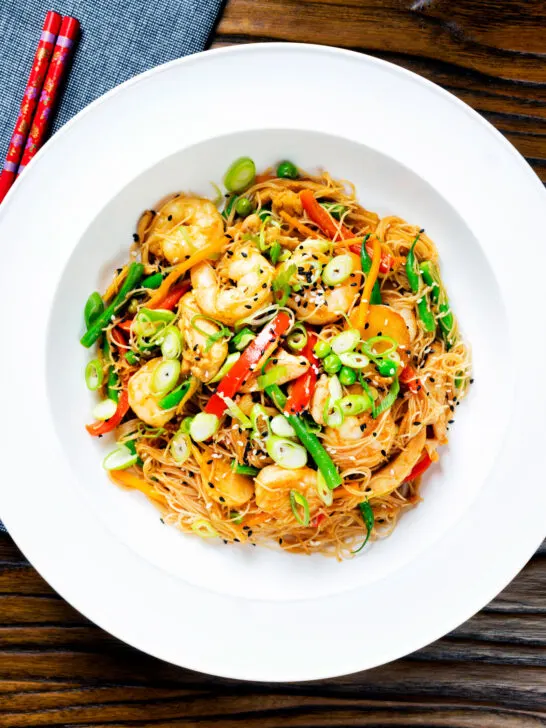 Serving Suggestions
The aforementioned Mr Grealish likes his Singapore chow mein noodles with egg fried rice… and salt and pepper chips… and curry sauce!
To be fair the chap is a professional athlete and probably burns a great deal more calories than me (and maybe shares?), but let's face it, I'd explode.
As far as I am concerned this is a solid and generous one-bowl meal. It has everything, noodles, eggs, prawns, chicken and as many veggies as you want to throw at it.
Personally speaking, if I were to add anything to this meal it would be some snacks or starters to start.
I wouldn't go crazy, but some nice prawn toast, prawn crackers or some crispy egg rolls would work wonderfully.
Alternatively, some Chinese takeaway-style soup like my hot and sour soup or even my chicken and sweetcorn soup would be fab.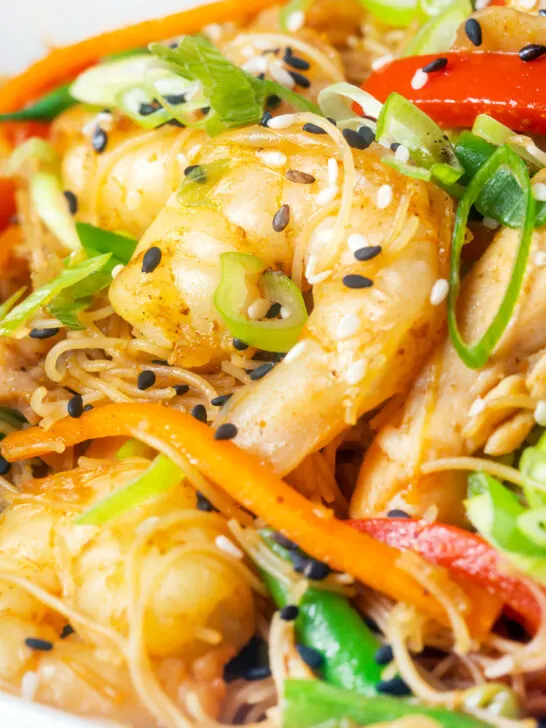 Equipment Used
I only name-check brands of equipment if I think that they make a material difference to a recipe. But if you have any questions feel free to ask them in the comments section below the recipe.
Stovetop.
Wok.
Kettle to boil the water to soak the noodles.
Large bowl to soak the noodles.
Prep and mixing bowls. Use whatever you have to hand for this, but be sure to prepare before you start cooking!
Baking tray or large plate.
Sieve or colander if you need to defrost the peas and prawns.
Chopping board.
Kitchen knife.
Weighing scales and or measuring cups and spoons.
Stirring and serving spoons or tongs.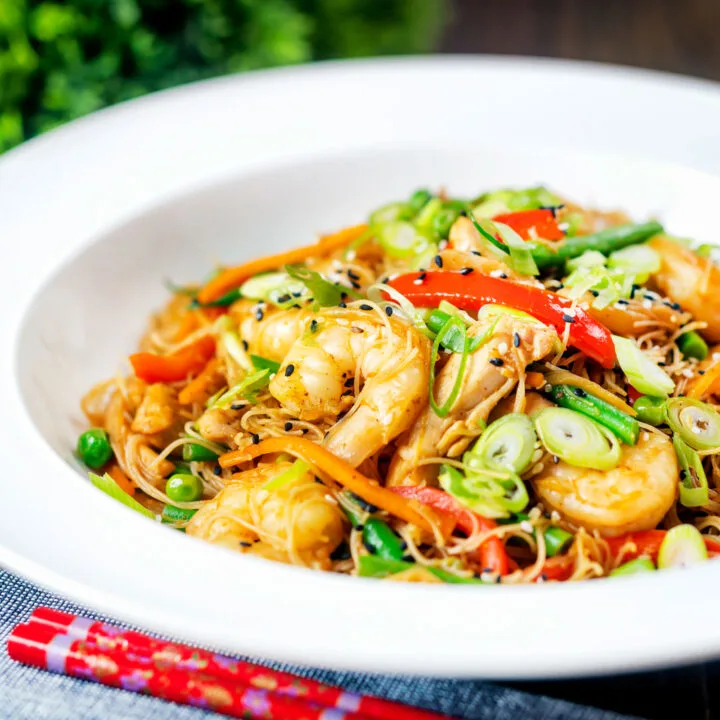 Yield:

2 Servings
Singapore Chow Mein Noodles Recipe
Cooking fakeaways at home is incredibly satisfying and saves money too, these wonderful Singapore chow mein noodles are a popular Chinese takeaway meal that combines rice vermicelli noodles, prawns, and chicken with Indian curry flavours.
Ingredients
90-100g (3-3½oz) Dried Rice Vermicelli Noodles
225g (8oz) Chicken Thigh Meat
225g (8oz) Shelled Raw Prawns
200g (1 Large"ish") Onion
1 Small Bell Pepper
75g (1 Small) Carrot
75g (¾ Cup) Green Beans
3 Garlic Cloves
35g (Thumb Sized Piece) Ginger
100g (½ Cup) Sliced Water Chestnuts
75g (½-⅔ Cup) Garden Peas
1 Tbsp Curry Powder
1 Tsp Sugar
⅛ Tsp MSG
⅛ Tsp White Pepper
3 Tbsp Light Soy Sauce
1 Tbsp Chinkiang Vinegar
1 Tbsp Shaoxing Wine
1 Tsp Toasted Sesame Oil
2 Eggs
2 Tbsp Cooking Oil
Instructions
Place the rice vermicelli noodles in a bowl and pour over enough boiling water to cover them, then let them soak for 2-3 minutes. Drain the noodles, run them under cold water until cooled, and drain thoroughly. Then transfer them to a baking tray or large plate and spread them out to dry a little while preparing the remaining ingredients.
If your prawns are frozen defrost them by running them under cold water for 3-4 minutes.
Cut the chicken thighs into 5-6mm (¼") strips across the thigh.
Top and tail the onion, then peel it and cut it into 8 wedges.
Cut the pepper into 5-6mm thick (¼") strips.
Cut the green beans into 5cm (2") pieces.
Cut the carrot into batons as finely as you can.
Peel the garlic cloves and slice them as finely as you can.
Peel the ginger then cut it into batons as thinly as you can.
Mix together the curry powder, white pepper, MSG and sugar, then set aside.
Mix together the soy sauce, Shaoxing wine, Chinkiang vinegar and sesame oil and set aside.
Crack the eggs into a bowl and beat lightly.
Heat a wok over a high heat and add half of the cooking oil, then add the eggs and cook to form an omelette and then break it up and set it aside.
Return the wok to the heat and add the remaining cooking oil, throw in the chicken and stir fry for 2-3 minutes or until very nearly cooked. Then remove and place on kitchen paper making sure that you keep as much oil in the pan as possible.
Return the wok to the heat and add the onions and stir fry for 2 minutes.
Throw in the garlic, ginger, water chestnuts, carrots and peppers and stir fry for 1 minute.
Add the prawns, green beans and peas and stir fry for a 90 seconds to 2 minutes.
Return the chicken to the pan and sprinkle over the curry powder wix and toss everything together to coat it.
Add the noodles and eggs then toss everything together.
Push the ingredients to the side of the pan and pour in the sauce, when it begins to furiously boil mix everything together and serve immediately.
Nutrition Information:
Yield:
2
Serving Size:
1
Amount Per Serving:
Calories:

707
Total Fat:

32g
Saturated Fat:

6g
Trans Fat:

0g
Unsaturated Fat:

24g
Cholesterol:

329mg
Sodium:

1967mg
Carbohydrates:

64g
Fiber:

11g
Sugar:

17g
Protein:

46g
Calorific details are provided by a third-party application and are to be used as indicative figures only.