Egg fried rice is the ubiquitous and delicious Chinese takeaway side dish, it is remarkably quick & easy to cook at home if you are prepared.
I always cook the rice the morning before cooking or the night before. But once you have done that cooking takes a lightning quick 5 minutes!
Chinese Takeaway Style Fried Rice.
Sometimes the simplest sounding dishes can present the biggest problems in the kitchen.
Chinese takeaway egg fried rice is one of those dishes.
At its heart is nothing more than rice, egg, soy sauce and some green onions, but the secret to the dish is all in the preparation and some fierce heat.
The first thing to get right is your rice, it needs to be precooked and cooled. This is a non-negotiable!
I cook my rice either first thing in the morning or the night before and cool it as quickly as possible. I then store it in the fridge until needed.
The next thing you need is heat and lots of it! Get your wok as hot as it will go and then strap in because it takes minutes to cook
It is the sister dish to special fried rice, which I tend to serve as a simple main course dish.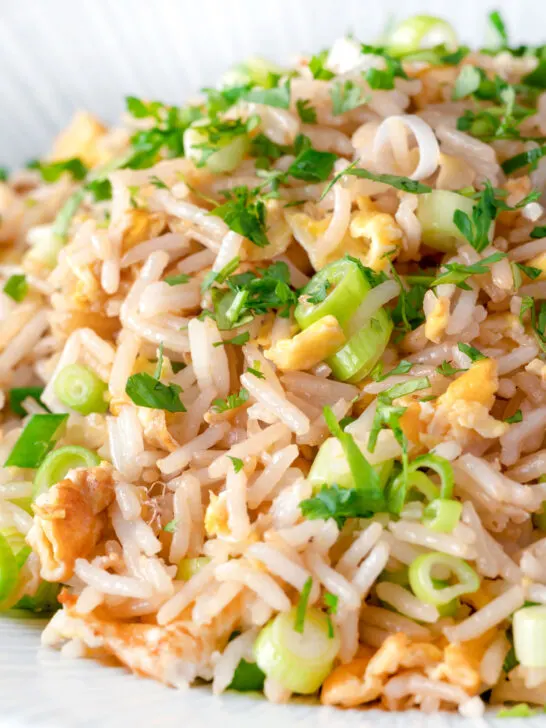 Frequently Asked Questions
Can I use pre-cooked packet rice?
Yes, but you must make sure that you can stir fry the rice. This means that it can be thrown straight into the wok and stir-fried, quite often microwave rice needs extra cooking.

I tested it with Tilda steamed basmati rice and it worked well.
Does the rice really need to be completely cooled?
Yes absolutely! It is very important that the rice is dry when it goes into the wok, if the rice is warm it will still have some moisture.
How do I cool rice?
I cook my rice then let it steam dry for 5-7 minutes in a sieve. Then spread I it onto a baking tray to cool as quickly as possible.
It is vital that you do not allow cooked rice to sit at room temperature because it is a real petri dish for bacteria!
Can you freeze cooked rice?
Yes, and it is fine in the freezer for up to a month. However, you do need to defrost it for this recipe so you will save no time.
Why should I push the rice to the side before adding the soy sauce and sesame oil?
It is important that the soy and sesame cook in the wok before they are combined with the rice, this takes mere seconds.
If you pour the ingredients onto the rice they do not cook. They just sit on the rice and you don't get that smoky flavour.
Can I cook this in advance?
I would not make this hours in advance! But it is perfect for cooking 10 minutes before serving and keeping warm in a hot oven.

I do this a lot when I am serving it with other dishes that are cooked in a wok!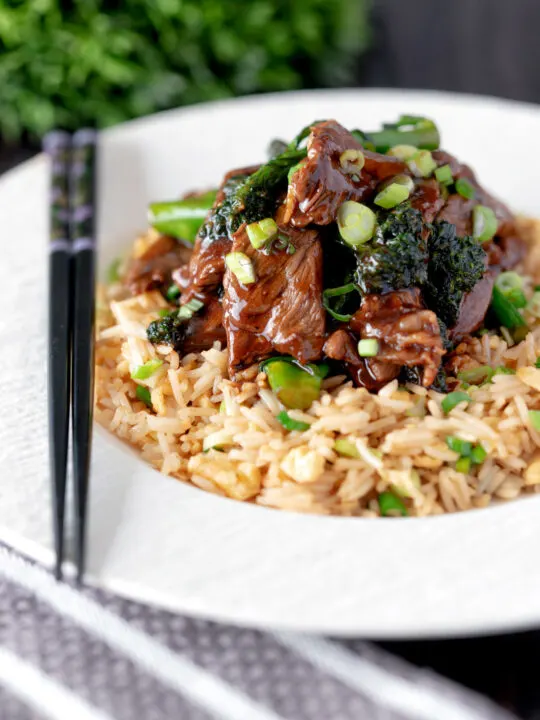 Serving Suggestions
Where do you start? Egg fried rice is the perfect side dish for any homemade Chinese fakeaway recipe.
It is pictured above served with my beef and broccoli stir fry recipe.
It is perfect with all sorts of stir fry dishes, I have it with everything from my teriyaki meatballs and teriyaki prawns to Chinese orange chicken, tofu in black bean sauce and of course crispy chilli beef.
However, cooking it for stir-fried dishes does involve a bit of "wok management" or using 2 woks.
As a result, this gets cooked much more often when I am not stir-frying.
It is perfect for roasted, braised dishes or recipes that can be made in advance like my sweet and sour pork chops, braised Chinese ham hock, Chinese chicken curry and even as a side for Chinese spare ribs, chicken adobo with coconut milk and chicken egg fu yung.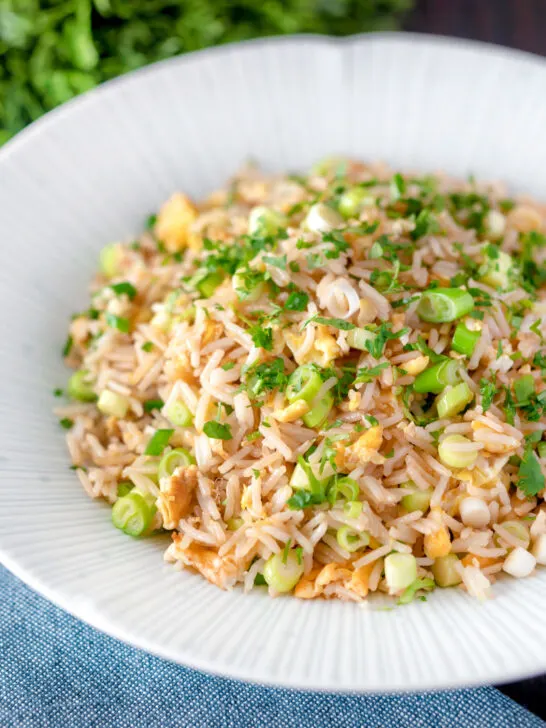 Equipment Used
I only recommend specific brands of equipment if I think that it makes a material difference to a recipe. If you have any questions feel free to ask them in the comments section below.
Wok, I use a well-seasoned large carbon steel wok.
Large metal serving spoon for stir-frying.
Weighing scales and or Measuring cups and spoons.
Preparation bowls, I find these essential for stir-fried dishes. There is no time for measuring or finding ingredients once you have started cooking this egg fried rice.
Stovetop.
Sharp kitchen knife.
Chopping board.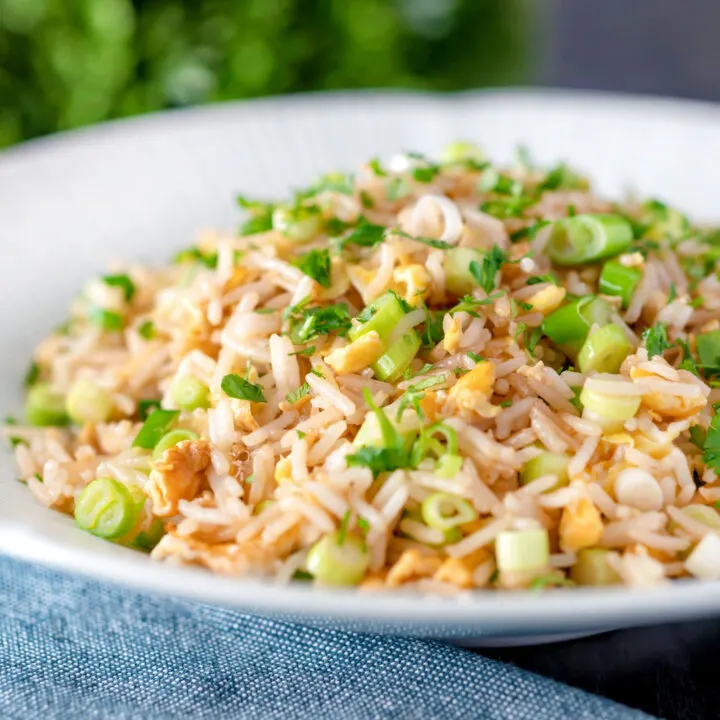 Yield:

2 Servings
Quick Chinese Egg Fried Rice Recipe
A quick Chinese egg fried rice is a fantastic way to make your Friday Fakeaway experience complete and with a little planning it is a lot easier than you think.
Ingredients
350g (2 Cups) Cooked and Cooled Basmati Rice
2 Eggs
8 Spring Onions
1½ Tbsp Light Soy Sauce
1 Tbsp Sesame Oil
1 Tbsp Cooking Oil
Instructions
Finely slice the spring onions into rings 2-3mm thick.
Lightly beat the eggs.
Heat your wok and when it is smoking hot add the cooking oil.
Pour the egg into the base of the wok and until it has almost completely set, which will take about 30-60 seconds.
Add the rice into the centre of the "omelette" in the base of the wok and then stir fry using a spoon to chop up the egg as you cook the rice. Cook until the rice is piping hot which will take 2-3 minutes!
Push the rice to the side of the pan and pour in the sesame oil and soy to the side of the wok. It is important not to pour these onto the rice!
Once the soy starts to boil which should take 2-3 seconds pull back the rice and stir fry for 30 seconds.
Remove from the heat and stir through the spring onions and serve immediately.
Nutrition Information:
Yield:
2
Serving Size:
1
Amount Per Serving:
Calories:

437
Total Fat:

19g
Saturated Fat:

3g
Trans Fat:

0g
Unsaturated Fat:

15g
Cholesterol:

186mg
Sodium:

894mg
Carbohydrates:

52g
Fiber:

2g
Sugar:

1g
Protein:

13g
Calorific details are provided by a third-party application and are to be used as indicative figures only.