Chinese orange chicken in a takeaway style, crispy fried strips with Szechuan pepper lightly coated in a spicy sticky orange and soy sauce.
This dish is prepped and cooked in just 25 minutes, which makes it much quicker than your average takeaway delivery driver and definitely much easier on the pocket.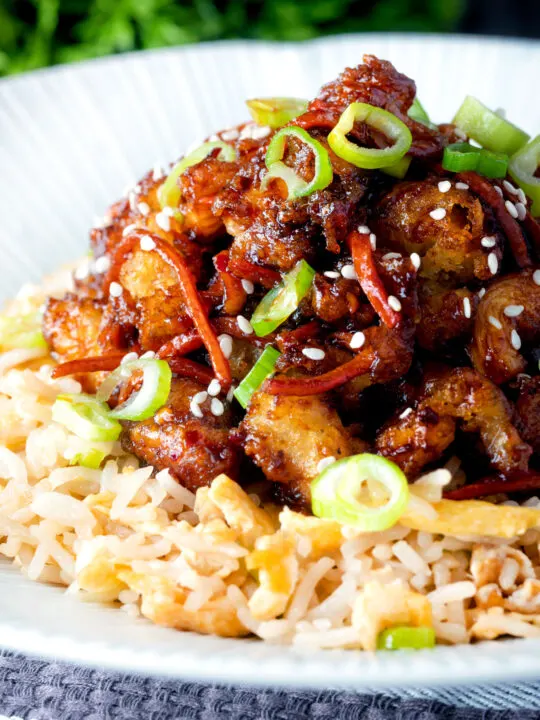 Chinese Crispy Stocy Chicken Fakeaway
This crispy orange chicken recipe is joins a long list of Chinese takeaway recipes that I love to make at home.
With a well-stocked cupboard of half a dozen or so bottles that will last for months, you can beat the takeaway delivery driver for speed and cost every time.
With a little practice and some help, you will even match them on taste!
I have dishes ranging from the classic Dan Dan Noodles, and honey chilli chicken to more unusual dishes like duck and plum stir fry and Chinese chicken curry, the wonderfully named dragon chicken and braised ham hock in black bean sauce.
This orange offering is very much a sister dish to my crispy lemon chicken.
I serve the sauce separately in that dish, whereas here I lightly coat the fried chicken in the sauce. I love the contrast between the crispy batter in places and then the chewy stuff with the intense dark sauce.
The final flourish in terms of flavour is a little Szechuan pepper. I adore the stuff, it is like grown-up popping candy to me!
It fizzes with flavour and there is no need to worry about having loads left over. I use it in dishes like my Szechuan prawns and Chinese blackened pork belly.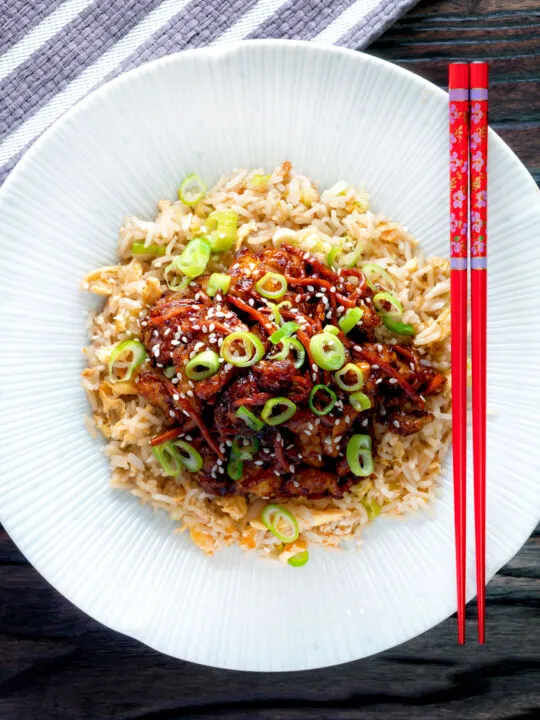 Frequently Asked Questions
Can I use regular soy sauce instead of dark soy sauce?
No, they are very different products. Light soy sauce is much saltier and thinner, dark soy has a rounder flavour and is a little sweet.
Do I have to use Szechuan pepper?
No, feel free to leave it out although I think the dish is better with it. Do not be tempted to sub for black pepper, we already have some spice heat with the chilli flakes in the sauce.
Can I use chicken thighs?
Yes, they actually have a better flavour and are cheaper. However, they are a little more difficult to cut into even strips, which is important in this dish given the quick cooking time.
What is Chinkiang vinegar?
It is a black rice vinegar that has a much more round flavour than regular vinegar. It adds almost flavour as well as just sourness to the sauce for this Chinese orange chicken.

I use it all of the time and prefer it to regular rice vinegar in many dishes. Feel free to use regular rice vinegar if that is all you have.
Do I have to use the chilli?
No, not at all. I am a sucker for a bit of chilli heat but this dish works equally well without it.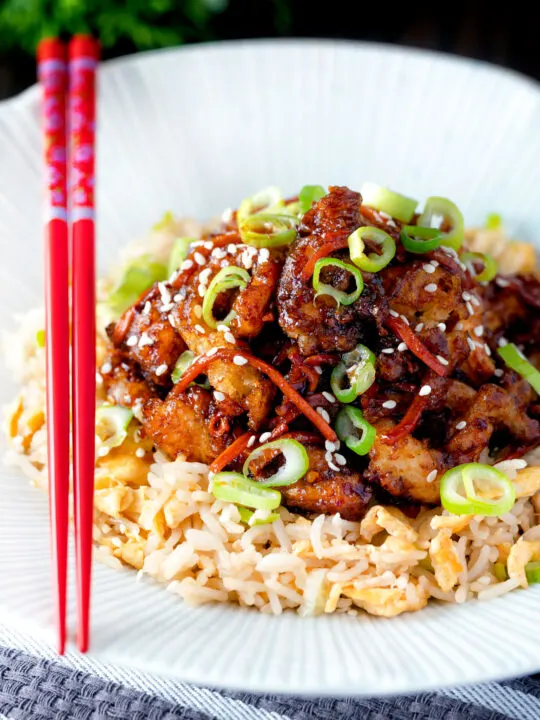 Serving Suggestions
My crispy Chinese orange chicken is pictured here with egg fried rice. It is a dish that needs thinking about in advance, but it is great with this recipe.
I usually make it in the same wok I fry the chicken in and then transfer it to a pan, wipe out the wok and get frying.
However, it is equally good with plain rice whether you boil it or steam it.
If you wanted to serve this with some veggies you could add either stir-fried broccoli or stir-fried asparagus on the side.
One final suggestion before I leave you to make your dinner, and that is noodles. The crispy chicken and the orange glaze sit really well with some simply cooked soy sauce noodles.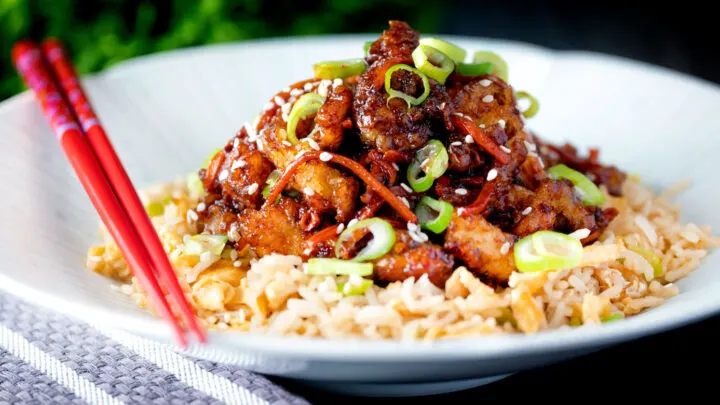 Equipment Used
I only name-check brands of equipment if I think they make a material difference to a recipe. If you have any questions feel free to ask them in the comments section below the recipe.
Stovetop.
Wok.
15cm or 6″ saucepan.
Mixing bowls and prep bowls.
Pestle and mortar or spice grinder.
Kitchen knife, but a mandolin can help with cutting the julienne vegetables.
Chopping board.
Weighing scales and or measuring cups and spoons.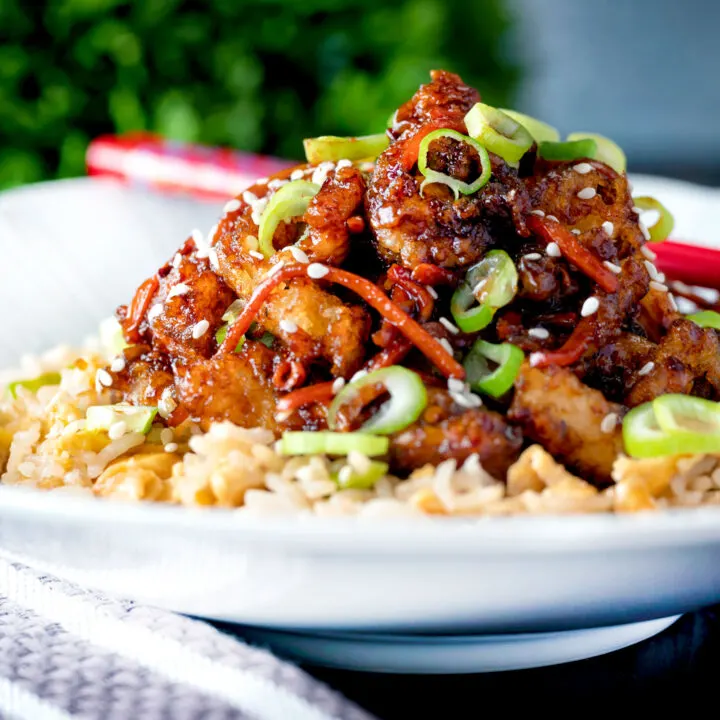 Yield:

2 Servings
Chinese Takeaway Style Crispy Orange Chicken Recipe
My spicy and crispy orange chicken is my take on a Chinese takeaway classic, loaded with wonderful flavours.
Ingredients
300g (10oz) Chicken Breast
1 Orange
1 Tsp Szechuan Peppercorns
2 Tbsp Dark Soy Sauce
1 Tsp Chinkiang Vinegar
1 Tsp Ginger Paste
1 Tsp Garlic Paste
50g (2½ Tbsp) Honey
1 Tsp Dried Chilli Flakes
35g (¼ Cup) Plain Flour + 1 Tbsp
30g (¼ Cup) Cornflour plus 1 Tsp
½ Tsp Salt
1 Tsp Baking Powder
100g (1 Small-Medium) Carrot
100ml (⅓ Cup + 1 Tbsp) Cold Sparkling Water
1 Tsp Water
Oil for Frying
Instructions
Cut the chicken breast into thin 3-5mm slices from top to bottom, then cut this slice into strips 3-5mm in profile, then cut the strips into 5-6cm lengths and place it in a bowl.
Zest the orange and add it to the sliced chicken, then cut it in half and squeeze the juice into a small (14-15cm Saucepan).
Heat a dry wok over a high heat and add the Szechuan pepper and toast it for 6o seconds, then remove and grind and add it to the chicken and mix.
Add the dark soy sauce, Chinkiang vinegar, garlic, ginger, honey and chilli flakes to the orange juice in the saucepan.
Place the sauce on a high heat and bring it to a rapid boil and cook it for 2 minutes, then remove and set it aside.
Mix together the flour, 30g of cornflour salt and baking powder in a bowl and set aside.
Cut the carrot into a thin 2-3mm julienne and then into lengths 5-6cm long.
Pour oil into a wok 4-5cm deep and heat it to 170C or 340F.
Mix the teaspoon of cornflour with the teaspoon of water and return the sauce to a low heat, stir in the cornflour slurry to thicken the sauce.
Fry the julienned carrot for 60 seconds, then remove and soak any excess oil from them with kitchen paper then add them to the sauce and stir.
Pour the cold sparkling water into the flour mix and stir to form a batter, do not worry about a few lumps. It is important that you do this at the last moment.
Add the chicken to the batter and mix to coat.
Fry the chicken in two batches for 2-3 minutes each batch, ensuring that the chicken strips separate before frying.
Transfer the fried chicken to kitchen paper to soak up any excess oil then place in a bowl before pouring over the sauce and stirring to lightly coat.
Nutrition Information:
Yield:
2
Serving Size:
1
Amount Per Serving:
Calories:

685
Total Fat:

32g
Saturated Fat:

3g
Trans Fat:

0g
Unsaturated Fat:

26g
Cholesterol:

128mg
Sodium:

1943mg
Carbohydrates:

50g
Fiber:

4g
Sugar:

28g
Protein:

51g
Calorific details are provided by a third-party application and are to be used as indicative figures only.