My Chinese orange chicken recipe is my take on a takeaway classic, loaded with wonderful flavours and a little chilli heat.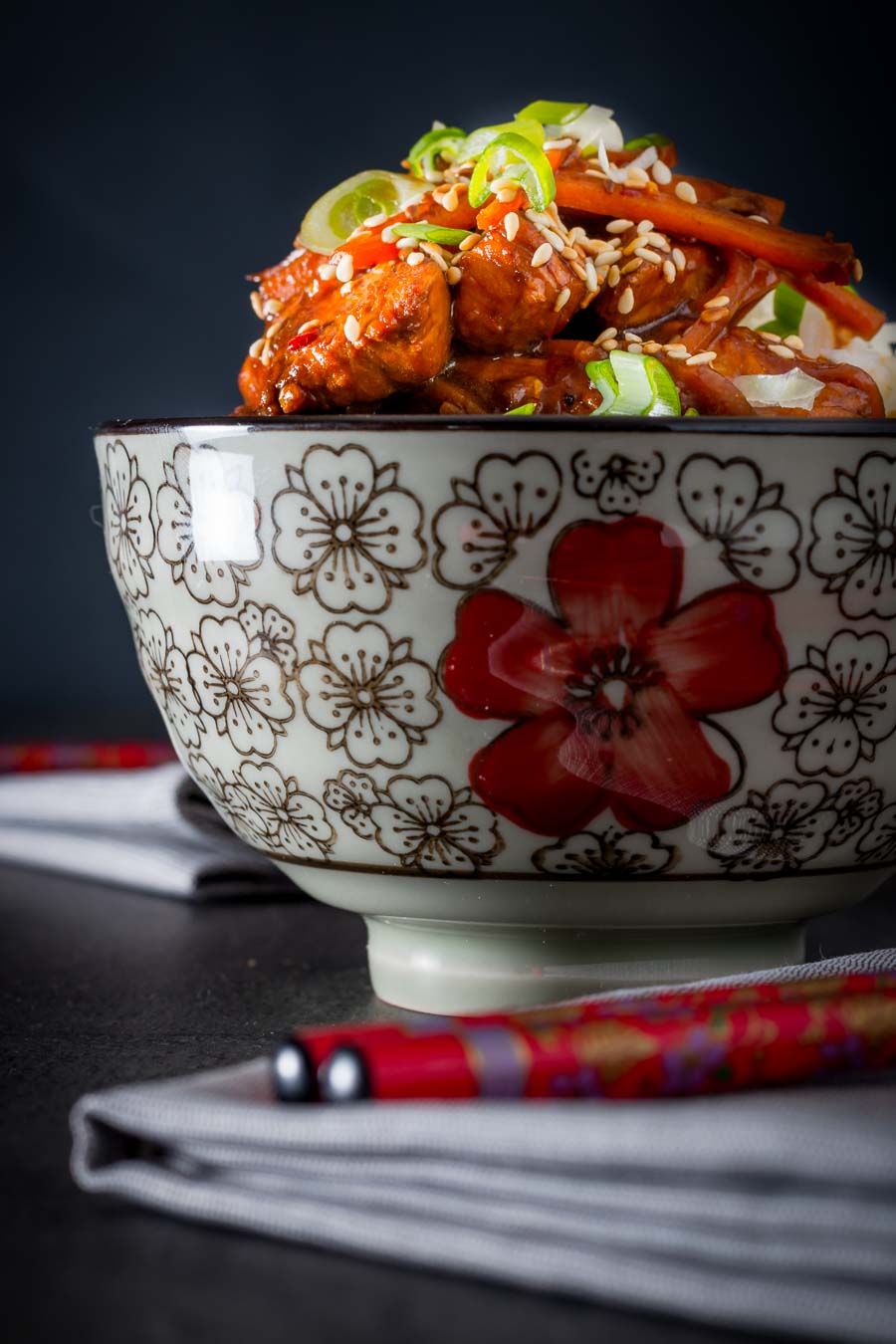 Quick Carrot & Ginger Orange Chicken.
Orange chicken is a favourite Chinese takeaway meal and despite the fact I have never seen a recipe for it in a 'Chinese' cooking book I love it a great deal!
My Carrot and ginger orange chicken is loaded with winter seasonal flavours. Stuff that I can set aside from our harvest that lasts really well, carrots, ginger, and dried chilli.
Add to that a series of my store cupboard favourites like soy sauce and honey and off you go.
My interpretations of takeaway recipes, or fakeaways if you like, are my way of dealing with the fact that I live in excess of 100km in any direction from a takeaway restaurant that ain't pizza.
As you can imagine that messes with the notion of something convenient and simple!
This easy orange chicken recipe can be cooked quicker than your local take away can deliver it to you.
That lack of options leads to a whole host of fakeaway recipes here on my website. Everything from Chicken Jalfrezi to Chicken Lo Mein and Fish and Chips all get a look in!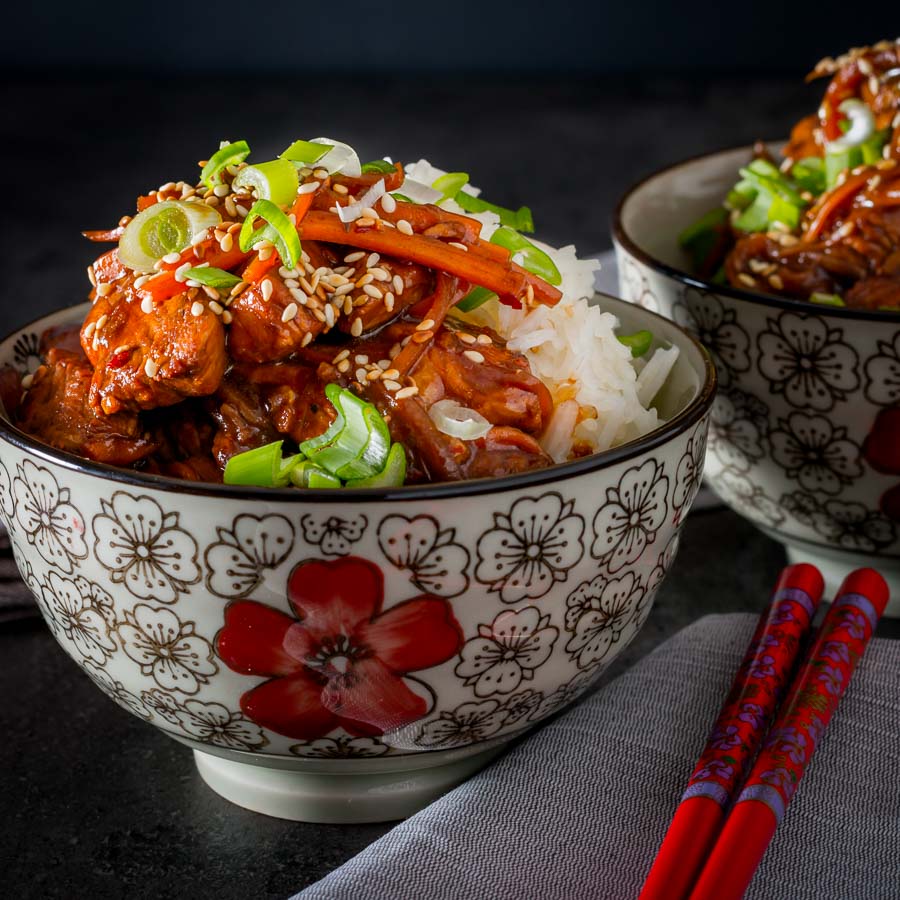 My Take On Chinese Orange Chicken.
Chinese style food is my wifes favourite as I mentioned in my sweet and sour chicken.
As a result, I have a fierce critic on these dishes, I personally have always favoured Indian food over Chinese. But I am apparently doing a good job!
I usually prefer chicken thighs for many of my Chinese recipes. But I prefer boneless skinless chicken breasts for this recipe.
I have been working on my own Chinese style dishes and I am developing a much more of a taste for them.
The complexity and variety of flavours are far greater than anything I ever associated with a Chinese meal when I lived in the UK.
Recipes like my garlic ginger chicken legs have become a firm favourite as has this Orange Chicken!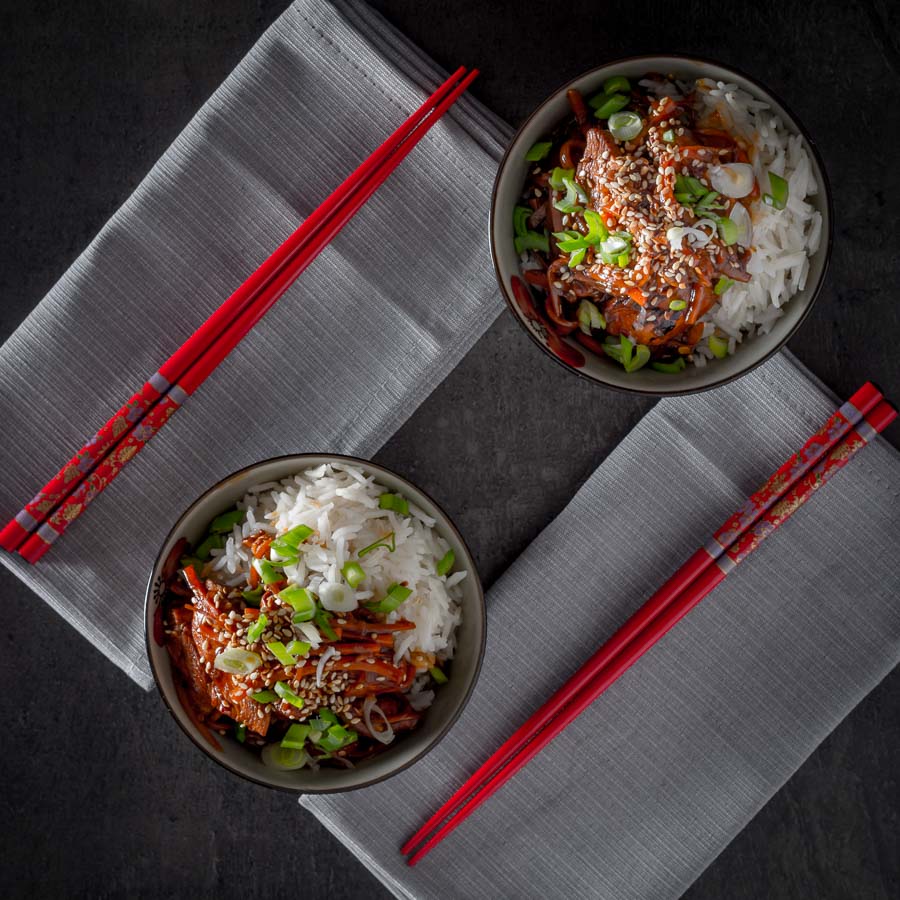 Cooking Takeaway Food At Home.
Sure ordering in means no washing up but typically fakeaway recipes are one or two pot dishes anyway.
For instance, this Orange Chicken recipe uses a wok and pan for cooking some rice. There is a dish for marinating too but certainly not a lot.
The secret to cooking like this is all in the preparation. To be perfectly honest it is very much the secret to all cooking.
Chefs refer to it as 'mise en place', to me it is just about getting your stuff together.
The last thing you want to do is leave your ingredients sitting in a searing hot wok whilst looking for your next ingredient.
Just read the recipe a couple of times, get your ingredients together and off you go. You will be fine and no doubt surprise yourself!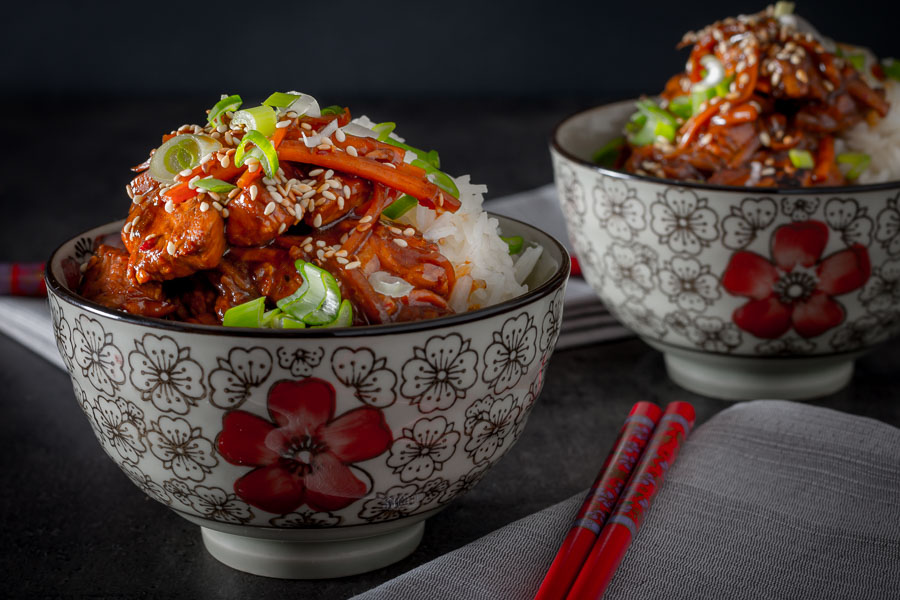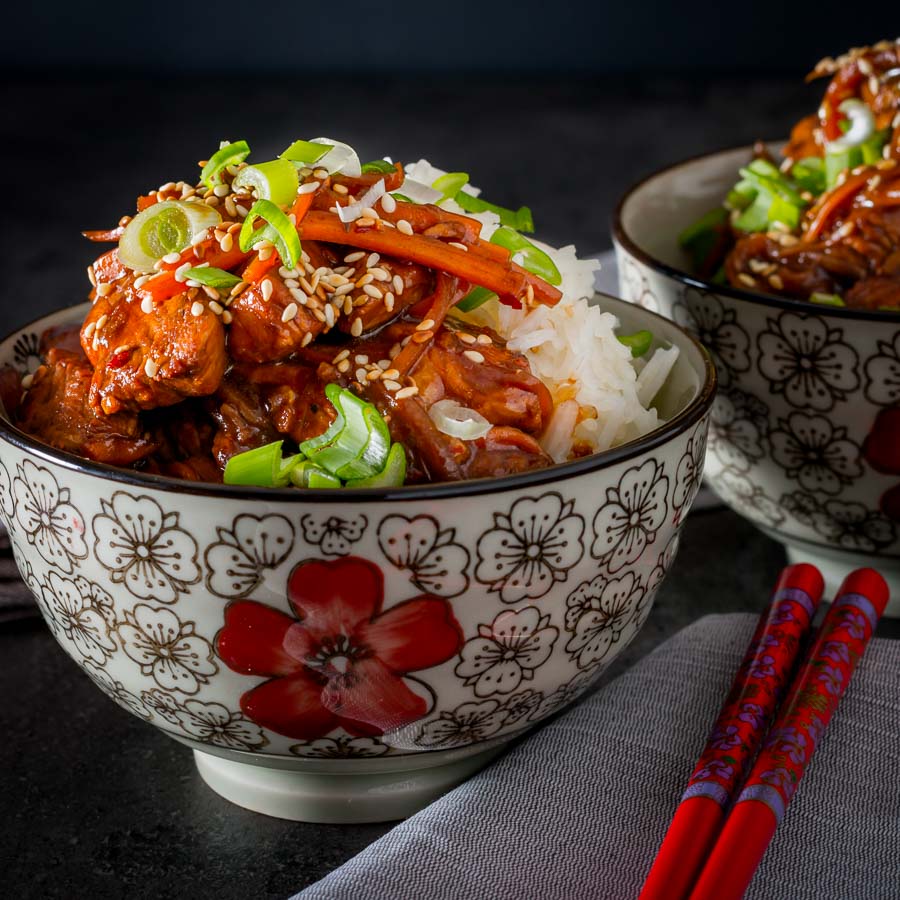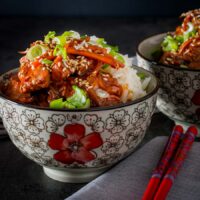 Carrot and Ginger Orange Chicken
My carrot and ginger orange chicken is my take on 'Chinese' takeaway classic, loaded with wonderful winter flavours and a little chili heat.
Ingredients
1 Tbsp Honey
1 Tbsp Dark Soy Sauce
1 Orange
30 g Ginger
1 Clove Garlic
1 Tsp Dried Chili Flakes
250 g Skinless Chicken Breasts
1/2 Tbsp Cooking oil
125 g Carrot
1 Tsp Cornflower
1/2 Tbsp Water
1 Tsp Toasted Sesame Oil
1/2 Tbsp Sesame Seeds
1 Spring Onion
Instructions
Zest and juice the orange.
Peel and grate the ginger and mince the garlic.
Slice the chicken breast into 7-10mm wide strips.
Mix together the honey, soy sauce, orange zest, orange juice, ginger, garlic and chilli into a marinade and then add in the chicken.
Cut the carrot into a julienne, 2-3mm batons about 5cm long.
Finely slice the spring onion.
Before you get started toast your sesame seeds in your wok over a high heat taking care not to burn the, and then set aside.
Heat the cooking oil in a wok over a fierce heat then add the carrots and stir fry for 2 minutes.
Add in the chicken which has been removed from the marinade, keep the marinade as it will form the sauce and stir fry for a further 5 minutes.
Mix together the cornflour and water and set aside.
Add in the marinade to the chicken when it is nearly cooked.
When this comes to the boil stir in the cornflour and water mix and serve when thickened and glossy, this should take no more than a minute.
Stir it in the sesame oil just before serving and garnish with the sesame seeds and sliced spring onions.
Notes
Serve with boiled rice that has been cooked with a couple of bruised cardamon pods.
Nutrition Information:
Yield:

2
Serving Size:

1
Amount Per Serving:
Calories:

405
Total Fat:

12g
Saturated Fat:

2g
Trans Fat:

0g
Unsaturated Fat:

9g
Cholesterol:

107mg
Sodium:

585mg
Carbohydrates:

33g
Fiber:

3g
Sugar:

22g
Protein:

42g
Calorific details are provided by a third-party application and are to be used as indicative figures only.