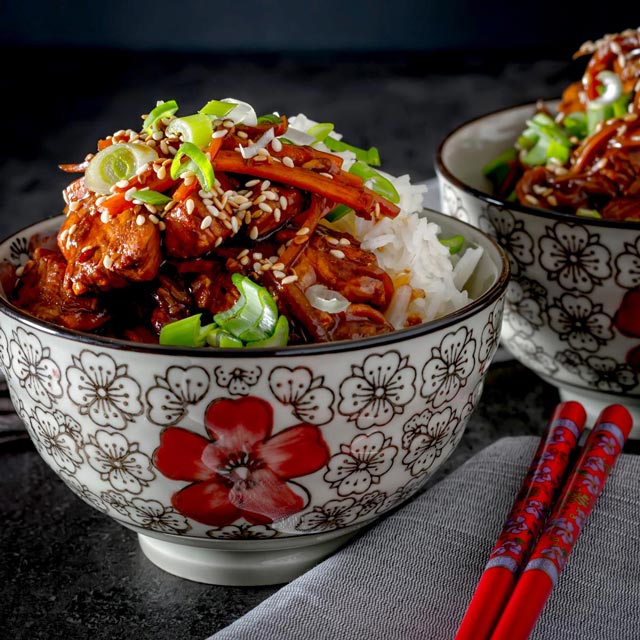 Orange chicken is a pretty standard favourite Chinese takeaway meal and despite the fact I have never seen a recipe for it in a 'Chinese' cooking book I live it a great deal! My version of orange chicken is loaded with winter seasonal flavours, stuff that is easily stored for a long time so the core vegetable is carrot, something we grow loads of and of course ginger which I think is the perfect winter flavour, not to mention a little dried chili I set aside from our harvest in summer!
My interpretation of take aways, or fake aways if you like are my way of dealing with the fact that I live in excess of 100km in any direction from a decent take away which kind of messes with the notion of something convenient and simple. Having said that, so long as you ignore the marinade times on this orange chicken dish you can probably get started and finished on this dish quicker than your local take away can deliver it to you. Sure ordering in means no washing up but I get an ever growing feeling that I am one of the few households that does not own a washing machine, it is not a holistic choice but one born of space as I have a tiny kitchen 😉
Chinese style food is my wifes favourite as I mentioned in my sweet and sour chicken so I have a fierce critic on these dishes, I personally have always favoured Indian food over Chinese, but I am apparently doing a good job! I think my ambivalence towards Chinese food comes from the fact that food in British take away restaurants is pretty formulaic and dare I say it, boring. However since I have been working on my Chinese style dishes I am developing a much more of a taste for them, the complexity and variety of flavours are far greater than anything I ever associated with a Chinese meal when I lived in the UK.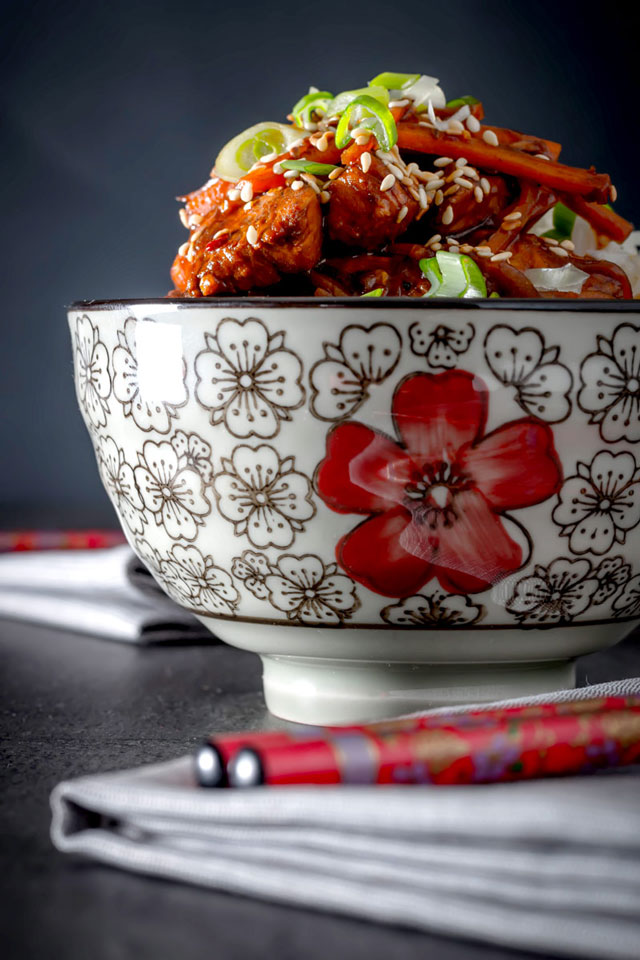 Print
Spicy Carrot and Ginger Orange Chicken
My carrot and ginger orange chicken is my take on 'Chinese' takeaway classic, loaded with wonderful winter flavours and a little chili heat.
Ingredients
1

Tbsp

Honey.

1

Tbsp

Dark Soy Sauce.

1

Orange.

Juice and zest.

30

gFresh Ginger: Peeled and grated

Ginger.

Peeled and grated.

1

Garlic Clove.

Minced.

1

Tsp

Dried Chili Flakes.

250

g

Chicken Breast.

Sliced into 7-10mm pieces

1/2

Tbsp

Cooking oil

Neutral

125

g

Carrot.

Cut into a julienne 2-3mm batons about 5cm long

1

Tsp

Cornflower.

1/2

Tbsp

Water.

1

Tsp

Toasted Sesame Oil.

Optional

1/2

Tbsp

Sesame Seeds.

1

Spring Onion: Finely Sliced.
Instructions
Mix together the honey, soy sauce, orange zest, orange juice, ginger, garlic and chili into a marinade and then add in the chicken and allow to sit for at least 1 hour.

Before you get started toast your sesame seeds in your wok over a high heat taking care not to burn the, and then set aside.

Heat the cooking oil in a wok over a fierce heat then add the carrots and stir fry for 2 minutes.

Add in the chicken which has been removed from the marinade, keep the marinade as it will form the sauce and stir fry for a further 5 minutes.

Mix together the cornflour and water and set aside.

Add in the marinade to the chicken when it is nearly cooked, when boiling stir in the cornflour and water mix and serve when thickened and glossy, should take no more than a minute.

If you are using the sesame oil stir it in just before serving and garnish with the sesame seeds and sliced spring onions.
Recipe Notes
Serve with boiled rice that has been cooked with a couple of bruised cardamon pods.