Pork Vindaloo is a spicy hot and sour curry with Goan/Portuguese origins and my recipe is heavily influenced by British Indian food.
This delicious curry cooks low and slow for a couple of hours leading to beautifully tender and succulent pork!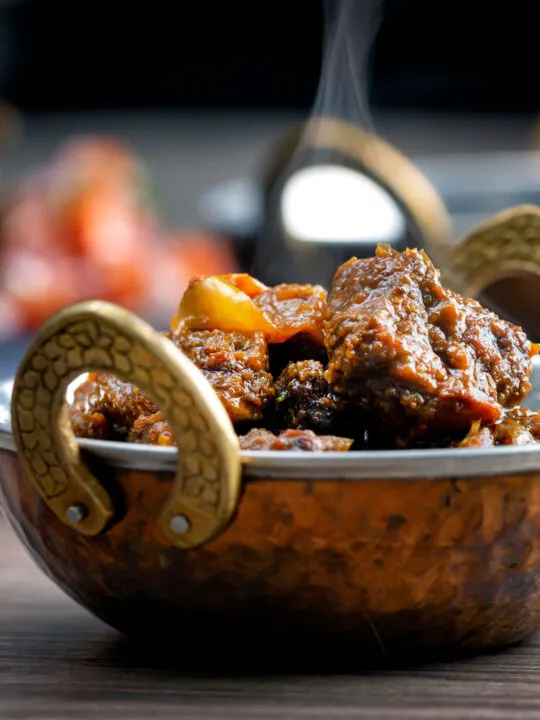 Hot and Sour Pork Curry
My site is littered with curry recipes inspired by my love of British Indian curry houses.
I have everything from lamb madras to the every popular chicken tikka masala.
This pork vindaloo joins a beef vindaloo recipe on my site and the choice of pork and beef to some extent are both fairly "unusual".
However, the use of pork harks back to this curries Indo Portuguese origins. It hails from Goa in south India and was originally a take on Portuguese pork that would have been preserved in wine and garlic.
Over the next 500 years it has become a host of different dishes and mine is another take on a take. The everchanging nature really is everything that I love about food!
When it comes to curry recipes I firmly believe that the sauce should be tailored to match the protein it is served with. So this vindaloo sauce is not identical to the one I use for my beef vindaloo.
I scale back the tamarind a little and increase the vinegar as the sour element and also move to cider vinegar as an ode to the pork.
The fenugreek disappears in this recipe and instead is replaced with fennel because fennel and pork is a match made in heaven.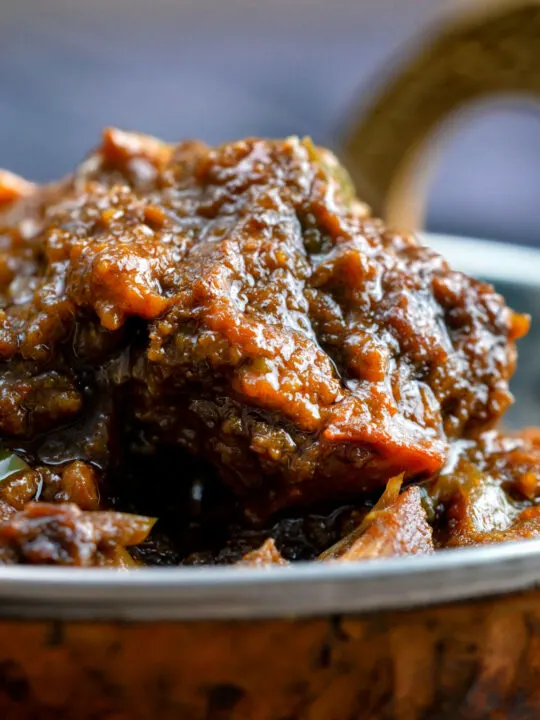 Frequently Asked Questions
What sort of pork is best to use?
If you can get your hands on it some pork blade is the ideal cut of meat as far as I am concerned. It is quite a fatty cut from the top of the shoulder. It is the cut that country ribs come from for my US based readers.

Failing that, pork shoulder or a fattier cut of leg would work well. If you like an even fattier cut of meat then you could make this with rindless pork belly.
Can I cook this in another way?
Yes, you could leave it simmering on the stovetop for 90-120 minutes on a low heat.
You could also throw it in a slow cooker for 5 hours on low or 3 hours on high, but you will need to add more water. This will lead to a slightly wetter curry with a less punchy sauce.
Finally, you could cook it in a pressure cooker or Instant Pot.

Again more liquid will be needed but you can reduce this after the cooking process. Cook on high pressure for 35 minutes and then allow the pressure to release naturally.
Can I use tamarind concentrate?
Yes, but tread carefully! All concentrates have slightly different strengths and getting it wring can fundamentally change a dish.

Add a little to begin with and have a taste before adding more.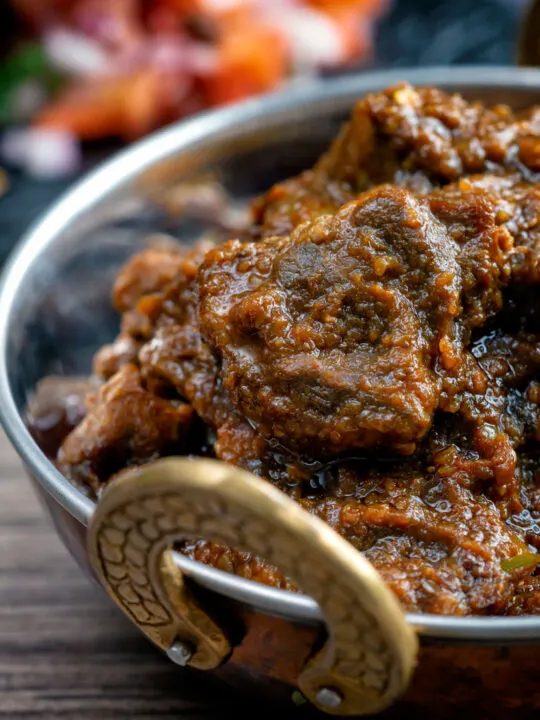 Serving Suggestions
Pork vindaloo cries out for rice and bread to help balance that chilli heat.
For me, as is so often the case that means some tandoori style naan bread, although chapatis work well too.
When it comes to rice I tend to err towards serving with a plain boiled or steamed rice. Mainly because I think that Indian inspired dishes have more than enough flavour to carry neutral rice.
However, you could serve this with a good pilau rice or even something like onion fried rice.
If you wanted something a little different then how about some potatoes? Either fenugreek potatoes (aloo methi) or my roasted Bombay potatoes would work wonderfully.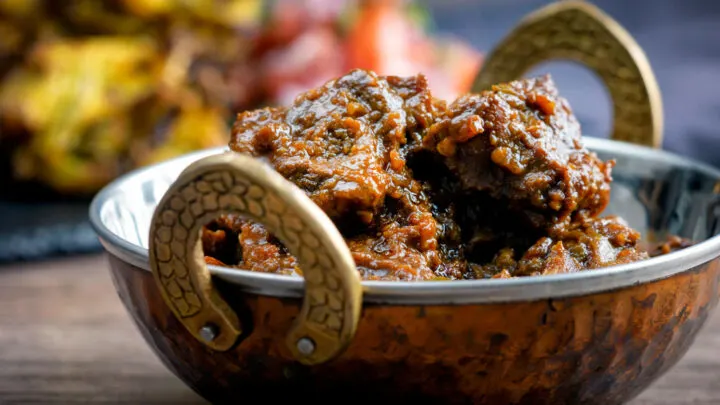 Equipment Used
I only name-check brands of equipment if I think they make a material difference to a recipe. If you have any questions feel free to ask them in the comments section below the recipe.
Stovetop.
Oven.
24cm or 10″ saucepan with a lid.
Chopping board.
Kitchen knife.
Small bowl to soak tamarind.
Fine mesh sieve.
Bag or tub for marinating pork.
Weighing scales and or measuring cups and or spoons.
Mini blender.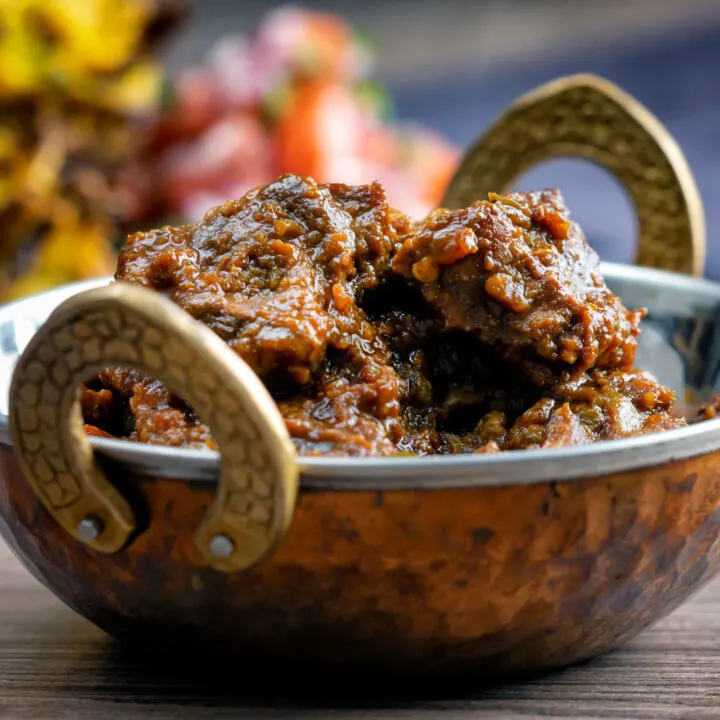 Yield:

2 Servings
Pork Vindaloo Curry Recipe
Cook Time:
2 hours
15 minutes
Total Time:
3 hours
30 minutes
A pork vindaloo is a classic example of fusion food from long before trendy restaurants started to do it. It is an Indo Portuguese recipe dating from around the 15th century and clearly demonstrates pork can be the centre of a curry!
Ingredients
400g (14oz) Pork Blade or Shoulder
For the Marinade:
100g (⅔ Cup) Onion
25g (Thumb Sized Piece) Ginger
10 Cloves Garlic
75ml (⅓ Cup) Cider Vinegar
50g (1½" Cube) Tamarind
50ml (3 Tbsp + 1 Tsp) Boiling Water
1 Tbsp Lemon Juice
1 Tsp Honey
For the Curry:
1 Tbsp Ghee
100g (⅔ Cup) Onion
4 Green Chilli Peppers
125g (1 Medium-Large) Tomato
1 Tbsp Fennel Seeds
1 Tbsp Kashmiri Chili Powder
½ Tsp Ground Cinnamon
¼ Tsp Ground Cloves
1 Tsp Amchoor
1 Tsp Turmeric
½ Tsp Black Pepper
1 Tsp Salt
6 Green Cardamom Pods
Instructions
Cut the pork into a 2.5-3cm (1-1¼") dice.
Pour the boiling water over the tamarind, then mash it a little before leaving to step for 10 minutes.
Peel the ginger and garlic and place them in a blender.
Peel then roughly chop the onion and add it to the blender.
Add the rest of the ingredients for the marinade to the blender and blitz to a paste.
Add the pork cubes and blended marinade to a ziplock bag.
Give the tamarind a final mash then push it through a fine-mesh sieve and add it to the bag with the pork and the marinade. Massage all of the ingredients together and then place it in the fridge and allow it to marinate for at least 1 hour and up to 12 hours.
Peel, top and tail and cut the onion for the curry into 6 wedges.
Heat a medium to large saucepan (24cm or 9-10") that can be placed in the oven over a medium-high heat.
Melt the ghee in the pan and add the onion wedges and cook for 5-7 minutes until they begin to colour.
Roughly chop the tomato.
Cut the green chillies in half lengthways.
Add the powdered spices and fennel seeds to the pan and stir for 30-60 seconds.
Throw in the tomatoes, slit green chillies, salt, pepper and cardamom pods and stir.
Finally, add the pork, the marinade and 75ml (⅓ Cup) of water then stir everything together.
Add a lid and then place in the oven and cook at 160°C or 320°F for 2 hours.
If you like a drier curry with less sauce, remove the lid for the last 20-30 minutes of the cooking time.
Nutrition Information:
Yield:
2
Serving Size:
1
Amount Per Serving:
Calories:

881
Total Fat:

51g
Saturated Fat:

20g
Trans Fat:

0g
Unsaturated Fat:

27g
Cholesterol:

196mg
Sodium:

1448mg
Carbohydrates:

55g
Fiber:

9g
Sugar:

26g
Protein:

54g
Calorific details are provided by a third-party application and are to be used as indicative figures only.