Pork is not usually the first meat associated with a curry, however this pork vindaloo dates back the 15th century. An Indian curry with Portuguese influences, that is hot, sour and all sorts of delicious!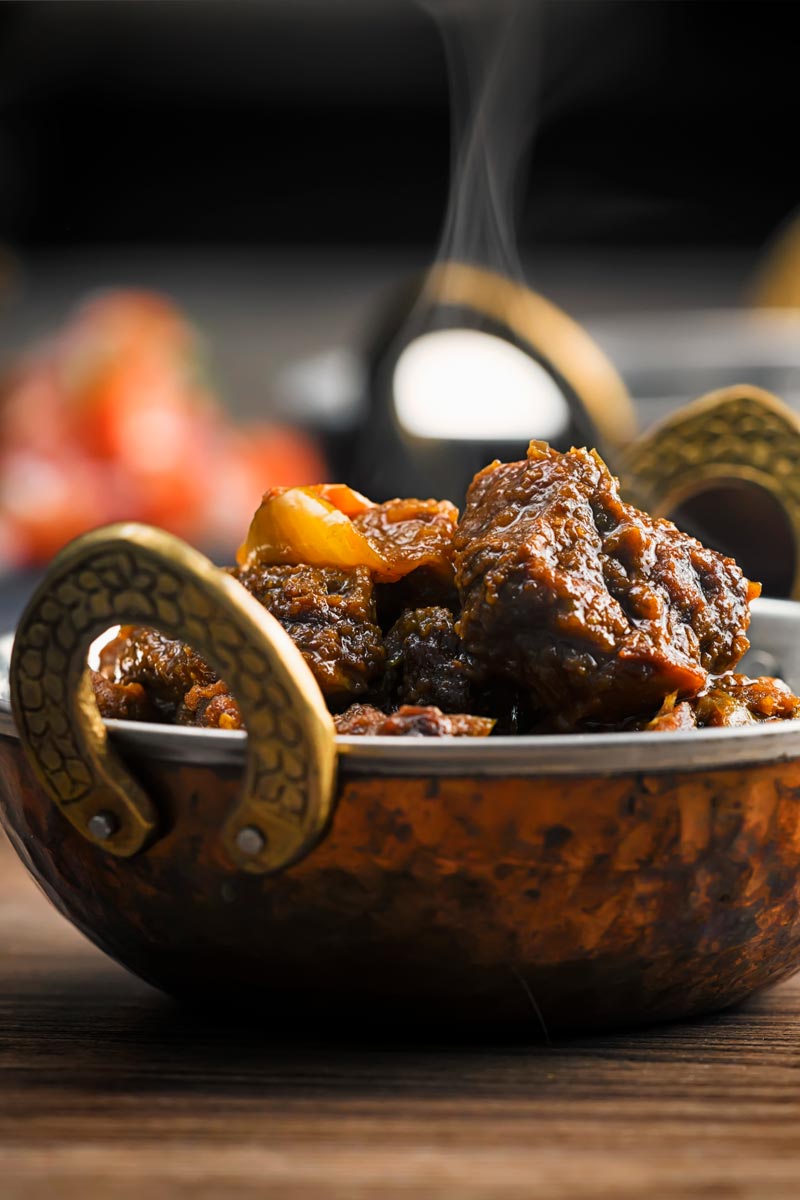 Anglo Indian Pork Vindaloo with Portuguese Heritage
I have two vindaloo recipes on my website and they exist to point out an often overlooked part of cooking a curry.
That point is that sauces in Indian recipes should not be 'interchangeable'. I would never dream of putting the same sauce with chicken, lamb, pork and beef…
But there is a seemingly tacit agreement that it is ok to do this with Indian recipes.
I do not think that it is ok!
Of course, all sauces with the same name should have a common theme, in this instance garlic and vinegar or wine.
As far as I am concerned, after that, a recipe should be changed to compliment the central ingredient.
To drive the point home, I would not serve roast pork with horseradish sauce and likewise, I would not serve roast beef with apple sauce.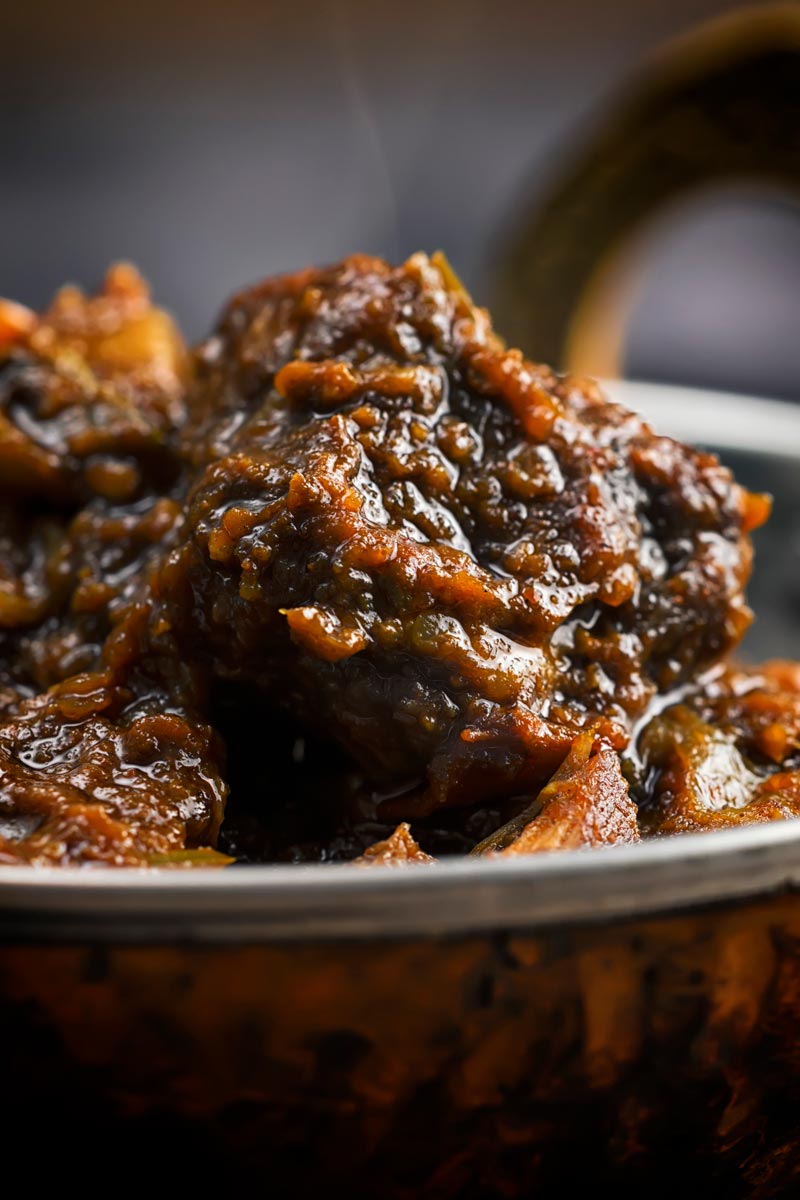 Changing Meat in Curry Recipe
My process in altering a sauce for a curry always starts with the core ingredient.
They are not meant to be lumps of protein that offer nothing more than texture, if they were I would be live on tofu!
In this recipe, we start with some nice fatty pork shoulder.
Just like the beef shin in my Instant Pot beef vindaloo recipe, it is a cut of meat with lots of flavour.
Beef loves earthy flavours, so that goes a little more heavy with tamarind than this recipe. Pork also has an affinity with both apples and aniseed, as a result, we use apple vinegar and fennel seeds in this version.
The beef version runs with regular vinegar and omits the fennel seeds. I also find pork requires less time to marinade.
The effect is subtle, but I firmly believe that 1% differences in cooking are the things that push recipes over the top!
If I were to be creating this recipe for chicken I would dial back all of the spicing.
This is simply because a chicken has less flavour and even though it is a curry it should taste of chicken!
This is a process I follow for all of my chicken curry recipes.
I usually reserve my most heavily spiced curries for meats like lamb or beef, like this lamb madras for instance.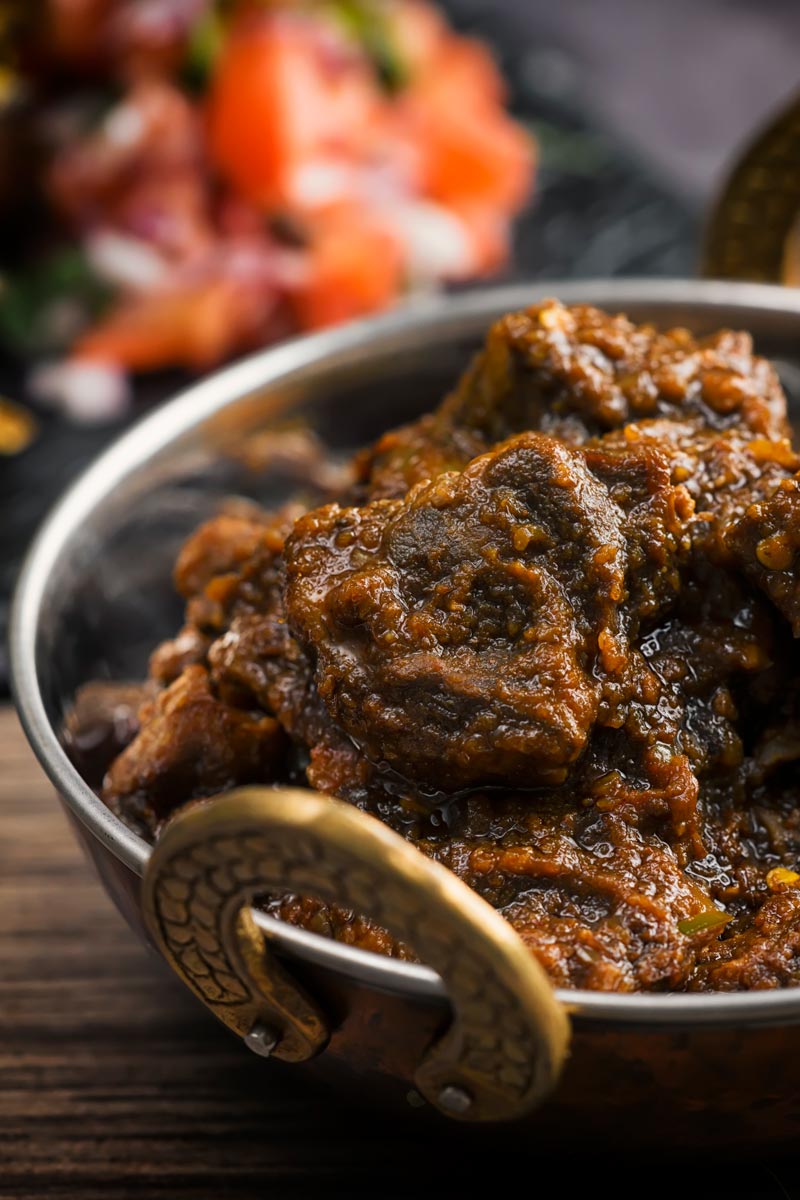 Regular Cooking Vs Instant Pot
This recipe also illustrates contrasting approaches I take to cooking a curry in a regular way and in the Instant Pot.
You could very easily cook this recipe in the instant pot by following the method in the beef variant that I linked to a little further up the page.
Likewise, it would be very easy to cook that beef curry using this method.
As for which method is best… Then it is much of a muchness, I think the oven method gives marginally better results.
The IP method is a little quicker and is more 'hands off'.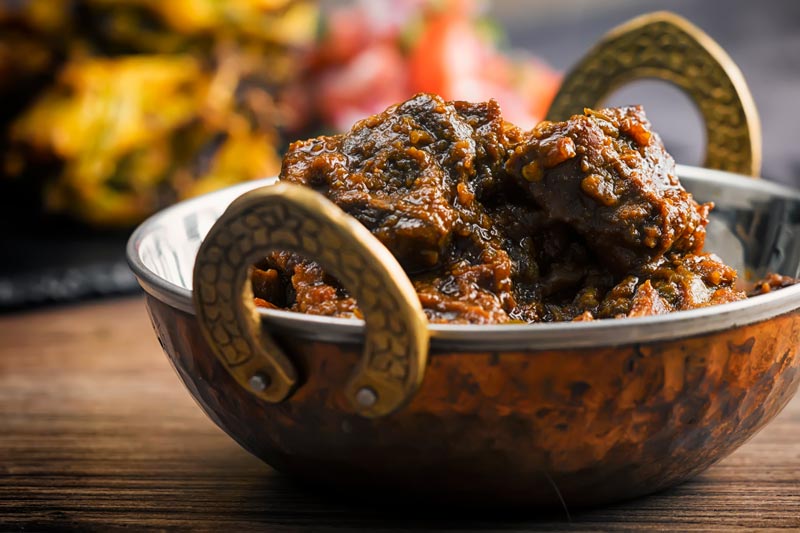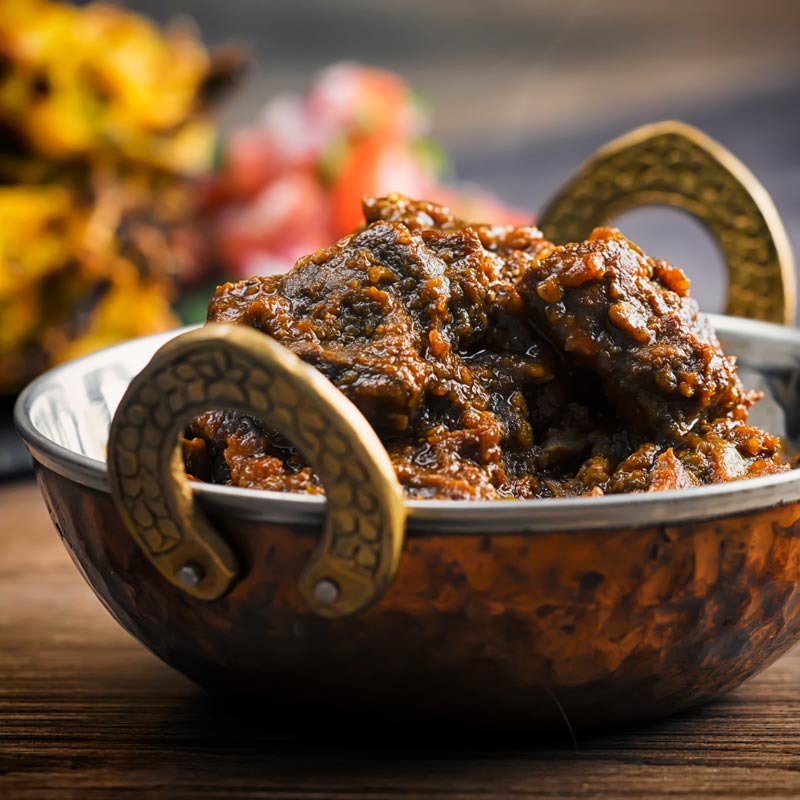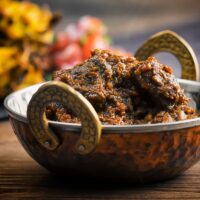 Pork Vindaloo
Cook Time:
2 hours
15 minutes
Total Time:
3 hours
25 minutes
A pork vindaloo is a classic example of fusion food from long before trendy restaurants started to do it. It is an Indo Portuguese recipe dating from around the 15th century and clearly demonstrates pork can be the centre of a curry!
Ingredients
For the Marinade:
125 g Onion
25 g Ginger
8 Cloves Garlic
75 ml Apple Vinegar
25 ml Tamarind Pulp
1 Tbsp Lemon Juice
1 Tsp Honey
For the Curry:
2 Tsp Ghee
100 g Onion
2 Hot Green Chili Peppers
125 g Tomato
1 Tbsp Fennel Seeds
2 Tbsp Kashmiri Chili Powder
1/2 Tsp Ground Cinnamon
1/4 Tsp Ground Cloves
1 Tsp Armchoor
1 Tsp Turmeric
1/2 Tsp Black Pepper
1 Tsp Salt
12 Cardamom Pods
Instructions
Cut the pork into a 2.5 cm dice.
Peel the ginger and garlic, then roughly chop the onion.
Add these to the rest of the ingredients to the marinade and let steep for at least 1 hour, up to 8 hours.
Peel, top and tail and cut the onion for the curry into 4 wedges.
Heat a large pan that can be placed in the oven over a medium high heat.
When hot melt the ghee and add in the onion, cooking for 5-7 minutes until they begin to colour.
Whilst this is happening roughly chop the tomatoes and finely chop the green chili peppers.
Now is a good time to gather the spices, you can put them all in a single bowl if you want to make it easier.
Add the powdered spices and fennel seeds to the pan and stir for 60 seconds.
Then in go the onions and chili, stirring well to combine.
Finally in goes the pork in the marinade, salt & pepper, and the cardamom pods, once again stir well.
Add a lid and then place in the oven and cook at 180

°

C or 350

°

F for 2 hours.
If you like a drier curry with less sauce, remove the lid for the last 20-30 minutes of the cooking time.
Notes
Try to fish out the cardamom pods before serving.
Nutrition Information:
Yield:

2
Serving Size:

1
Amount Per Serving:
Calories:

959
Total Fat:

60g
Saturated Fat:

23g
Trans Fat:

0g
Unsaturated Fat:

31g
Cholesterol:

236mg
Sodium:

1584mg
Carbohydrates:

43g
Fiber:

8g
Sugar:

18g
Protein:

64g
Calorific details are provided by a third-party application and are to be used as indicative figures only.