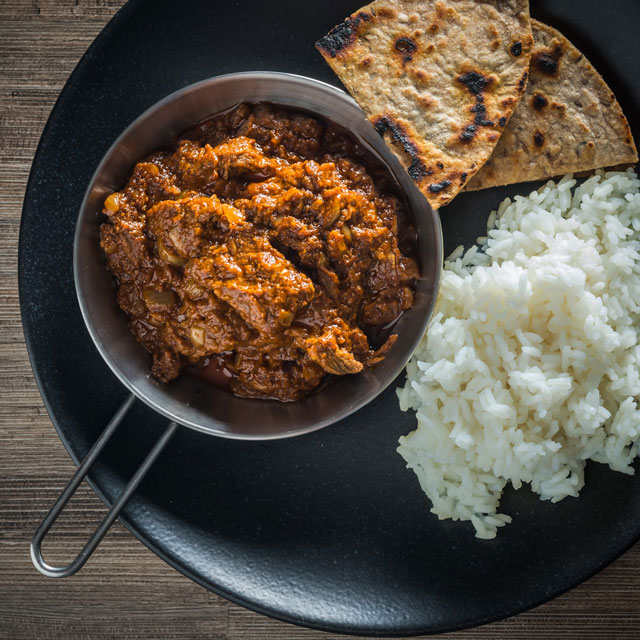 A Madras curry in the UK has a reputation of being somewhat of a one trick pony, a real fiery beast and not a lot else… However my lamb Madras curry has a little more about it but it certainly retains a fierce heat from both our own dried chili (cayenne) and lots of black pepper and all of it tempered with coconut milk. Apparently the Madras Curry name is not really used in India and it is a name that came from British restaurants, in the 60's. How true that is who knows, but the flavours seem to be very 'South' Indian and that ties in with the name, Madras being an old name for the City now called Chennai. Having said that I am not really all that interested in authenticity as I always say, I want food that makes me and more importantly my wife smile and this certainly does that.
My lamb Madras curry is actually a freezer meal that I have been 'forced' into cooking by getting trapped at home this weekend and being unable to get out shopping. Typically this would be because we are snowed in, this time we are 'muddied' in and our wee little front wheel drive cars cannot cope with the sogginess of our road which naturally is just a dirt track. Being producers of food we always have a reasonable amount of produce around, when I say that we could probably be snowed in for months and not go hungry. Today I plumped on lamb and I suppose I had better get the bus out of the village tomorrow afternoon for no other reason than to get some cash and pick up some dog food 😀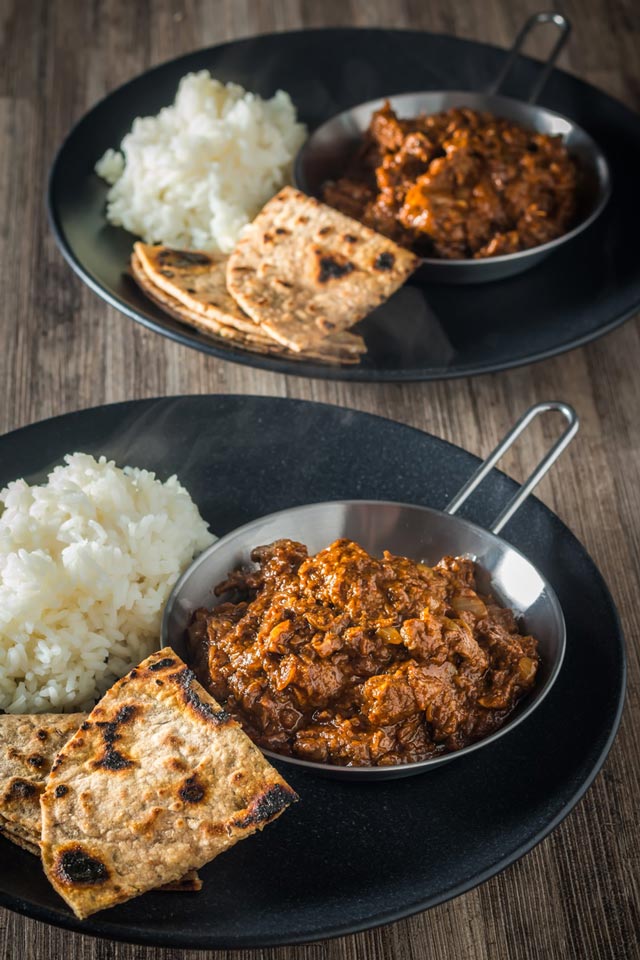 Print
Lamb Madras Curry Fakeaway
A Madras Curry in the UK has become synonymous with a fiercely hot curry and not much else, my version has more complex flavours but still with a punch of heat from chili and pepper.
Ingredients
1/2

Tbsp

Coriander Seeds.

1

Tsp

Black Peppercorns.

1/4

Tsp

Fennel Seeds.

1/8

Tsp

Fenugreek Seeds.

2

Cloves.

2

Dried Chili.

2

Tbsp

Cooking Oil.

Neutral.

100g

Onion.

Cut into a medium fine dice.

20

g

Fresh Ginger.

Grated.

6

Cloves

Garlic.

Crushed into a paste.

350

g

Lamb Shoulder.

Diced.

2

Tbsp

Tomato Puree.

150

ml

Coconut Milk.

1/4

Tsp

Salt.

1/2

Tbsp

Garam Masala.
Instructions
Place the coriander seeds, peppercorns, fennel seeds, fenugreek seeds cloves and dried chili all in a dry pan over a medium high heat and toast until they become fragrant being careful not to burn.

When the spices are toasted crush to a fine powder in a spice grinder or pestle and mortar and set aside.

Add the oil to a medium frying pan over a medium high heat and cook the onion until they begin to colour which should take 5-6 minutes.

Add in the garlic and ginger and cook for a further minute.

Next add in the lamb and cook for 5 minutes stirring occasionally.

Stir in the tomato puree, coconut milk, ground spices from step 3, salt and cover and allow to cook for 1 hour over a very low heat.

After 1 hour remove the lid and reduce the remaining liquid to a thick paste.

Remove from the heat and stir in the garam masala before serving.
Recipe Notes
Serve with boiled rice and chapati and maybe a beer if you want the full British curry house experience.