This Lamb Rogan Josh is heavily influenced by Kashmiri versions, it is richly spiced with complimentary and complex flavours and plenty of chili!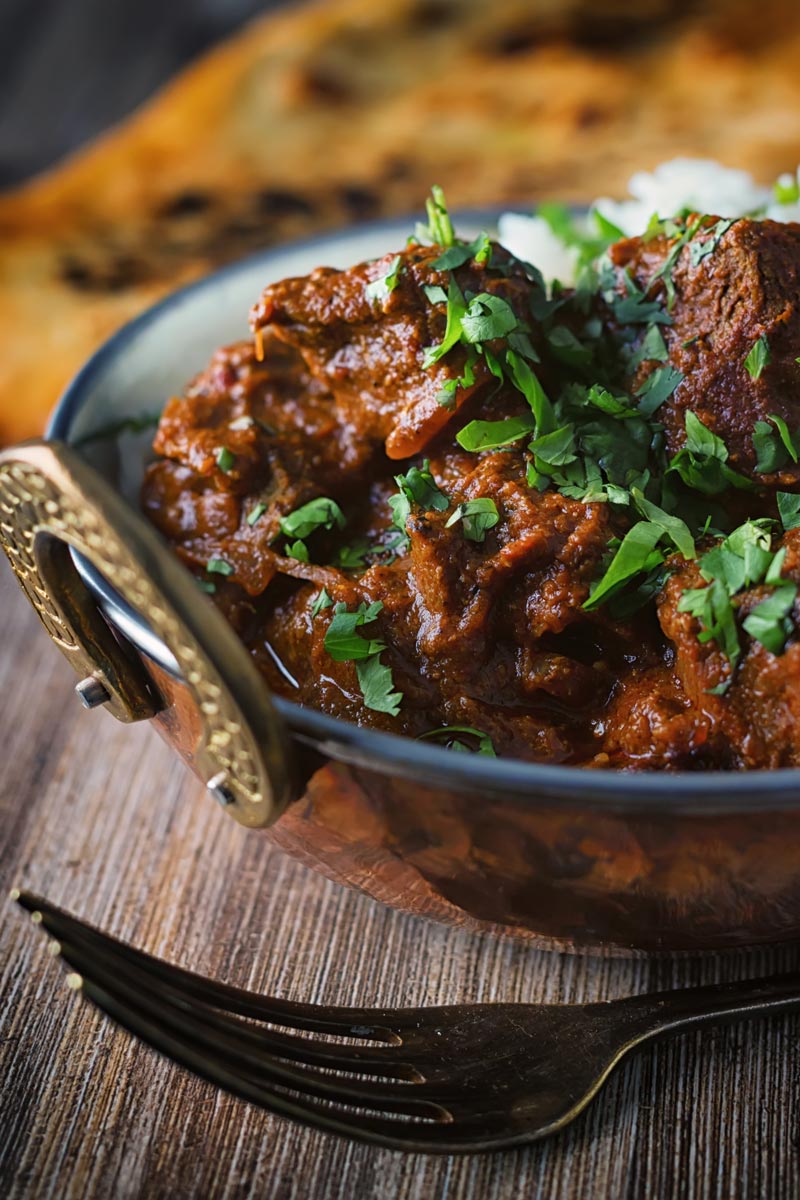 Lamb Rogan Josh.
You all knew that it would not be long before I got a curry on my site in 2018. This Lamb Rogan Josh is brought to you by some good fortune after spending some time out shopping between Christmas and New Year. You know me and shopping, never enjoyed bt this made me smile!
I love lamb and it is incredibly expensive and difficult to find here in Hungary. I'm definitely worth it though and given the popularity of my lamb madras recipe I know you guys like my lamb curries too!
Rogan Josh likely began as a Persian dish. Although as a Brit with a penchant for British Indian food then my love is for a Kashmiri style lamb rogan josh.
There is another lamb curry from my wee lamb stash heading your way in the next week or so. Make sure you check out my keema matar recipe! The joys of not having the monster Christmas dinner means that I am not a prisoner of the 14 kilos of leftover turkey that typified my childhood!
I swear sometimes we were still eating the stuff in February.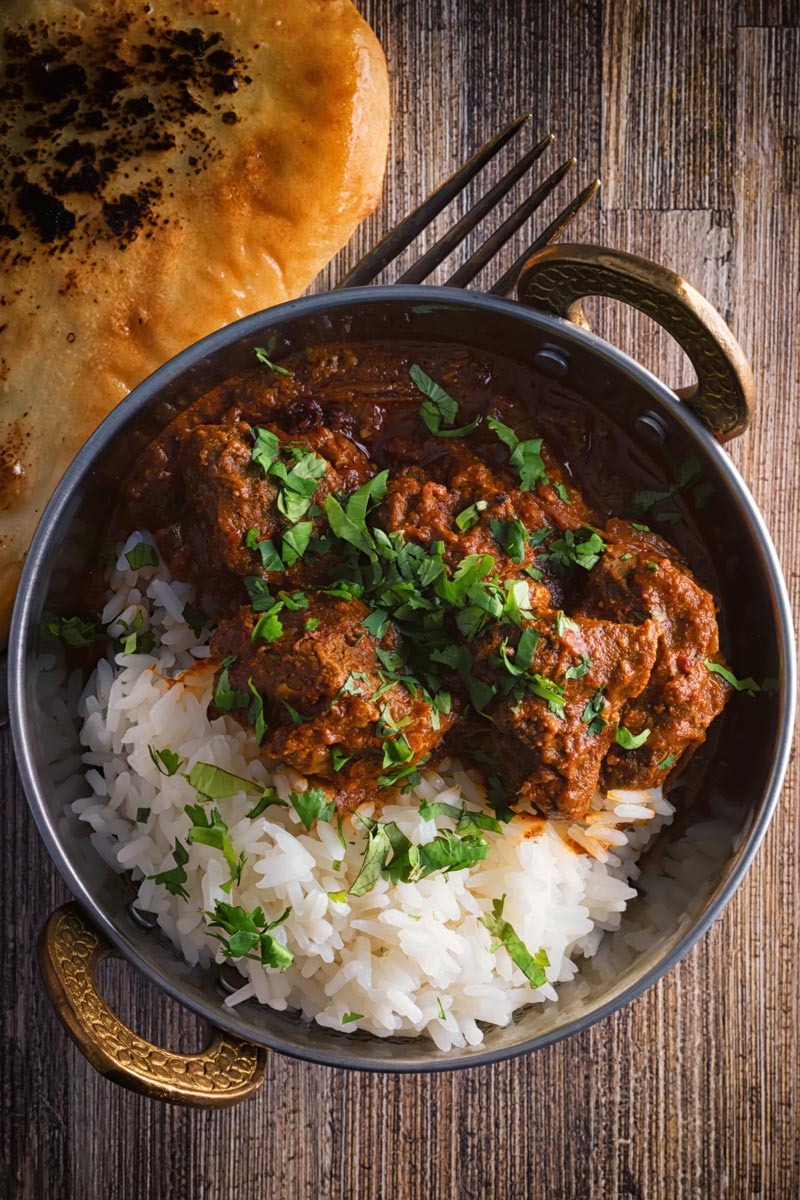 What Is A Rogan Josh Curry?
The good old Rogan Josh has many names, roghan josh or roghan ghosht and of course Rogan Josh. It is typically made from Lamb or mutton, but in the inimitable style of the British Indian Curry house it is available with a whole host of options.
My favourite is lamb or even better mutton, but regular readers will know of my love of lamb in just about everything! Like almost all of my Indian Recipes, this lamb curry is very much a nod to the British Indian Curry that I grew up with.
I have opted for kashmiri chili peppers in this version of lamb rogan josh. Typically it would have been made with dried and then soaked red chili, this gives it the classic red colour. Unfortunately my dried chili stash this year is very poor. I'm also guessing most of you do not have them hanging around.
You can of course use other chili powders, naturally they will all influence the flavour of the dish but that is not a bad thing!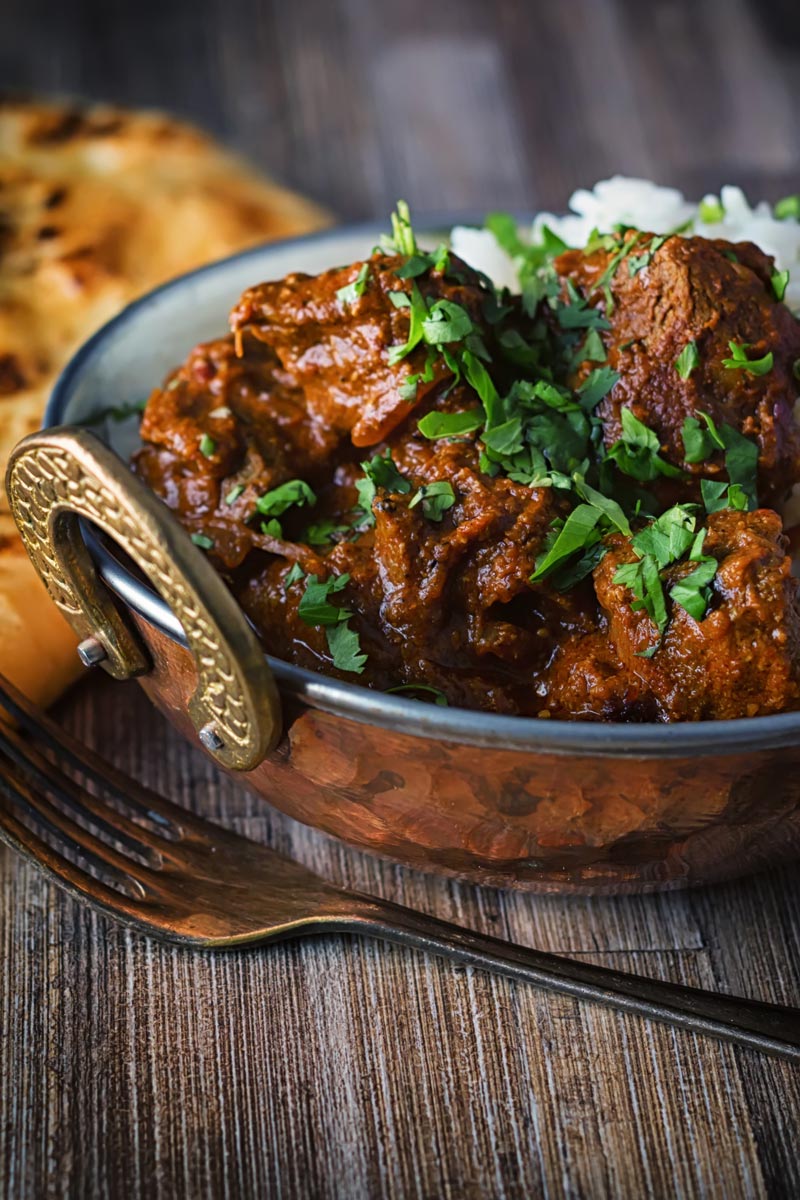 Coming Your Way in 2018!
So what does 2018 have in store for me, who knows? I'm having far too much fun to plan to do other stuff! In the coming weeks, we have a wedding anniversary to celebrate and a 10 year one at that…
Food, of course, will play a huge part in that! We are planning a trip to one of the restaurants we have been keeping an eye on for a while.
A week after we have friends coming to visit and a night away in Budapest. Food will play a very different role in that though! It will likely be a kebab after consuming an obscene amount of alcohol.
2018 also marks our 10th anniversary in Hungary. Yup we both got married and emigrated in the same year. Crazy maybe but we seem to be doing relatively ok out of it.
Apart from that another 100 recipes or so for you hungry people. A garden full of veggies and more strolling around the Hungarian countryside!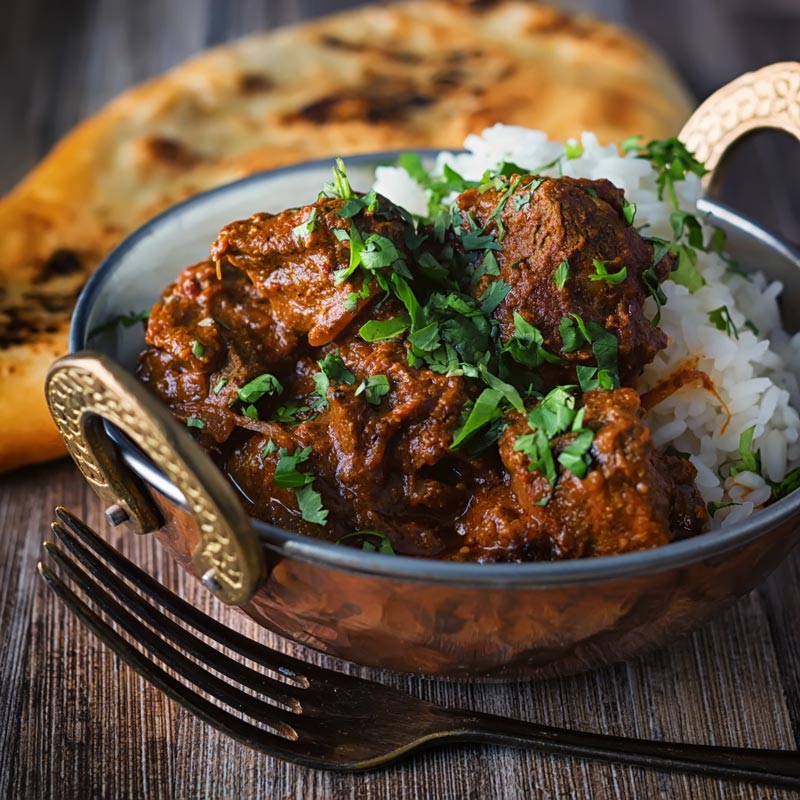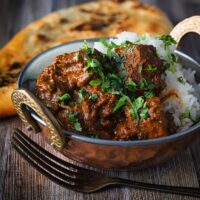 Lamb Rogan Josh
Total Time:
1 hour
10 minutes
Lamb Rogan Josh is an all time favourite dish of mine an Indian curry of Persian origin that has become much more well know as a Kashmiri dish.
Ingredients
500 g Lamb, I use boneless shoulder cut into 2.5cm cubes
100 ml Yoghurt
1 Pinch Saffron, Optional
25 g Ginger
25 g Garlic
1 Star Anise
6 Green Cardamom Pods
1 Black Cardamom Pod
4 Cloves
1 Blade Mace
1 Tsp Black Pepper Corns
2 Tbsp Cooking Oil, Neutral
150 g Onion, Sliced into thin half moon shapes
1/2 Tsp Ground Cumin
1/2 Tsp Ground Cinnamon
2 Tsp Kashmiri Chili Powder
1 Tsp Ground Coriander
1 Tsp Ground Turmeric
1/2 Tsp Salt
2 Tbsp Tomato Puree
Instructions
Take the yoghurt and mix in the saffron and then use to marinade the lamb over night.
Blitz together the ginger and garlic with a little water to form a paste (you can use pre-bought garlic and ginger paste) and stir half of it through the lamb and yoghurt mix the morning before making the curry.
Add the cardamom pods, black pepper corns, cloves, mace and star anise to a dry pan and toast off over a medium high heat for 3-4 minutes.
When toasted grind these spices in a coffee grinder or a pestle and mortar.
Reduce the heat in the pan to medium and add the cooking oil and when it is warm add in the spice mix we just ground and cook off until it begins to become fragrant.
Add in the onions, ground cumin and ground cinnamon along with the remaining garlic and ginger paste then cook until golden brown, this should take 15-20 minutes.
Throw in the lamb and the marinade to the pan with the Kashmiri chili powder, turmeric and ground coriander and cook for 10 minutes making sure you keep it moving as it will want to stick to the pan. This is normal and helps build flavour.
After 10 minutes add in the tomato puree and 50ml of water and stir, reduce the heat to low and allow to slowly cook for 25 minutes.
Notes
Not serving this with a naan bread would be an absolute crime 😉
Nutrition Information:
Yield:

2
Serving Size:

1
Amount Per Serving:
Calories:

1046
Total Fat:

70g
Saturated Fat:

24g
Trans Fat:

0g
Unsaturated Fat:

40g
Cholesterol:

245mg
Sodium:

898mg
Carbohydrates:

38g
Fiber:

7g
Sugar:

11g
Protein:

69g
Calorific details are provided by a third-party application and are to be used as indicative figures only.