Bombay potatoes or Bombay aloo is a gloriously flavoured Indian recipe, roasted with curry leaves & whole spices this is a perfect vegan side.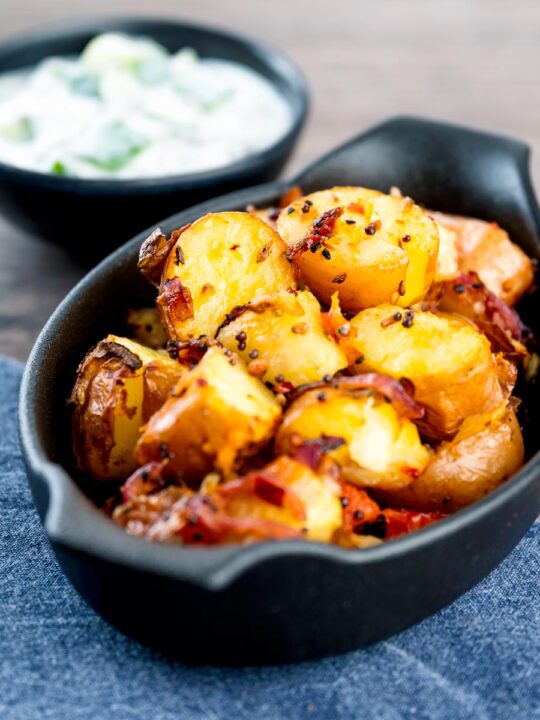 Bombay Aloo.
The name Bombay potatoes or Bombay aloo covers a whole spectrum of recipes.
Everything from a wet curry with a masala style sauce, through to dry spiced potato dish.
If that is your thing you should definitely check out my aloo matar recipe.
My version is the latter, we take potatoes and par boil them with dried chillies to get the flavours started.
Then we crush them and toss them in a spiced oil with some whole spice seeds.
Fennel, cumin, mustard and onion seeds join curry leaves and asafoetida to maximise the flavour in this recipe.
Then it is all roasted in the oven whilst you prepare what ever you want to serve with your Bombay aloo.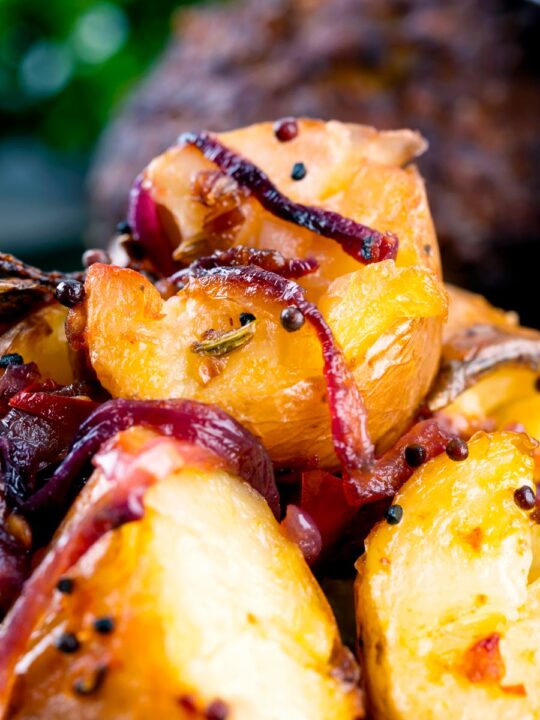 Frequently Asked Questions.
Do the type of potatoes matter?
Yes and no! You can use any type of potato and the dish will taste awesome and your timings will be the same.
But using a waxy potato will lead to a Bombay potatoe dish with more of robust texture. Perfect if serving with a dahl or something like my rajma masala.
Floury potatoes I think work better with a meaty wet curry like my classic pork vindaloo.
Where can I get curry leaves?
You will likely need to hunt down an Indian store for these.
They will often be sold frozen and this is the perfect way to use them and store them.
Try and avoid dried curry leaves, they have practically no flavour.
What is Asafoetida?
It is an ingredient derived from the fennel plant, it does not taste like fennel and it is also known as hing.
Often presented in a small plastic tub that looks like something from a pharmacy rather than a grocery store.
It has an odd indescribable flavor and an insane aroma and it is THE "secret" ingredient that is most often left out of Indian food.
Particularly vegetarian or vegan Indian food and it is a real star in these bombay potatoes.
Just drop some in hot oil and you are instantly transported to your favourite Indian restaurant!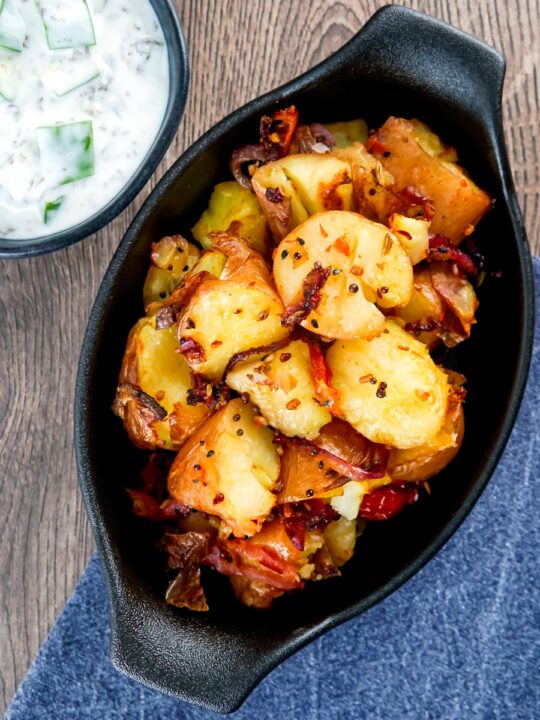 Serving Suggestions.
My roast Bombay potatoes are a dish that I cook when I can be bothered to serve Indian food with something other than rice and naan bread.
They have made cameo appearances alongside my roast spiced chicken legs as well as my Nargis kebabs on my site.
But they are also awesome alongside a wet curry like a chicken pathia, garlic chilli chicken or lamb madras.
I also think that Bombay potatoes make a great side dish for dahl recipes like this mung dahl.
There is definitely life beyond Indian flatbreads, although if I were honest I usually serve both.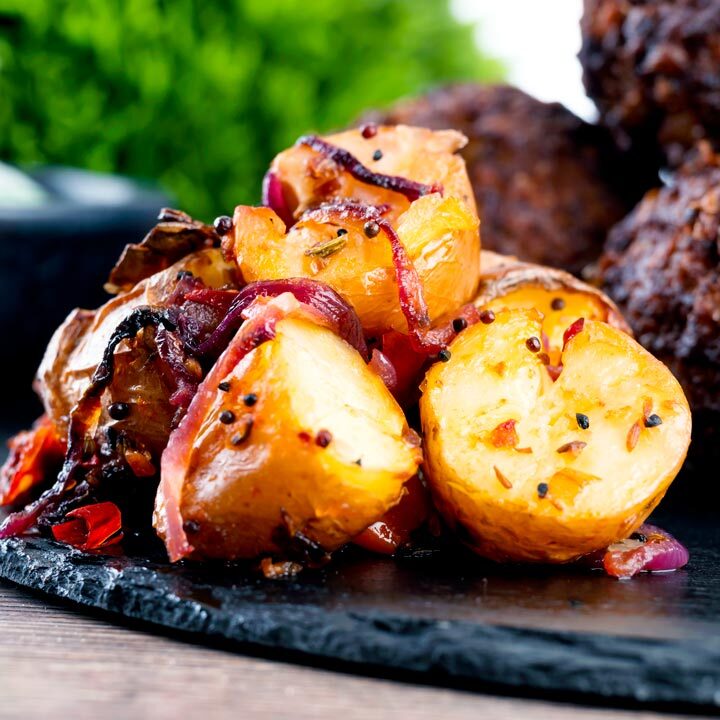 Yield:

2 Servings
Roast Bombay Potatoes Recipe
Bombay potatoes or Bombay aloo are an Indian side dish that provides a wonderful alternative to rice or flatbreads as a side for a curry.
Ingredients
300g (1 1/3 Cups) Potatoes
3 Dried Chilli Peppers
1 Tbsp Oil
150g (1 Cup) Red Onion
1/ Tsp Asafoetida
8 Curry Leaves
1 Tsp Brown Mustard Seeds
1/2 Tsp Fennel Seeds
1/2 Tsp Cumin Seeds
1/2 Tsp Fenugreek Seeds
1/2 Tsp Black Onion Seeds
1 Tsp Turmeric
150g (1 medium-large) Tomato
Instructions
Bring a pan of salted water to the boil and throw in the dried chili and potatoes and boil for 10 minutes to soften.
Peel and slice the red onion into 2mm thick half-moon shapes.
Roughly chop the tomato into a 1.5cm dice.
Heat the oil in a pan and add the seeds and asafoetida.
When your seeds start to pop add in the onion and curry leaves then cook for 2-3 minutes.
Drain your potatoes making sure you reserve the chilli peppers.
Lightly crush your potatoes, you do not want the squished just broken open a little.
Chop as much of the chilli as you want to add, I usually add one of them.
Add in the turmeric to the onions followed by the chilli, tomato, and crushed potatoes and toss to coat.
Roast at 200°C or 400°F for 30 minutes.
Nutrition Information:
Yield:
2
Serving Size:
1
Amount Per Serving:
Calories:

294
Total Fat:

8g
Saturated Fat:

1g
Trans Fat:

0g
Unsaturated Fat:

7g
Cholesterol:

0mg
Sodium:

59mg
Carbohydrates:

52g
Fiber:

8g
Sugar:

11g
Protein:

8g
Calorific details are provided by a third-party application and are to be used as indicative figures only.