Bombay potatoes or Bombay Aloo are the perfect side dish to these simply roasted spiced chicken legs, spiced with Indian flavours in a dish that is not Curry.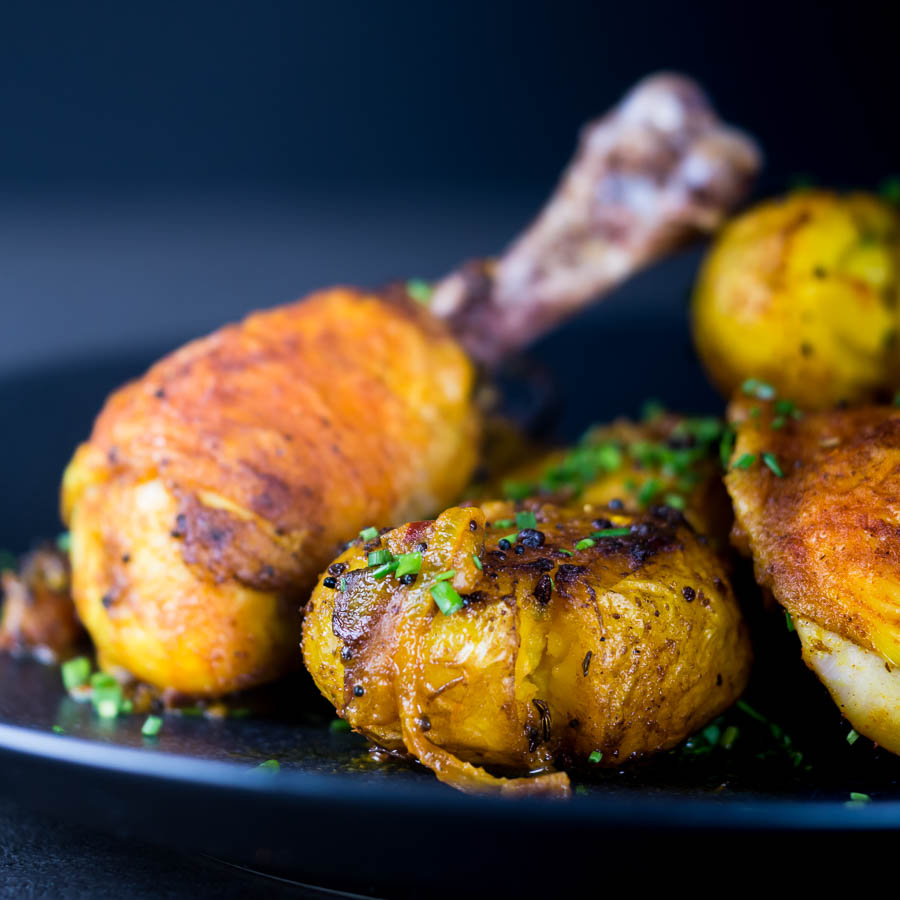 Bombay Potatoes With Chicken Legs.
I'm probably, ok definitely, as guilty as many people as my heavy associations between Indian food and Curry recipes. This Bombay potatoes recipe along with my recent Tandoori Fish recipes go some way to address that.
Also known as Bombay Aloo, it is often assumed that Bombay Potato represents some form of Anglo Indian fusion. However, potatoes were introduced to India in the early 17th century by the Portuguese.
Written reports of potatoes at Indian banquets date back as far as 1675. So whilst this may not have been called Bombay potatoes it is fair to assume that the idea is pretty ancient.
This is not the only Portuguese influence on Indian food either. The much vaunted Vindaloo Curry is actually an Indian take on Portuguese dish.
Anyway enough of the history lessons. These potatoes are heady with the fragrant spices of North India and just a hint of chili.
The chicken legs they are cooked with add flavour to the pan they are cooked on. Which naturally transfers to the potatoes in the final toss.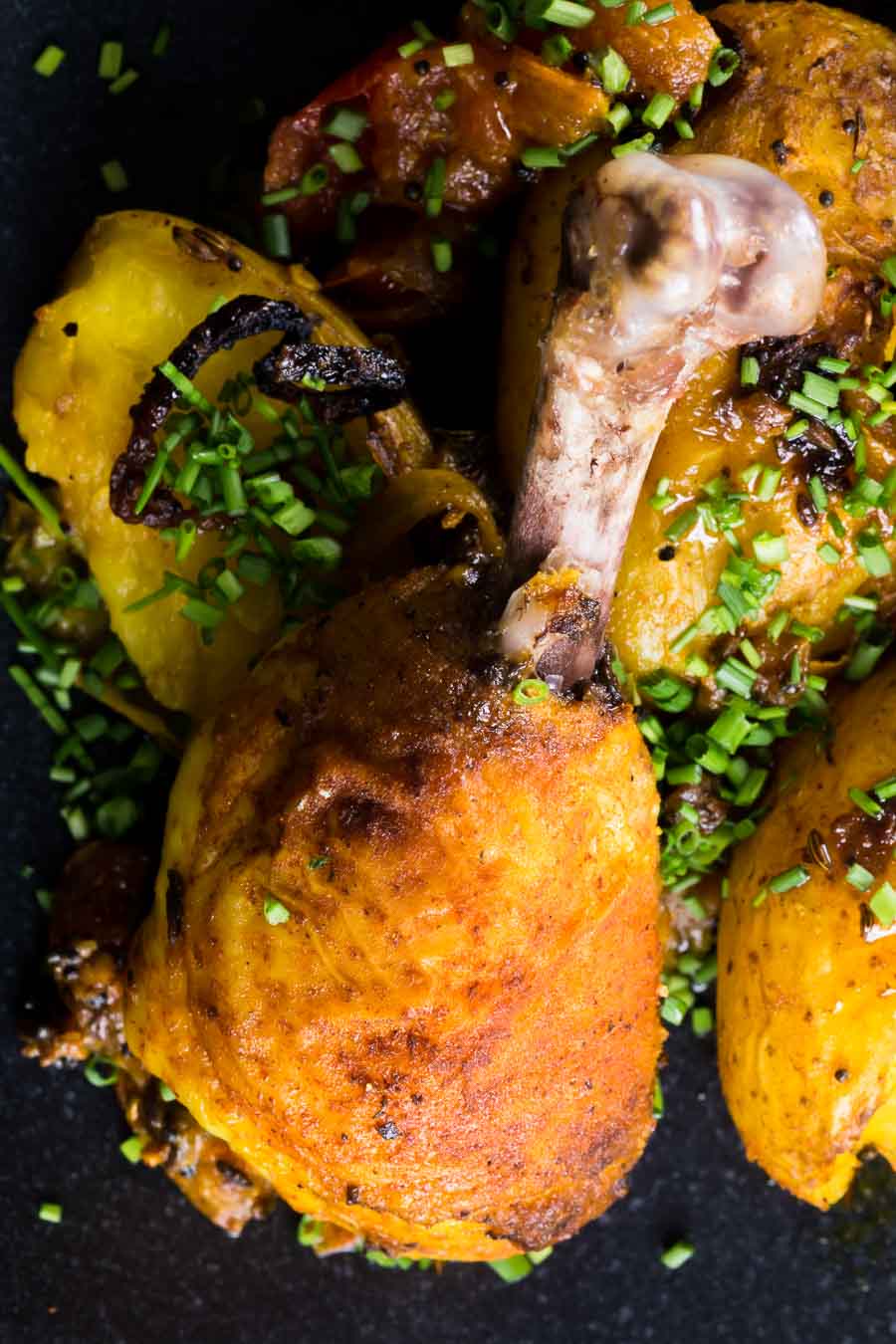 How To Cook Bombay Potatoes.
I have seen Bombay Potato recipes that vary from a wet curry all the way through to fairly 'dry' dishes. I prefer the latter!
My version involves parboiling potatoes first with dried chili to get a little background heat. But the most important reason for this is so that they can be lightly crushed.
Why is the crushing important? Well because that allows the crushed edges to go crispy when roasted in the oven of course. As a Brit crispy bits on roasted potatoes are somewhat of an obsession!
Then it is a simple case of frying off some classic North Indian Spices like cumin, fenugreek, fennel, and fenugreek and ghee. Before roasting in the oven and then tossing before serving.
Then adding some tomatoes and onion, feel free to add garlic and ginger if you wish, but for me, they are not required.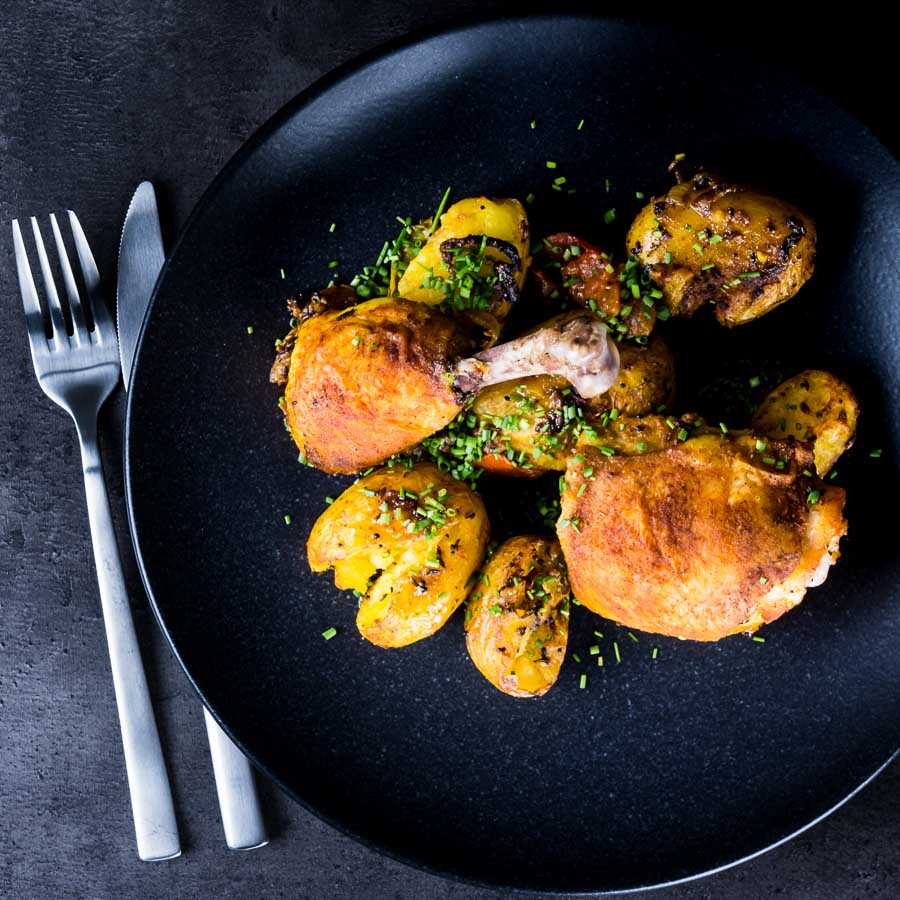 What Are The Best Potatoes For Bombay Potatoes?
As far as I am concerned the perfect spud for Bombay aloo is a small waxy salad potato.
Most specifically I do not want my potatoes to break down when cooked and not have that fluffy texture. It is a personal thing, you can, of course, experiment with any old potatoes you fancy having a play with.
I personally think that the structure of salad potatoes like Charlotte or Jersey Royals is a perfect vehicle for Indian flavours.
If you wanted to make a wetter curry then maybe consider a more floury potato.
They will add starch into the gravy and thicken it, perfect if you making a main course Bombay Potato Curry.
It is a texture thing I think, and I use them in both my Aloo gobi and Saag Aloo recipes.
What can I say, I like potatoes, I like curries… And as far as I am concerned potatoes are an incredible vehicle for flavour.
It kinda makes sense that potatoes in Indian food work so well!
So go ahead get your Krumpli on and add some spuds to your Indian food, you are in good company!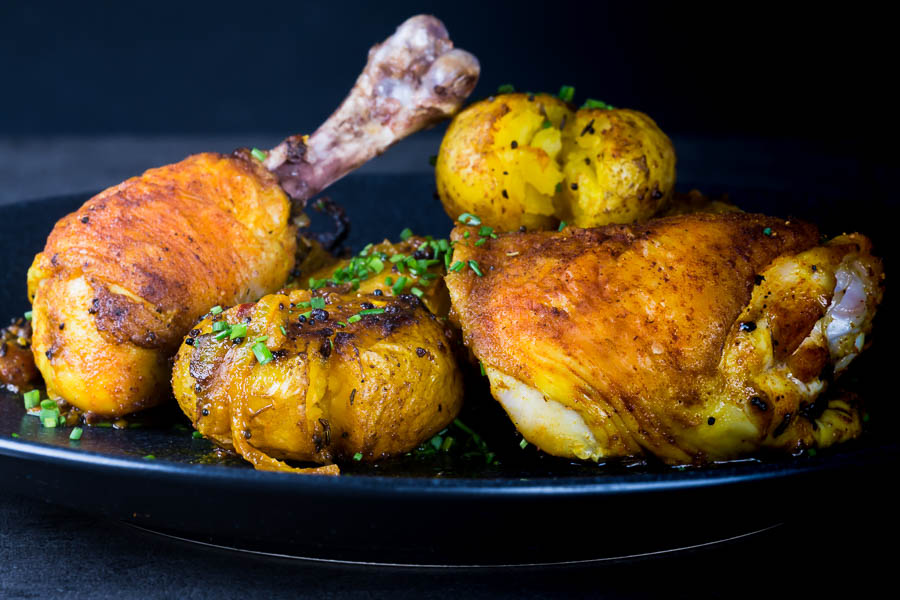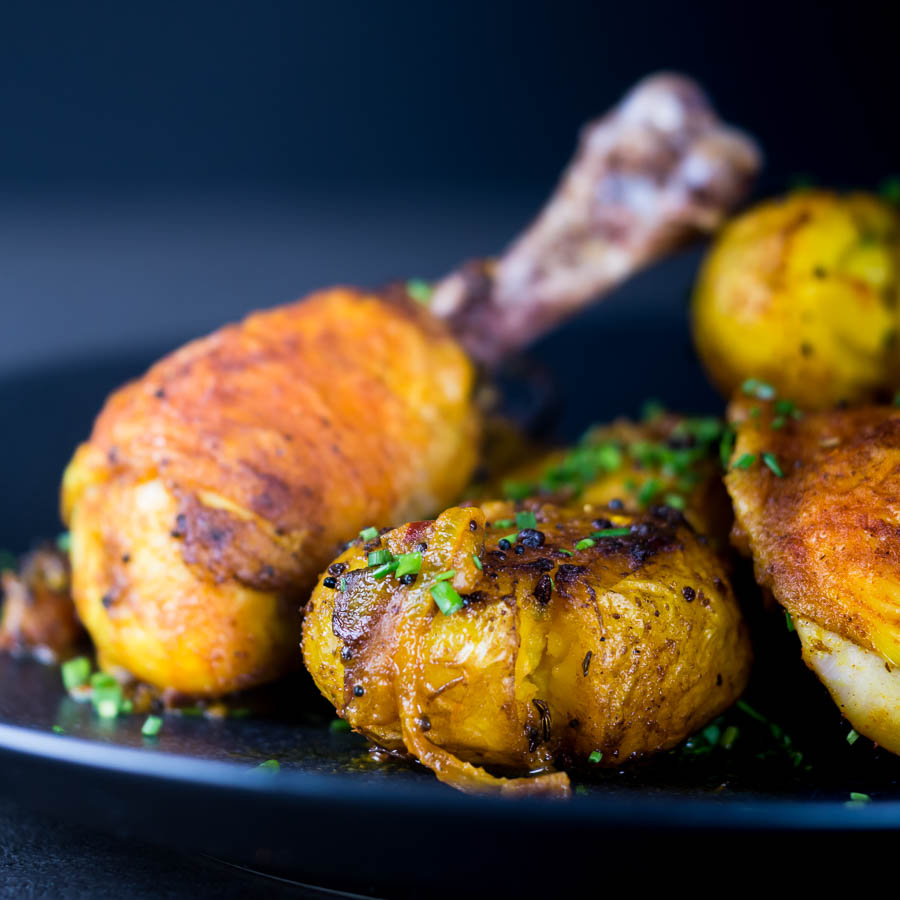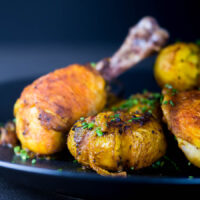 Bombay Potatoes With Chicken Legs
Bombay potatoes or Bombay Aloo are the perfect side dish to these simply roasted spiced chicken legs. Spiced with Indian flavours in a dish that is not a Curry!
Ingredients
For the Spiced Chicken Legs:
2 Chicken Legs
1/2 Tsp Salt
1/2 Tsp Black Pepper
1/2 Tsp Kashmiri Chili Powder
1/2 Tsp Turmeric Powder
For the Bombay Potatoes
500 g Waxy New Potatoes
3 Dried Chili
50 g Ghee
150 g Onion
8 Curry Leaves
1 Tsp Brown Mustard Seeds
1/2 Tsp Fennel Seeds
1/2 Tsp Cumin Seeds
1/2 Tsp Fenugreek Seeds
1 Tsp Turmeric
150 g Tomatoes
Instructions
Mix together the seasoning for the chicken legs and then thoroughly dry your chicken legs before rubbing in the seasoning.
Bring a pan of salted water to the boil and throw in the dried chili and potatoes and boil for 15 minutes to soften.
Lightly crush the seeds.
Heat the ghee in a pan and add the seeds for the potatoes.
Thinly slice your onions and when your seeds start to pop add in the onion and curry leaves then cook for 10 minutes.
Drain your potatoes making sure you reserve the chili.
Lightly crush your potatoes, you do not want the squished just broken open a little.
Chop the chili and dice the tomato.
Add in the turmeric to the onions followed by the chili, tomato, and crushed potatoes and toss to coat.
Nestle in the chicken legs, I like to portion mine into drummers and thighs.
Roast at 200°C or 400°F for 30 minutes, covering with foil nearing the end of the cooking process if things are catching.
Serve sprinkled with lots of chives.
Nutrition Information:
Yield:

2
Serving Size:

1
Amount Per Serving:
Calories:

1842
Total Fat:

100g
Saturated Fat:

38g
Trans Fat:

0g
Unsaturated Fat:

44g
Cholesterol:

543mg
Sodium:

3876mg
Carbohydrates:

111g
Fiber:

13g
Sugar:

17g
Protein:

125g
Calorific details are provided by a third-party application and are to be used as indicative figures only.