Aloo Matar is an easy-to-make pea and potato curry, it is naturally vegan and my version features a masala style gravy heady with fenugreek.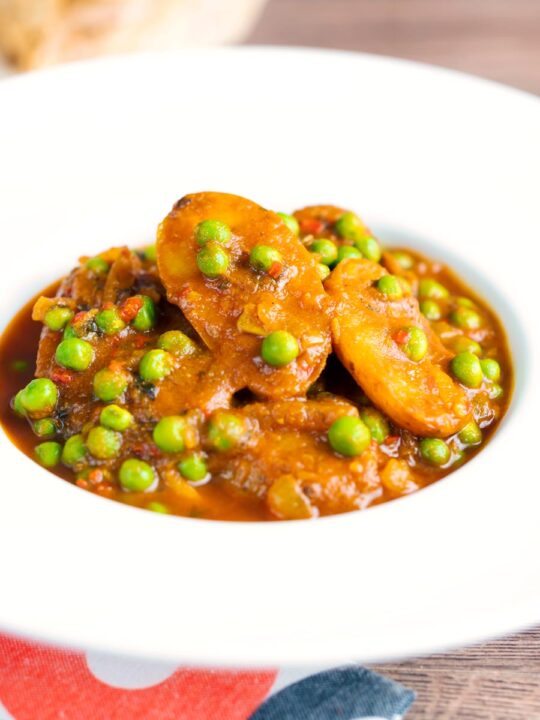 Vegan Pea and Potato Curry.
I'm rather fond of potatoes, they may not be the most glamorous of vegetables but they are glorious!
They are incredibly versatile and are capable of so much more than roast potatoes or mashed potatoes.
I never cease to be surprised by people being surprised that food from the Indian subcontinent can contain potatoes.
Aloo is the Hindi & Urdu word for potato, they were introduced to India in the 17th century by the Portuguese.
They are used in everything from samosas to the classic saag aloo, as well as in dishes like aloo gosht!
The delightful and little known chanar dalna is a Bengali curry that features fried paneer balls in a sauce, a real unknown star of a recipe.
Not to mention then really rather famous Bombay Potatoes which is more of a dry side dish than a full-on potato curry.
My aloo matar recipe is designed to be a main course vegan meal.
I guess in many ways could be considered to be aloo matar masala thanks to its rich and thick tomato based sauce.
A sauce that is relatively lightly spiced and heady with fenugreek, my personal favourite Indian flavouring.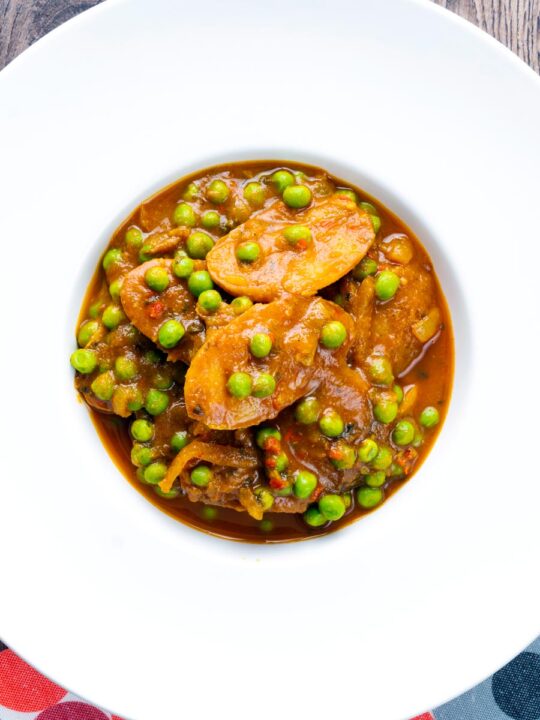 Frequently Asked Questions.
What type of potatoes should I use in aloo matar?
On the potato front, you want a waxy potato, this is because waxy potatoes will not break down.
You want something that will stay whole and have a good texture when cooked, similar to the potatoes in this aloo gobi matar recipe.
A fingerling potato variety like Pink Fir or Charlotte would be wonderful, although you can use any new potato.
I like to choose potatoes that provide a couple of "bites" when cut in half. So around 5-7.5 cm in length and 4-5cm in diameter.
You can use a floury potato but they will break down and give you a potato curry much more like the sort typically served with puri.
What type of chilli should I use?
Like all my curry recipes, choose something that you like.
Eating spicy food is not a competition, I typically use fresh cayenne in this recipe and remove the membrane.
This leads to a pleasing heat but all of the flavour of the chilli!
Can this be made in advance?
Yes this is aloo matar recipe is perfect for making ahead of time. It will store in the fridge for for 3-4 day comfortably and will get better with age.
Take care with reheating though! You may need to add a little more water, but place it in a pan over a medium heat and stir regularly.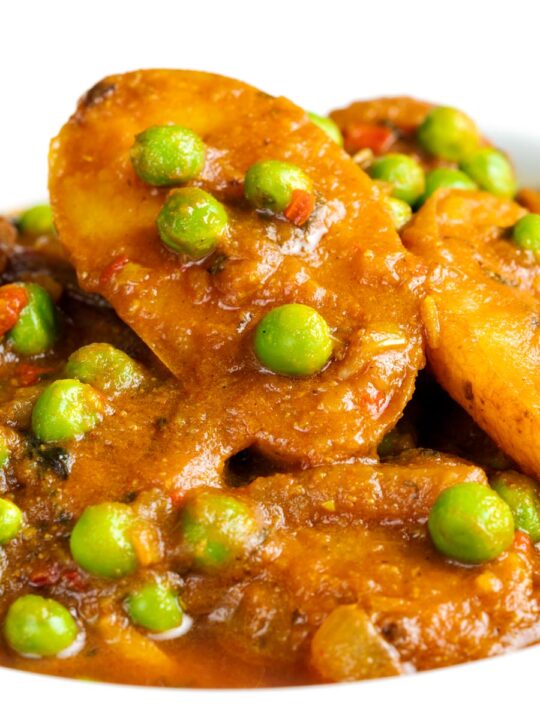 Serving Suggestions.
A traditional Indian aloo matar curry would be served as part of a smorgasbord of dishes.
I really do not eat that way and usually serve this potato curry as a vegan main course dish.
I typically pair it with naan bread or more usually a couple of chapati or roti.
It works well with a nice side of kachumber salad too!
You can scale this recipe down from a main course curry and serve it as a potato side dish.
This spicy aloo matar with anything from a nice pork chop all the way through to my Indian spiced roast chicken legs.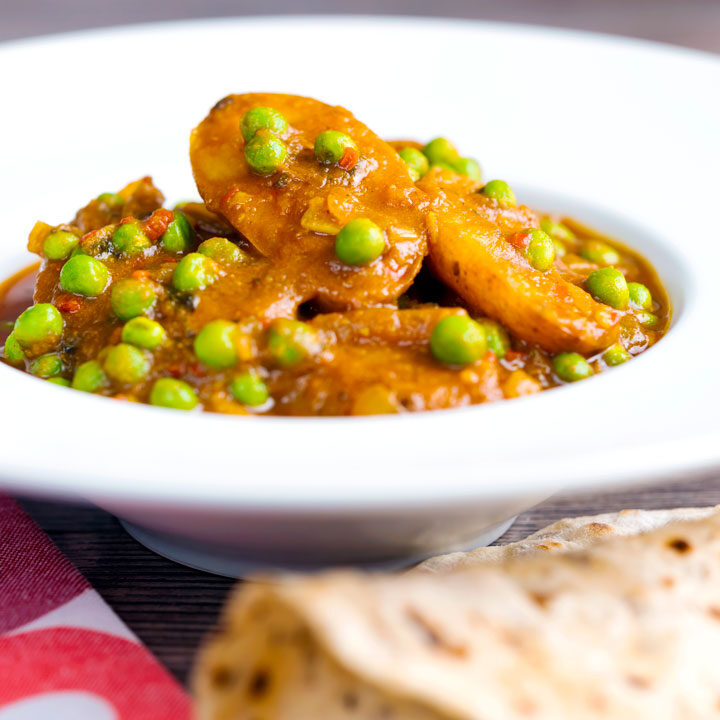 Yield:

2 Servings
Vegan Aloo Matar Recipe
I adore this simple vegan pea and potato curry or aloo matar, fresh chilli gives a nice punch of heat that sits alongside earthy turmeric and fenugreek.
Ingredients
350g (12oz) Small Waxy Potatoes
150g (1 Cup) Onion
1 Red Chilli Pepper
2 Garlic Cloves
250ml (1 Cup) Water
1 Tsp Ground Turmeric
1 Tbsp Dried Fenugreek
1 Tsp Coarse Sea Salt
150g (2/3 Cup) Tomato Passata
1/2 Tsp Cumin
1/2 Tsp Coriander
1 Tsp Garam Masala
175g (1 1/4 Cups) Garden Peas (Defrosted if frozen)
1 Tbsp Cooking Oil
Instructions
Cut the potatoes in half.
Peel and slice the onion into 5-7mm thick half-moon shapes.
Heat the oil in a pan that you have a lid for over a medium high heat.
Place in the potatoes cut side down and sear for 5 minutes.
Throw in the sliced onions and cook for a further 5 minutes stirring occasionally.
Dice the chilli pepper as finely as you can.
Slice the garlic as finely as you can.
Add the garlic and chilli pepper and cook for 60 seconds.
Pour in the water and add the turmeric, fenugreek and salt.
Stir and add a lid, then cook for 25 minutes over a low heat.
Remove the lid and stir in the tomato passata, cumin, coriander and garam masala.
Simmer gently for 10 minutes.
Add in the peas and cook for a final 2 minutes just to heat the peas.
Nutrition Information:
Yield:
2
Serving Size:
1
Amount Per Serving:
Calories:

388
Total Fat:

9g
Saturated Fat:

1g
Trans Fat:

0g
Unsaturated Fat:

7g
Cholesterol:

0mg
Sodium:

1203mg
Carbohydrates:

70g
Fiber:

13g
Sugar:

14g
Protein:

13g
Calorific details are provided by a third-party application and are to be used as indicative figures only.