This fingerling potato curry combines my favourite Indian flavours with my favourite garden ingredients at this time of year.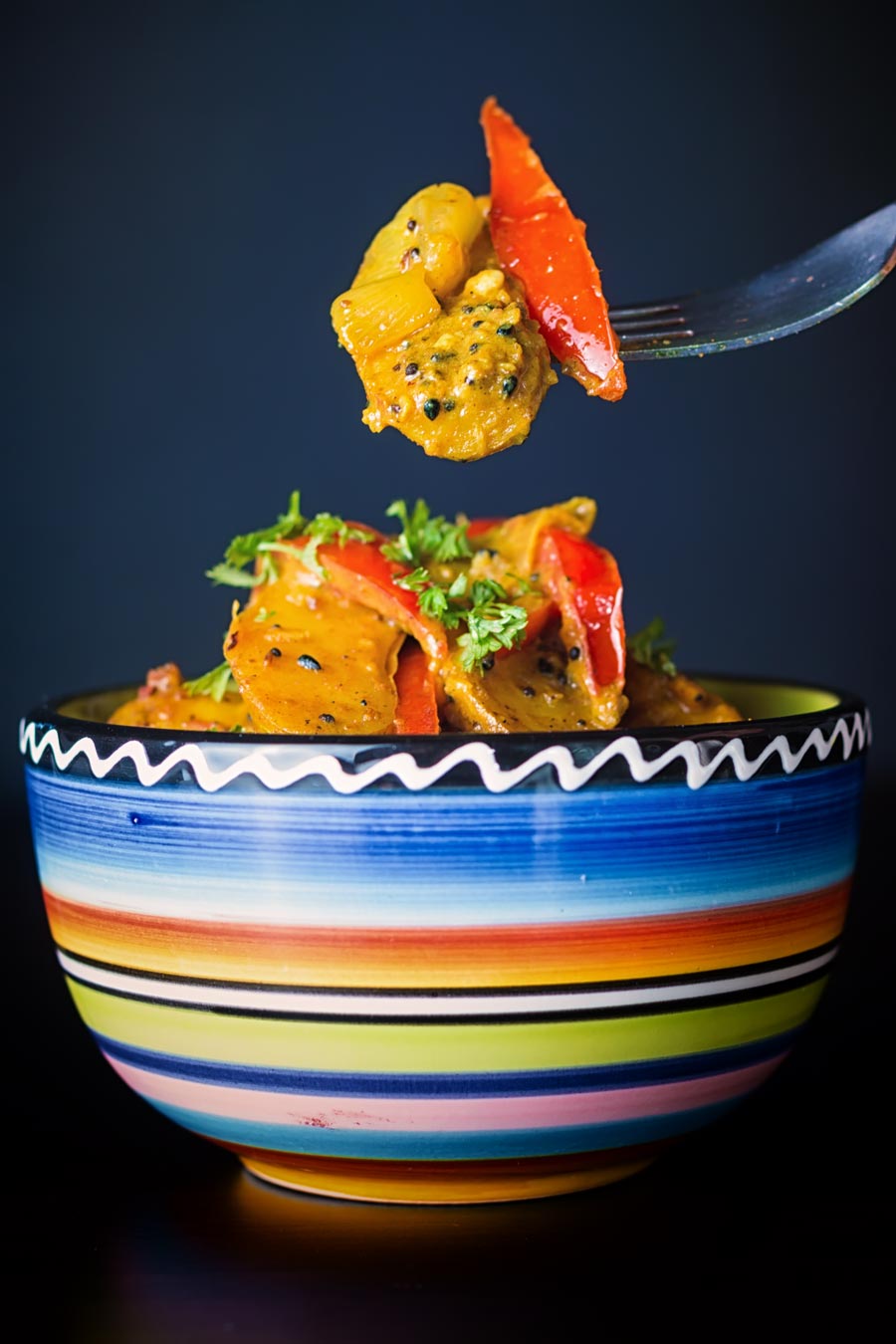 Fingerling Potato Curry.
This delicious fingerling potato curry does something a little different with potatoes often associated with salads.
You should all be aware by now that I am rather fond of a curry or two.
Now this recipe is far from authentic Indian, but it is deliciousness is absolutely authentic!
I have never understood the idea of authenticity in food being something that people venerate.
It is quite frankly daft to my mind, great food is great food. Whether it be simple, experimental, authentic or plain old made up.
This potato curry falls firmly in the made-up category and features the ingredients that are great in my garden right now.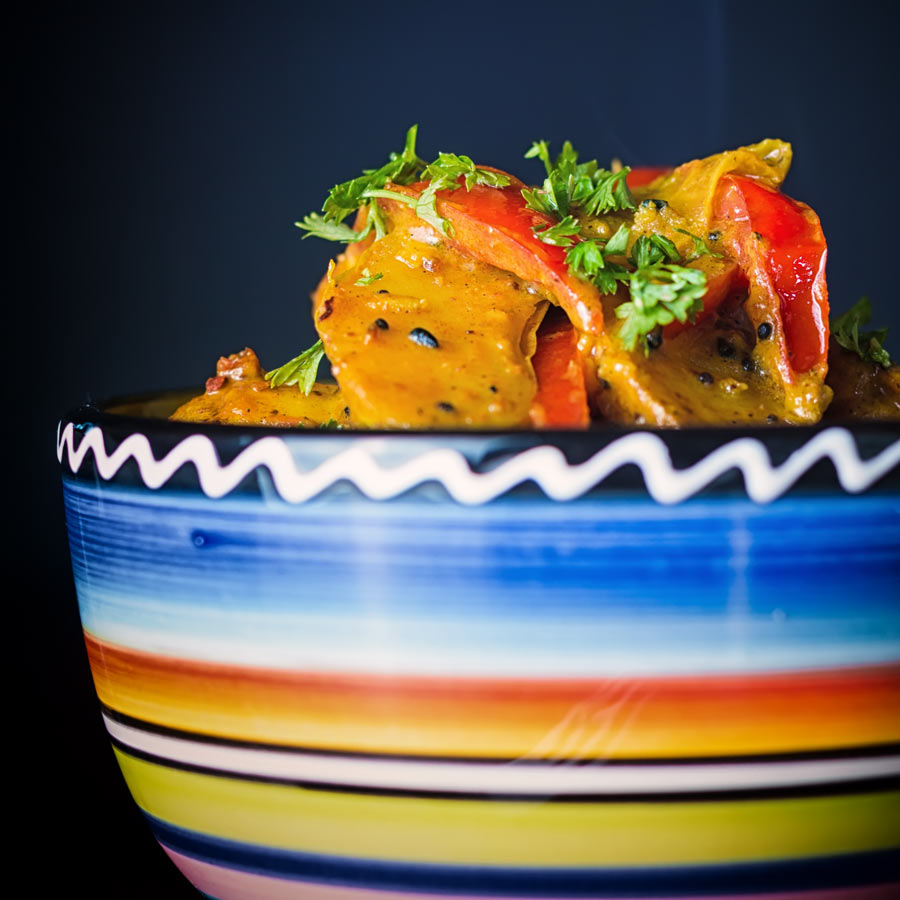 Indian Potato Curry Recipes.
Potatoes are scarcely the first ingredient people think of when they think of Indian food.
However, the humble spud is much more common in Indian recipes than often thought.
Introduced by Portuguese settlers in the 17th century they are definitely not new to the Indian table.
Both Aloo Gobi and Saag Aloo are both classic Indian dishes and Bombay potatoes are famed far wider than the Indian subcontinent.
Aloo is a South Asian name for potatoes, in much the same way Krumpli is Hungarian for potatoes. Yes, I like potatoes!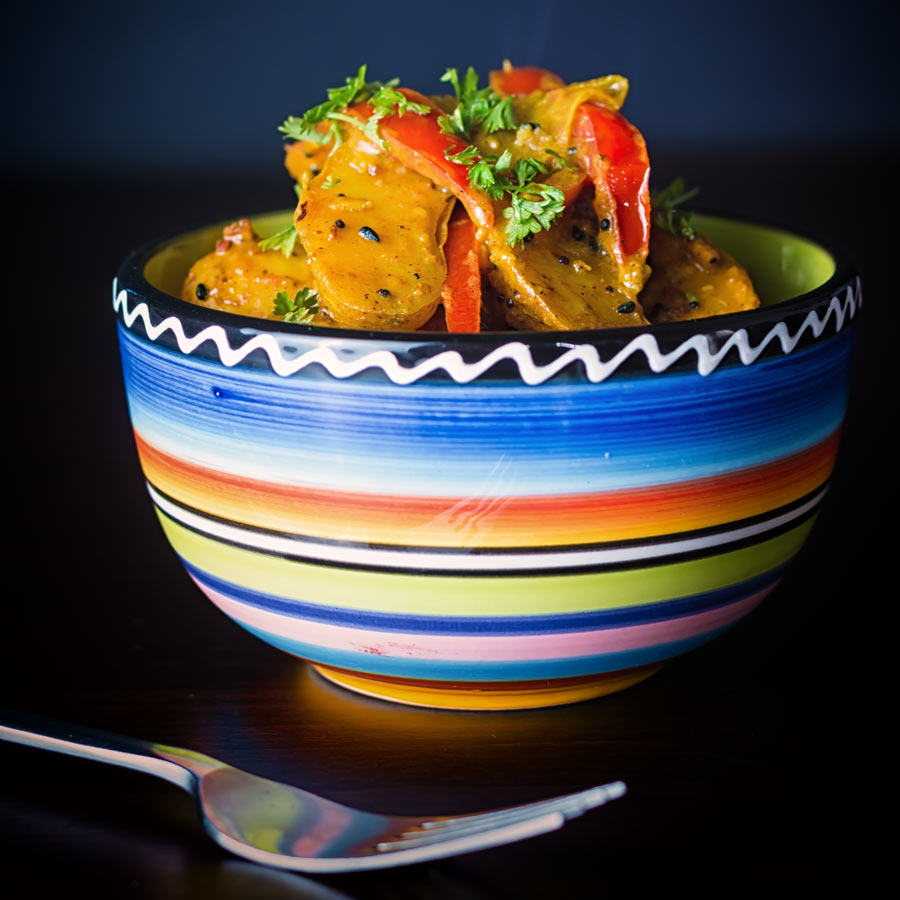 What Type Of Potatoes Are Good For A Curry?
For most curry recipes you want a potato that is firm and waxy.
Floury potatoes will break down and thicken the sauce, which is great in a soup and if the potatoes are secondary to a recipe.
But in this potato curry, they are the principal ingredient and they need both texture and flavour.
This is the first year we have fingerling potatoes that we have grown. We have both the Charlotte and Pink Fir Apple varieties.
I have always loved them, as they are the waxy end of the potato 'spectrum' they hold up really well in cooking.
Par boiling them and then frying them gives them a fabulous texture, which is the perfect treatment in this curry.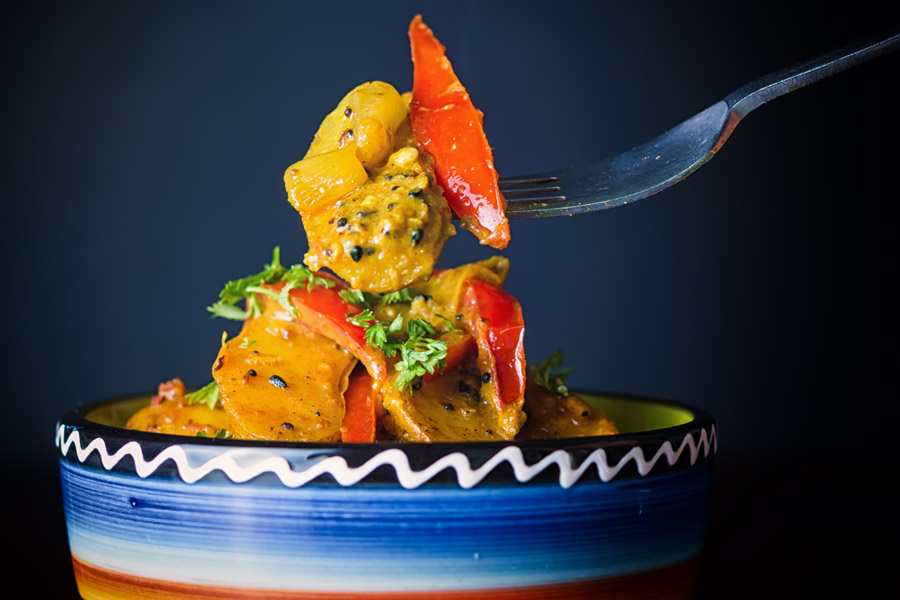 Fingerling Potato Curry
This fingerling potato curry combines my favourite Indian flavours with my favourite garden ingredients at this time of year.
Ingredients
500 g Fingerling Potatoes, Cut in half length ways
1/2 Tsp Ground Turmeric
175 g Onion, Peeled and cut into half moon slices about 1cm in width
3 Plum Tomatoes, Deseeded and cut into 0.5cm strips
2 Garlic Cloves, Mashed
30 g Ginger, Grated
1 Red Chile, Finely sliced
1/2 Tbsp Cooking Oil, Neutral
1 Tsp Black Onion Seeds
1/2 Tsp Ground Coriander
1 Tsp Ground Turmeric
200 ml Coconut milk
2 Tsp Garam Masala
Instructions
Bring a pan of salted water to the boil and add the turmeric, then throw in the potatoes and par boil for 10 minutes.
When the potatoes have been parboiled set aside and allow to drain.
Heat enough oil in the bottom of a frying pan to fill to about 1cm and then fry off the potatoes until cooked through and drain and set aside.
Whilst the potatoes are cooking heat some oil in a second pan over a medium heat and add in the black mustard seeds and onion seeds and as soon as they start to pop add in the onions and chili and cook for 5 minutes.
Then add in the garlic, ginger, coriander and turmeric and cook for a further minute before pouring in the coconut milk and garam masala, cooking for a further 2 minutes.
Finally add in the tomato strips and just bring to the same temperature as the dish.
Notes
This dish is perfect to be served along side some homemade chapati!
Nutrition Information:
Yield:

2
Serving Size:

1
Amount Per Serving:
Calories:

538
Total Fat:

26g
Saturated Fat:

19g
Trans Fat:

0g
Unsaturated Fat:

5g
Cholesterol:

0mg
Sodium:

37mg
Carbohydrates:

75g
Fiber:

9g
Sugar:

11g
Protein:

10g
Calorific details are provided by a third-party application and are to be used as indicative figures only.