Aloo Gobi is a glorious potato and cauliflower curry and originally from the the Punjab mine comes with a fab surprise 'crispy' element in the shape of fried mung beans.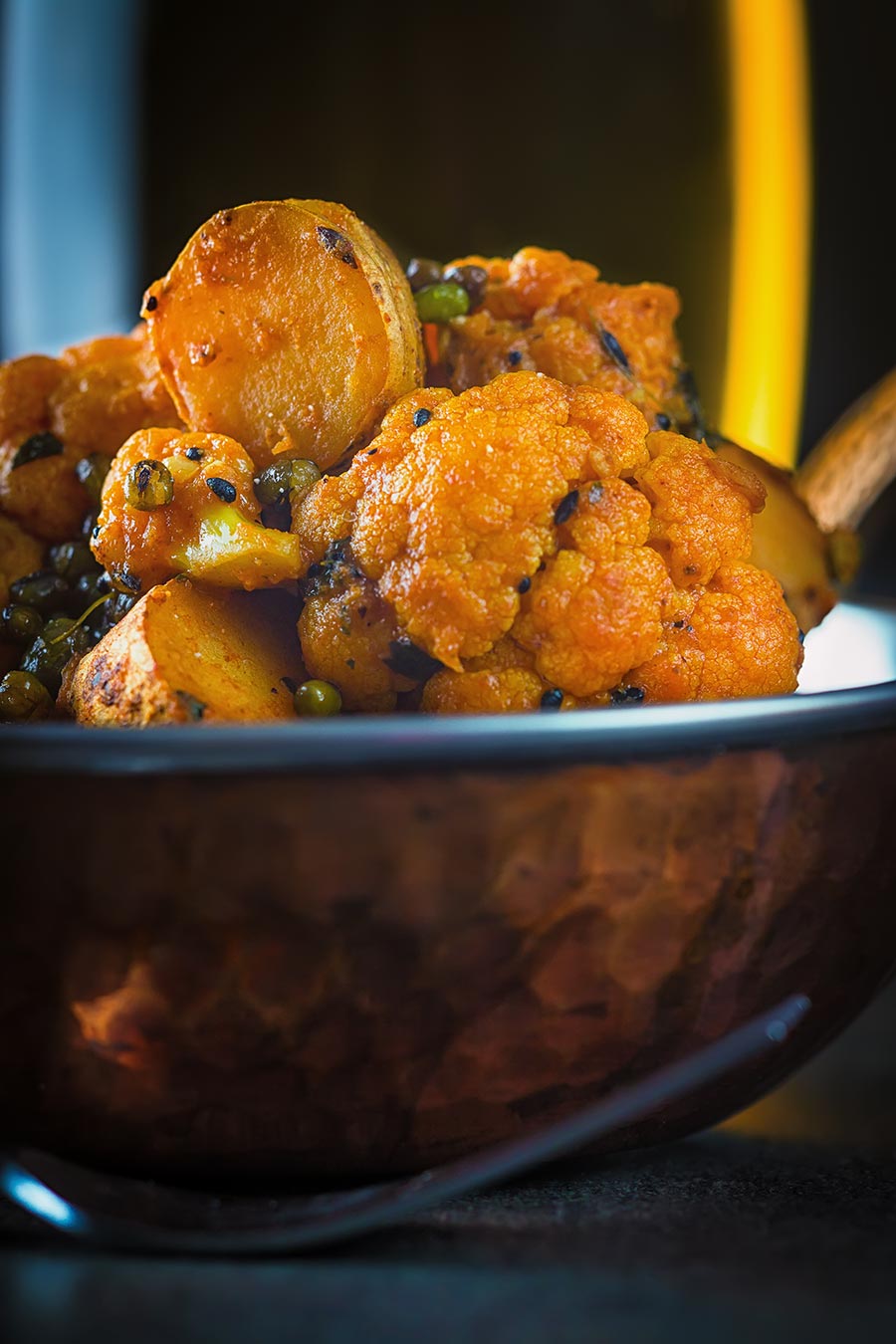 What Is Aloo Gobi?
Aloo gobi traditionally hails from the Punjab region of India. It is a dry and more often than not a vegan curry.
I don't often cook vegan recipes but when I do they have a tendency to be Indian, like my mushroom curry for instance.
It has become popular not just across the whole Indian subcontinent but wherever Indian food has traveled. Let's face it that is a long ass way.
My version probably uses fewer spices than most of my other Indian inspired recipes. Although I don't count ingredients, it is a notion I find very odd indeed.
Some foods just have names that make me smile and aloo gobi joins bubble and squeak, saag aloo and toad in the hole in being one of them.
However, it is not just the name that makes me smile! This curry recipe is an all around rockstar inof our kitchen.
You see my favourite vegetable is the humble cauliflower and my wifes favourite vegetable is the potato.Both of us if pushed would put Indian food at the top of or very close to the top of our favourite cuisines.
So an Indian cauliflower and potato curry or aloo gobi as it is also know is like hitting a royal food flush for us!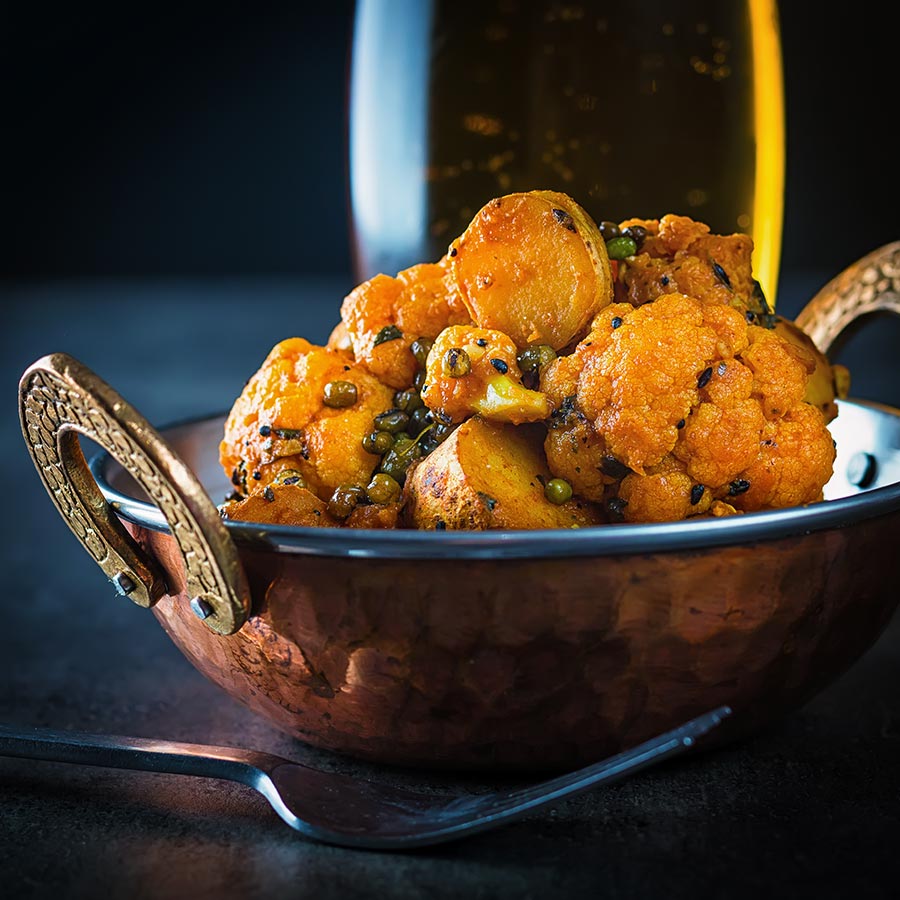 What are Mung Beans!
This aloo gobi recipe comes with a surprising and really delicious crispy surprise.
Some crispy fried Mung Beans!
Mung beans are surprise surprise… A bean! Traditionally grown across most of Asia they feature heavily in both sweet and savoury recipes from a host of countries.
Most surprisingly they are often the sprouted bean used to make bean sprouts. Yup, that's right, the bean sprouts in dishes as diverse as my Thai Beef Salad and mushroom chow mein started life as a mung bean.
Mung beans have very little flavour of their own. They are however, great vehicles for flavour and have a wonderful texture.
Making them perfect for everything from these crispy fried nibbles to being a base for a mung bean salad.
This mung bean idea started out as a bit of a snack as part of a 'bombay mix' style of recipe.
It very quickly they became the perfect thing to add a little texture to a curry.
The fact that this aloo gobi is a pretty dry curry makes it the perfect first outing for them.
They are completely optional but you should definitely give them a try even just as a chef perk nibble whilst cooking.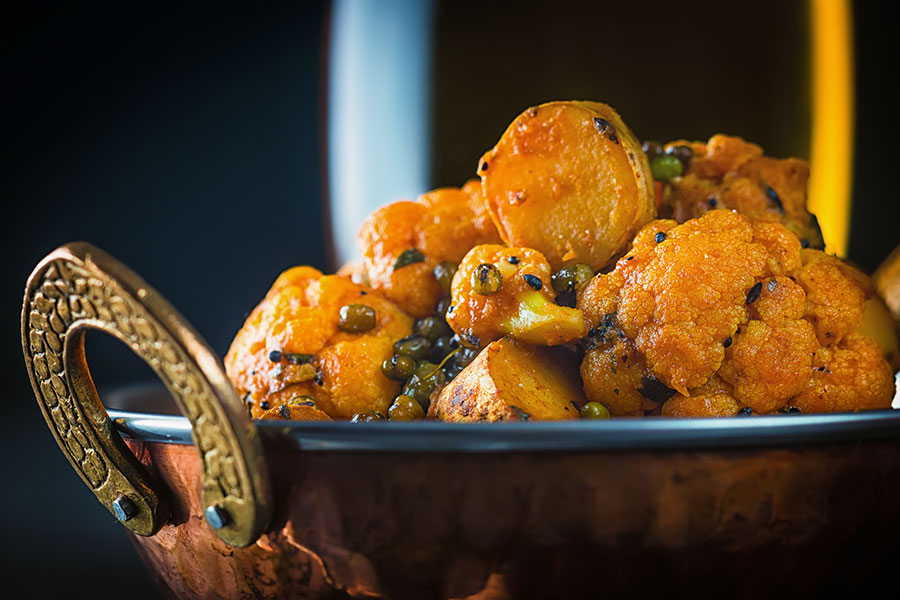 Aloo Gobi Masala.
A popular variation on aloo gobi is the aloo gobi masala… It is, as the name suggests a run of the mill aloo gobi finished in a masala sauce.
I prefer a dryer curry but if you like a nice wet curry with plenty of gravy to mop up then this idea is perfect for you.
The masala sauce from my chicken tikka masala recipe would be perfect for this. Or you could try this delicious sounding recipe!
In other news, anyone wanna help me hang some missing posters?
We are entering the final quarter of 2017 in a couple of days and I have genuinely no idea how that happened. On the positive side though we have finally put the garden away for the year and we have just finished chopping our winter wood.
We can now kick back and give winter the finger and say give it your worse.
Although in all honesty, I am a bit of a wuss! As a result, I will gladly take less than the worse it has to offer.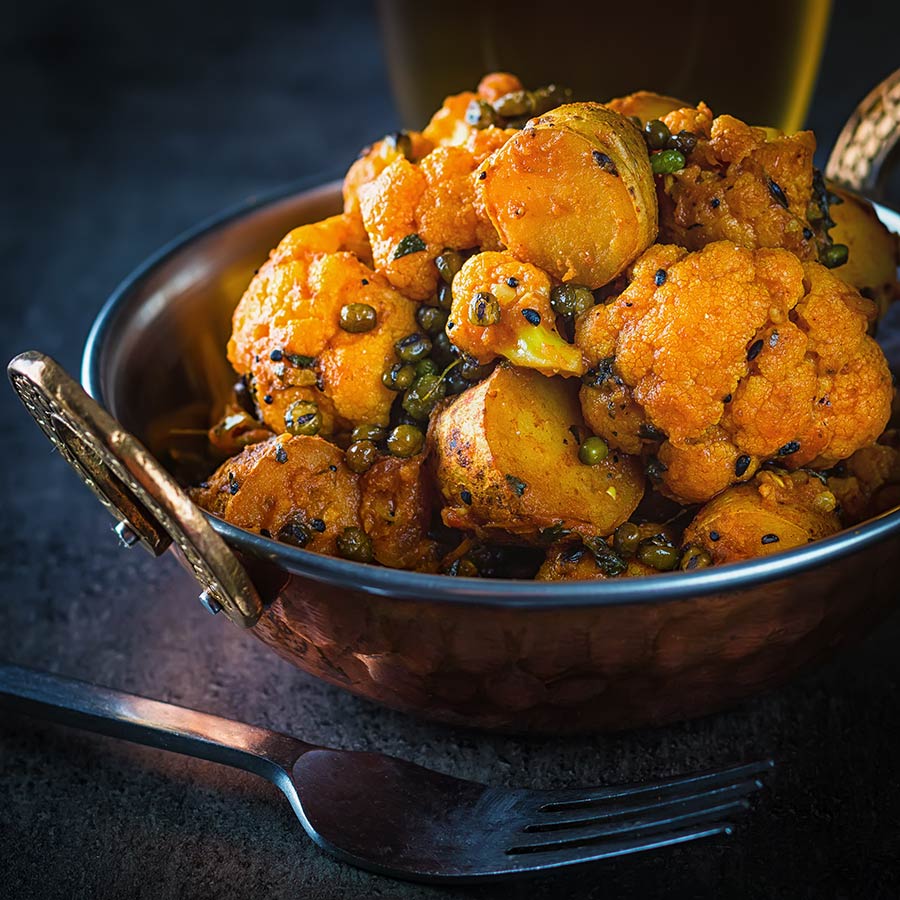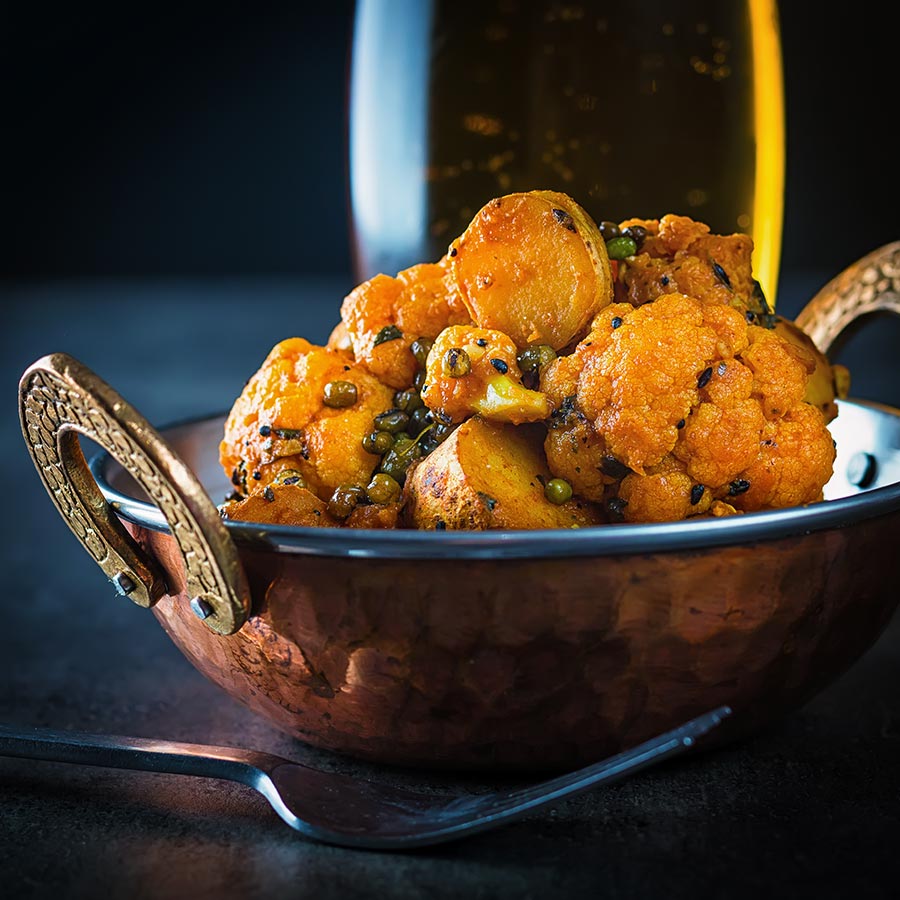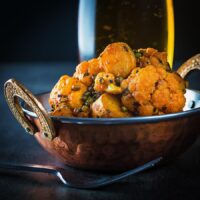 Aloo Gobi... Potato and Cauliflower Curry
Aloo Gobi is a glorious potato and cauliflower curry and originally from the the Punjab mine comes with a fab surprise 'crispy' element in the shape of fried mung beans.
Ingredients
200 g Potatoes, Use something waxy, I use a fingerling variety called Charlotte from my garden, cut into 1.5cm chunks
350 g Cauliflower, Cut into 2cm florets
3 Tbsp Cooking Oil, Neutral
1/2 Tsp Black Onion Seeds
1/2 Tsp Black Mustard Seeds
1 Tsp Cumin Seeds
3 Cloves Garlic, Mashed
35 g Ginger, Grated
225 g Tomatoes, Cut into wedges
1 1/2 Tsp Ground Corriander
1 Tsp Ground Turmeric
1 Tsp Tomato Puree
1 Green Chile, Finely sliced
Salt, To taste
1 Tbsp Dried Fenugreek Leaves
1 Tsp Garam Masala
For the Crispy Mung Beans (Optional):
50 g Mung Beans, Soaked over night
1/8 Tsp Hing, AKA Asafoetida
Salt, To taste
Cooking Oil, For frying
Instructions
Heat 2 tablespoons of the cooking oil in a medium large pan over a medium high heat.
When hot add the onion seeds, cumin seeds and mustard seeds, when they start to spit add the potatoes and cook until golden, around 7-10 minutes.
When golden remove from the oil with a slotted spoon and drain on a kitchen towel.
Now add the cauliflower and repeat.
Remove and drain the cauliflower and add the remaining tablespoon of cooking oil to the pan and reduce the heat to medium.
Add in the ginger and garlic and cook for 60 seconds, stirring continuously.
Now add in the tomatoes, tomato puree, ground coriander and ground turmeric and cook for 5 minutes.
Return your potatoes to the pan along with the sliced chili and 50ml of water, stir and simmer for 10 minutes.
At this point have a quick taste and add salt as required, remembering we still have cauliflower to add.
Now add the cauliflower, cover with a lid and cook until both the potatoes and cauliflower are cooked. This will take around 10-15 minutes keep an eye on this to ensure it does not catch on the base of the pan.
Remove from the heat, stir in the fenugreek breaking up in your hands as you add and the garam masala and allow to rest for 5 minutes with the lid on before serving.
If adding the crispy mung beans heat oil in a pan around 1cm deep until it is fiercely hot.
Dry the mung beans thoroughly.
Add the hing to the oil followed by the beans and fry for 60-90 seconds.
Drain on kitchen paper and salt.
Stir most through the curry before serving saving a few to sprinkle on top.
Nutrition Information:
Yield:

2
Serving Size:

1
Amount Per Serving:
Calories:

492
Total Fat:

31g
Saturated Fat:

2g
Trans Fat:

0g
Unsaturated Fat:

26g
Cholesterol:

0mg
Sodium:

637mg
Carbohydrates:

50g
Fiber:

13g
Sugar:

10g
Protein:

11g
Calorific details are provided by a third-party application and are to be used as indicative figures only.