An Aloo Gobi Curry is the archetypical Indian vegan curry, typically served dry without a gravy and it is one of my favourites!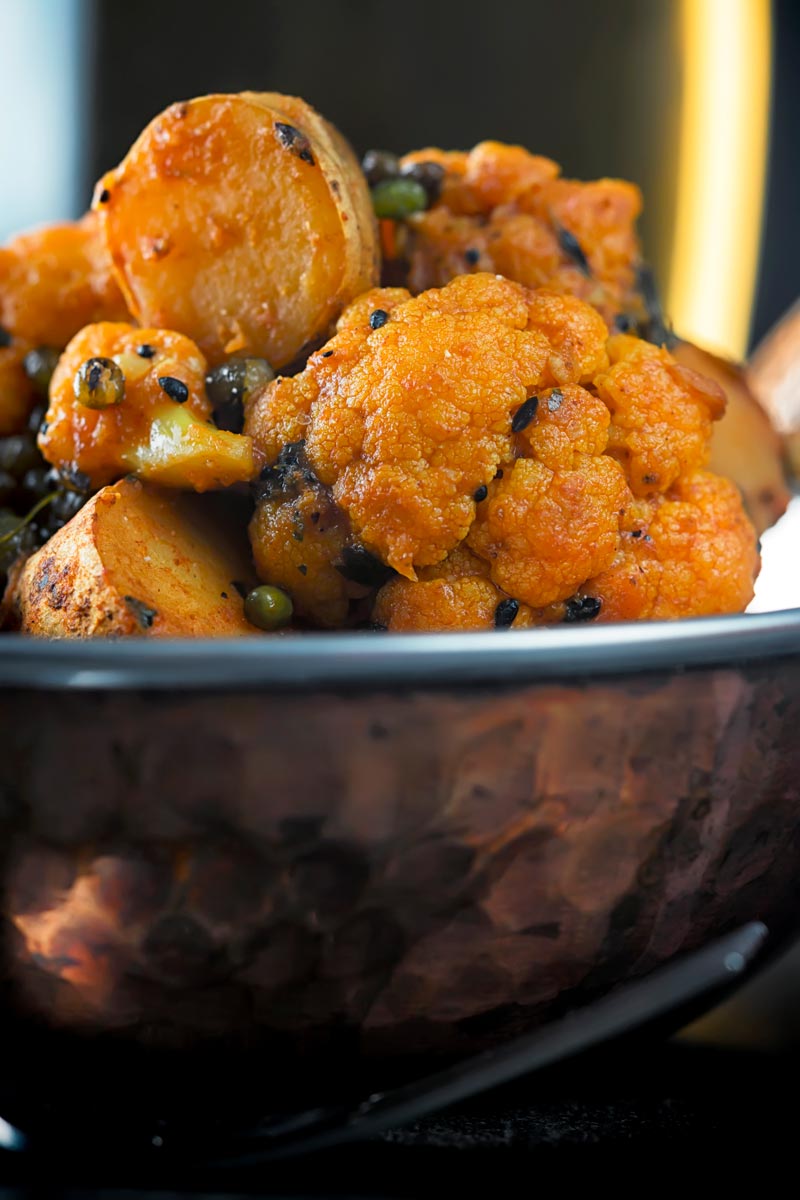 What is Aloo Gobi?
Quite simply it is a simple potato and cauliflower curry. It should sing with bright spicing and feature perfectly cooked potatoes and cauliflower!
It is one of many classic Indian recipes that actually hail from India, the Punjab to be precise. Many of the dishes that I cook here are of Anglo Indian origin, not this one!
Just like my Saag Aloo recipe it is the sort of thing I would have been served at friends house growing up rather than one I would find in a curry house.
It is pretty gently spiced and features far fewer ingredients than many of my curry recipes.
It also features some fantastic crispy fried mung beans that really make the dish!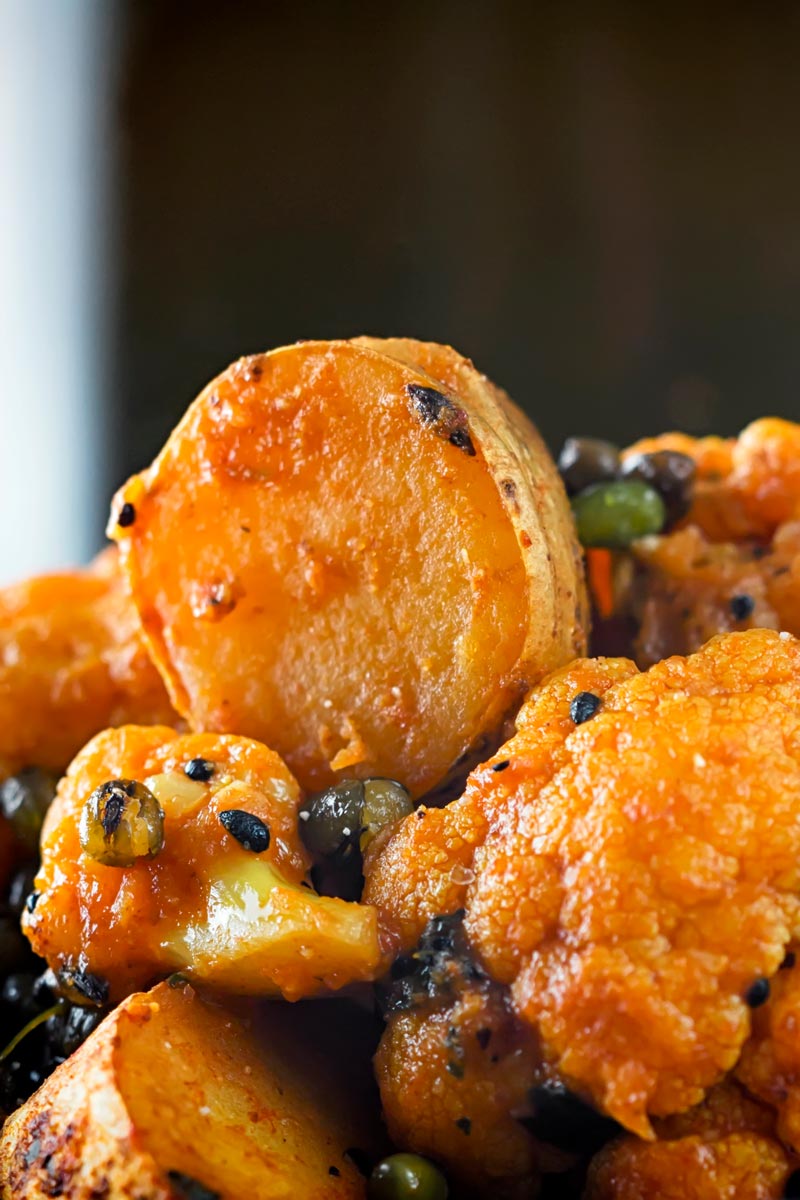 Indian Potatoes.
Potatoes are not at all uncommon in Indian food and I love em!
Potatoes are awesome flavour sponges and they lend themselves to whatever flavours you add with them.
I typically use a waxy potato in Indian dishes.
Floury potatoes like King Edwards or Russet potatoes have a tendency to break down. Because of this they are great for mashed potato or chips but not so good in a curry.
Chose something a like a Fingerling variety like Anya or Charlotte which is what I use in this potato curry.
But You could also use "new potatoes" which are the type I recommend for my Bombay Potatoes.
This also mean that they aid in adding a pleasing texture to your meal rather than it being all soft!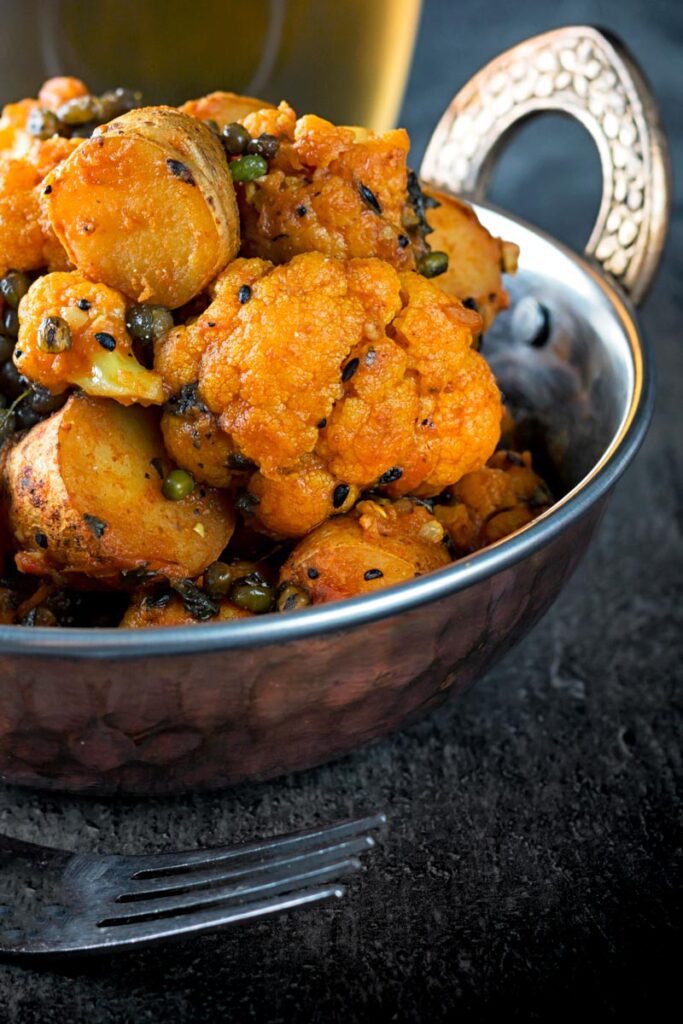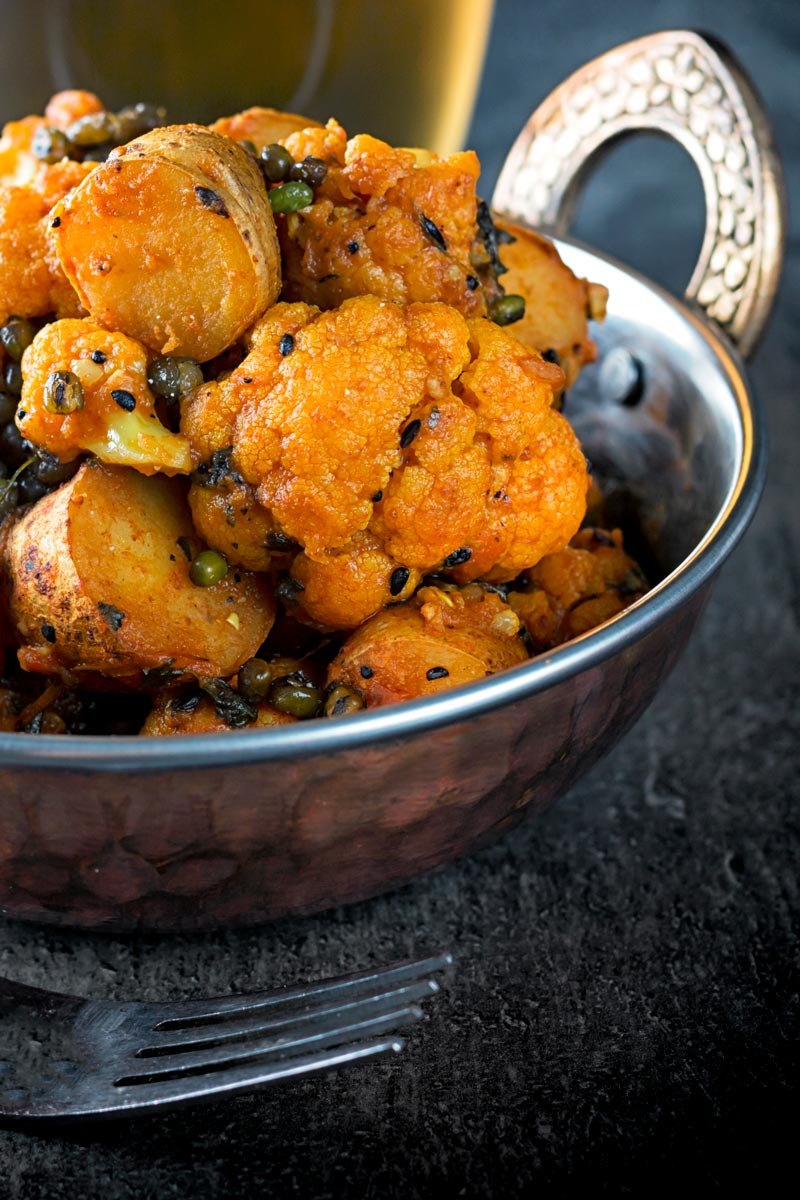 Recipe Hints and Tips.
The thing that you need to avoid more than anything else with this classic Punjabi curry is soggy vegetables.
That almost sweaty and slimy cauliflower texture is just nasty.
The very best way to avoid this is to start the cooking of the cauliflower and potato separately.
It allows them both to get flavour from the caramalised edges and stops them from sucking up too much liquid.
It is important to not add too much liquid, I use just 50ml, just a few tablespoons!
This is meant to be a dry curry, if you wanted a wet curry you could cook up the sauce from my chicken tikka masala and stir the potatoes through at the end.
This would give you a pretty classic aloo gobi masala but if you wanted to keep it vegan you could try this version.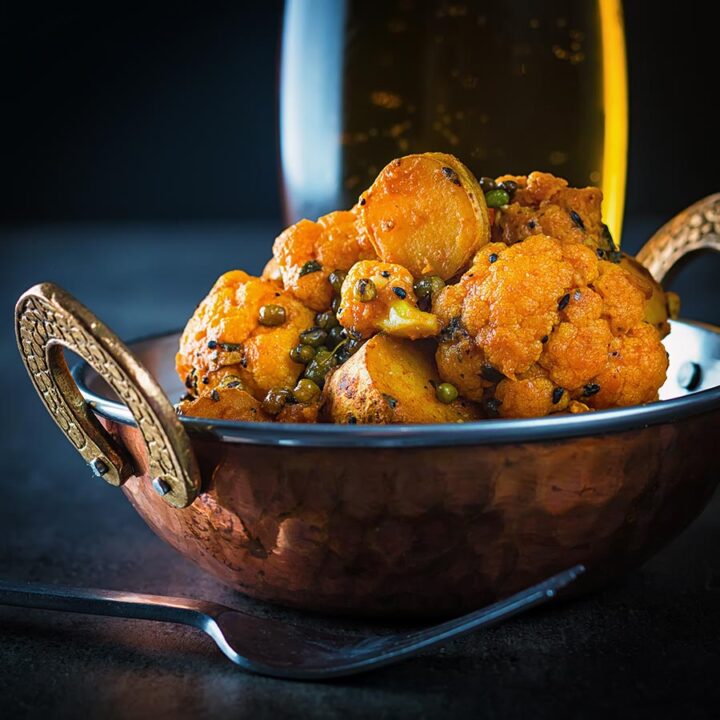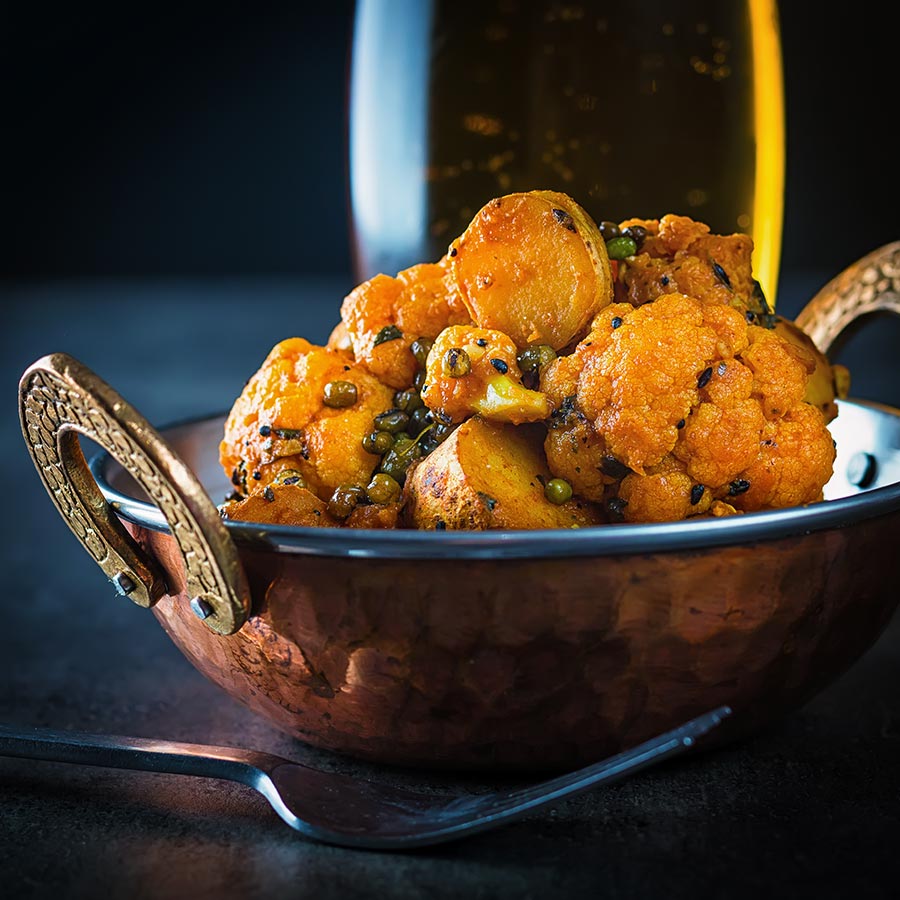 Yield:

2 Servings
How to Make Aloo Gobi
Aloo gobi is a simple Indian vegetable curry featuring potatoes and cauliflower florets. My version also comes with a crispy mung bean addition and is vegan.
Ingredients
200 g Potatoes
350 g Cauliflower
3 Tbsp Cooking Oil
1/2 Tsp Black Onion Seeds
1/2 Tsp Black Mustard Seeds
1 Tsp Cumin Seeds
3 Cloves Garlic
35 g Ginger
225 g Tomatoes
1 1/2 Tsp Ground Corriander
1 Tsp Ground Turmeric
1 Tsp Tomato Puree
1 Green Chili Pepper
Salt to taste
1 Tbsp Dried Fenugreek Leaves
1 Tsp Garam Masala
For the Crispy Mung Beans (Optional):
50 g Mung Beans, Soaked over night
1/8 Tsp Asafoetida
Salt
Cooking Oil
Instructions
Cut the potatoes into 1.5cm cubes, the cauliflower into 2cm florets and cut the tomatoes into 8 wedges.
Mash the garlic and grate the ginger.
Finely slice the chili.
Heat 2 tablespoons of the cooking oil in a medium-large pan over a medium heat.
When hot add the onion seeds, cumin seeds and mustard seeds and cook until they start to spit.
Add the potatoes, season with salt and cook until golden, around 7-10 minutes.
When golden remove from the oil with a slotted spoon and drain on a kitchen towel.
Now throw in the cauliflower and cook until it begins to colour.
Remove and drain the cauliflower and add the remaining tablespoon of cooking oil to the pan and reduce the heat to medium.
Add in the ginger and garlic and cook for 60 seconds, stirring continuously.
Now add in the tomatoes, tomato puree, coriander and turmeric and then cook for 5 minutes.
Return your potatoes to the pan along with the sliced chili and 50ml of water, stir and simmer for 10 minutes.
At this point have a quick taste and add salt as required, remembering we still have cauliflower to add.
Now add the cauliflower, cover with a lid and cook until both the potatoes and cauliflower are cooked, this will take around 10-15 minutes.
Keep an eye on this to ensure it does not catch on the base of the pan.
Remove from the heat, stir in the fenugreek breaking up in your hands as you add and the garam masala.
Rest for 5 minutes with the lid on before serving.
If adding the crispy mung beans heat oil in a pan around 1cm deep until it is fiercely hot.
Dry the mung beans thoroughly.
Add the asafaoetida to the oil followed by the beans and fry for 60-90 seconds.
Drain on kitchen paper and season with salt.
Stir most through the curry before serving saving a few to sprinkle on top.
Nutrition Information:
Yield:
2
Serving Size:
1
Amount Per Serving:
Calories:

492
Total Fat:

31g
Saturated Fat:

2g
Trans Fat:

0g
Unsaturated Fat:

26g
Cholesterol:

0mg
Sodium:

637mg
Carbohydrates:

50g
Fiber:

13g
Sugar:

10g
Protein:

11g