Aloo Gobi Matar, a gloriously filling, heavily spiced Indian or Punjabi vegan sabzi curry featuring potatoes, cauliflower, and peas.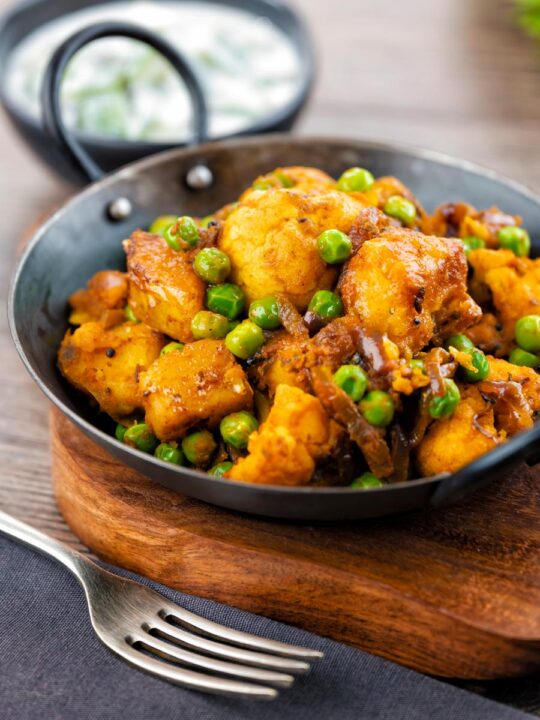 Indian Pea, Potato & Cauliflower Curry.
When it comes to vegetarian or Vegan food the Indians, Pakistanis and Bengalis are way ahead in my opinion.
Dishes like saag aloo, rajma masala and this aloo gobi matar or mutter as it is sometimes called, are all naturally vegetarian or vegan.
By that, I mean that they are not pretending to be meat.
They are a pure and unashamed celebration of vegetables.
The unmistakable presence of fresh curry leaves and asafoetida sing through all of the other bold flavours.
But we still get that this hearty veggie-rich food that tastes simply stunning.
Now I'm a confident chap when it comes to my food, but I rarely use that epithet for my recipes!
Originally from the Punjabi region of India and Pakistan much like murgh makhani and tandoori chicken.
This recipe is a combination of ideas from a culture with a rich tapestry of wonderful food. It is evidently based on a classic aloo gobi curry, but the addition of peas really does add so much!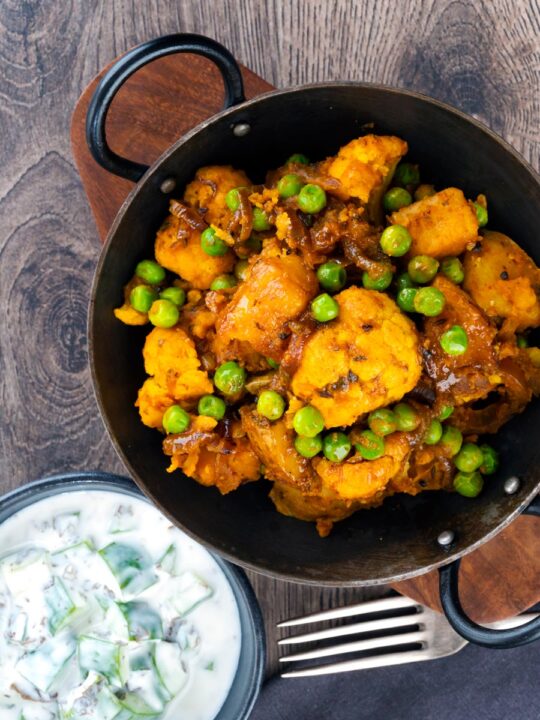 Frequently Asked Questions.
Where's the sauce?
My version, like so many variants on aloo gobi is a dry curry.
If you are looking for saucy potato curry you could try my aloo matar recipe which has a masala-style sauce.
Adding cauliflower into that recipe would work well.
What potatoes are best?
I use one of two types of potato in this recipe.
I usually use a medium potato, or type B potato as they are known across most of Europe.
Types like Desiree or Vivaldi are good, these are also the sort of potatoes I recommend for my Aloo gosht recipe.
Waxy salad potatoes make for more of a textured dish with a pronounced potato flavour. I recommend these for dishes like roasted Bombay potatoes.
I would avoid floury potatoes because they will break down too much.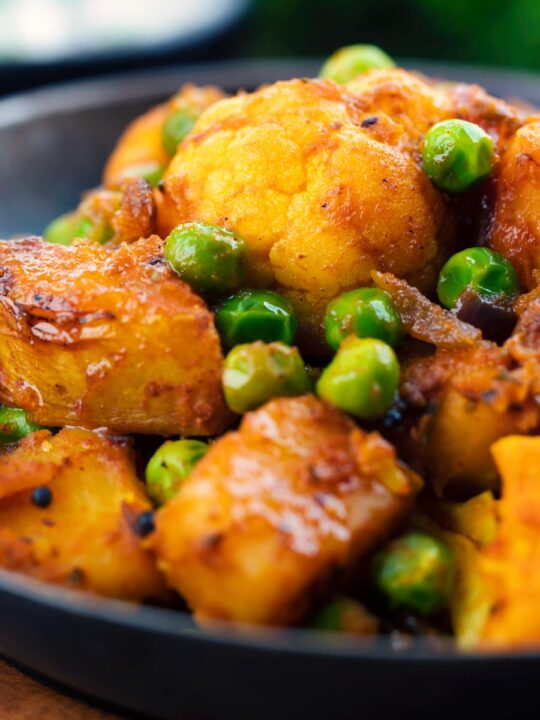 Serving Suggestions.
I'm happy with aloo gobi mutter as it is, in a big bowl, with a little cucumber and mint raita and some chapati.
It also works really well chutneys, lime pickle or mango chutney would be perfect.
But stepping aside from it being a comforting bowl of vegan goodness. This recipe also makes for a really foxy side dish.
It would compliment these vegetarian paneer tikka skewers superbly.
It is also swoon-worthy served alongside a whole bbq tandoori fish.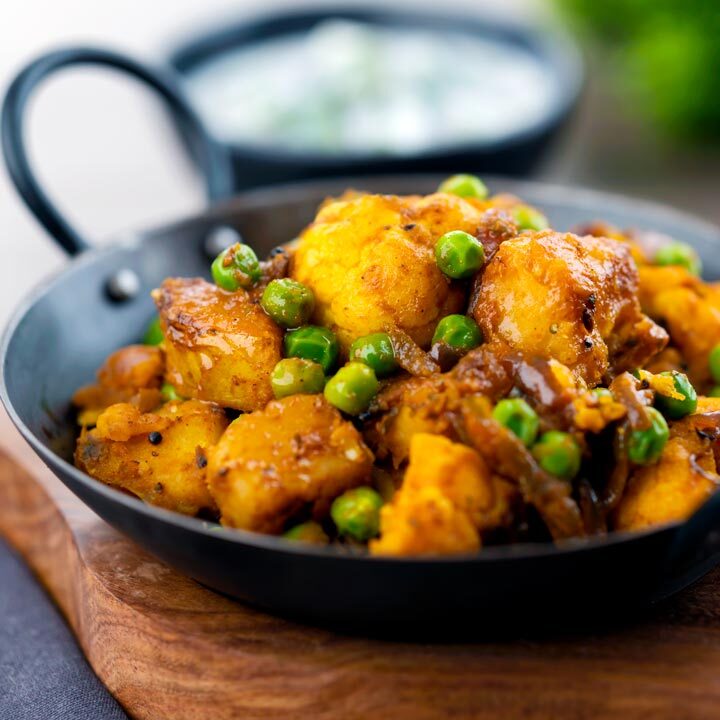 Yield:

2 Servings
Aloo Gobi Matar Recipe
Aloo gobi Matar is a simple Indian vegetable curry featuring potatoes and cauliflower florets and green peas, this thing packs a flavour punch way above its pay grade.
Ingredients
350g (2-3 Cups) Potatoes
2 Tbsp Cooking Oil
1/2 Tsp Asafoetida
2 Green Chilli Peppers
8 Curry Leaves
1/2 Tsp Brown Mustard Seeds
1 Tsp Cumin Seeds
6 Cardamom Pods
1 Tsp Salt
250g (3-4 Cups) Cauliflower Florets
150g (1 Medium Sized) Red Onion
3 Cloves Garlic
Thumb Sized Piece of Ginger
1 Tsp Coriander Powder
1 Tsp Turmeric Powder
1 Tbsp Tomato Puree
50ml (3 Tbsp + 1 Tsp) Tomato Passata
100ml (6 Tbsp + 2 Tsp) Water
1 Tbsp Dried Fenugreek Leaves
1 Tsp Garam Masala
150g (1 Cup) Green Peas (Defrosted if frozen)
Instructions
Cut the potatoes into 1.5cm cubes.
Cut the green chillis in half lengthways.
Heat the cooking oil in a medium (20cm or 8") pan over a medium heat.
When hot add the asafoetida, curry leaves, cardamom pods, cumin, and mustard seeds, then cook until they start to spit.
Add the potatoes, season with the salt and cook until golden stirring, around 7-10 minutes, make sure you stir every couple of minutes.
Chop the cauliflower into 2cm florets.
Cut the onion in half and peel, then slice into 3mm thick half moon shapes
Mash the garlic.
Grate the ginger.
Throw in the sliced onion and cauliflower and cook until it begins to colour, 4-5 minutes.
Mix the garlic, ginger, tomato puree, tomato passata, and water in a bowl to combine well.
Pour this mix into the pan.
Sprinkle over the turmeric powder, coriander powder and fenugreek leaves, stir and taste adding more salt if required.
Add a lid, reduce the heat to low-medium and cook for 15 minutes.
Remove the lid, sprinkle over the garam masala and add the peas.
Stir and cook for a final 2-3 minutes or until the peas are warmed through.
Nutrition Information:
Yield:
2
Serving Size:
1
Amount Per Serving:
Calories:

492
Total Fat:

31g
Saturated Fat:

2g
Trans Fat:

0g
Unsaturated Fat:

26g
Cholesterol:

0mg
Sodium:

637mg
Carbohydrates:

50g
Fiber:

13g
Sugar:

10g
Protein:

11g