If I want hearty tasty peasant food I rarely look further than Italy and this Ribollita is the most magical bean and tomato soup/stew that makes great use of stale bread.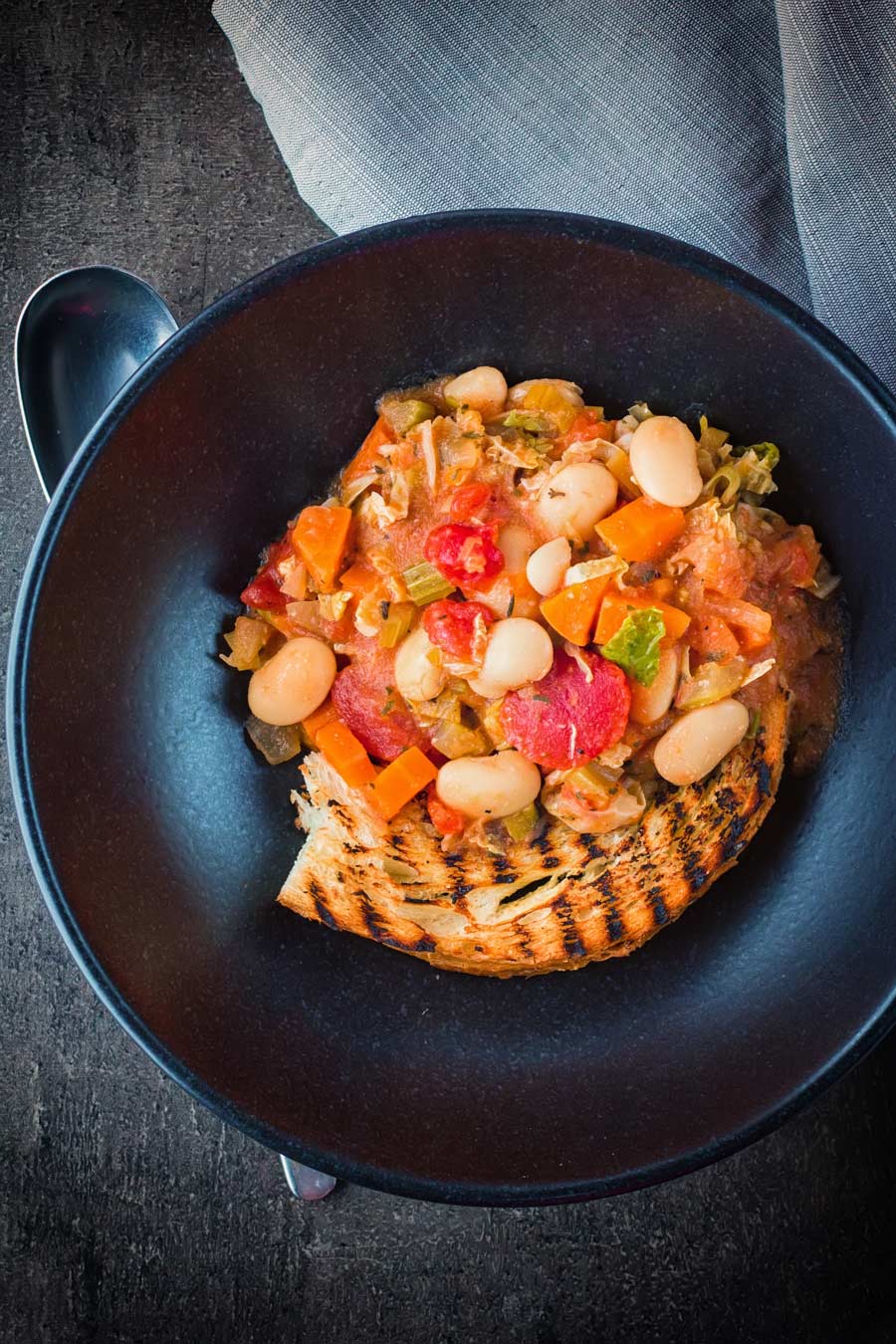 Ribollita.
The Italians just seem to own frugal, hearty, magical peasant food and this Ribollita recipe is just another example of that.
Whether it is risotto or pasta, great Italian food is often cheap as chips to make and packs such an incredible punch of flavour.
Ribollita literally means reboiled and was traditionally yesterdays 'minestrone soup' or vegetable soup reboiled. Typically some old stale bread was added to pad it out and stretch it a little further.
This pretty much means there is no such thing as an 'authentic' Ribollita recipe.
This sticks roughly to the principles of frugality. I always make a big pot of this for lunches when the weather turns autumnal or wintery.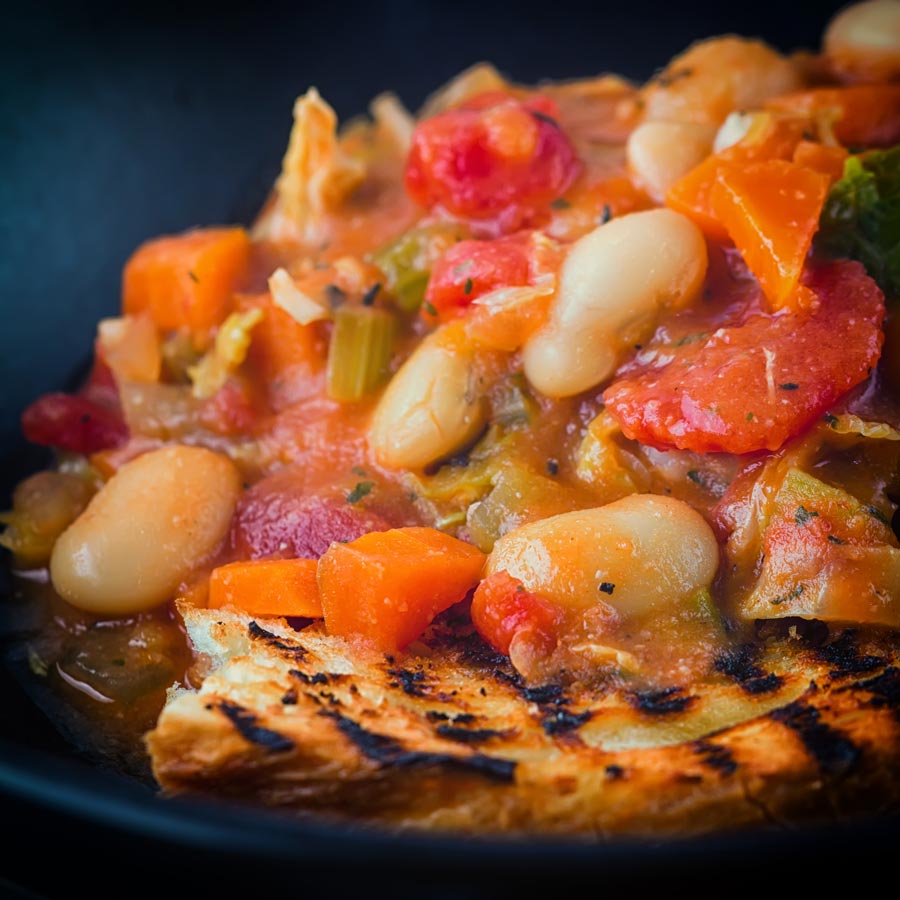 How To Use Up Stale Bread.
This is the second Italian recipe I have posted that is great at using up bread that is slightly past its best. I even have an old-fashioned British dessert for doing the same thing too!
I hate waste so in summer I will often use our tomato harvest to make up lots of Panzanella salads.
In winter though it is either this ribollita or if I feel the need for something sweet then a bread and butter pudding is called for!
Rather than just throwing the stale bread into the soup I like to griddle mine and rub it with garlic.
I then ladle over the soup, it soaks up all that lovely juice from the soup leaving the bread all sodden and soft and garlicky.
It also leaves some lovely crunchy bits too, as a Brit it is also reminiscent of beans on toast.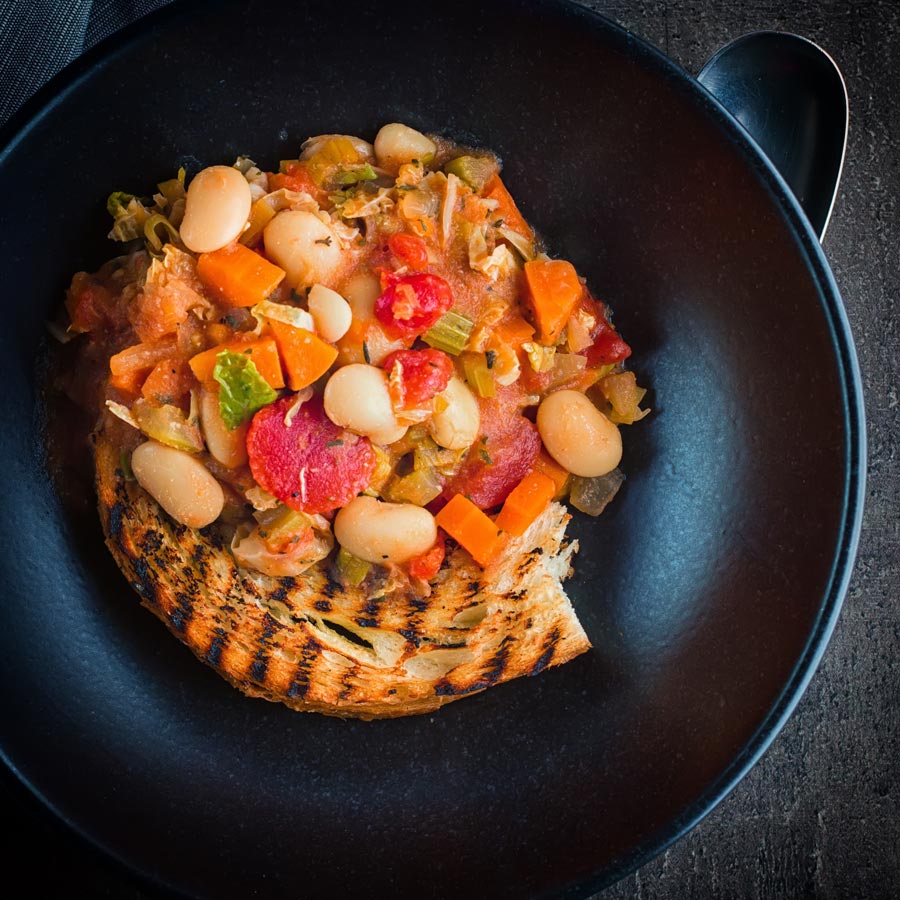 What Can I Put In Ribollita?
Literally, anything you want! This version is made from scratch and is entirely vegetarian and I will eat this over three days.
But a traditional ribollita would have been eaten over weeks. With leftovers of other recipes added over time to change the complexion of the dish.
The process of reboiling would intensify the flavour profiles and change them over time too.
It is a wonderfully old-fashioned and beautiful way of eating and one I experimented with last winter. I kept a pot on top of our wood burning stove and dropped our evening meal leftovers into a dutch oven.
Lunch the following day was always a glorious surprise!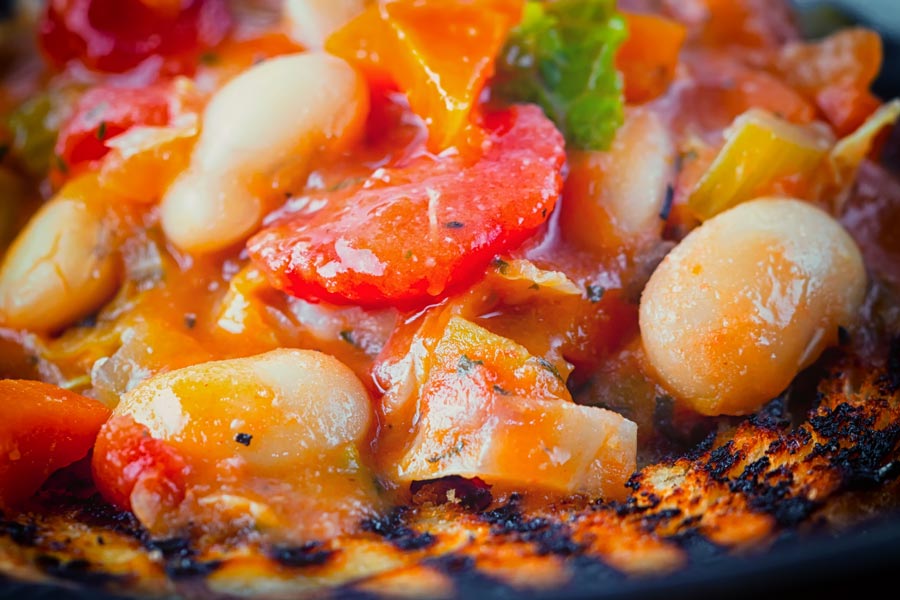 Winter Recipes Ahoy!
In other important and completely unrelated news I have now officially retired my shorts for another year.
I have resisted as long as I can but alas it is over for another year.
The more Autumnal recipes I have been posting over the past few weeks to gear up for winter are now officially our way of eating.
For many that may be a sad thing, for me that means Ribollita for lunch. I'm not sad!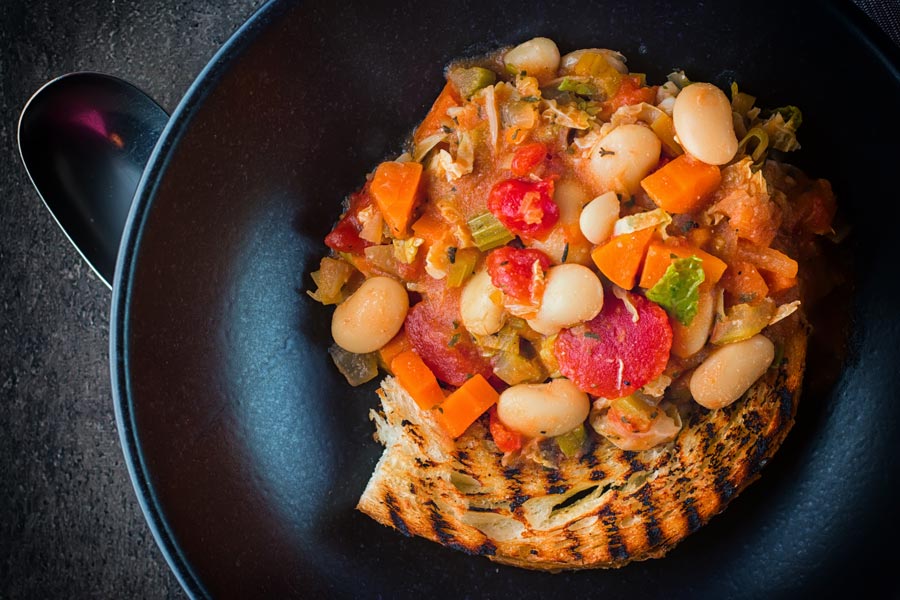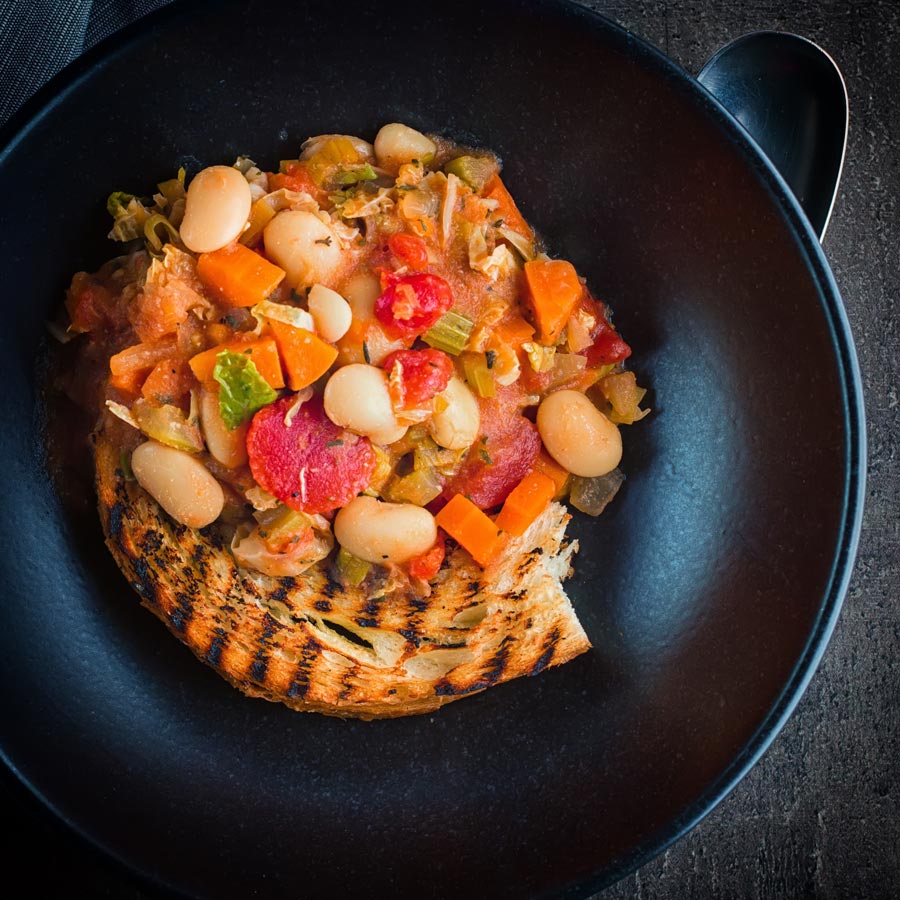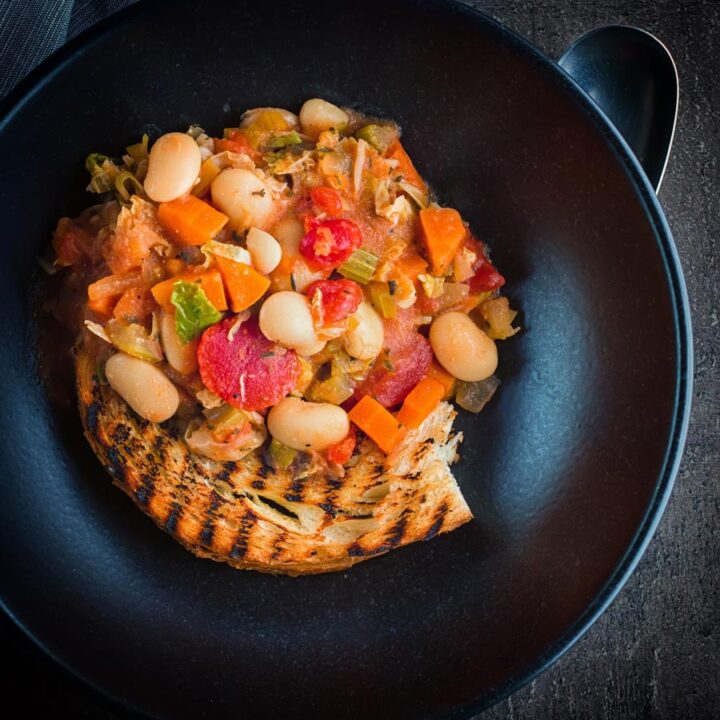 Ribollita
Cook Time:
1 hour
30 minutes
Total Time:
1 hour
45 minutes
If I want hearty tasty peasant food I rarely look further than Italy and this Ribollita is the most magical bean and tomato soup/stew that makes great use of stale bread.
Ingredients
200 g Dried Beans, I use a mix of cannellini and large white salad beans, sub for 500g of canned beans
150 g Onion, 5mm Dice
200 g Carrot, 5mm Dice
100 g Celery, 5mm Dice
1 Tbsp Olive Oil
400 g Canned Plum Tomatoes, Roughly chopped
750 ml Vegetable Stock
1 Tsp Dried Thyme
1 Handful Celery Leaves, Chopped, optional
2 Bay Leaves
150 g Savoy Cabbage, Sub for kale
Salt, To taste
Pepper, To taste
6 Slices Stale Bread
Olive Oil, For the bread
1 Clove Garlic
Instructions
If using dried beans when soaked bring to a simmer with some aromatics, onion trimmings, bay leaves etc etc and simmer for 90-120 minutes.
If using a pressure cooker add enough water to cover the beans with the same aromatics as above and bring to pressure and cook at high pressure for 10 minutes and release pressure naturally. This should take around 45 minutes in total.
If you are using canned beans... Fair play 😀
Heat the olive oil in a large pan and when hot add the onion, carrot and celery and cook for 10 minutes over a medium heat.
After 10 minutes add your leek and cook for a further 5 minutes.
Blend half of the beans with either the cooking liquid or liquid from the can to form a puree.
Now add the puree, stock, beans, herbs and tomatoes to the vegetables and simmer for an hour. Now is a perfect time to check the seasoning and add salt and pepper as required.
Now is a good time to cool and set aside if you are eating over a few days like I do.
10 minutes before serving make sure the soup is hot and add in the cabbage and cook for 10 minutes and heat up a griddle pan.
Drizzle the bread with olive oil and then grill on the griddle pan until nicely toasted.
Now rub the toasted bread with a clove of garlic, place in the base of the bowl and add some soup.
Notes
For me the idea is that the bread soaks up the juices from the soup leaving a gloriously thick bean and vegetable stew on top of the glarlicky soft tasty bread.
Nutrition Information:
Yield:

6
Serving Size:

1
Amount Per Serving:
Calories:

685
Total Fat:

21g
Saturated Fat:

5g
Trans Fat:

0g
Unsaturated Fat:

14g
Cholesterol:

56mg
Sodium:

1773mg
Carbohydrates:

96g
Fiber:

15g
Sugar:

24g
Protein:

34g
Calorific details are provided by a third-party application and are to be used as indicative figures only.