Ribollita is a glorious hearty tomato, bean and bread stew or soup bulked out with greens my simpler version is vegetarian and delicious!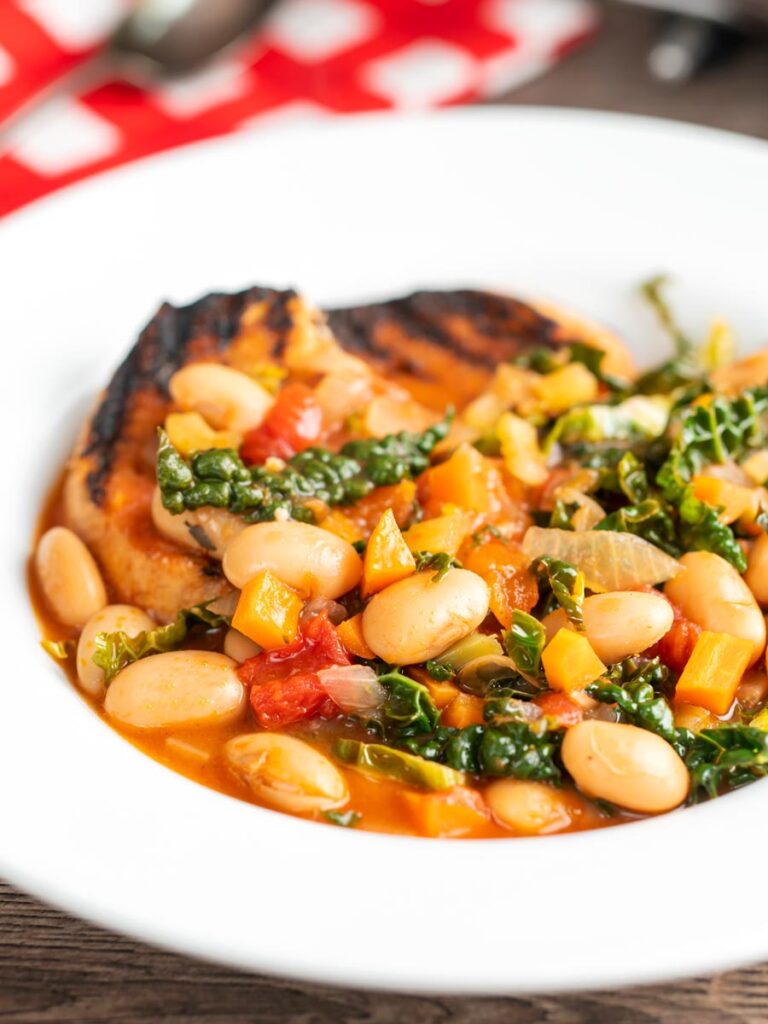 Italian Bean, Tomato, Bread Stew
When it comes to creating great meals from store cupboard ingredients Italy has is well covered!
The first things that spring to mind would be, say a mushroom risotto or pasta bolognese.
Ribollita is a less well known Itallian classic, it translates as reboiled.
It was literally yesterdays soup reboiled and added to, usually with bread that is a little old and some vegetables or beans or… Well, anything that you have lying around!
I have shifted my recipe to using savoy cabbage rather than the more traditional kale purely because it is cheaper and easier to find here.
My recipe sticks to those ideas of frugality although it is made to be quick to cook and feed us lunches for a few days.
It is for that reason that I add the bread each time I serve up rather than the more traditional way of throwing it in with the soup.
Incidentally, if you have leftover bread that is a little "firm" another classic Italian recipe to use it up is Panzanella salad. A glorious tomato and bread salad that also is perfect for tomatoes that are a little older too.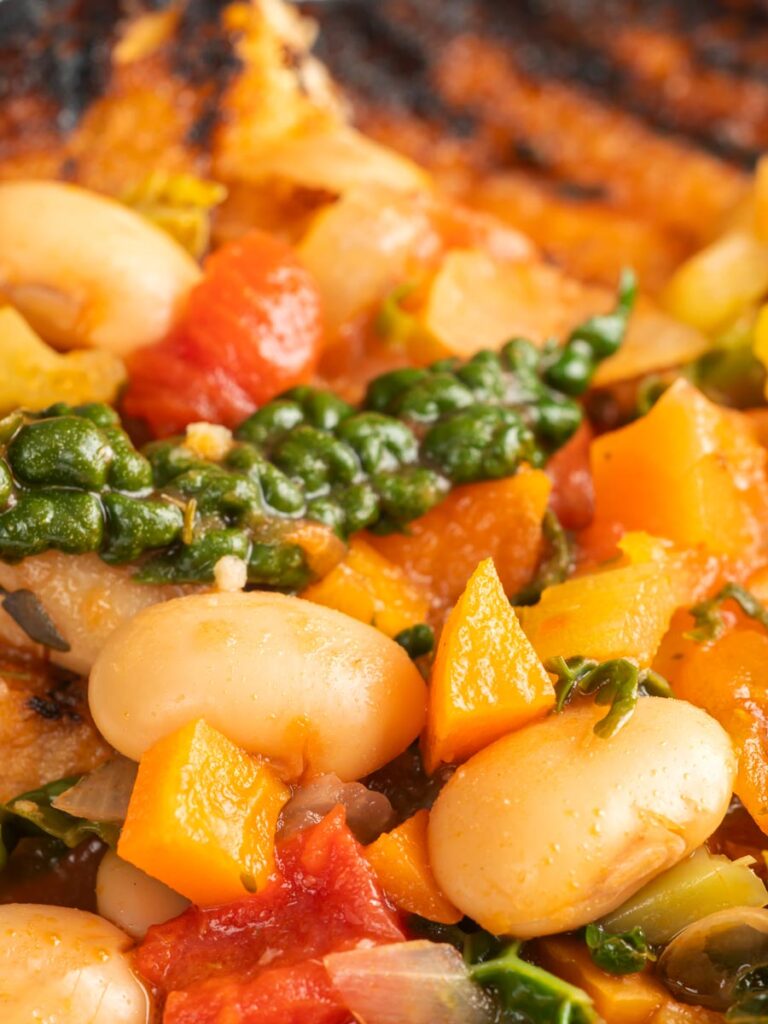 Using Dried Beans
Some form of this ribollita recipe is something that I have been cooking since my student days.
I suspect that this recipe relies on tinned beans as a bit of a throwback to that. It does make it very quick and simple!
But you can, of course, used dried beans and there are two ways to do this.
The first is to precook the beans and just make the recipe as I have laid out here.
That means soaking overnight and boiling the beans for anywhere between 1-3 hours depending on type and age.
Or cooking your beans in a pressure cooker for between 25 and 35 minutes, again depending on type and age.
The other option is to cook the beans in the stew. This is delicious and adds a wonderful silkiness to the broth, but it does take a lot longer.
If doing this soak your beans overnight, then add the beans in with the stock at step 4. I omit the tomatoes at this point and add them in later.
Then cook on low for 2 hours or so depending on your beans. It is important to add a lid for this phase!
Once the beans are cooked I add the tomatoes and cabbage and finish cooking for 10-12 minutes.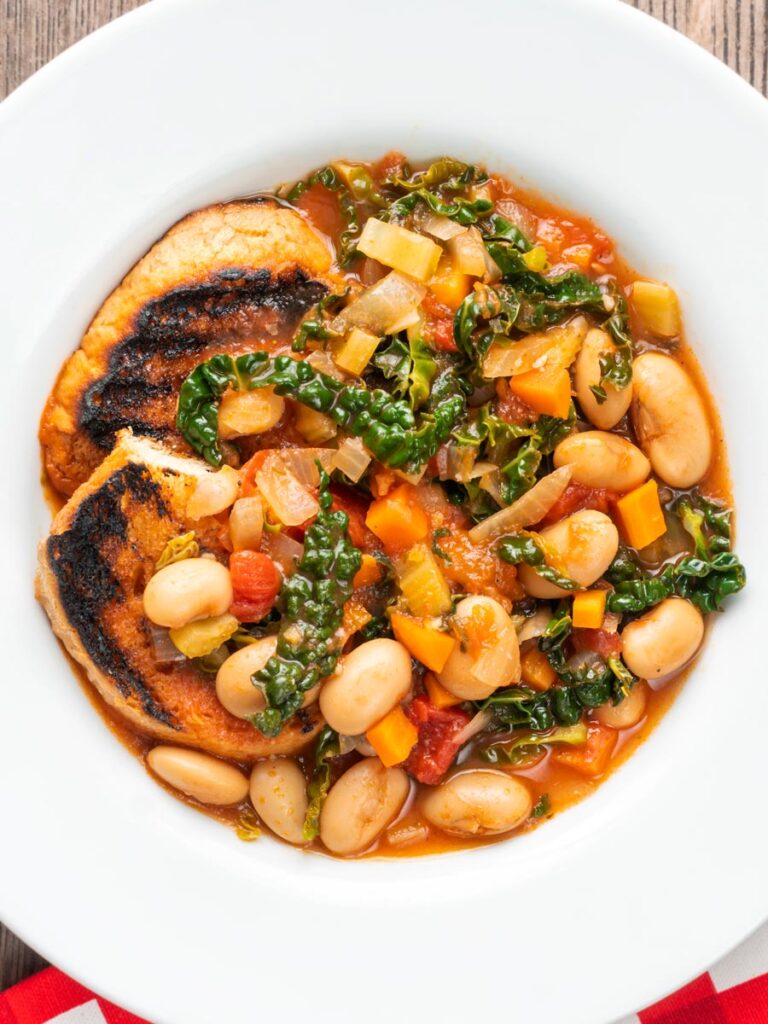 Other Ingredients.
This recipe is meant as a starting point, you absolutely should go wild and crazy and throw in whatever vegetables you have!
Hard vegetables like celeriac, parsnip, swede or sweet potatoes should go in at step 3. They should be cut to be roughly the same size the onions and carrots!
You can add regular potatoes but ensure they are waxy. Floury or mealy potatoes will break down and make your ribolitta go gloopy.
You can add peppers if you like and even squash. These need around 12-15 minutes cooking so add them 2-5 minutes before you add the cabbage.
I cut peppers quite large 1-2cm and squash around 1cm.
A dash of chilli flakes always goes down well too if you are so inclined.
Finally feel free to omit the parmesan rind, throwing them into a soup is a great way to add flavour to the soup.
It is also a great way to get the most out of a pretty expensive cheese, omitting it makes this soup vegan so long as you carefully source your bread.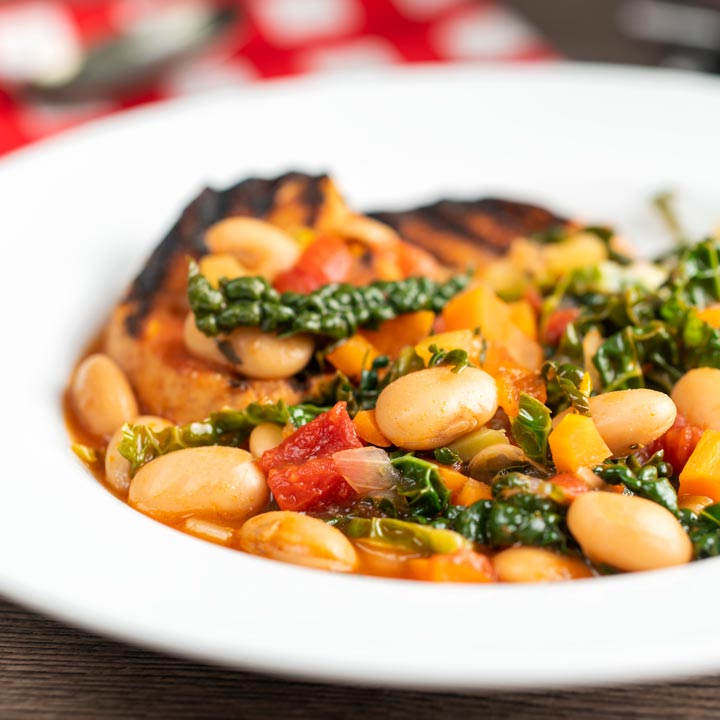 Yield:

6 Servings
Ribollita Recipe
If I want hearty tasty peasant food I rarely look further than Italy and this Ribollita is the most magical bean and tomato soup/stew that makes great use of bread that is a little past its best.
Ingredients
400g (14 oz)Tin White Beans
400 g (14 oz) Tin Crushed Tomatoes
150 g (5.25 oz) Onion
200 g (7 oz) Carrot
75 g (2.75 oz) Celery
1 Tbsp Olive Oil
750 ml (25 fl oz) Vegetable Stock
1 Tsp Dried Thyme
2 Bay Leaves
150 g (5.25 oz) Savoy Cabbage
1 Parmesan Rind (optional)
Salt to Taste
Pepper to Taste
For the Bread:
6 Small Slices of Bread
3 Tbsp Olive Oil
1 Clove Garlic
Instructions
Cut the onion, carrot and celery into 5-7m dice
Heat the olive oil in a large pan.
Add the onion, carrot and celery and cook for 10 minutes over a medium heat.
Throw in the beans, tomatoes and vegetable stock.
Add the thyme, bay leaves, parmesan rind, salt and pepper
Simmer for 15 minutes.
Shred the cabbage leaves into 3-5mm thick ribbons.
Add the cabbage to the pan and simmer on for a further 10 minutes.
Now is a good time to check the seasoning again and add more if required.
Drizzle the slices of bread with olive oil.
Place on a hot griddle and grill both sides.
Rub the toasted bread with a garlic clove before ladling the soup over the bread.
Nutrition Information:
Yield:
6
Serving Size:
1
Amount Per Serving:
Calories:

250
Total Fat:

10g
Saturated Fat:

2g
Trans Fat:

0g
Unsaturated Fat:

8g
Cholesterol:

1mg
Sodium:

654mg
Carbohydrates:

33g
Fiber:

8g
Sugar:

7g
Protein:

10g
Calorific details are provided by a third-party application and are to be used as indicative figures only.