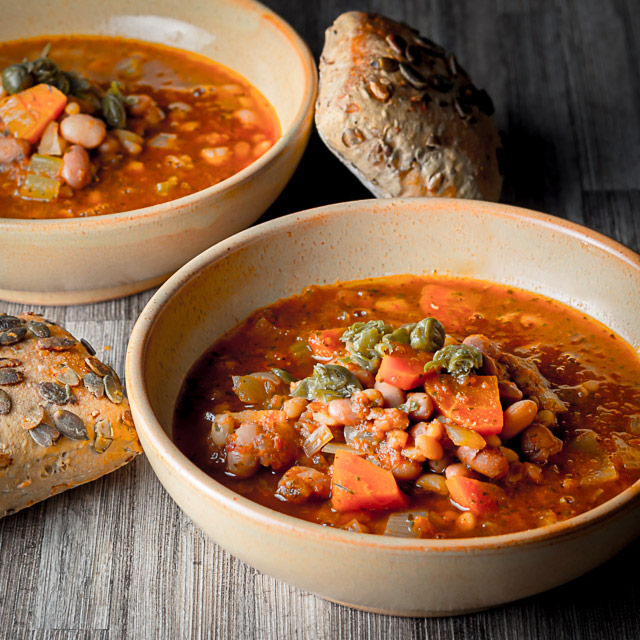 I think it is safe to call the bean soup or stew and ode to the work that we put in to the garden over spring, summer and autumn but it is very definitely a winter dish… It is hard to believe that pretty much everything in this dish started as a seed in my grubby hands back in April or May yet still provides me a gloriously filling meal in December and no doubt will right the way through until next spring. I often see dishes like this 'sold' as 15 bean stew/soup all over the interweb and think 'why' beans have very little flavour they provide texture and soak up the flavours of what you cook them with. So as far as I am concerned use what you want in your bean soup, hell use tinned beans if you want, just put them in the crockpot 45 minutes to an hour before serving. Beans tend to roughly triple in weight when cooked so if using tinned beans you want about 900g of tinned beans.
It is easier to list the things that we didn't produce at home, only the Worcestershire sauce, capers, cooking oil, salt and pepper were not our homegrown produce. Our tomato produce is the result of many hours work and I must remember to put up our tomato passata recipe next year in the growing season, it is really simple to make and if you go to any market at the end of the week you can buy cheap tomatoes beyond their best for peanuts so you do not need to tend your own crop either 😉
Having said that growing tomatoes has to be one of the easiest things to grow in even the smallest of places and I use our passata in many of my Indian recipe right through to loads of soups like this bean soup all the way though to my crockpot bolognese sauce. You need next to no space at all, particularly with modern varieties, just the smallest amount of outdoor space and you can be off and running with producing something pretty foxy and awesome… Be aware though it can be fairly addictive and lead you to do some pretty daft things, hell it lead me from a sensible, grown up and relatively well paid career to live in a mud hut in Hungary 😉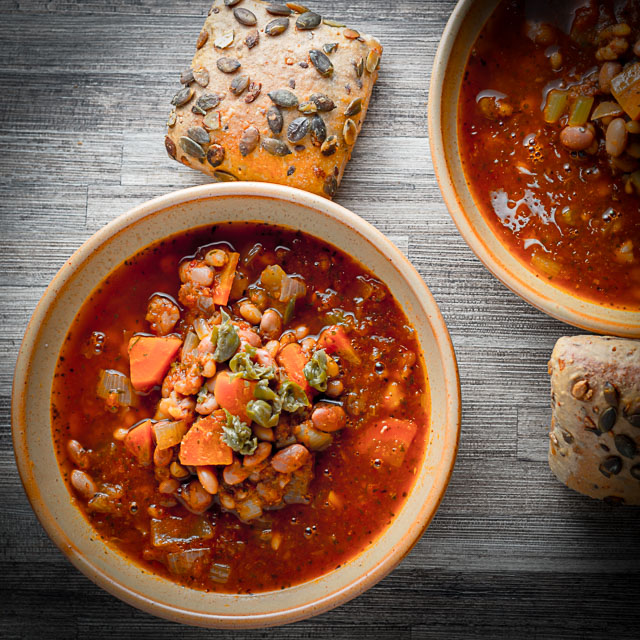 Print
Hearty Crockpot Bean Soup
My hearty crockpot bean soup is a big and bold soup that plays homage to the work we put in throughout the year to keep our bellies full in winter!
Total Time
4
hours
30
minutes
Ingredients
300

g

Dried Beans.

Use any varieties you like we have borlotti and fagioli beans from our garden dried this year so that is what I used.

200

g

Onions.

Roughly chopped.

125

g

Carrot.

Roughly chopped.

50

g

Celery Stick.

Roughly chopped.

1

Tbsp

Cooking Oil.

Neutral.

2

Tbsp

Worcestershire Sauce.

1

L

Tomato Passata.

Tomato Sauce in the US

1

Tbsp

Tomato Puree.

500

ml

Vegetable Stock.

4

Bay Leaves.

1

Tbsp

Dried Marjoram.
Instructions
Soak your bean over night and cook until just cooked.

Preheat your crockpot to low.

Add 1 Tbsp flavourless cooking oil to a frying pan and cook the carrot, onion and celery over a medium high heat until slightly softened but not coloured.

After about 10-15 minutes increase the heat and add the Worcestershire sauce to the vegetables and reduce until almost dry, then transfer to your stockpot.

Bring the tomato puree and Passata to a simmer in the same frying pan then transfer to your crock pot.

Heat the vegetable stock in the same pan ensuring that you remove all the pother residues and add to the stock pot.

Add the Bay Leaves and Marjoram and the beans, check the seasoning and add salt and pepper as required then allow to simmer on low for 4 hours.
Recipe Notes
This bean soup really works well with the almost peppery sourness of capers and I love to coarsely chop some and serve on top as a garnish.